This article is part of our Ultimate Wedding Dress Shopping Guide.
Are you trying to decide which type of lace is the right choice for your dream wedding dress? Look no further! The True Crew is here to help you select the best lace option for your bridal gown! From delicate and dainty to bold and modern, there is a lace out there that complements your stunning style flawlessly.  
Historically, lace wedding dresses have been considered timeless and classic, but they can also be contemporary and chic. Now, more than ever, a wide variety of lace is available for your dream dress. This guide will help you choose the ideal fabric and design so that when it comes time to pick out your gown, you'll know exactly what kind of lace will make your wedding day look extra special. Read on to learn more about the most common types of lace and their particular qualities.
Why you Should Consider a Lace Wedding Dress
Whether you choose an all-lace look or a gown with just a touch of lace, you can't go wrong with this classic material. Lace adds an elevated touch to any bridal look, giving it a touch of sophistication and glamour without sacrificing comfort. Here are a few more essential points why you should consider this beautiful fabric:
Lace is Timeless
Lace wedding dresses have been the go-to choice for brides since the Victorian era, proving its ability to stand the test of time as well as trends. It is romantic, graceful, timeless and a classic choice that never goes out of style.
Lace is Luxurious
Lace is undeniably luxurious. This delicate fabric exudes a timeless elegance that never goes out of style. Lace fabrics are intricately detailed, giving brides an opulent yet soft look. They can also be embellished with sequins or other sparkly bits to add shimmer and glamour to a bridal look.
Lace Adds Texture
Lace comes in many different colors and shades and can even add texture and dimension to a dress. From the subtle and delicate to the big, bold statement pieces, lace elevates a dress with a romantic sophistication that no other fabric can provide.
Lace Provides Options
Flatters Figure: Lace is a remarkably adaptable material that can flatter all body types, making it an excellent option for any bride. Its intricate details and texture can help soften or enhance curves depending on how it's used.
It is Great for Minor Detailing: Lace is also a beautiful choice for minor detailing. It can be applied to add subtle accents or as an overlay to give an extra dimension to any wedding dress.
Versatility: Lace can be used in a variety of ways. It is an excellent material for creating sheer sleeves, backs, bodices and train overlays. Lace is also extremely versatile in style and can fit with any wedding theme — from formal to boho chic.
Lace Wedding Dresses
Plus Size Lace Wedding Dress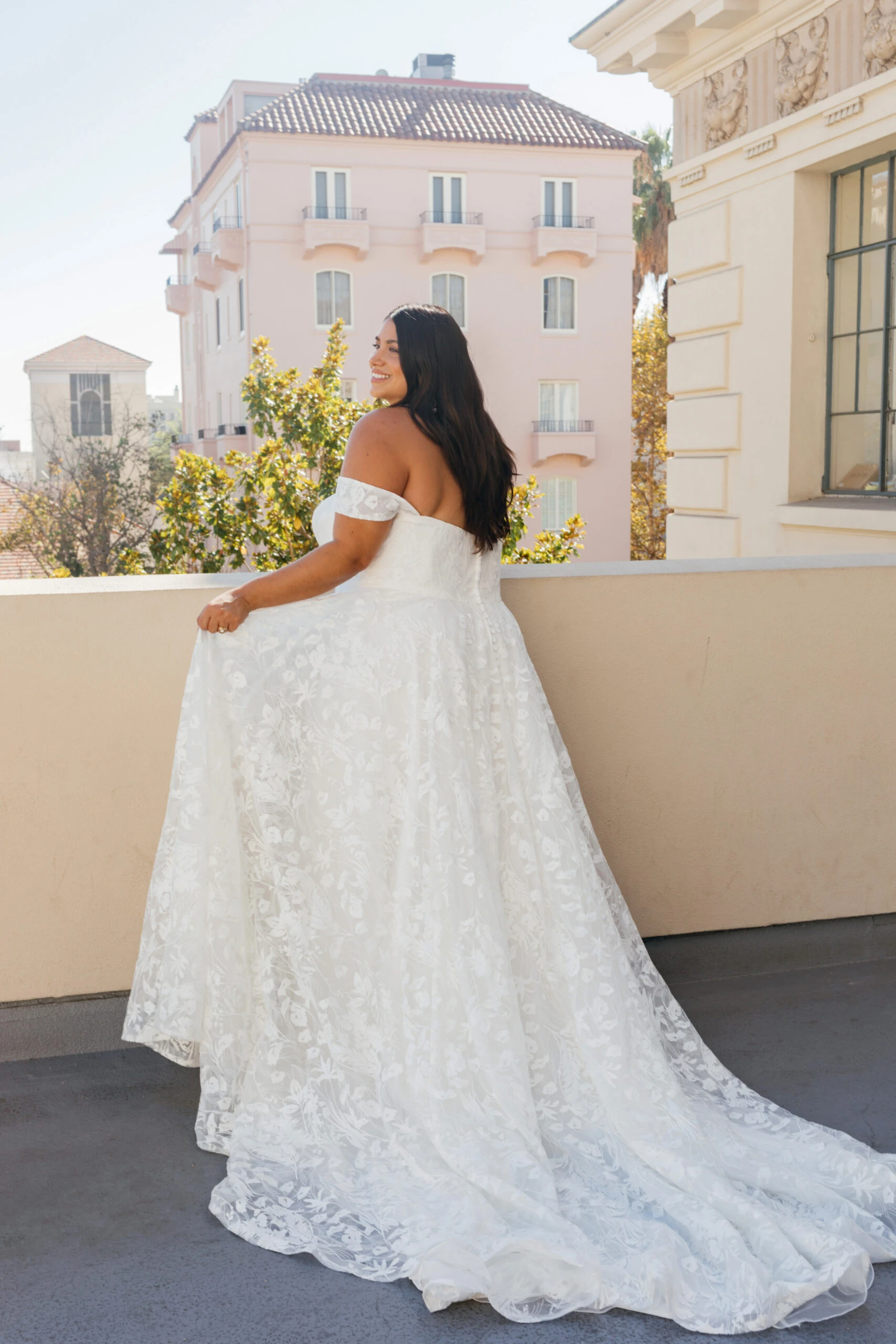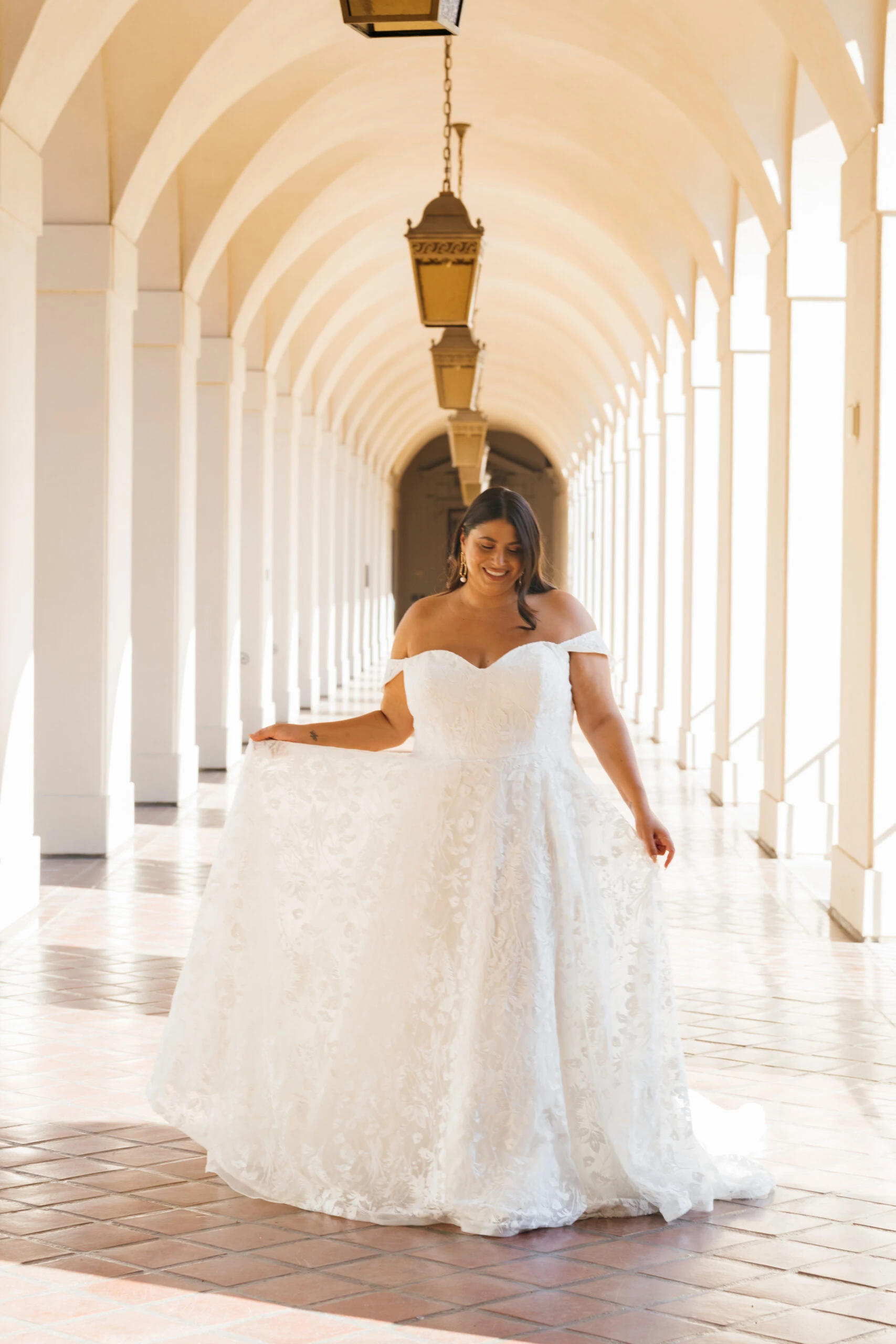 Essense of Australia Style D3520+
Essense of Australia Style D3520+ is a gorgeous blend of timeless romance and modern elegance. Off-the-shoulder straps, a sweetheart neckline and a fitted bodice, come together to create an unforgettable look. Add some vintage flair with fabric-covered buttons cascading down the full-length A-line skirt that meets at its sweeping train — this plus size lace wedding dress is pure magic! With various lace options available, you can customize this beautiful gown to make it your bridal vision to walk down the aisle.
Vintage Lace Wedding Dress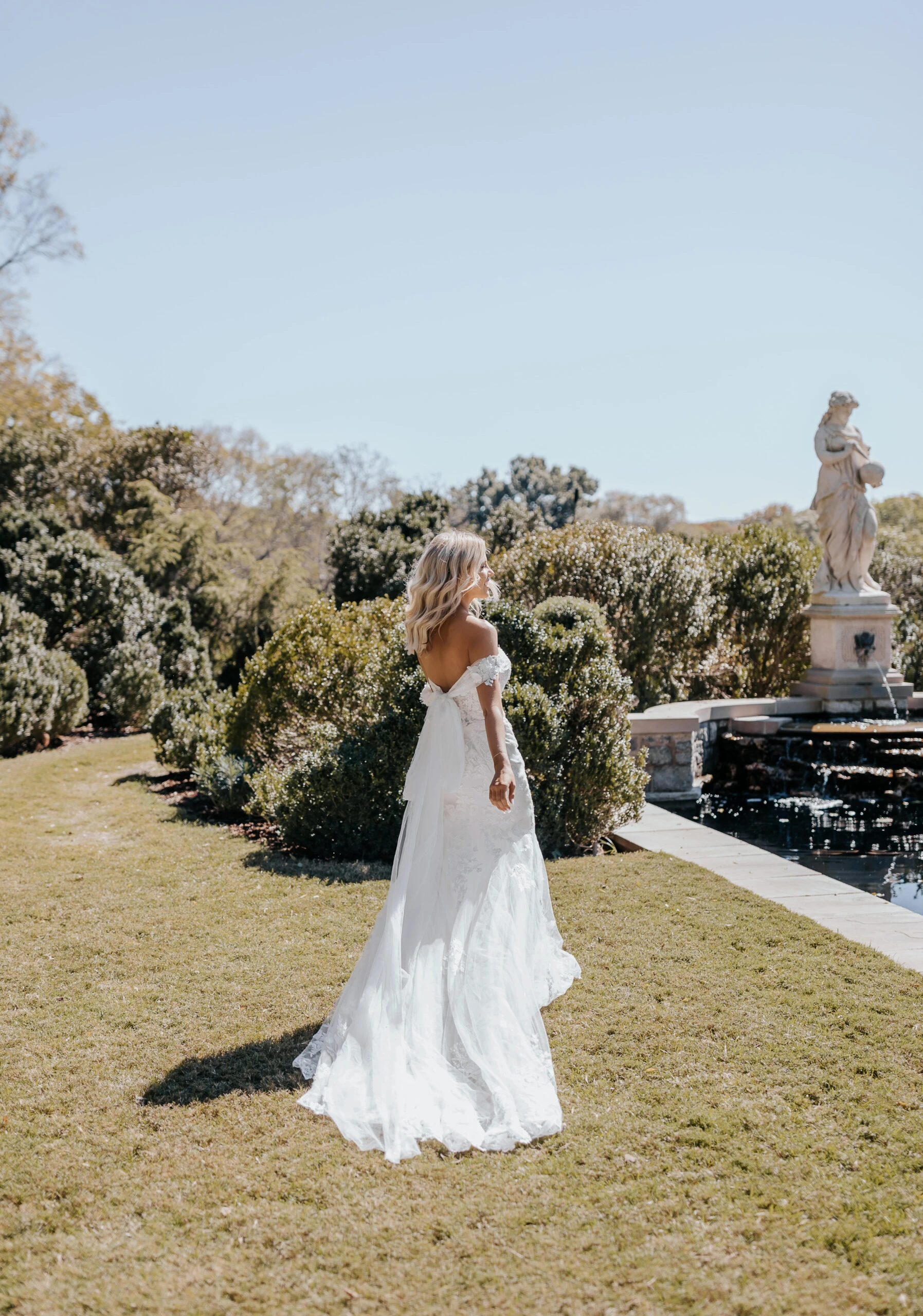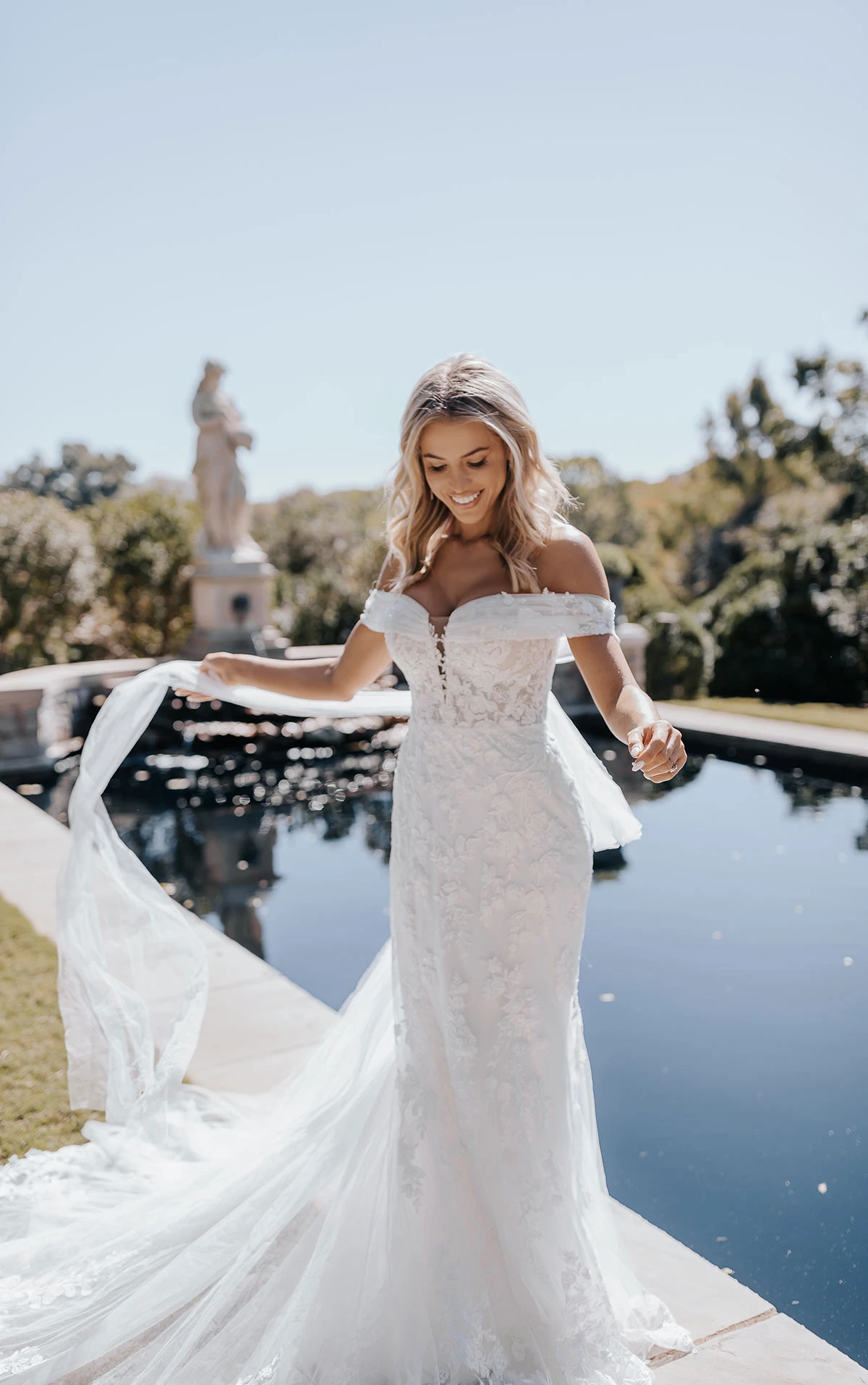 Essense of Australia Style D3639
Essense of Australia Style D3639 is a beautiful choice for brides who wants to ooze sophistication and glamour on their big day! The beaded accents glimmer against an intricately embroidered lace bodice, off-the-shoulder straps tie in a romantic bow at the back and the layered tulle skirt deliver a fairy tale feel. If 'more' is what you're after, this vintage lace wedding dress promises to deliver just that!
Long Sleeve Lace Wedding Dress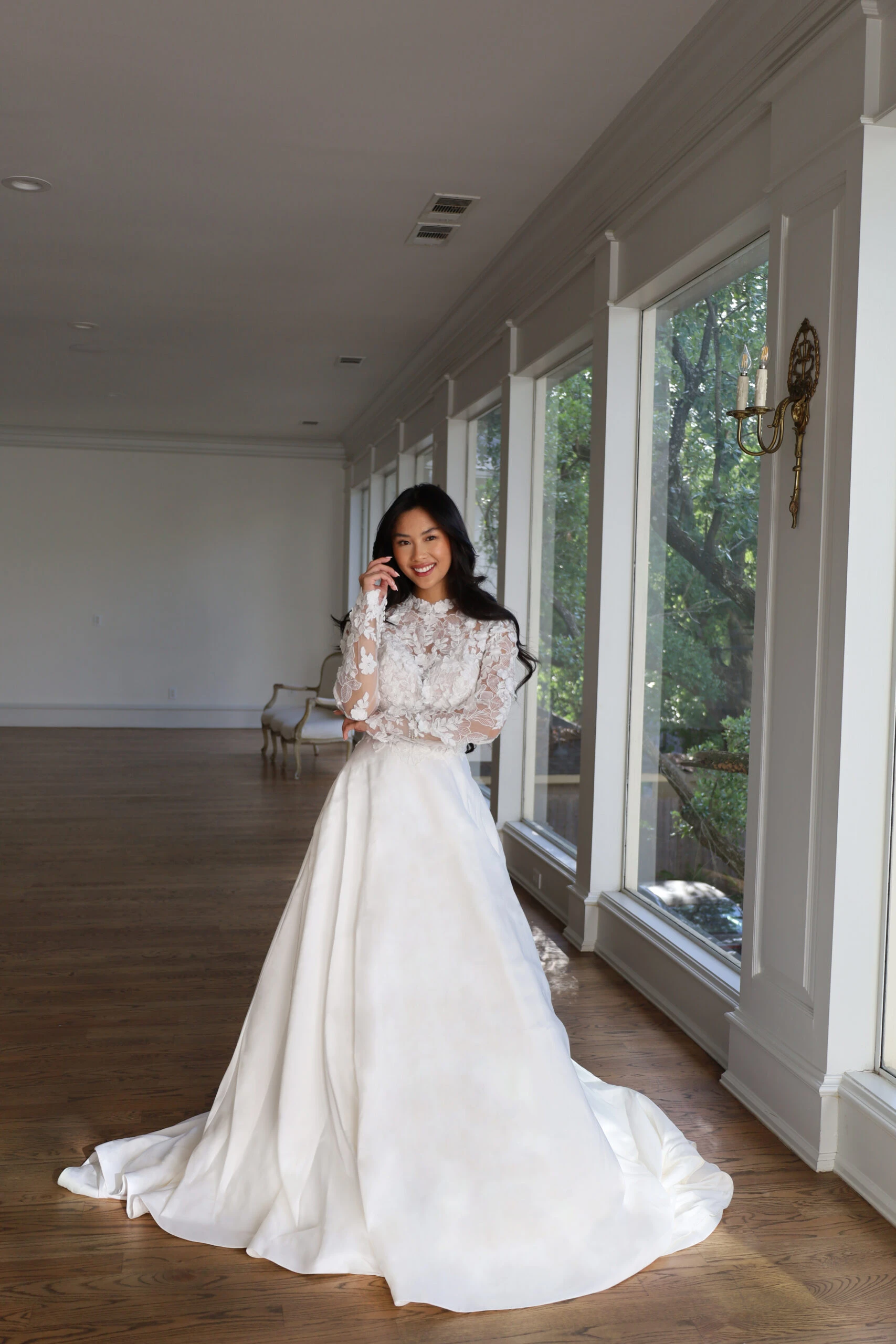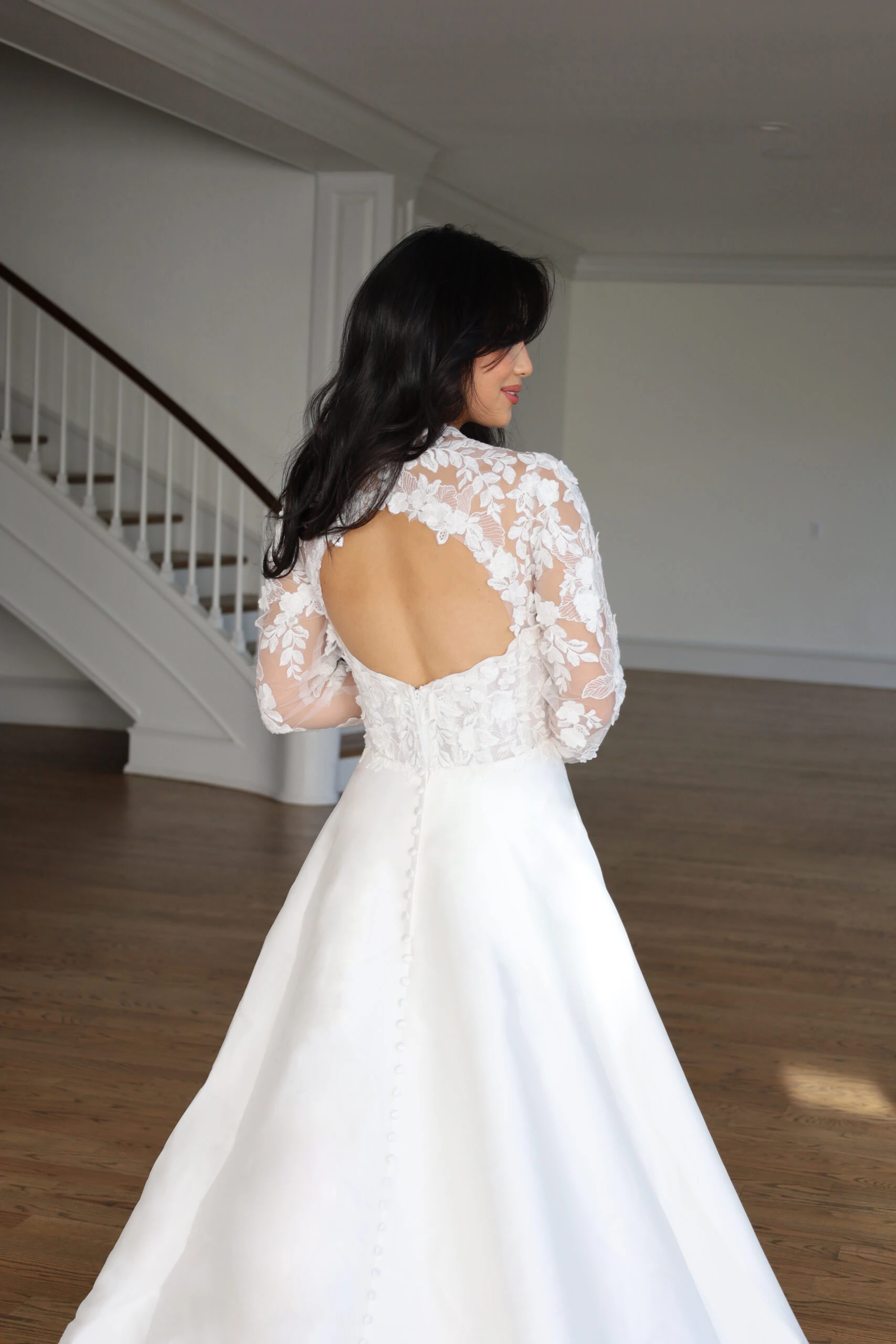 Essense of Australia Style D3715
If you want to make a modern-meets-timeless statement with your bridal look, this flattering A-line lace gown will turn heads. With an elegant high neck and romantic illusion long sleeves that meet at the sweetheart bodice beneath, Essense of Australia Style D3715 is classic chic elevated for today's fashionista bride. And let's not forget about the irresistible round open-back detail featuring rows of glamorous fabric buttons — stunning!
Characteristics of Lace
Lace is truly a remarkable fabric — it's light and airy, delicate yet resilient. Knowing the characteristics of different lace types will help you choose the right one for your wedding dress. Below are some points you should consider when picking out lace.
Color: Lace comes in an array of colors to fit any wedding palette. Choose from white, ivory, blush and more!
Weight: The weight of the fabric determines how heavy and stiff it feels. Heavier laces provide greater support, whereas lighter ones are softer and more delicate.
Weave: The weave of the fabric affects how it looks and feels. Lace has an open weave with visible space in between the weaves. It is often woven from cotton, silk or rayon and has a distinct embroidered pattern.
Stretch/Non-Stretch: Some laces have some give to them while others are non-stretch and do not have any give. Non-stretch lace is ideal for structured gowns, whereas stretch laces are great for more flexible bridal silhouettes.
Pattern: Lace can range from intricate floral designs to simpler geometric patterns. Depending on the pattern, it can add a touch of texture or be used as an accent, like scallops or edging.
Types of Lace
Now that you know the basic characteristics of lace, let's look at some of the most common types. Beyond just lace fabric itself, there are many beautiful variations of lace patterns and styles that give each lace its own character. Whether you're looking for something delicate and sheer or something heavier with more structure and dimension, there is a lace that will suit your personal style. Here is a quick overview of some typical laces and their particular qualities:
Alencon Lace: This lace is characterized by fine corded detail and has a delicate, scalloped edge.
Chantilly Lace: Chantilly is a classic French made from silk threads. This type of lace features an allover pattern of flowers, vines and leaves. Chantilly lace has an ultra-delicate appearance with its light and airy design.
Guipure Lace: Guipure lace is a heavy, stiff fabric with a raised pattern and no lace edge. It can be used as an overlay to create volume and texture or as the main fabric for more of a statement look.
Schiffli Lace: Schiffli is a vintage-inspired lace that has a more intricate design. It features small, delicate details like floral and geometric patterns.
Point D'Esprit: Point d'Esprit is a sheer, lightweight fabric that features tiny dots in the pattern. It's a beautiful material for creating lacy sleeves and overlays
Embroidered Lace: Embroidered lace has a raised design that adds texture and dimension to any look. It's a beautiful choice for creating a vintage-inspired feel.
Venise Lace: Venise lace is a thick, stiff fabric that has an intricate geometric pattern. It is ideal for creating structured gowns with a touch of texture.
Whether you are looking for a modern-minimalistic or luxurious traditional gown, bridal lace will be sure to elevate your ensemble to match your magical day. Take the time to explore the various lace wedding dresses available at True Society and choose the one that's just right for you!
Find a True Society store and book your appointment today to start shopping for your dream lace wedding dress! Availability varies per store.