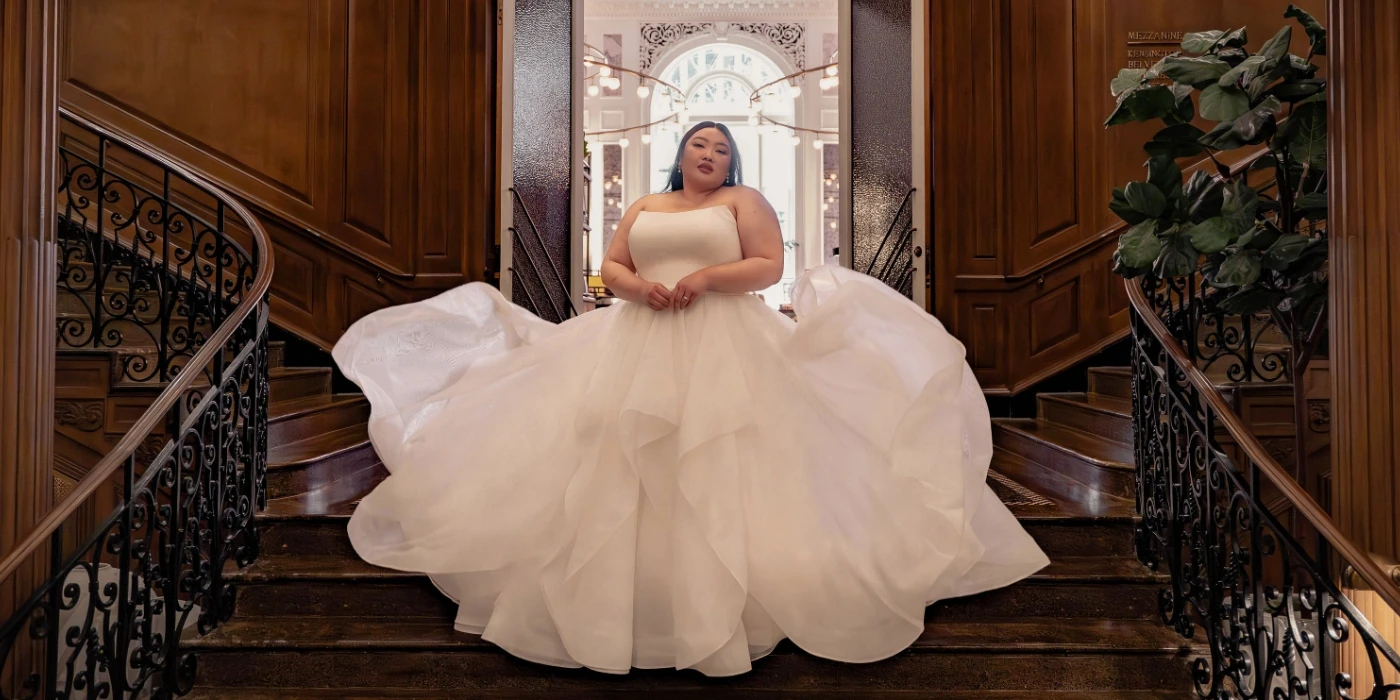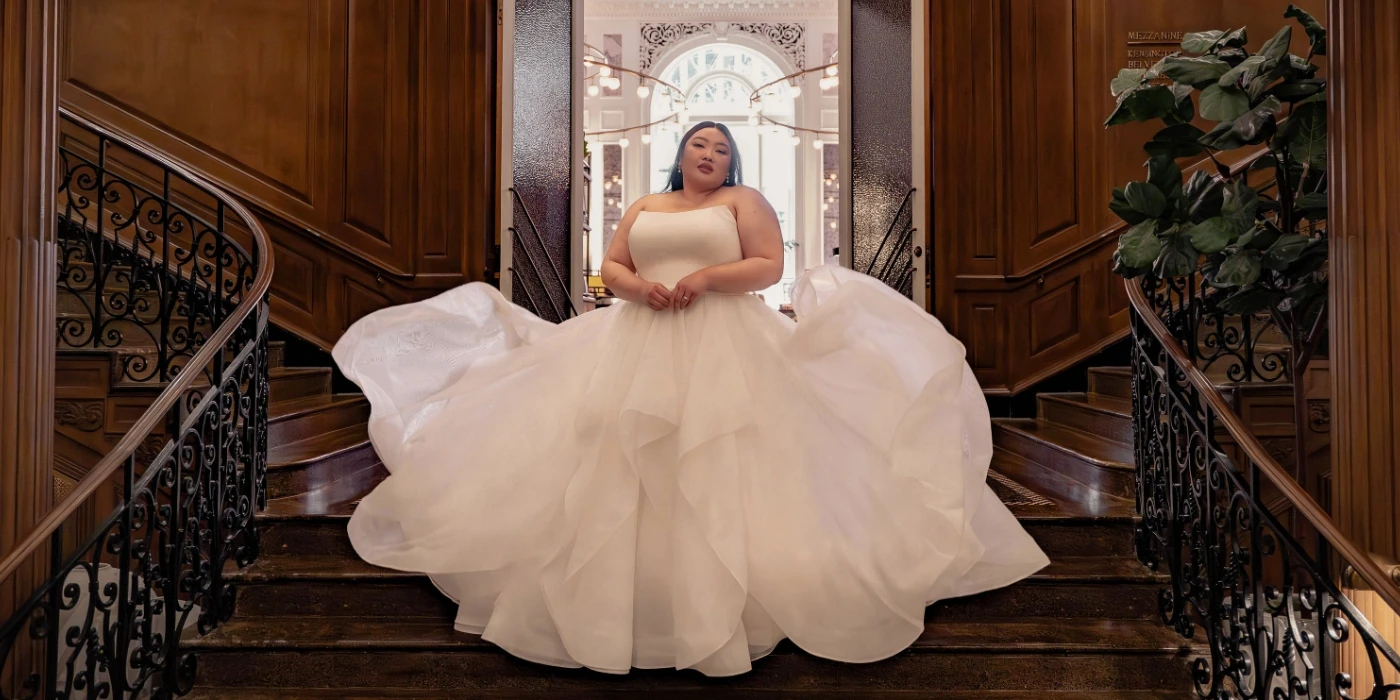 Plus Size Wedding Dresses
True Society is all about offering unlimited possibilities for all—making sure that no bride settles for less than her dream experience and dress because of their size or shape. That's why we offer an incredible variety of our designer gowns in plus sizes, many of which are offered through EveryBody/EveryBride—a unique program that offers the same designer styles from Essense of Australia and Stella York in plus sizes. With experienced stylists that are supportive, knowledgeable and trained to create the most comfortable and fun experience possible—we truly have something for every bride and every body.
Gown selection varies by store. Click a photo for more details.
We ask that brides bring all preferred undergarments for formalwear, and we can take care of the rest to ensure your utmost privacy and comfort throughout your appointment. Feeling secure and confident on all levels will help you to envision your dream day look more clearly than ever before.

With plus-size wedding dresses available for you to try on, we are confident that your style is here at True Society. Our staff goes above and beyond to make you feel comfortable and confident by creating an encouraging environment suited to your exact needs.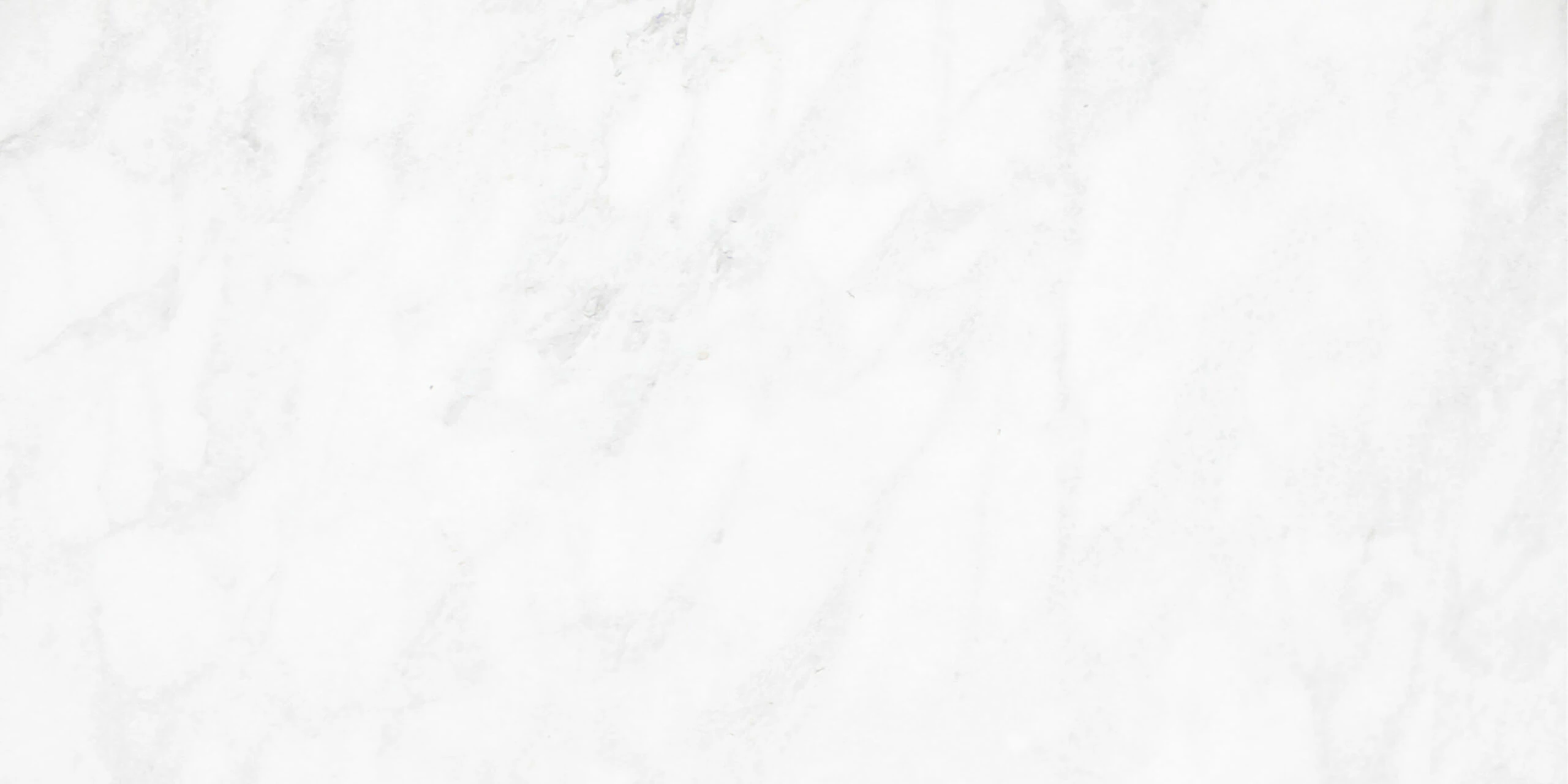 Frequently Asked Questions
WHAT STYLE DRESS LOOKS BEST ON PLUS SIZE BRIDES?
There is a variety of silhouettes that look amazing on plus-size brides. From a-line to mermaid or fit-and-flare, there are plenty of styles that will flatter your curves on your wedding day. Work with a bridal stylist when you shop and try on an array of styles and silhouettes help you find the perfect dress for your shape.
WHAT IS CONSIDERED PLUS SIZE FOR A WEDDING DRESS?
Plus size wedding dresses typically range from sizes 22/24 to 34/36; however, sizing can vary by country. Also keep in mind that wedding dress sizing overall typically runs higher from what you normally wear day to day. Be sure to check with your local bridal shop to see if they carry wedding dress samples in larger sizes, as not all shops do. Size inclusivity is important to us at True Society, and all of our bridal shops will carry a wide range of plus size gowns for our brides to try on during their bridal appointment.
WHAT SHOULD I WEAR UNDER A PLUS SIZE WEDDING DRESS?
What you wear beneath your wedding dress depends on the specific bridal gown you choose and what you are comfortable with as a bride. Shapewear can vary by color, fabric, size, and style, such as where the "plunge" is located. After you have selected the perfect dress to wear on your wedding day, work with your bridal stylist to learn what the best plus size shapewear you can wear to ensure a smooth look while celebrating and embracing your curves.
HOW SHOULD I SHOP FOR A PLUS SIZE WEDDING DRESS?
Finding the right dress can be a stressful and time consuming process, so ensuring the bridal shop near you carries samples in your size is the first step, as some bridal shops don't carry plus size samples to try on. We also recommend you bring nude undergarments when trying on gowns, as this will help you best visualize yourself in the dress. You will then want to work closely with your bridal stylist to ensure everything fits just right when you find the perfect wedding dress.
WHY IS IT SO HARD TO FIND A PLUS SIZE WEDDING DRESS?
For a lot of plus size brides the wedding dress shopping process can be emotionally and mentally draining as many stores still aren't prepared to serve brides of all shapes and sizes. Our True Society locations aim to make dress shopping a fun and positive experience for all plus size brides. With our EveryBody/EveryBride collection, our stores are sure to have a variety of dresses for everyone, so you can focus on what you actually look like in your dream dress rather than having to imagine what it might look like.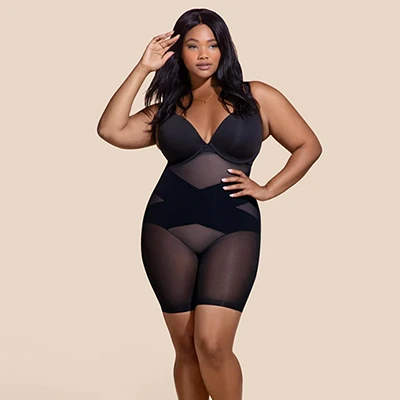 Tips From a Stylist
Today, we're talking all about shapewear! We get this question a lot: what do I wear underneath my wedding dress?