This article is part of our Ultimate Wedding Dress Shopping Guide. 
Ah, the wedding dress — it's one of the most exciting and memorable parts of planning your dream day! Shopping for your ideal wedding gown is all part of bringing your vision to life: you'll find endless gorgeous styles that each have their own particular charm. But with so many beautiful styles, how do you find your dream wedding dress? Don't worry — you won't be alone on this journey! The True Crew is here to help. Our guide will provide useful tips on finding your very own dream wedding dress — from looking at different silhouettes and fabrics to staying true to yourself. So let's dive into choosing what could be "the one" for you!
What are the Most Important Factors when Finding a Wedding Dress?
When finding your dress, there are important factors to consider when choosing the ideal bridal look for your big day. From the season and the theme to budget and sizing, it's important to take these into account.
1. Season: What season is your wedding taking place in? Different seasonal fabrics can be used for different occasions, so make sure you choose the best fabric based on the climate and location of your wedding day. For example, light and airy fabrics like chiffon are good options for beach weddings, while heavy satin and taffeta are beautiful choices for cooler winter weddings.
2. Theme: Think about the theme of your wedding – is it classic and traditional or modern and funky? Finding a dress that fits your day's vibe will ensure you look cohesive in photos. If you're going with a classic look, opt for timeless silhouettes like ballgowns or sheath dresses. If you're going for something more modern and edgy, try contemporary details like cutouts or asymmetrical elements.
3. Budget: It's important to set a realistic budget for your wedding gown so that you can find something you love without breaking the bank. Consider how much you are willing to spend, and then narrow down your options. There are endless stunning styles at True Society that come in various price points — don't be afraid to ask your True Crew bridal stylist about affordable options!
4. Sizing: When it comes to finding a dress that fits flawlessly, it's important to know your body type, but the most important aspect is that the dress makes you feel beautiful and confident. At True Society, we carry a huge range of bridal sizing to fit Every Body/Every Bride. We offer unlimited possibilities for plus size brides — ensuring that no bride settles for less than her dream experience and dress because of their size or shape.
What Should Brides be Looking for when Shopping for Their Wedding Dress?
Ready to begin shopping for your dream wedding dress?! It's best to start shopping at least one year ahead of your big day. Keep in mind that different designers and brands have different lead times, so be sure to order your ideal wedding dress 8-12 months before you say 'I do.' We also offer in-stock wedding dresses if you're short on time, though the selection might not be as extensive as special-order gowns.
Before booking your bridal appointment, do some research! Look through Instagram, Pinterest, bridal blogs and magazines for photos of gowns that catch your eye. Make a note of the season or location of your event and consider a variety of silhouettes, fabrics and styles. You may find that certain fabrics or styles tickle your fancy, or maybe you don't like a certain silhouette — this information can help guide your True Crew stylist when it comes time for your appointment!
What will the Bridal Stylist Help with?
Expect nothing but the best shopping experience at True Society! Our team of expertly trained stylists (a.k.a. True Crew) are ready to give you their undivided attention during your hour and a half of one-on-one appointment time. Know that you're in good hands— our bridal stylists are knowledgeable about gowns and everything related to the wedding dress shopping process, making sure you look and feel beautiful! With dream wedding dresses from top designers like Essense of Australia, Stella York, All Who Wander and Martina Liana — our team will provide the ultimate shopping experience with genuine care.
What Research Should you do Beforehand?
Make the most of your dress shopping journey by doing some research beforehand. To get inspiration, create a Pinterest board, read blogs and magazines, scroll through TikTok or Instagram — there are numerous ways to gain insight into bridal styles that truly speak to you!
What are Some Dresses I Might Find at True Society?
Simple and Minimalist Wedding Dresses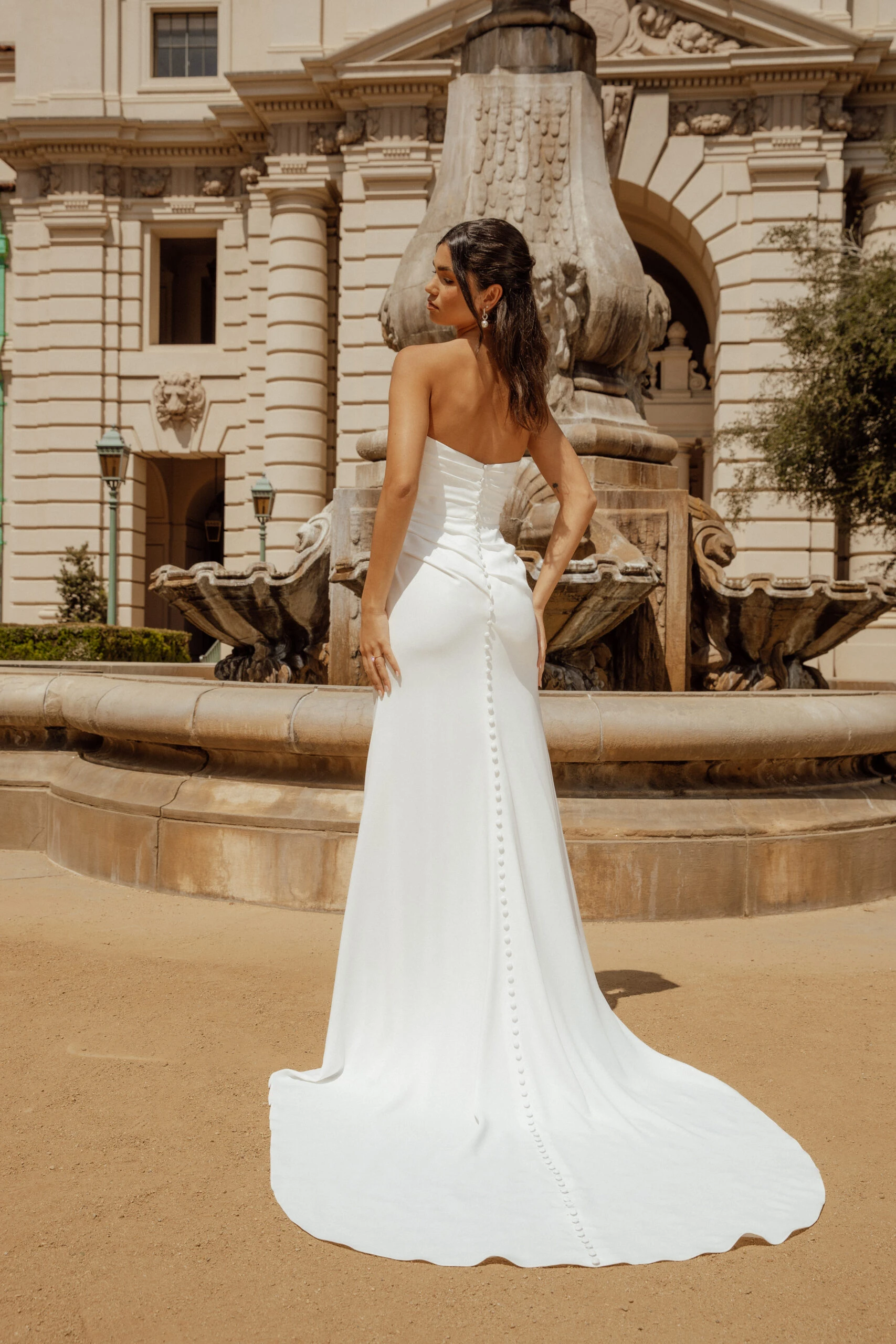 Essense of Australia Style D3634
Get ready to be swept away! Make your special day unforgettable in Essense of Australia Style D3634 — a stunning strapless column wedding dress with a side slit. Crafted from luxe liquid crepe fabric, it exudes simple sophistication and modern elegance. The pleated and draped bodice flatters the natural silhouette, while fabric-covered buttons strike a pretty balance between classic motifs and contemporary style. You'll love the minimalist sheath skirt that parts at the front for an extra sexy appeal. Modern, minimalist brides, this dress is everything you dreamed about for your big day.
Dreamy Plus Size Wedding Dresses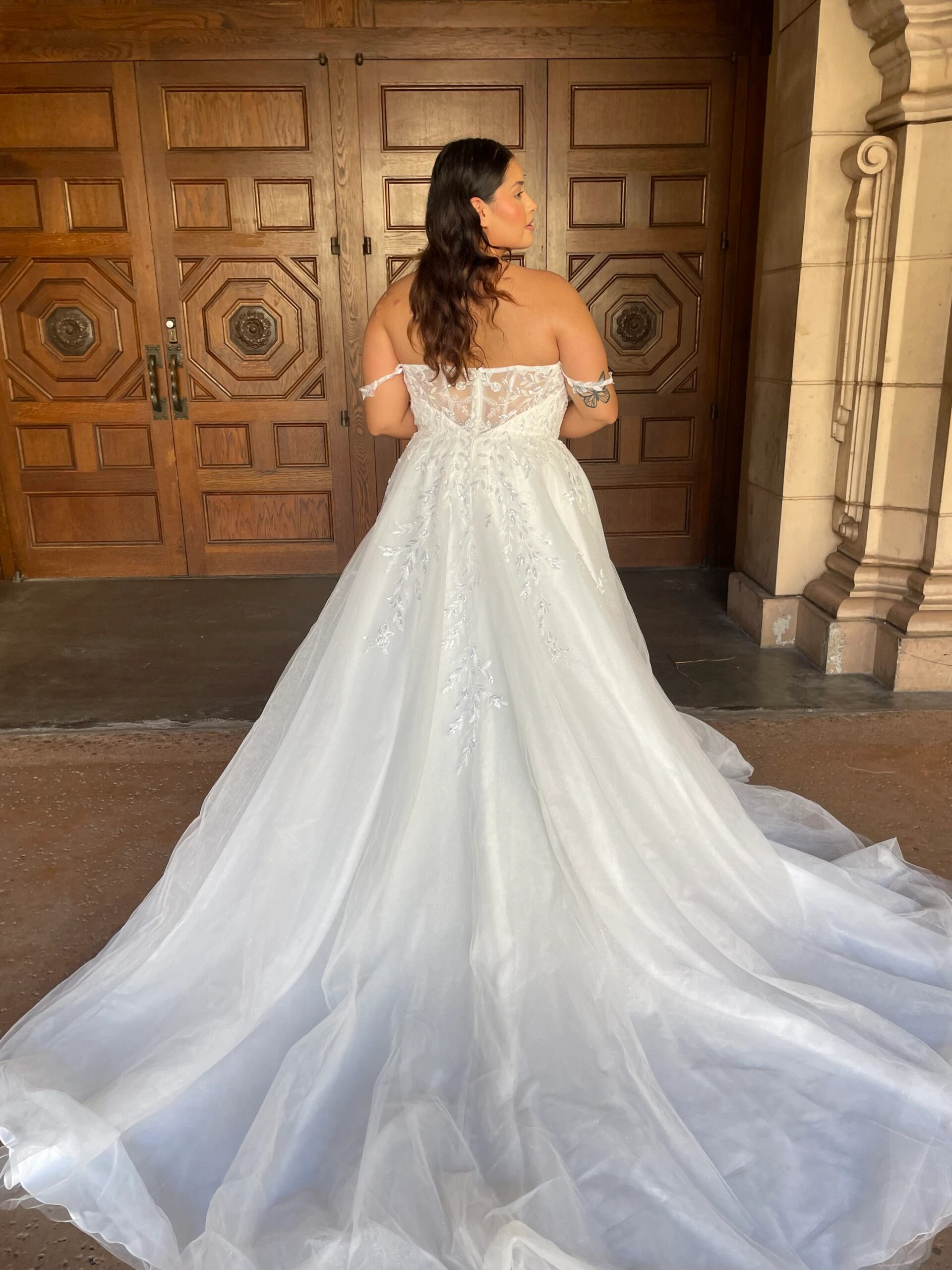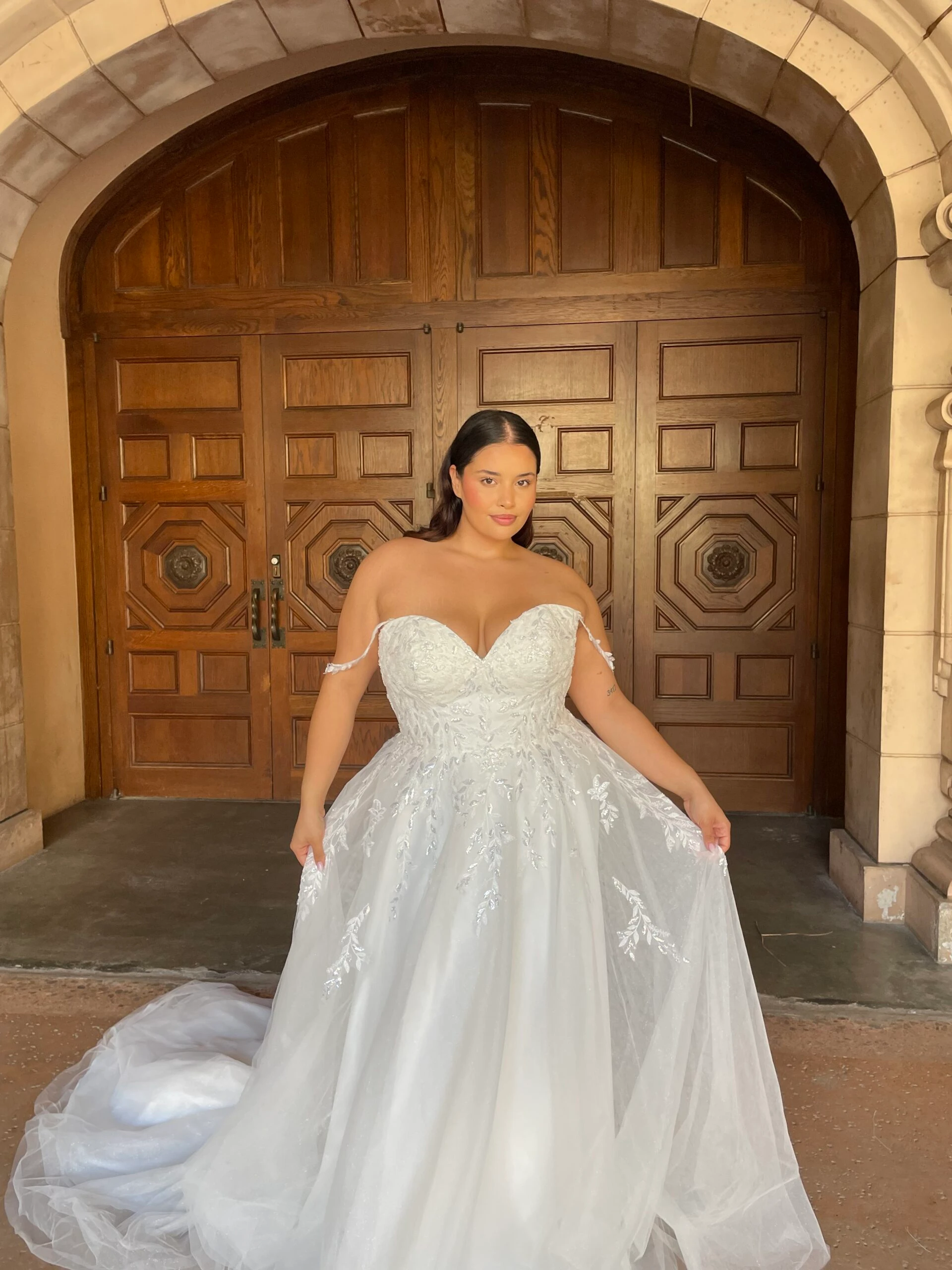 Step into the dazzling world of Stella York Style 7633+, one of our dreamy plus size wedding dresses! This irresistibly glamorous gown features a beautiful sweetheart neckline with delicate leafy lace straps that can be detachable if you wish for a strapless look. Best of all, this dress beautifully showcases your shape and silhouettes with its full A-line skirt and billowing layers of sparkling tulle. With every inch decorated in stunning hand-sewn beadwork and glittering sequins, you can light up any night like the star you are!
Glamorous and Romantic Wedding Dresses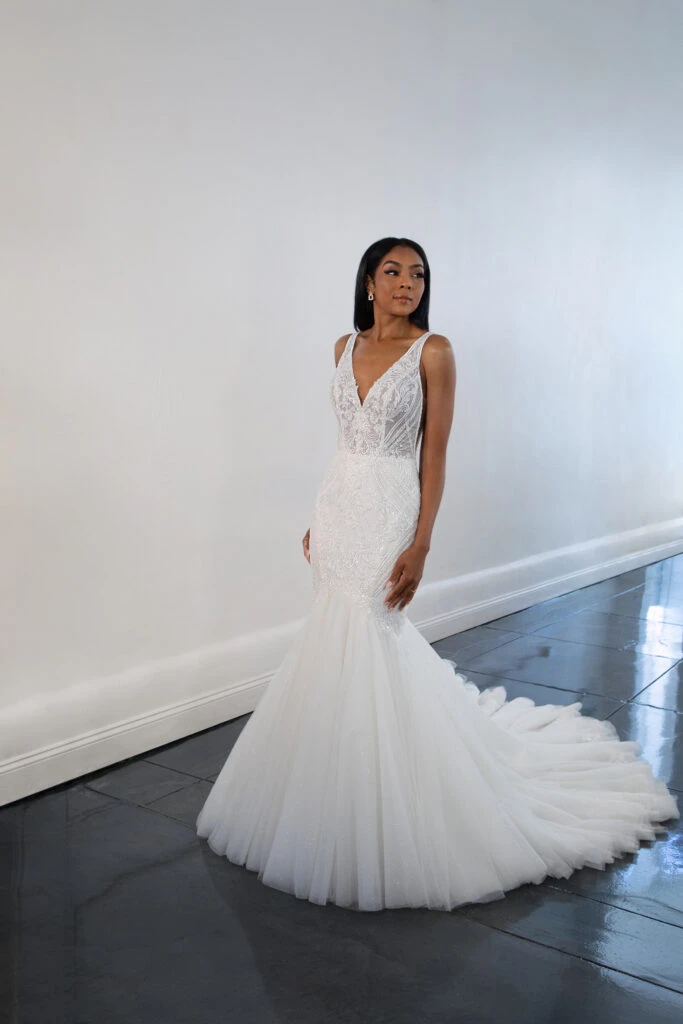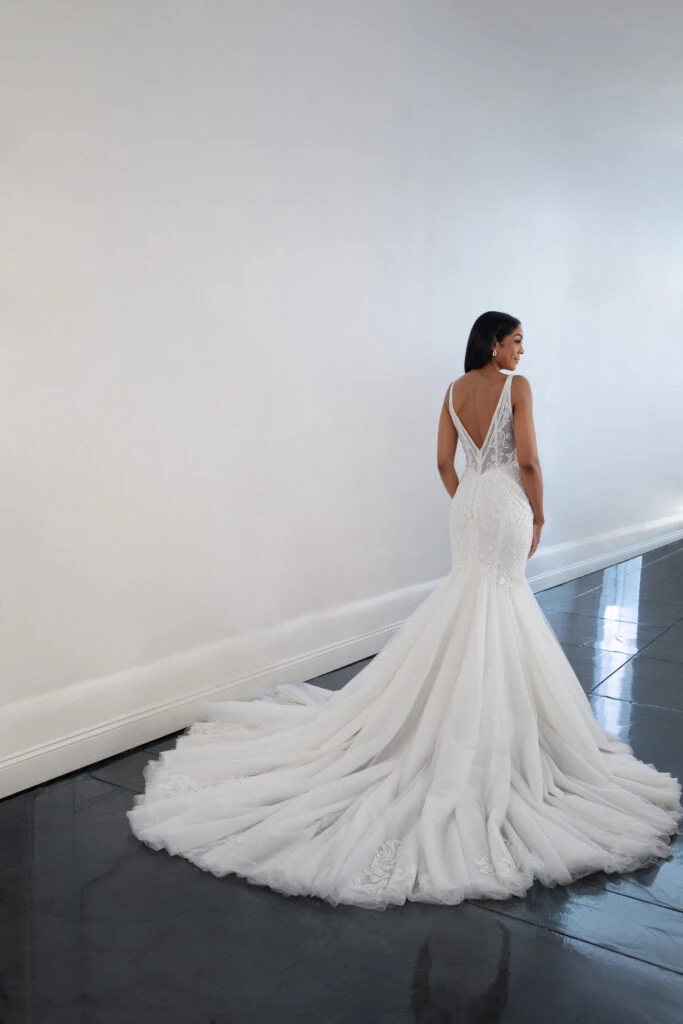 Are you dreaming of a romantic and glamorous look for your walk down the aisle? Look no further than Martina Lina Style 1532! This stunning fit-and-flare wedding dress features a stunning blend of tradition and style. Showcasing beautiful beaded lace from shoulder to hip and stylish sparkles throughout the tulle skirts, this dream gown will make sure all eyes are on you as your partner sees you for the first time. The V-neckline accentuates your curves and flatters your figure as it pairs flawlessly with side cutouts and deep V-back detail. You'll love the way the heavy sparkles shimmer in the light and give off an almost ethereal glow as you walk gracefully toward the love of your life!
Staying True to Yourself
Above all else, it's essential to be authentically you when selecting your dream wedding dress. Don't be afraid to experiment with different styles, bridal fabrics and wedding dress silhouettes — you won't regret it! Whether you want a classic, romantic look or a modern, sleek style, make sure that your dress reflects the real you.
Now that you have all the tips, tricks and information you need, it's time to start your bridal journey! Schedule an appointment at one of our True Society bridal boutiques. Our True Crew stylists can't wait to assist you and be a part of your special day! Dress availability varies per store.