This article is part of our Ultimate Wedding Dress Shopping Guide.
When beginning your wedding dress search, it is always a good idea to be equipped with as much bridal knowledge as possible! While the silhouette can help you narrow down the criteria for your dream gown, the wedding dress fabric is also an important element. After all, your gown will be made of four to ten yards of material!
Arming yourself with information about the different types of fabrics will help you choose a gown fit for your venue, season and style preferences. Keep reading to learn more about bridal fabrics, how to choose the right one for you and to see some of our favorite gowns!
What are the Most Popular Wedding Dress Fabrics?
To begin, let's break down some of the top wedding dress fabrics and what differentiates them.
Lace: Lace is one of the most popular wedding dress fabrics because it can be so versatile and fit a variety of bridal styles. Depending on the pattern of the lace, it can add a romantic or boho touch from vine-like floral lace to ornate dimensional embroidery and graphic laces. Lace is a delicate fabric made from yarn or thread, characterized by open designs and detailed patterns created through a variety of different methods, most notably by machine or hand.
Silk: This smooth fiber is made from silkworm cocoons. Many fabrics are made from silk fibers or a blend of silk and other fiber, including Charmeuse, chiffon, Mikado, Duchesse satin, Dupioni, tulle, lace, taffeta and more! Fabrics made from silk typically have a sheen, but their stiffness ranges from flowy, like Charmeuse, to more structured, like Dupioni.
Mikado: Mikado is a popular and elegant bridal fabric made of blended silk with a shiny finish and thicker structure, making it ideal for weddings in cooler locations. This fabric is stunning in an A-line or ballgown silhouette and can also be used for sleek and architectural mermaid silhouettes. While Mikado may look like satin, there are differences between these two gorgeous fabrics. Both are woven but with different techniques, and Mikado tends to have a more subtle sheen and stiffer structure.
Satin: Satin is a classic wedding dress fabric that can be made of silk or synthetic fibers. It is excellent for ruching, big ballgown skirts or sleek fit-and-flare styles. This fabric is a bit heavier but can be worn year-round, with the heaviest varieties best reserved for cooler months.
Tulle: Tulle is a super lightweight fabric and great for warm-weather weddings! This sheer open weave fabric can be ruched, layered to provide volume, adorned with lace appliqués if serving as an illusion netting, and of course, used to make a veil. Tulle is also a wonderful fabric for providing dimension with ruffles or a textured skirt.
Organza: Organza is a lightweight woven fabric that is sheer and provides beautiful movement but can also lend itself to more structured silhouettes. This fabric can be made from silk or synthetic fibers and makes for stunning draping or can be used as a base for a lace wedding dress. An organza A-line dress or ballgown is oh-so-dreamy and ideal for a spring or summer wedding!
Why is it Important to Choose the Right Wedding Dress Fabric?
It is imperative that you choose a gown in a fabric fit for the season and location where you are getting married. Selecting a heavier fabric like Mikado for a summer beach wedding may leave you sweating before you even make it down the aisle! Other fabrics, like silk taffeta, tend to wrinkle, so if that bothers you, it is best to steer clear.
Differences in Wedding Dress Fabrics
When shopping for your wedding dress, it is important to note the differences in the wedding dress fabrics you try. For example, a thinner fabric like organza may offer crisper ruching, which you may like more than ruched satin.
Also, pay attention to how each fabric looks on your body and the vibe they give to each wedding dress. Satin tends to look more glamorous, while lace can be traditional, bohemian or rustic, depending on the pattern and details of the gown. It is important to consider how your dress not only makes you feel but also fits into your overall vision for your big day.
Check Which Fabrics Are Available
Of course, wedding dresses in classic fabrics like lace, satin and tulle are often easier to find. However, if you're searching for a more contemporary fabric, make sure to do your research before booking your appointment. If the bridal fabric you love isn't widely available, your bridal stylist may be able to suggest a similar fabric option that you may love even more!
Dresses for Each Type of Fabric
Silk Wedding Dress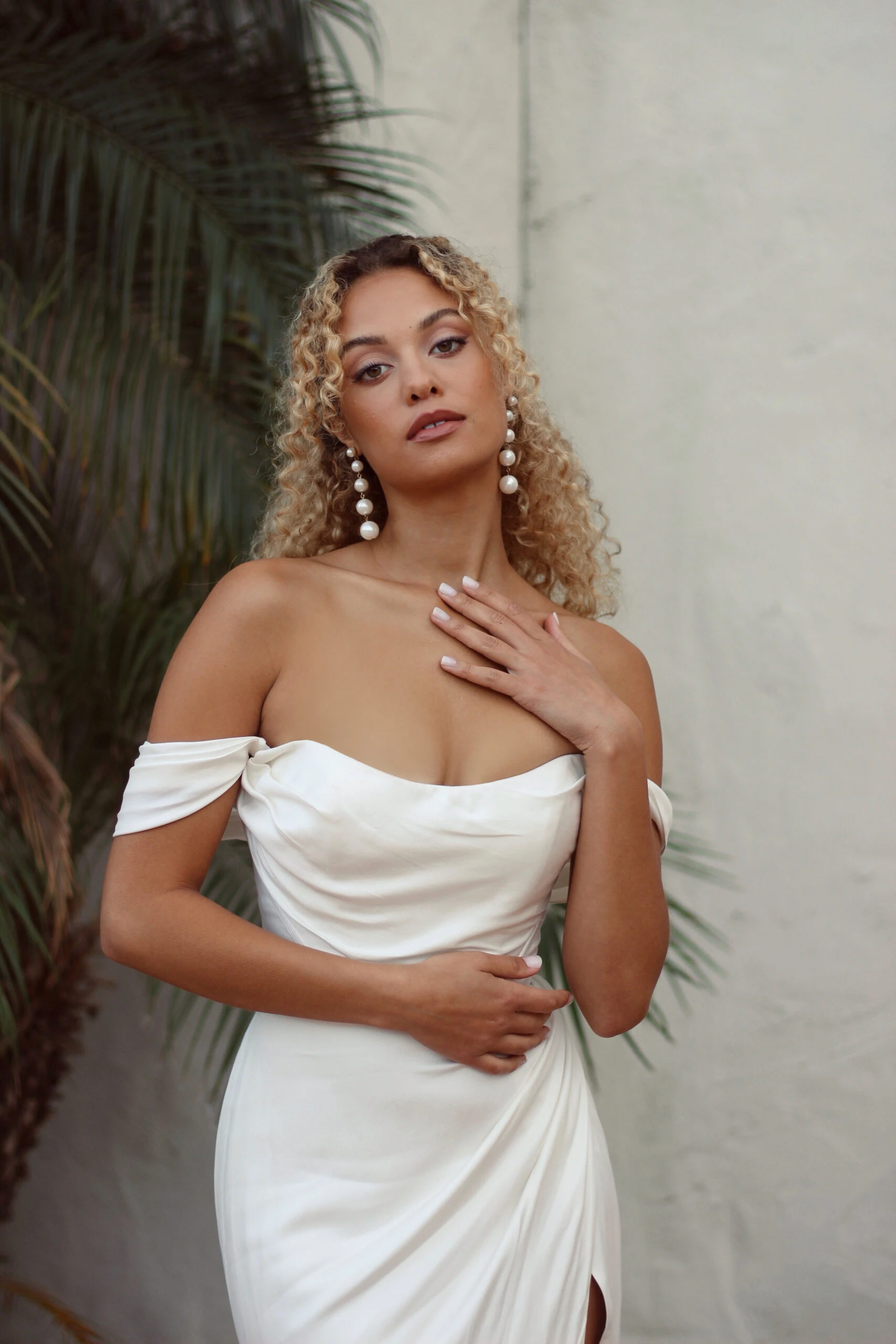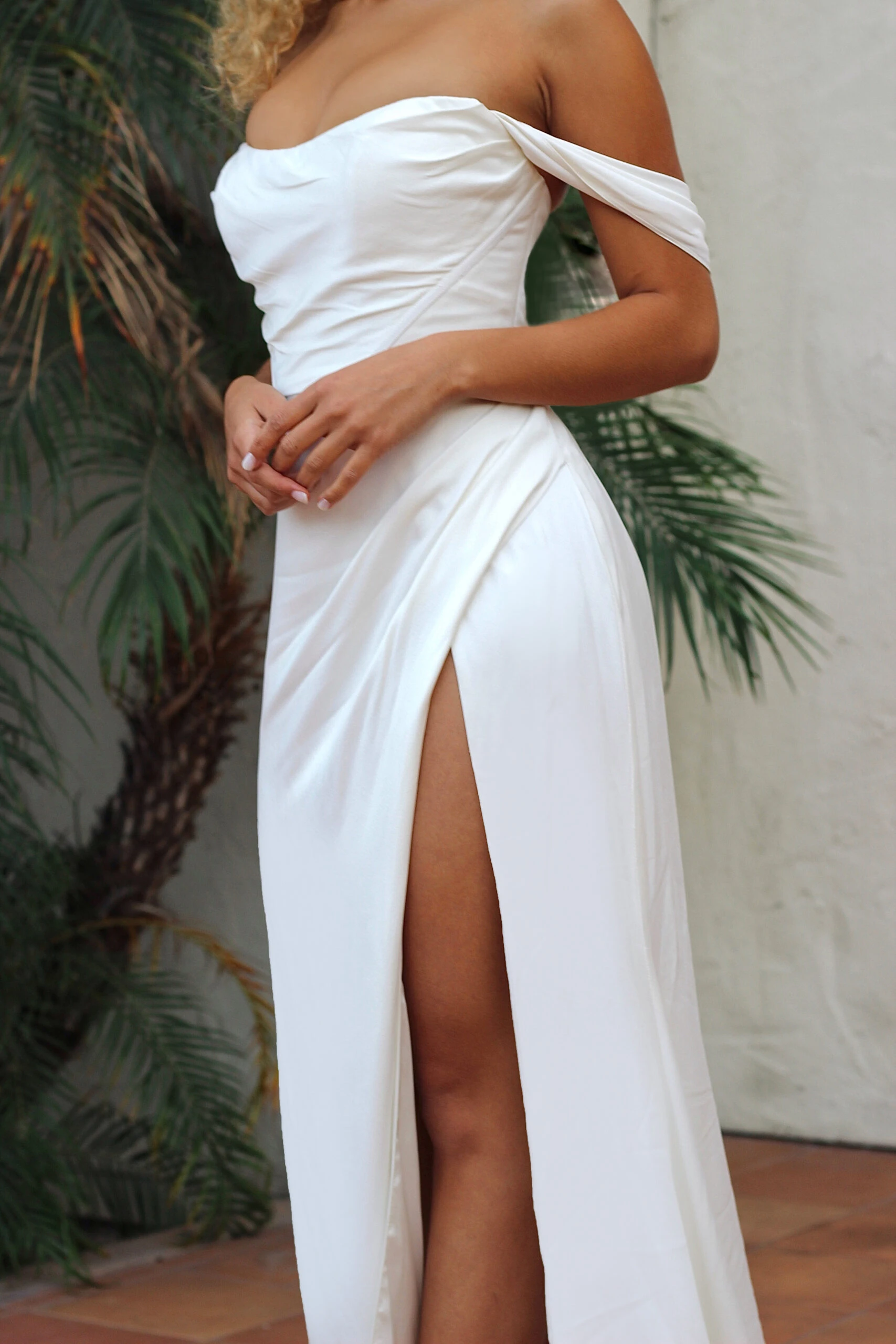 Silk wedding dresses give off an air of Old Hollywood glamour, and Martina Liana Style 1453 does just that. This Sandwash silk satin bridal gown has a strapless bodice with soft pleats and detachable off-the-shoulder straps for extra elegance. A column skirt and thigh-high slit are both sophisticated and sexy! This gown can be worn in any season and is an excellent choice for the modern glam bride.
Mikado Wedding Dress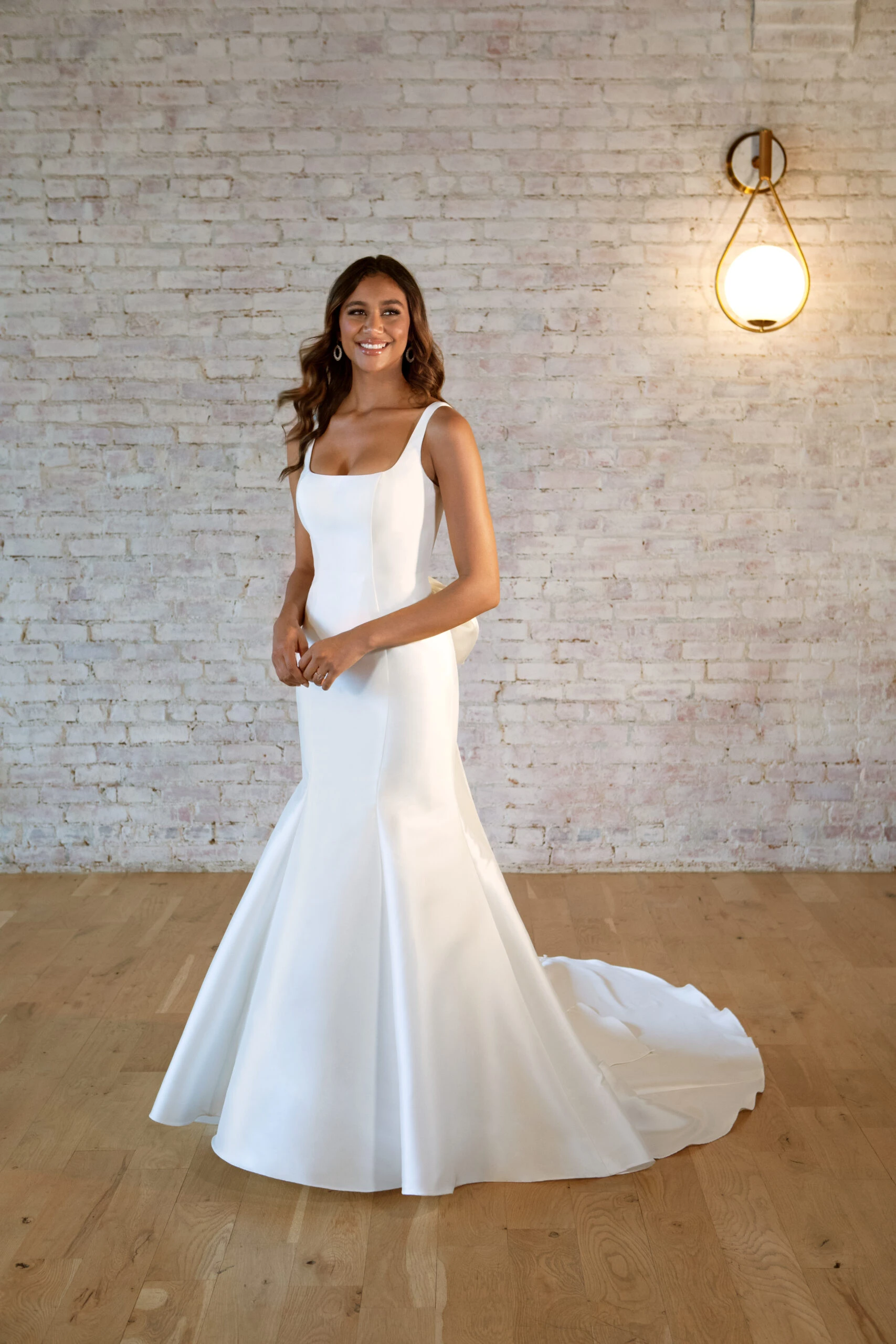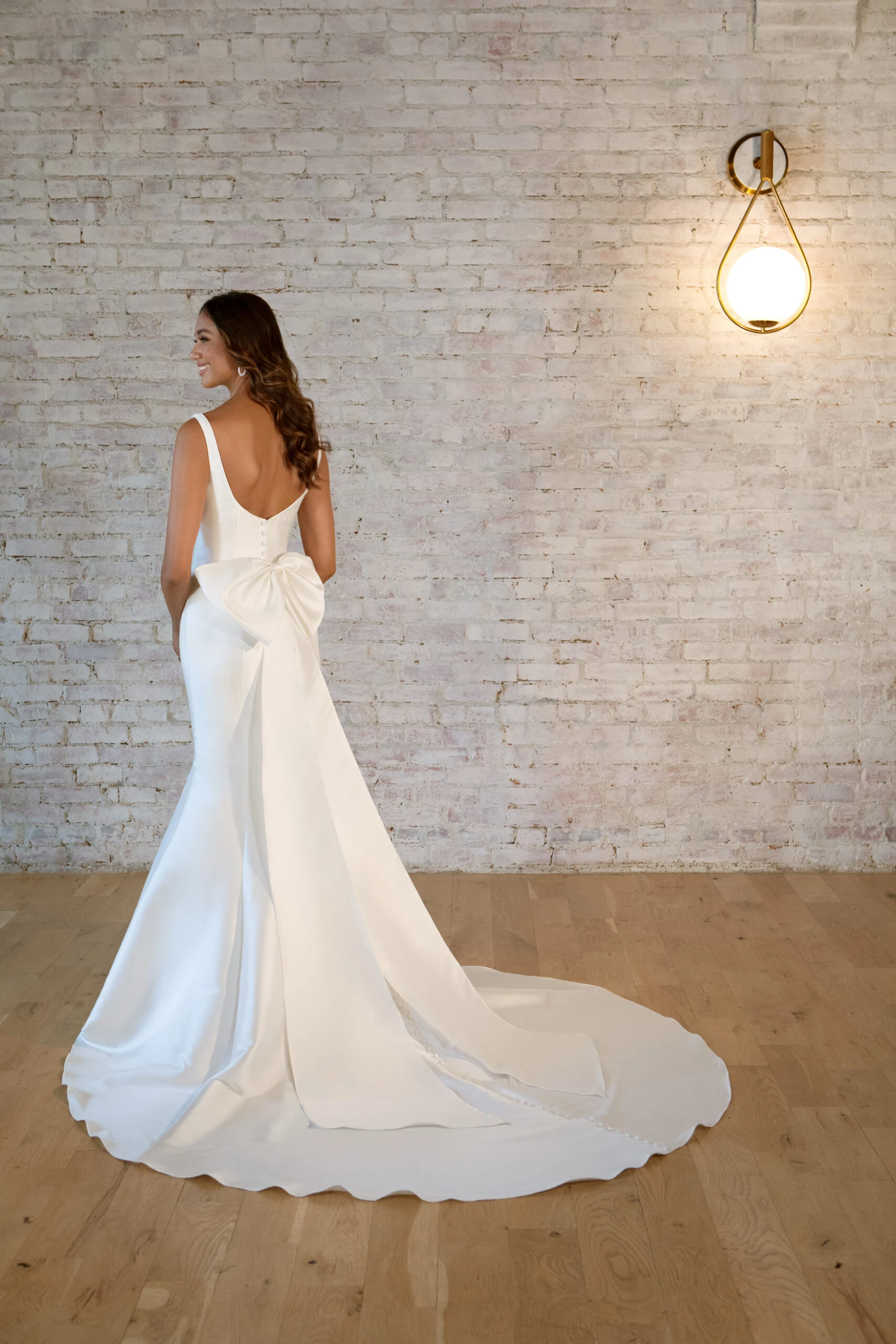 Mikado is an excellent fabric for the bride who wants a timeless look! Stella York Style 7557 is the classic bride's dream with its ultra-chic fit-and-flare silhouette, an elegant square neckline, buttons down the train and an oversized statement bow! This classic dress is beautiful for a ballroom or chic city wedding.
Satin Wedding Dress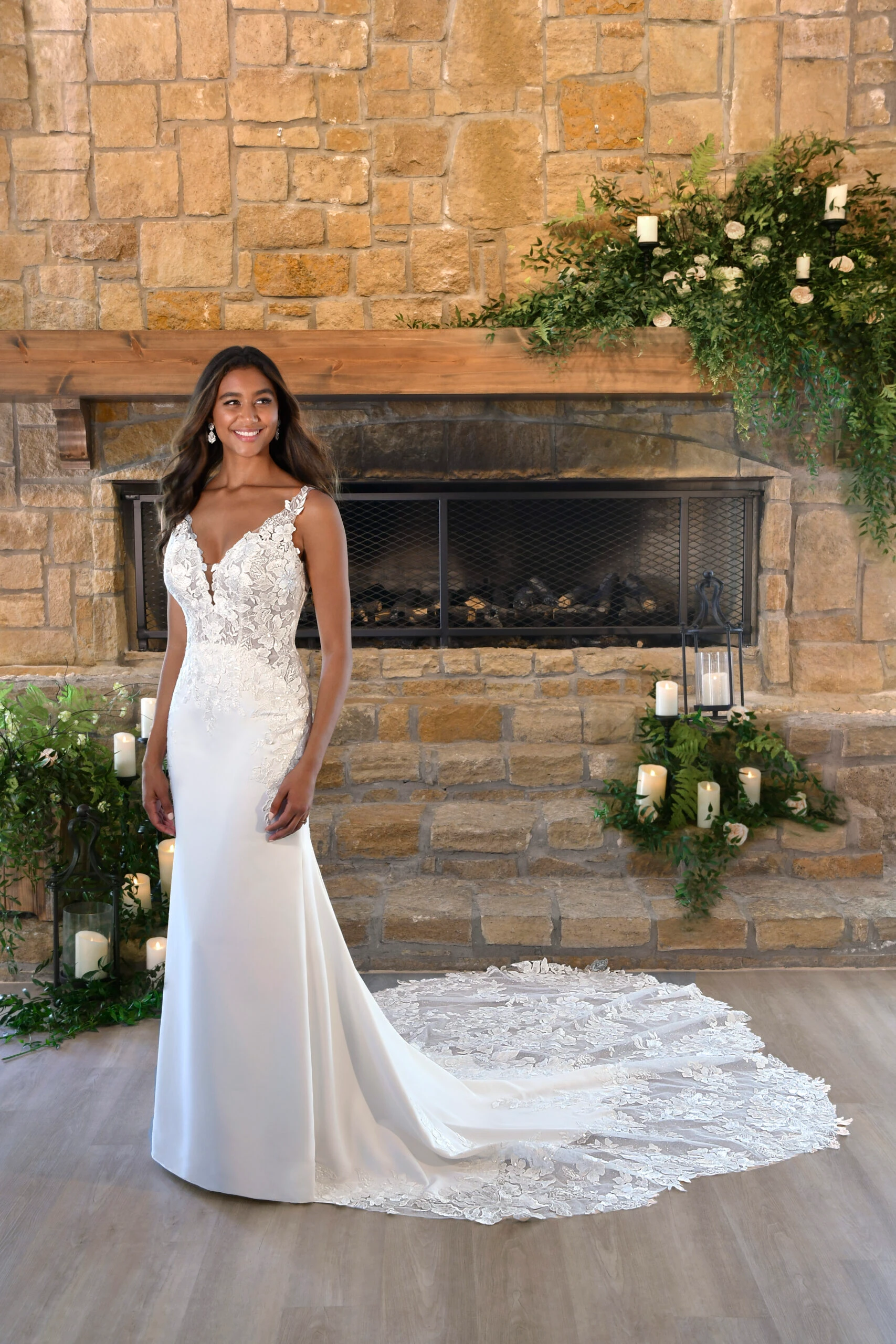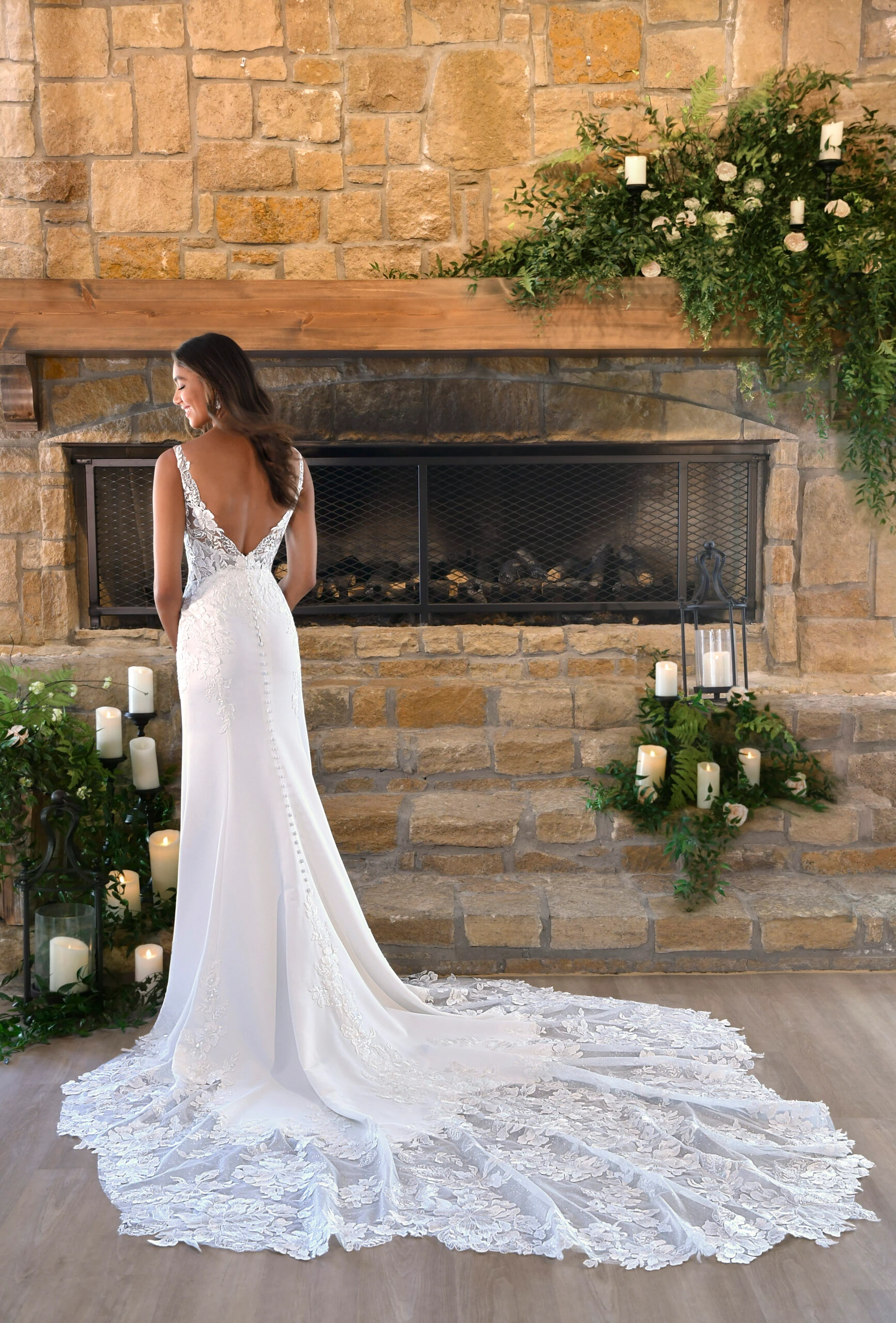 Satin is one of the most timeless wedding dress fabrics, and it gets an upgrade when combined with lace, which adds a romantic touch. Stella York Style 7457 is inspired by the dazzling beauty of nature. It features a bodice of lace appliqués with leaf motifs over illusion tulle and a matte satin sheath skirt that hugs the body for a chic silhouette. A long, lace-trimmed train adds the wow factor for an unforgettable entrance and exit! This gown would be beautiful for a vineyard or garden wedding.
Tulle Wedding Dress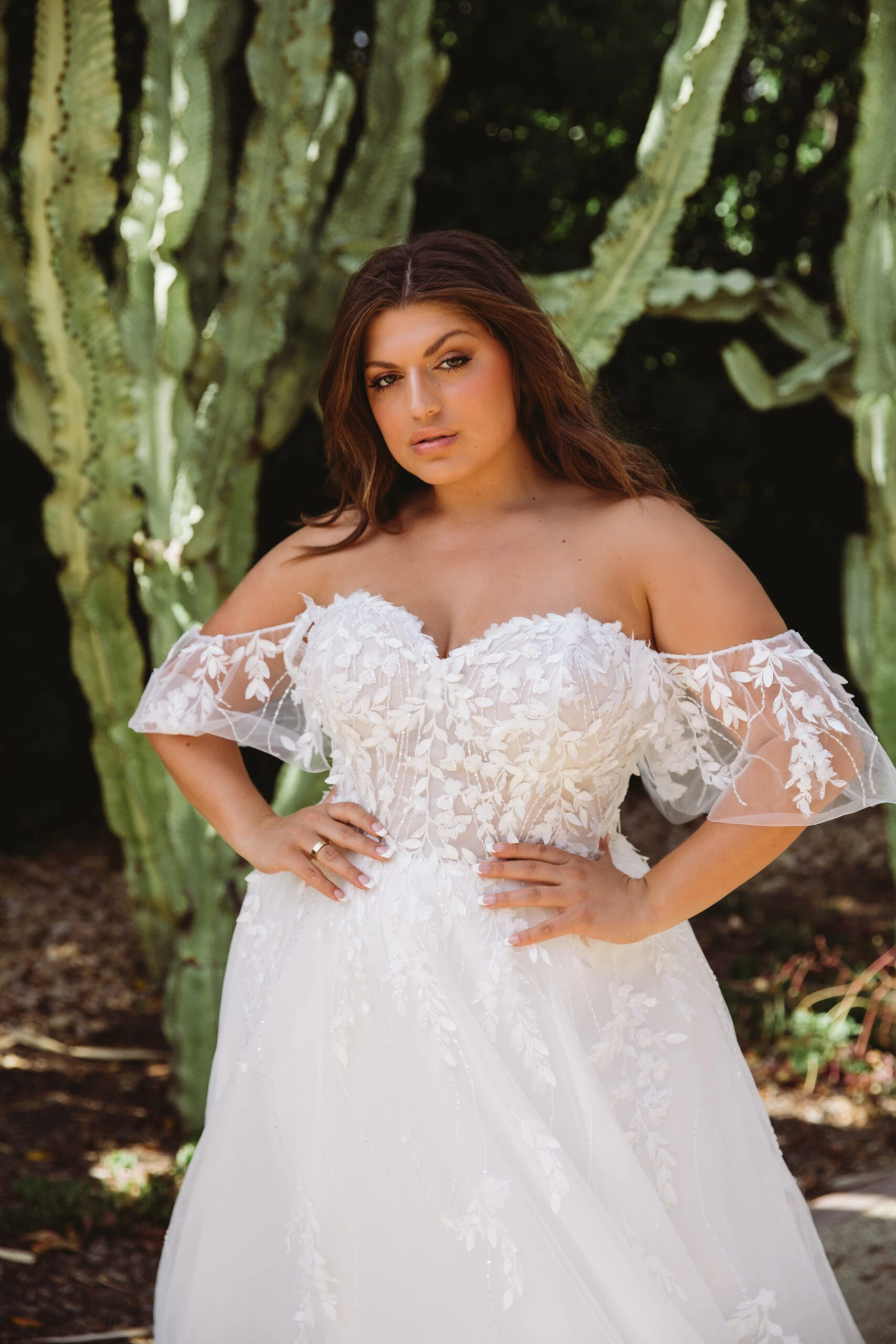 Tulle is one of the most romantic and ethereal bridal fabrics because of its sheer gauzy texture, which lends itself to making stunning A-line or ballgown skirts. Essense of Australia Style D3529 is a key example of this. Its dreamy sheer off-the-shoulder sleeves are embellished with vine and leaf appliqués and embroidered beading. The fitted bodice is adorned with organza flowers that trickle onto a frothy soft A-line tulle skirt that is made for dancing the night away. This gown is an excellent choice for the bride who wants a princess look for an outdoor or warm weather wedding.
Organza Wedding Dress
Organza is stunning when layered with other fabrics for a dimensional look while keeping your gown lightweight. Essense of Australia Style D3023 is a bohemian-inspired, glam A-line wedding dress featuring traditional floral lace details and a dazzling skirt of layered glitter tulle and Regency organza for an elevated whimsical design. This gown would be just as gorgeous in a ballroom as in a barn or beach setting.
Which Fabric Is Used in Wedding Dress Lining?
While it depends on the silhouette of the gown, wedding gowns are typically lined in tulle, stretch net or a thin layer of satin. The type of lining material is determined by whether the intention is to add volume to a skirt to make it more full or frothy or to achieve a streamlined look by not adding too much extra fabric to a wedding gown. Whatever bridal look you envision, our True Crew stylists are available to help you achieve it by making recommendations for custom additions where possible or to recommend what can be tailored out while keeping a dress's integrity.
How to Find the Best Fabrics and Dresses
The best way to find out which wedding dress fabrics work for you is by trying them on! You can also take inspiration from gowns you have worn in the past and how they made you feel. Doing your own research before your appointment will help streamline the process and allow your True Crew stylist to pull the gowns that best fit your bridal vision.
True Society bridal boutiques are located in Kansas, Missouri, Michigan, Oregon, Austria and Switzerland. Head over to our locations page to find a bridal shop close to you and book an appointment.
With all this information in mind, we hope you succeed in finding your dream gown in the best wedding dress fabric for you! To assist you in your search, you can learn more about our designers or browse our vast selection of gorgeous wedding dresses. Availability varies per store.