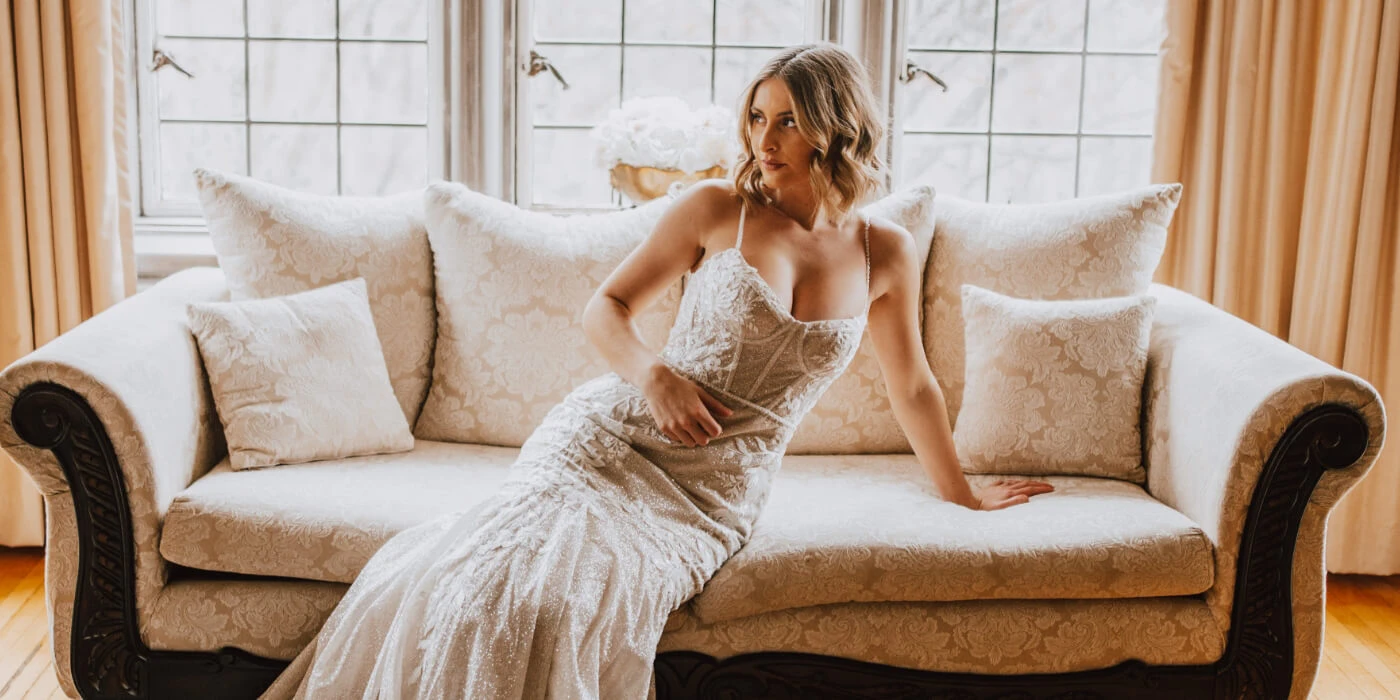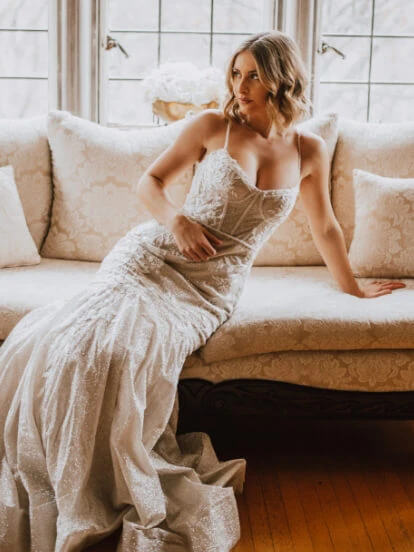 Frequently Asked Questions
WHAT DOES A WEDDING DRESS PURCHASE PROCESS LOOK LIKE?
Once you arrive for your pre-determined appointment, you'll be introduced to your bridal stylist and given a tour of our store – get ready to experience a serious wedding gown wonderland! During this tour we'll want to get to know you, your engagement story, your personal style, and what your priorities are for your wedding-day bridal gown vision. Together with your stylist, you'll select gowns to try and conversations will be had about what you like and don't like for each style. This communication helps your stylist collaborate with you in finding the one gown that gives all the feels. Once you find the perfect wedding dress, your stylist will then assist you with trying and selecting bridal accessories to complete your signature look.
HOW LONG DO WEDDING DRESSES TAKE TO ARRIVE AFTER THEY ARE ORDERED?
Your wedding venue and your bridal gown are two of the most influential pieces in creating the overall look and feel of your big day – they add the flavor that truly reflects you and your fiancé's style. Securing your location and finding that dream dress should be first on your list of To Do's – this will help fine-tune your vision and guide the many additional decisions that come with creating such a memorable celebration. With this in mind, we recommend beginning the wedding dress shopping experience no less than one year prior to your wedding date. Not only will this set the tone for your other wedding elements, it will help you avoid rush fees and general bridal dress stress. We do understand that you may be working within a shorter time frame – we got you – please call and we can discuss options on how to make your dream a reality.
DO I NEED TO HAVE AN APPOINTMENT TO TRY ON WEDDING DRESSES? WHAT ARE YOUR APPOINTMENTS LIKE?
Yes, appointments are preferred to ensure a stylist is available to assist you. Making an appointment will also guarantee comfortable seating for you and your loved ones, in addition to all the personal services that come with having an expert stylist to guide you every step of the way. To schedule a bridal appointment, please visit our appointment page.
DO I NEED TO MAKE AN APPOINTMENT TO LOOK AT/TRY ON BRIDESMAID GOWNS?
Yes, we would love to host you and your bridesmaids at our bridal shop! With individual fitting rooms and access to all of our fabulous bridesmaid gowns (in a variety of styles and sizes), you can have it all! To schedule, visit our location page to book your appointment or give us a call!
WHAT SIZE WEDDING DRESS SAMPLES DO YOU HAVE IN STORE?
We have samples in a wide variety of sizes in-store. We recommend you call your local True Society store to find out more.
WEDDING DRESS COLORS HAVE CHANGED SO MUCH LATELY. WHAT'S TRENDING AND THE MOST COMMON COLOR OF WEDDING DRESSES?
Our wedding gowns come in a range of colors with most styles offered in white and ivory. Depending on the dress, there may be additional color options such as almond, cafe, moscato, rum, etc.
How much do wedding dresses cost? 
Wedding dress costs vary based on factors such as design, fabric quality, whether a dress is off-the-rack or ready-to-order. True Society offers a variety of wedding dress options, ranging from budget-friendly styles to high-end, luxurious gowns. The price you pay will depend on your personal preference and the specific features you're looking for in your dream dress. Learn more about how much to budget for your wedding gown here.  
WHO SHOULD I BRING WITH ME TO MY WEDDING DRESS APPOINTMENT?
We know that shopping for a wedding gown is a once-in-a-lifetime experience, and finding your dream dress should be a memorable moment shared with your closest family and friends. We would love for you to bring whoever's opinions you value and trust the most, and recommend calling your local store to inquire about the maximum number of guests allowed at your appointment. We ultimately want you to feel confident and gorgeous when you stand in front of the mirror in one of our gowns, because we think every bride should experience the pure joy of finding their dream dress with the people they love by their side.
SHOULD I WEAR SPECIFIC UNDERGARMENTS TO MY BRIDAL APPOINTMENT?
We recommend bringing your favorite skin toned undergarments or shapewear so you can envision every dress exactly as you would wear it on the big day! Having an idea of your shoe height can also be helpful when visualizing everything together—so it would be helpful to bring your dream wedding shoes (if you have them).
DO YOU DO ALTERATIONS IN-HOUSE?
Alteration options vary by store. Please call ahead of time to discuss your options.
WHAT ELSE SHOULD I KNOW ABOUT MY WEDDING DRESS SHOPPING EXPERIENCE?
You might find your gown sooner than expected, so don't be afraid to go with it! This is your moment to find the dress that reflects your truest self and sets the stage for your most memorable entrance—so you can trust that our team will help you get there. Come prepared with an open mind and an adventuresome spirit!