Lace wedding dresses are as elegant as they are timeless and as unique as they are versatile. Lace elevates a wedding dress into a gown that is something truly magical and memorable. From botanical patterns embellished with intricate beading to graphic designs with heavy embroidery, lace wedding dresses are a thing to behold and something every bride can love. Here at True Society, we've got a HUGE variety of lace gowns in various silhouettes, from sexy mermaids to exquisite ballgowns (and a wide range of sizes, too!) Whatever your taste, we've got the lace! When you think of the delicate fabric, your mind probably pictures a dainty white floral print. There are so many types of lace that come together to evoke the dress detail of your dreams – let's take a look!
Types of Lace
Illusion
Illusion lace graces the silhouette beautifully, evoking the idea of lace elements floating directly above the skin. It's often used for long-sleeve lace wedding gowns and back details, allowing brides to feel sexy and timeless. Illusion lace also adds a vintage-inspired element to any gown, so if you're seeking that classic bridal moment, request illusion lace at your appointment!
Featured Gown: Martina Liana Style #1426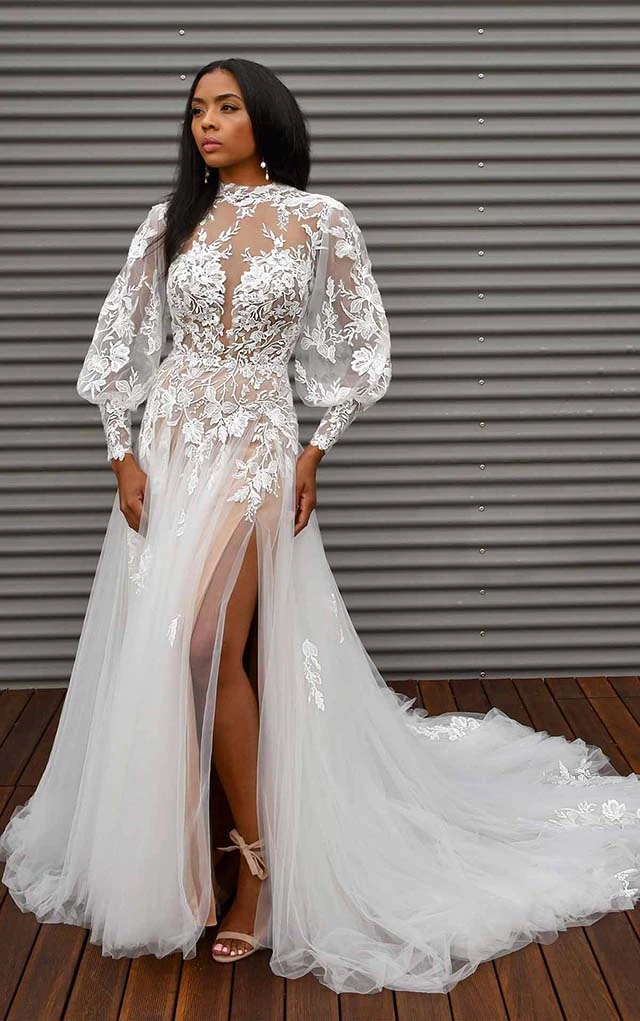 Graphic Lace
Graphic lace is bold and unique in style. Artistic appliques come together to create a pattern of lace that is distinctive to each gown! As seen on Style #D2679, scalloped shapes highlight and define the silhouette, drawing attention to the back, bodice, straps and train. If you're looking for a once-in-a-lifetime type of dress, ask your stylist to pull from our gallery of graphic lace wedding gowns!
Featured Gown: Essense of Australia #D2679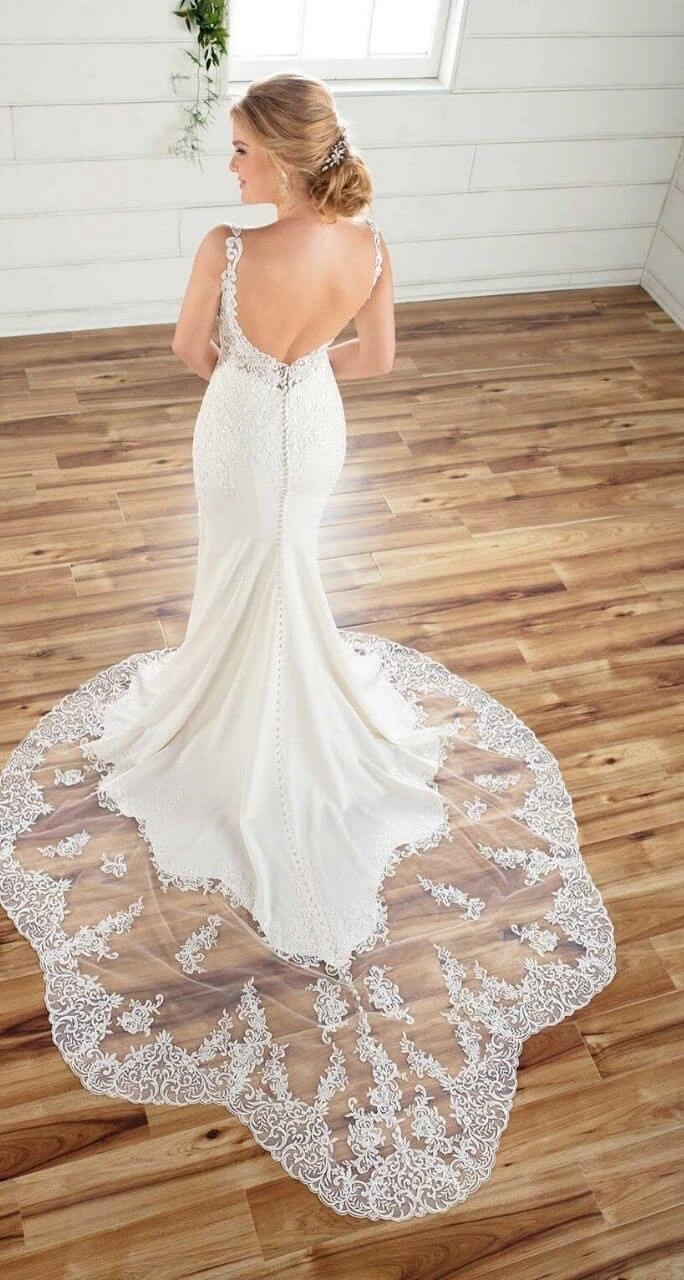 Laser Cut Lace
Laser-cut lace is meticulously manufactured with crisp lines and ornate shapes to ensure a wedding gown brings that "wow" factor. The lace is striking and with the addition of beading and sequins, your gown will light up under reception lights!
Featured Gown: Martina Liana Style #1406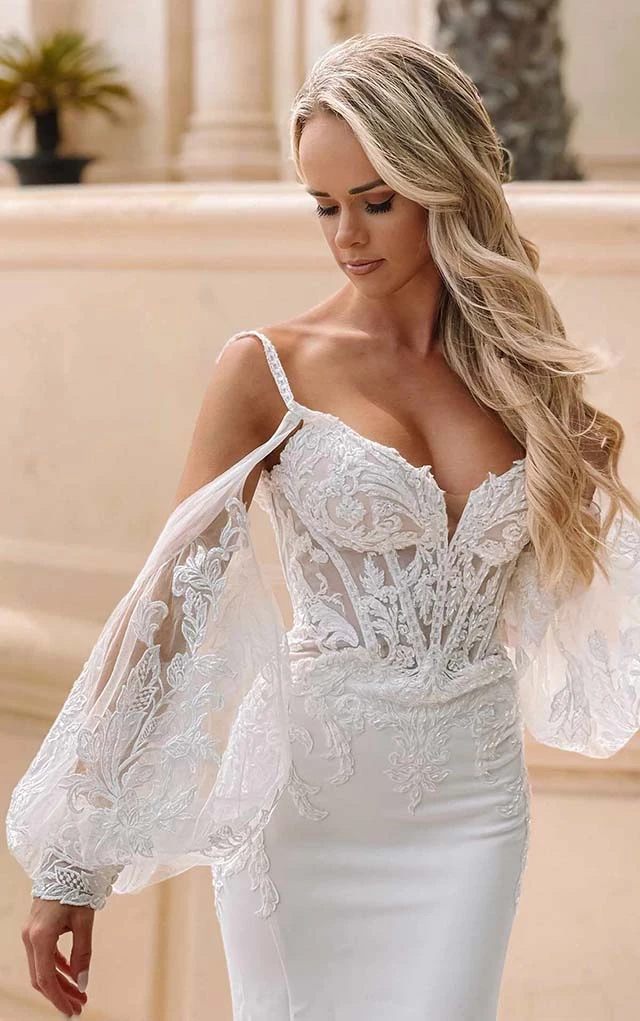 Floral Lace
Floral lace is one of the most popular types of wedding dress fabric, and with the utter femininity of delicately handcrafted flowers, we can see why! Floral lace is simply entrancing. Exuding total fairytale forest vibes, this fabric is a must-have for boho brides. Floral lace isn't the same on every gown – just take a look at any two dresses in our curated collection! Whether your heart beats for bold begonias or you prefer vine-like inspiration (as seen in this featured style) we'll help you find the floral lace gown of your dreams!
Featured Gown: Stella York #6993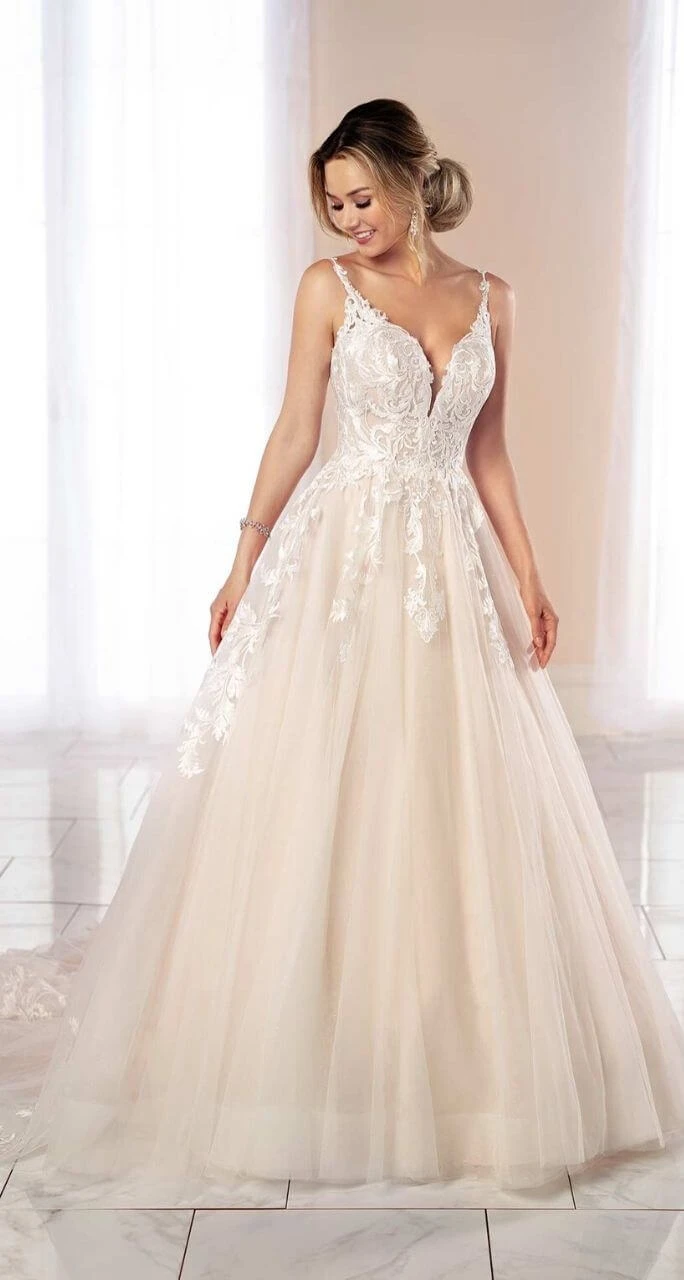 Check out more amazing lace wedding dresses
Touch, try on and fall in love with our designer lace gowns. Make your appointment today!