This article is part of our Ultimate Wedding Dress Shopping Guide.
You chose your dream wedding gown, and now it's time to find your bridal accessories! While shopping for the right jewelry and shoes is exciting, perhaps the most iconic accessory is the bridal veil! With so many types of wedding veils available, choosing the right one to complement your wedding gown may seem overwhelming, but don't fear! Continue reading to learn more about wedding veils and how to choose the right one to match your bridal style.  
What is the History Behind Veils?
Bridal veils have a long-standing history, though not much is known about its origin. According to Brides.com, ancient stories tell us that Roman brides would wear veils to protect them from evil spirits who wished to ruin their joy on the big day. Over time, the wedding veil became a sign of modesty and chastity.
Nowadays, some brides choose to wear veils as part of their religion or culture, while others don it for a touch of personal flair. From simple tulle covers to more intricate designs adorned with pearls and crystals, there are many ways to express your style through a wedding veil and show off your look on the big day.
What are the Different Types of Veils at True Society?
Cathedral Length Veil
Calling all brides who want a showstopping bridal look as they walk down the aisle! If this is what you're after, a cathedral length veil is a stunning choice. This dramatic style bridal veil extends past the train, making it one of the longest styles of veils. Long bridal veils pair beautifully with wedding dresses with dramatic, long trains for a regal look that will ensure that all eyes are on you!
Brides can go simple with a plain cathedral veil or opt for a style embellished with lace appliqués, dimensional flowers or beaded details. Make sure to enlist your bridesmaids to adjust your veil throughout the ceremony for the most breathtaking wedding day photos!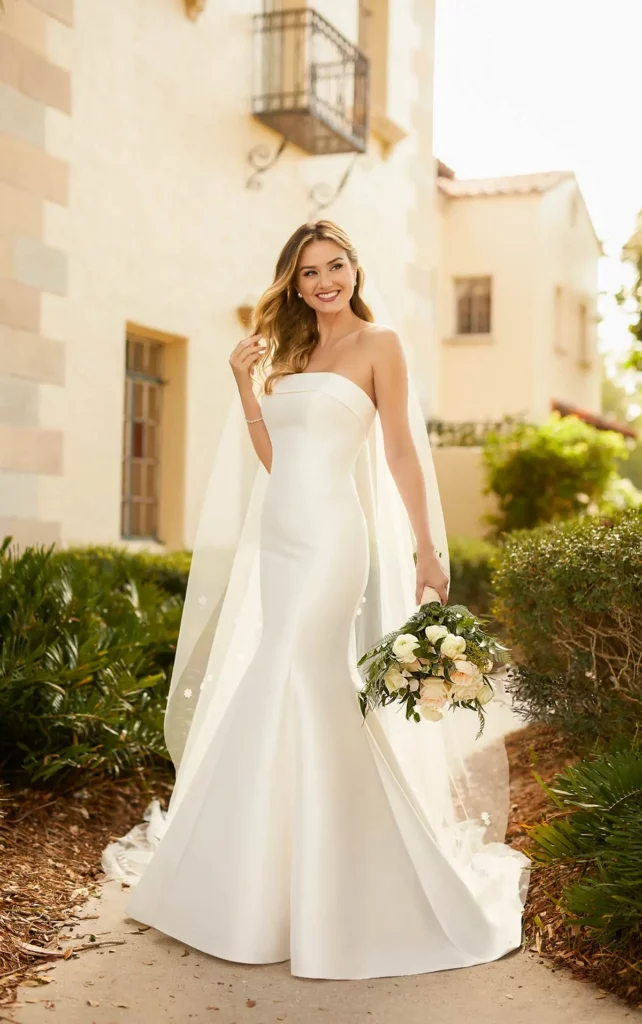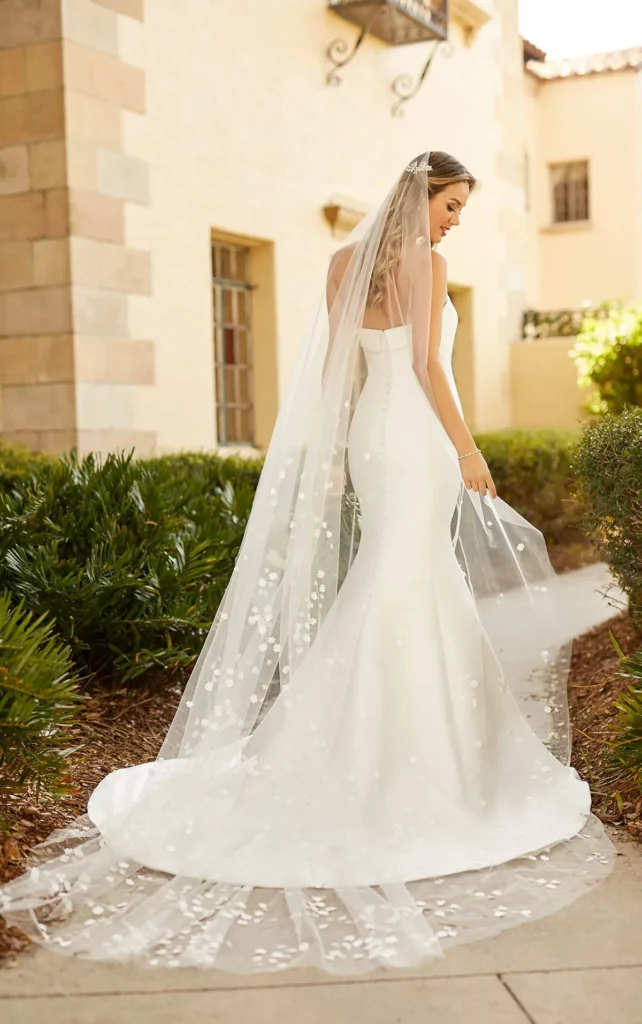 Birdcage Veil
If you have a chic, vintage bridal style worthy of the red carpet, you may consider a birdcage veil. This delicate type of bridal veil is made of netting and attached to the head with a comb or some type of headpiece.
Sitting over one or both eyes and grazing the face, a birdcage veil may be simple or adorned with crystals or other embellishments. We love this style paired with a lace or beaded dress for a vintage look or a sleek satin mermaid or fit-and-flare gown for a touch of Hollywood glamour.
Fingertip Length Veil
We can't forget one of the most popular bridal veil styles! A fingertip length veil falls at a bride's fingertips when their arms are at their sides. This style is beautiful for an outdoor wedding or for the bride who wants to keep the focus on their dress! Because this style of bridal veil doesn't flow over the entire gown like a cathedral veil, we recommend pairing one with an A-line, simple mermaid or sheath gown, which won't interrupt how the veil lays.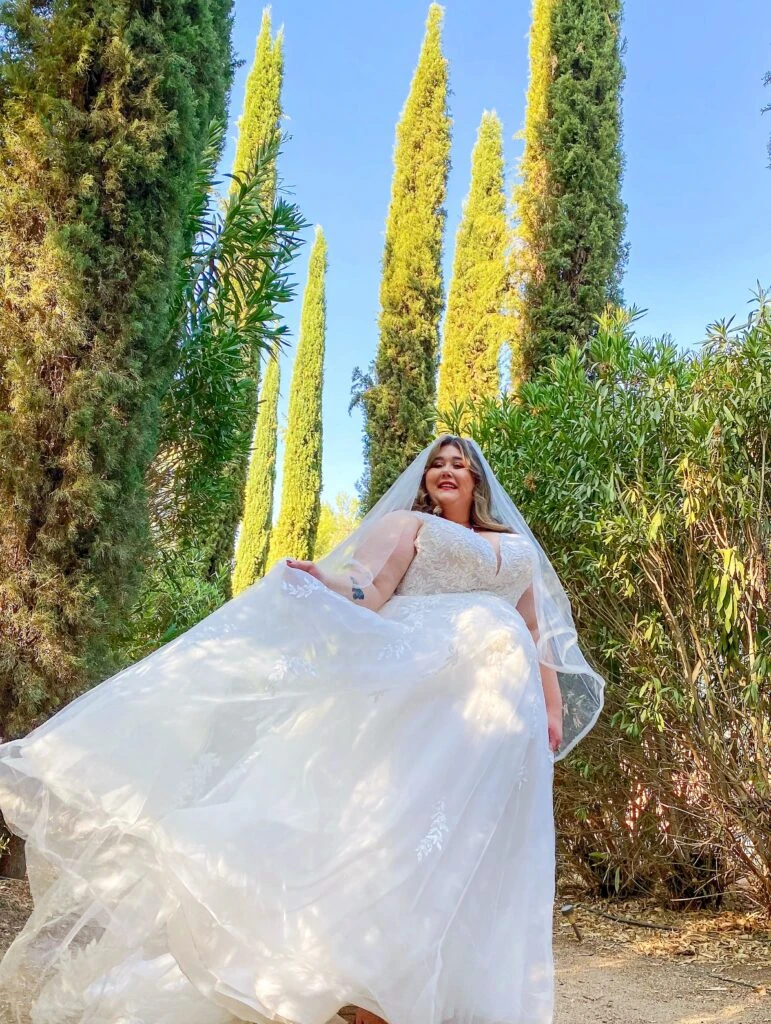 Ballet Length Veil
If you want a veil between the long, dramatic cathedral length and a fingertip veil, a ballet length veil is an ideal choice. The ballet length veil is similar to the fingertip length style but extends to the back of the knee. This style is both ethereal and elegant and looks beyond beautiful with a simple sheath gown, as it isn't interrupted by a fuller skirt. Like most veils, this style is available with various trims and embellishments.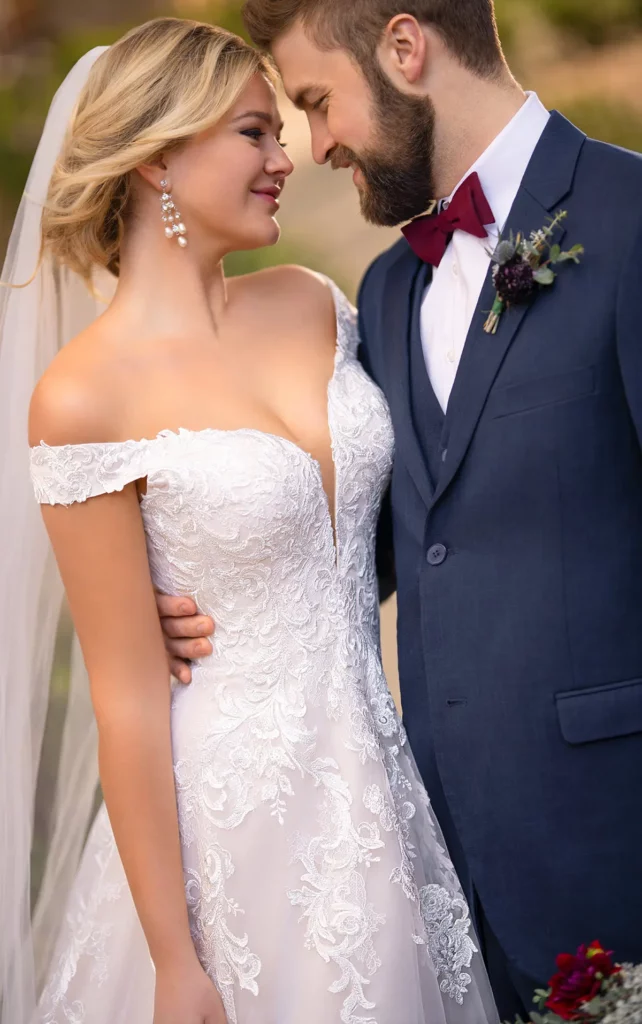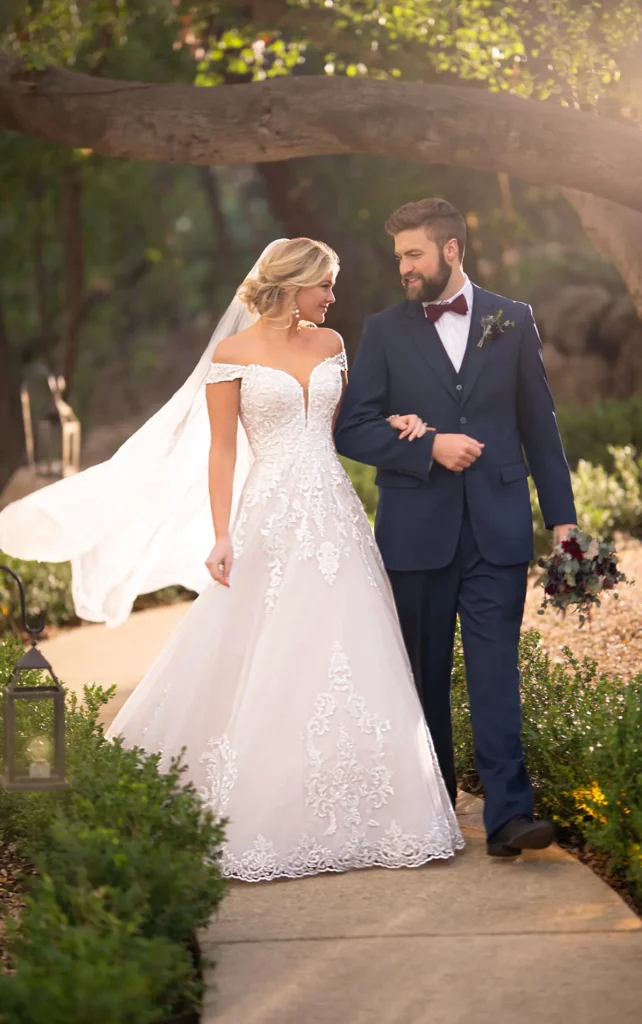 Essense of Australia Style 2815
Mantilla Veil
A mantilla veil has a lace trim all around its perimeter and lays flat on the top of the head near the hairline, unlike some veil styles that gather at the comb for a voluminous look. This style originated in Spain and is meant to drape over the shoulders, allowing the lace trim to provide coverage. Mantillas are a part of religious traditions not only in Spain but elsewhere, with veils being worn by women to mass.
Today, a bride may choose a mantilla for a more modest or traditional look or cultural reasons. This style is available in various lengths, so you can find a mantilla to match any wedding dress silhouette. We especially love this type of veil with a classic A-line or ballgown.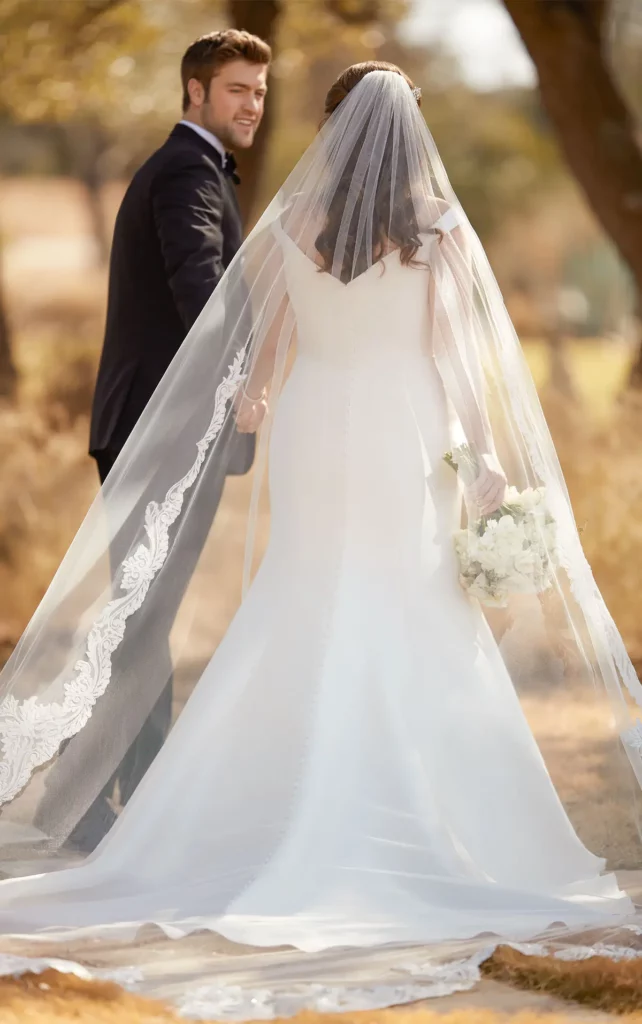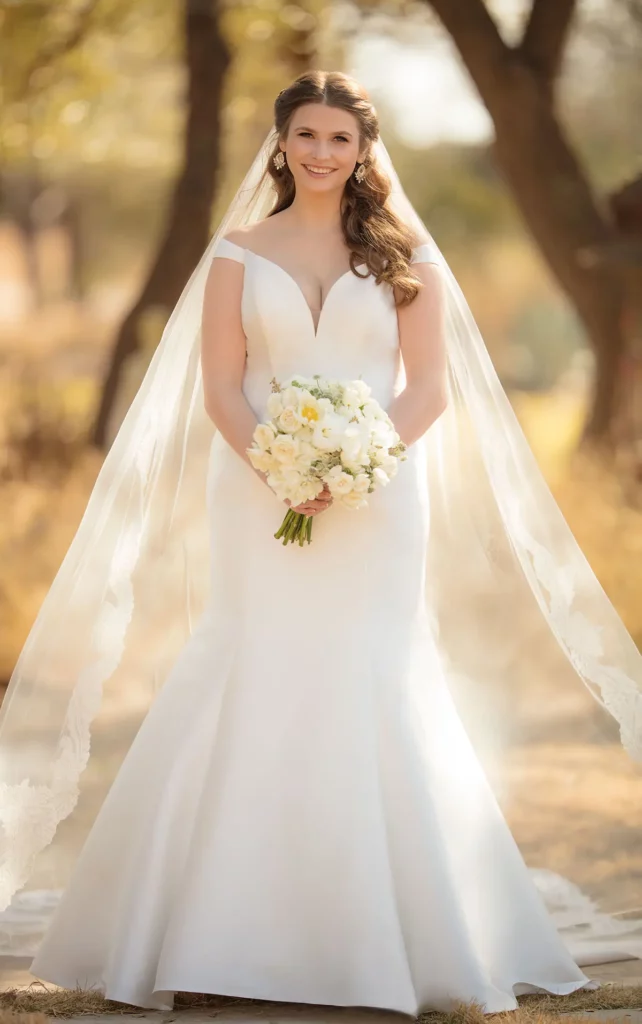 Essense of Australia Style 2477+
Blusher Veil
While never worn alone, a blusher is a traditional addition to any wedding day look. It is made from a short piece of tulle and traditionally worn over the bride's face until it is pushed back for the first kiss. Some veils are available with attached blushers, also known as two-tier veils, but you can also add a blusher to any veil (except a birdcage).
Like most veils, a blusher typically has a small comb to attach it to the head. Blushers only work with some veil placements, however! For example, a veil placed beneath a low bun would not allow for a blusher to be attached.
How do I Choose the Right Veil?
Now that you've learned about some of the most popular veils for weddings, you may be wondering how to choose the right one for your wedding dress. We discussed the different lengths and how shorter veils don't always work with certain silhouettes, but what about the width? Veils come in various widths, from slim and discreet to statement-making veils that take up space when spread completely.
Typically, you can use the fullness of your wedding dress skirt to help you decide. For example, slimmer cut veils look beautiful with streamlined gowns, like sheaths and columns, while a big ballgown looks best with a super wide veil, which won't get lost or look small compared to your skirt. Remember, though, it's your big day, so wear your wedding dress with the veil that makes you feel your best.
When choosing a veil with embellishments, consider the fabric and embellishments on your wedding dress. While a veil that completely matches is beautiful, you can also choose one that complements your gown. An embellished veil can also add detail to a simple gown. We love a pearl-embellished style with a sleek, silky slip dress for an on-trend look.
Veil Alternatives for Your Wedding Day
Not loving the idea of wearing a veil? Good news! There are so many beautiful bridal veil alternatives to choose from. Headbands, flower crowns, hats, hairpins, tiaras and combs are all stunning ways to add extra detail and a pop of your personal style to your wedding day look!
We have so many bridal accessories available at True Society, just ask your True Crew stylist for veil alternatives and get their expert styling advice.
Ready to find your dream wedding dress and bridal veil? Book an appointment at a True Society store location, and let us help you style your ideal wedding look! Style selection varies per store.