Featured: Martina Liana Luxe Style LE1101
With so much meaning attached to a piece of clothing, the thought of finding the perfect dress may seem impossible. But that's what we're here for. Consider us your personal expert shopper. We'll give you all our secret tips and tricks for mastering the daunting wedding dress shopping experience!
1. Decide When to Start Wedding Dress Shopping
A common question brides ask is, "When should I start wedding dress shopping?" Well, your motto should be "Plan, Plan Ahead!" Give yourself plenty of time to shop for and alter your wedding dress. Scheduling your appointment with True Society to find your dream dress is definitely one of the most exciting steps in your bridal journey – but, we may be a little biased! Something to keep in mind when determining when to schedule your appointment is our average gown shipping time. Depending on the designer, your gown could take up to six months to arrive. Once the gown arrives, any alterations could take between six to eight weeks. In order to avoid any stress or last minute rush fees, we recommend starting your shopping nine months to one year prior to your wedding date. If this timeline applies to you, book your appointment at a True Society location near you!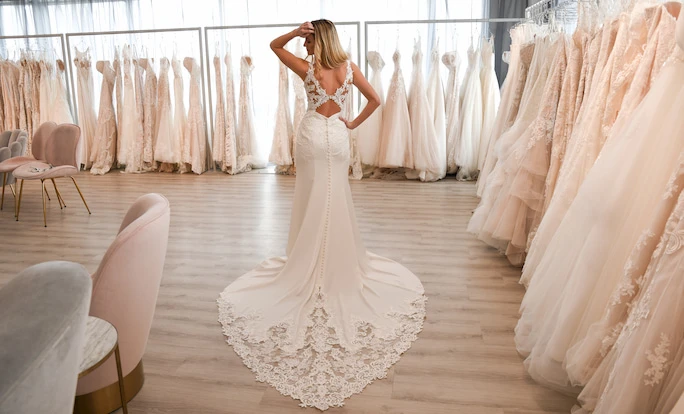 Featured: Stella York Style 6834
2. Pick Your Shopping Experience
There are more ways to shop for wedding dresses than you may think! Decide which dress shopping experience suits you best: booking a regular bridal appointment or attending a trunk show. What's a trunk show, you ask? Trunk shows are special events where you can try on additional styles from your favorite designer's latest collections and even catch previews of the upcoming collection! ! You can keep up with our local trunk shows by checking our Facebook events page.
3. Keep an Open Mind
It's common for brides to come in with a set idea of what they want, only to try it on and realize it doesn't look like how they imagined. Maybe the neckline isn't as flattering as it is in photos, or maybe you feel like an awkward poof rather than a modern day princess. Allow yourself to explore different styles and silhouettes from your original bridal vision. You may find that your dream dress was hiding in the strapless fit-and-flares all along!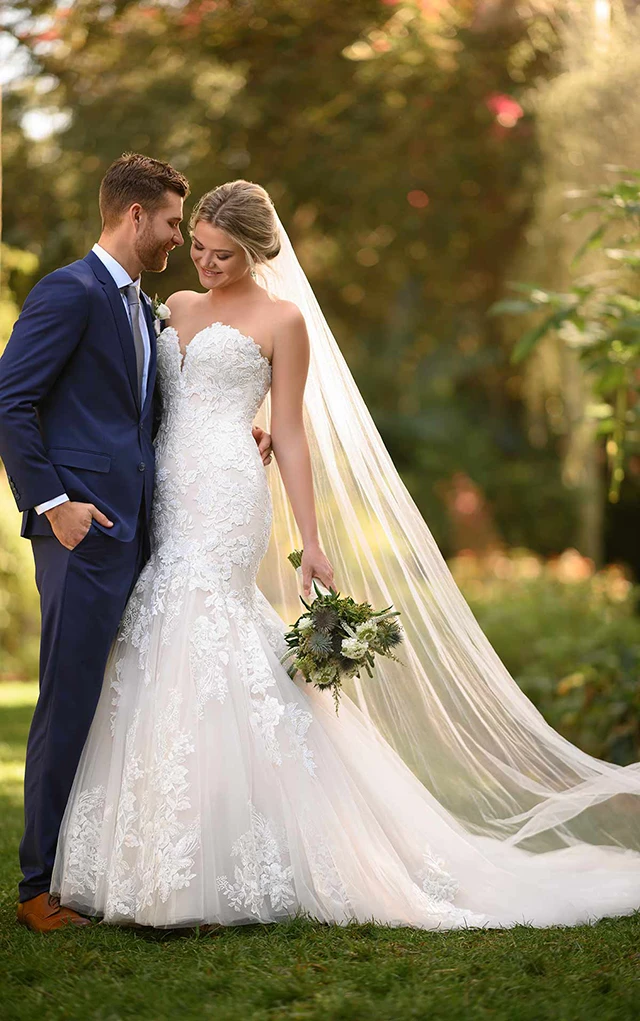 Featured: Essense of Australia D3044
4. Stop Obsessing Over Size
Bridal sizing is like that one class in high school where no matter how hard you studied, you would never understand. Trust us, the only number you should worry about is how stunning you feel on a scale of 1-10. (Hint: It should be at least an 11.) You will often be one to two sizes higher than what you typically wear in normal clothes. This is because a wedding dress is designed to be more tailored than everyday clothing. It's easier to take a dress in at all the right places than let it out. So ignore the size number, and focus on that perfect fit so you can be comfortable on your big day.
5. Set a "No Budge" Budget
NEVER, and let me repeat again, NEVER try on a dress that is out of your price range, unless you're actually prepared to spend more. If you fall in love with it, there is really no going back from there. Go into the whole process with hard numbers on your limit. It will help you not only find your dream dress, but also narrow down designers and styles to stick to. The last thing we want is for you to walk away empty-handed and disappointed.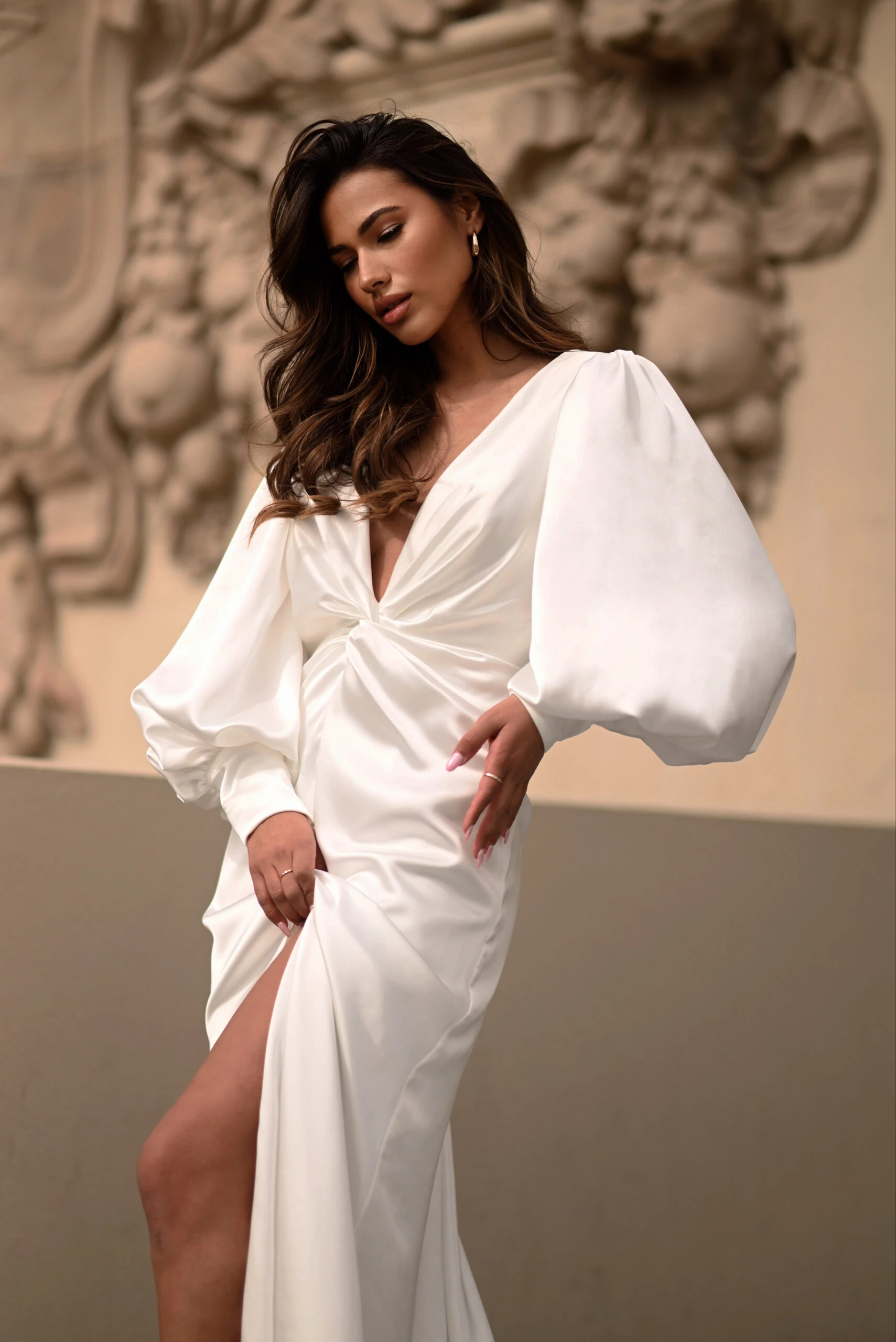 Featured: Martina Liana Style 1646
6. Bring a Close Crew
A solid support team is key to remaining happy, excited, and body positive throughout your bridal appointment. The dressing room can be a negative self-talk space for many people and there should be NONE of that at your appointment (or any other day for that matter!). Bring a group of people you trust and can be yourself with. It will make your bridal shopping experience even more enjoyable. And don't forget to call your wedding dress shop for their approved guest limit!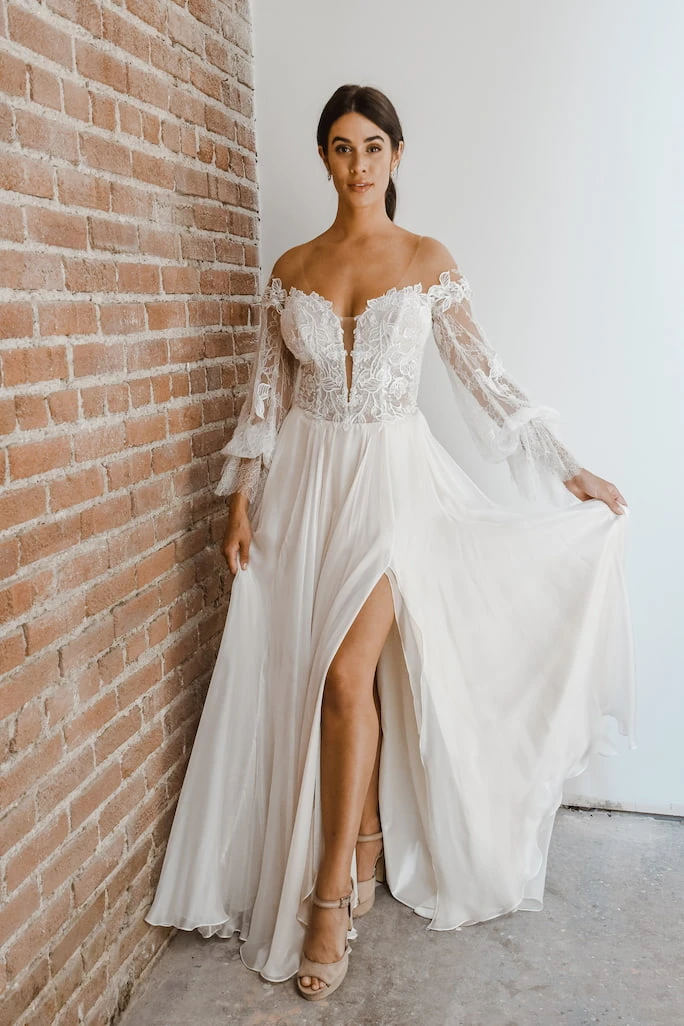 Featured: All Who Wander Finn Gown
7. Be a Little Selfish
OK – so you may have found THE ONE! But you're worried about pleasing everyone. It can be hard to find a dress you love that also accommodates for what Mom likes… and your mother in-law…and your sister. Oh, and would Grandma approve? The list goes on! But truly, the only opinion that matters is yours. Choose the dress that makes YOU feel the most beautiful. Take a step back from all the advice you're getting from the outside and focus on the emotion that each dress makes you feel.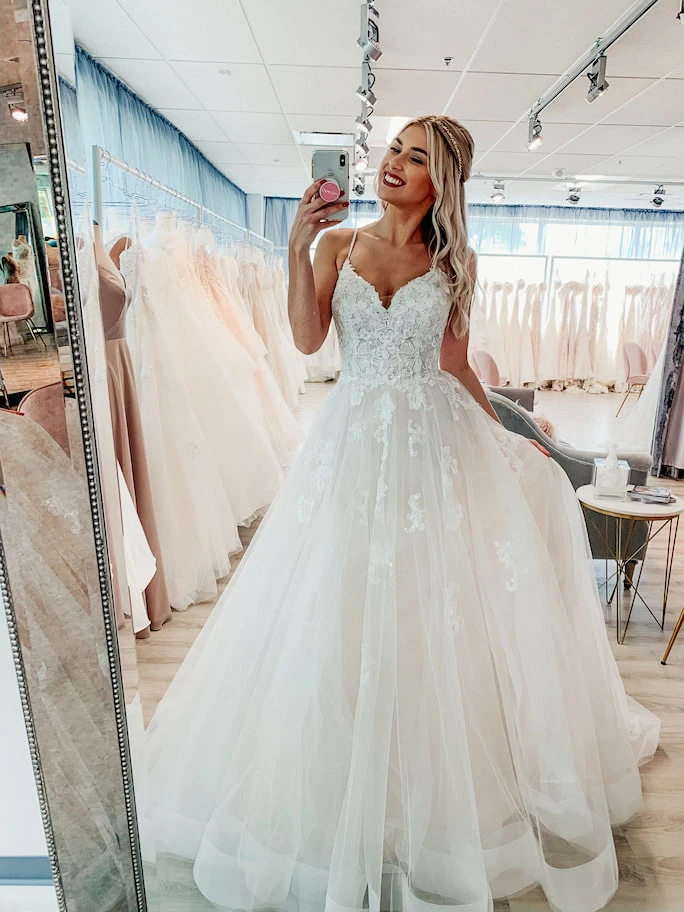 Featured: Stella York Style 6886
After all that prep work, you're bound to have an amazing experience shopping for your dream dress. We can't wait to see you at True Society! We're now booking at all locations. So… if you're ready to find the wedding dress you've always dreamed of, gather your inspo, get excited, and wear a mask! We can't wait to see you soon.
Finally, if you're looking for some amazing bridal gown inspo, check out our Instagram and save your faves so that you can show your bridal stylist during your appointment! It's great to have a few silhouettes, fabrics, and designers in mind before you come.