Hey True Brides, you've asked, and our stylists have delivered! Today on the blog, we're talking everything brides need to know about the most popular bridal accessory: Veils. We've gotten a ton of DMs asking about veil pairings for specific dresses as well as what type of veils are available at our store, so read on for all the deets. Keep scrolling for our FAQs about veils!
Jump to veil types and terminology.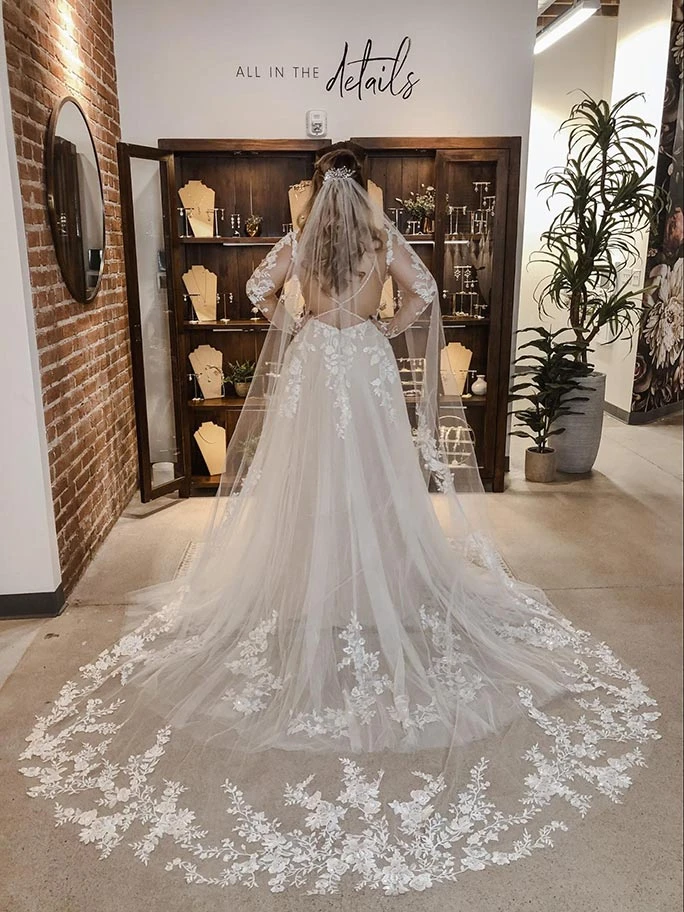 Gown: Stella York Style 7289 + AVL0045 veil
Top Five Veil FAQs:
What type of veils do you suggest to brides?
It really depends on what style or look you're going for! We select veils based on information gathered throughout your bridal appointment so that it truly fits your personality and style. So when you come to your appointment be prepared to dish.
Questions we'll want to know:
How do you envision wearing your hair?

Do you want people to see the back details of your dress?

Why do you want to wear a veil?

Do you want a simple added touch or a statement piece?

How long do you want to wear the veil? Ceremony only? All night?
The more we know about your vision, the more likely we'll find the perfect veil on the first go! (Read more on what we take into consideration for veil recommendations below.)
Where should I place my veil?
Veil placement will depend on your hairstyle and desired look. Putting it higher up on your head evokes a more traditional vibe. Wearing it closer to your neck or under your bun gives your look a more modern vibe.
When should I order my veil?
If you absolutely love the veil you try on during your bridal appointment, we recommend purchasing it then so it will arrive at the same time as your wedding dress, and you can pick up both in store at your pick-up appointment. We keep our best sellers in stock and some veils can arrive extremely fast. However, some are custom ordered and can take up to four months to arrive. If you're still unsure, we offer accessory appointments as a follow up, where you can have a more in-depth veil try-on sesh and explore all the options.
What do I do with my veil after my wedding?
Brides can preserve their veil with their dress. If they have a friend or family member getting married, they can also pass it on as something borrowed. Veils also make a great heirloom piece that can be passed down, rather than the dress itself!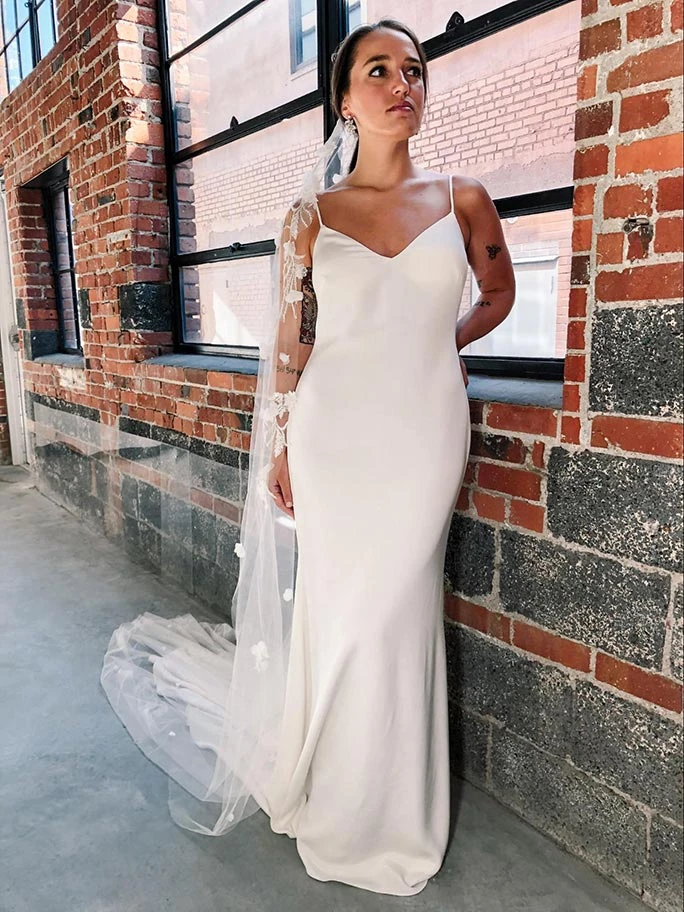 Gown: Martina Liana Style 1319 + AVL0040 veil
Veil Types & Terminology
Fingertip Length: Fingertip lengths will range from 40-60 inches. Fingertip veils are the easiest to be worn but won't give a huge dramatic effect.
Waltz Length: Waltz veils are about 60-80 inches. This veil will fall below your knees but won't touch the ground. This is a great option for something slightly more dramatic than a fingertip veil without having the "fuss" of a cathedral or royal length.
Cathedral Length: Cathedral veils will range in length from 100-120 inches.
Royal Length: A standard royal length veil will range in length from 140-180 inches but can sometimes be even longer. Most Essense veils are available in both royal and cathedral lengths.
Blusher: A blusher is the additional layer on a veil used to cover your face. This is not a super popular option but has become more popular over the last year. We have two Essense veils with a blusher attached and two Marionat veils with a blusher. Marionat also gives us the option to add a blusher to any veil. AVL0046 (a top seller) is a veil with a beautiful blusher. Our brides are obsessed with this veil. Of those who purchased it, it's about 50/50 on how they are wearing it. Some chose it just because they liked the volume and extra drama it added while others will be wearing it over their face.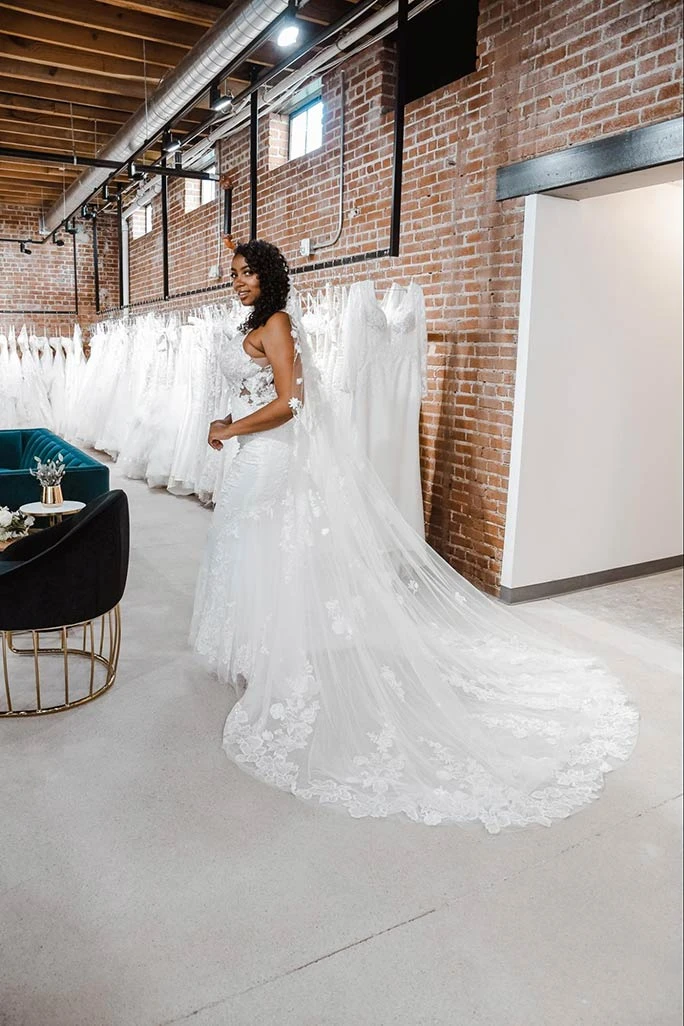 Our Best-Selling Veils
1. 3651 by Marionat
3651 has been a top seller for about two years. The veil has a pearl and ivory-beaded edge that complements a wide variety of our designer gowns. From modern, clean sheath dresses to luxurious glitter-beaded ball gowns, this veil's simple design brings the perfect amount of detail. It is available in both fingertip and cathedral length.

2. 2050ST by Marionat
This unique raw-edge veil is made from clear threading instead of ivory threading so the veil is much more see-through than your typical tulle veil. The fabric has a slight sheen, which becomes especially prominent In the sunlight, which many of our brides absolutely love. This veil is available in both fingertip and cathedral lengths.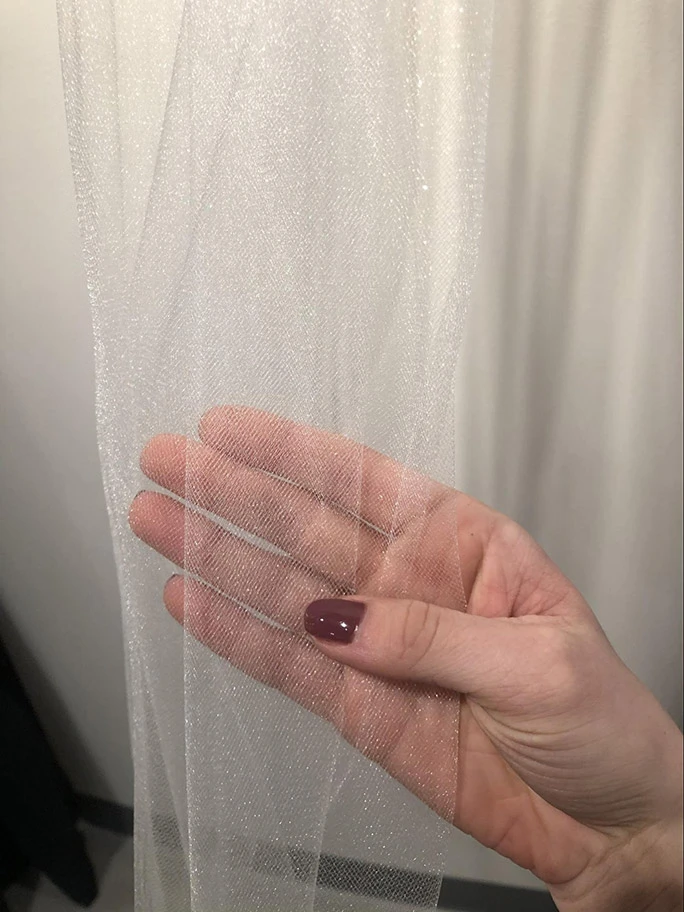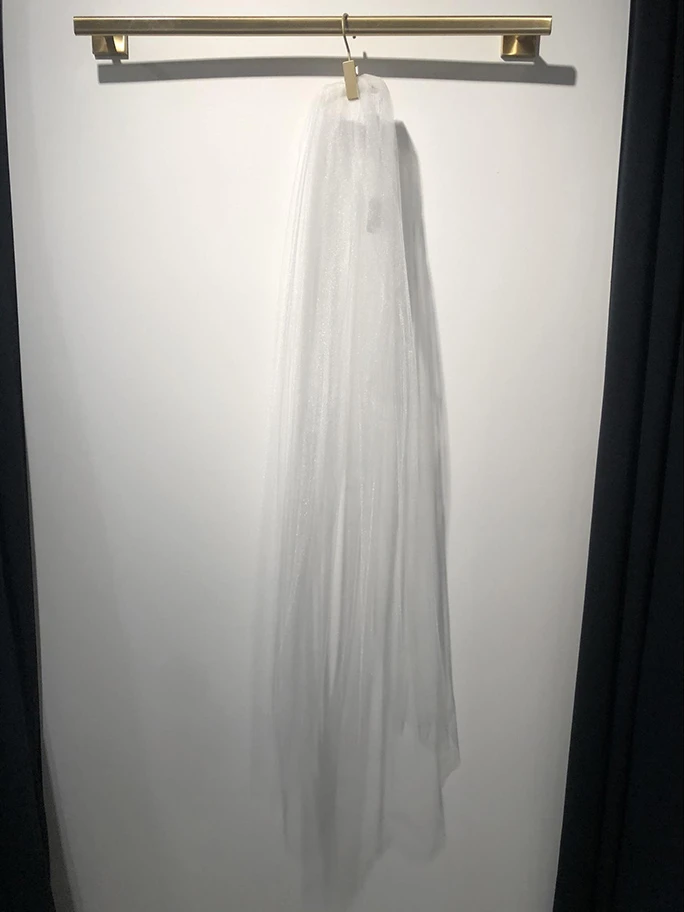 3. AVL2505 by Essense of Australia
AVL2505 is one of our favorites because it uses multiple different laces that are the "bread and butter" of Essense lace. This veil matches almost any gown and brings in a traditional yet modern look.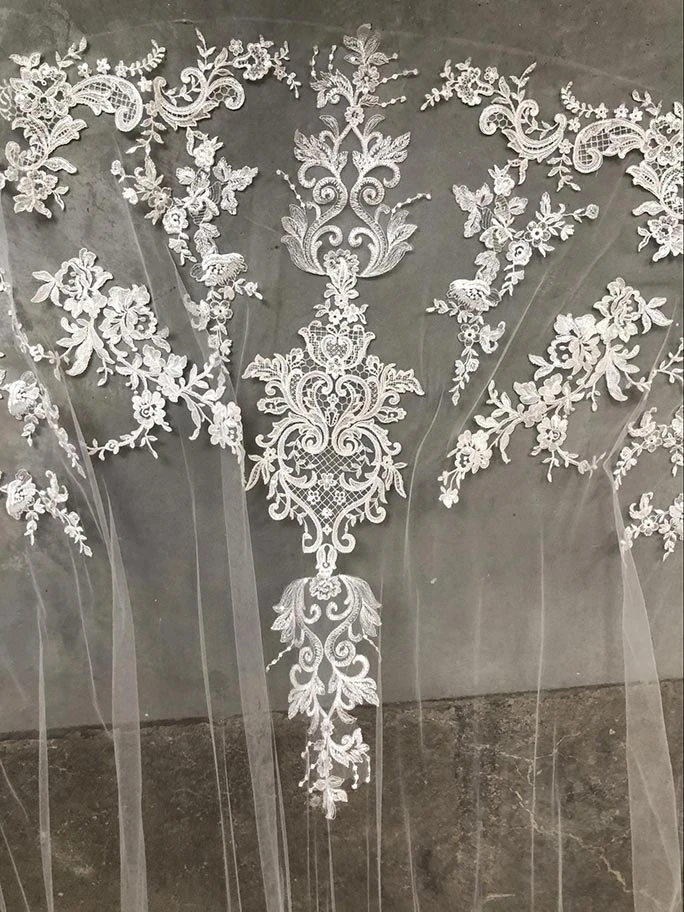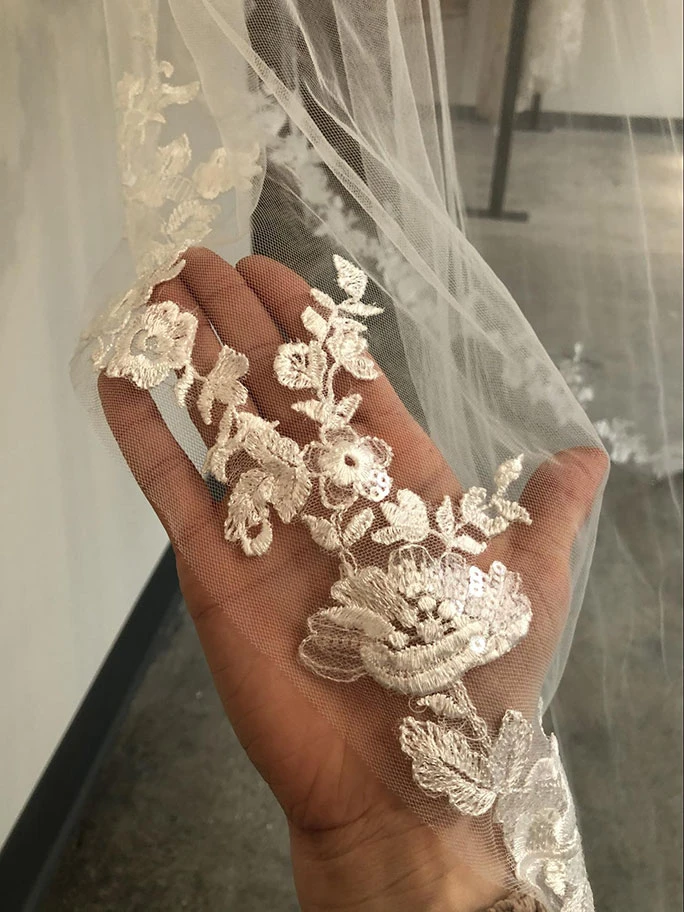 4. AVL0032 by Essense of Australia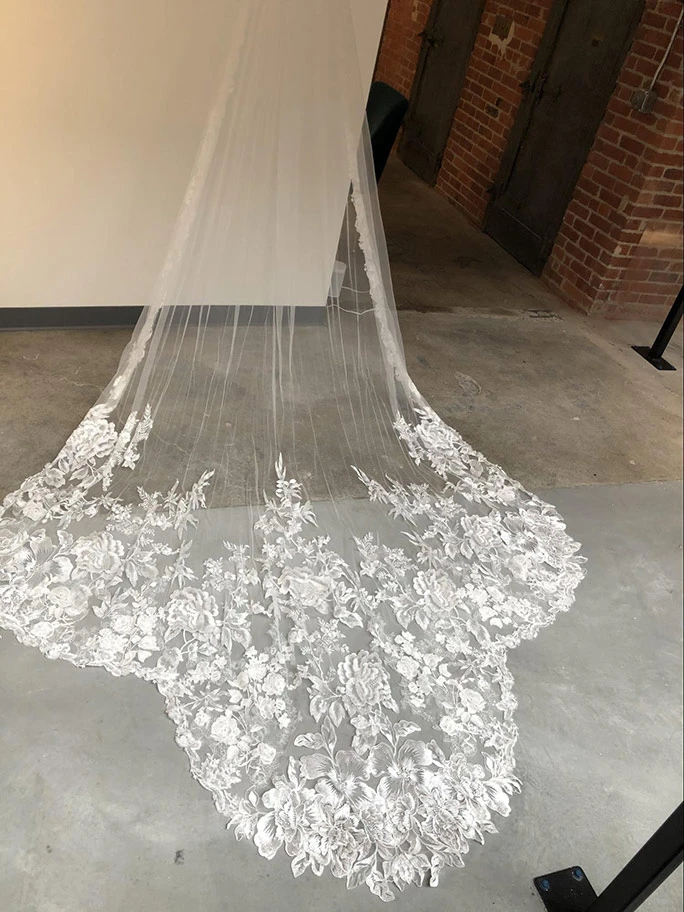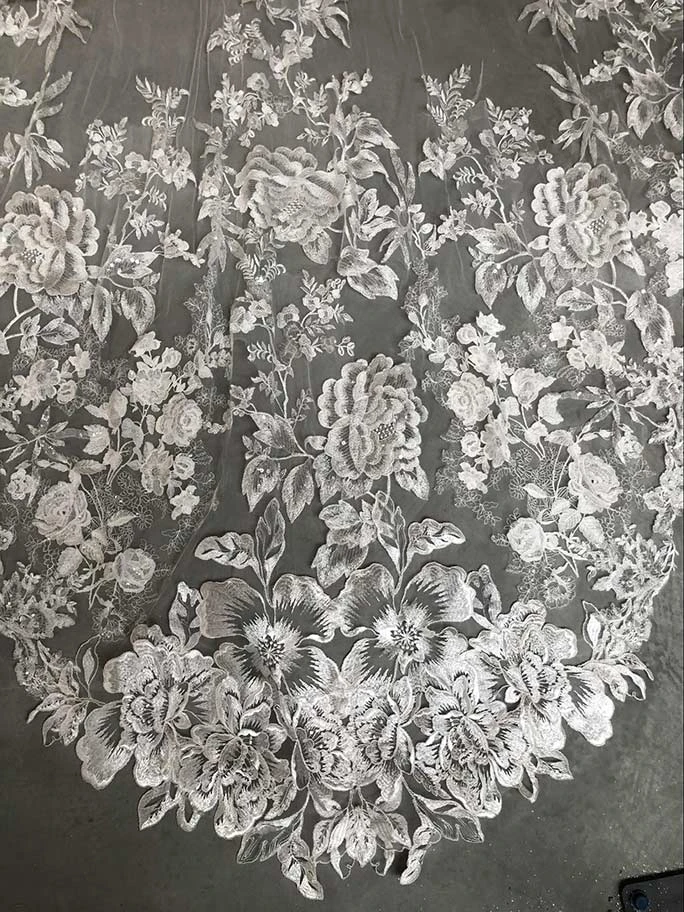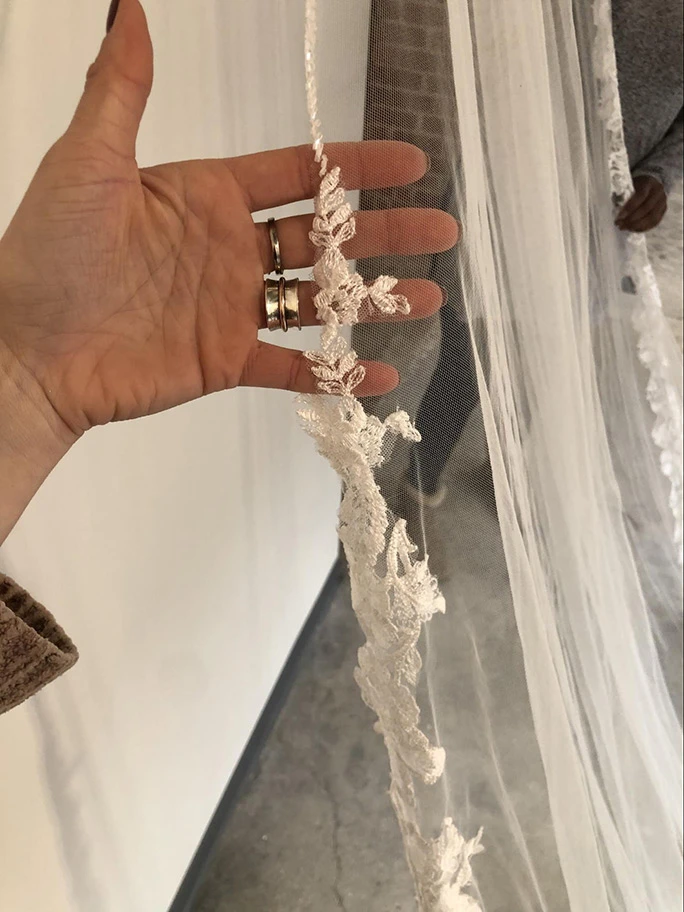 This veil has the same lace as Style 1137 from Martina Liana and complements the designer's latest collection "Work of Art" extremely well. Brides fall in love with this veil before it's even on their head. The lace cascades up the sides which beautifully frames the face. The heavily-detailed train brings all the drama and helps keep the veil in place when walking or during a windy ceremony.
5. AVL0046 by Essense of Australia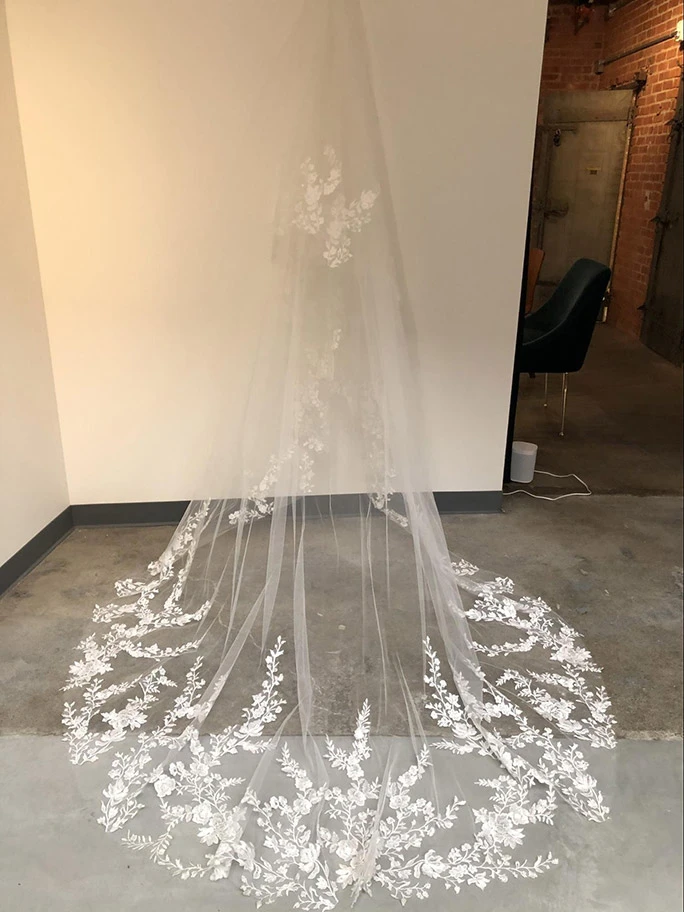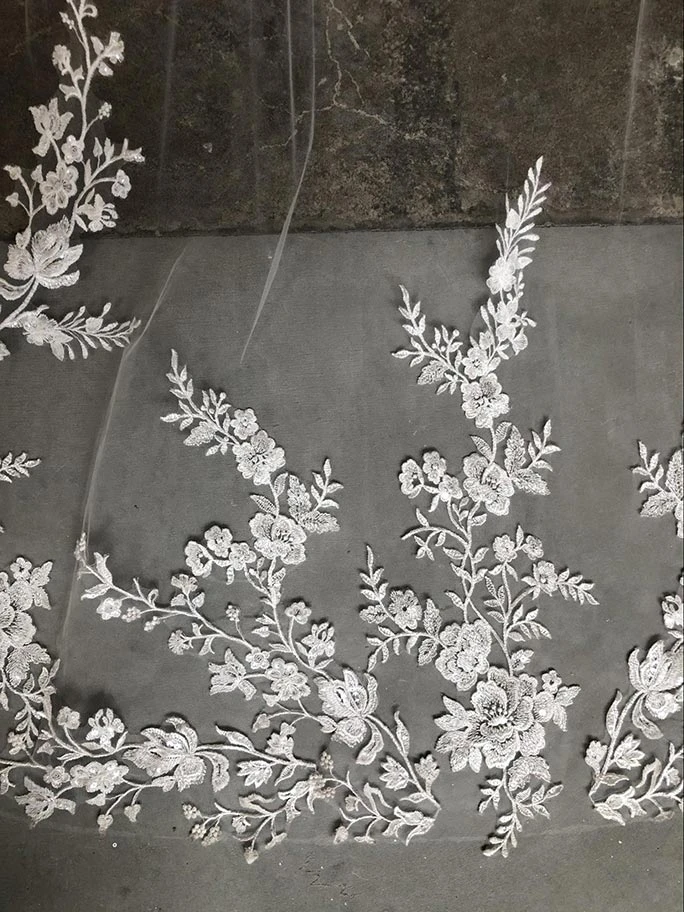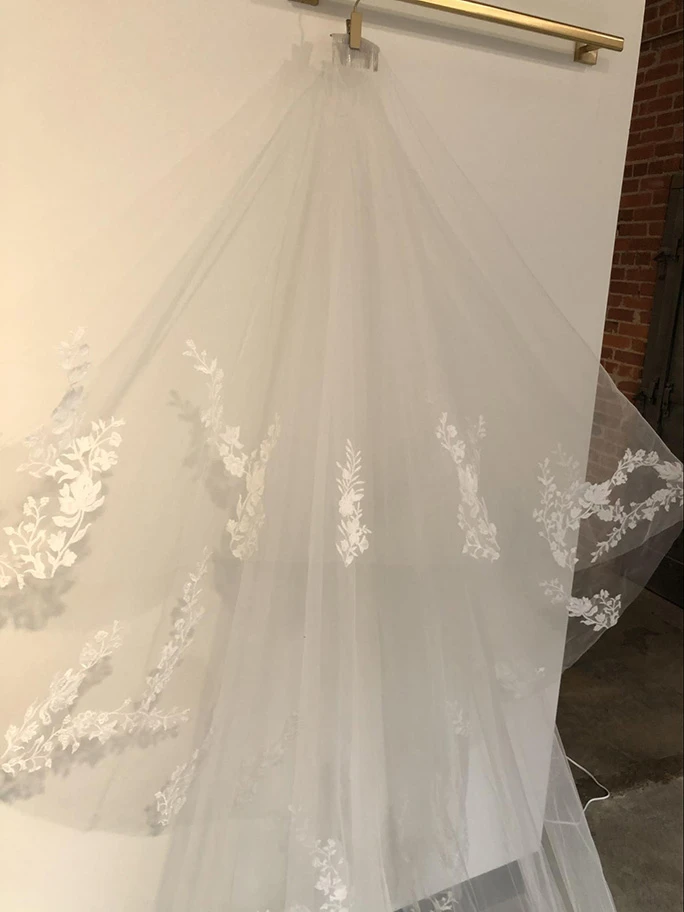 AVL0046 is a fan fave among our brides and our stylists! Can we please have a round of applause for the delicate floral lace halo? This veil also features a blusher, which uses the same beautiful lace to frame your face when it's covering her. Overall, this style has a gorgeous, romantic look to it.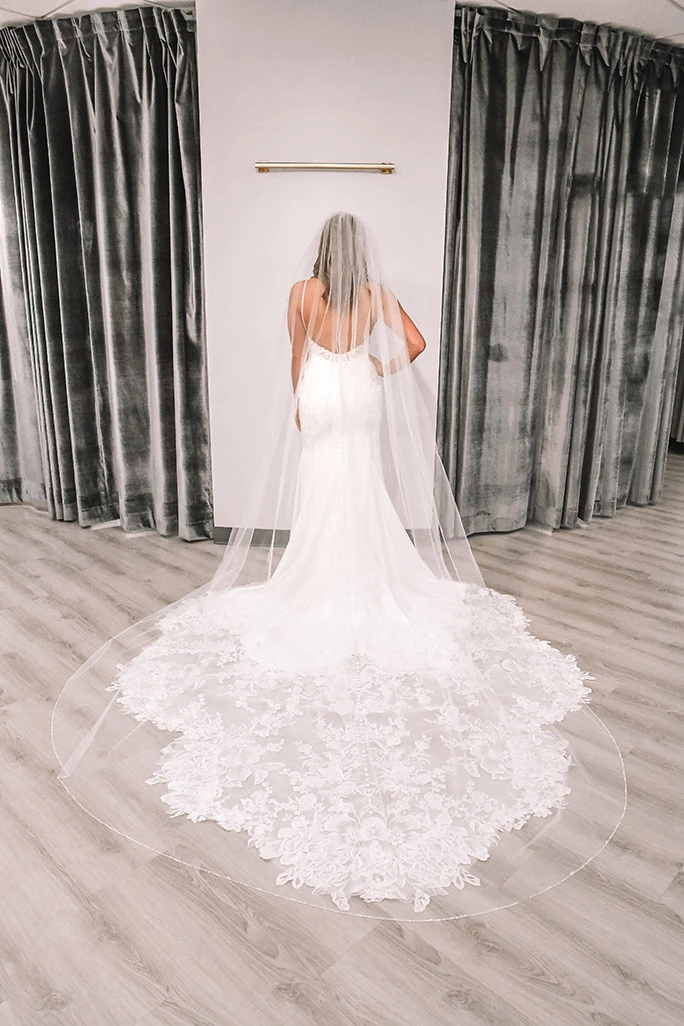 Gown: Martina Liana Style 1165 + 3651 veil
Veil Recommendations: Factors We Consider
When we make veil recommendations, it's all about your dress, your venue, and your one-of-a-kind personality! We want every bride to walk away feeling INCREDIBLE, not only with their wedding dress, but also with a beautiful veil (if they want one). As a stylist, one of our most important jobs is to pair brides with the veil of their dreams! And we 100% believe that every dress we carry has a perfect veil that will help you complete your bridal look.
The Wedding Dress
In order to find that perfect match, we analyze all your wedding dress details, especially the elements that you love the most. This might be the organic lace appliques, glitter tulle, bead-encrusted bodices, the list goes on! Ultimately, a great veil will either contrast with or enhance the details of your dress. If you choose to wear a gown with an incredible train, we might suggest a simple veil (like 2050ST, pictured above) in order to highlight the train's ornate detail. Or if you go for a clean, simple gown, we might show you with an over-the-top veil (like AVL0046, pictured above). This is a great option for brides that want that beautiful train aesthetic while still maintaining that modern chic look.
In contrast, you might like an equally-detailed or equally-simple veil that matches your dress style. For example, what type of veil to wear with a lace wedding dress all depends on what kind of style you want! Many of our in-store gowns have a veil that's almost identical in fabric or design, and if we don't already have it, we can order the exact matching lace of your gown. With veil-pairings, you can have your cake and eat it too!
The Venue
When choosing the right veil, we consider where you're getting married. If you're having an outdoor ceremony, a veil that has more lace or beading will add enough weight to prevent the wind from blowing it all over. We also want to know what type of ground you're walking on. If your venue has rough ground like wood chips or rocks, we recommend including a runner, as the veil will easily get caught. Another variable to consider is your aisle length. If you have a long walk down the aisle, we love the drama of a cathedral veil rather than fingertip.
You might feel a veil is truly not your vibe and go another route like a bird cage or a flower crown; but many True Society brides will tell you they didn't want a veil until we put one on them! The veil really completes the look, and that's a very good time when it hits that they're getting married and she feels like her most bridal self.
We've had many brides fall in love with their veil so much that they'll order both a cathedral and fingertip — one for the ceremony and one for the reception. Marionat carries veils in both standard lengths, and we can also order a custom length for that perfect touch.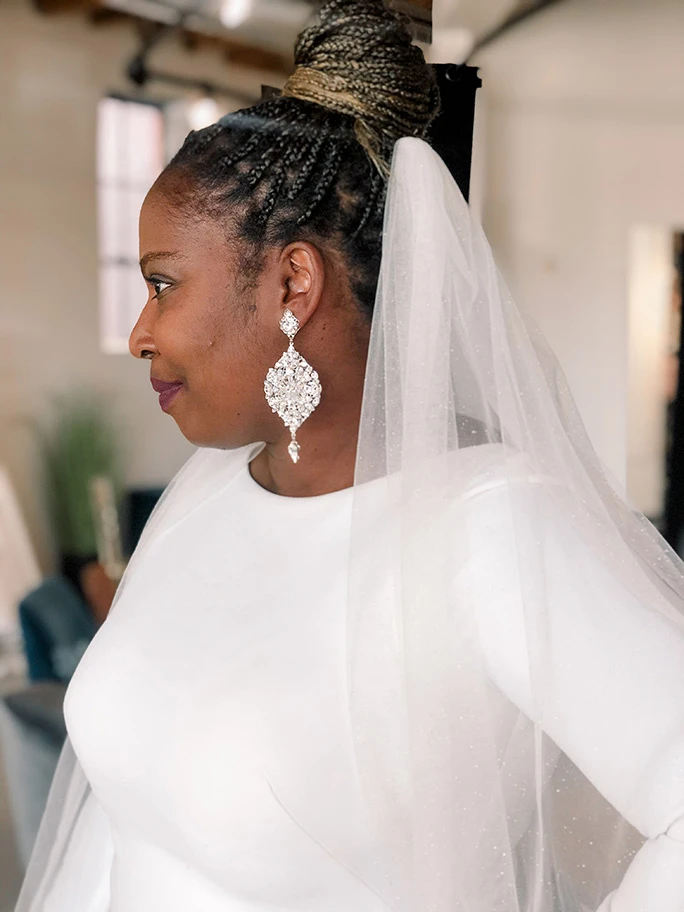 2050ST veil
Accessory Appointments
True Society offers accessory appointments! These 30-minute weekday sessions are intended to help you envision your day-of look by trying on different veils, jewelry, and other accessories. You do not have to be a True Society bride to book an accessory appointment with us.
If you are planning on wearing "something borrowed" like your mother's veil or your grandmother's necklace, this would be a perfect opportunity to try it on with your dress to ensure you absolutely love it. This is also a great time to order a veil or accessories that you tried on during your initial appointment but needed a second glance to finalize your bridal vision.
So, now that you're up to speed with the veil lingo… are you ready to shop? We'd love to meet and get you all glammed up! Book your appointment with True Society here, or call our nearest location for more information!