This article is part of our Ultimate Wedding Dress Shopping Guide.
It's time for one of the most exciting parts of the wedding planning process: dress shopping! Attending your first wedding dress appointment is a joyful experience like no other, and in order to make the most of it, there are a few easy steps you can take to set yourself up for success.
From finding bridal fashion inspiration to what to bring to your True Society bridal appointment and questions to ask your True Crew stylist — keep reading for all the details on what you can expect at your first wedding dress appointment and how to prepare!
What to Consider Before Your First Appointment
Create a Budget
Before you go to the bridal boutique to find your dream dress, you should discuss two things: who is paying for the dress and the dress budget. Whether you, a parent or another loved one is covering the cost, establish expectations early by setting a firm number or range. It's best to establish this privately beforehand to avoid any uncomfortable situations later!
You also need to consider alterations, accessories and customizations. Your True Crew stylists will ask about your budget in advance, either when booking the appointment or in the dressing room, so that they pull dresses that fall within those numbers.
Find Style Inspiration
Our True Society stores carry a wide range of dresses in different silhouettes and styles, from sparkly ballgowns to allover lace and modern sheaths. To make the most of your wedding dress shopping experience, it's important to do research in advance and find bridal styles that speak to you. Creating a Pinterest board, reading blogs and magazines, and scrolling through TikTok or Instagram are just a few of the many ways to find wedding gown inspiration.
Consider your Wedding Date & Venue
Don't forget to consider your wedding date and venue when looking for inspiration. The style of dress a bride will wear to a summer beach wedding could be vastly different from that of a bride having a winter elopement in the mountains. Having bridal fashion inspiration and communicating wedding day details can help your True Crew stylist curate the dresses they pull to fit your bridal vision!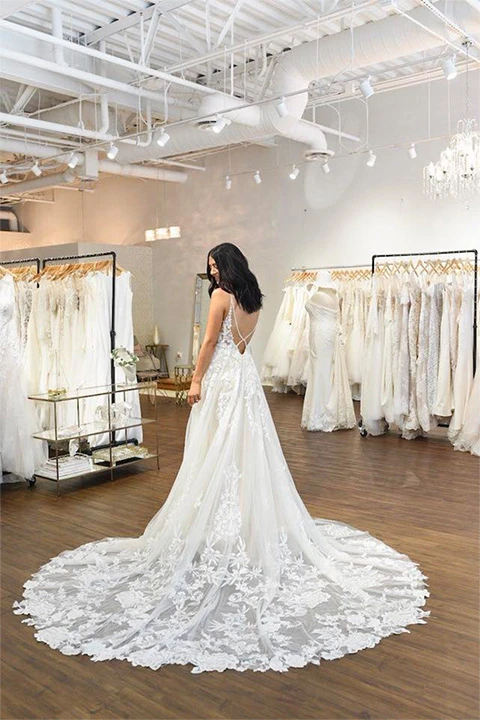 Who to Bring to Your Dress Appointment
Choosing a dress you love is a big deal, and many brides want their family, bridesmaids and other loved ones to help them make the big decision. Some brides bring just one person, while others want an entourage! Remember that more people often include more opinions, which can make your dress shopping experience more stressful and confusing than needed. We recommend bringing two to three people in your closest circle for a fun, enjoyable and efficient bridal appointment!
What Should You Bring to Your Dress Appointment?
What a bride brings to their appointment varies, but we have a few recommendations to add to your checklist:
Makeup and Hair:
While you don't necessarily need to "pack" your hair and makeup, try to wear them somewhat similar to what you envision on your wedding day. This can be an updo, soft glam make-up, loose curls or no make-up at all. Wear what makes you feel the most beautiful and the most yourself.
Inspiration Pieces:
Be sure to have your inspiration board, magazine images, etc. at the appointment to show your True Crew stylist. Also, pack any important heirloom pieces or jewelry that will be worn with your dress, whether it's a veil that has been passed down through the family or the necklace your mother wore on her wedding day.
Undergarments:
It is recommended that brides wear undergarments that match their skin tone under their dresses to help them get the full effect of a dress. If you plan on wearing any shapewear with your dress, pack those too!
Shoes:
Even if you don't have your wedding shoes yet, pack a pair similar in height to what you want to wear on your wedding day. This can help brides better understand how their dream bridal gown will flow and how they want it altered!
What to Expect from Your Bridal Stylist at True Society
At all True Society locations, the expertly trained True Crew (a.k.a. bridal stylist team) go above and beyond to create the ultimate wedding dress shopping experience. They help brides find their dream dresses from top designers like Essense of Australia, Stella York, All Who Wander and Martina Liana. Here's just a peek into what brides can expect when buying a dress at True Society:
You work with an educated, expert stylist who is knowledgeable about the entire dress process and is an expert on all the gowns your store carries.
You get an hour and a half of uninterrupted one-on-one time to shop for the dress of your dreams. Upgraded options are available based on locations that allow for extra time!
A genuine team that genuinely cares about your shopping experience and makes you feel seen, heard, and most importantly, beautiful!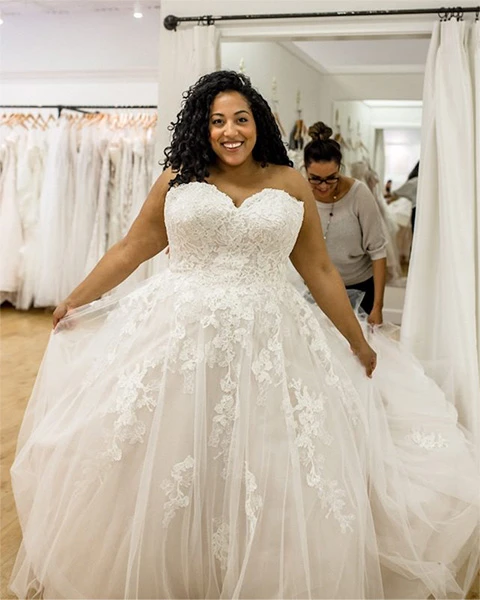 Questions to Ask When Trying on Wedding Dresses
Never be afraid to ask questions! Our True Crew is here to ease every one of your concerns, whether it's regarding fittings, payments or styling. Below are a few questions for brides to ask at their first wedding dress appointment:
Ready to have the ultimate wedding dress shopping experience? Find a True Society store near you and book your appointment today! Gown availability varies per store.