We often get this question: What do I wear underneath my wedding dress? After all, you want to look and feel your absolute best on your wedding day. Today, we're talking all about shapewear, so let's dive into the right shapewear for wedding dress styles that will help keep you feeling comfortable and confident.
What Does Shapewear Do? 
Shapewear is a type of undergarment designed to shape and contour the body, creating a smoother and more streamlined appearance. This includes special kinds of underwear and garments with compression fabrics, like tank tops, shorts and hosiery.
While you don't have to wear shapewear under your wedding dress, many brides who want extra support in their dresses or a smoothing effect for tighter gowns will opt to wear some form of shapewear. The best shapewear is whatever works best with your dress and makes you feel the most comfortable!
What to Look for in Shapewear 
The best shapewear for wedding dress silhouettes depends on the cut and fabric of your gown. Below are a few general tips to help you find the best shapewear:
Fabric: When searching for shapewear, choose pieces in a comfortable fabric. Look for words such as "breathable" or "moisture-wicking" to ensure it's lightweight. After all, you'll already be hot if you're dancing the night away! You'll also want to make sure the fabric doesn't roll down or up throughout the night.
Compression Level / Structure: The silhouette of your gown and your goals with wearing shapewear will influence how much compression or structure you'll need. For a super-smoothing look and support, high-compression pieces are best. For support throughout the bust, pieces with boning may be ideal.
For those who want some less structure under their gown, a simple slip will do the trick. Whatever type of shapewear you choose, try it with your dress to see how it works together before the big day!
Silhouette: The shape and details of your gown largely determine the shapewear for your wedding dress. A shapewear body suit with a thong-style back works well for tighter silhouettes, while a ballgown or A-line silhouette may require less structured shapewear due to their looser silhouettes.
Color: The best color shapewear for a wedding dress is the color closest to your skin tone, especially if your gown features a thinner material. While buying pieces in wedding white may be tempting, matching your skin tone is best.
Comfort: Last but not least, comfort is key! You want to enjoy your day without constantly adjusting your shapewear or dealing with boning poking you or an itchy fabric. Make sure to test and try on the pieces you are considering before the big day.
Where to Buy Wedding Dress Shapewear 
Luckily, there are many places to find shapewear to wear under wedding dress styles of all kinds! You can visit your local lingerie shop to get fitted or browse online or in department stores. Some places brands to look into to begin your search are: 
SKIMS: In case you haven't heard, Kim Kardashian has a shapewear brand with a variety of styles, colors, sizes and levels of support to choose from depending on your needs. You'll find underwear, bodysuits, plus size shapewear and more.
Conturve: This brand's comfortable pieces feature anti-slip double silicone bands and seamless technology.
SPANX: Perhaps one of the most well-known shapewear brands, Spanx offers three support levels: smooth, shape and sculpt. They also have a collection featuring bridal shapewear essentials and beautiful lingerie-inspired bridal pieces that double as shapewear and underwear.
Honeylove: Honeylove believes we "deserve garments that are just as comfortable as they are effective — without ever sacrificing style." You'll find a variety of bodysuits, underwear and shapewear on their site, including bundles to help you save on the cost.
Shapewear by Dress Style 
Shapewear for wedding dress styles may vary! Keep reading to see what kind of pieces we would pair with a variety of wedding dress silhouettes.
Backless Dress Shapewear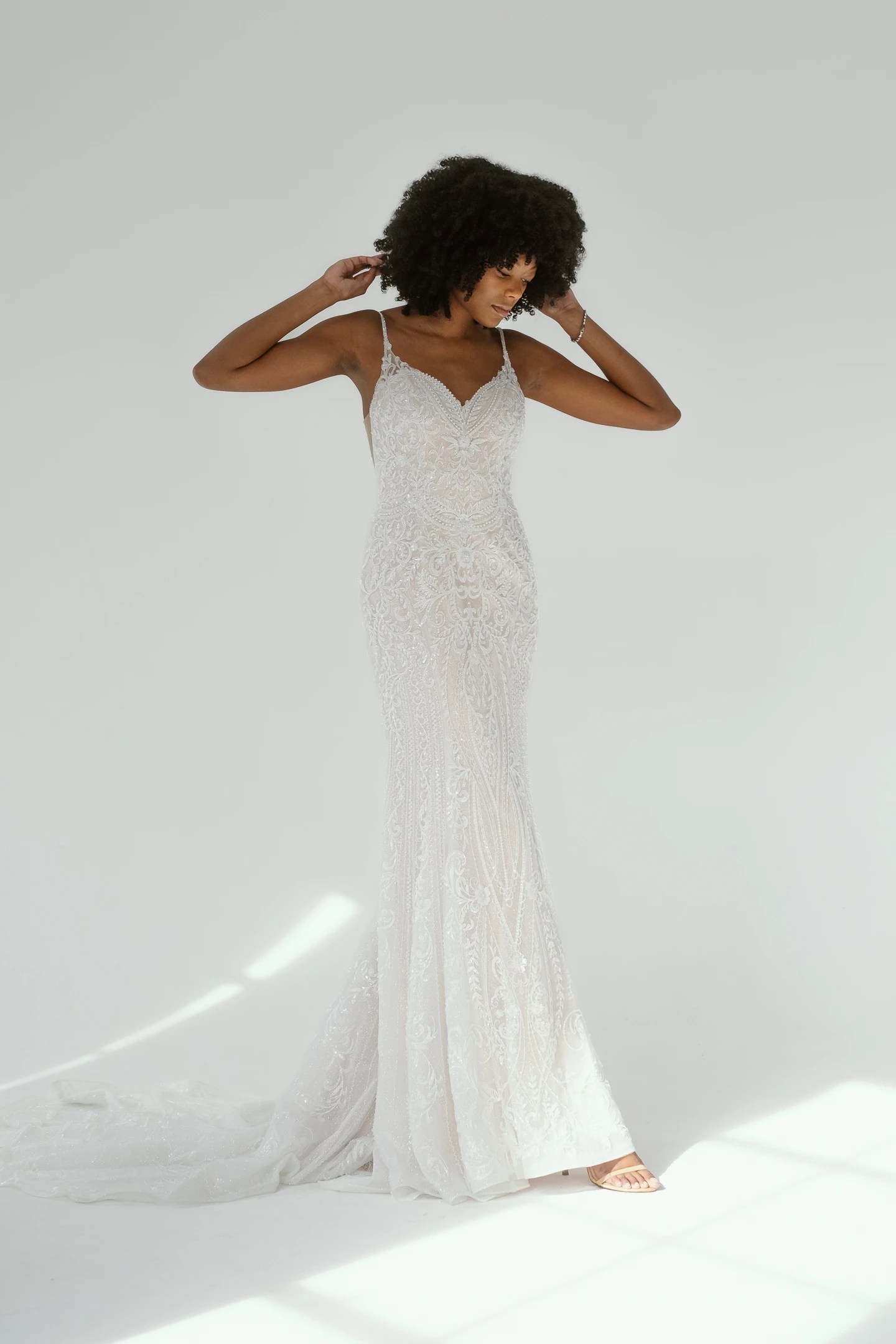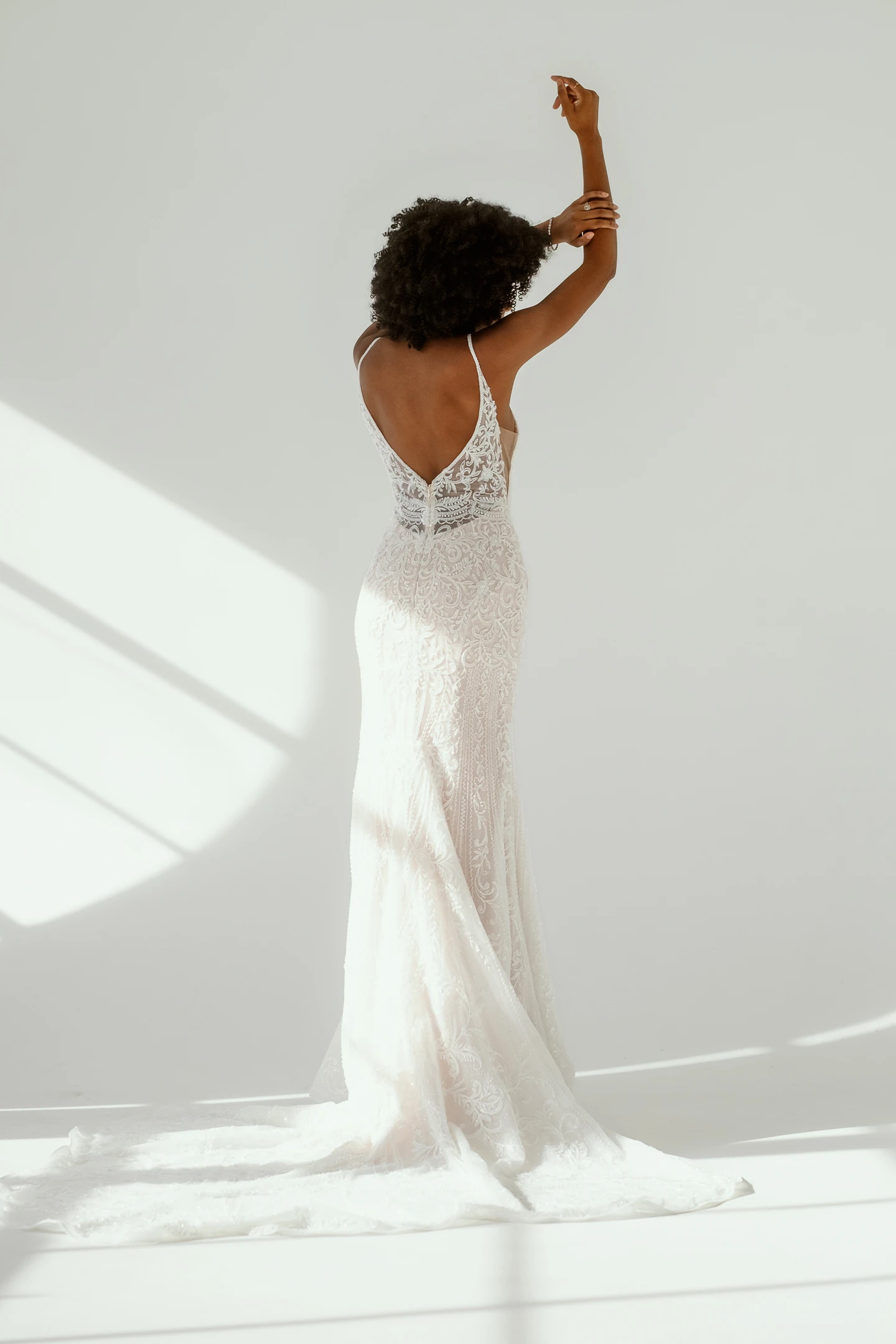 Essense of Australia Style D3837
Okay, let's say you have a backless dress like Essense of Australia Style D3837, and you want a little more support. What do you do? Let us introduce you to the backless bodysuit.
A backless shapewear bodysuit works really well for slimmer silhouettes like a fit-and-flare or column silhouette. Some bodysuits feature details like plunging necklines or removable straps.
Strapless Dress Shapewear 
While a seamstress can sew cups into your gown, if you still want to wear a bra, there are plenty of strapless shapewear options to choose from. Strapless bras are the way to go if you want to avoid adding bust cups or if you want more secure support.
We're obsessed with this Felina Longwear Underwire Bra. Gone are the days of hiking up your strapless bra! It features a longline bra supported by hidden underwires, boning and molded cups.
If a bra is not your thing or your wedding dress is truly too slim for any added bulk, sticky boobs or adhesive bras will be your BFF. They create an enhanced shape, offer minimal coverage but total modesty and are 100% invisible under sheer or tight clothing.
If you have a plunging neckline like on Martina Liana Style 1645, you'll want to check these out. We especially love them for silk and crepe fabrics that cling tighter to the body.
High Slit Dress Shapewear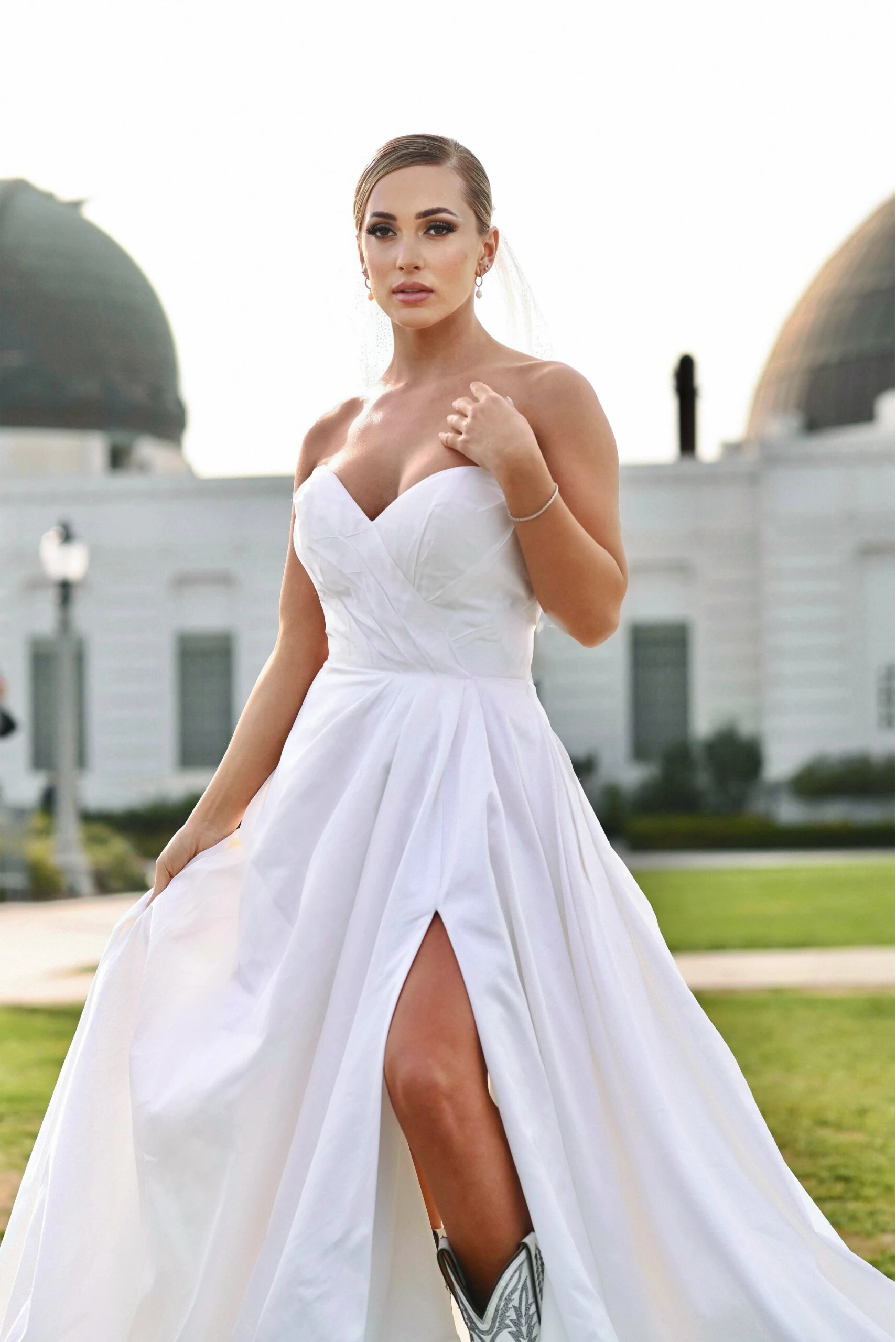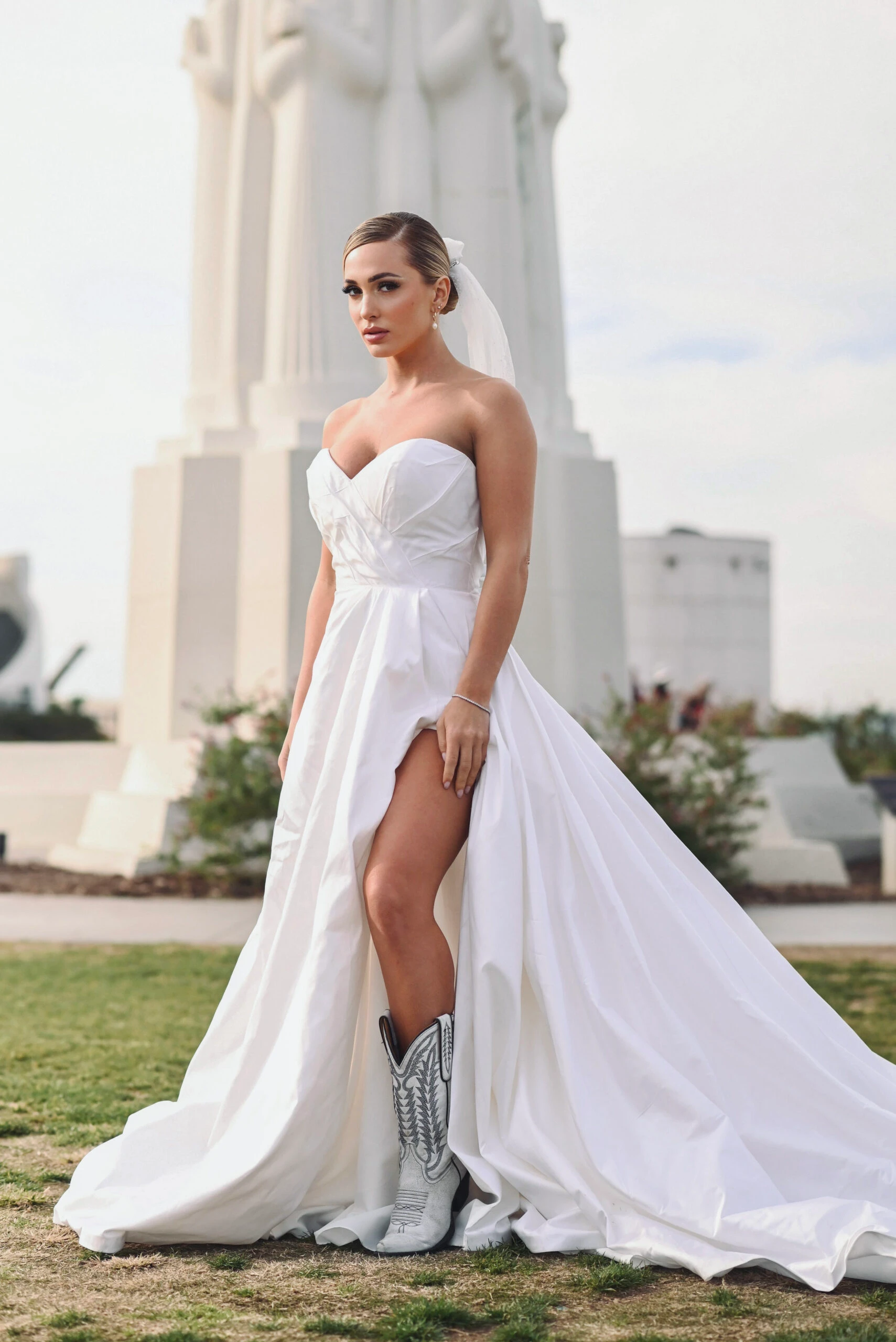 High slits are all the rage for 2023 and 2024 brides! Who wouldn't want to slip into a sexy style like Martina Liana Style 1524?
While you could wear shapewear underwear or a thong-style bodysuit, shapewear companies are getting creative! Check out this Seamless Sculpt Solution Short by SKIMS!
Low Cut Dress Shapewear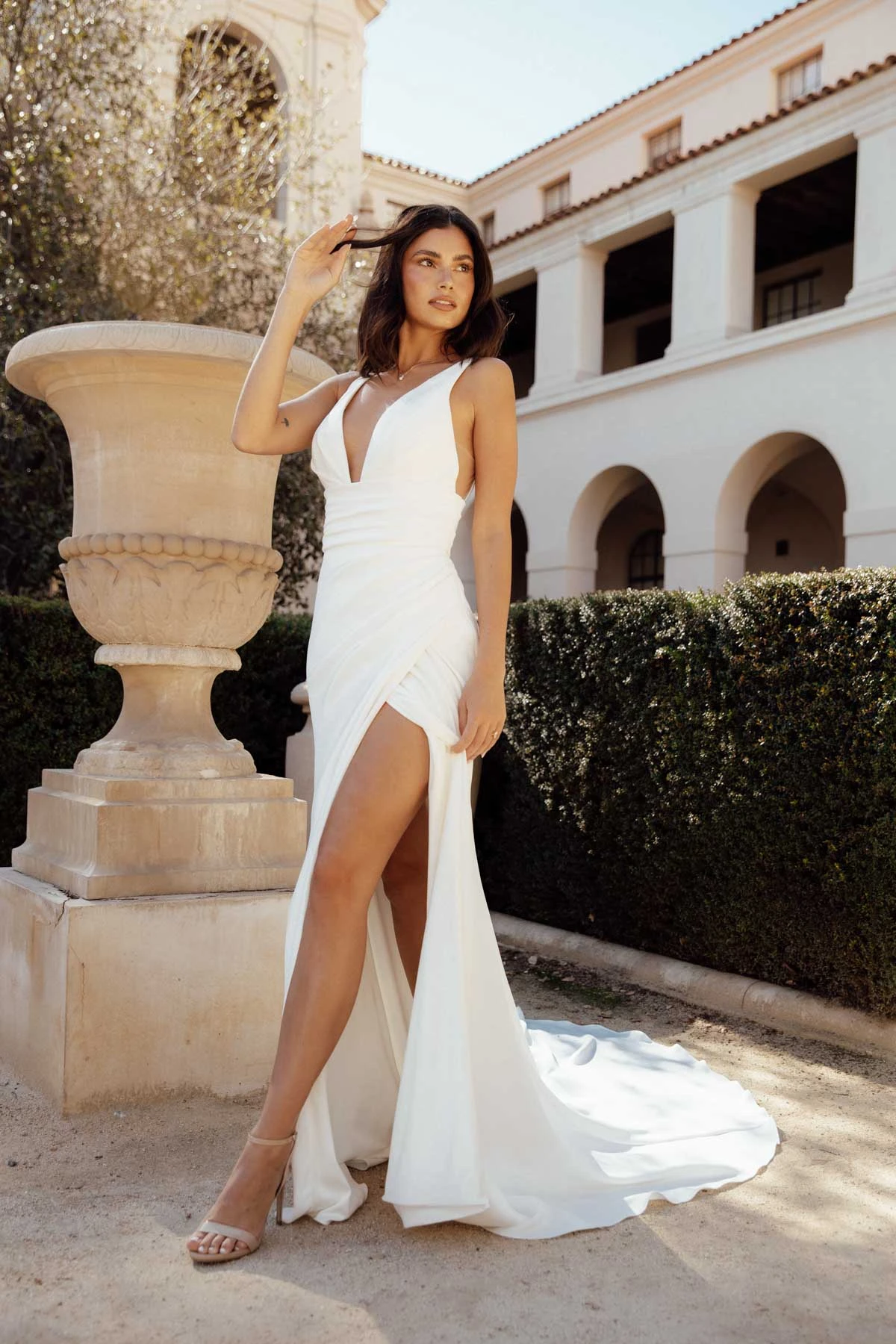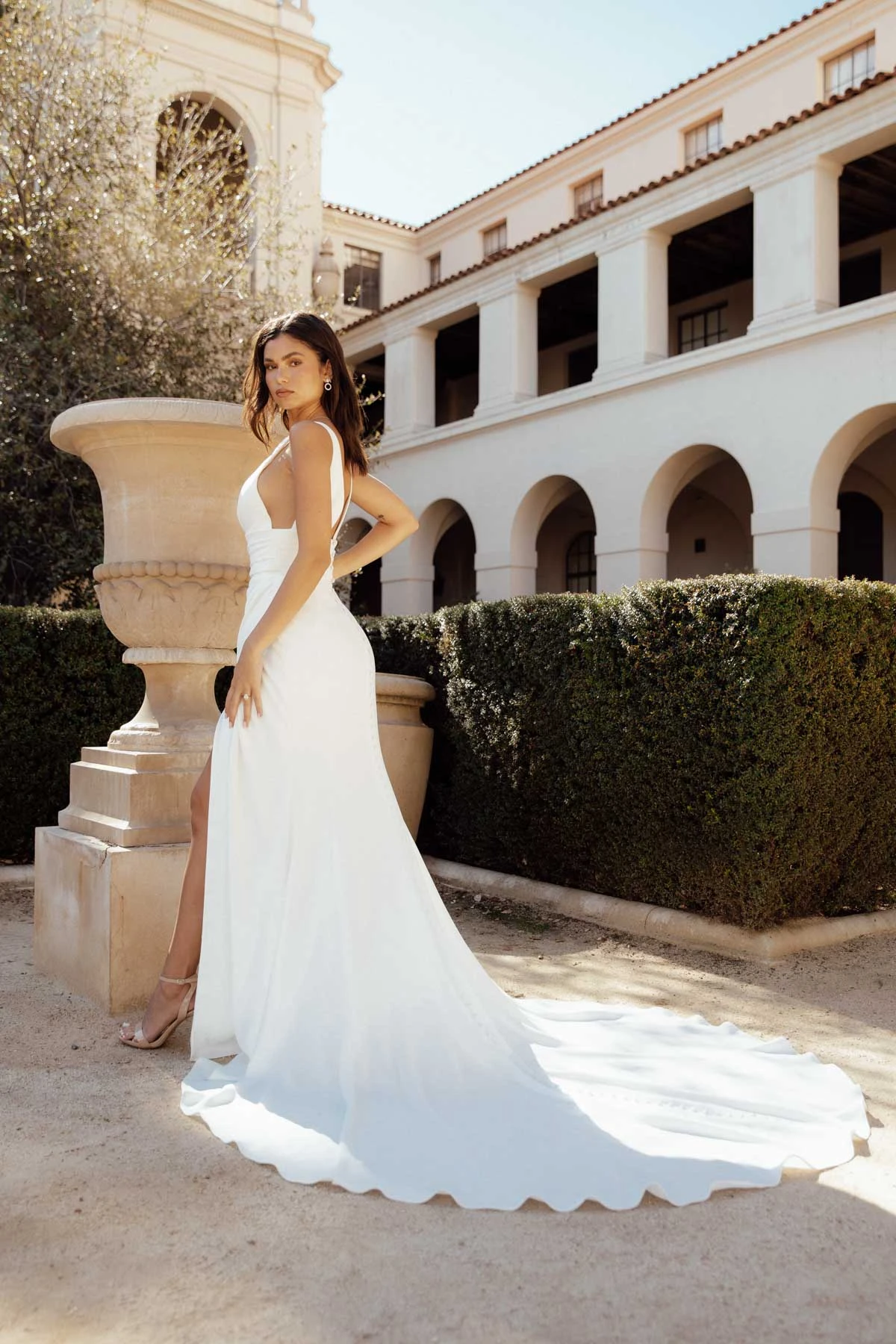 Essense of Australia Style D3802
Plunging necklines like the one on Essense of Australia Style D3802 are a major bridal trend! Depending on the support you need, you could opt for sticky boobs or a bra or bodysuit with a plunging neckline. Keep in mind the other details of your dress, like the back, bodice and overall silhouette, which may dictate which pieces you can wear.
Should You Wear Shapewear to a Bridal Appointment/Alterations? 
You can absolutely wear shapewear to wedding dress shopping appointments! While it may not be the exact pieces you plan on wearing (especially if you change your dress vision in the process), it can still help you get a sense of how each gown will fit should you decide to wear shapewear on your big day.
As for alterations, you should definitely wear your shapewear. It is a great time to ensure that the pieces you are going to wear work with your gown and may also affect how your seamstress alters it. You may even decide that you don't even need the shapewear! For more information on gown sizing, check out our blog about Bridal Sizing Tips and Measurements. 
We hope this guide has helped you learn more about what shapewear to wear under your wedding dress. If you're ready to start your dress shopping journey, you can explore the wedding dresses available at True Society, then find a store location near you and book an appointment. Gown availability varies per store.