For brides who want to stand out on their wedding day, black wedding dresses could be a beautiful option. Black bridal gowns can be equally romantic and elegant as traditional white or ivory dresses. If you're thinking about stepping away from tradition and going for more unconventional bridal gowns, black wedding dresses provide a bold and memorable choice.
What is a Black Wedding Dress? When and Why Would I Wear a Black Wedding Dress?
When it comes to choosing your dream wedding dress, you want to make sure it reflects your personal style. There are a few reasons why a black wedding dress will be a good fit for you.
You Want to Make a Statement. If you really want to make a bold statement on your wedding day, there's no better way to do it than wearing a black dress. While a white wedding dress is classic and beautiful, a black wedding dress will strike guests as something truly unexpected
You're not Afraid of Being Different. Let's face it; most brides choose to wear white on their wedding day because it's what's expected of them. But if you're not afraid of being different, why not choose a black dress instead? It'll show that you're confident, one-of-a-kind and that you're not afraid to stand out from the crowd.
You Would Like to add an Element of Surprise to your Special Day. Stun your guests and your partner in a black gown. Just imagine everyone's face as you walk down the aisle in a dark hue gown. A black gown is sure to get people talking!
You are Planning a Theme Wedding. For brides planning a themed wedding day, such as Halloween, a black wedding dress could be a great fit. For brides who have black in their wedding color palette, a black wedding gown could be a beautiful addition.
What Does Wearing a Black Wedding Dress Represent?
Wearing a black wedding gown is not a new trend. It has been prevalent throughout history, and historically, black dresses have symbolized power, strength and independence. Black wedding dresses have been around since the 1800s and continue to be timeless, with celebrities embracing them in today's bridal fashion—just look at Sex and the City star Sarah Jessica Parker, Selling Sunset star Christine Quinn or Grey's Anatomy star Ellen Pompeo.
Opting for a black bridal gown can elevate your bridal look, adding a touch of elegance and sophistication and providing an opportunity to highlight your individual style. Whether you choose to match a specific wedding theme or simply make a statement, a black wedding dress will grab attention and leave a lasting impression.
Different Styles of Black Wedding Dresses
There are many options of bridal fabrics and wedding dress silhouettes that beautifully features the color black. These can range from voluminous ballgowns to sleek mermaid silhouettes. If you want to make a glamorous and romantic statement, you can wear a black ballgown with a full skirt and detailed beading.
For a more modern and edgy look, opt for a minimalist black sheath wedding dress. With so many wedding gown styles to choose from, you can find black wedding dresses that align with your personal style and make you feel amazing on your wedding day.
Timeless Black Wedding Dress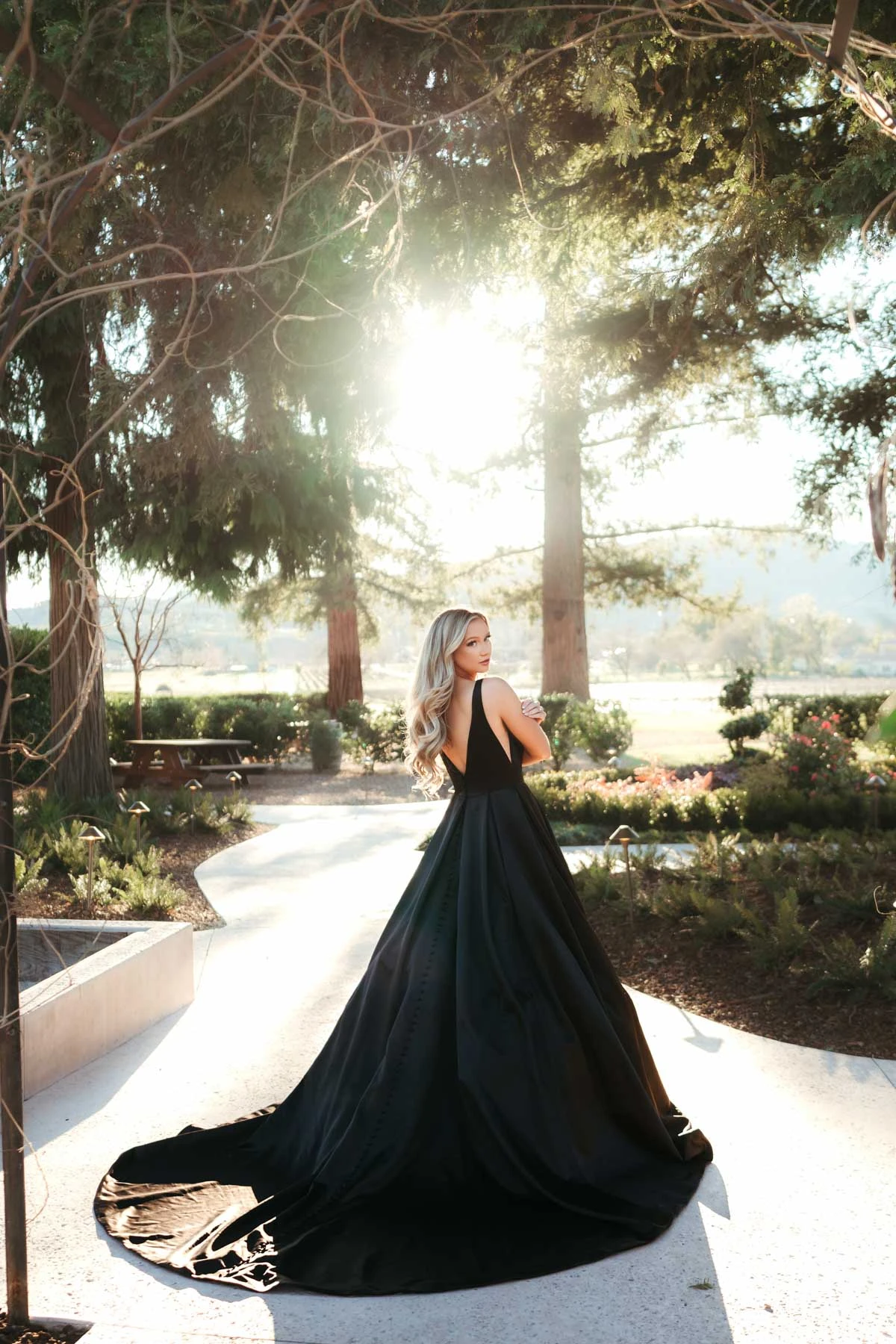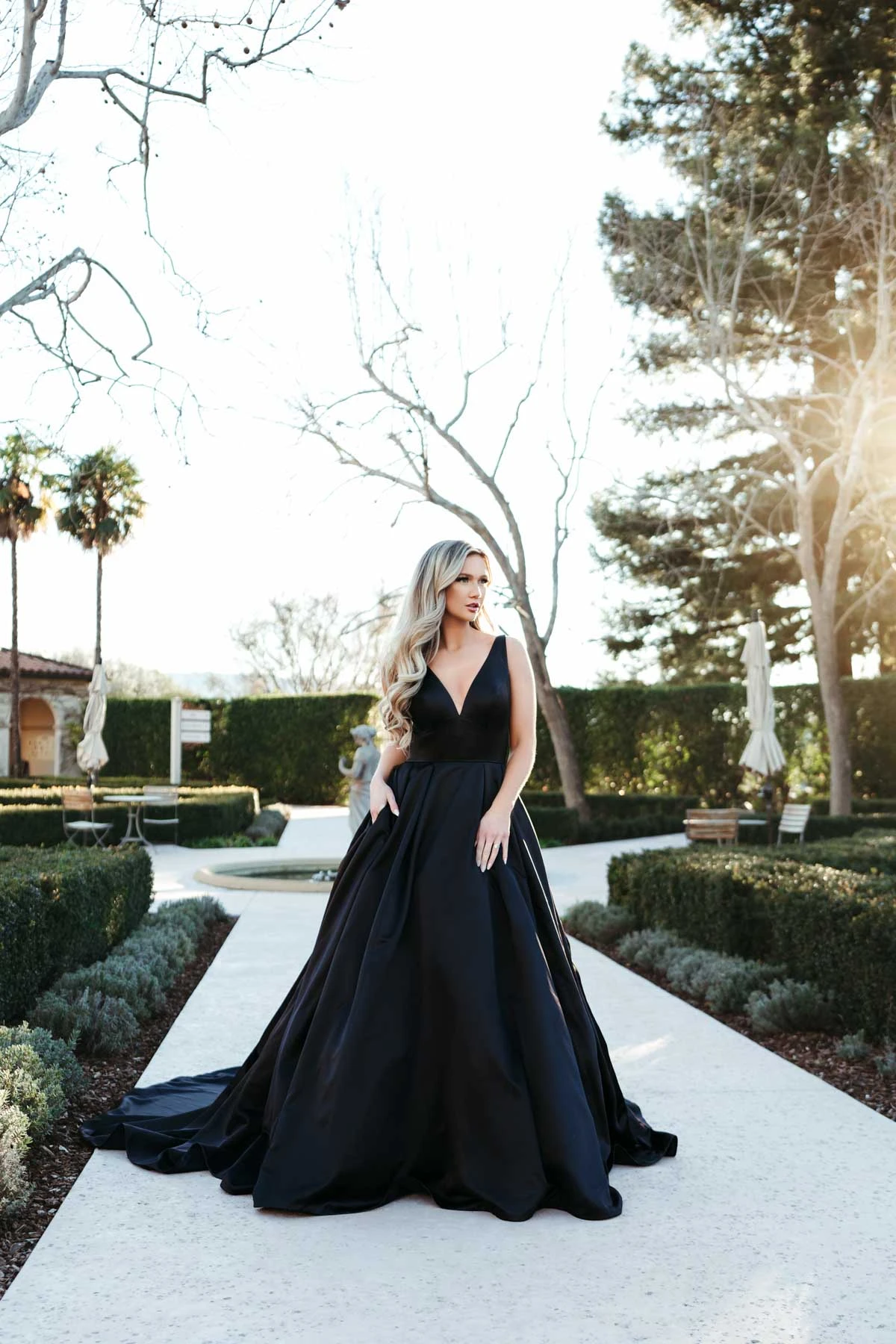 A bold and chic black satin dress, Stella York Style 7755 features cutting-edge design elements to make you look and feel regal on your wedding day. Show off your figure with a flattering deep V-neckline, cinched banded waistline, and eye-catching fabric-covered buttons down the back. Make a statement with this timeless wedding dress silhouette that will have all eyes on you as you walk down the aisle
Formal Black Wedding Dress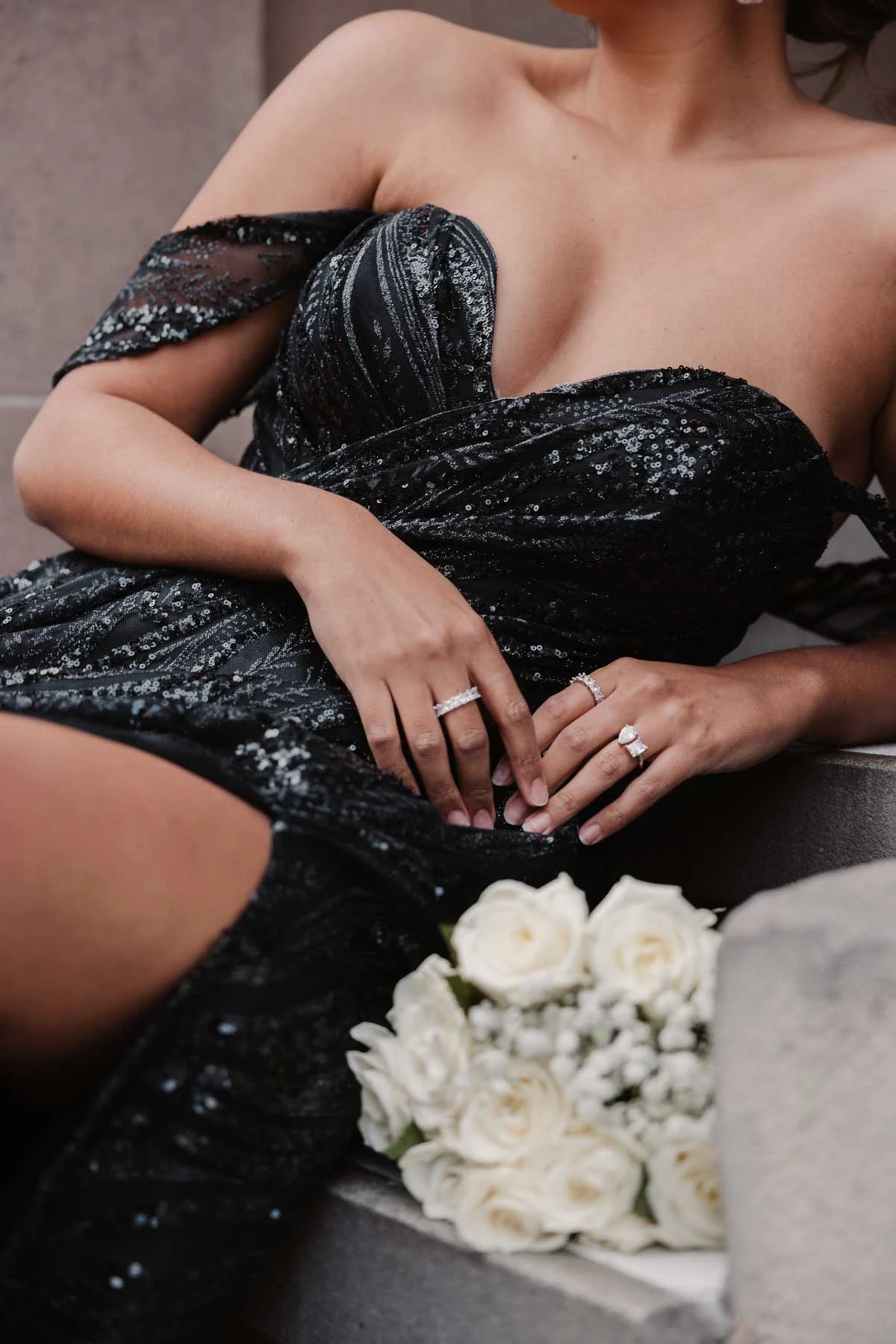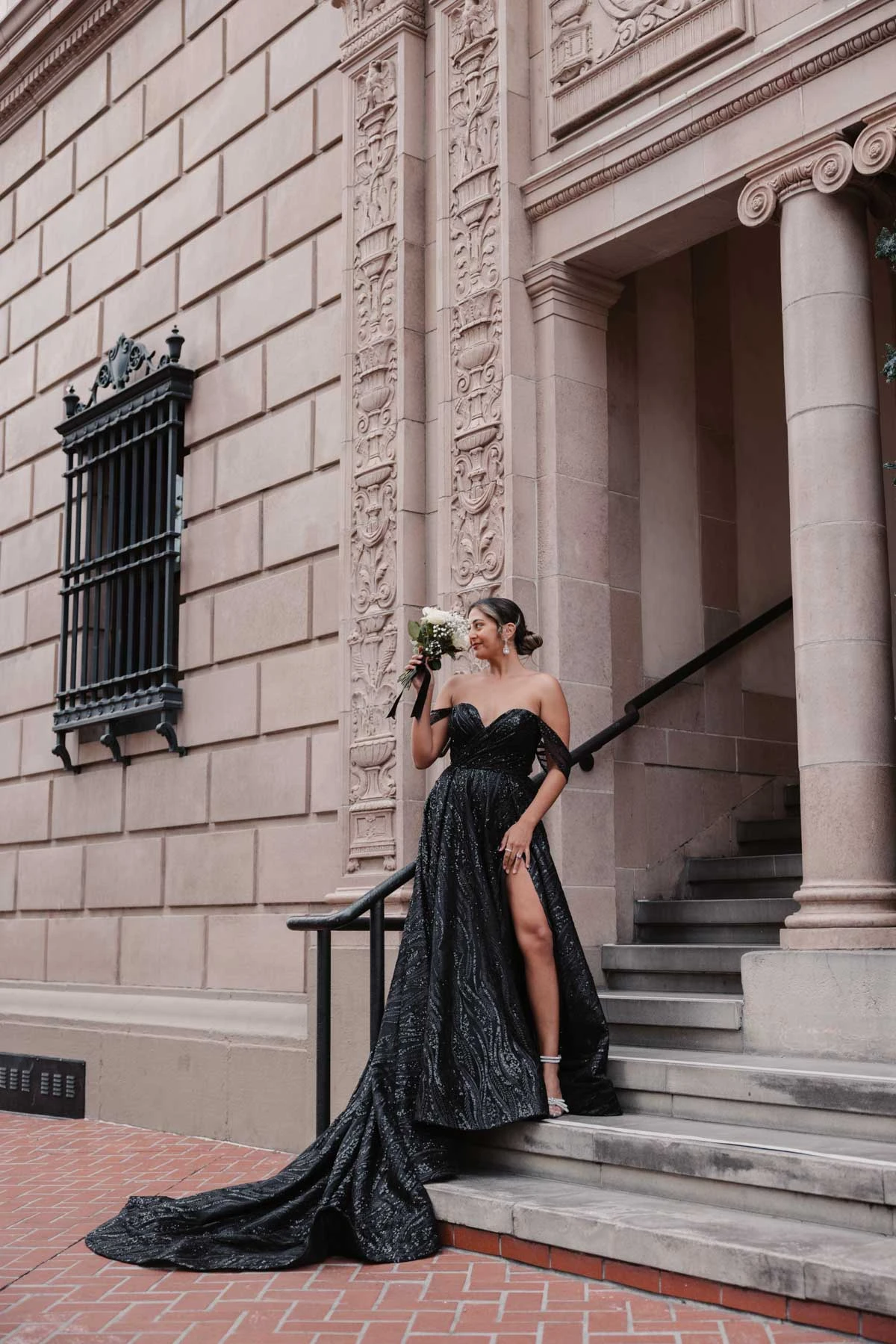 Essense of Australia Style D3648BLK
Step right up and sign-up for the sparkle club! With Essense of Australia Style D3648, you'll be basking in a glimmering light on your special day that will have everyone talking. Just imagine the gasps of awe as you make your way down the aisle in this luxe black wedding dress.
After all, no one can resist sequined graphic lace and an A-line silhouette fit for royalty. Your dress won't just hug your curves – it will define them glamorously with its detachable off-the-shoulder straps and high-slit skirt. With this black formal wedding dress, you'll look breathtakingly sophisticated as you begin your happily ever after!
Elegant Black Wedding Dress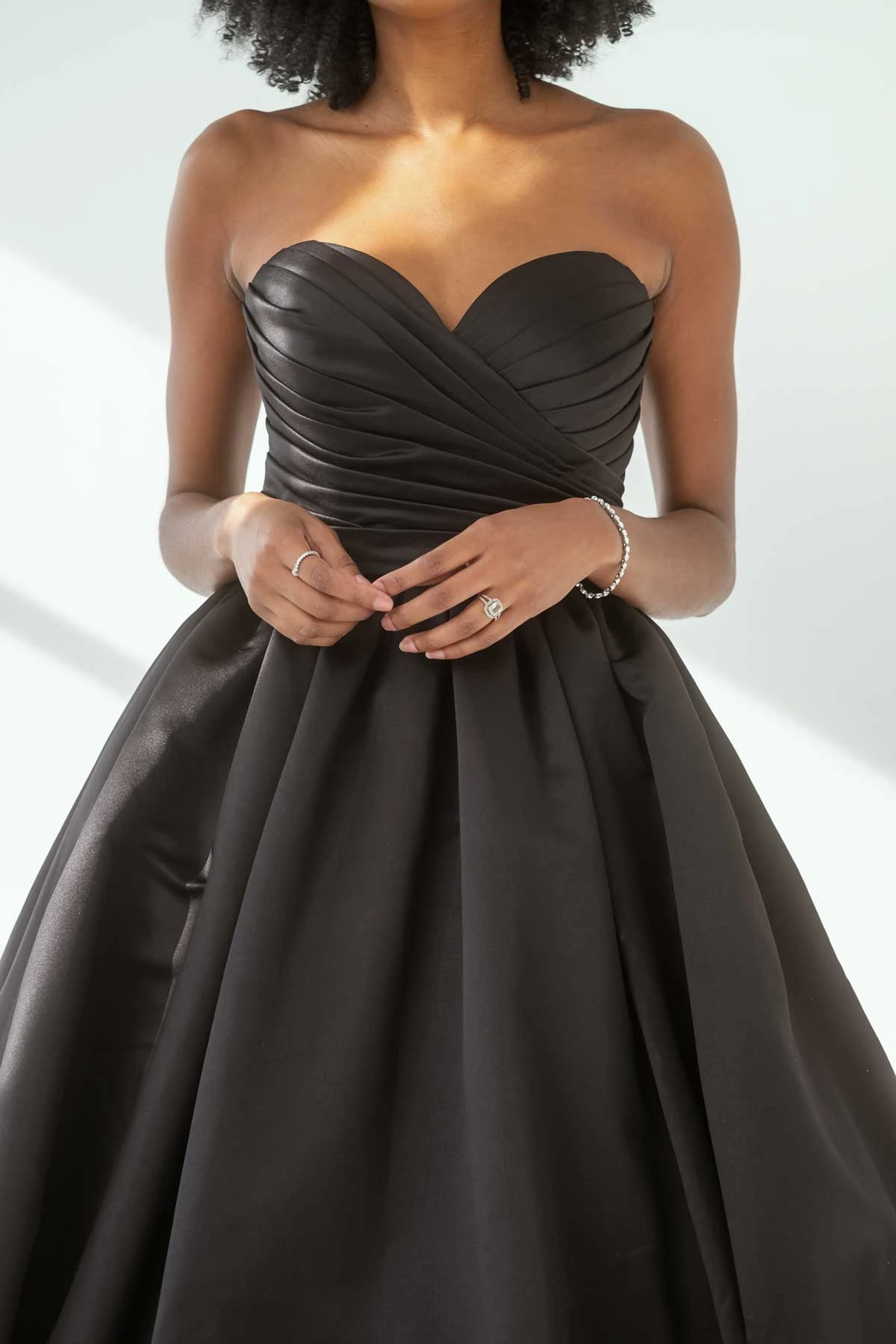 Essense of Australia Style D3753BLK
If you're a modern bride with a high-fashion sense and you still need to find your dream wedding dress, consider Essense of Australia Style D3753BLK. This stunning Black wedding gown is simple but ho-so-elegant and will surely leave everyone amazed when you make your entrance.
The full skirt starts at the waist and glides down, giving plenty of drama! The strapless sweetheart neckline, ruched bodice and long train are sure to turn heads on your special day. This elegant black wedding dress will have you looking drop-dead gorgeous for that special walk down the aisle.
Simple Black Wedding Dress
Essense of Australia Style D3734BLK
Step into your own modern-day fairytale with Essense of Australia Style D3734! This simple ballgown wedding dress will take you straight from runway ready to aisle wow.
It is delightfully crafted with textured gathered tulle that forms an ultra-flattering sweetheart bodice, plunge neckline and detachable straps. With a fitted waist and faux flecked tulle ballgown skirt, delicate 3D flower appliques create an ethereal and utterly romantic look. The simple black dress is for the fashion-forward romantic bride!
Are Black Wedding Dresses Popular or Unique?
When it comes to weddings, there is no rulebook (except for not upstaging the bride). Black wedding dresses have been worn by daring brides for years, but they've also been gaining more mainstream traction in recent years. And can we blame them? Black dresses are bold, sophisticated, oh-so-chic and definitely unique—so for brides wanting to stand out, our True Crew suggests hopping on this trend, as black wedding dresses are continuing to increase in popularity.
Accessories to Elevate Your Black Wedding Dress
Get ready to take your black wedding gown to the next level! By adding accessories like statement earrings, a bold necklace and a pop of color with a vibrant clutch or shoes, you can be sure that you're stealing the show on your big day.
Don't be afraid to mix and match different textures and styles to create a unique look that's all your own. Cap it off with a glittering hairpiece and let your inner fashionista soar! Go ahead and express your inner fashionista by adding the right finishing touches and make your big day unforgettable!
Get ready to turn heads on your wedding day with a stunning black wedding dress! This daring choice lets you take risks with your style while conveying timeless sophistication. It's your big day; why not spice it up with some unconventional glam?
Do you want to say, "I do" to a black wedding dress? There is a style just for you at one of our True Society locations. Book a bridal appointment near you to begin your search for your dream dress. Our True Crew can't wait to help you find the one! Availability varies per store.