They say that love arrives when you least expect it, and for Meighan and Andres, this couldn't be more true! This beautiful couple met at a bar after both giving up on love and have been going strong ever since. They sealed the deal with a gorgeous lakeside ceremony and a fabulous barn reception.
It is not always the case that a bridal dress inspires a wedding, but this bride's gown was the inspiration behind her entire event. Initially wanting a minimalist look, Meighan found Stella York Style 7336, a sparkly, glamorous number that steered her wedding vision in a completely different direction. The wedding went from a simple elopement to a sparkly and elegant wedding day celebration!
The details, the photography, the gown, their obvious love for each other — every element of this wedding is the epitome of pure joy. Throw in amazing music selection and wedding planning by the bride's sister herself and you basically have your very own cloud nine situation.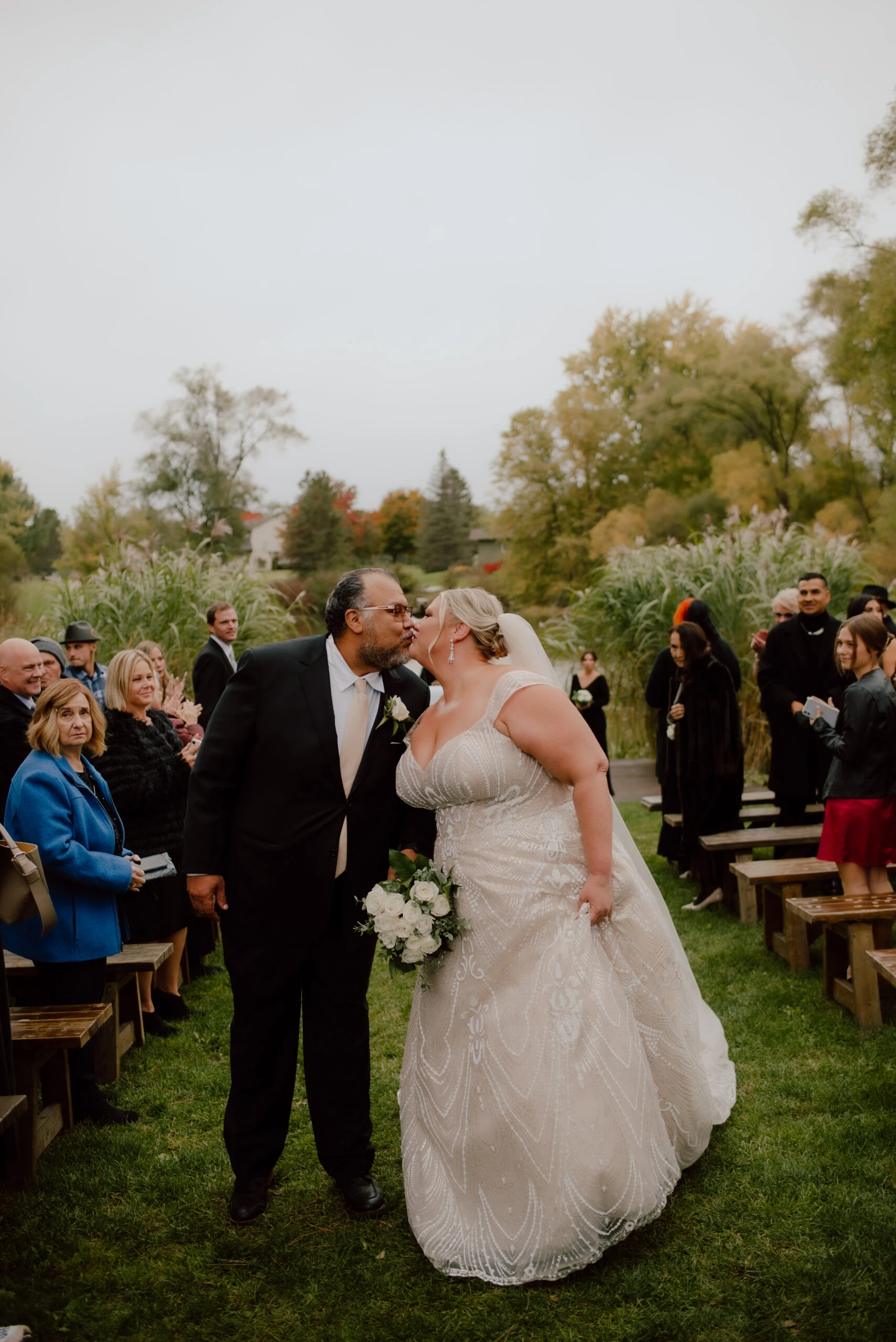 TELL US ABOUT YOUR LOVE STORY
First of all, I am a plus size bride, and I was pretty much petrified to go wedding dress shopping! My friends made me do it, though! I was so nervous leading up to the day, intimidated and worried I wouldn't find the "perfect dress."
As SOON as I walked into True Society – Grand Rapids, I was put at ease. My True Crew bridal stylist was incredible and made me feel SO COMFORTABLE. The first dress I tried on made my group cry. It was an off-the-shoulder, simple satin dress.
I then remember seeing Stella York Style 7336 (THE DRESS) on a mannequin in the store.
I wanted simple, I was going to have simple— but that dress screamed at me, and I thought, "Well, maybe I'll just try it on and see…" This dress was made for me. My True Crew stylist helped me put everything together and even found the most perfect veil to try on with it. When we pulled the curtain back, my entire group gasped and cried—it was, without a doubt, "The One."
Since we are older, I thought I should get a completely simple dress, nothing fancy— until I found Stella York Style 7336, that sparkly number changed my mind. I knew my wedding had to be sparkly and twinkly. I wanted to be the most sparkly thing there and just simple accents — chic and elegant!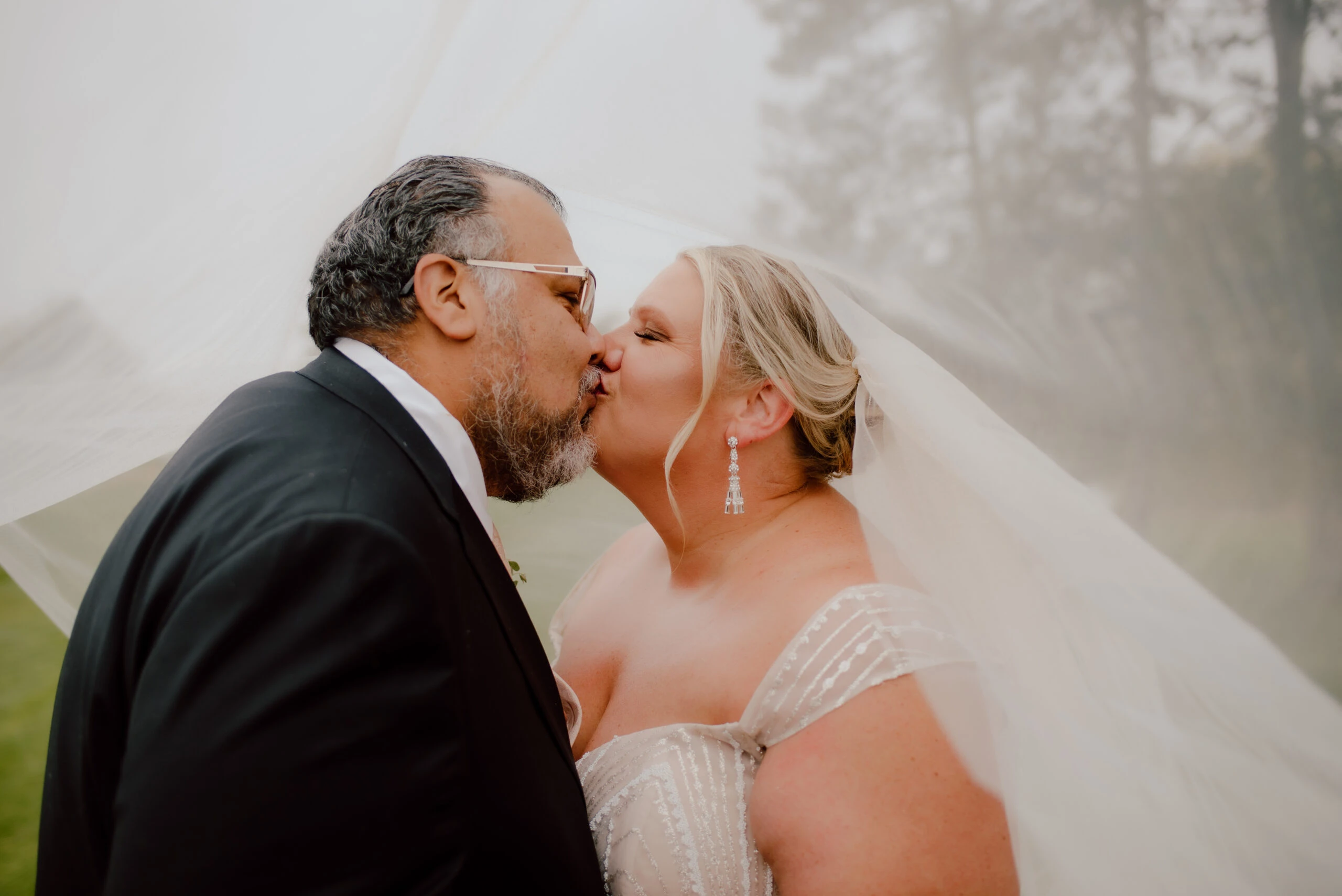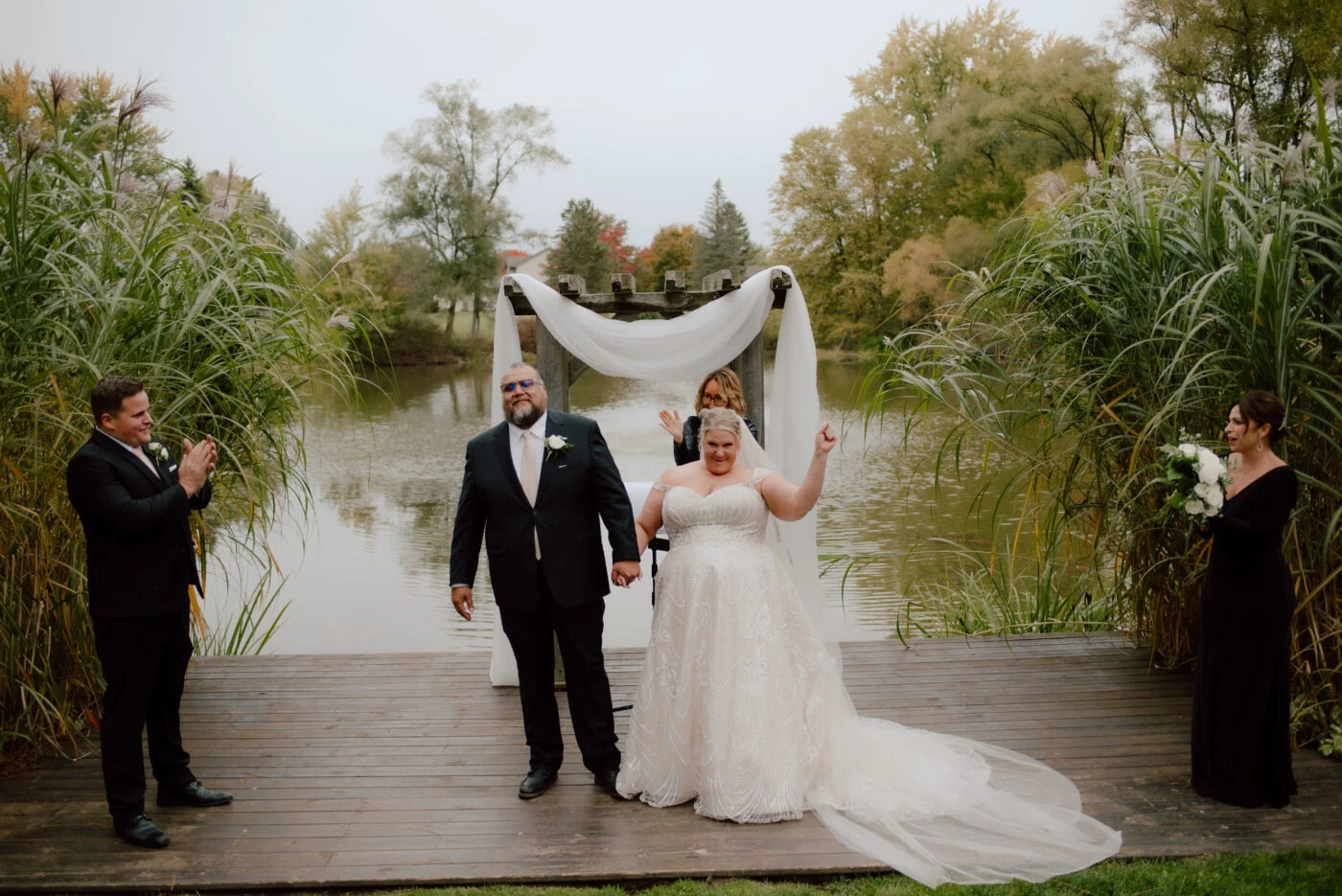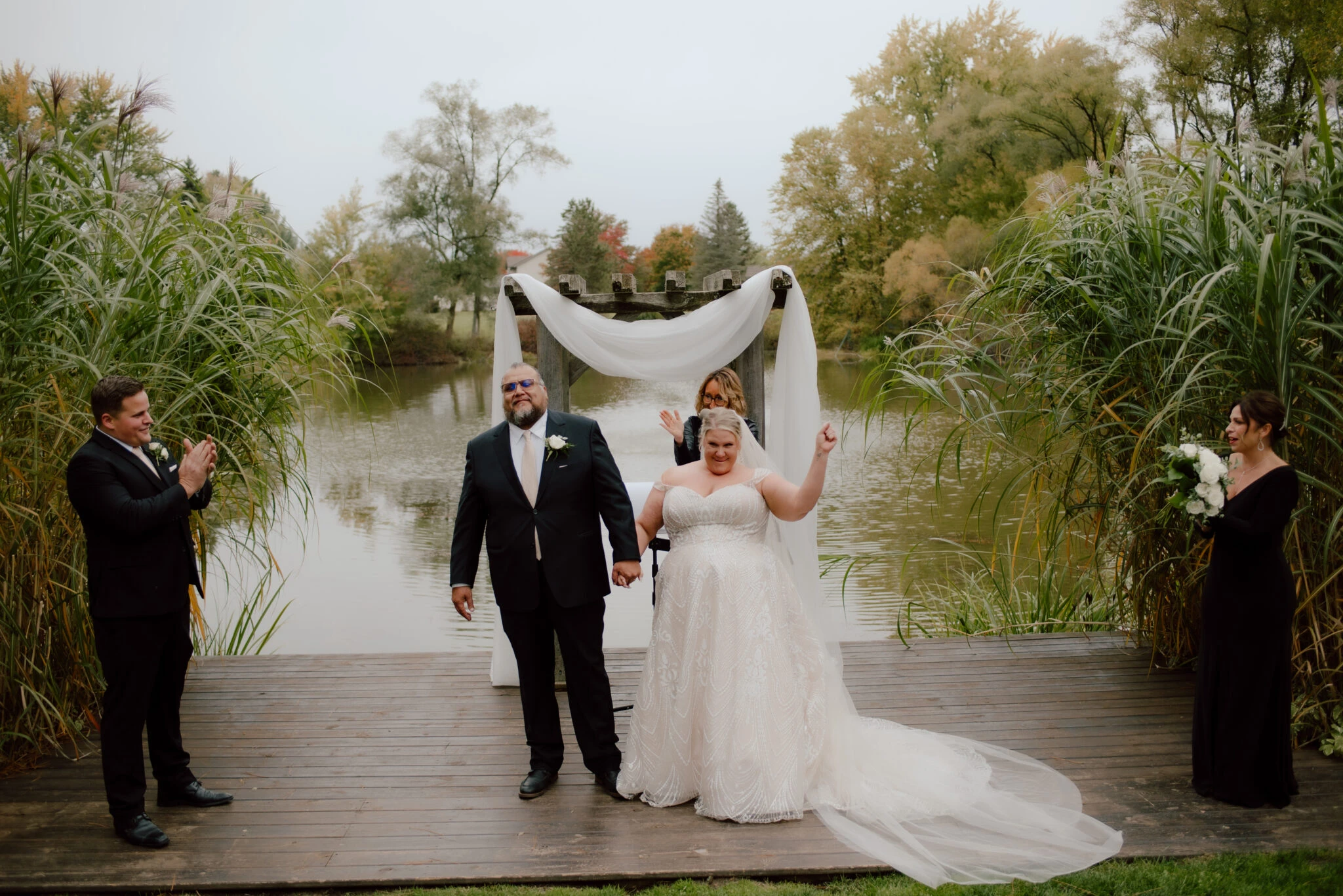 IN YOUR OWN WORDS, TELL US MORE ABOUT YOUR WEDDING.
There are so many things that made our day personal to us and our story. We have an unconditional, infectious love that you can visibly see when you're around us. This man is my best friend in the entire world. The song I walked down the aisle to was "I Hear a Symphony" by Cody Frye. Once we were announced husband and wife, we had Queen's "My Best Friend" play as a celebration.
As I mentioned, I wasn't even going to have a wedding, but when I decided I wanted to, I knew I had to reach out to my sister — she is amazing at party planning. I remember the conversation vividly…"Kath, I think I want a wedding but don't want to plan it. Will you do it?" She immediately screamed "YES!!" and hit the ground running. She worked so hard for an entire year planning, purchasing as many candles as possible and doing trial runs of centerpieces on her kitchen island. I absolutely could not have done it without her. She was there for me every single step of the way, and I am so incredibly grateful to her.
Our wedding was held outdoors, and I walked out onto a deck overlooking Dre and the guests. The reception was indoors in a barn, which was absolutely perfect — simple greenery and candles on the tables and sparkly, twinkly lights everywhere. This was my fairytale. I never knew it would happen to me!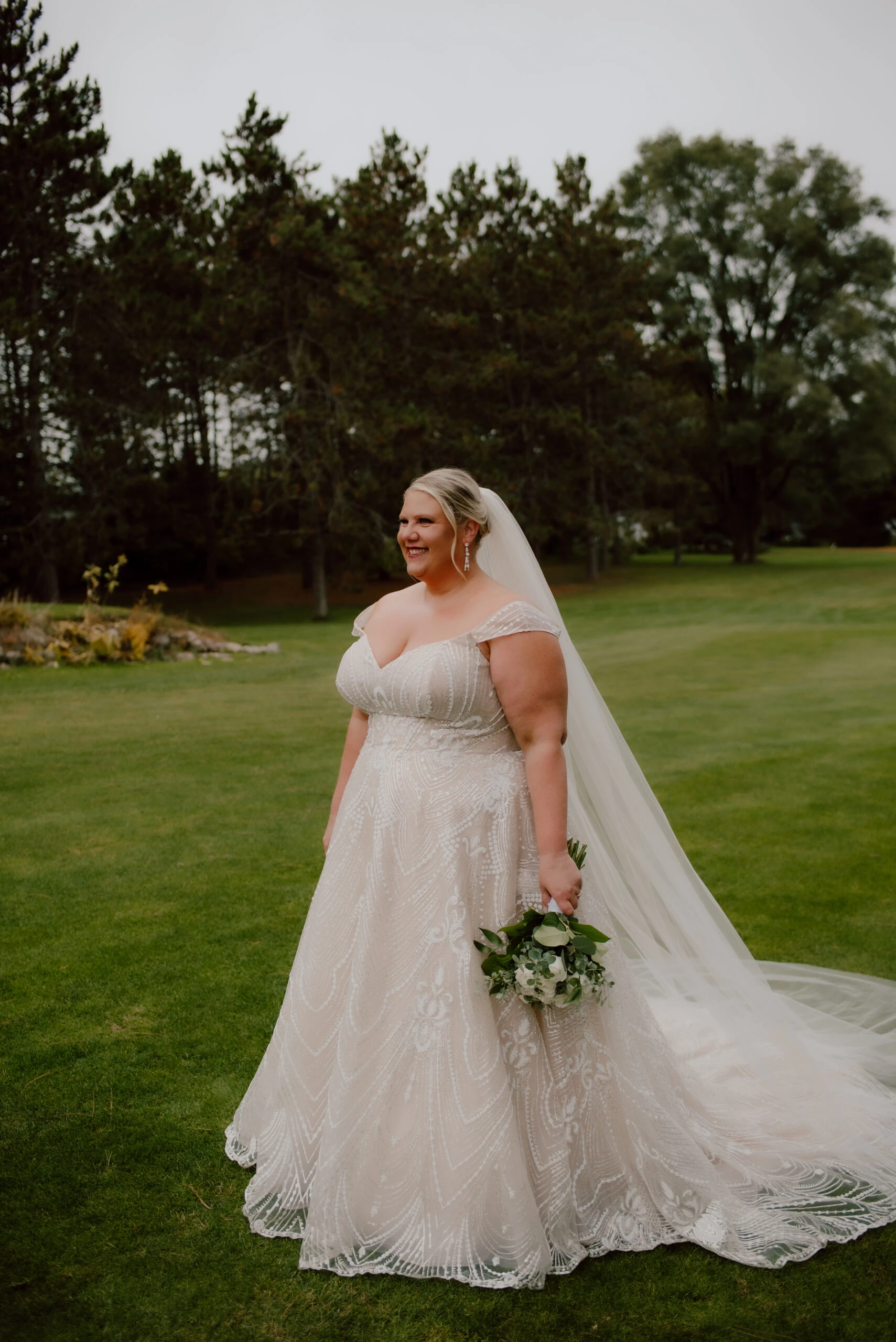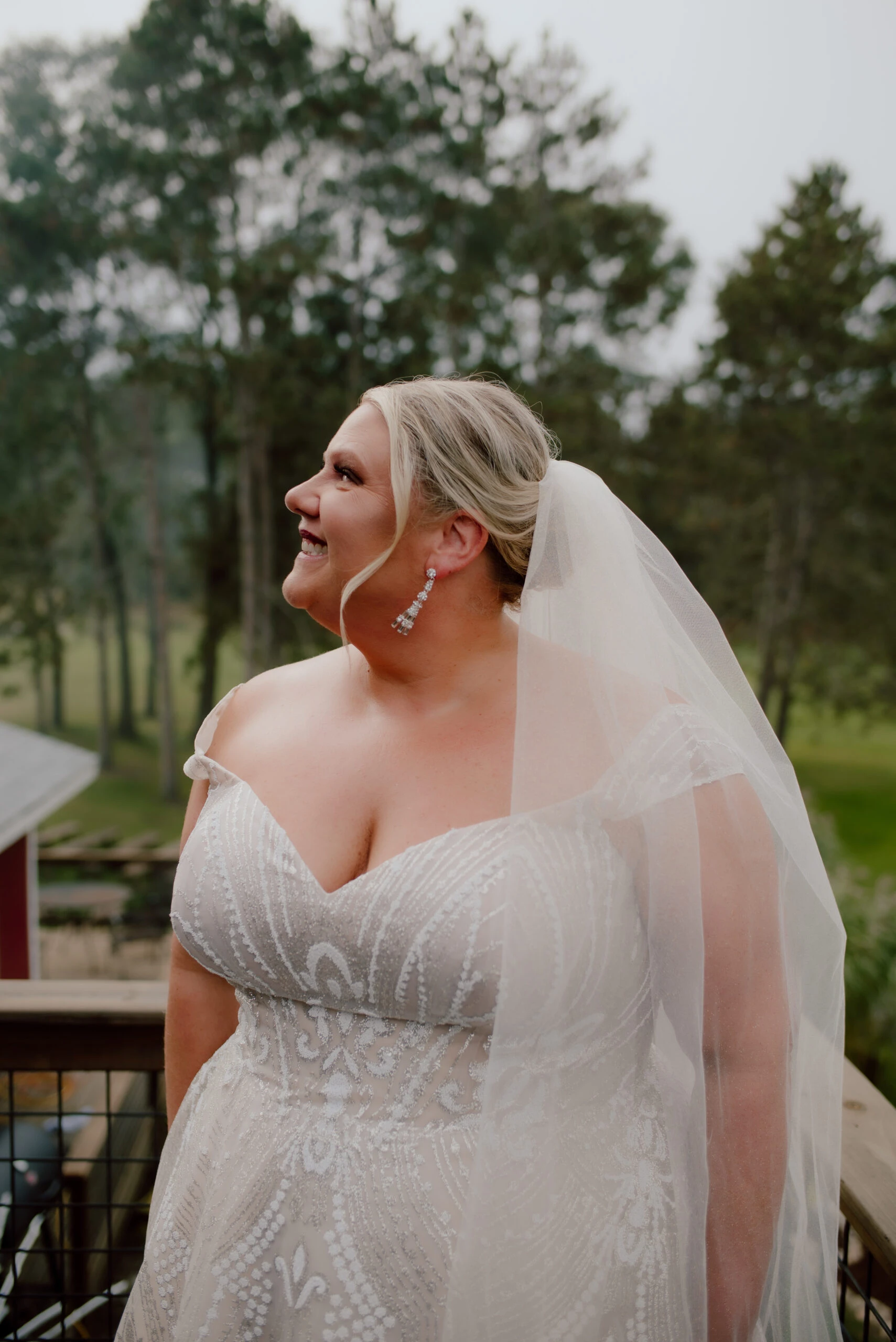 Cheers to Meighan & Andres!
Photographer: shotsbyschnepp
True Society brides, did you find your dress with us and want to be featured as a #TrueBride? Share your story with us.
Ready to find a dress that makes you sparkle on your wedding day? Find a True Society store near you and book your appointment today!