This article is part of our Ultimate Wedding Dress Shopping Guide.
From jewelry to hair pieces to statement earrings, bridal accessories are the finishing touches that bring together your wedding look, and they are just as important as choosing the right dress. Whether you are eloping in the countryside or having a large-scale estate reception, our True Crew will not only help you find your dream dress but also the accessories to help you shine on your wedding day!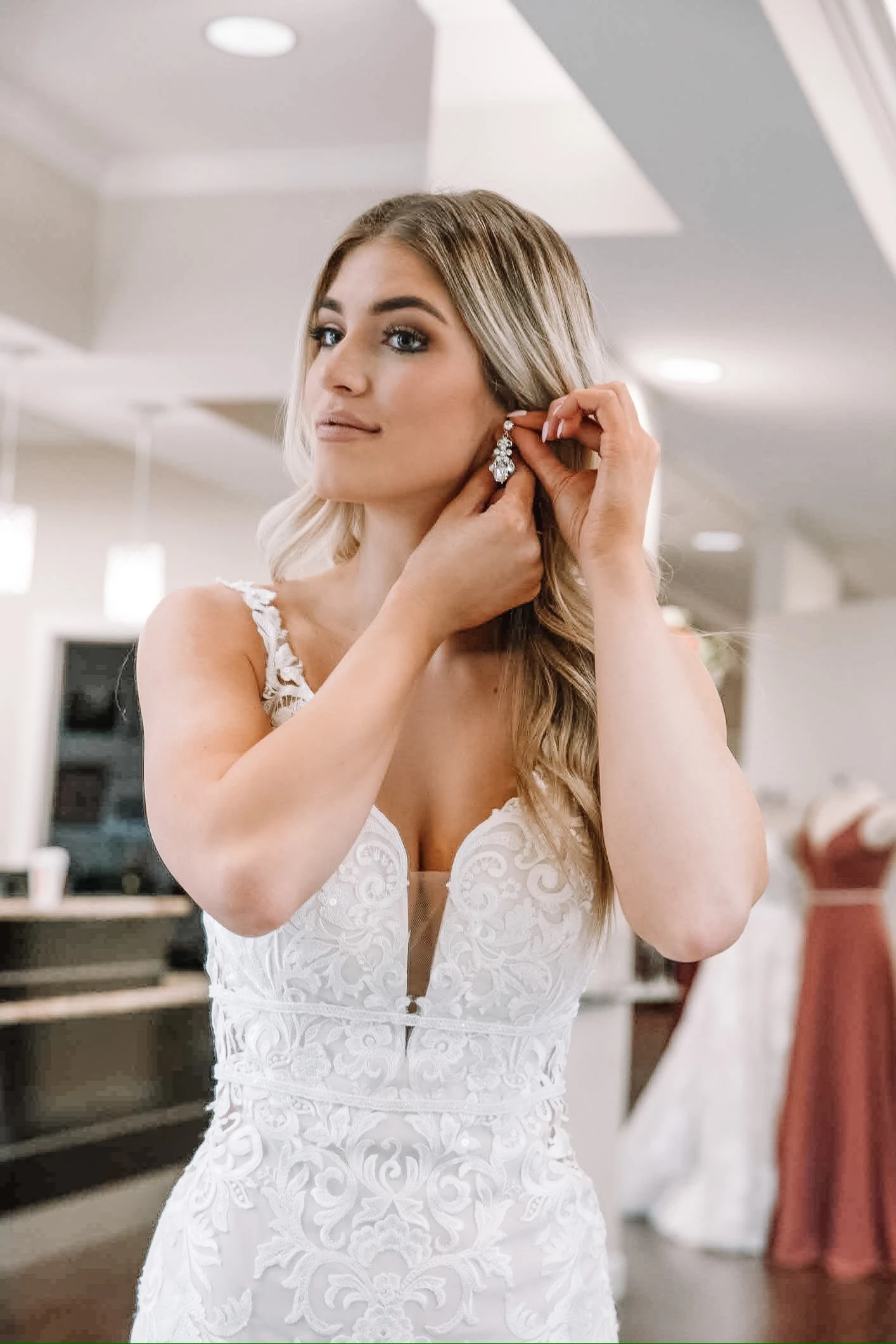 What Are Bridal Accessories?
When you add bridal accessories to your dream dress, it makes for an individual and unforgettable wedding day look. There are countless options to choose from — jewelry, belts, jackets and shawls are a few classic options. Accessories also allow you to have two looks in one or change up your look from day to night. For instance, bridal lines such as Martina Liana and Martina Liana Luxe offer customizations and add-ons like overskirts, detachable sleeves and straps that add a fun design accent. Regardless of your style preferences, there are pieces and bridal accessories out there that will have you feeling confident and beautiful.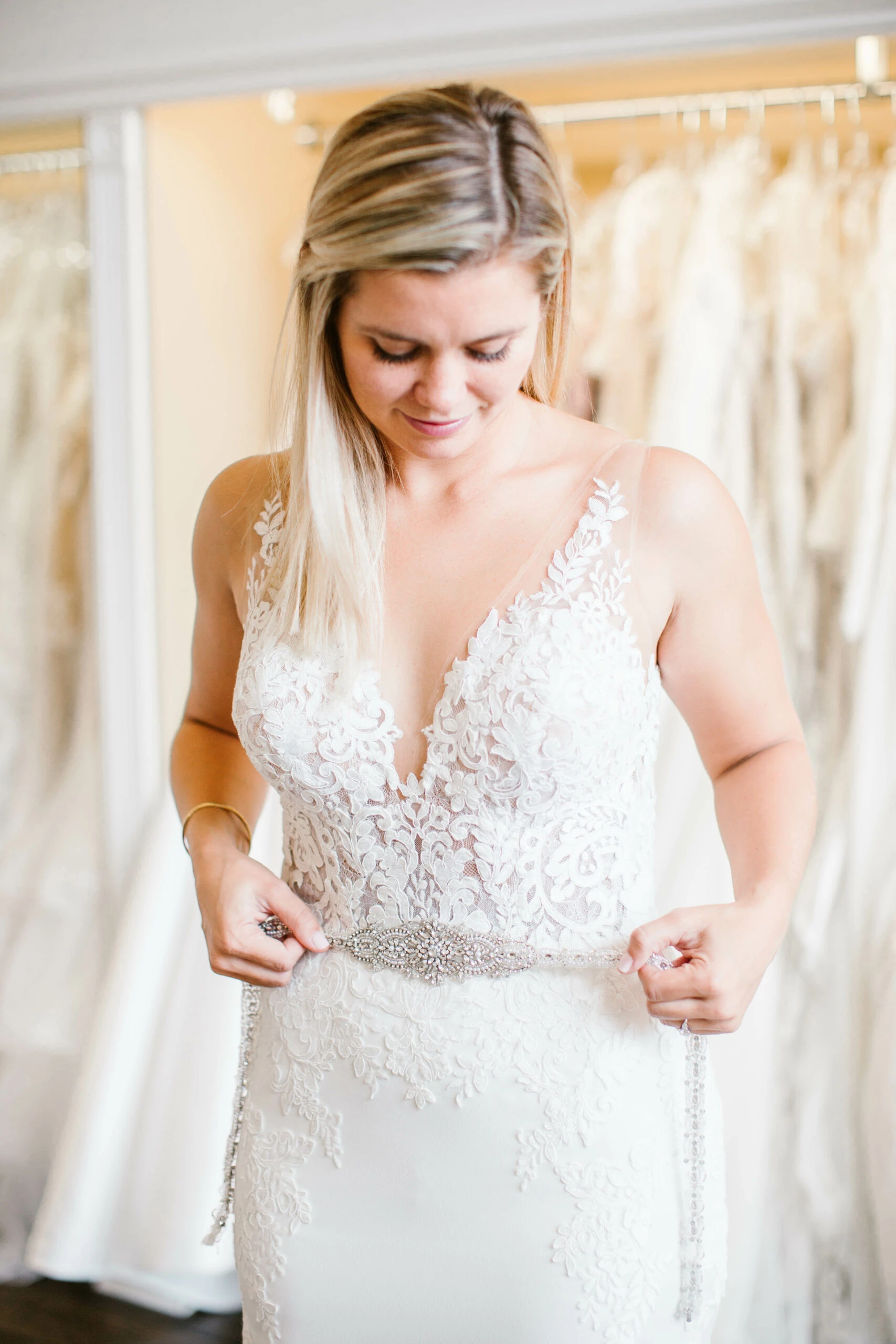 Bridal Accessories from True Society
True Society offers a wide range of bridal accessories that can help complement your bridal gown. The True Crew will help you find gorgeous jewelry such as delicate-looking bracelets or a pair of statement earrings to add sparkle to your wedding gown. Brides can also find different wedding hair accessories like combs, headbands and more to complement their wedding hairstyle. Not only are these bridal accessories well-made and elegant but they will become keepsake pieces to wear and remember long after the wedding is over.
Straps
Adding custom detachable straps to your wedding dress is a great way to make it more special. Brides can choose from a variety of fabrics and styles that will match their beautiful dresses — there are a plethora of options for every type of bride!
Amp up the romantic vibe of your Stella York Style 7115 wedding dress with these detachable tulle and lace straps— AST0003 will add a delicate organic touch to your wedding day look! 
Jackets & Shawls
Jackets and shawls are a popular accessory because they come in so many different styles that can be worn as part of a complete look or as an accent piece for a more subtle effect, while also bringing warmth to any gown. While you might be thinking of leather or denim for jackets, this accessory can also be made of fabric!
The neve jacket from All Who Wander is a dreamy, wrapped waist lace and tulle bridal jacket with floating leaf details for an ethereal look. It also pairs beautifully with All Who Wander's raine gown!
Jewelry
Factors that go into deciding on your wedding jewelry include wedding colors and personal style, as well as the design of your wedding dress. You can wear a simple strand of pearls or opt for something more elaborate such as a choker or collar necklace. Don't forget to coordinate your necklace with your earrings, if you would like them to match or complement each other!
As far as earrings are concerned, brides can opt for a simple pair of dainty stud earrings to add a hint of sparkle to their dress or go for something more intricate like drop earrings or a dramatic statement earring.
Belts & Bows
There are many types of bridal belts — from simple sashes in satin or silk to trendy belts to stylish statement bow detail – there are no limits! For a bride who wants to add a dash of sparkle ABT0011 by Stella York has simple diamond beading on an ivory satin ribbon. For a fairytale garden wedding, add a belt like ABT0005, which has a simple vine and leaf-like beading for the ultimate feminine look.
Bridal bows are also a chic, feminine accessory that can be added to many gowns! A gorgeous and detachable Mikado bow can create a statement back while the luxe sashes drape down the gown to the edge of the train. It's the ideal way to add a little drama to a simple wedding dress such as Essense of Australia D3582.
Sleeves
Brides can add a whimsical and glamorous touch to their bridal look with detachable sleeves. This stylish supplement can be added or removed as desired, making them a beautiful choice for the bride who wants to switch up their look throughout the day. Detachable lace tulle sleeves like Style ASL0006 pair flawlessly with a sweetheart neckline like the one on Essense of Australia Style D3521 creating a light and airy bridal look.
What Accessories Should I Wear with Different Dress Styles?
Always remember that bridal accessories should complement your dress rather than compete with it. A simple pair of earrings or a bracelet can be enough to complete your look if you are going for a sleek, simple bridal vibe. The glam bride might want to focus on sparkly jewelry and hairpieces, while a boho bride may want to choose accessories that feel more organic, like flowy detachable sleeves or a fringe shawl or jacket.
Book an appointment at a True Society store today and let us help you find your dream wedding dress and accessories that reflect your personal style. Style selection varies per store.