This article is part of our Ultimate Wedding Dress Shopping Guide.
If you're a bride-to-be on the hunt for your dream gown, then you've probably come across the term "trunk shows" during your online research. But what are they? And more importantly, should you attend one? Fear not, fearless brides! We're here to guide you through everything you need to know about bridal trunk shows.
What is a Wedding Dress Trunk Show?
Wedding dress trunk shows are the ultimate personal bridal shopping experience! They are special weekend events where a bridal boutique showcases a particular designer's collection for a limited time. Usually, the designer or a designer representative will be there to talk through inspiration, trends and details behind the wedding dresses in the collection.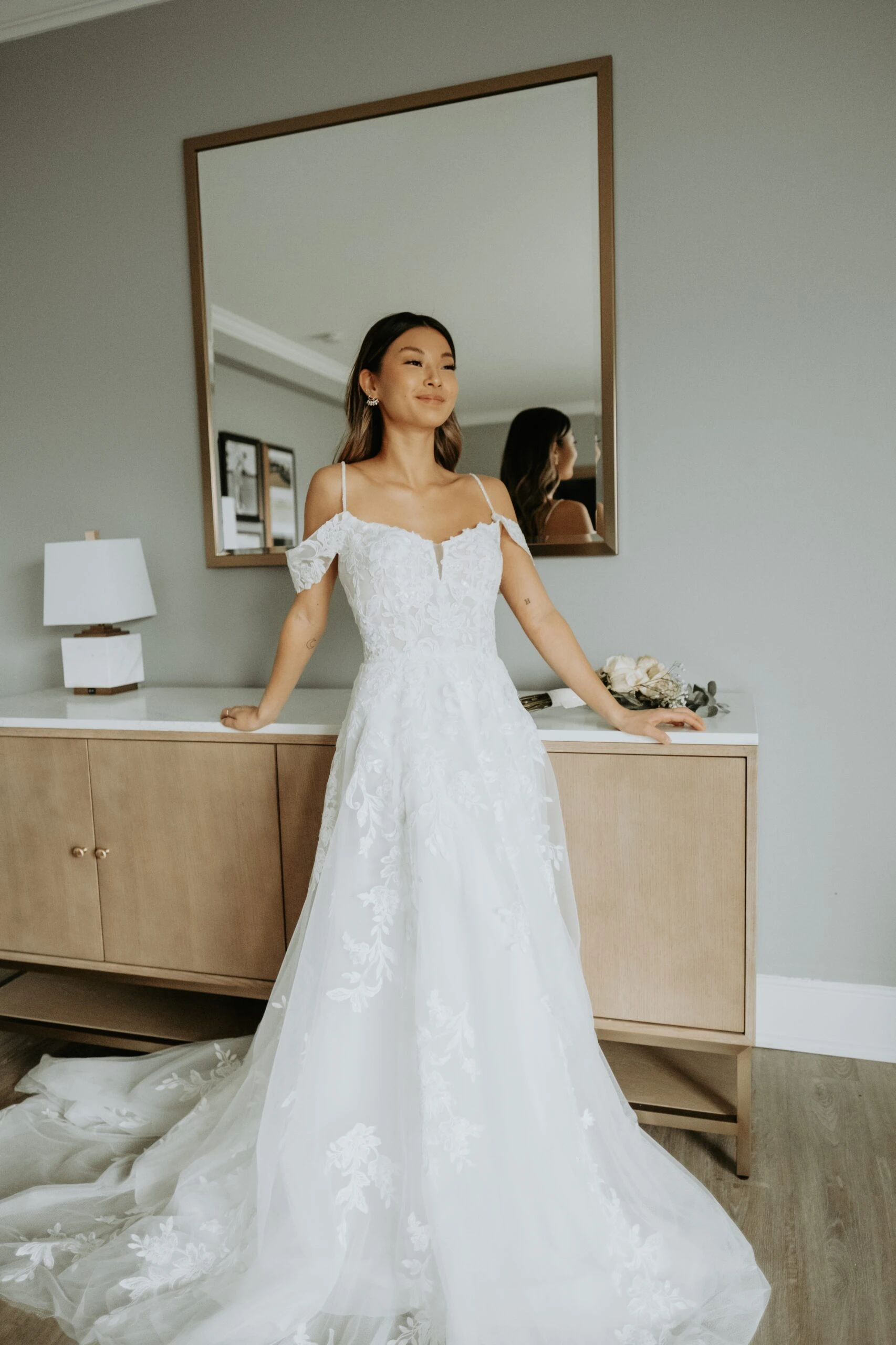 Top 3 Reasons to Attend a Wedding Dress Trunk Show
Exclusive Gown Selection: A trunk show is a great opportunity to try on a wedding dress that isn't normally carried at the store. There are also some limited-time, never-before-seen gowns available for that event only. So, if you're looking for something truly unexpected, a wedding dress trunk show may just have the bridal gown for you!
Guidance from Design Experts: This special event truly provides a wonderful hands-on shopping experience with an opportunity to learn more about bridal fashion. Brides have the chance to meet and chat with the bridal designer or designer representative and understand the inspiration behind each dress and the details of their favorite gowns.
Potential Incentives: At a bridal trunk show, you may be able to snag your dream dress from the designer's collection at a discounted price. Keep in mind that discount availability varies per store and per designer.
What to Expect at a Wedding Dress Trunk Show?
For brides looking for a designer wedding gown, a trunk show is an absolute must! Here's everything you need to know about what to expect at a wedding dress trunk show.
Expect a team of stylists full of energy and excitement. This is a special occasion when our helpful True Crew is joined by a bridal designer team that will guide you during your bridal appointment. Together they will make your wedding dress shopping experience truly extraordinary.
What To Bring to a Wedding Dress Trunk Show
All Your Questions: This is your chance to ask the experts everything you've ever wanted to know about wedding dresses! Don't let wedding dress shopping leave you with questions — get the answers you need before buying "the one".
All Your Research: While our True Crew stylist will help you sort through the wide range of styles to find your favorite gowns, it's always helpful to come prepared with some visual inspiration. This can be anything from photos of wedding dresses you've loved on Instagram to images of celebrities or #TrueBrides in their gowns.
Accessories: Bring your wedding day shoes if you have them, or something of the same heel height. For the bride who already has her accessories or is wearing a family heirloom, bringing it to the appointment could also be helpful. This will allow you to get a better sense of how the dress will look on your wedding day. If you don't have your accessories yet, no problem! Our True Crew can help style a dream look for you with our fabulous selections of bridal accessories, including veils, tiaras, jewelry and more.
Shapewear: Wedding dress trunk shows are the perfect opportunity to get a feel for how your gown will look and fit on your big day! To make sure you're getting an accurate sense of how the dress looks, we recommend wearing appropriate undergarments. This could be anything from Spanx to a strapless bra. View our complete guide on what to wear under your wedding dress for more on shapewear.
An Open Mind: It's always helpful to come to a trunk show with an open mind. You may fall in love with a dress that's completely different from what you had originally envisioned, or you may find that the silhouette you thought you wanted doesn't look as good on you as you thought it would. Our number one goal is to help you find the wedding dress of your dreams, so trust us and have fun!
Who to Bring to a Wedding Dress Trunk Show
Bring your wedding entourage or a wedding dress shopping companion. This is an event where you'll want to bring your inner circle! Whether it's your mom, Maid of Honor, future mother-in-law, sister or close friend to help you out — it's always helpful to have a second (or third or fourth!) opinion when wedding dress shopping. Don't bring too many people though— a large group could sometimes be overwhelming and make it difficult to focus on finding your dream dress.
Make the Most of the Designer's Presence
At a wedding dress trunk show, you'll have the unique opportunity to meet and chat with the designer or a designer representative. This is your chance to ask questions about the collection, get insights into the design process and learn more about what goes into making a wedding dress. You may even be able to get some tips on how to style your hair and makeup to complement your dress. This is also a great opportunity to get a feel for the designer's aesthetic and see if their vision aligns with your own.
How to Find a Bridal Trunk Show
To find out about trunk shows happening at our True Society stores, head over to our locations page to find a bridal shop close to you. True Society bridal boutiques are located in Kansas, Missouri, Michigan, Oregon, Austria and Switzerland. The upcoming trunk shows are listed on every store's webpage, but you can also visit your favorite True Society bridal boutiques on Facebook, where they announce trunk shows several weeks in advance and provide all the details on how to attend.
Appointments are necessary to ensure you have the most INCREDIBLE dress shopping experience! Wedding dress trunk shows are typically only held for a weekend, so it's important to act fast!
We can't wait to see all our future brides at a trunk show event! Be sure to schedule your appointment or find a trunk show today! Gown availability varies per store.