Dive into a world where vintage charm meets modern style. True Society by Belle Vogue Bridal – Kansas City is delighted to present a stunning collection of vintage wedding dresses that seamlessly blend timeless elegance with contemporary design.
Our assortment promises to transport you back in time while keeping your fashion-forward sensibilities in mind — whether you're a fan of classic lace detailing, adore the glamour of the Roaring Twenties or have a soft spot for old-world charm.
Join us as we explore these exquisite bridal gowns, each one a nostalgic nod to an era gone by yet brimming with relevance for the modern bride.
What is a Vintage-Inspired Wedding Dress?
A vintage-inspired wedding dress is a harmonious blend of the past and the present. It typically showcases features from iconic fashion periods, like the intricate beadwork of the 1920s, the full skirts of the 1950s or the graceful simplicity of the 1970s.
Yet, these dresses are far from being mere replicas. Modern design elements and techniques are applied to enhance comfort, fit and adaptability, making each wedding dress silhouette suitable for today's bride. For instance, lightweight fabrics may be used for improved wearability, and cuts may be adjusted to flatter contemporary body shapes.
This fusion of old and new allows each dress to exude a distinctive charm, striking a beautiful balance between nostalgia and modernity. Our vintage style wedding dresses offer brides the chance to make a classic fashion statement on their special day while still feeling comfortable and stylish.
Where Can You Get a Vintage-Inspired Wedding Dress in Kansas City?
At True Society by Belle Vogue Bridal – Kansas City, we are proud to offer an exquisite collection of vintage inspired wedding dresses that cater to a wide range of aesthetic preferences. From vintage lace wedding dresses and art-deco inspired gowns reminiscent of the 1920s to plus size vintage wedding dress echoing the elegance of the 1950s, our array is as diverse as it is beautiful.
Each dress is a testament to the craftsmanship of combining historical fashion influences with modern tailoring techniques. The result? A vintage wedding dress selection that pays homage to the past while fitting effortlessly into the contemporary bridal scene.
Come and visit us in the beautiful Crossroads district of Kansas City, where you can immerse yourself in the enchanting world of our exquisite vintage wedding dresses. Each gown is meticulously crafted, capturing the ideal fusion of timeless vintage charm and contemporary sophistication.
Vintage Inspired Wedding Dresses
Vintage Lace Wedding Dress with Cap Sleeves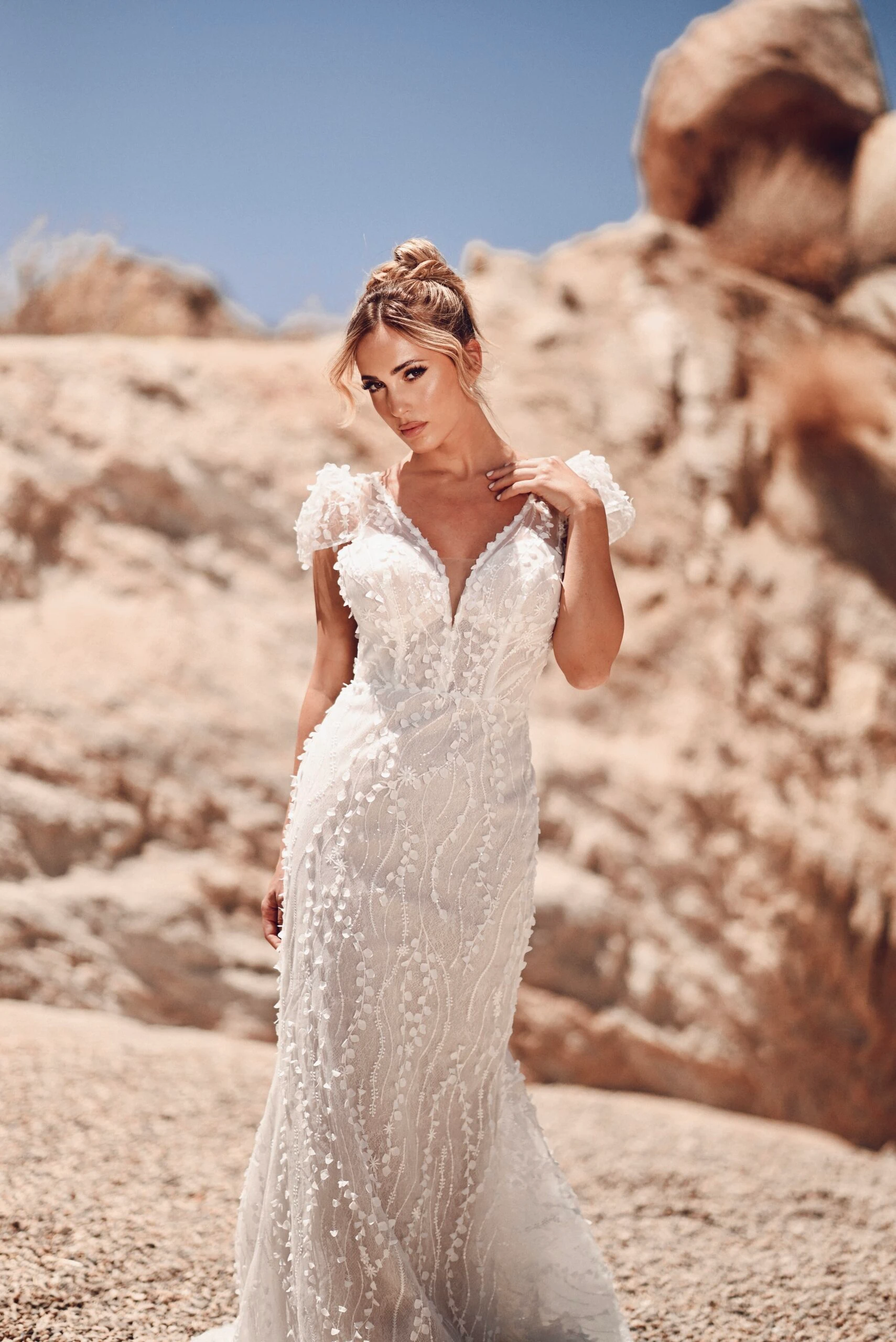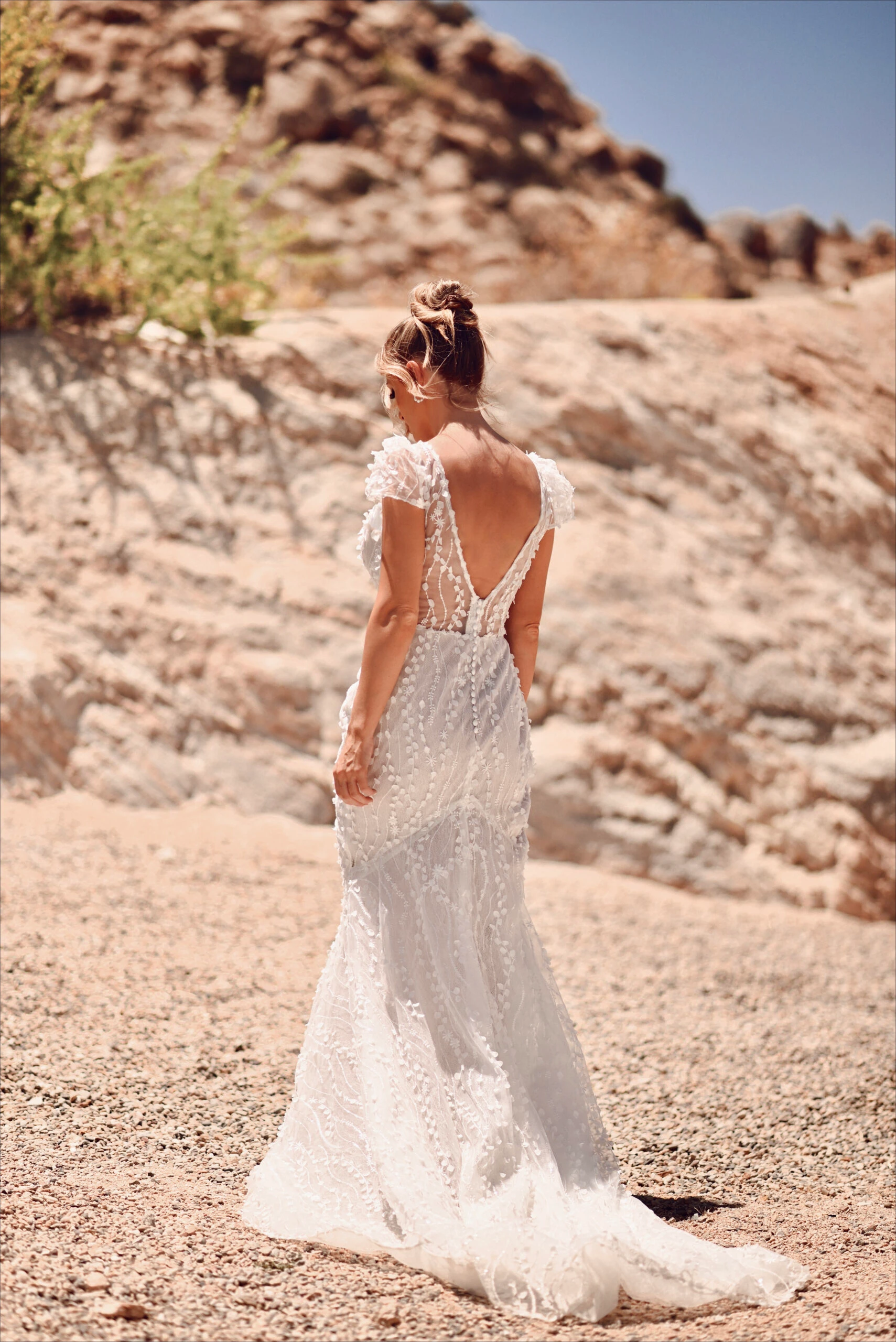 Bringing the dream of classic bridal glamour to life, Martina Liana Style 1526 is ready to take you down the aisle! Exuding a vintage charm is infused with a bohemian glamour in this timeless design. This exquisite piece showcases delicate lace accents and elegant cap sleeves. When it comes to vintage lace wedding dresses, this gorgeous gown is as good as it gets!
Delicate 3D floral embellishments accentuate your curves in all the right places. The plunging neckline made of illusion tulle creates a captivating effect without compromising traditional elegance. The satin fabric gracefully envelops your figure, accentuating your curves before cascading into an ethereal train, granting you ample space for a grand entrance.
Vintage Boho A-Line Wedding Dress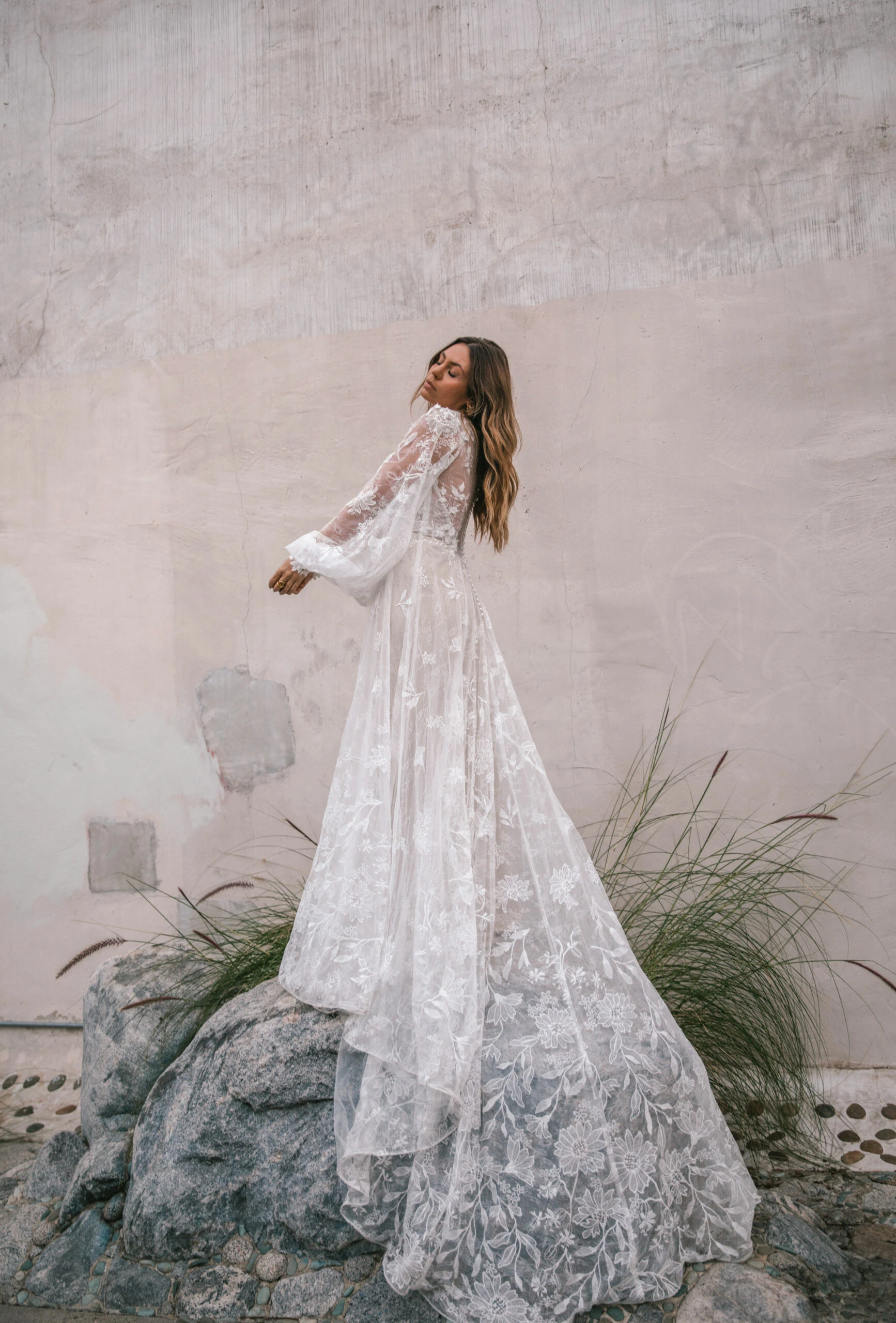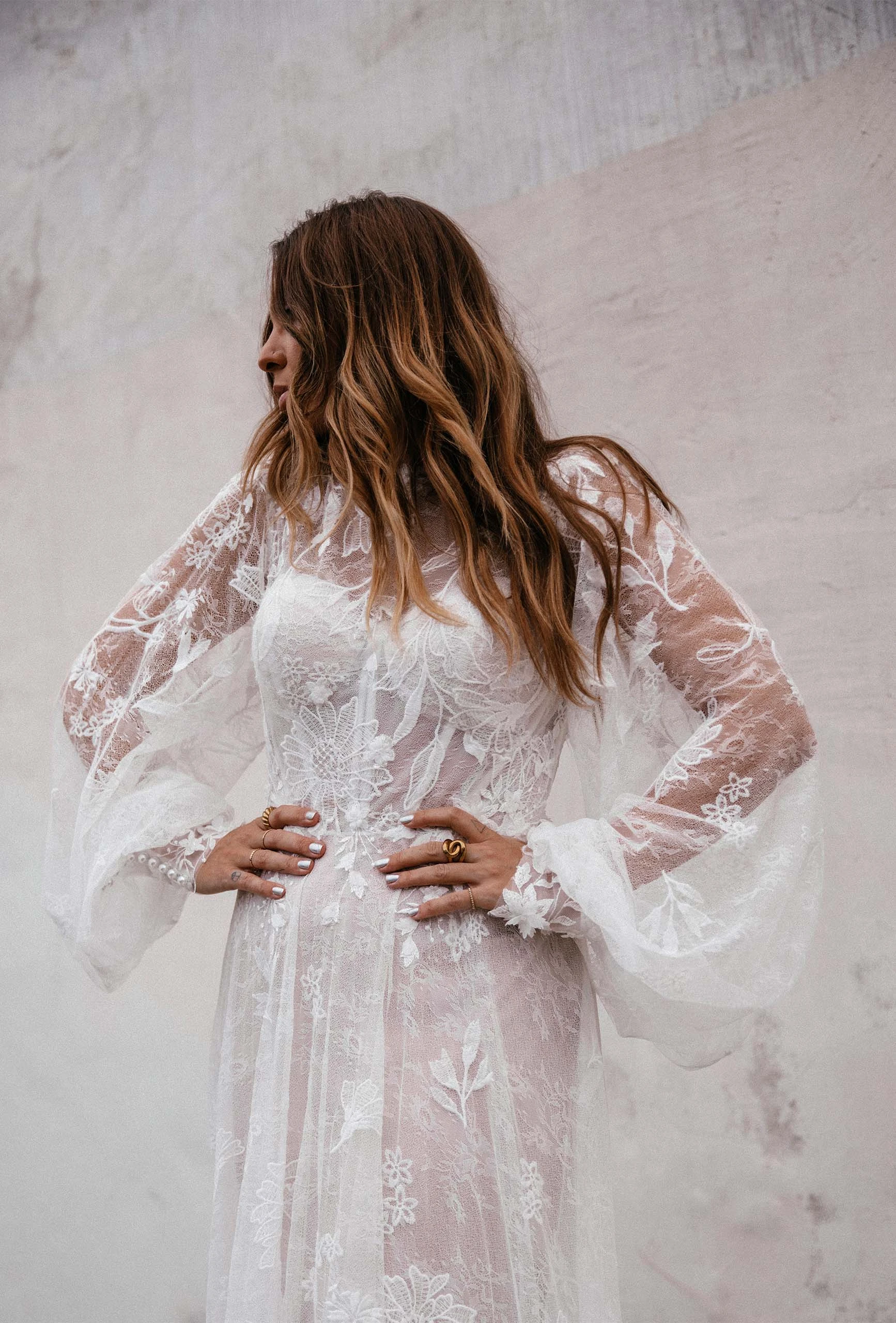 For the brides who want their wedding dress to truly reflect their free-spirited bohemian yet vintage vibe— we introduce the All Who Wander wynter gown. This ethereal dream is ideal for those seeking a look that is both modest and airy while still embodying the grace and sophistication of a bygone era.
The dress features a soft A-line silhouette that is covered from head to toe in sheer lace dotted with 3D florals, adding just the right amount of sweetness and charm. The blouson sleeves close with delicate pearls at the wrists for an extra touch of whimsy and enchantment.
The exquisite high-fashion bustier bodice features boning that offers both structure and support, ensuring that the bride's magical day is as special as she envisions it to be! With all the enchanting elements this vintage boho wedding dress presents, what more could one possibly desire?
Vintage Simple Strapless Wedding Dress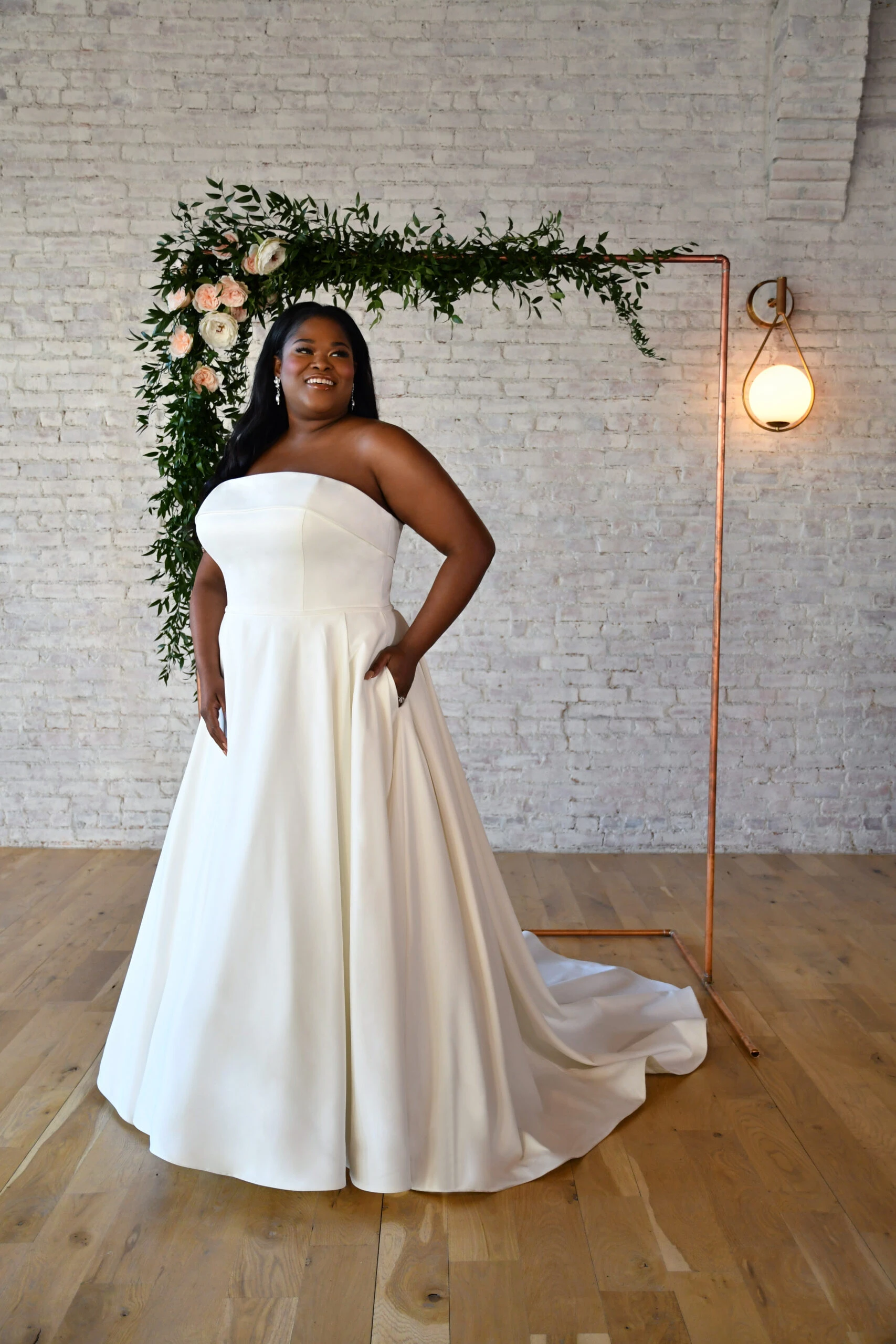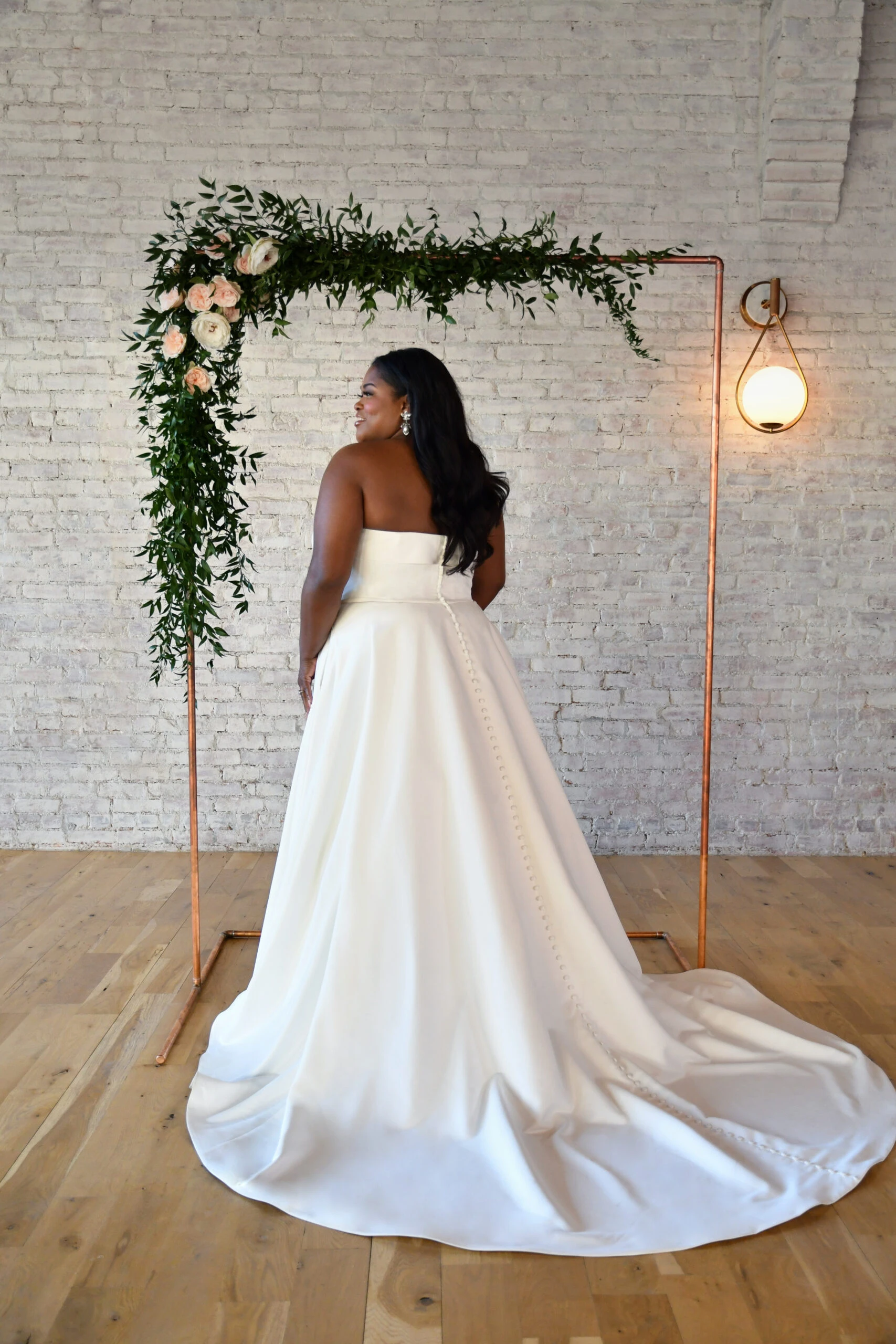 For the timeless bride who wants something a little special, Stella York Style 7045+ is just the dress! This vintage inspired plus size wedding dress gives a 90s feel, with its effortlessly elegant straight-across neckline. This wedding dress can easily be styled to match any bridal look.
The optional lace-beaded trim gives the skirt a hint of sparkle for a dramatic touch sure to make your walk down the aisle even more special. And what could make this gown any better? POCKETS! Make your big day unforgettable and truly yours with this stunning vintage simple wedding dress.
Long Sleeve Classic Vintage Wedding Dress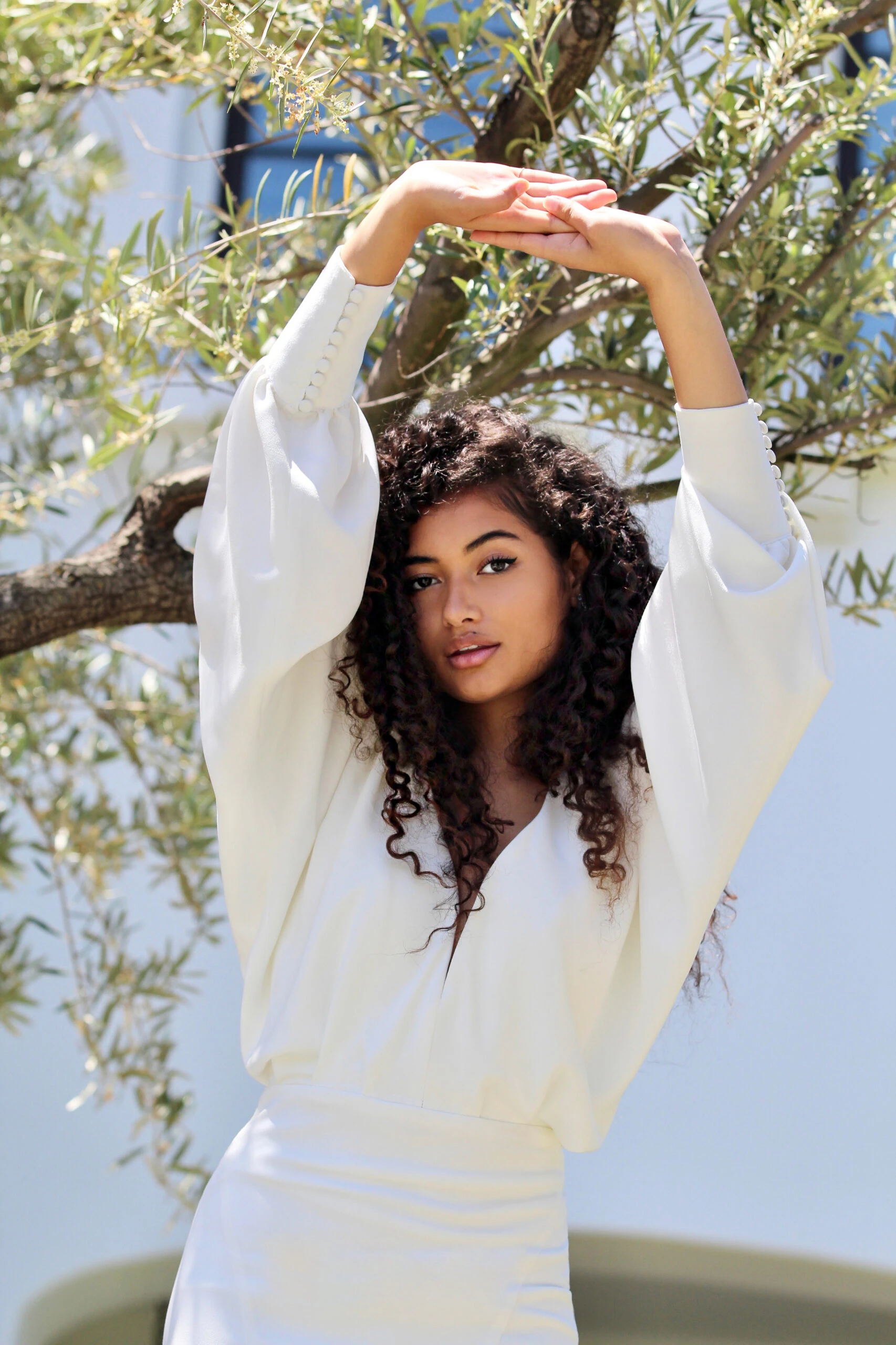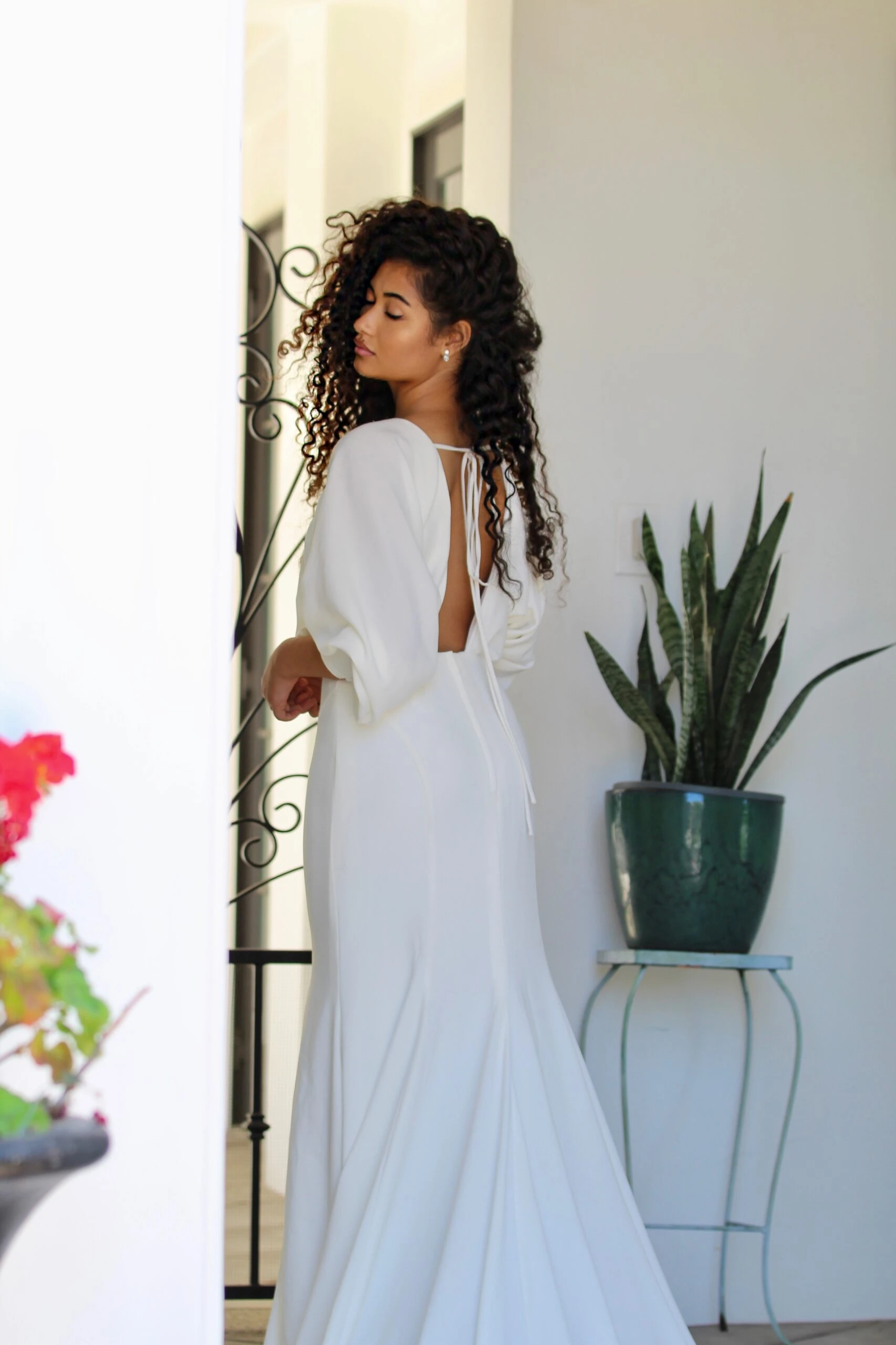 Are you a bohemian bride with a love for retro glamour? Allow us to introduce you to the All Who Wander dylan gown. This vintage long sleeve wedding dress is crafted for the adventurous bride who fearlessly embraces self-expression on her wedding day. It is an exquisite creation that exudes an effortless beauty that will leave everyone in awe.
Its sleek sheath silhouette is the epitome of elegance, hugging your curves in all the right places. The plunging V-neckline adds just the right amount of glamour, drawing attention to your feminine figure. And let's not forget about those exquisite long sleeves – gathered and buttoned at the wrists, they add a touch of vintage charm that will transport you to a bygone era.
Black Vintage Ballgown Wedding Dress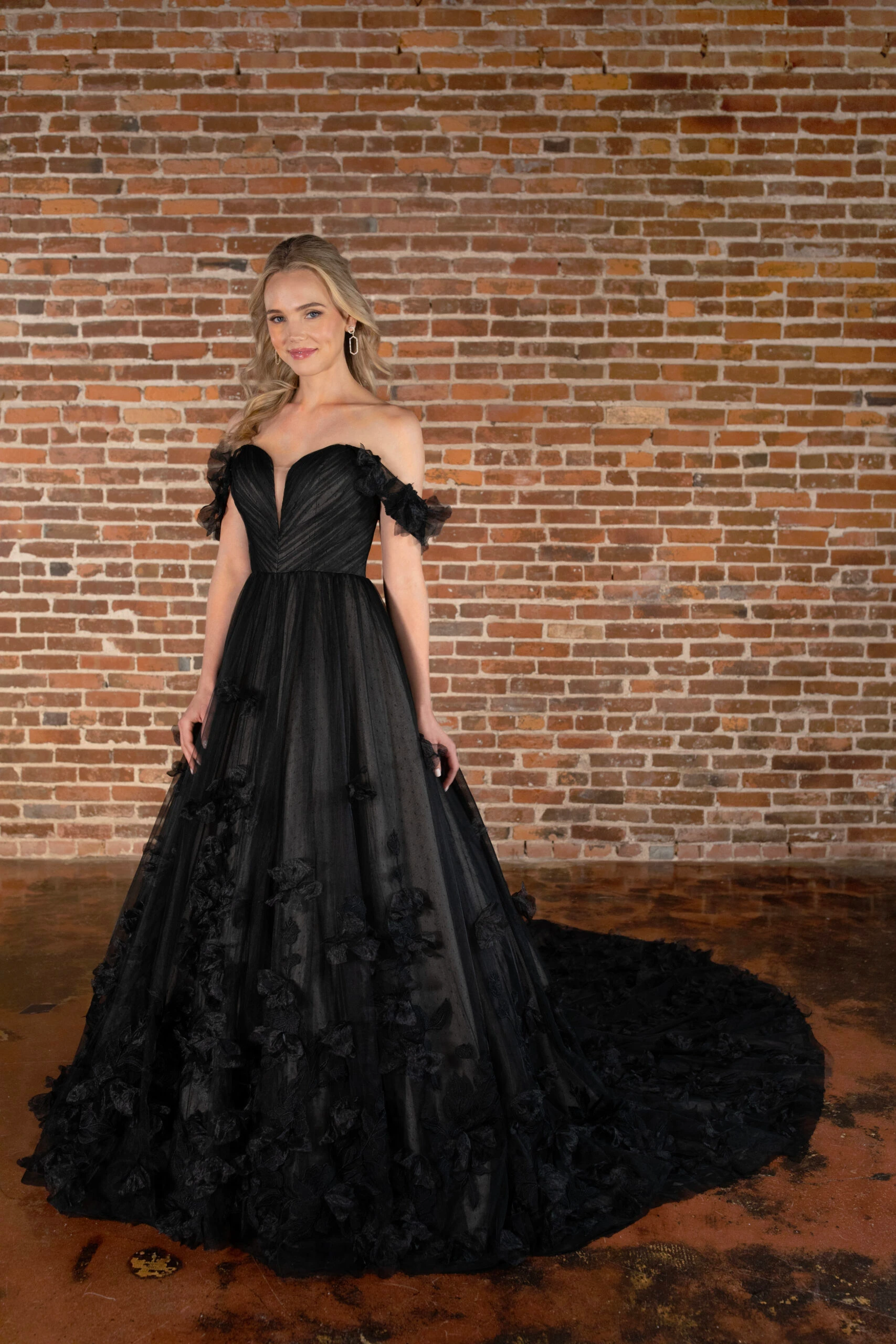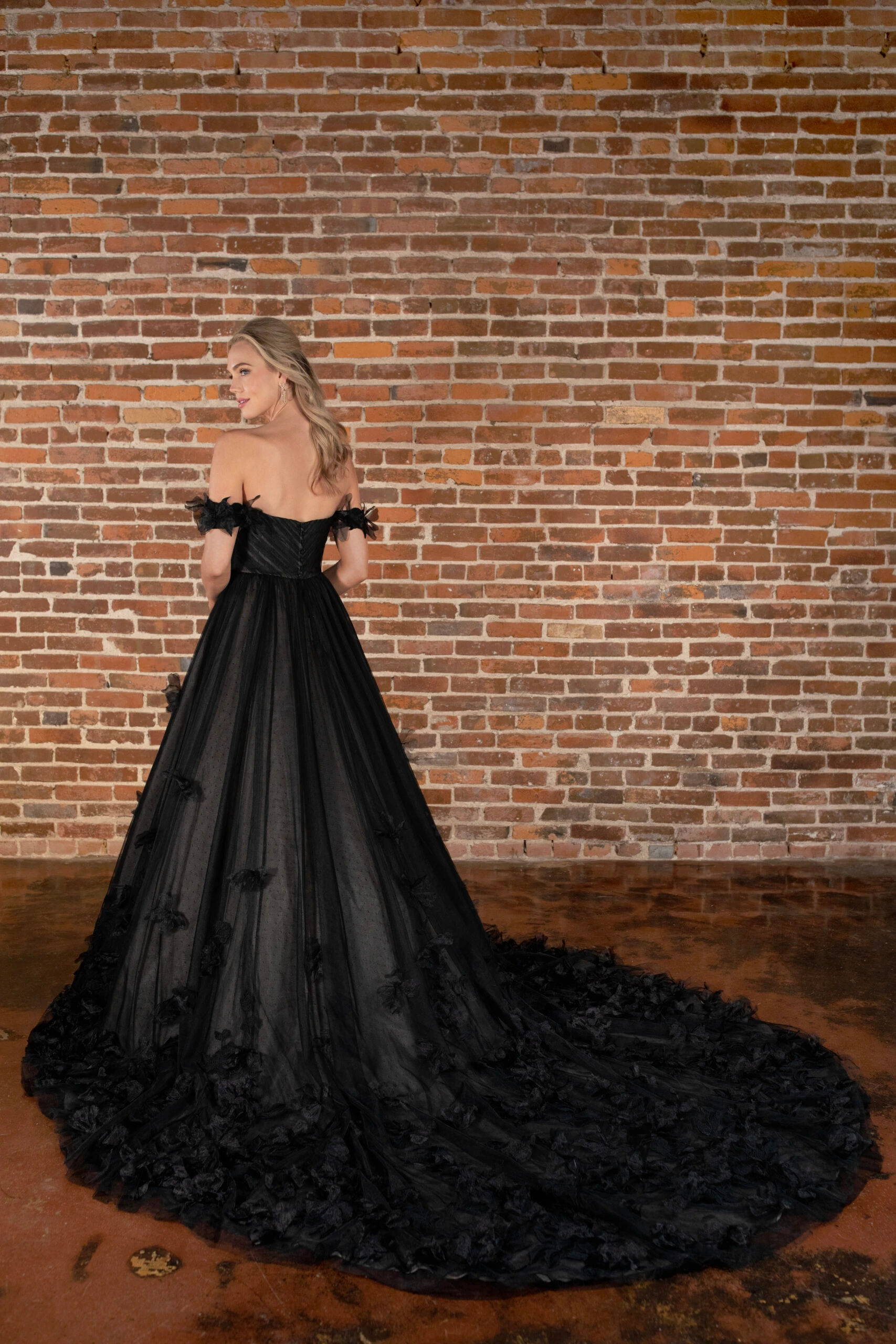 Essense of Australia Style D3734BLK
Are you set on creating a wedding day that is as distinctive and extraordinary as your love story? Look no further – Essense of Australia Style D3734BLK arrives just in time to help make your fairytale dreams come true! It is one of a kind and sure to turn heads on your special day.
A classic silhouette, timeless Swiss dot tulle, a romantic sweetheart neckline and lavish detachable off-the-shoulder straps adorned with 3D florals. This dress is a vintage lavish beauty designed for the passionate bride with an eye for luxury and grandeur.
How can I view these vintage-inspired wedding dresses at True Society?
As you can see, True Society by Belle Vogue Bridal – Kansas City is home to an array of vintage-inspired gowns that bring back the magic and romance of bygone eras. Each dress tells its own story, allowing brides to express their individuality while still embracing timeless traditions.
To view these beautiful creations in person, visit our bridal shop in Kansas City. The True Crew is dedicated to helping you find the vintage-inspired wedding dress of your dreams. We can't wait to be a part of your love story!
Come to True Society by Belle Vogue Bridal – Kansas City and let us help you find the vintage wedding dress of your dreams! Book an appointment today and let us help you bring your dream bridal look to life! Bridal gown availability varies per store