Are you in search of the ideal wedding themes and dresses to complement your special day? Look no further! With a little creative flair, you can craft a one-of-a-kind, authentic experience your guests will be sure to remember for years to come.
Whether you're dreaming of an outdoor rustic ceremony or a glamorous ballroom affair, the True Crew gathered some tips to guide you in choosing the perfect dress and accessories to match your theme. Read on to learn more about how the right combination of theme and dress can create an unforgettable experience on your special day!
What Makes Themed Weddings Authentic and Memorable?
The answer is simple: personalization. By incorporating a specific theme into your wedding, you can infuse elements of your unique personality, passions and interests into every aspect of the event.
From the carefully curated decor and thoughtfully selected entertainment to the meticulously chosen attire, your chosen theme can set the tone, atmosphere and overall experience for the entire celebration. It adds an extra layer of meaning and depth, creating a truly memorable and immersive experience for you and your guests to cherish for a lifetime.
How Can Couples Choose the Perfect Theme That Reflects Their Personalities?
Start by considering your interests, hobbies and cultural backgrounds. Maybe you and your partner both love the beach and want to recreate a romantic seaside vibe with nautical details and breezy silhouettes in your dress choices. Or perhaps you share a deep appreciation for vintage fashion and want to transport guests back in time with an elegant 1920s-inspired wedding.
Once you have identified some potential wedding themes that speak to you, think about how you can incorporate them into every aspect of your wedding. This includes the dress and accessories for both the bride and groom, as well as the bridal party.
Dresses for Your Themed Wedding
Now to the most exciting part — choosing a dress that perfectly complements your chosen theme! First and foremost, remember that there are no rules when it comes to wedding dresses.
Whether you prefer whimsical boho bridal gowns, bold black wedding dresses or even chic minimalist styles— the key is to find a style that makes you feel confident and reflects your personal style. Incorporating elements of your theme into your dress can add an extra level of cohesion and personalization. Here are some suggestions from the True Crew:
Fairytale Wedding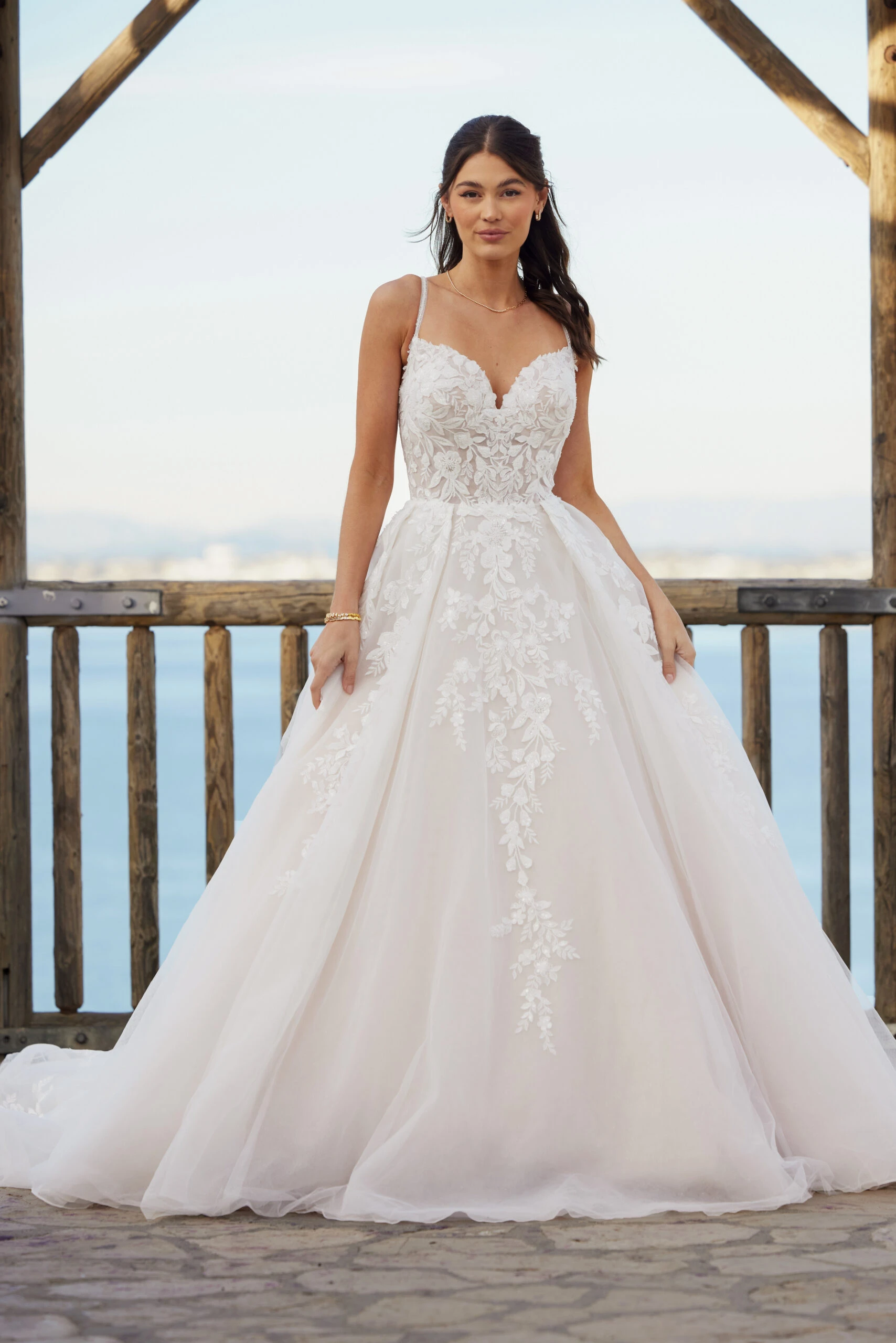 Essense of Australia Style D3720
Make your fairytale wedding daydreams come true with the Essense of Australia Style D3720! Experience the enchantment of feeling like a princess as you gracefully glide down the aisle in this exquisite, romantic and timeless ballgown.
The semi-sheer bodice is adorned with shimmering floral lace that exudes both grace and glamour. The sleek spaghetti straps feature delicate beading for an extra dose of sparkle.
The cinched waist gracefully gives way to a billowing and ethereal full tulle skirt, creating a mesmerizing and enchanting silhouette that captures the essence of timeless elegance. Step into this beautiful princess bridal gown and make your fairytale wedding dreams come to life!
Vintage Wedding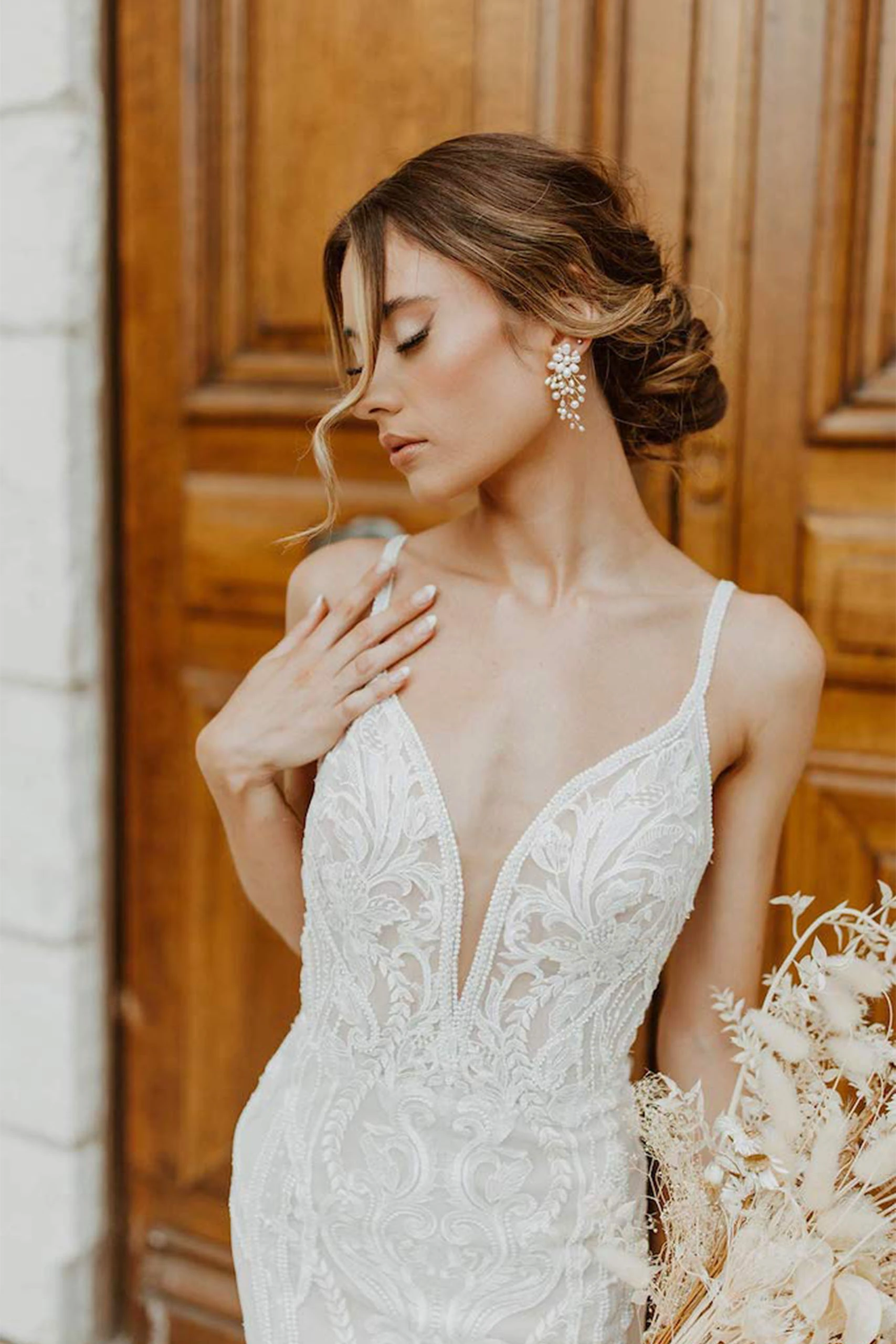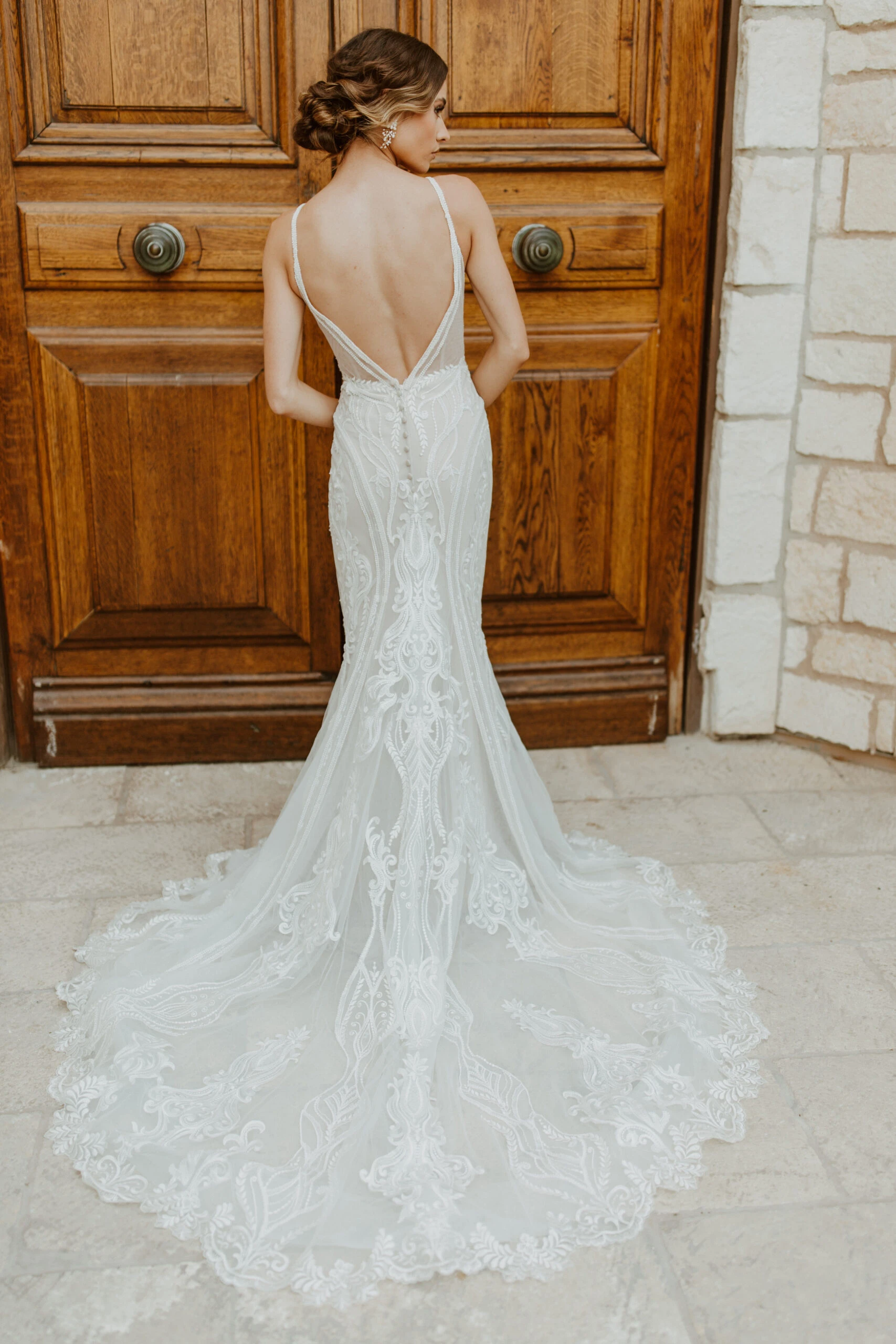 Essense of Australia Style D3488
Capture the essence of vintage glamour in Essense of Australia Style D3488! Make a bold entrance with this figure-flattering fit-and-flare silhouette that is adorned with scrolling linear lace and finished with artful beading.
Your neckline will sparkle in a dreamy deep plunge with illusion tulle, while daring side cutouts add jaw-dropping sexy flair. A gorgeous V-shaped open back beautifully frames the captivating design — adding even more allurement for when you turn around. From the natural waist, vertical beaded graphics extend down into a romantic lace-trimmed scalloped train — providing the finishing touches to this ultra-dazzling vintage wedding dress.
Garden Wedding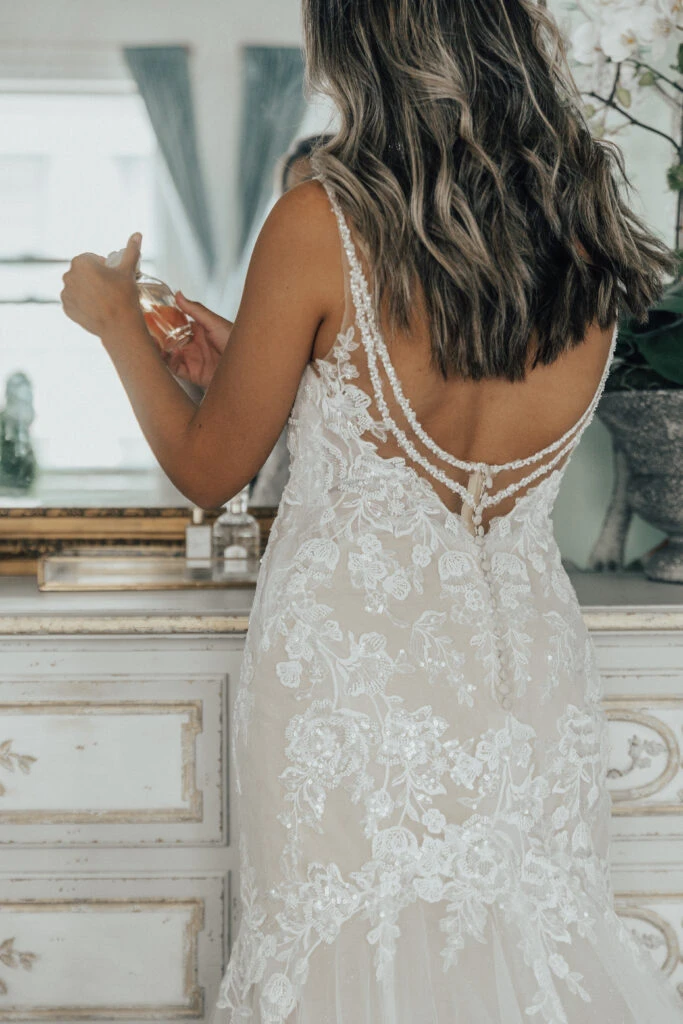 Essense of Australia Style D3395
Nothing could be more romantic than a garden wedding, and the ideal outdoor wedding dress to bring your vision to life is the Essense of Australia Style D3395. This delightful wedding gown features an elegant, scooped neckline with a sophisticated cutout and flattering illusion tulle, giving you effortless comfort as you twirl and dance on your special day.
Special touches such as the wide-set beaded straps add a nod towards timeless bridal style while exquisitely accenting the beautiful open back for an eye-catching look from every angle. Rich textured lace tightly hugs your body, while sparkling sequin details and embroidered floral accents give this breathtaking ensemble stunning dimension and depth. With layers of glitter tulle cascading beneath, this floral bridal gown gracefully contours down to its showstopping train, ensuring all eyes are on you as you make your grand entrance down the aisle!
Country Wedding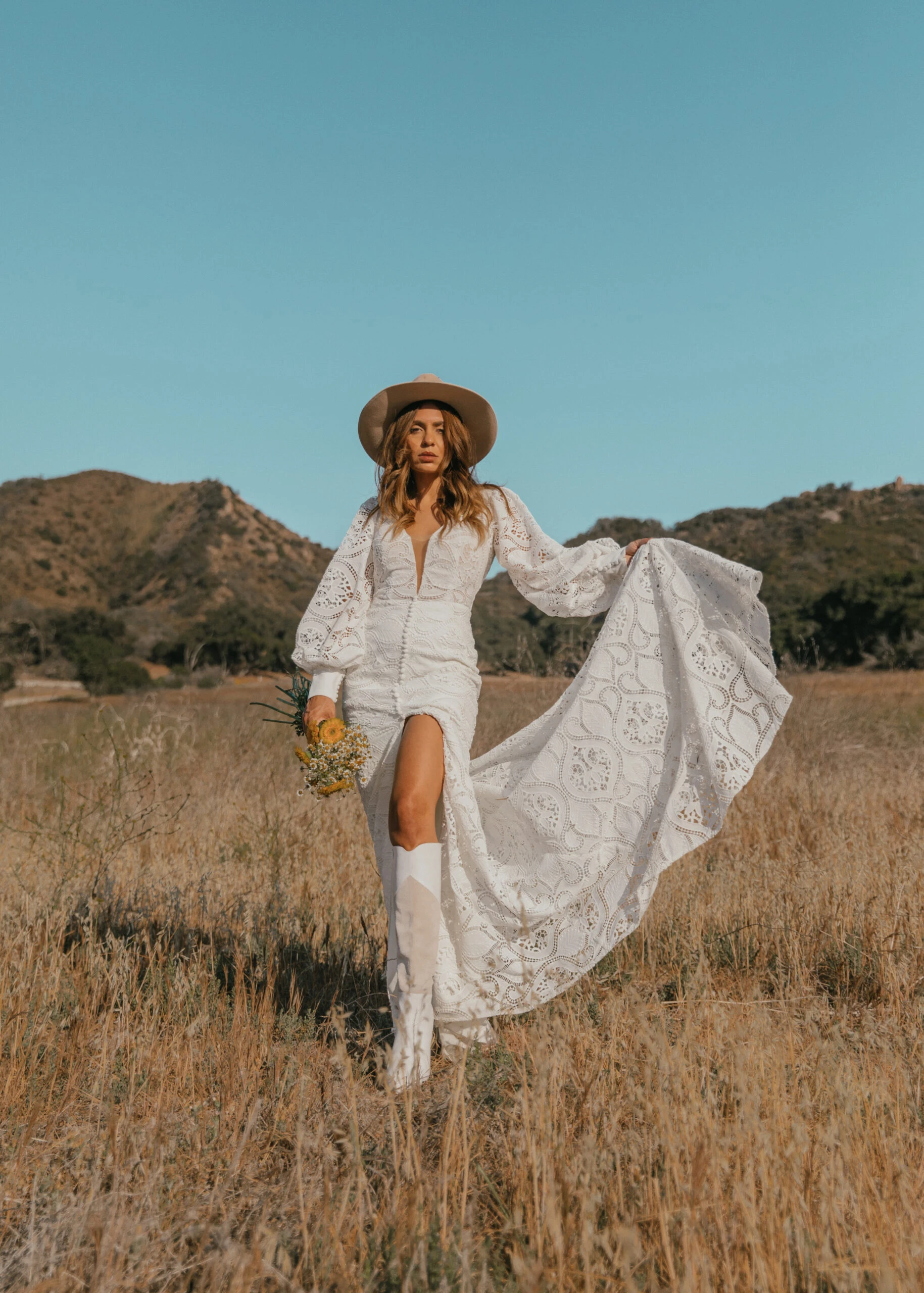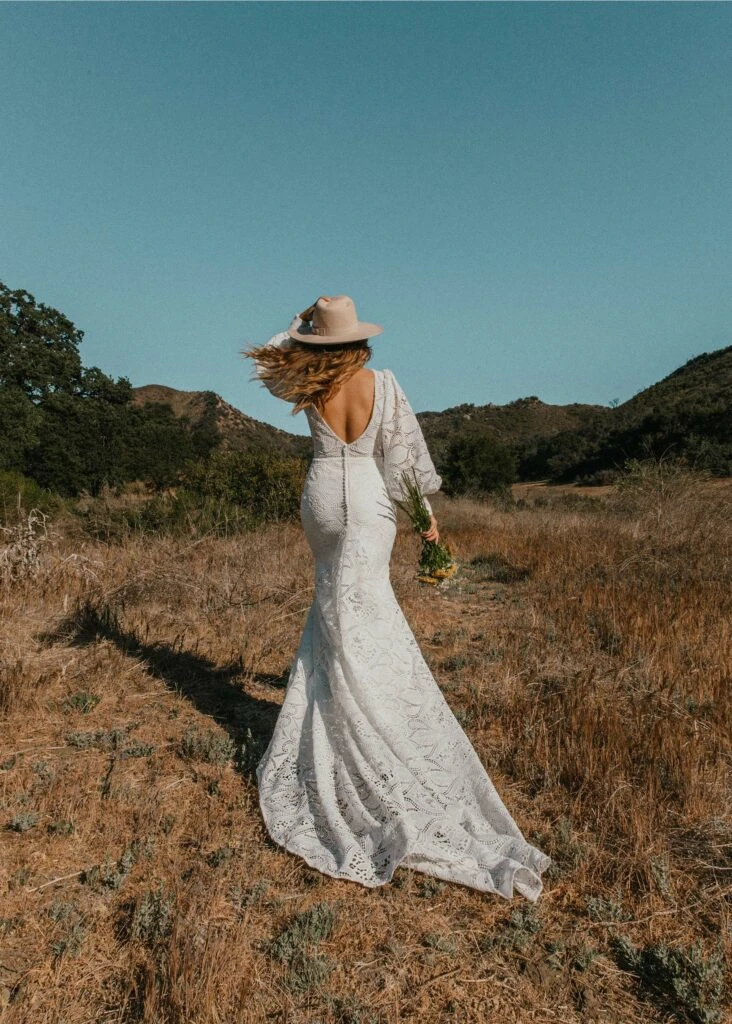 Are you a bride looking for a beautiful wedding dress to match your country-inspired style? Look no further than the All Who Wander aston gown! This one-of-a-kind design is ideal for any free-spirited bride who isn't afraid to make a statement.
The sleek, form-fitting sheath silhouette features a plunging V-neckline to flatter your figure, with puffy long sleeves and doily lace detailing that adds a soft flair. It is completed with delicate fabric buttons down the front and back of the dress, giving it a vintage-inspired look.
The subtle sheer detailing in the lace, eye-catching open back and sexy slit in the skirt add just enough modern charm to keep you on trend. Say "I do" to adventure and love in this gorgeous country wedding dress!
Edgy Wedding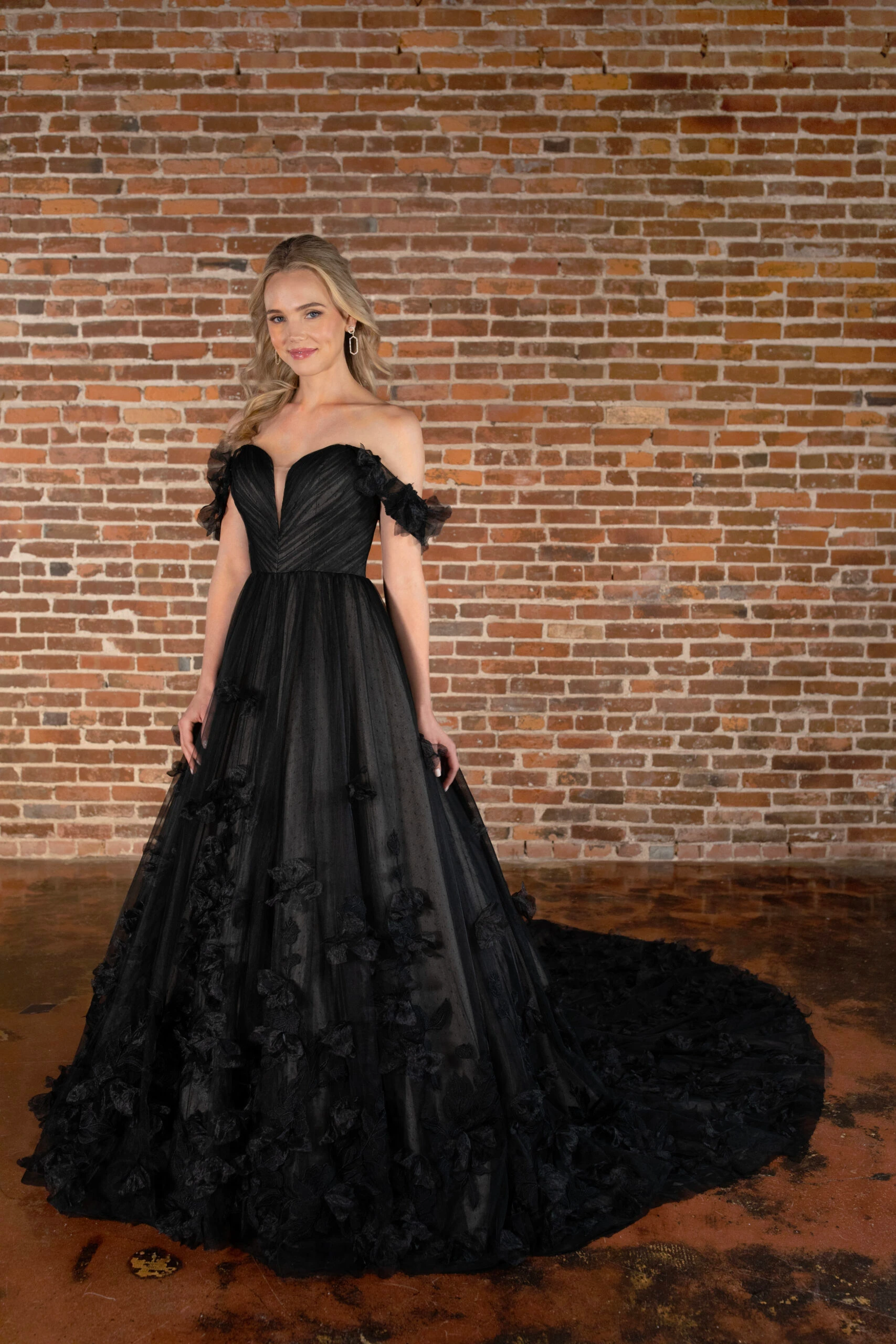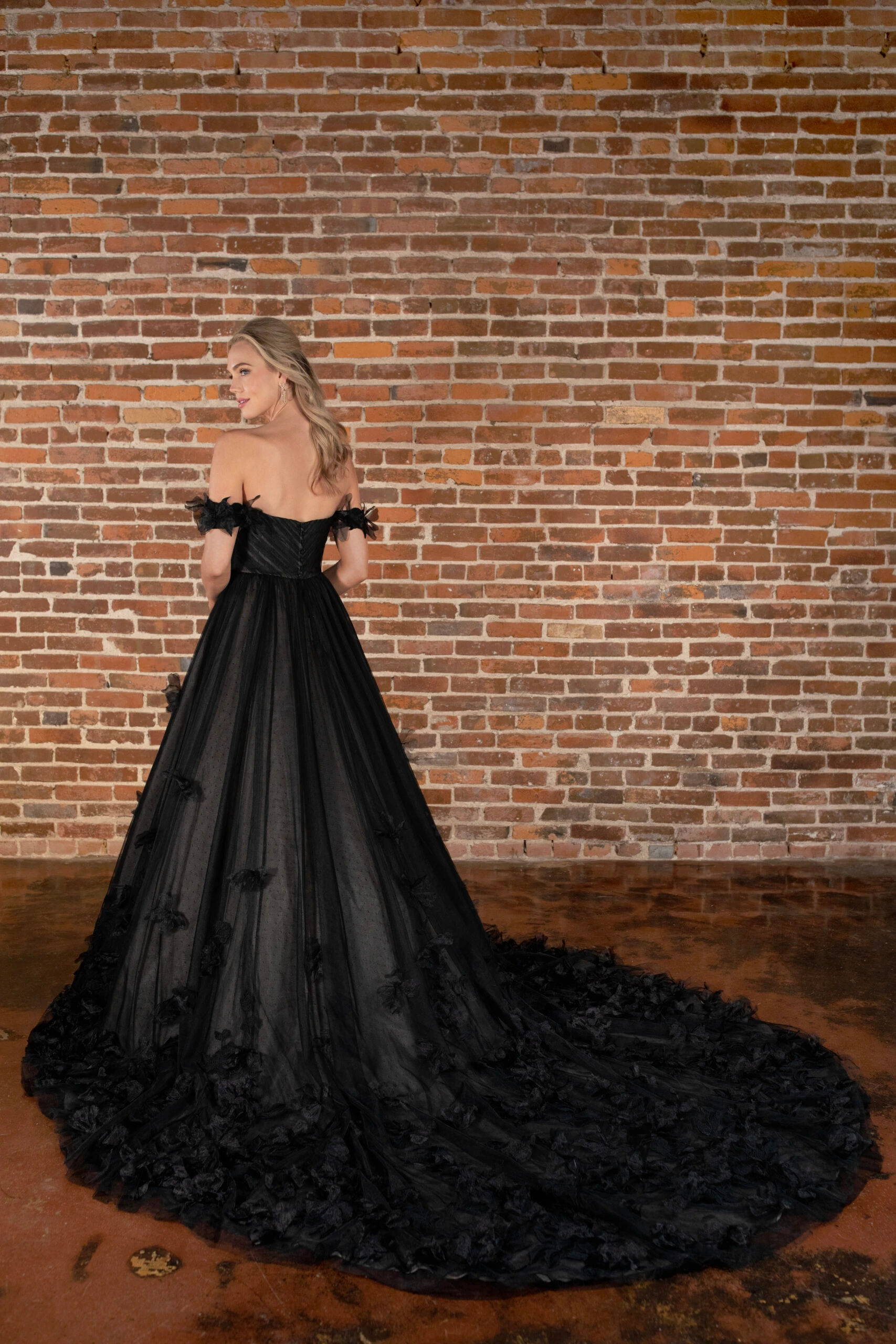 Essense of Australia Style D3734BLK
For brides who want to bring the drama on their special day, Essense of Australia Style D3734BLK is a beautiful choice! This show-stopping black wedding gown features a magnificent ballgown silhouette with eye-catching 3D florals.
Made from soft yet sturdy Swiss dot tulle, the timeless design will flatter any figure. The romantic ruched bodice cinches the waistline before cascading into a layered tulle skirt and sweeping train. It's easy to customize your look by wearing the detachable off-the-shoulder straps adorned with 3D florals or going strapless for an elegant feel.
With matte floral lace and organza flourishes delicately climbing up the skirt, you'll look magical walking down the aisle in this gorgeous dress. Make sure all eyes are on you when you say "I do" in this gorgeously gothic wedding dress!
How To Implement Your Theme into Your Wedding
Incorporating your wedding theme into every aspect of your celebration can be a fun and exciting challenge. The key is to start with the basics and build from there. Incorporate your theme into your invitations, decor, attire, music and even your menu choices.
Keep your vision in mind while making decisions about every detail, from the flowers to the favors. The key is to strike a balance between creativity and simplicity, paying attention to the smallest details while keeping a cohesive overall vision in mind. With thoughtful planning and attention to detail, you'll be able to bring your wedding vision to life.
Are you ready for your themed wedding? There is a style just for you at one of our True Society locations. Book a bridal appointment near you to begin your search for your dream dress. Our True Crew can't wait to help you find the one! Availability varies per store.