When it comes to wedding traditions, Hispanic weddings are known for their vibrant, romantic atmosphere and exquisite details. One of the most important elements of these celebrations is the bride's attire. From ceremony traditions to vibrant reception dances, the True Crew is about to uncover a world full of Hispanic wedding dresses and traditions.
It is important to keep in mind that Hispanic traditions vary by country and region. Ready for the adventure? Let's go!
What are Some Traditions in Hispanic Weddings?
Hispanic and Latin weddings are all about honoring tradition. Below are several Hispanic wedding traditions that demonstrate the rich culture and traditional heritage on the wedding day:
Los Padrinos: Traditionally, in Hispanic weddings, couples didn't have a maid of honor or best man. These roles were played by Padrinos and Madrinas, who are sponsors of different meaningful elements of the wedding day. Padrinos of lazo and arras are usually a must, but some couples also include other types of Padrinos. Please see below on definition of lazo and arras elements.
Modern couples nowadays will sometimes have the best man, maid of honor, bridesmaids and/or groomsmen playing the Padrinos role in their wedding ceremony (with or without sponsorship). In contrast, others keep the Padrinos and the wedding party separated.
El Lazo: El Lazo is a unity ceremony performed after exchanging vows using a lasso to join the couple. The lasso could be anything, but it's typically an oversized rosary or a silk cord.
Two people, usually a Padrino and a Madrina, members of the family or important people to the couple, will wrap the El Lazo around the couple in a figure eight, symbolizing the unity between them.
Las Arras Matrimoniales: The arras are thirteen gold coins, often a gift from los Padrinos. The groom presents these coins to his bride as a gift during the ceremony after the priest or pastor blesses them.
This tradition symbolizes the groom's commitment to supporting the bride and represents the importance of their relationship with God for a successful marriage.
Civil Ceremony: A civil ceremony will take place prior to the wedding day, making the marriage legally binding. The civil service is usually attended by the couple's closest friends and family. It is often a requirement in some Latin American countries, as some governments don't accept the religious ceremony as a legal marriage.
In the U.S., Hispanic couples had adopted this as a tradition, having a civil ceremony before the big day followed by a small dinner or get-together. Then they have the religious ceremony, usually the significant occasion followed by the reception.
Las Callejoneadas: This is an old ritual found in Mexican wedding traditions in Central Mexico. The groom and his groomsmen walk around the town, singing traditional songs, accompanied by Vihuelas (a kind of guitar) and Marimbas. They also carry a "torito" – which is like a small bull made of paper Mache.
At the end of their walk, they arrive at the bride's home, asking for her hand in marriage. This very noisy and colorful tradition adds fun to weddings.
La Hora Loca / The Crazy Hour: Generally, comes later in the night at the reception. It's a party within a party! Some couples hire professional entertainers, stilt walkers, samba dancers, drummers and more. Other couples bring out all the fun props to share with their guests and continue the party.
El Baile del Billete / The Money Dance: During the reception, money is 'pinned' on the bride and/or groom's garments to get the chance to dance with them. Depending on the number of guests wanting to dance with the bride or groom, the money dance can last four to five songs!
La Tornaboda/ The After Party: A "tornaboda" is a cozy gathering that takes place after the main wedding reception. Sometimes it is celebrated on the following day and is exclusively for family and close friends.
If the couple decides to have it the next day, it's also an opportunity to open gifts together. While every guest gets a chance to celebrate at the reception's big party, family holds a special place in Hispanic culture. This after-party allows those closest to the couple to enjoy and celebrate their union in a more intimate and personal way.
What Are Some Traditional Hispanic Wedding Dresses and Accessories?
Mantillas/ Lace Bridal Veil
A Mantilla is a bridal veil commonly worn by Spanish, Latin American and Italian brides. This exquisite veil features lace embellished with a delicate flower-like pattern, gracefully draping over the bride's face and shoulders. The popularity of this particular style of veil can be attributed to the rules of the Roman Catholic church, which required the covering of shoulders with a shawl or a throw.
Traditional Mexican Bridal Look
Elaborate Lace Ballgown Wedding Dress
The traditional Mexican bridal look includes an elaborate lace ballgown, usually with a sweetheart neckline. These dresses can be adorned with intricate beadwork, pearls or crystals.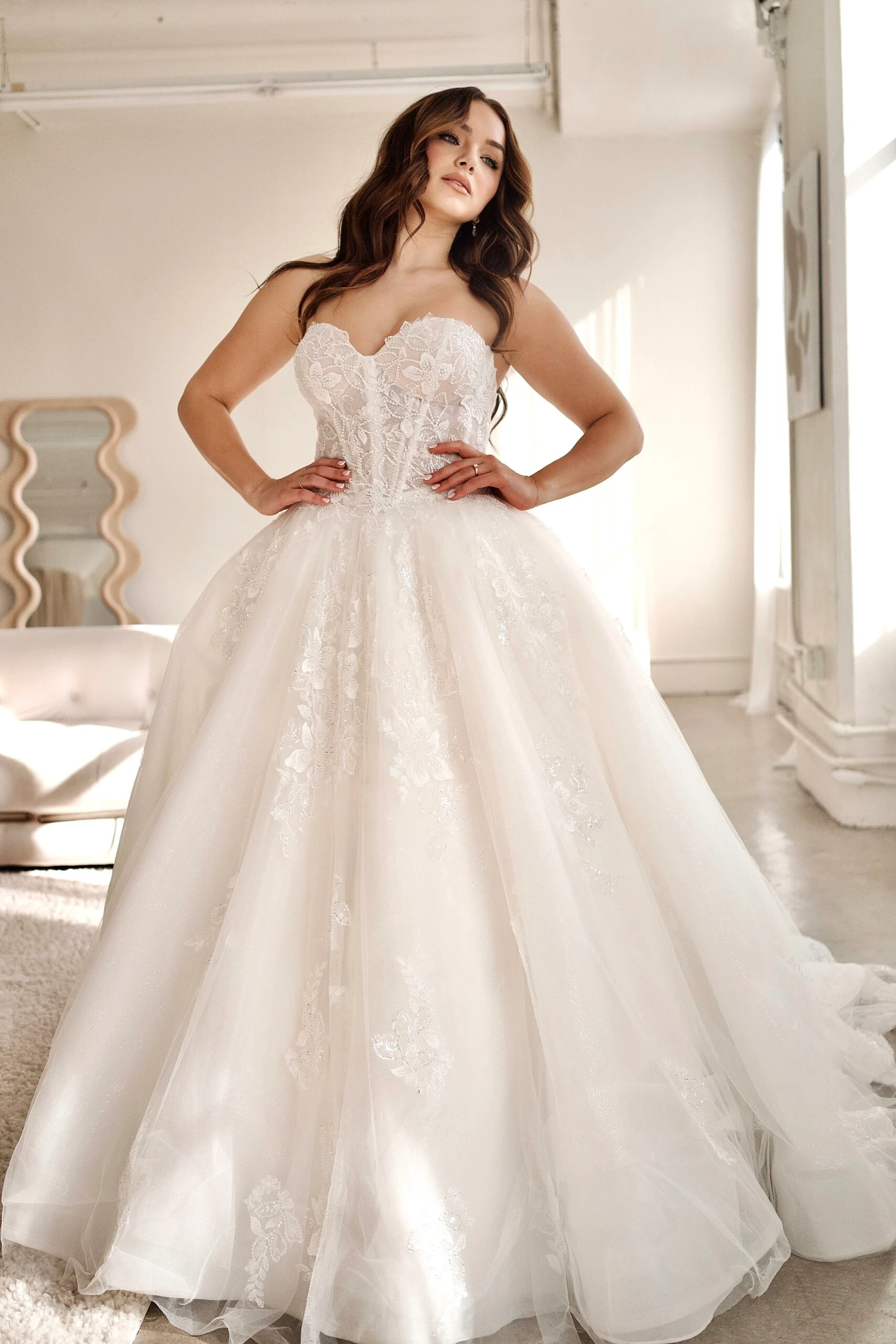 For brides who are looking for a truly magical and magnificent ballgown wedding dress, Martina Liana Style 1561 is a beautiful choice. From the stunning strapless bodice adorned with intricate floral lace and delicate beading, this gown is sure to turn heads.
The stunning style is made out of Royal Organza and highlights a tulle skirt featuring sparkling sequins and a breathtaking train. Look stunning while you honor your traditions in this magnificent lace wedding dress!
Traditional Spanish Bridal Look
Black Wedding Dress
During the 17th century, Catholic brides in Spain adopted a tradition of donning black wedding dresses. This intriguing choice of attire symbolized the bride's unwavering dedication and lifelong commitment to her husband, even until death. In fact, it added a literal fashion obligation to the famous phrase "'Til death do us part"!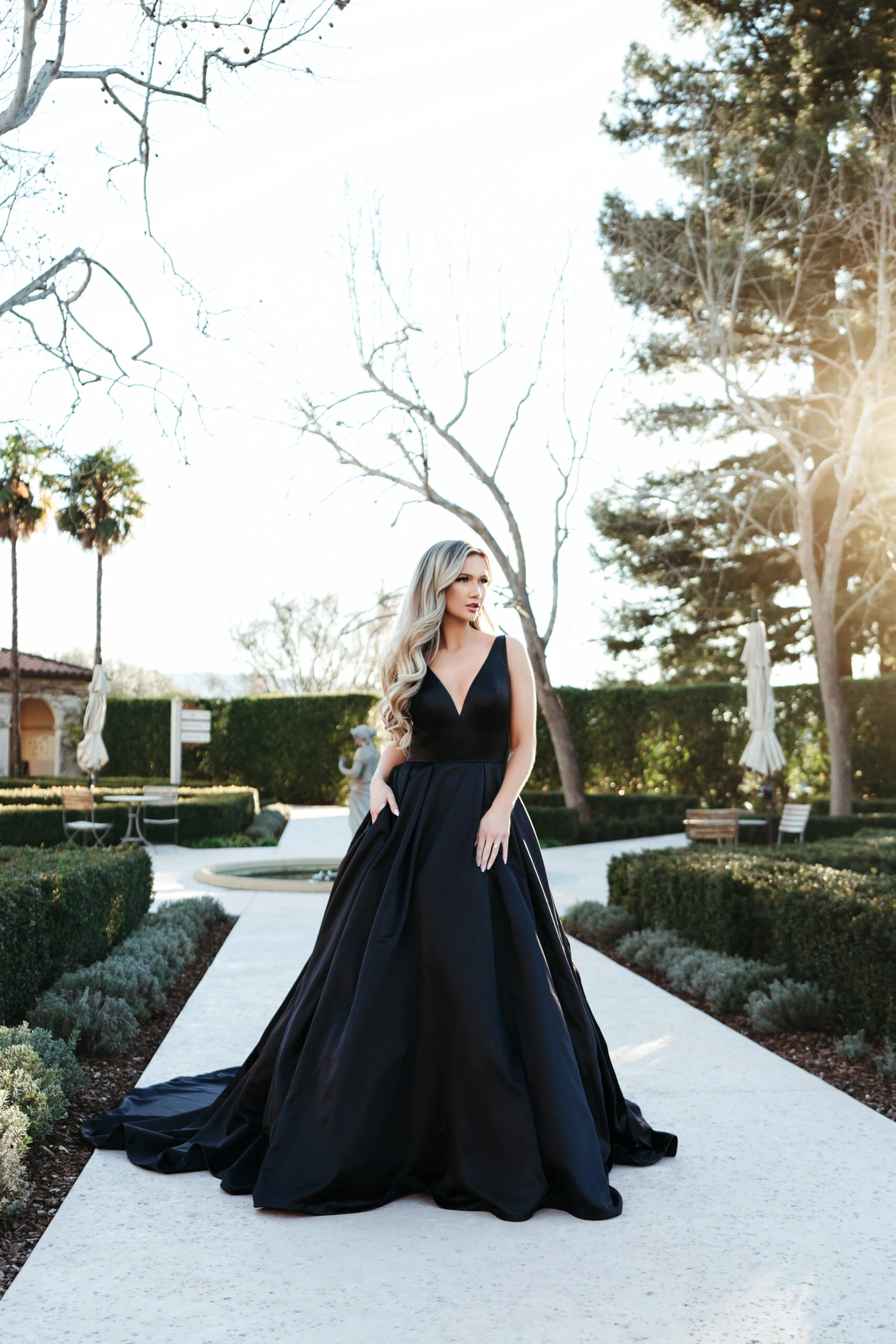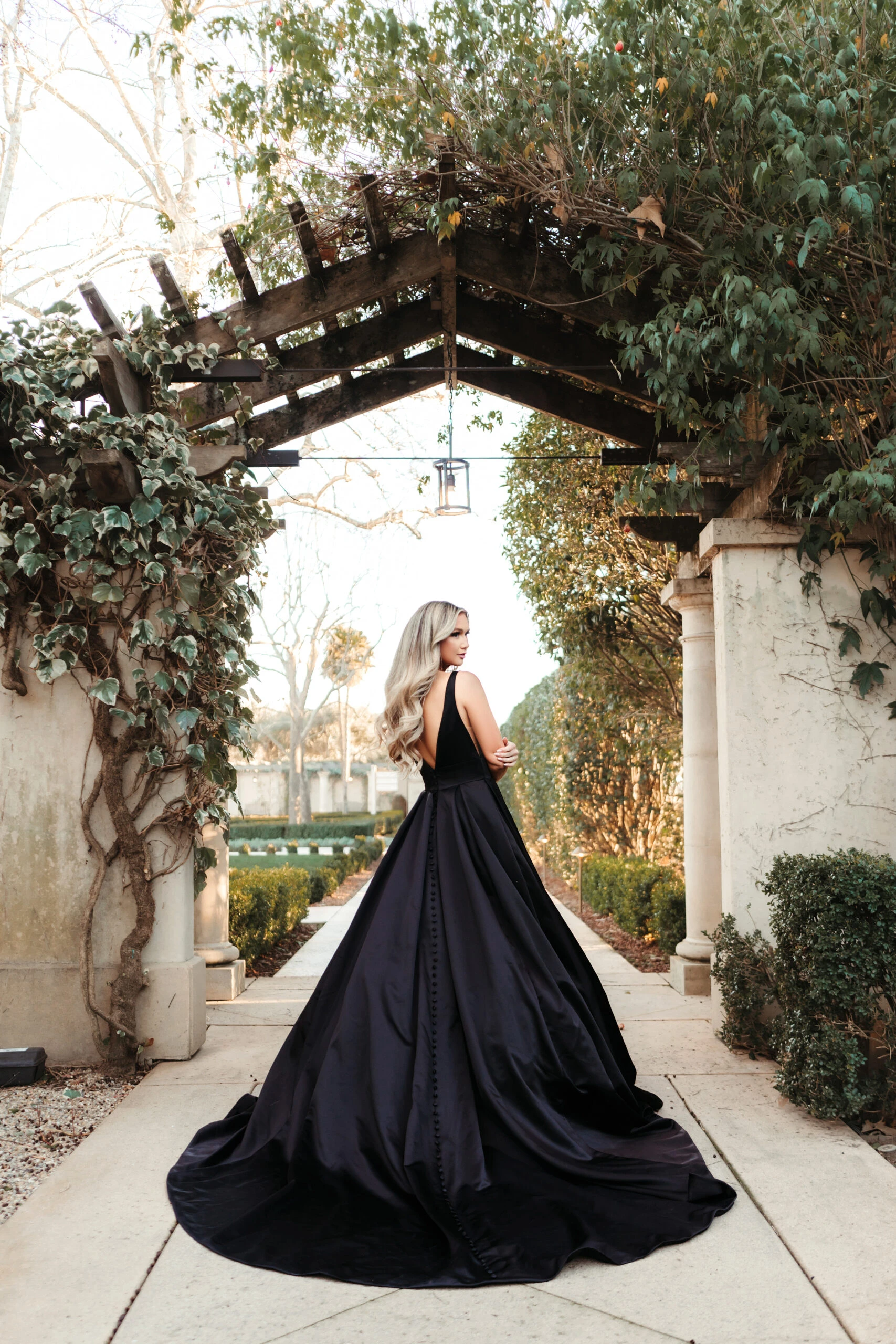 Introducing Stella York Style 7755BLK! This modern marvel of a black wedding dress combines bold and chic style with the timeless beauty of a traditional Spanish wedding dress.
With a deep V-neckline that dips into the fitted waistband for a beautiful look, the dress exudes confidence and carries you gracefully down the aisle. It is complemented in the back by a V-back detail that guarantees you to make a statement.
The full-length satin skirt creates a sweeping cathedral train for an extra flare. Let Stella York Style 7755BLK take you down the aisle with timeless elegance on your special day.
Traditional Ceremony Wedding Dress Inspiration
When it comes to the traditional ceremony wedding dress for Hispanic brides, there is no shortage of options. From classic long sleeve bridal gowns and exquisite beading detail to one-of-a-kind modest wedding dresses that honor their culture, there's something for every bride. Here are some inspiring ideas for your dream wedding look:
Civil Ceremony Simple Wedding Dress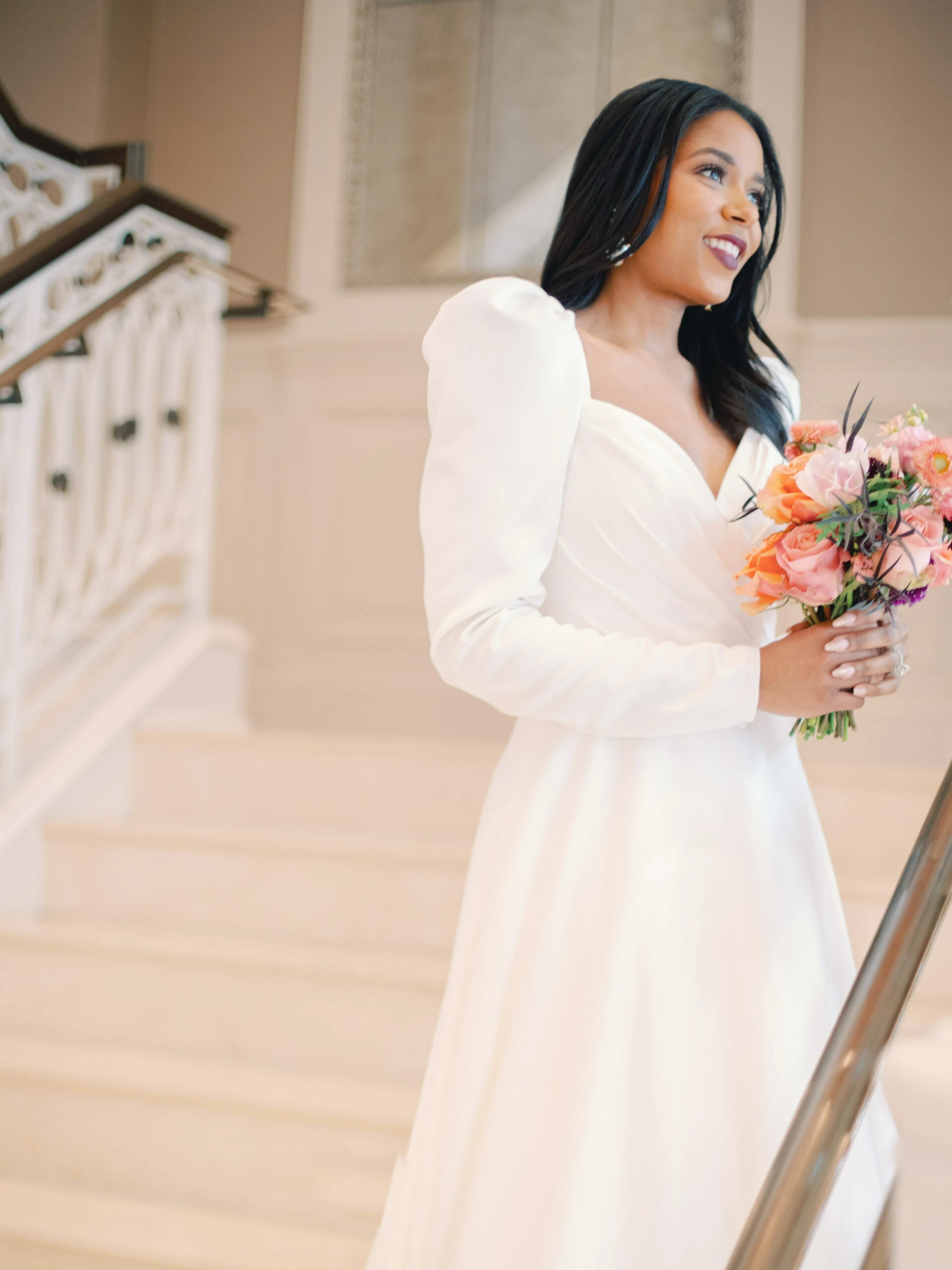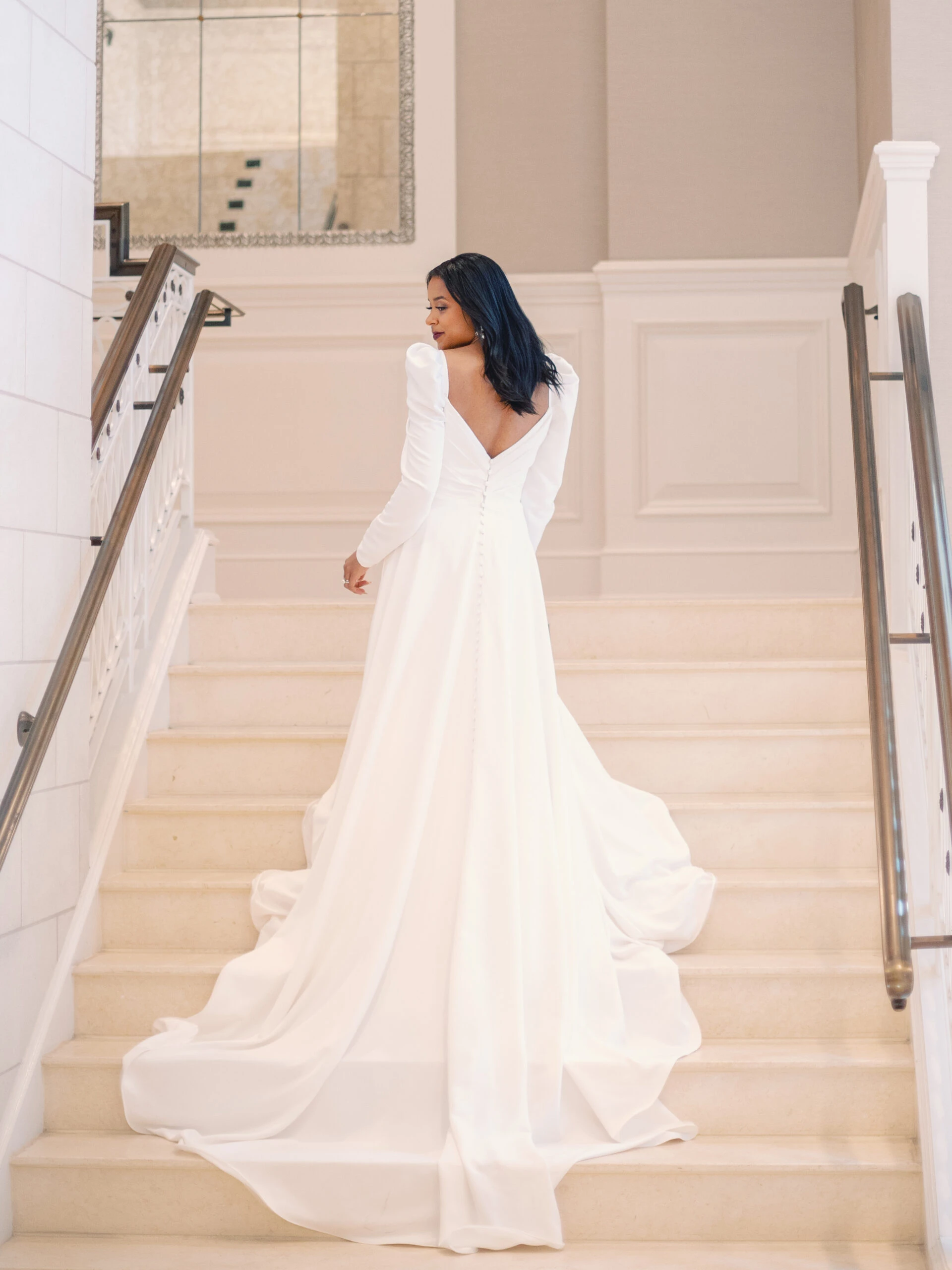 Essense of Australia Style D3752
Welcome to the Essence of Australia Style D3752: the beautiful blend of classic elegance and modern simplicity for your civil ceremony. Whether you're having a fall or winter wedding, this dress offers a stunning combination of modest elegance and understated glamour. The vintage-inspired A-line silhouette flatters any body shape.
The ruched bodice gives you a beautifully cinched waist, and the luxurious satin fabric brings an air of sophistication. The delicate V-neckline highlights your collarbone and matches a V-back nicely, while the leg of mutton long sleeves provides an extra layer of modesty and stylish elegance. This dress is ideal for the bride who wants a modern, sophisticated look with a touch of timeless glamour.
Traditional Church Ceremony Modest Wedding Dress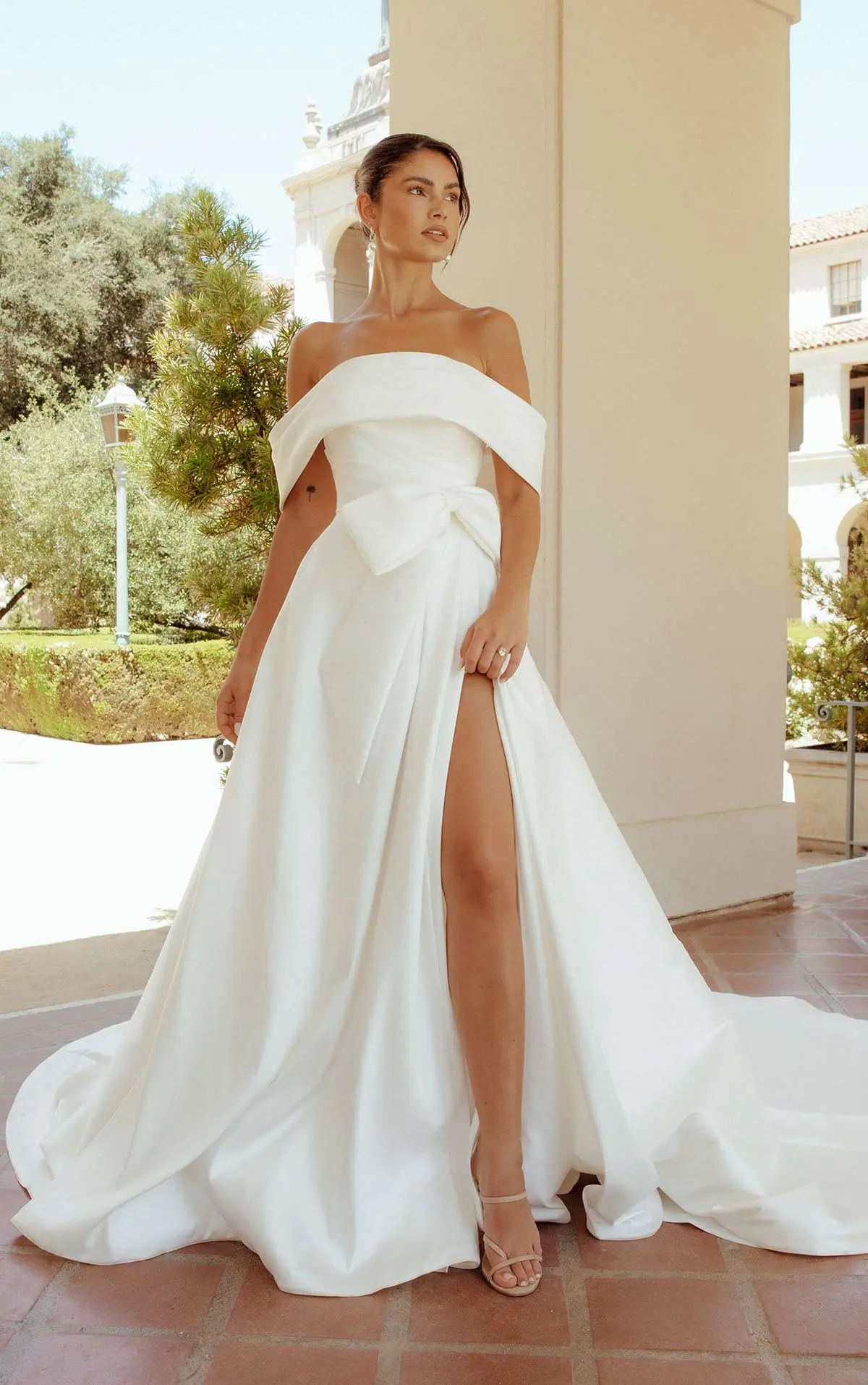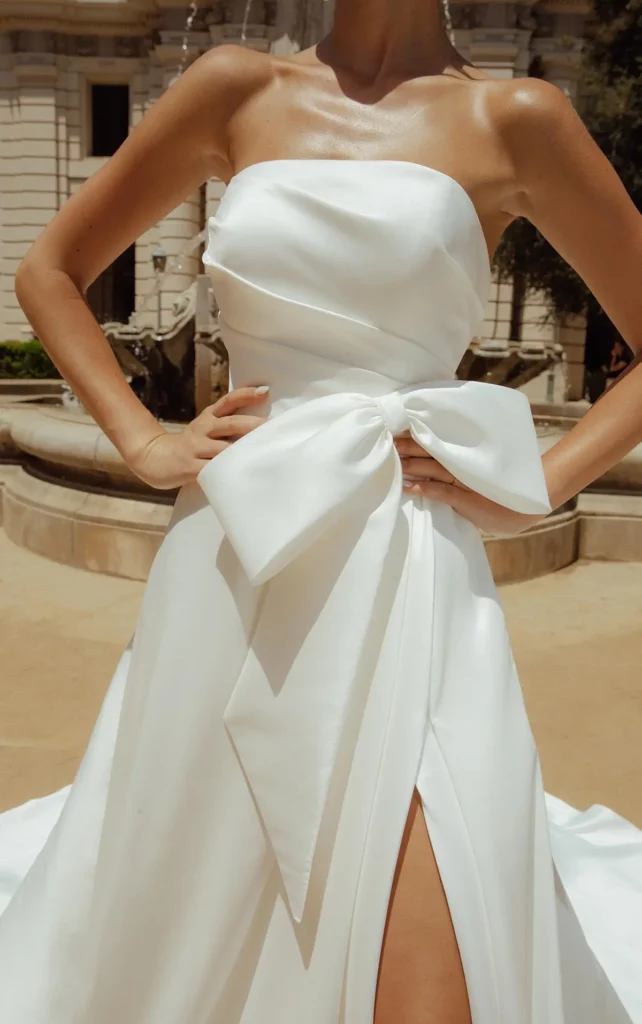 Essense of Australia Style D3631
Are you looking for a gorgeous and modest wedding dress to make a grand entrance at your upcoming Hispanic wedding ceremony? Look no further than the stunningly beautiful Essense of Australia Style D3631. It is ideal for the modern bride who wants to make wow in a show-stopping traditional gown.
Crafted from luxe matte Mikado, this gown features a removable off-the-shoulder shawl for a two-looks-in-one approach from the reception to the ceremony. A simple and chic pleated bodice, a voluminous A-line skirt and a detachable bow add a true statement of fashion-forward style!
The skirt unfurls to a striking side slit and a long train to make an impactful walk down the aisle. A traditional church ceremony wedding dress doesn't get any better than this!
Reception/La Tornaboda Lace Boho Wedding Dress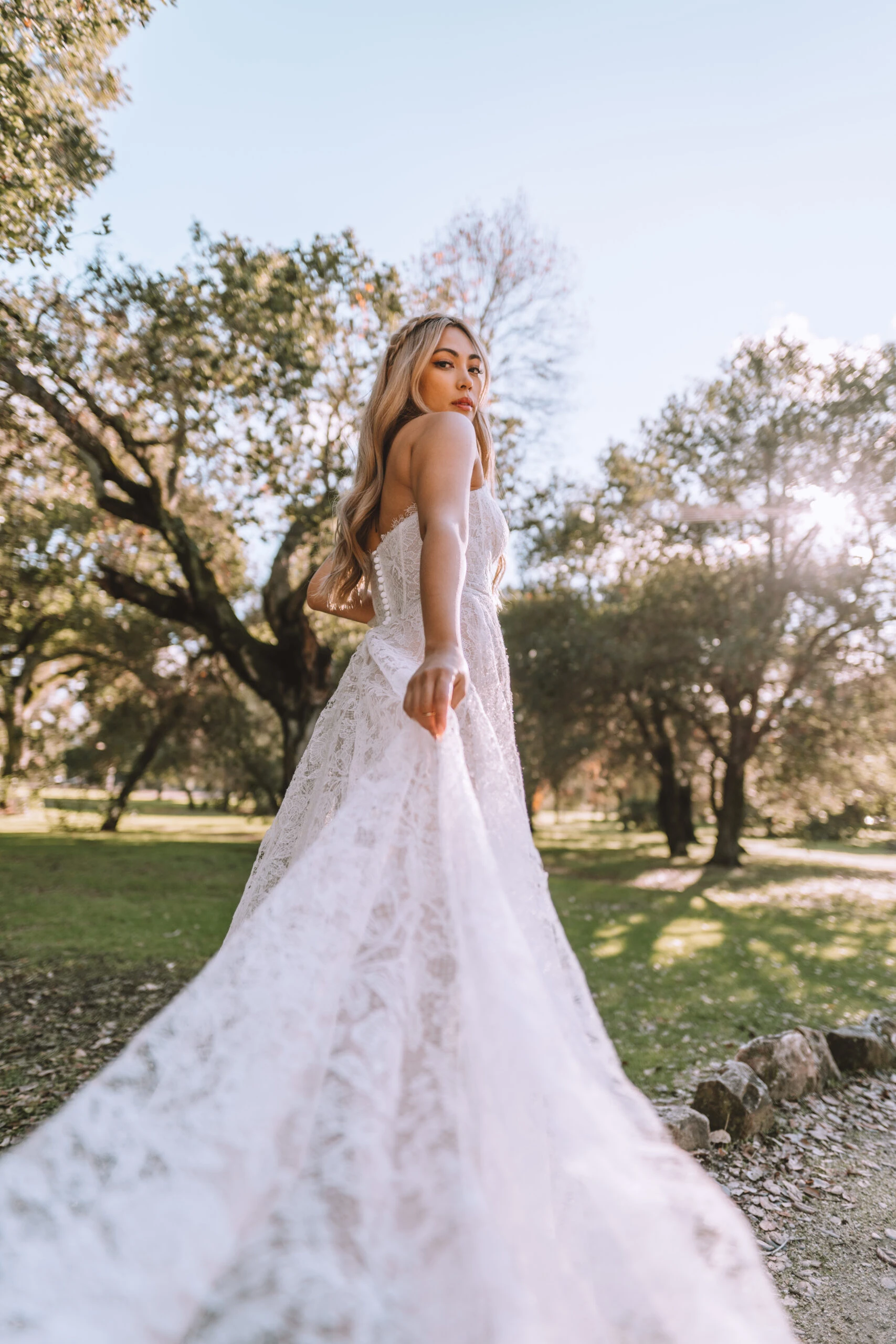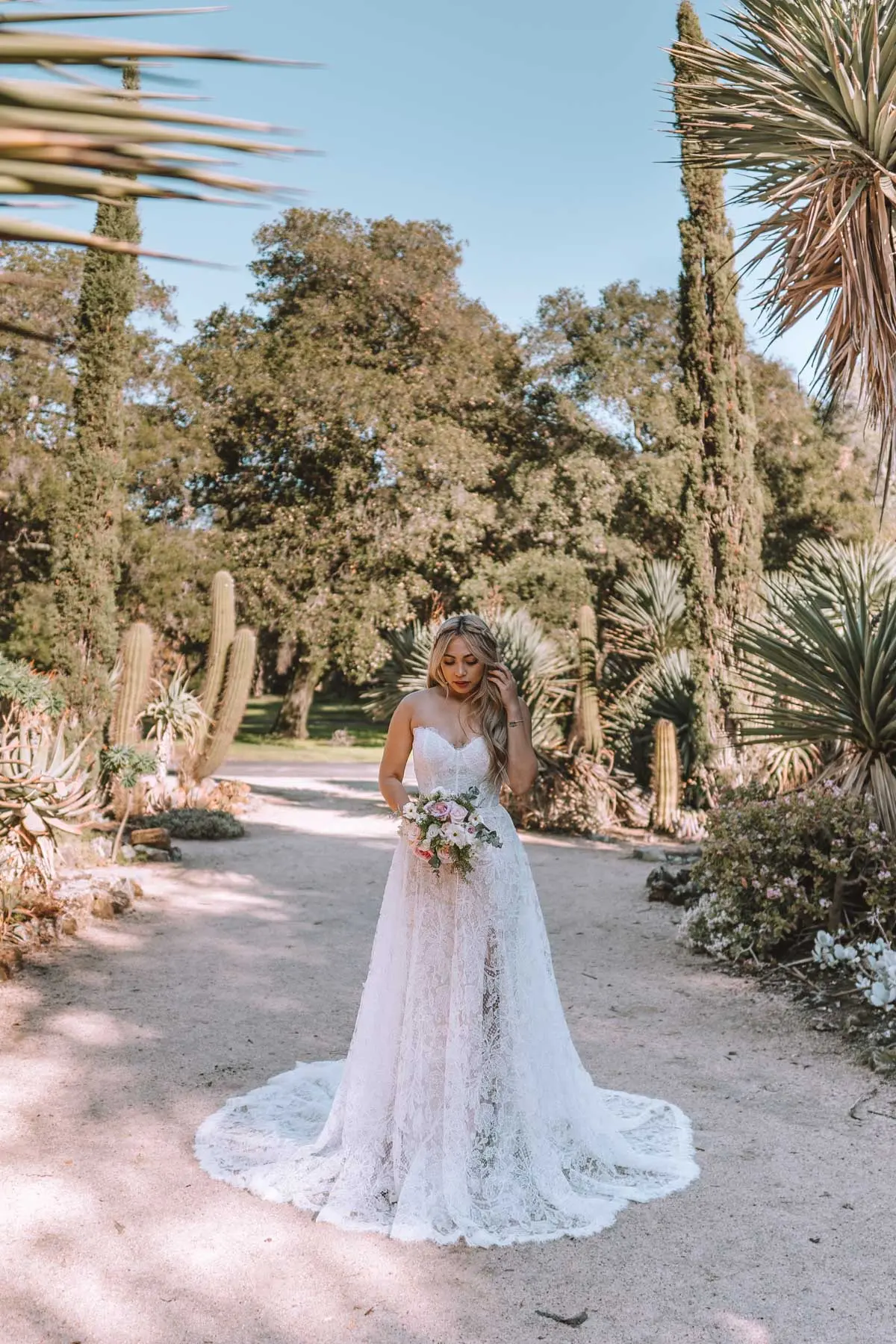 For the bride who would like to have a second look at the reception and wear a more relaxed, nontraditional gown, the All Who Wander klara gown is a beautiful choice. Its distinctive design makes it an ideal fit for brides having their Tornaboda right after the reception. This stunning boho wedding dress is designed with the ultimate bohemian bride in mind.
The A-line silhouette flatters your body, while the delicate floral lace is both ethereal and alluring. The sheer bodice with exposed boning adds sensuality, while the sweetheart neckline creates a carefree, comfortable look. The detachable lace sleeves or gloves and a hidden skirt with a slit maintain a sense of modesty.
Of course, each Hispanic wedding is different and special. Every bride deserves to find the ideal dress that expresses her individual style, honors her family's traditions and celebrates her union with her beloved. With these ideas for traditional ceremony wedding dresses, you will surely make a grand entrance into your happily ever after!
Are you ready to say "I do" to your dream wedding dress? Reserve your appointment and talk to our True Crew about all our amazing choices at a True Society store near you. Availability varies per store.