Pretty shades of blue, a bouquet handmade by grandma and thoughtful personalization in every detail are just a few things we love about this beautiful Hannibal, Missouri wedding.  
If you're looking for a prime example of how to masterfully pull off a minimalist wedding dress with elegance and sophistication, look no further than this bridal look. TrueBride Jennifer said "I do" in an effortless A-line Style 7042 by Stella York that flawlessly fit her wedding day vision. Although, like many brides, her journey to the dream gown wasn't a straight road, her True Crew stylist was there to guide her every step of the way to help her find the wedding dress of her dreams.
Keep reading for words from the bride on her romantic love story, her fantastic dress shopping experience at True Society by Belle Vogue Bridal in Kansas City and the inspiration behind every element of her beautiful wedding day.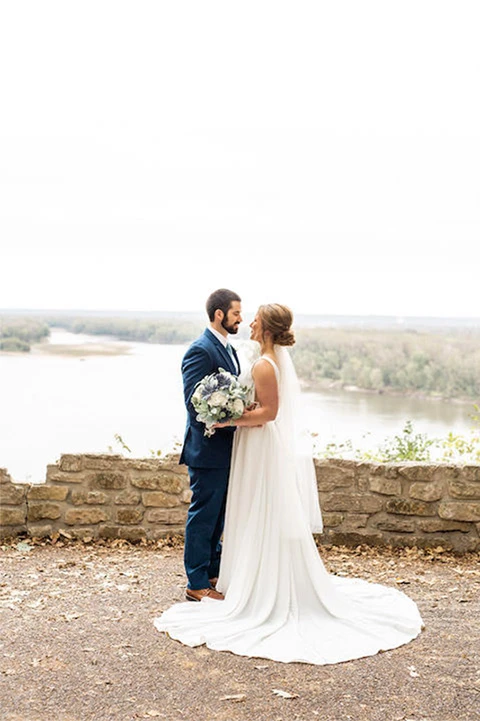 Your love story is so inspiring; tell us about your proposal!
My husband, Jacob, took me to a beautiful field near the river where we had one of our first dates. That night we had stopped on the side of the road and danced in the headlights — and we did it again the night of the proposal. After dancing, he showed me a slideshow video of pictures of us with our favorite song playing in the background. In the end, there was a picture of the ring asking if I would marry him, and when I turned around, he was down on one knee.
Tell us about your dress shopping experience at True Society.
I wanted to look simple and sophisticated, yet mature. People have always commented on how young I look, so I definitely wanted to look my age (26) as a bride.

My shopping experience at True Society was fantastic. My bridal stylist, Holly, pulled some wedding dresses I had sent her ahead of the appointment and some of her own picks. We tried on different styles and fabrics until I found what I liked, or so I had thought. I ended up going home with a beautiful dress that met my vision and everyone else's, but I changed my mind the next day.

I went back and tried on a few other simple gowns I'd liked. Holly was great in helping me see that simple could still be beautiful and elegant — and that Stella York Style 7042 truly was my dream dress.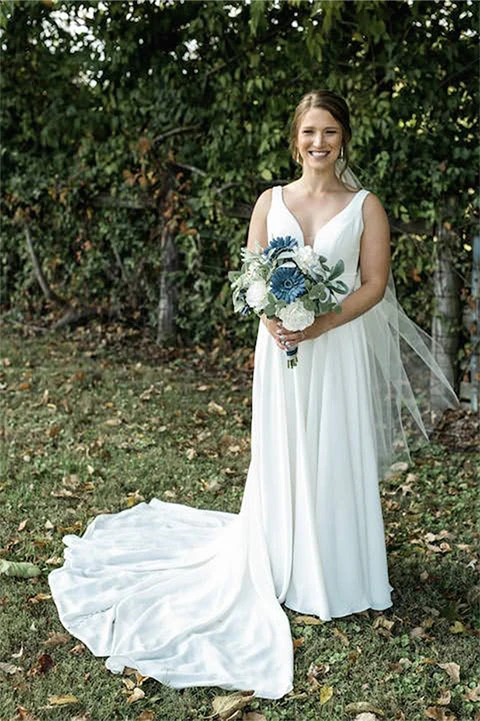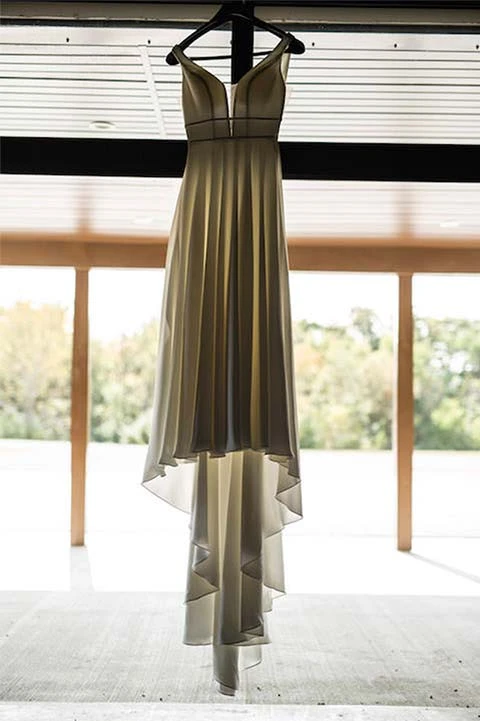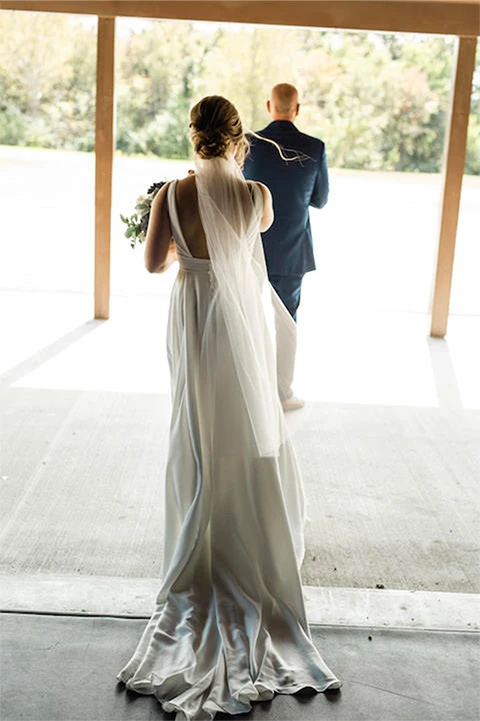 Tell us about your wedding day.
My theme was shades of blue. I had a few wood and rustic elements, florals and touches of glass in my mason jars and votives. I wanted to keep things pretty and simple. Jacob and I used wallet-sized photos in our centerpieces that family or guests could take home if they wished.

Our wedding was personal to our love story because it wasn't anything over the top, as that's not who we are as individuals or as a couple.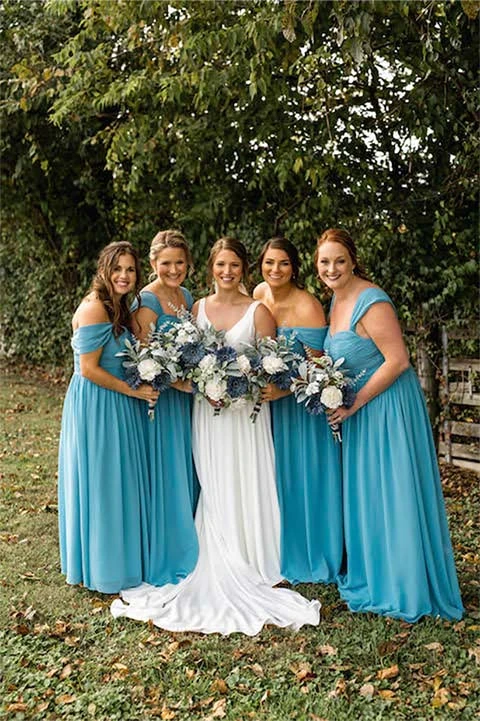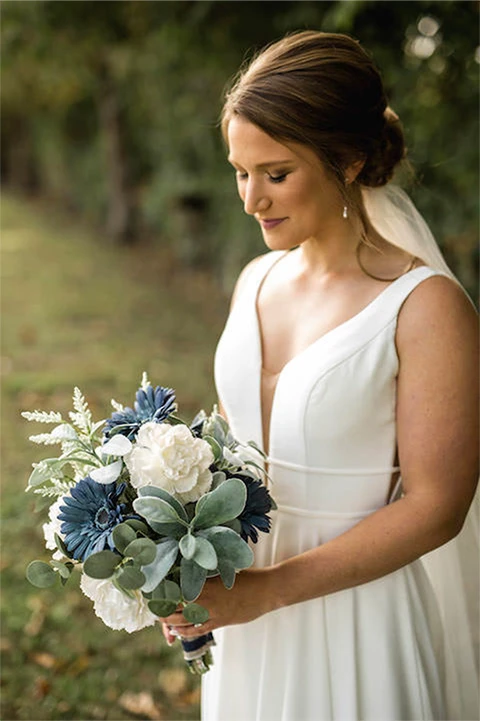 Tell us about your favorite moments of your wedding day.
One of my favorite moments of the day was when my husband and I went to the same park where we had a mini engagement photoshoot and recreated one of our favorite engagement photos on our wedding day.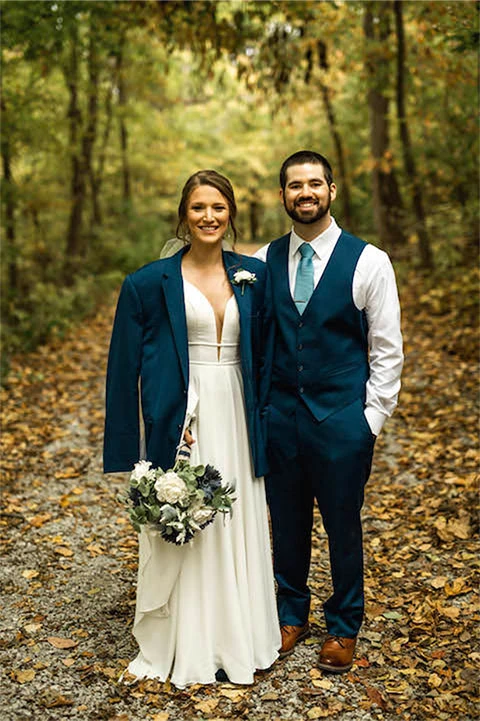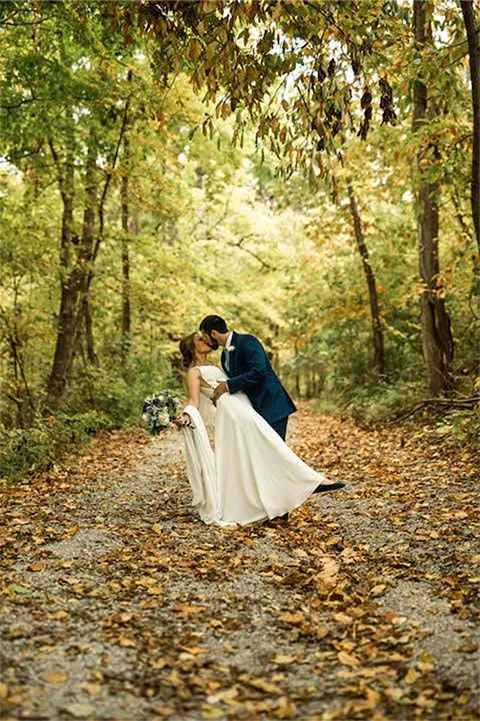 Cheers to Jennifer & Jacob!
Photography by Neil Sneed.
Ready to find your dream dress? Book an appointment at a True Society location near you today.