After 10 years of being in a relationship, this lovely couple celebrated their love with a fabulous classic wedding day in Chandler, Arizona. With most of their guests coming from out of town, Amy and Garrett planned a weekend to remember for their family and friends. It was a day where whimsy and romance intertwined in a beautiful display of carefully curated details and special touches.
For Amy, it was a long journey on her quest to find her dream wedding dress—but as soon as she visited True Society- Mesa, she knew something was different. The True Crew made her feel celebrated as she discovered the one, Stella York Style 7392. This beautiful, sparkly A-line gown was everything Amy was hoping for in a bridal look!
Every magical moment is artfully captured in photography by Save This Memory. Romantic floral design by the bride herself is not to be missed. Read on for all the details!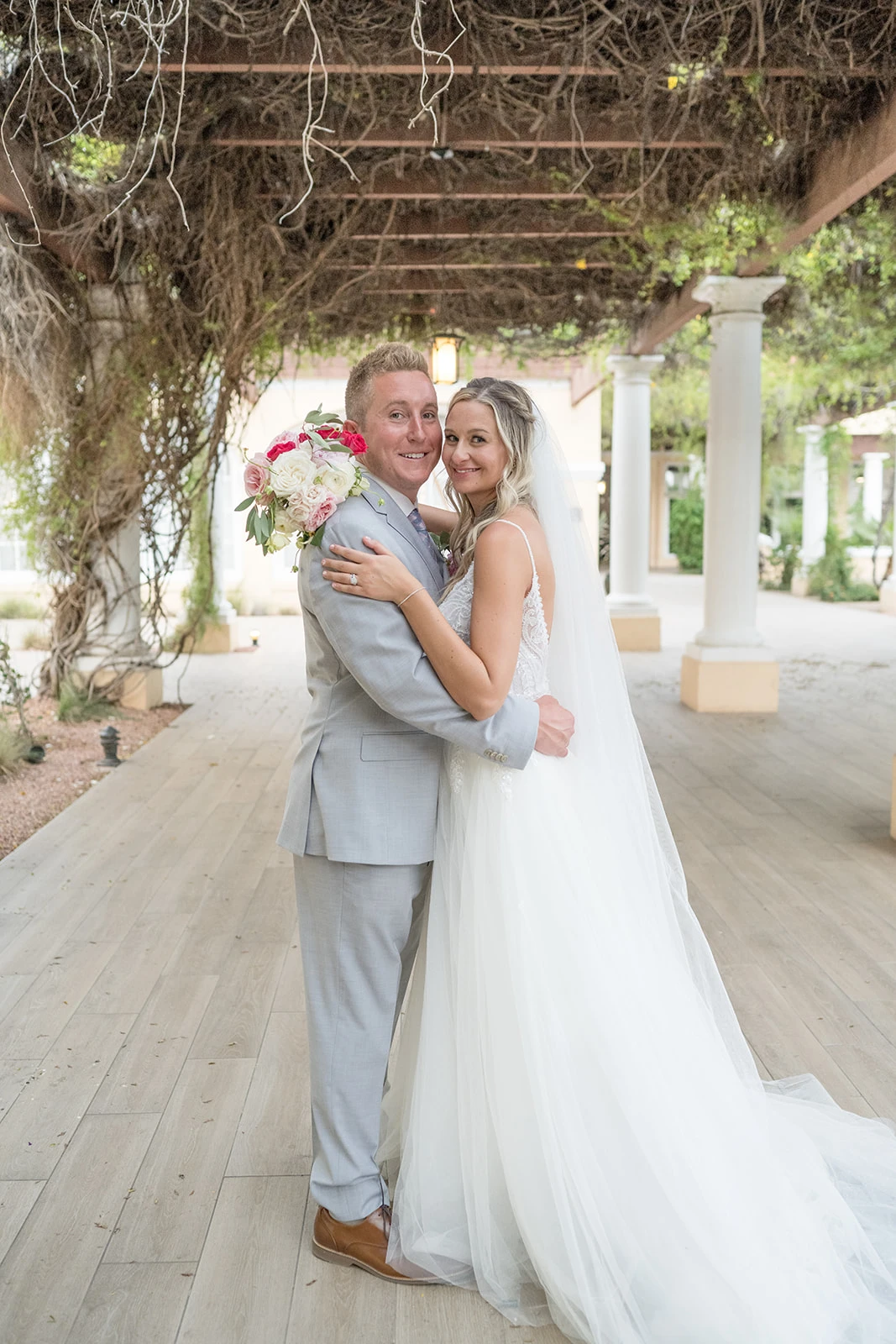 TELL US ABOUT YOUR PROPOSAL
We met in college at Illinois State University. I was a sophomore, and Garrett was a super senior. We met at a party at Garrett's house that I went to with a friend, and we've been together ever since! We celebrated our 10-year anniversary together just two months before the wedding.
Garrett proposed on Coronado Island in California on the beach. It was magical — I had no idea he had planned it, and I was in total shock. I, of course, said, "Yes, it's about time!"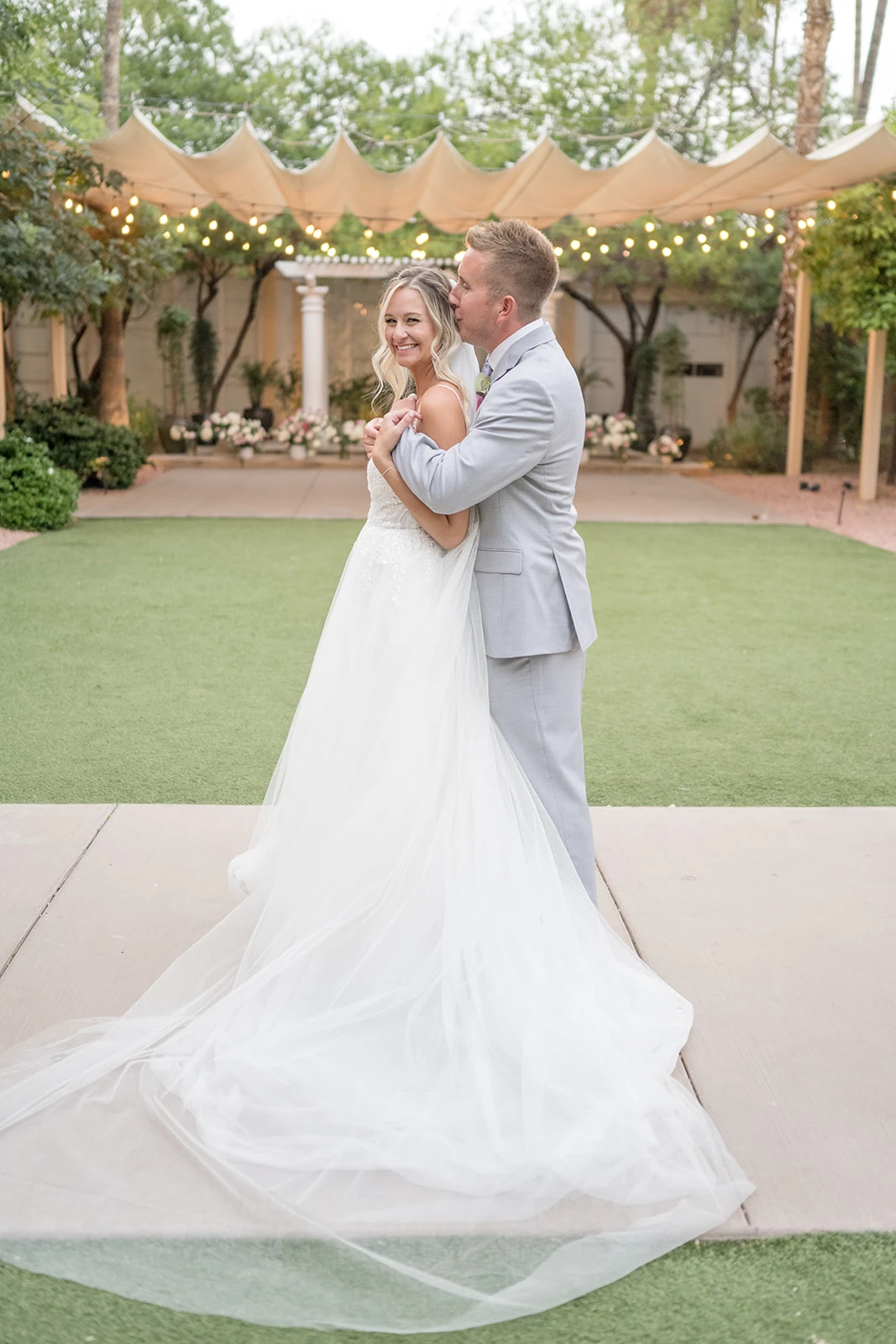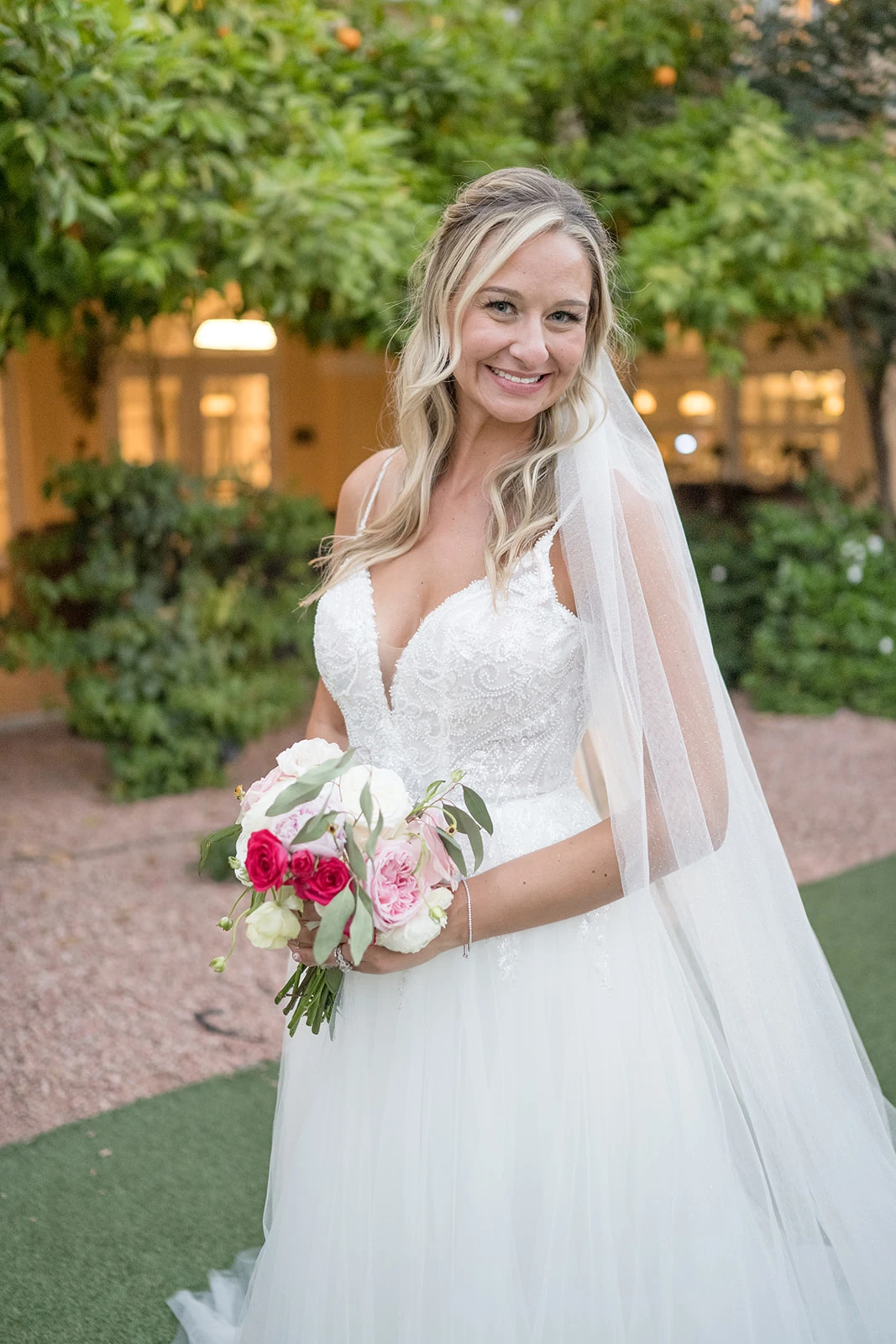 DESCRIBE YOUR BRIDAL STYLE. TELL US ABOUT YOUR DRESS SHOPPING EXPERIENCE.
When searching for my dream dress, I had been to five other stores and hadn't found the one. I saw a new bridal store was opening near me. It was True Society – Mesa, so I booked an appointment for my lunch hour. The True Crew was so welcoming and friendly from the second I walked through their doors.
My True Crew stylist listened to what I was looking for and pulled out several great options. Although I went shopping alone, I was not alone at True Society with the whole crew cheering me on and reminding me how great I looked.
My bridal style is a combination of sparkle princess with a classic clean look. I wanted to look like a classic, timeless bride. I also didn't want to wear a dress that was similar to what I'd seen other brides wear. I love the beading, low back, the glitter tulle and the long train on Stella York Style 7392. I felt like a princess on my wedding day — I was floating on cloud nine. The dress glistened in the sun, and it was not heavy, itchy or uncomfortable in any way!
Before I went dress shopping, I asked Garrett what style of wedding dress he would like to see me wearing. All he said was that he hoped it would be white! Garrett loved my dress— he says it fit me perfectly, and it's unlike the few wedding dresses he's seen before!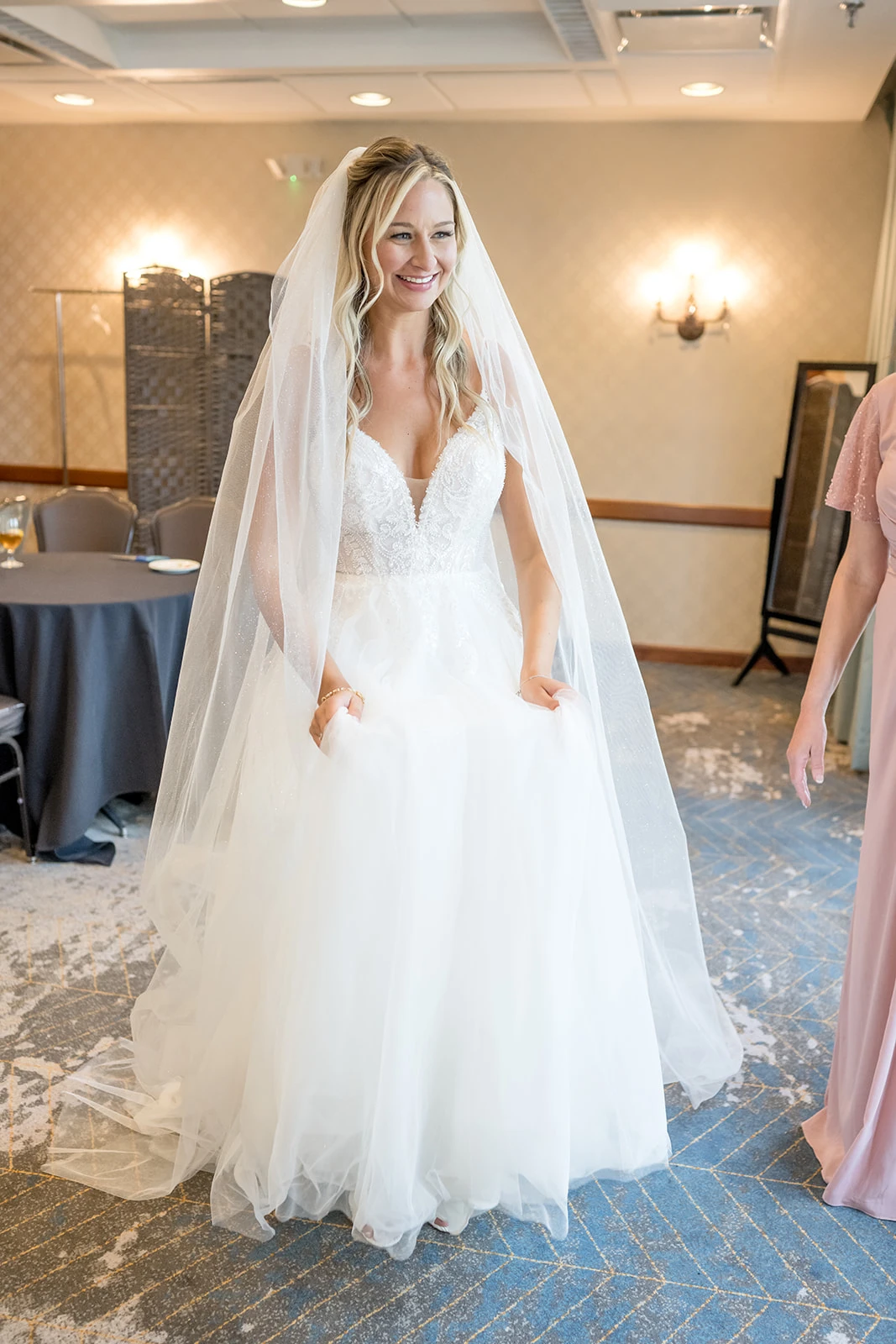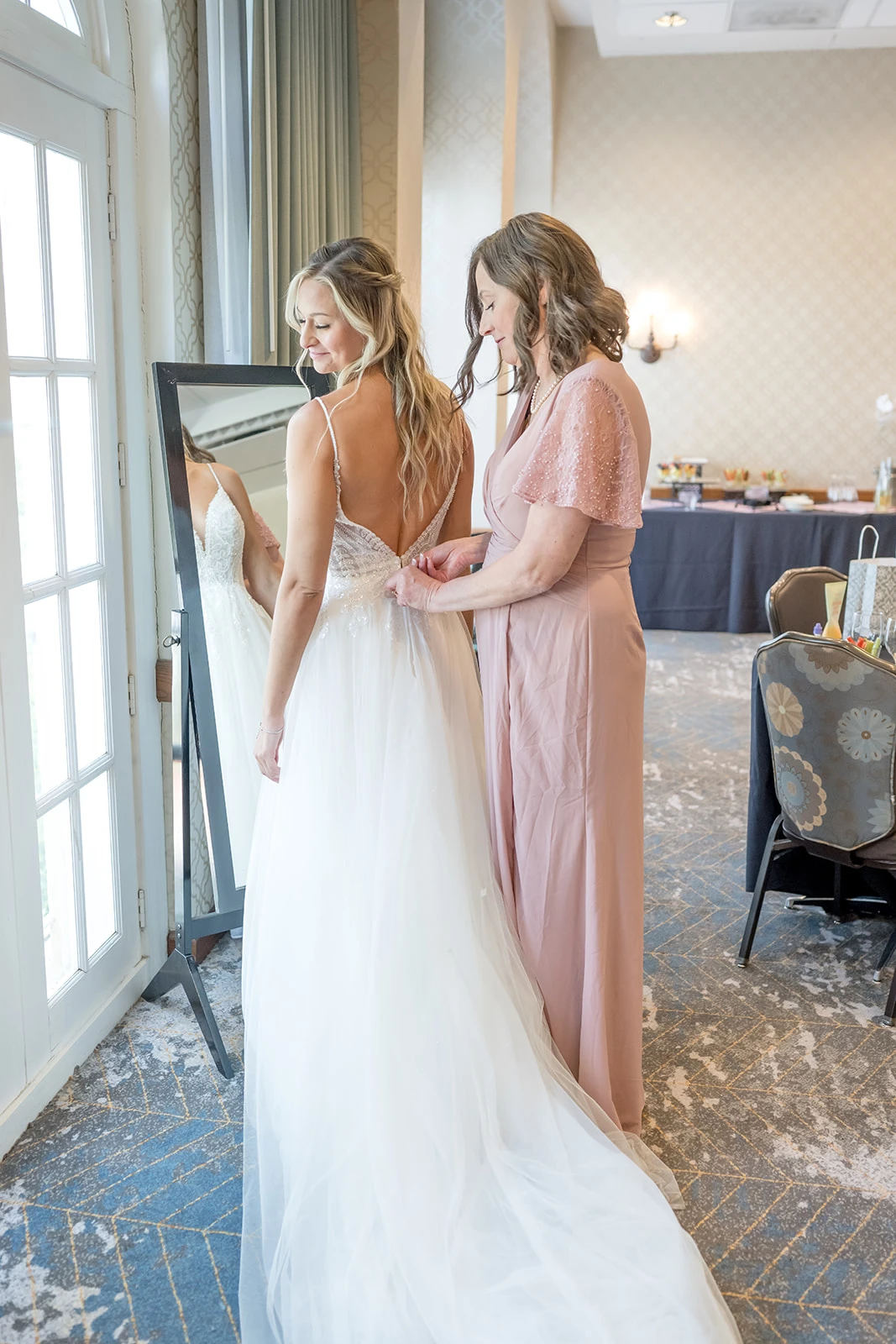 IN YOUR OWN WORDS, TELL US MORE ABOUT YOUR WEDDING.
Ninety-five percent of our guests came from out of state, so we wanted to make the experience as easy as possible for those who traveled. Our night before welcome party, ceremony and reception were all at the Crowne Plaza in San Marcos, Arizona. Our guests stayed onsite at the resort, so we could easily visit and catch up with our family and friends.
We decided to not have bridesmaids and groomsmen to alleviate any added responsibilities for our family and friends. We had a very personalized ceremony where our officiant shared how we met and a bit about our relationship. We also wrote our own vows.
The most special memory of the day was when I surprised Garrett with the song I walked down the aisle to – "Grow Old with You," which is what Adam Sandler sings to Drew Barrymore on the airplane to Vegas. The Wedding Singer is one of our favorite movies, and we've been watching it a lot while planning, so it was a fun surprise.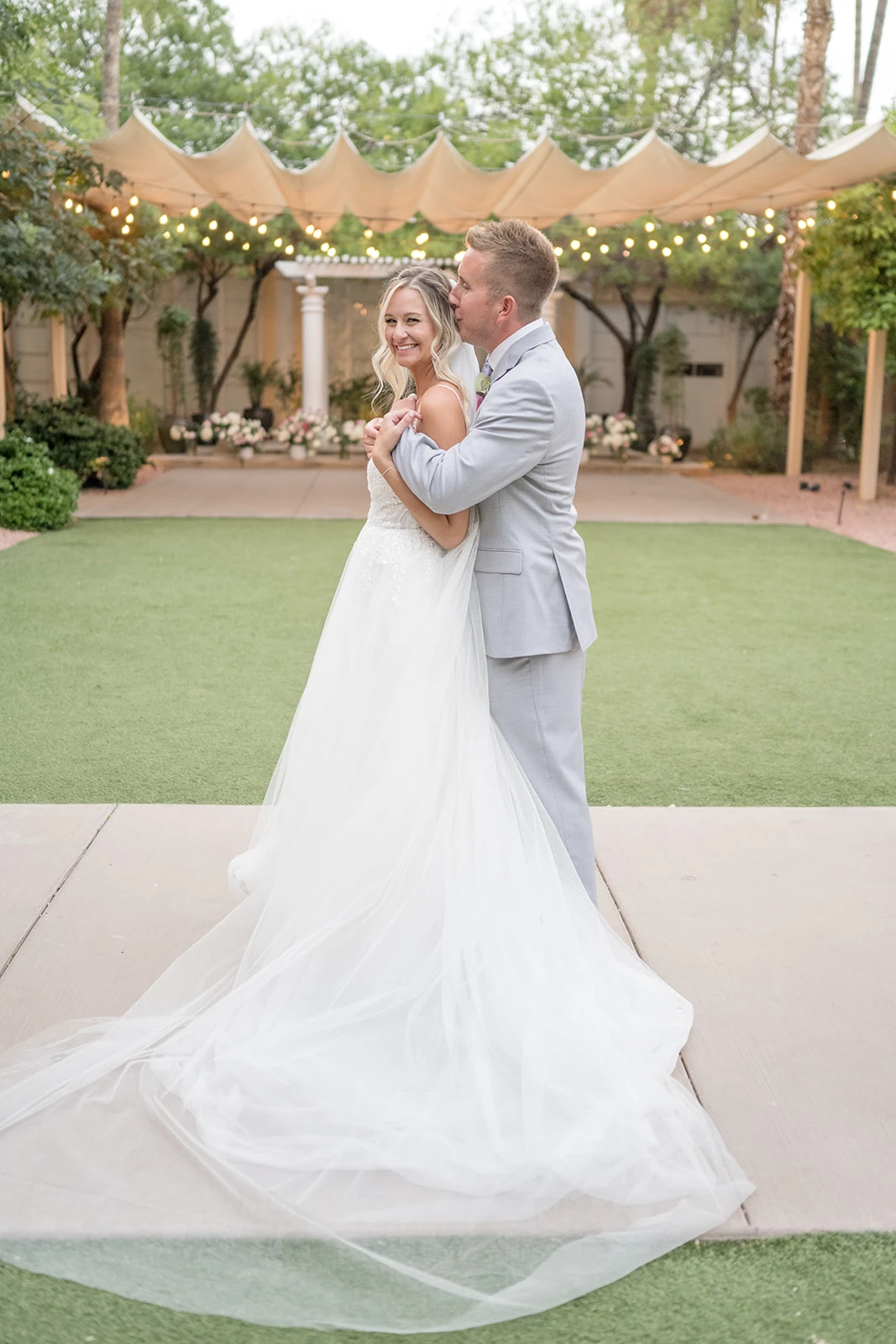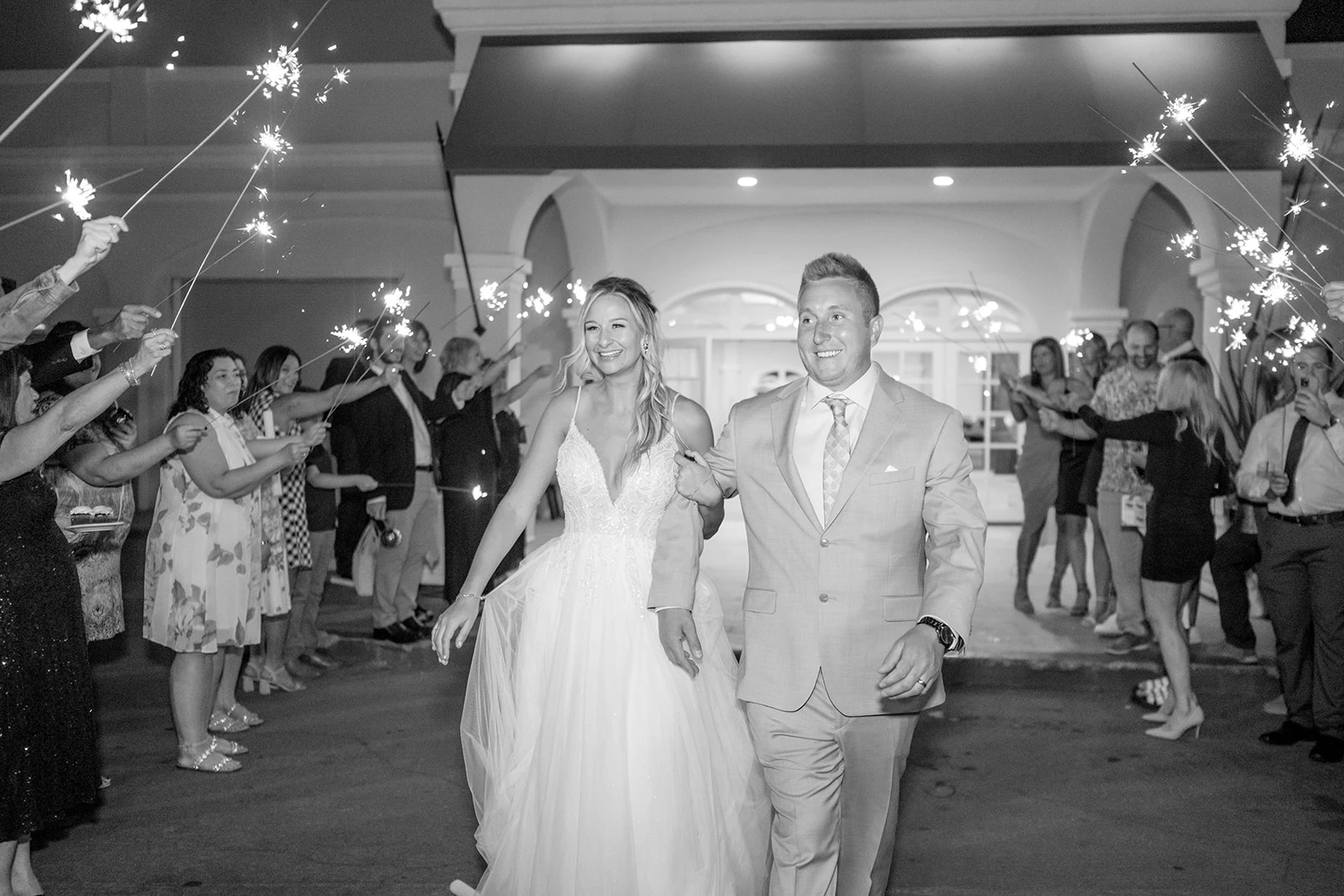 Cheers to Amy & Garrett!
Photography: Save This Memory
Venue: Crowne Plaza San Marcos

True Society brides, did you find your dress with us and want to be featured as a #TrueBride? Share your story with us for a chance to be featured on our blog.
Ready to find a dress that makes you sparkle on your wedding day? Find a True Society store near you and book your appointment today!