A hot bridal trend that has come into fashion and isn't going away is wedding dresses with a detachable skirt! If you want one dress but two stunning looks, a detachable skirt, also known as a wedding dress overskirt, may be the accessory for you. Whether you're looking for a dramatic, high-fashion look or to bring some romance to an otherwise sexy style, a detachable skirt is a beautiful way to elevate your look and wow your guests.
Want to learn more about wedding dresses with detachable skirts? Read on for our top tips on how to wear a removable wedding dress skirt and to see our top wedding dresses with detachable skirts.
What is a Wedding Dress with a Detachable Skirt?
A wedding dress with a detachable skirt can be any silhouette but is usually a sheath, column or fit-and-flare style paired with a skirt for more volume. A detachable skirt is typically attached at the natural waist of the gown and may be open in the front or be a full skirt all around.
Detachable skirts usually match the gown they are worn with by being made in the same wedding dress fabric and/or with matching embellishments. For example, you can pair a tulle detachable wedding dress skirt with a lace dress and add the matching lace to the hem of the overskirt for a cohesive look. The best news? No matter your bridal style, an overskirt can be added to your look for a wow effect!
What is the Process of Removing a Detachable Skirt on my Dress?
While all detachable skirts are made differently, they are usually easy to remove. A detachable skirt may be attached with invisible snaps, hook and eyes or have a band that closes around the waist or on the hips. A full overskirt will close at the back with hidden snaps, a zipper, buttons, grommets or a ribbon.
Wedding Dresses with Detachable Skirts
Mermaid Wedding Dress with Detachable Skirt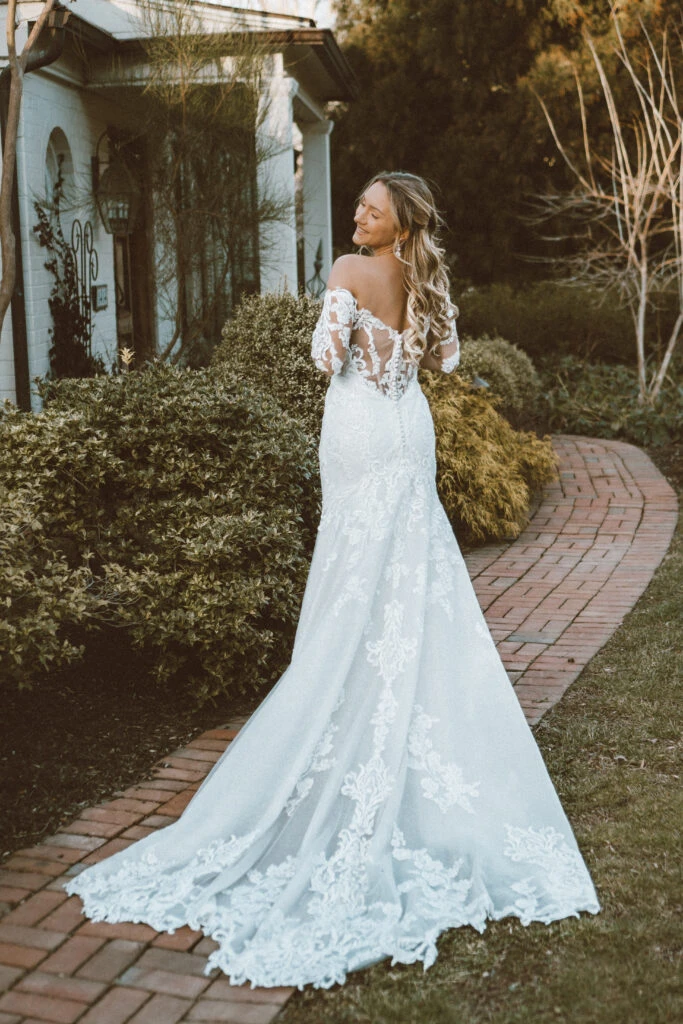 You can have a regal wedding day look and still be glam by pairing a mermaid wedding dress with our detachable lace and tulle overskirt – Nico, pictured above! Martina Liana Style 1359 features extravagant large-scale lace patterns from the top of the neckline to the bottom of the hem. The illusion tulle sleeves make the lace appear to float over the body, while the sheer details at the back add a sweet yet sexy touch, showing off the lace details and timeless fabric-covered buttons.
For two looks in one, the detachable overskirt brings this gown from glamorous to simply exquisite and is open in the front so you can show off your shape. The overskirt makes your walk down the aisle a show-stopping moment worthy of your grand love story.
Ballgown Wedding Dress with Detachable Skirt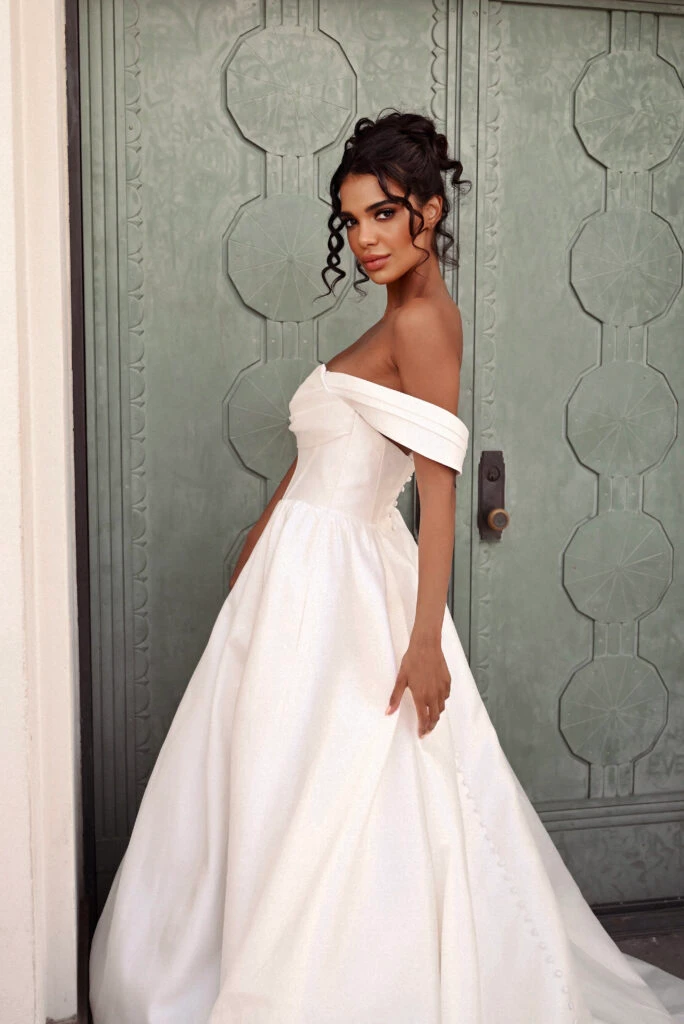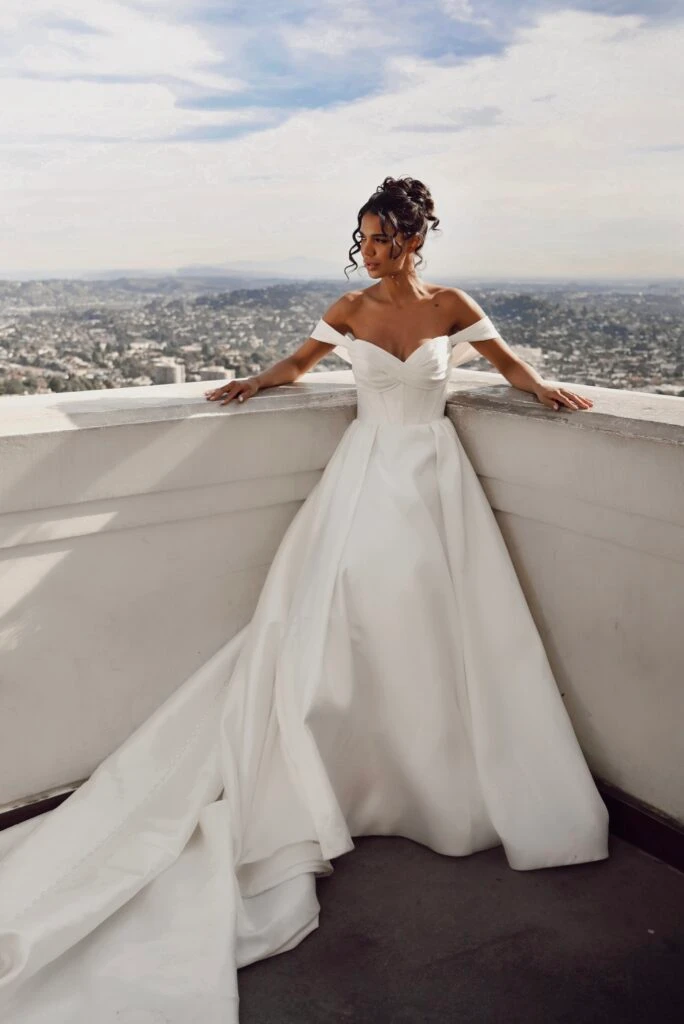 One of the benefits of wearing a detachable overskirt wedding dress is being able to wear both a ballgown and a fitted dress, which is ideal for the bride who can't choose between silhouettes!
Martina Liana Style 1607, shown with detachable lace and tulle overskirt option – Odesa, is fit for a classic yet modern beauty. The organic lace on the neckline creates a floating off-the-shoulder illusion that is nothing short of magic.
The sheer bodice features bead-encrusted lace appliqués for texture and shine, which continues over the skirt in linear geometric patterns, providing a beautiful contrast to the romance of the floral designs. This gown also features a detachable ballgown-style overskirt to take this look from show-stopping to sleek in seconds.
Fit-and-Flare Wedding Dress with Detachable Skirt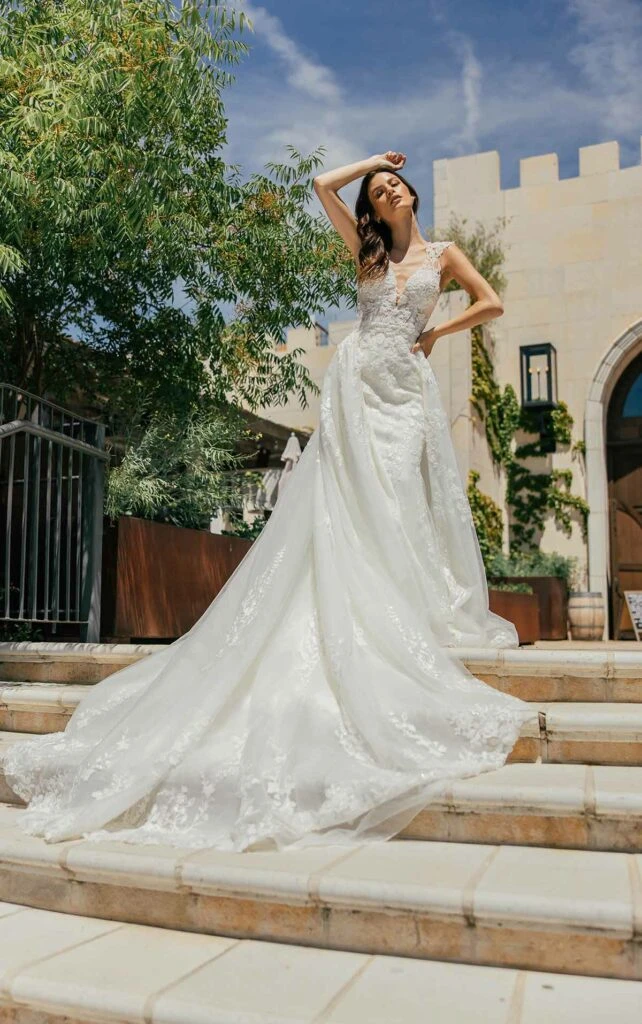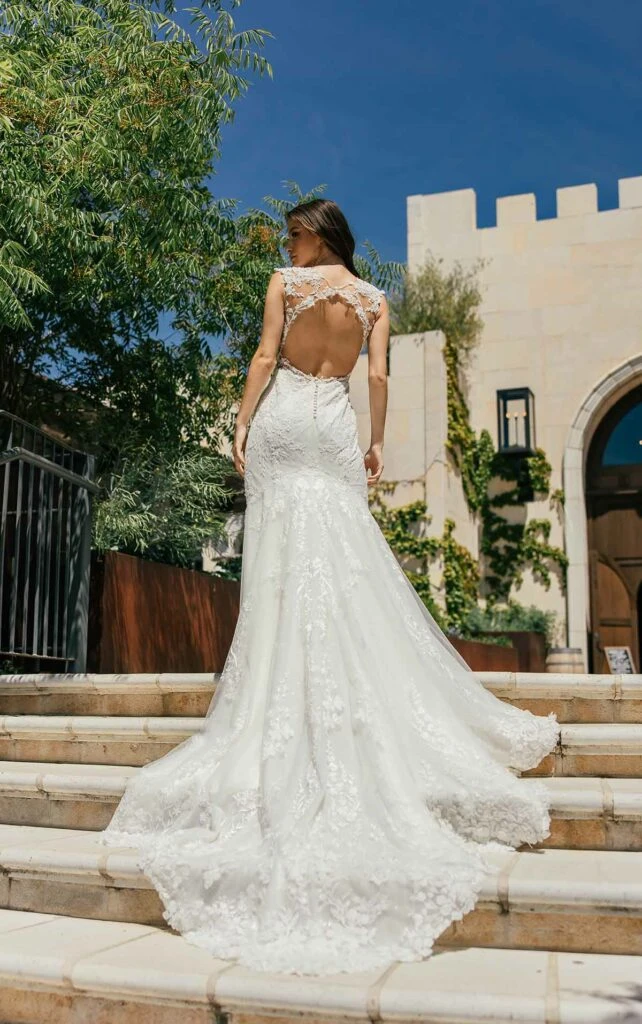 A detachable organza skirt adds an ethereal vibe to a fitted wedding dress, and Martina Liana Style 1463 featured with the Overskirt – Ilia is proof. This allover lace fit-and-flare wedding gown radiates Old World elegance and modern sophistication. Lace cap sleeves add a softness to the shoulder before dipping into a plunging sweetheart neckline and a round keyhole open back.
Highlighting the figure, the allover vine lace cascades into the flared skirt and sweeping train with a glamorous under layer of sparkle. Ae detachable overskirt with a lace-trimmed train adds another layer of ethereal beauty to this timeless wedding dress.

A-Line Wedding Dress with Detachable Skirt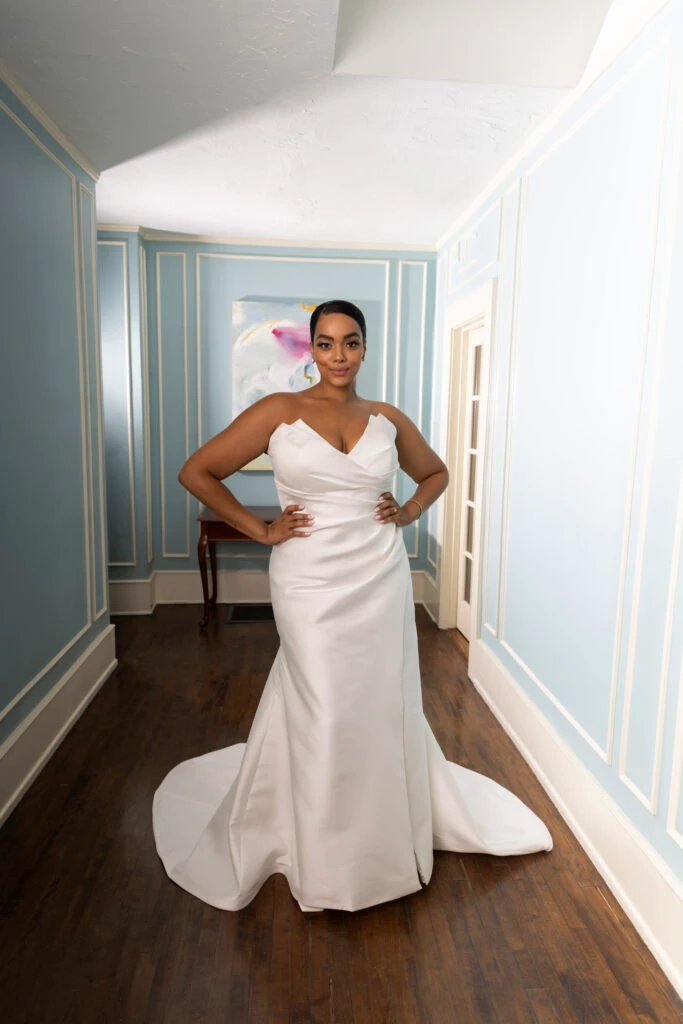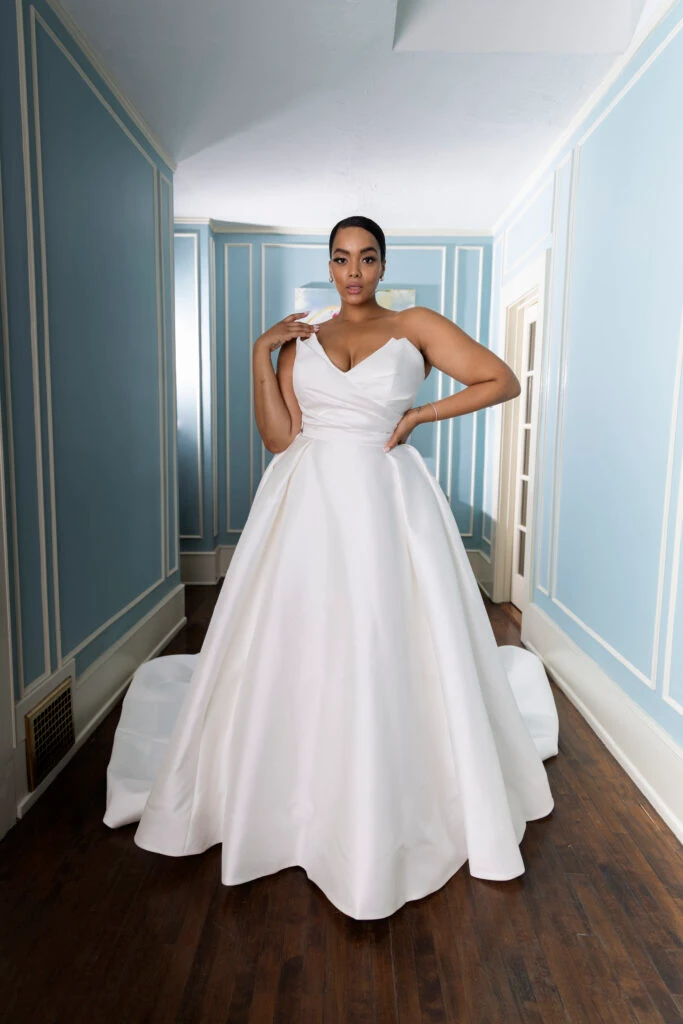 If you really want to surprise your guests, opt for a detachable skirt wedding dress with a matching full overskirt, like detachable overskirt – AOS000, that hides a fitted silhouette underneath. Martina Liana Style 1557 is simple, modern and oh-so-chic, taking timeless bridal design and adding a luxurious, glamorous twist. This show-stopping plus-size wedding gown is constructed in sumptuous ivory silk zibeline. It features a one-of-a-kind two-piece silhouette: a fit-and-flare underdress and a gorgeous A-line overskirt.
The underdress features a strapless bodice with architectural accents and a wrapped silk effect, with a softly flared hem and demure slit. This gown brings an elevated, elegant, regal appeal when paired with the dramatic cathedral train of the overskirt. This versatile option provides two sophisticated and memorable looks in one.
To boost the glam up a notch, elaborate beading, pearls and sequins are hand-placed throughout the gown for a show-stopping sparkle. Sheer details on the bodice add a touch of sophisticated sexiness while showing off the details of the design. The simple yet stunning tulle and royal organza detachable overskirt on this 1920s wedding dress takes this fit-and-flare to a full ballgown for the ultimate dramatic walk down the aisle.
Adding and Removing Overskirts
When it comes to wearing your overskirt wedding dress, the overskirt is typically added for the ceremony and removed for the reception so you can dance the night away! When putting on your overskirt, step into it carefully so you don't ruin your gorgeous wedding day hair or simply hook or snap it on over your gown. When removing your overskirt, unsnap, unhook or unzip it and dance the night away!
If you fall in love with a gown that doesn't have a matching skirt, don't worry! You can customize wedding dress overskirts to match your gown. We have two fully customizable overskirts by Martina Liana: Odesa and Luana. Be sure to check with our True Crew to find out which overskirts are available separately and which come with a particular wedding gown style. If you opt for an overskirt from our other designers, our True Crew can order coordinating lace that matches your wedding dress and have it seamlessly integrated during alterations.
When Would be the Best Time/Season to have a Wedding Dress with a Detachable Skirt?
Wedding dresses with detachable skirts can be worn in every season —however, they're a heavier weight, so they are likely not ideal for a beach wedding! The key is keeping in mind the fabric and style of your overskirt. For example, a tulle overskirt that is open in the front would be much lighter than a full satin ballgown overskirt. Likewise, overskirts can work in a variety of venues as well. Light and airy styles work well for outdoor weddings, while more ornate skirts fit in regal settings like ballroom weddings.
Did we inspire you to say "I do" to a wedding dress with an overskirt? Reserve your appointment and talk to our True Crew about all the amazing choices we have for you at a True Society store near you. Availability varies per store.