One dress, two ultra-chic looks! Today in the blog, our bridal stylists give the deets on this season's most popular bridal accessory: The Overskirt. From ceremony to reception, you're sure to bring your bridal vision to life for every moment of your big day. Whether you want luxe, high-fashion aisle style or a romantic and whimsical transformation, overskirts elevate your bridal vision to new heights! Want to learn more about this stunning bridal accessory? Read on for our ultimate guide to wedding dress overskirts!
Jump to Overskirt Options at True Society.
Jump to Overskirt Customization.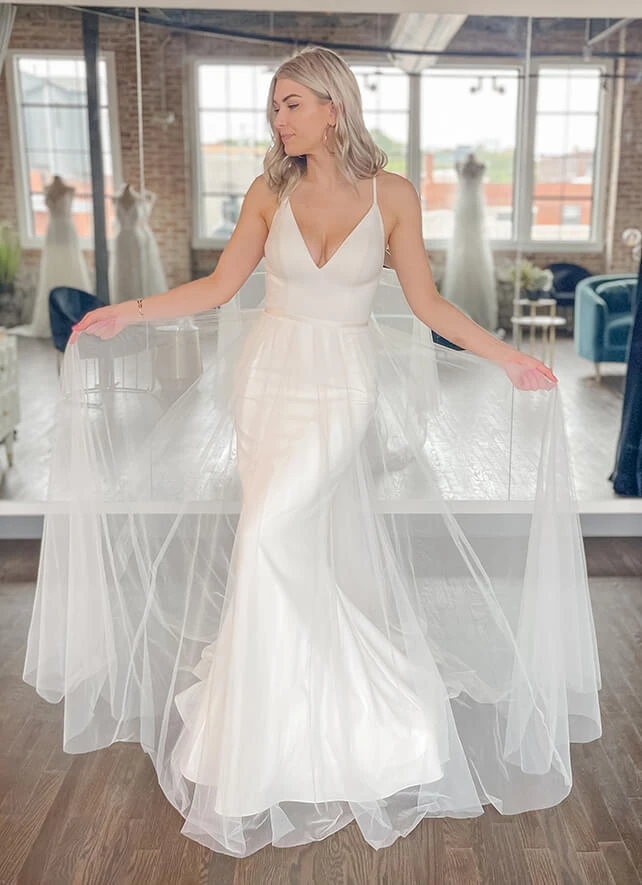 FREQUENTLY ASKED QUESTIONS:
What's an overskirt?
An overskirt is an outer detachable skirt worn over the top of the wedding dress waistline. Overskirts are designed with a variety of volume and are constructed with different materials such as Mikado, tulle, and lace. Overskirts have just as much material and detail as a wedding gown and take the same love, time, and care to be made. While some overskirts are extravagant and match the design of the wedding dress, others are more minimal so you can customize the overskirt with lace from your gown.
What wedding dress can you wear with an overskirt?
An overskirt can be worn with any wedding dress style! Most commonly, a bride will wear an overskirt with a sheath, fitted, or fit and flare silhouette to create the illusion of two different looks: You might wear the overskirt for a formal ceremony and elegant bridal photos and remove it for a sexy, relaxed reception look. Overskirts may also add fun volume and interesting texture to an A-line or ball gown.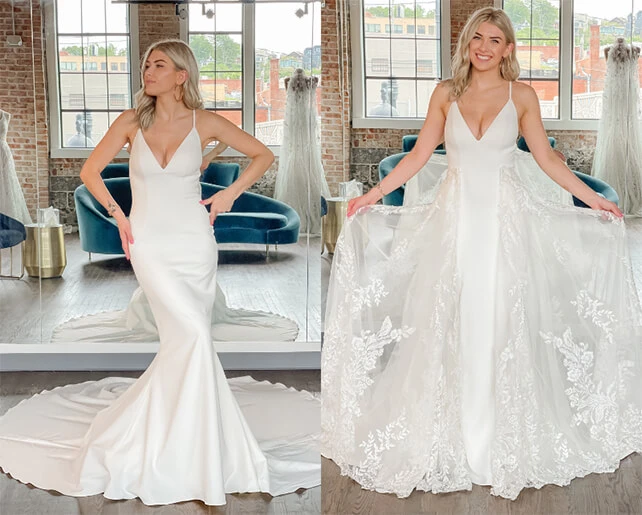 Can you customize an overskirt?
Yes! At True Society, we have a few different customization options. If the overskirt is designed by Martina Liana, we have the full-range ability to customize your skirt exactly how you like it. This designer is sure to bring your bridal vision to life. If you choose an overskirt from one of our other designers, we can order coordinating lace from your gown and have it added during alterations so it matches your wedding dress.
Does an overskirt require alterations?
Yes. You should expect at least two alterations: One at your waist, and one for length. The result? An overskirt guaranteed to be perfectly unique to you!
How long does an overskirt take to arrive?
Overskirts are made to order just like a wedding dress and will take the same amount of time to arrive. If you want an overskirt, you should purchase it at the same time as your gown so that both arrive on time for alterations.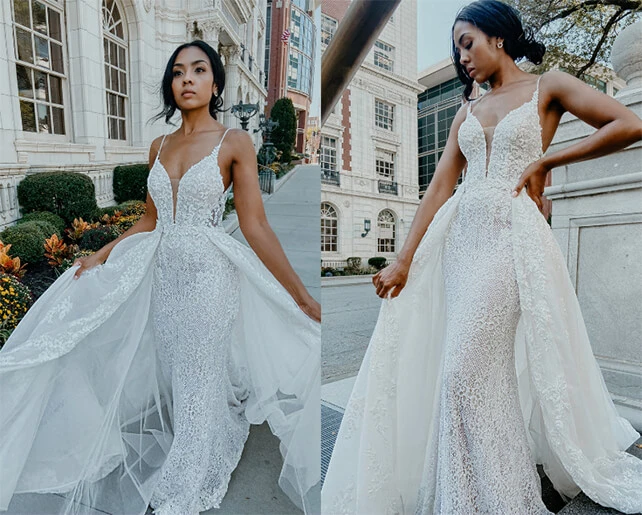 How does an overskirt attach to a dress?
An overskirt will typically sit at your natural waist. There are many different ways to attach, but the most common is multiple hooks and eyes or clear snaps along the waistline. Some overskirts will close at the back with hidden snaps or a zipper; others will close at the front or on your hips.
How do you wear an overskirt if your dress has a long train?
If you've said yes to a gown with a beautiful, intricate train but still want an overskirt, don't worry — it's possible! With an overskirt, your train will be bustled to prevent it from dragging past the overskirt fabric. Many gowns that come with an overskirt will have a chapel length train. This length will not hang outside of the skirt and will not require a bustle for the duration of wearing your overskirt.
OVERSKIRT OPTIONS AT TRUE SOCIETY
Below are the overskirt styles available to brides.
Luana and Odesa have intricately placed lace detailing. The ornate lace is complementary to our bridal gowns, so you don't have to worry about a complete custom lace change.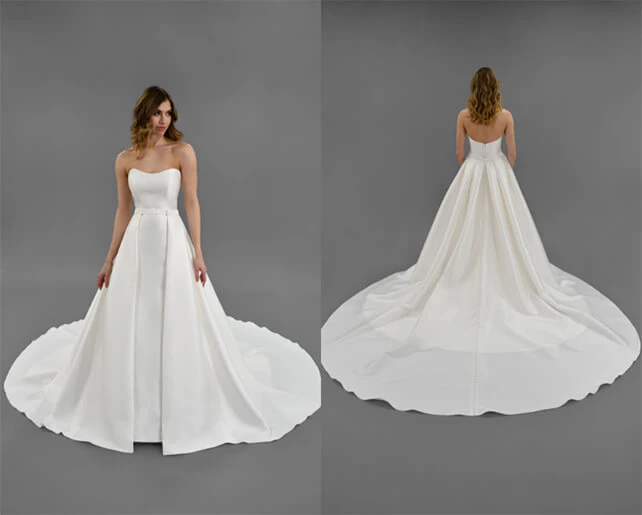 Other overskirts from the newest collection do not have any lace on them and are meant to be used as a base to build your own unique bridal look. You may choose to keep it as is or may order lace and add it throughout.
OVERSKIRT CUSTOMIZATION
We have two fully customizable overskirts by Martina Liana: Odesa and Luana.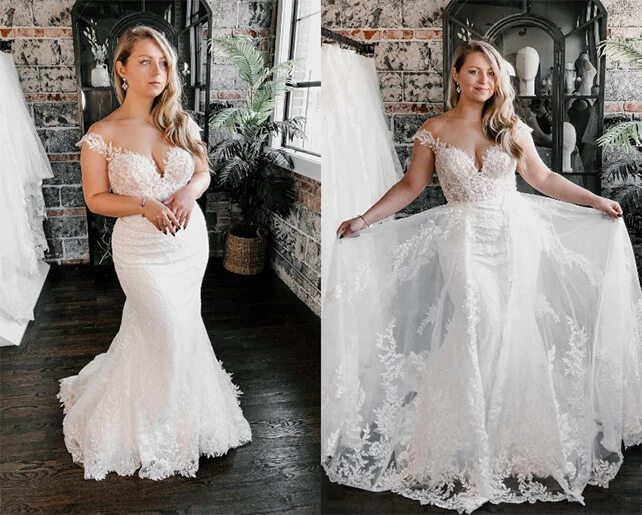 There are many different customizations that can be done. Below are a few of the most common changes:
Additional Lace

: Brides can change the lace on the overskirt to match the lace of their gown. The designers will use the same lace placement as the original skirt but will change the lace to match perfectly!

Adjusted Volume

: Brides can add or take away as much volume to the skirt as they want. If the goal is to have a true ballgown look, you may consider adding a few layers of crinoline to give the skirt a fuller feel.

Waist Closure

: Our overskirts do not close all the way around the waist. They are meant to sit on the hips and have a slight opening in order to see the dress underneath. Some brides prefer the skirt to close completely in order to look like it's permanently attached. The price for this will vary widely depending on the skirt and amount that is being closed.
Whether your wedding plan involves a traditional church, an intimate garden or an extravagant ballroom, a wedding dress overskirt might just be the perfect addition to complete your one-of-a-kind bridal vision. If you're wanting a perfect ceremony dress and a versatile reception look, this one-dress-two-looks mentality could seal the deal!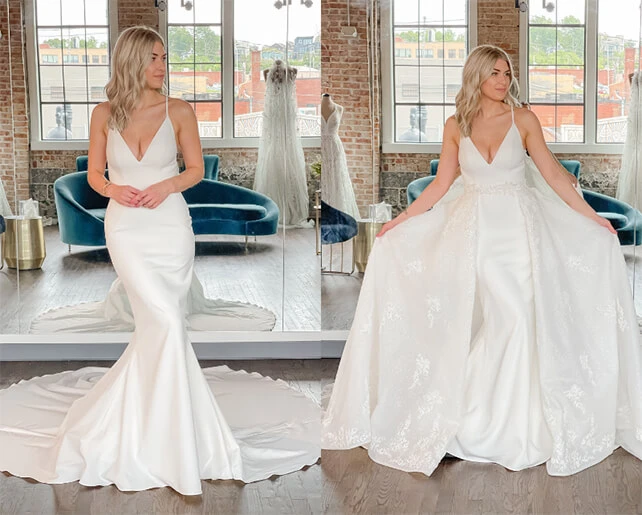 Are you interested in overskirts? Book an appointment to try them on! Pair them with other unique bridal accessories like jewelry, headpieces, and streamers. We can't wait to see you soon!