Beginning your search for your dream wedding dress is an exciting time! There are many factors to consider, from deciding on the silhouette to the fabric and the overall vibe. One of these important factors is your wedding dress color! While white and ivory are among the most popular wedding gown colors, brides today are choosing a variety of colors, from champagne to blush to non-traditional wedding dress colors like, black, blue and lavender. Keep reading to learn more about how to find the ideal wedding dress color for you.
Should you Have a Color in Mind Before Shopping?
While you may have a color in mind before wedding dress shopping, it doesn't hurt to keep an open mind! You may try on a gown in a shade of white that you thought you wanted but realize that another color is more flattering on your skin tone.
It's important to note that while most wedding dresses are available in traditional ivory or white, our True Society bridal stores offer a variety of lace and tulle colorways to best flatter all skin tones. From moscato, rum, mocha and honey to biscotti, porcelain and almond, we truly have colorways for every bride (including ivory and white, of course!).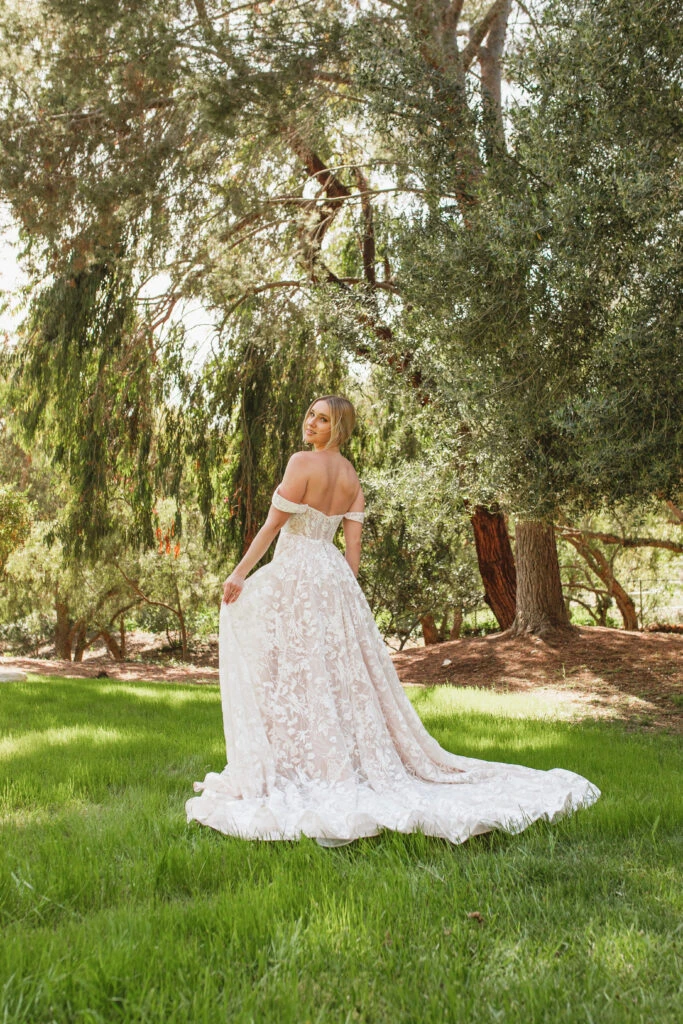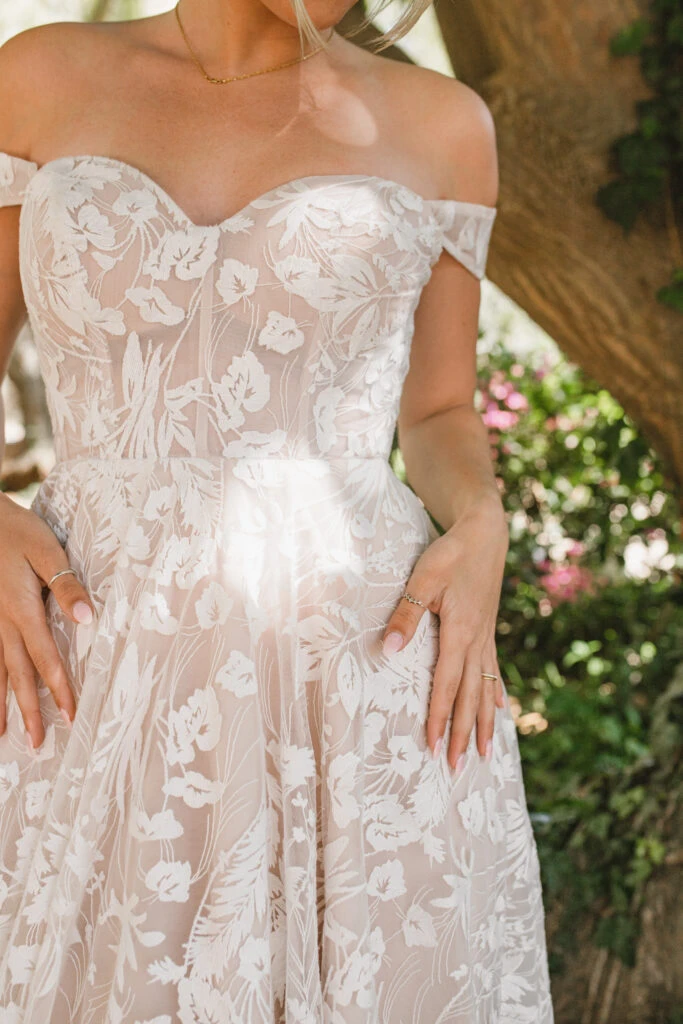 Essense of Australia Style D3520
What are the Differences Between the Different Colors?
When it comes to wedding dress colors, the main difference between shades of white is the undertone. Keep reading for the differences between some of the most popular wedding dress colors.
White
When brides picture their wedding dress, white wedding dresses are most likely what comes to mind. Wearing white has been a tradition since Queen Victoria wore a white wedding dress to marry Prince Albert in 1840. Pure white is the brightest and crispest shade of white you can find, and pure white wedding dresses achieve their crisp color by being made of bleached fabrics. A natural or diamond white is an excellent compromise because it is slightly softer but not as warm as ivory.
Ivory
In contrast to pure white, ivory wedding dresses feature a creamy, warm undertone that is flattering on many skin tones and imparts a subtle golden glow. While this color has a reputation for being yellow, many shades of ivory are often confused for off-white.
Off-White
Not to be confused with ivory, off-white wedding dresses are slightly warmer than white but not as warm as ivory. This color is the ideal compromise between the two colors and is super flattering on all skin tones.
Blush
Blush wedding dresses are increasingly popular and are stunning for the bride who doesn't want to wear white or ivory wedding dresses. Blush gowns come in different saturations, from champagne, which is closer to ivory; almond, which displays a sightlier pinkish tone and Moscato, which is similar to a nude tone. These soft pink shades are less traditional and can be used for an entire gown or as a lining color to make an off-white lace pop!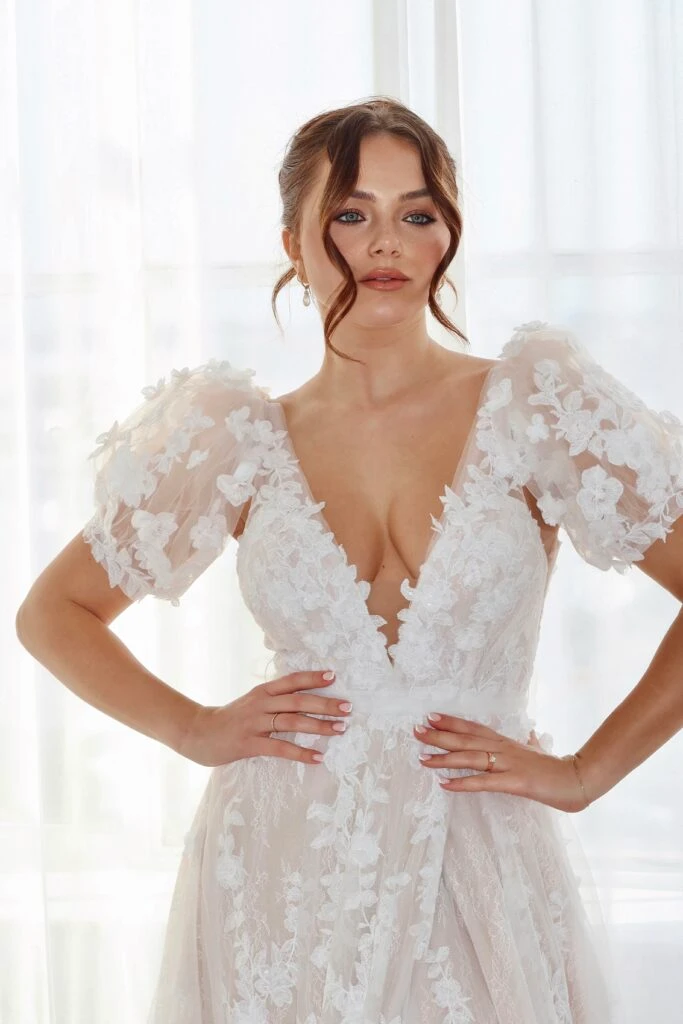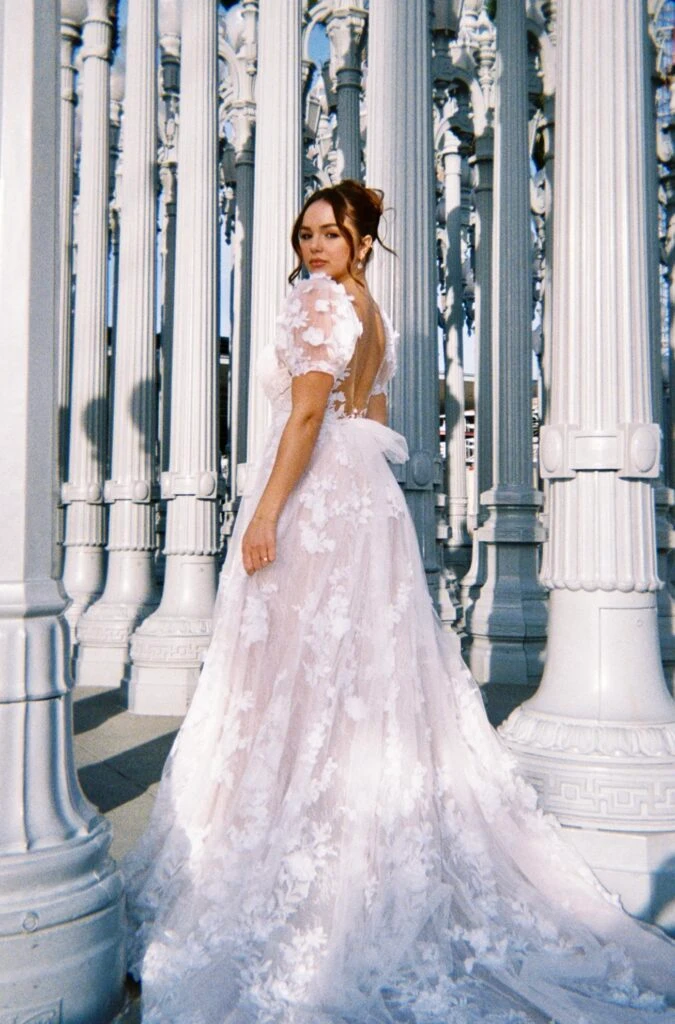 What Does the Color of your Dress Mean?
You can consider the meaning of wedding dress colors when making your decision; however, this factor is less important for the modern bride. While white wedding dresses traditionally symbolized purity, this tradition has largely faded, with brides choosing wedding dress colors that are the most flattering and fit the aesthetic they are going for on their wedding day.
In some cultures, color remains an important factor, with many brides choosing to wear red for good luck. The bride who chooses a blush-colored wedding dress may want a soft, romantic yet modern look, while black or bright-colored wedding dresses are for the bold brides who want to break tradition in a statement-making way.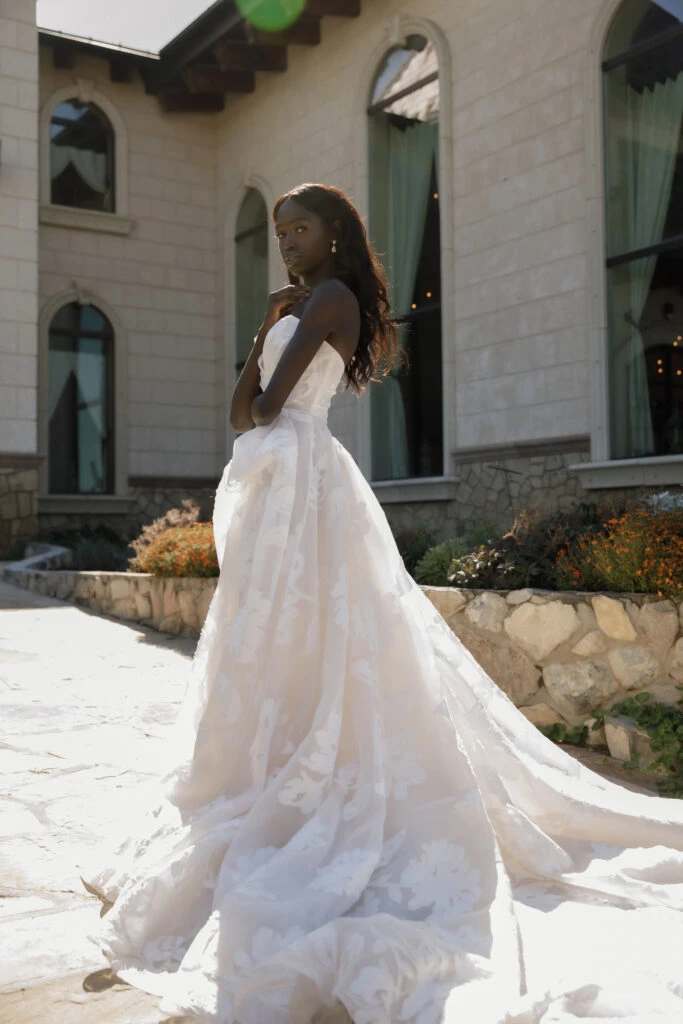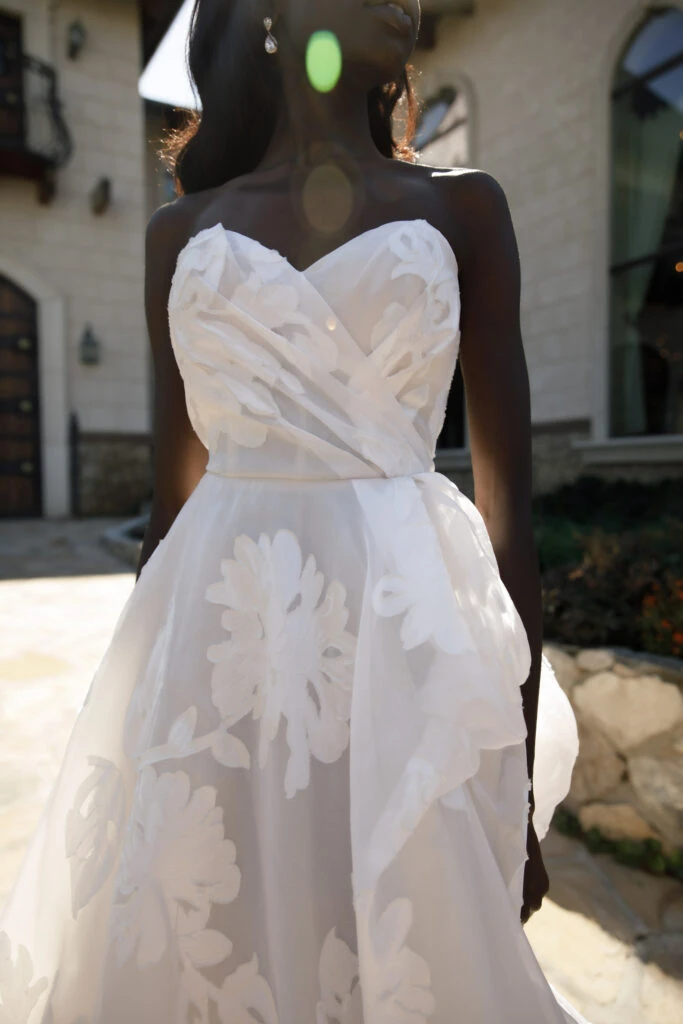 Martina Liana Luxe Style LE1221
What are the Most Popular Wedding Dress Colors?
The most popular wedding dress colors are shades of off-white and ivory, which are more universally flattering. However, we've also noticed that many brides opt for a gown with a lining in a shade of blush or nude to allow the details on their dresses to pop!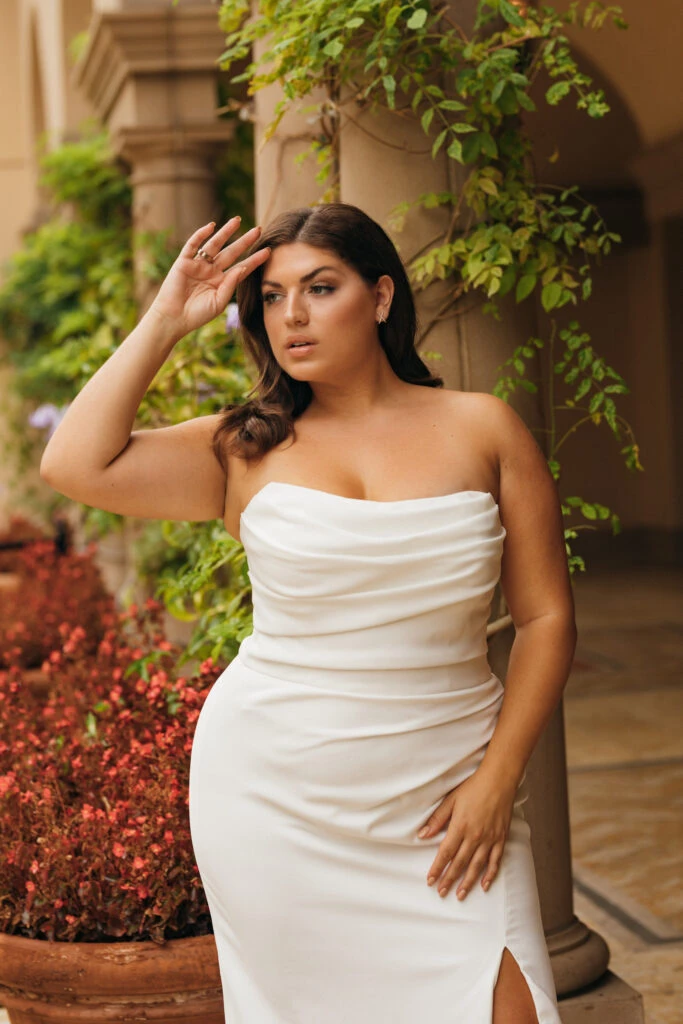 Essense of Australia Style D3634+
What Factors Should you Consider When Picking your Wedding Dress Color?
Choosing the color of your wedding dress largely depends on what makes you feel your best. Keeping your skin tone in mind can help you decide which color is the most flattering. Pure white often looks best on medium or darker skin tones, as the bright nature of this shade of white can wash out fairer brides.
Off-white tends to be universally flattering, while slightly warmer shades of ivory are stunning on lighter skin tones or warm skin tones, which have golden undertones. Those with cooler skin tones with pink undertones look stunning in shades of blush. If you have a neutral skin tone, you can easily pull off any shade of white.
Ultimately, the color of your dress is a reflection of who you are, so don't be afraid to break traditions or choose something that makes you feel beautiful! From traditional ivory and white and romantic blush hues to nontraditional black wedding dresses, our True Crew is passionate about helping dream weddings come true and offers countless colors for our bridal gowns. Come meet us today, and let us make all your wedding day dreams a reality!
Visit one of our True Society store locations to find your dream bridal gown. Book an appointment to begin your bridal journey with us! Availability varies per store.