Today we are sharing some tips and tricks in response to our frequently asked questions! The world of weddings may be brand new to many of our brides, but we are seasoned pros. We are here to help our brides navigate the unknown waters of all things wedding dresses!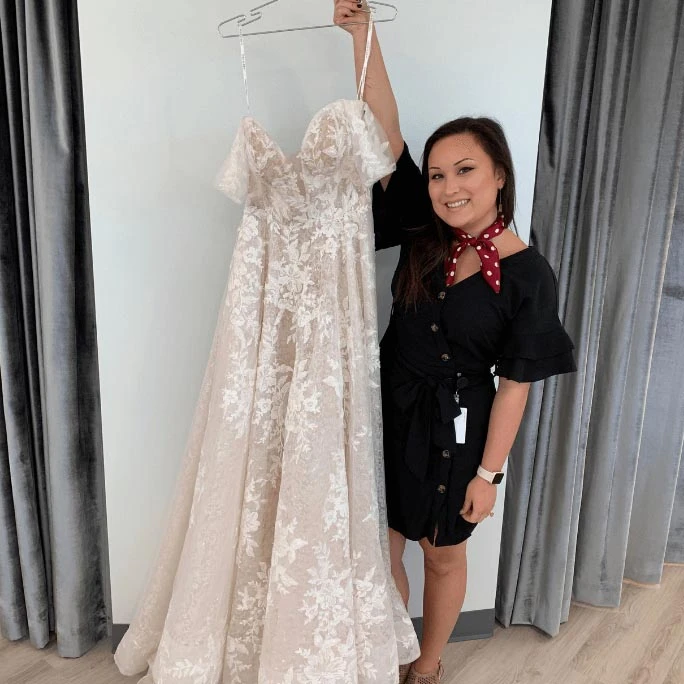 Steaming a Wedding Dress
Before heading down the aisle, you'll want to make sure your dress is wrinkle-free and aisle-ready by giving her a good steam. If you're getting married locally, your alterations vendor may steam your gown for you before sending her home with you. If you're jetting off for a destination wedding, the packages at most resorts will include a dress steaming. Even with the best fresh steam, however, there will typically be one or two tiny wrinkles that will rear their heads before the wedding day. To help combat this, we always recommend having a travel steamer on hand to help get the gown in tip-top shape! Because travel steamers can leak on occasion, we recommend steaming through a white washcloth. This will prevent any water spots on your gown! Starting on the front of the gown, you'll want to pull the steamer down from top to bottom from the inside of the gown. Keeping the steamer underneath the dress layers allows excess steam to be trapped in the layers, helping it to release more wrinkles in the drying process. Once you've finished the front of the gown, turn it around to catch the back- doing it in this order will prevent the train from being crumpled up as it's drying. Leave the gown to hang as high up as possible as it dries, releasing any additional wrinkles left on the gown. After that, she'll be fresh, wrinkle-free, and ready to walk down the aisle!
Takeaway Tips:
Check with your seamstress/planner/venue to see if they offer a steaming package. That's always the easiest option.
Steam with a white washcloth or sheet over the steamer head to prevent water spots.
Always steam from the INSIDE/UNDERSIDE of the gown, top to bottom, front to back.
Let the gown hang as high/long as possible to allow it to dry without causing additional wrinkles.
Resources:
For more information about steaming your wedding dress, check out these blogs:
How to Steam Your Wedding Dress—Without Ruining It
The Ultimate Guide to Using a Wedding Dress Steamer
That's all we have for you today, gals! We hope this information helped answer some common questions that brides ask us. If you have any additional questions, make sure to ask your True Society consultant during your appointment!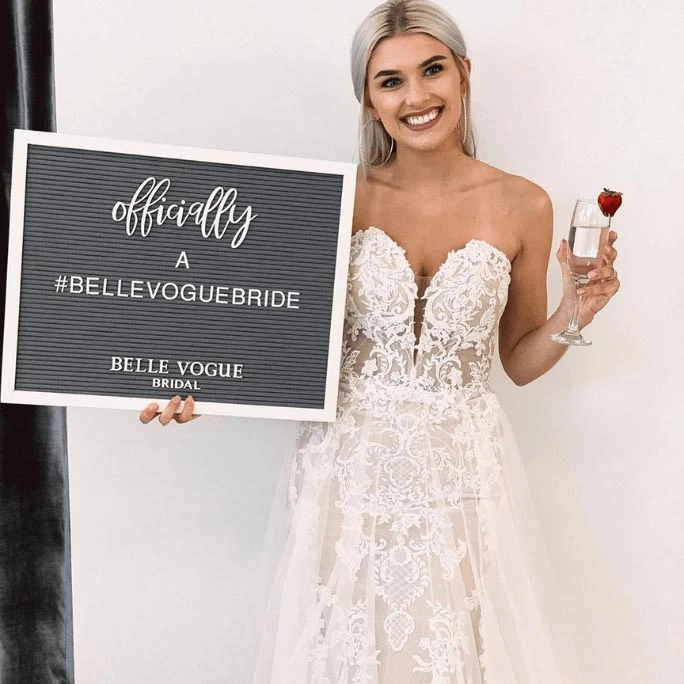 Are you ready to be a True Bride? Click here to make your appointment today!