Did you know that many couples spend around 50% of their entire budget on their wedding venue? Well, not to worry. In today's wedding market, it's totally possible to have your perfect bridal vision come to life without breaking the bank. Many brides-to-be are trading traditional big wedding vibes for small, intimate ceremonies at an affordable wedding venue. During a global pandemic, these micro-weddings are all the rage, and people are surprisingly OK with it.
As smaller, more intimate ceremonies continue to increase in popularity, budget-friendly wedding venues are becoming even more accessible. So, what's a micro-wedding and should you have one? Let's dig in!
What is a Micro-Wedding?
A micro-wedding is an exclusive and intimate affair, usually no more than 50 guests. You and your partner can enjoy a private, off-the-record ceremony with your closest friends and family. Usually held in a comfortable place such as your backyard or a small wedding venue, this option is a great bang for your buck and the reward of having a smaller guest list allows you to splurge on special activities, decor, or meals that you might not be able to afford with a large crowd.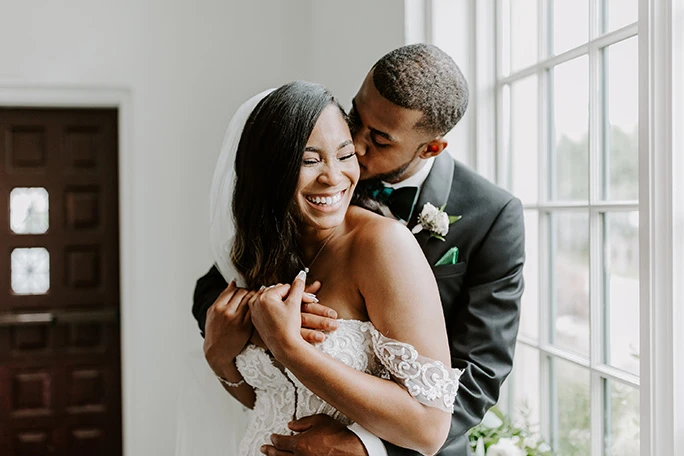 Photo: Cheyenne Lowe, Dress: Essense of Australia D2988
How much does a micro-wedding cost?
A micro wedding can cost a small fraction of what you would spend on a full ceremony and reception. However, by choosing an affordable venue and even wedding attire, you can really cut the cost and provide an entire wedding experience for your loved ones that you will be able to reminisce on for a long time.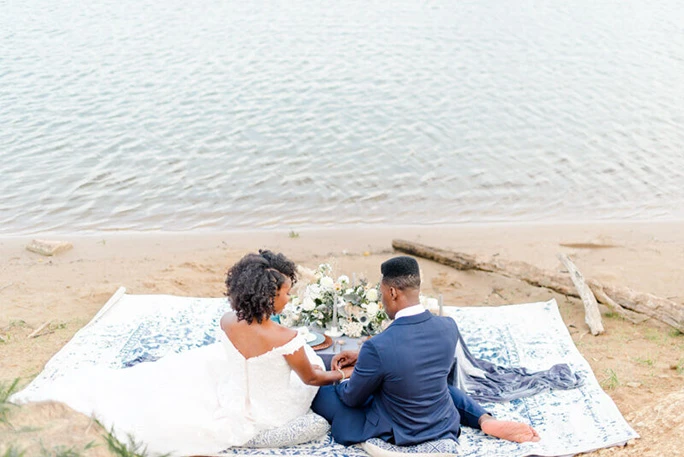 Photo: Lacey Rene, Dress: Essense of Australia D2815
What are some affordable wedding venues to choose from?
We're obsessed with backyard weddings! Whether it's your own backyard, or one of your loved one's, the freedom is endless. You can set your own date, and there is plenty of space in your budget to book that live band you love, or cater your favorite high-end restaurant. Or, if you want to keep it simple, enjoy yourselves with a guest potluck and your favorite bottled wine.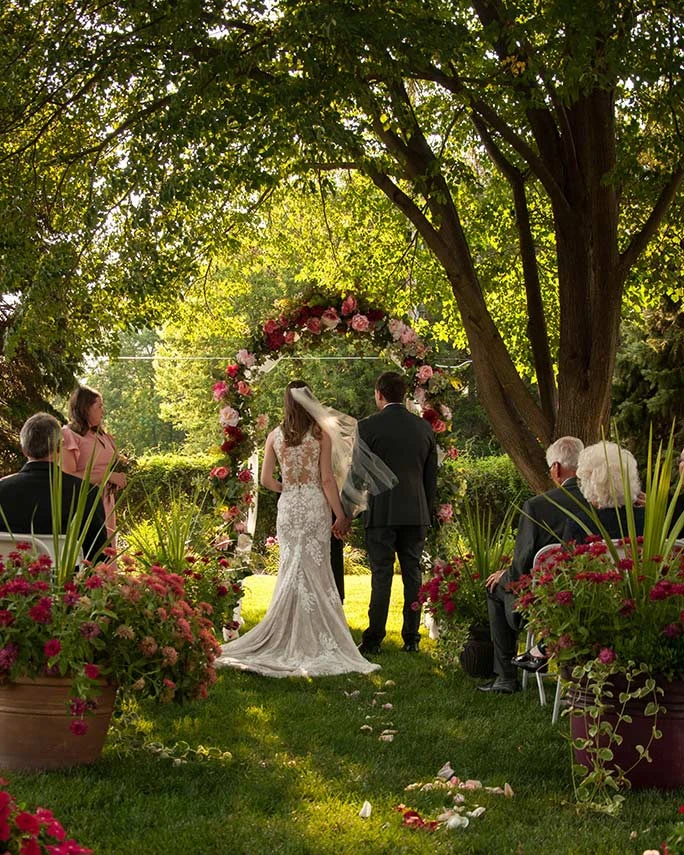 Photo: Debbie T Photography, Dress: Stella York 6933
Catering to fewer people also means that the destination venue you had your eye on isn't entirely out of reach. Save huge dollars by booking off-season and drive up to that secluded mountain retreat or private beach. Another pro? You can enjoy a mini-honeymoon getaway after your nuptials. Inviting fewer guests also saves room to treat them to an all-expenses paid deal. For extra savings, you can even book on a Friday or Sunday.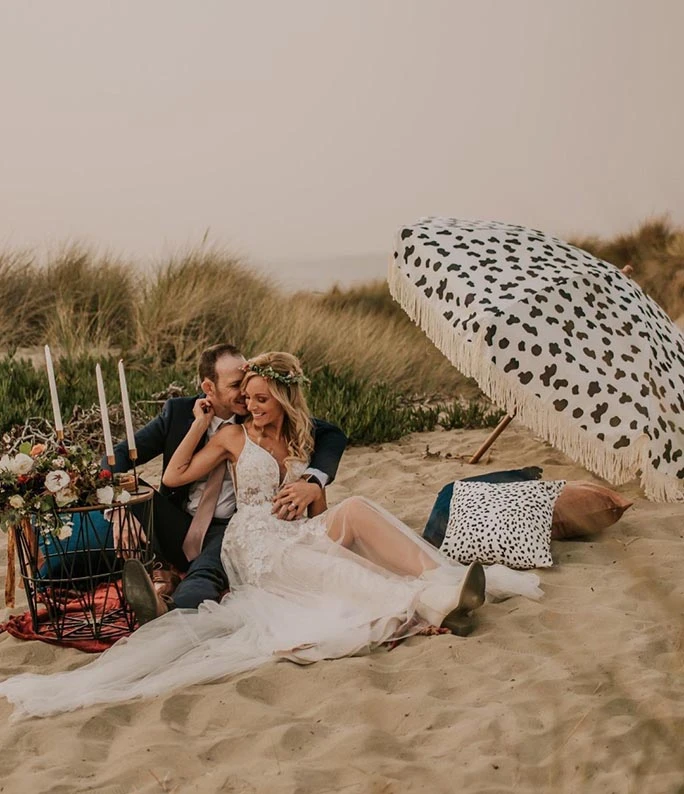 Photo: Tessa Tadlock, Dress: Essense of Australia D2840
Whether you're dreaming of a private, romantic retreat, or you just want to spend some quality time with your closest family and friends at home, a micro-wedding is a great option for those of you that want to conserve your dollars and practice safe social-distancing.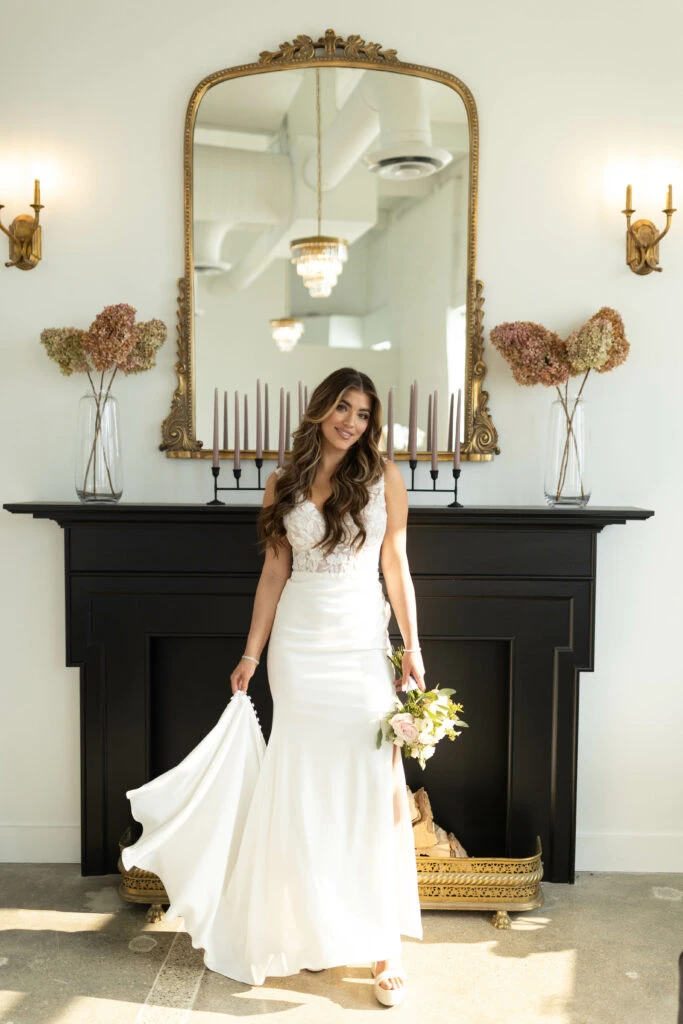 Are there any other ways to have an affordable wedding?
Absolutely! Wedding attire can be modern, fashionable, and flattering at any bride's budget. At True Society, we have an amazing selection of budget-friendly dresses. If you're looking for that one-of-a-kind designer wedding dress with a reasonable price tag, check out some of our favorites here. And that's not all of our options. Secure your appointment to try on all of our affordable wedding dresses at a True Society location near you. Secure your appointment here. We can't wait to see you.