On this Tips from a Stylist post we are tackling a common question we receive while Brides are trying on gowns. How do I bustle this wedding dress? There are many ways you can bustle your gorgeous train once it's ceremony time. Check out our post to learn about different kinds of bustles you can consider, and how they will look.
Bustling Your Wedding Dress
If you bought your gown at True Society, chances are she has a gorgeously detailed train that you and your gals have been RAVING about! But when it comes to the reception, most brides want that train shortened so they can move around easier and dance without fear of anyone stepping on their gorgeous gown! Dresses don't come with bustles built in, because they're very personal to every bride, her height, her gown, and her personal preferences. With that said, your seamstress will be your number one resource for the best type of bustle for your dress! Some of our top recommendations from our very own #TrueBrides are listed below.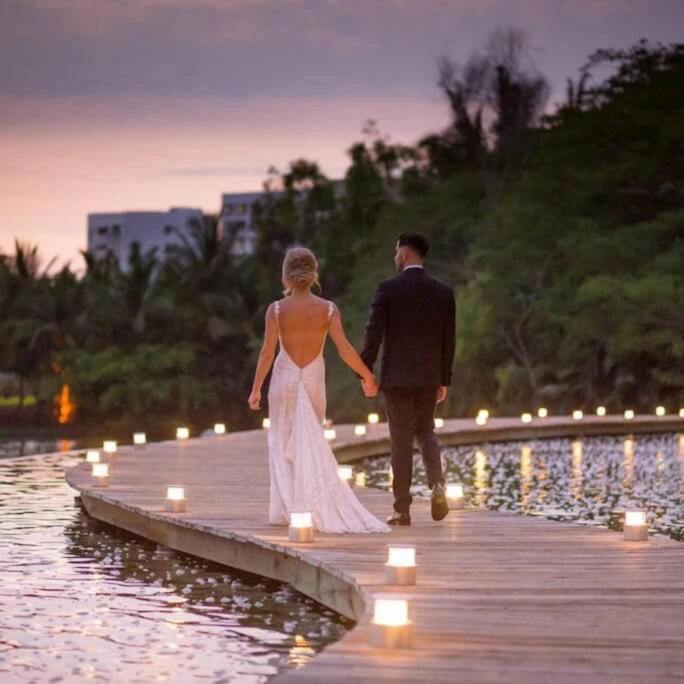 Krystal Neilsen is seen here with an Over-Bustle on her Martina Liana style 905 gown
Terms to Note:
Bustle- the process of altering a gown in such a way as to lift the train, allowing the gown to function as though it doesn't have a train
Bustle Point- any point in the bustle where the train is attached up to the rest of the gown. These can be buttons, hooks, ties, snaps, or any number of other things. Your seamstress will recommend what type is best for your gown and bustle!
American Bustle / Over-Bustle:
The American bustle (or "Over-Bustle") consists of one or more bustle points scattered at the waist or hip line of your gown, meant to pull the train up and over the rest of the gown. It is one of the easiest and most basic bustle forms, but it's well-loved due to its versatility. Want something low-maintenance and simplistic? Go for one single point down the center of your gown. Want to create a stunning display of your dramatic train detail? Try it with 5 or 7 bustle points to create an incredible draped look! Whether you're rocking a full ball gown, showing off your curves in a fit-and-flare, or walking down the beach in a flowy chiffon number, the American Bustle in its many forms could be the right choice for you! (This bustle looks great on any style of gown! The look of the bustle will just change based on the shape of the gown.)
French Bustle / Under-Bustle:
Reminiscent of a vintage gown, the French bustle is formed with bustle points meant to pull the train fabric up and under the gown- the opposite of the American bustle. Typically, this style will be created with ribbons at each bustle point, so as to hide the attachment and make it appear the most natural. BONUS BUSTLE: If you're more into that traditional "Belle from Beauty and the Beast" look, you can have your seamstress create a French bustle in the Victorian style, creating multiple bustle points throughout the skirt for some beautiful pickups all over! (This bustle looks best on gowns in a column, A-line, or ballgown style.)
Train-Flip Bustle:
If you don't love the look of a traditional bustle, the train flip bustle might be for you! This bustle is created by flipping the fabric of the train under the gown and attaching along multiple points underneath, giving the illusion that the gown was just meant to graze the floor all along! [This bustle is most easily used on tulle skirts with no hem detail, and typically looks best on a ball gown silhouette.]
Final Tip: Make sure someone in your #BrideTribe learns how to bustle your gown for you so they're ready to help you out on the big day!
Takeaway Tips:
EVERY BUSTLE IS DIFFERENT. The same gown might be bustled completely different ways on two different brides. Your seamstress will be your best resource for choosing the best bustle option for your silhouette and train style. Have your seamstress show someone in your wedding party how to bustle your gown before the big day.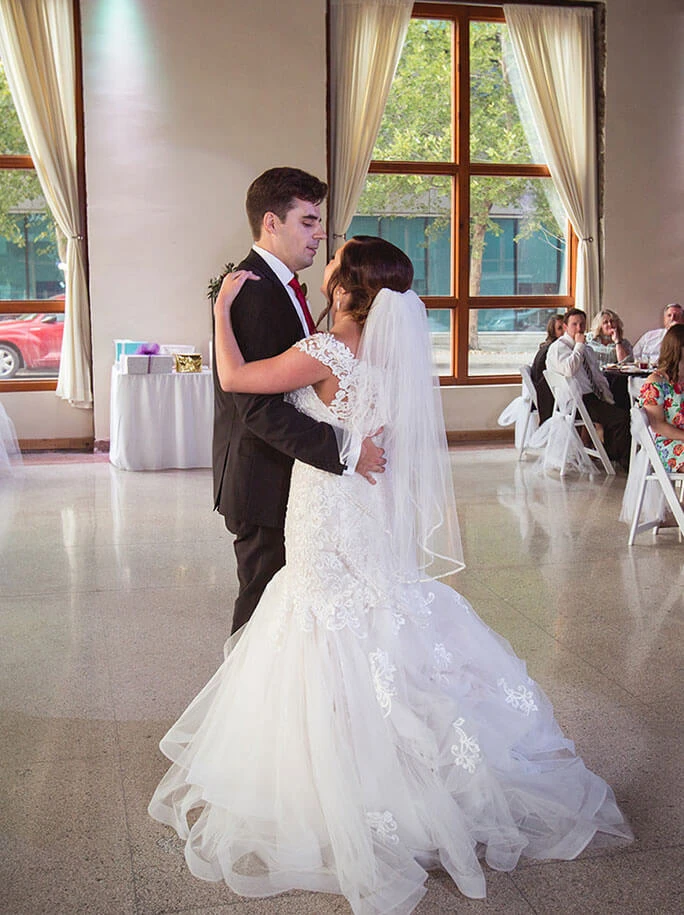 True Bride Kerry with her Essense of Australia wedding dress bustled
Bustling Resource
For more information check out these blogs:
https://www.brides.com/story/wedding-dress-bustle-styles
http://www.leanna.com/Bustle/Bustles.shtml
https://boards.weddingbee.com/topic/hiddennachotrain-flip-bustle/