The stars truly have aligned to help you find your dream wedding dress! When it comes to picking out wedding dresses, you want something that not only fits your style but also speaks volumes about who you are as a person and a bride. So, how do you make sure your bridal look is truly a reflection of you? One way is to choose a style based on your zodiac sign!
With a look that represents you both on a conceptual and astrological level, how could you go wrong? Keep reading to discover your sign and some of the best zodiac sign wedding dresses at True Society!
What is a Zodiac Sign?
Your zodiac sign is believed to be a reflection of your personality, preferences and other qualities. It is determined by the constellation that the sun was situated on the day you were born. Astrology has linked each person's birthdate to one of twelve constellations for centuries. Based on favored aesthetics and keeping in mind each sign's unique zodiac personality traits, we've matched some of our favorite bridal gowns to what we think represents their style of bridal wear.
How do I Know my Zodiac Sign?
Discovering your astrological sign is simpler than you think! All it takes is entering your birthdate into a zodiac calculator or simply Googling to uncover which constellation the sun was in on that specific day. With this newfound knowledge, you can start searching for bridal dresses that complement your astrological style.
Your horoscope may even inspire some fresh ideas about what type of wedding gown silhouettes and bridal fabrics fits your personality. Keep reading to discover our True Crew's top zodiac sign wedding dresses!
PRO TIP: Feel free to experiment! At the end of the day, remember that feeling beautiful and confident will beat any astrological alignment.
Wedding Dresses for Each Zodiac Sign
Aries (March 21-April 19)
Qualities: Confident, Adventurous, Passionate
Those brides with an Aries as their astrological sign are determined, brave and fiercely independent. Your ideal bridal look should reflect all of these qualities, as well as your passion for life. Look for something that speaks to your confident side with an adventurous dress like the All Who Wander west gown — a stunning two-piece modern boho look for the bold and fashion-forward bride.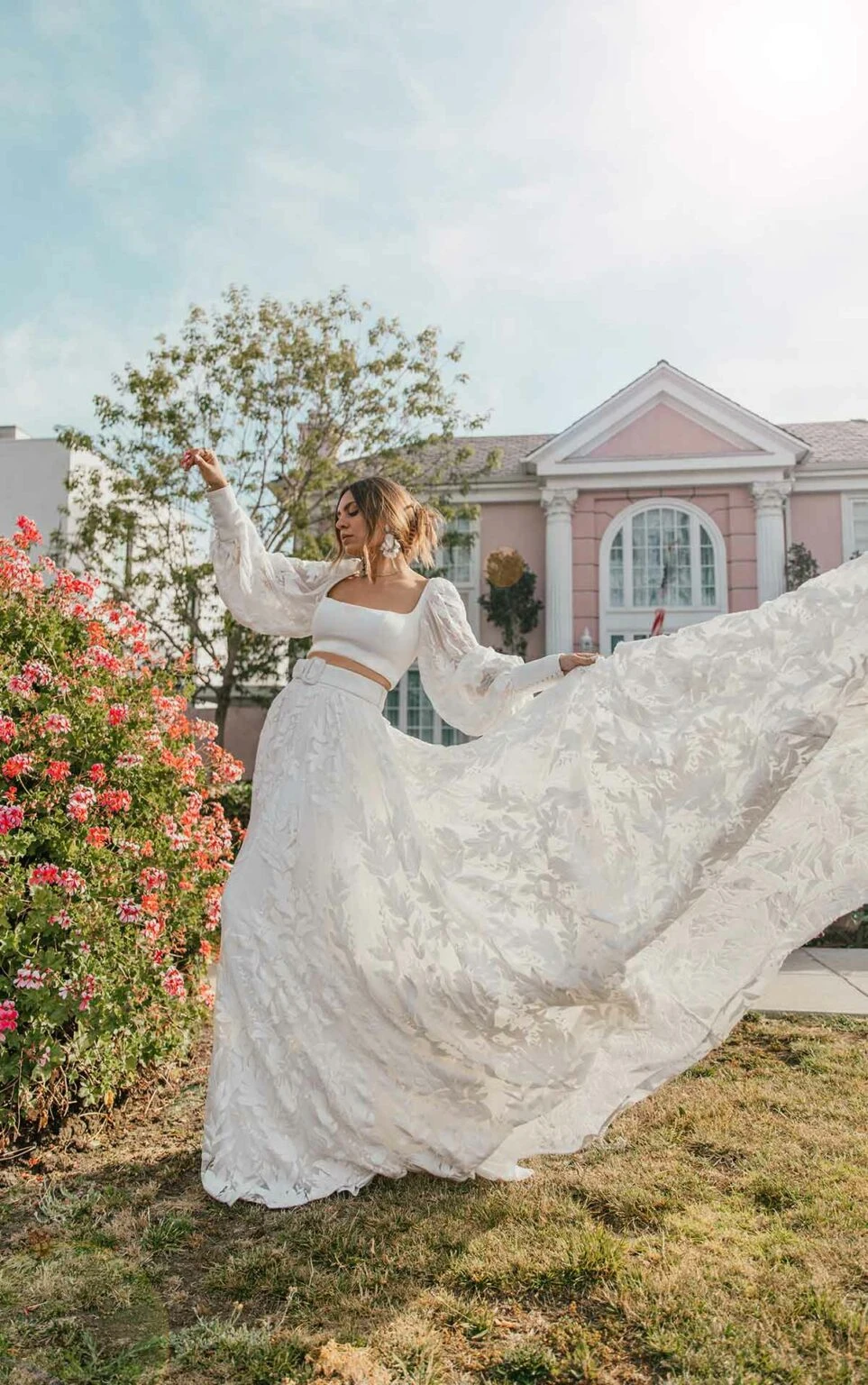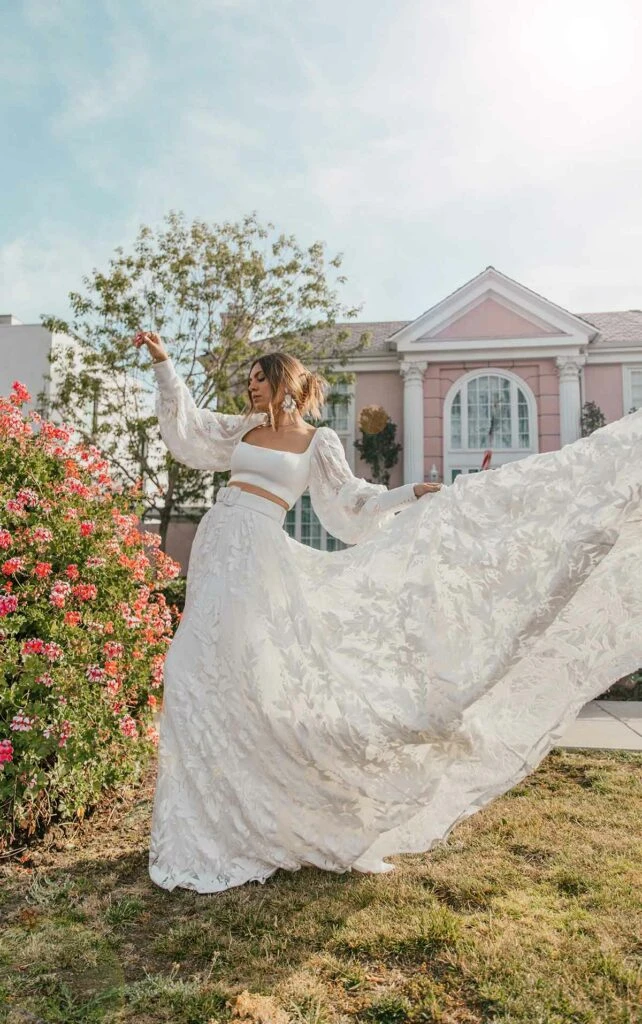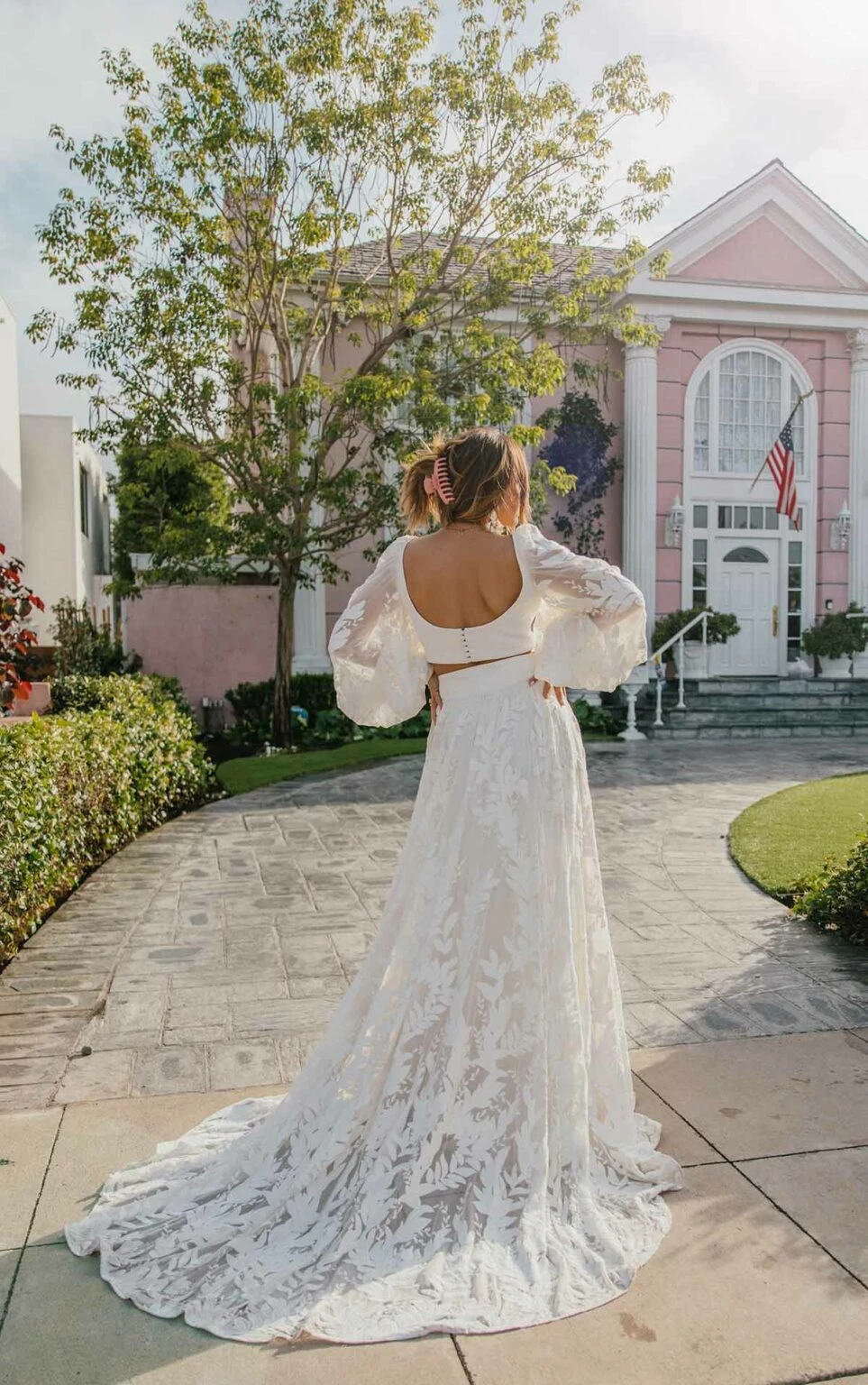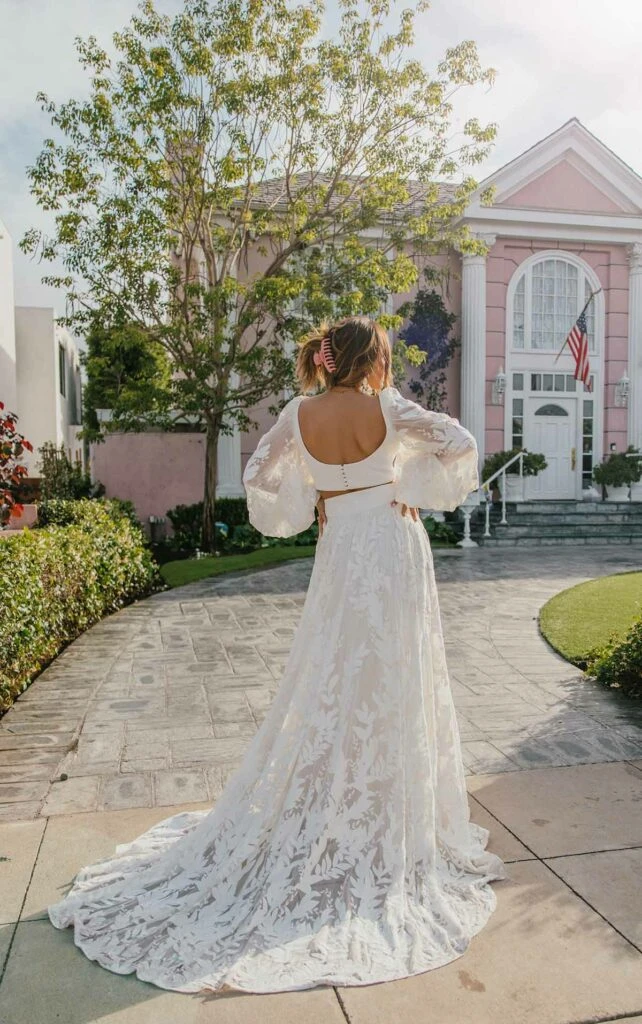 Taurus (April 20-May 20)
Qualities: Down-to-Earth, Loyal, Strong
Taurus zodiac sign brides are strong-minded, loyal and down-to-earth. You want a dress that shows the world your inner strength while still remaining classic and elegant. Timeless and contemporary, Essense of Australia Style D3640 is a beautiful choice for the Taurus bride.
It features an A-line silhouette with intricate beaded floral lace adorning the bodice that cascades down to a gorgeous waistband on top of a full pleated Mikado skirt — stunning!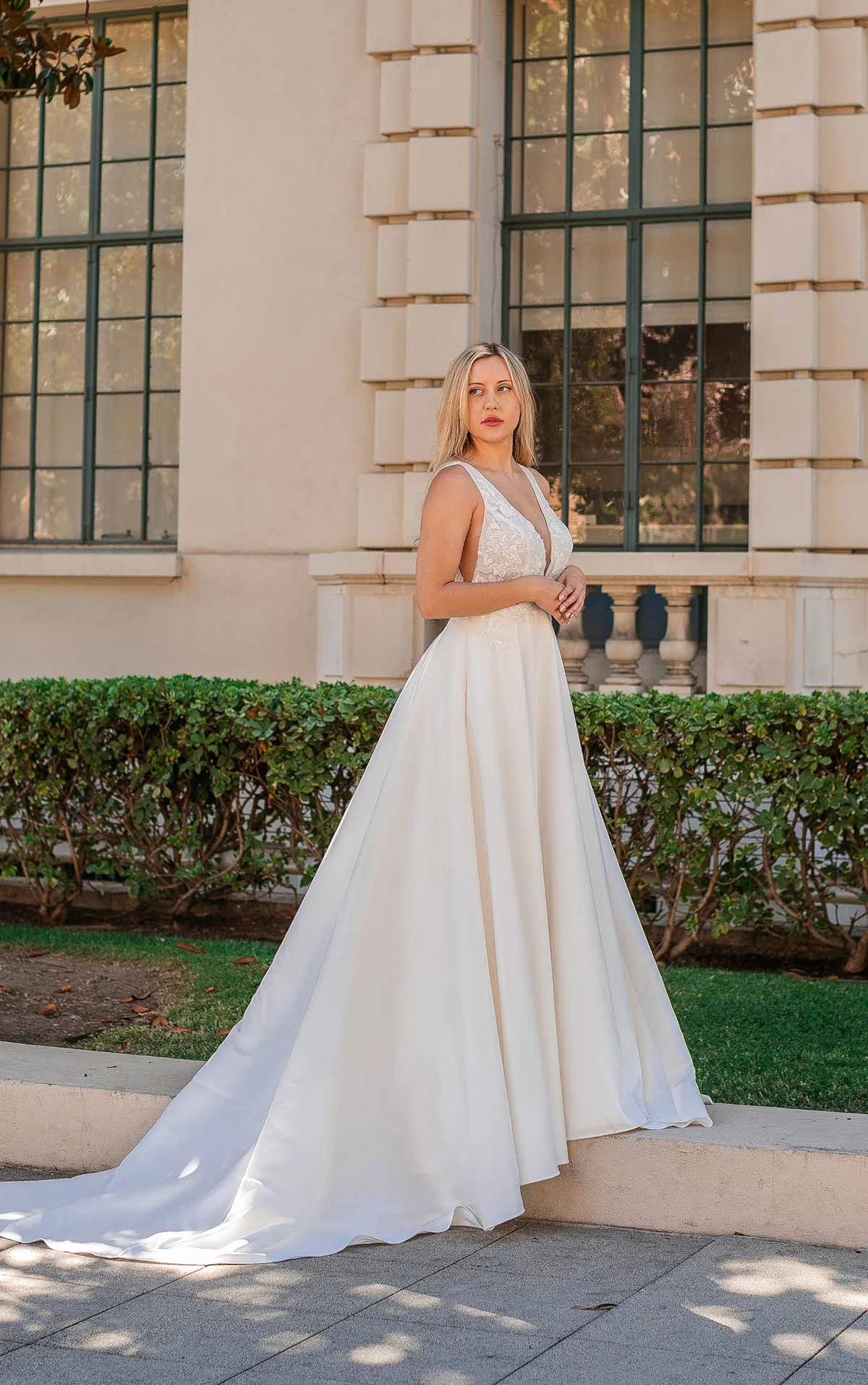 Essense of Australia Style D3640
Gemini (May 21 – June 20)
Qualities: Extroverted, Social Butterfly, Intelligent
Geminis are known for being extroverted and filled with endless energy. You're a social butterfly who loves spending time with friends and family. Show off your lively spirit in Essense of Australia Style D3563. This sleek column silhouette dress is accentuated by full long blouson sleeves and a dramatic open back that flawlessly pairs with the curve-hugging skirt.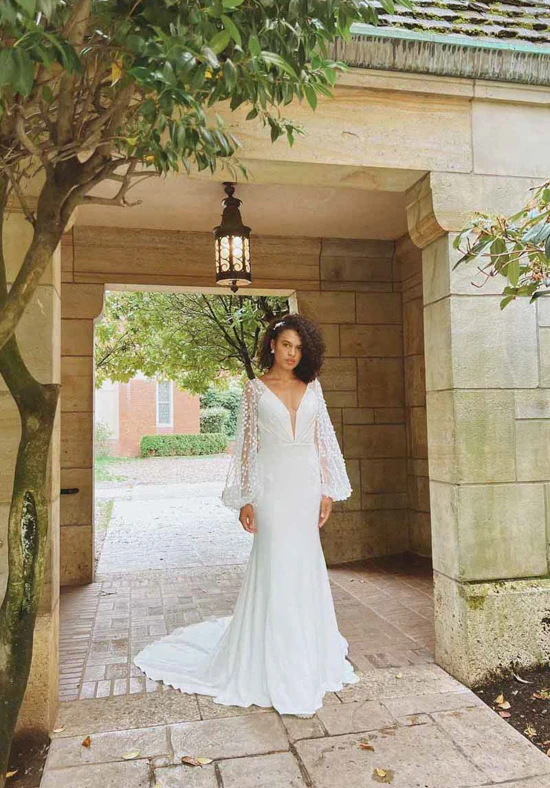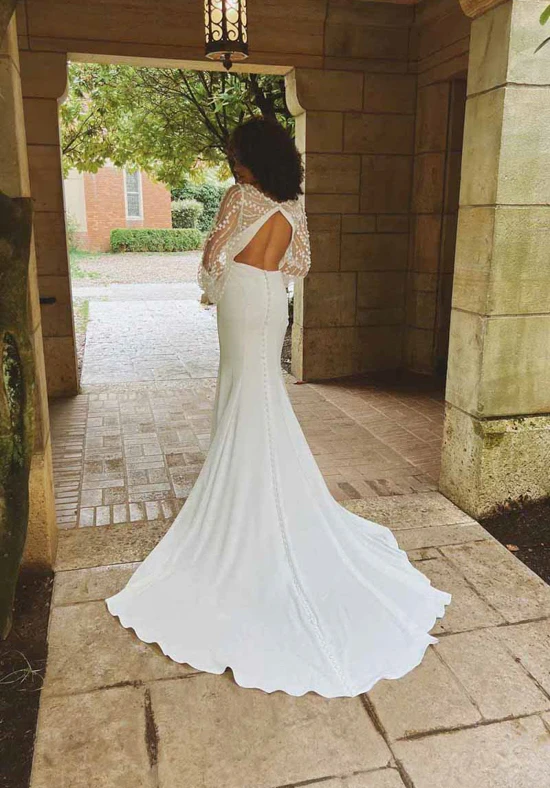 Essense of Australia Style D3563
Cancer (June 21 – July 22)
Qualities: Compassionate, Romantic, Intuitive
The Cancer bride is often viewed as the most sentimental of all. You're known for being incredibly nurturing, compassionate and intuitive. Your wedding dress should be just as romantic and sensitive as you are. Look no further than Stella York Style 7529! With its stunning ethereal silhouette and exquisite lace bodice with long sleeves, this ballgown is sure to make your special day unforgettable.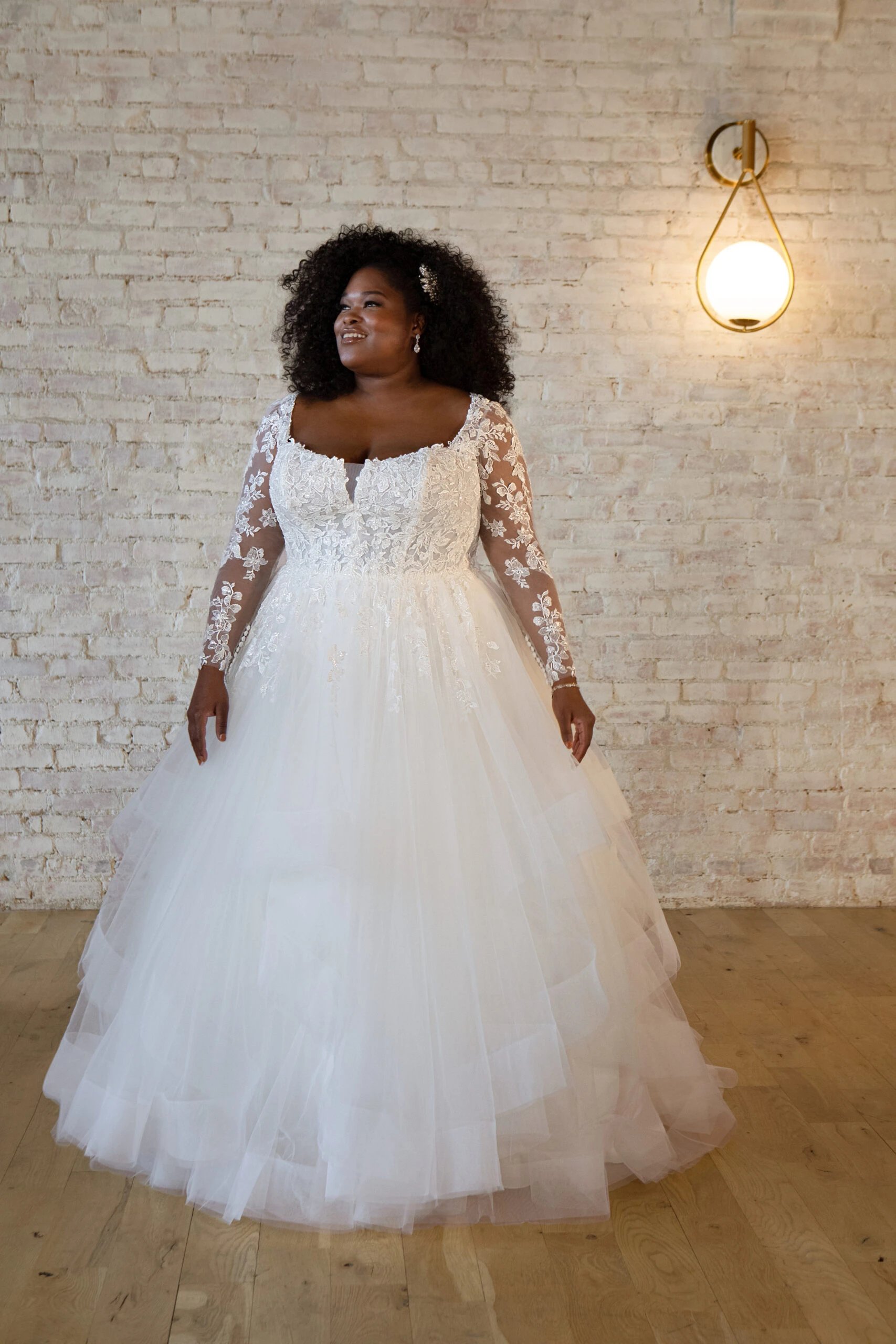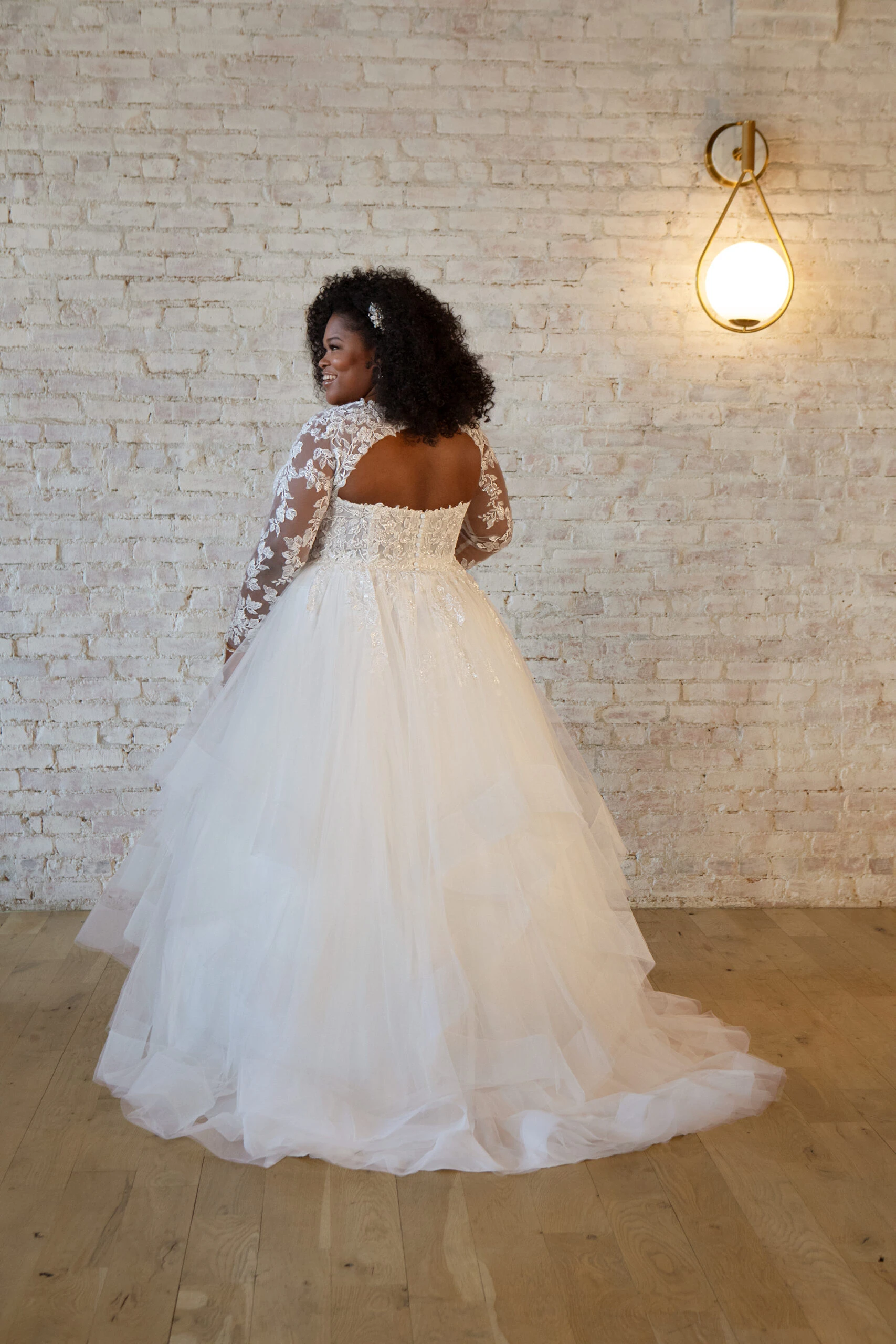 Leo (July 23 – August 22)
Qualities: Glamorous, Confident, Courageous
The Leo bride is glamorous and confident. You're not afraid to make a statement, so you need a dress that will do just that! Look no further than the luxurious Martina Liana Luxe Style LE1240. This sparkly fit-and-flare gown elevates the timeless allover lace bridal look into an opulent fashion statement.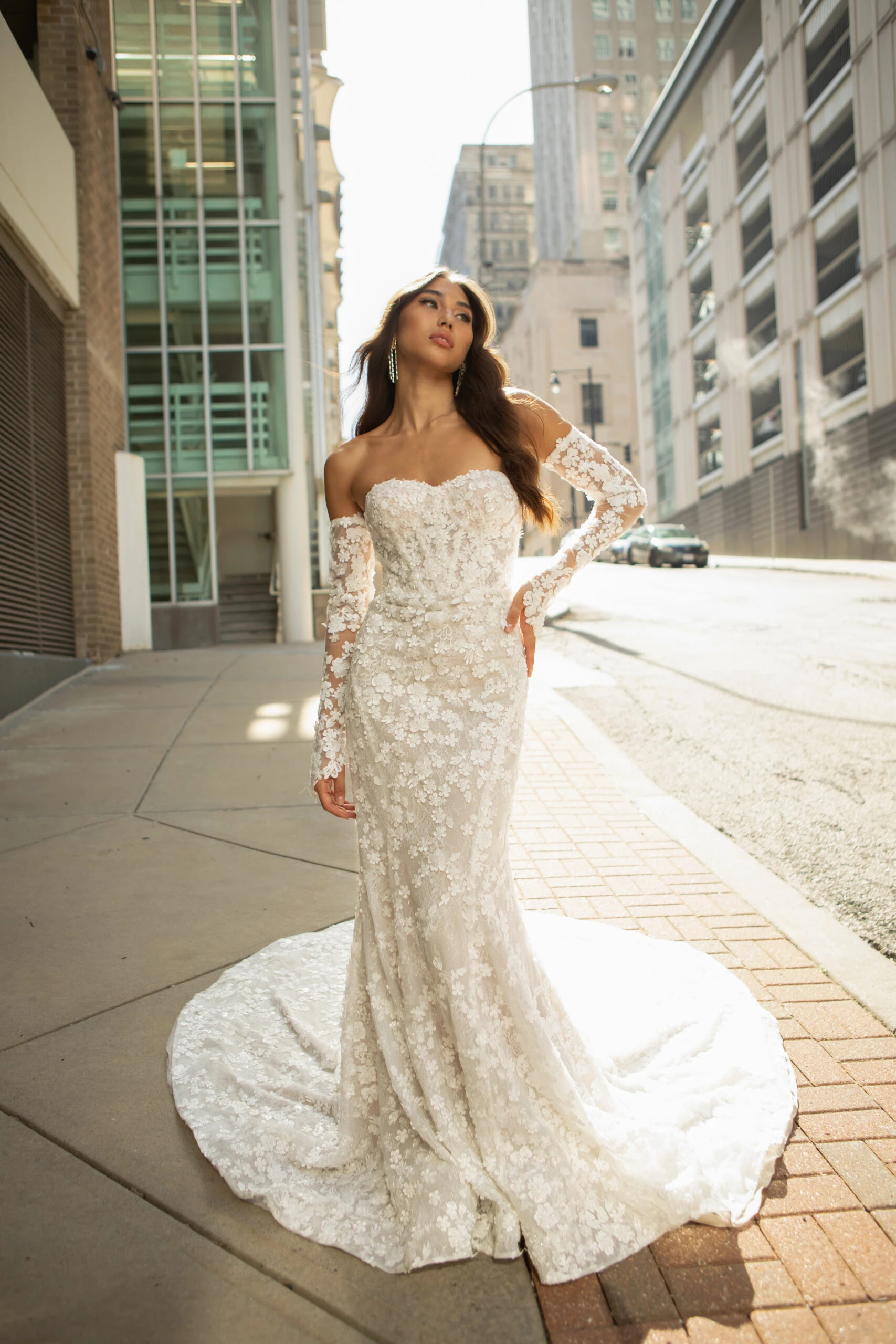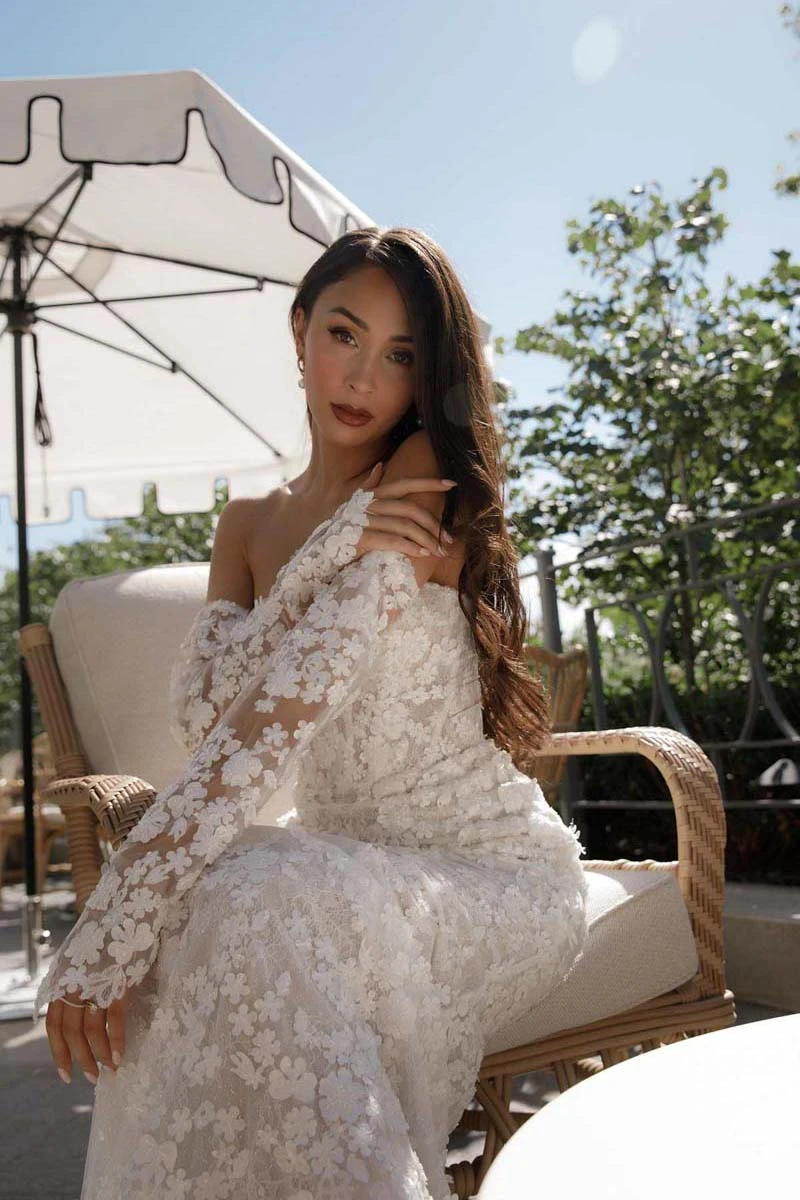 Martina Liana Luxe Style LE1240
Virgo (August 23 – September 22)
Qualities: Sensible, Loyal, Kind
Virgo brides are known for being sensible and loyal. You have a kind heart and want to make sure your wedding dress is as practical and gentle as you are. Martina Liana Style 1566 is a beautiful choice for you! It combines the best of both worlds — sleek minimalism and soft elegance. Its draped off-the-shoulder straps and neckline will make you look and feel like a true Virgo goddess on your big day.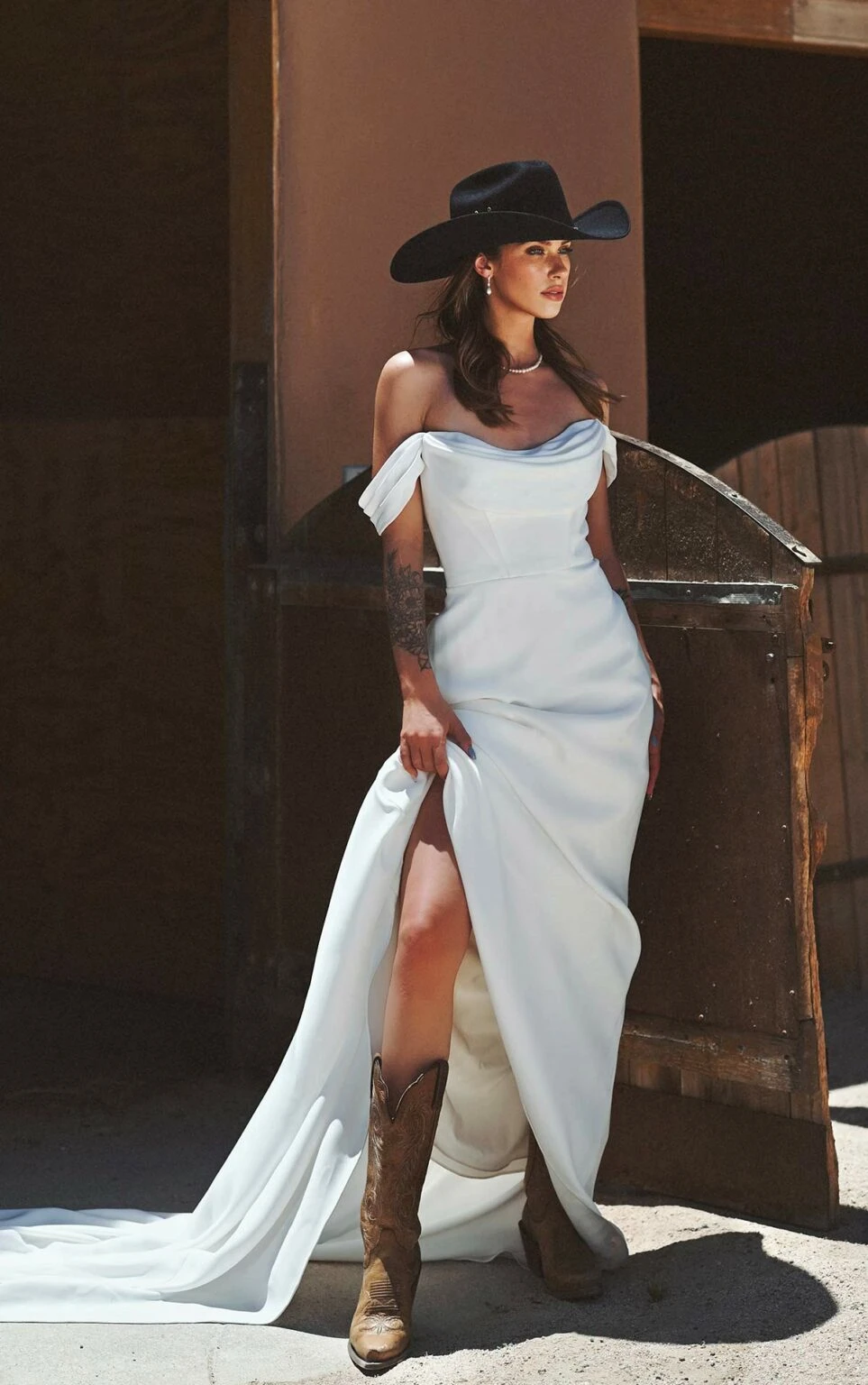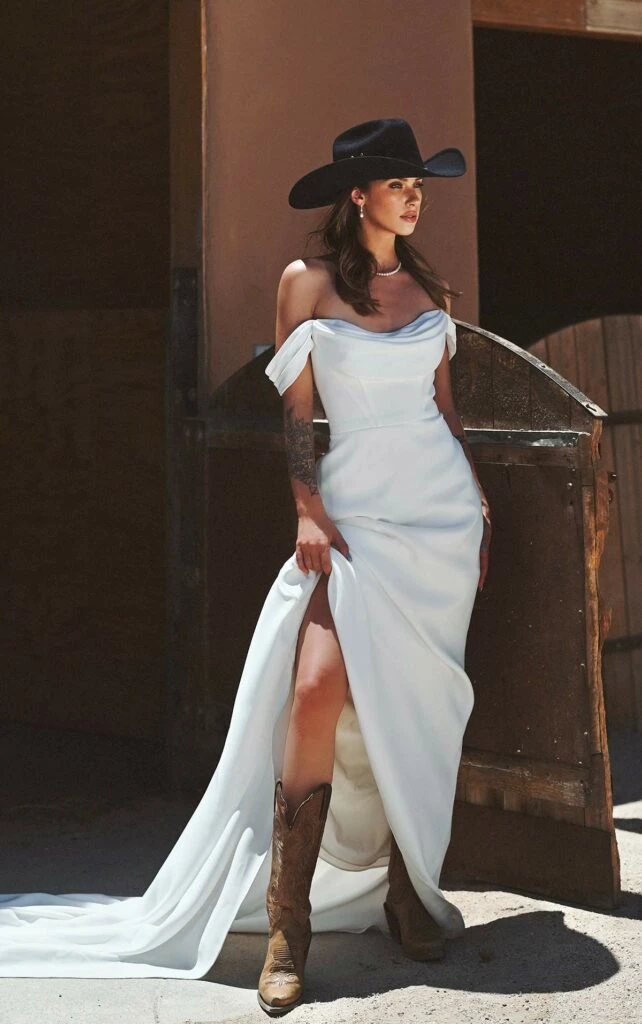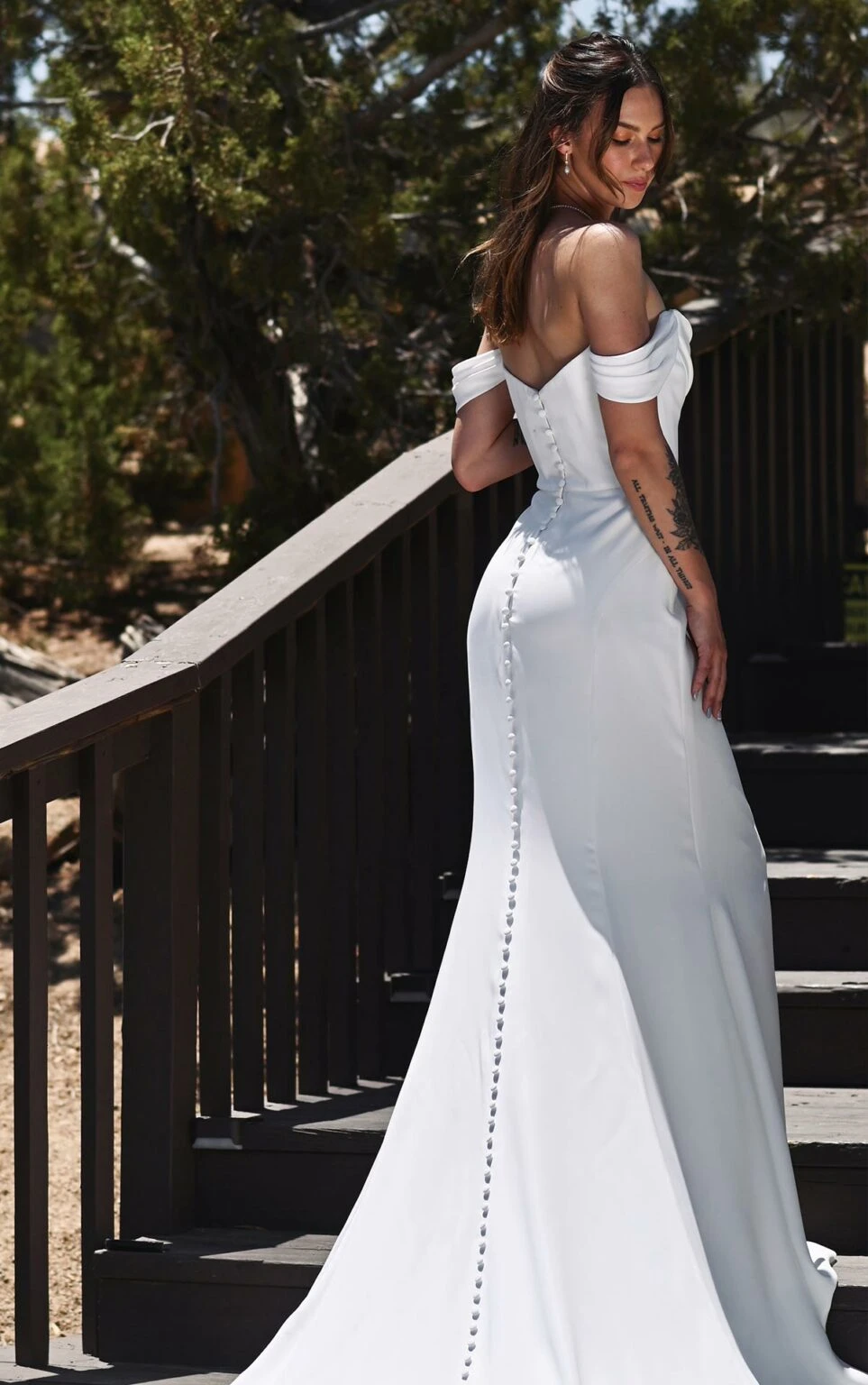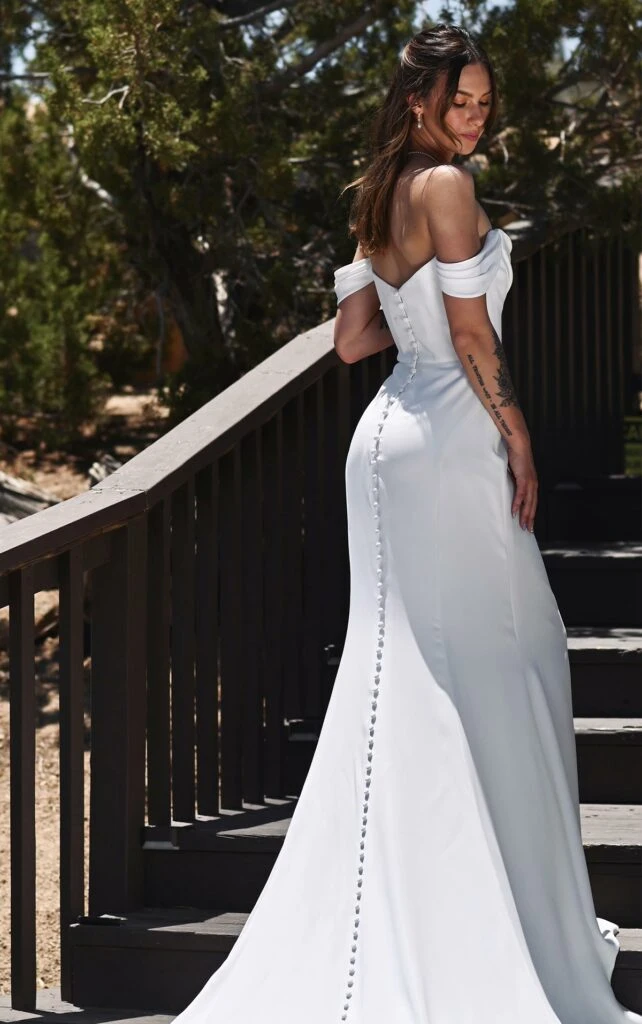 Libra (September 23 – October 22)
Qualities: Simplistic, Charming, Timeless
For the zodiac sign of Libra, grace and balance are key. You're a charming person who loves timeless style. The ideal wedding dress for you is Stella York Style 7664 — a stylish and chic column gown featuring a modern silhouette that is sure to turn heads. Make your entrance unforgettable with an exquisite sheer lace open-back detail, designed with a flawless balance between simplistic sophistication and timeless charm.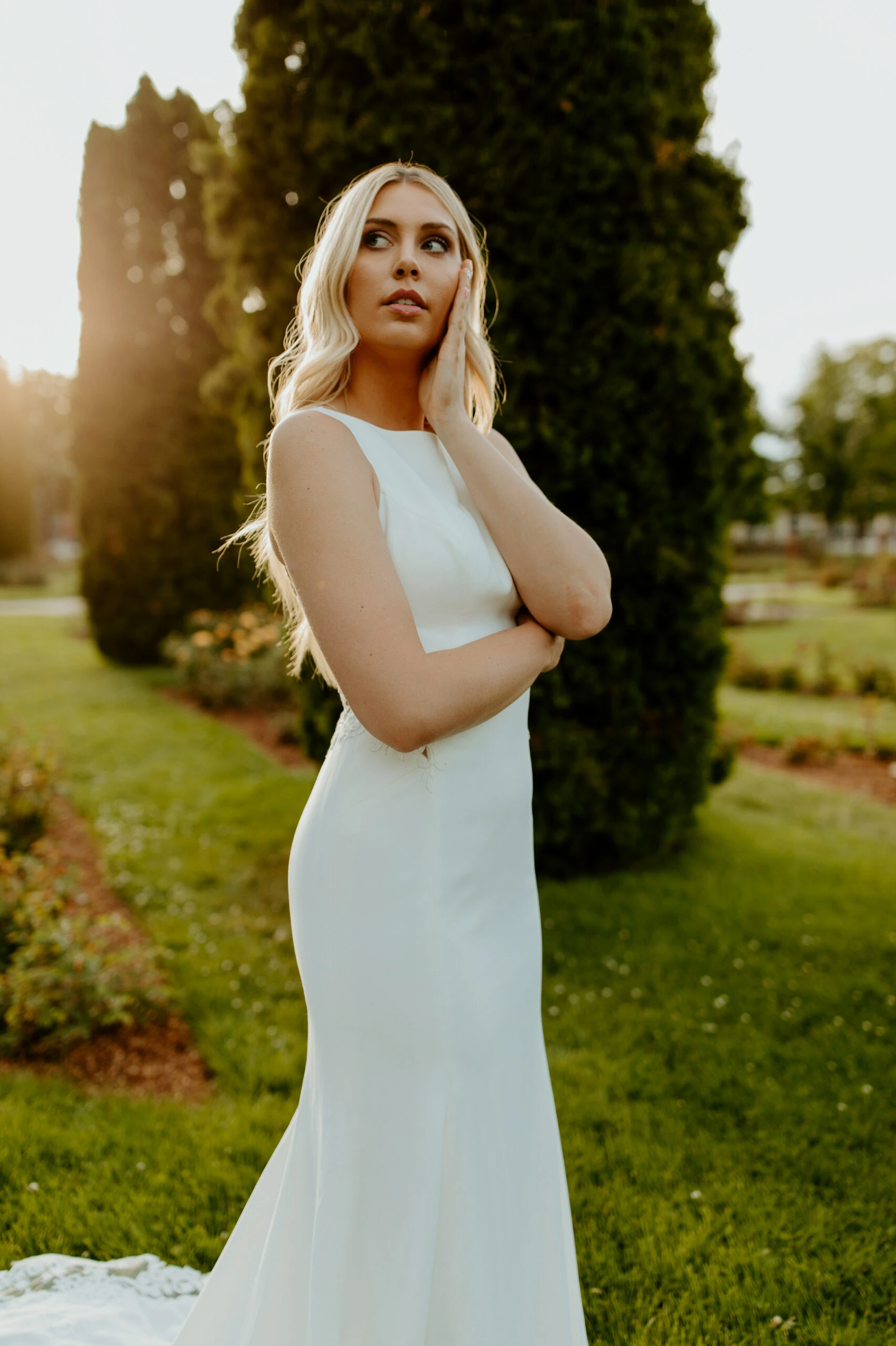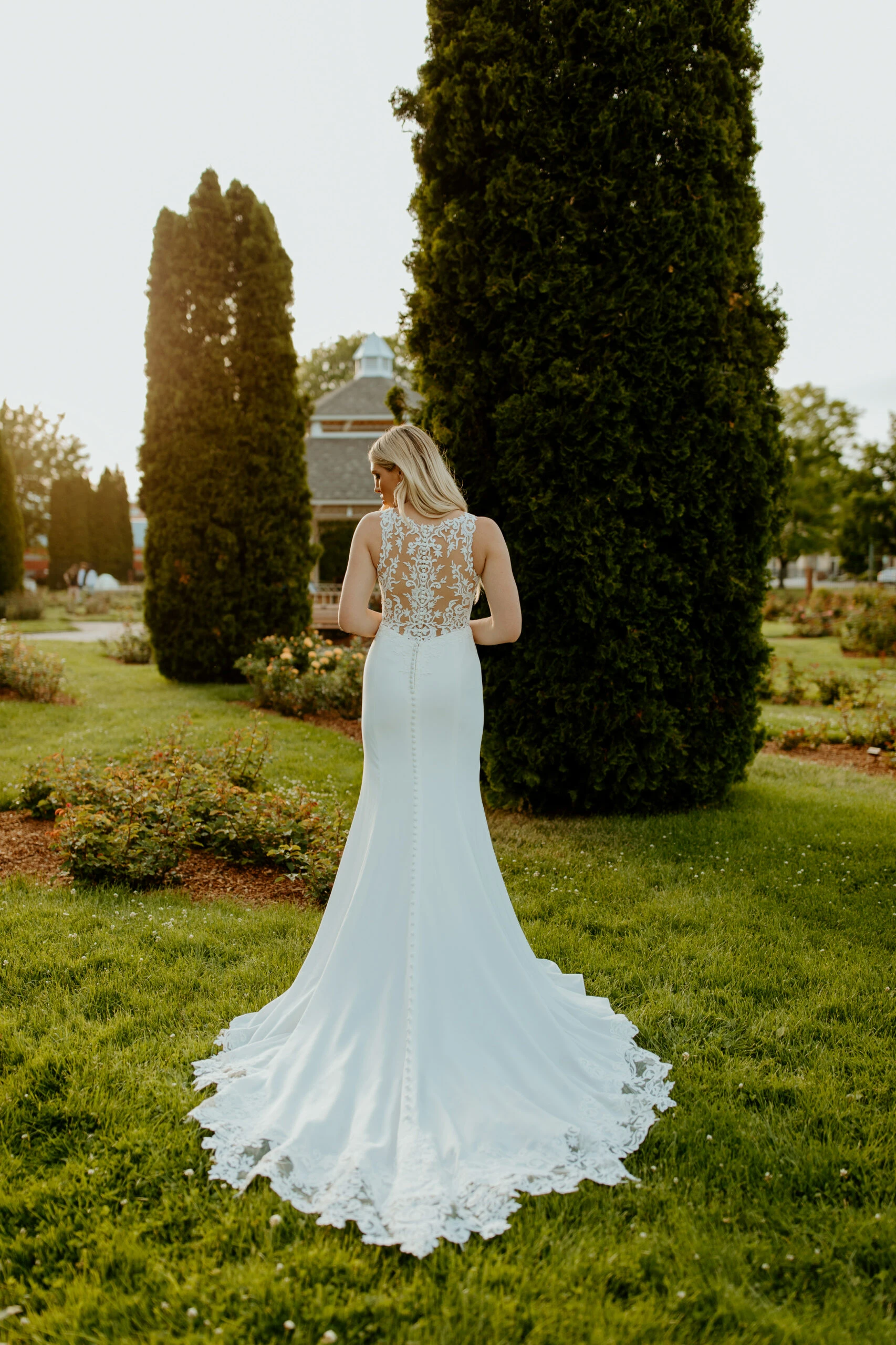 Scorpio (October 23 – November 21)
Qualities: Determined, Passionate, Ambitious
Scorpio brides are known for being determined and ambitious. You're a passionate person who loves to take risks and be daring. Show off your boldness in Martina Liana Style 1525! This exquisite lace-column wedding dress infuses both traditional bridal style and modern bohemian glamour for a stunningly chic look that is anything but ordinary.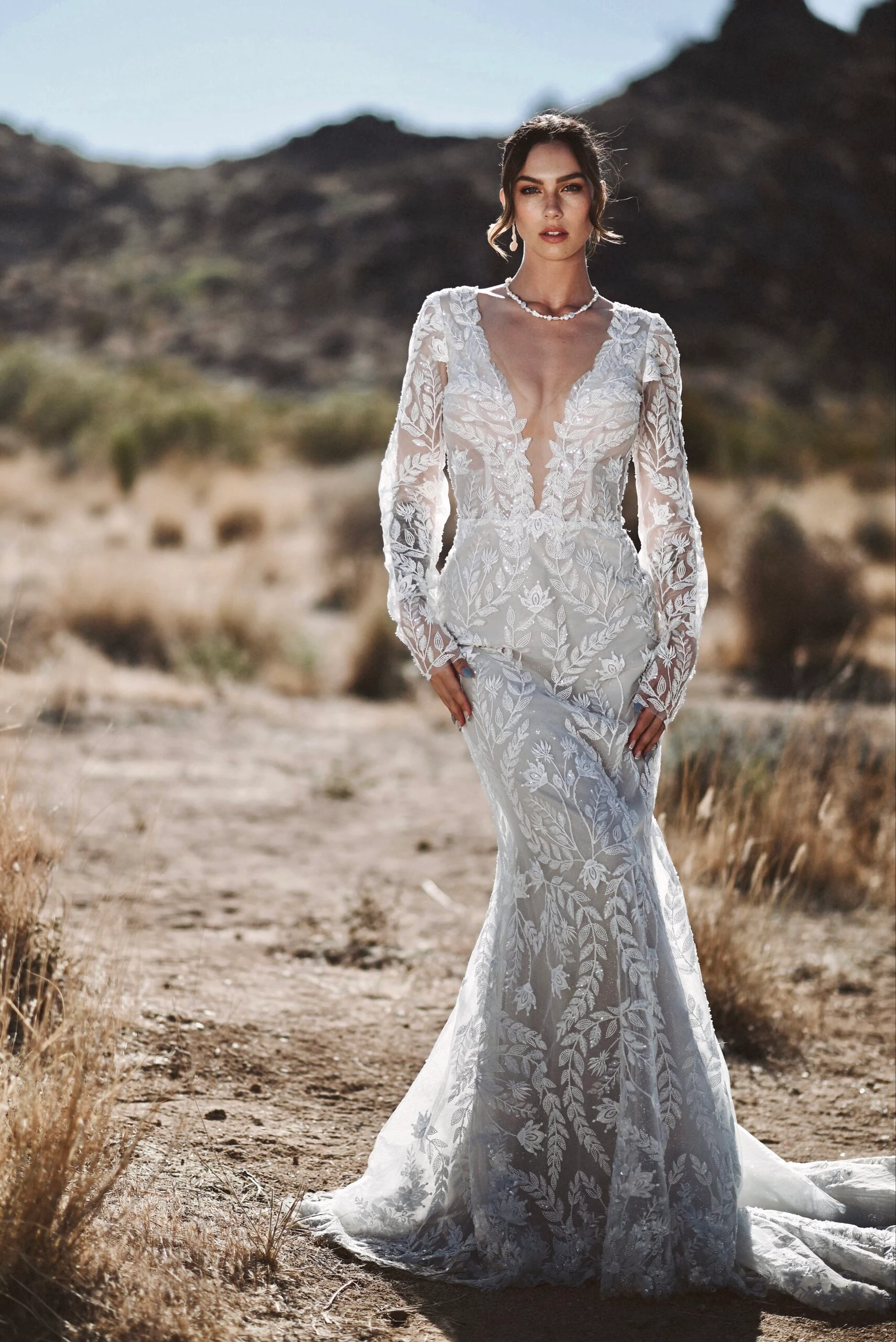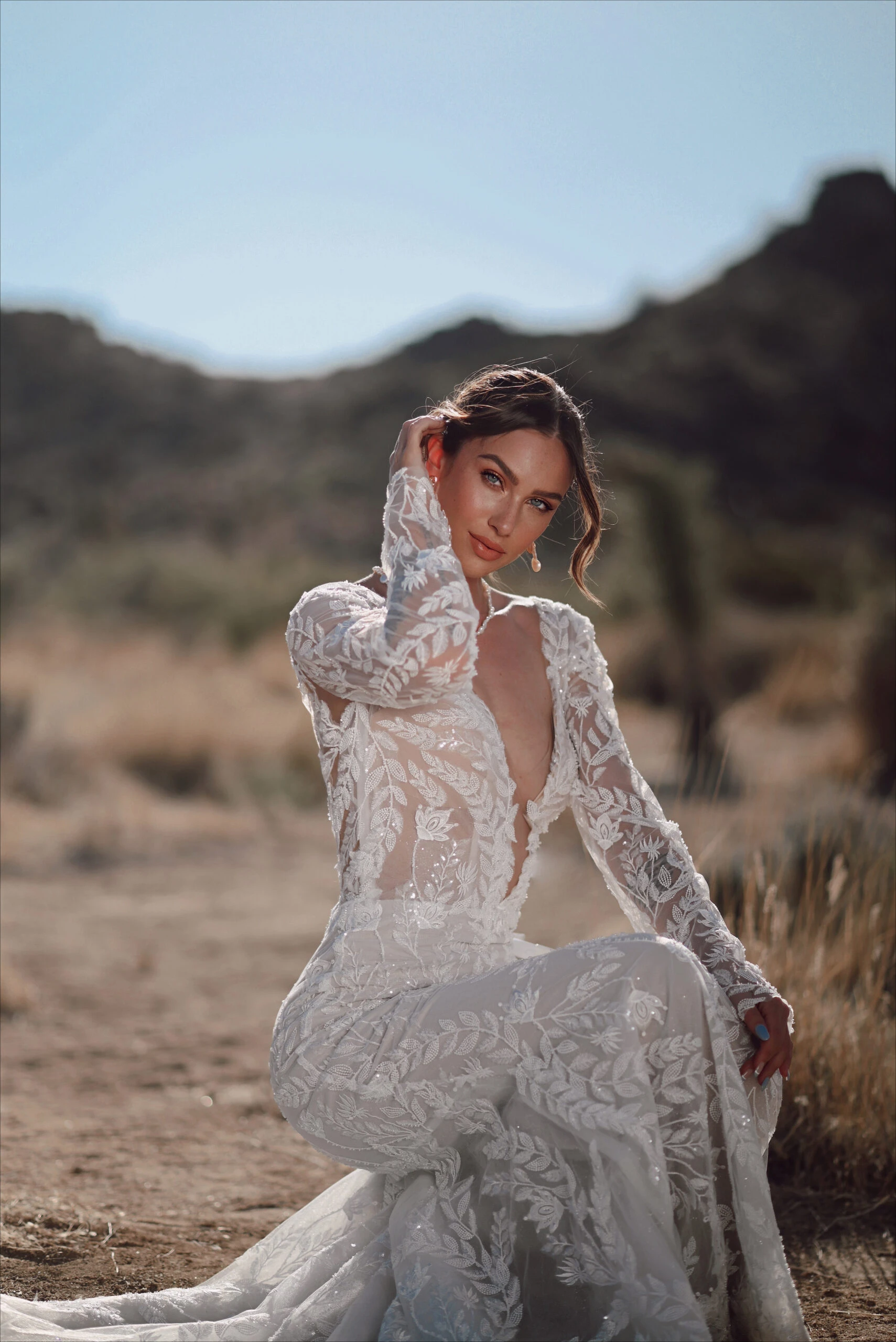 Sagittarius (November 22 – December 21)
Qualities: Optimistic, Social, Honest
Idealistic and frank, Sagittarius brides seek to make their wedding day a reflection of their vibrant personalities. You are an outgoing individual who loves being surrounded by friends and family! Let your fun-loving persona shine with Martina Liana Style 1488.
Make a striking statement in this mesmerizing bridal look featuring a figure-flattering fit-and-flare silhouette adorned with beaded floral lace appliqués. The lusciously layered skirt and sparkling tulle add a shimmering dimension for a bold finishing touch.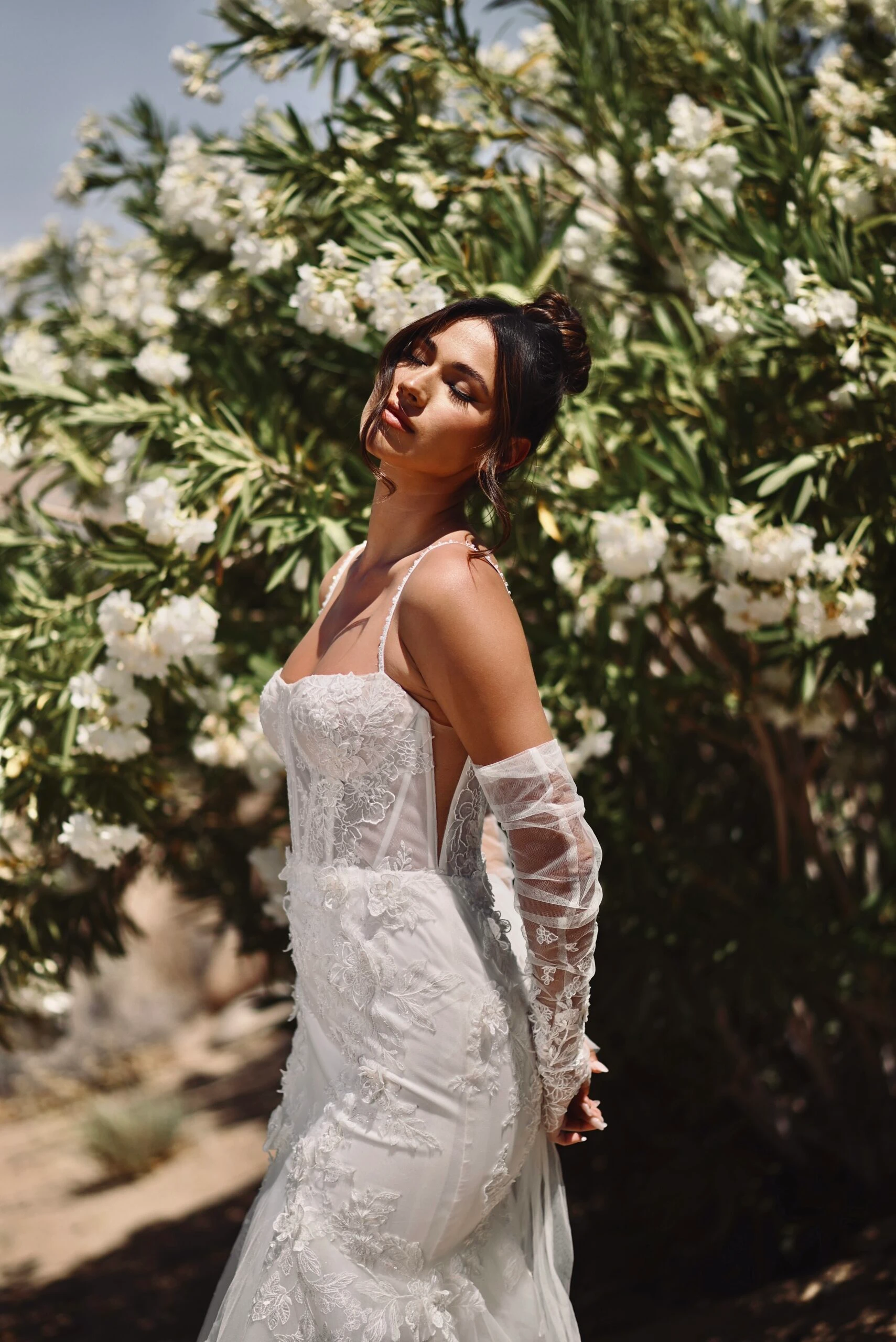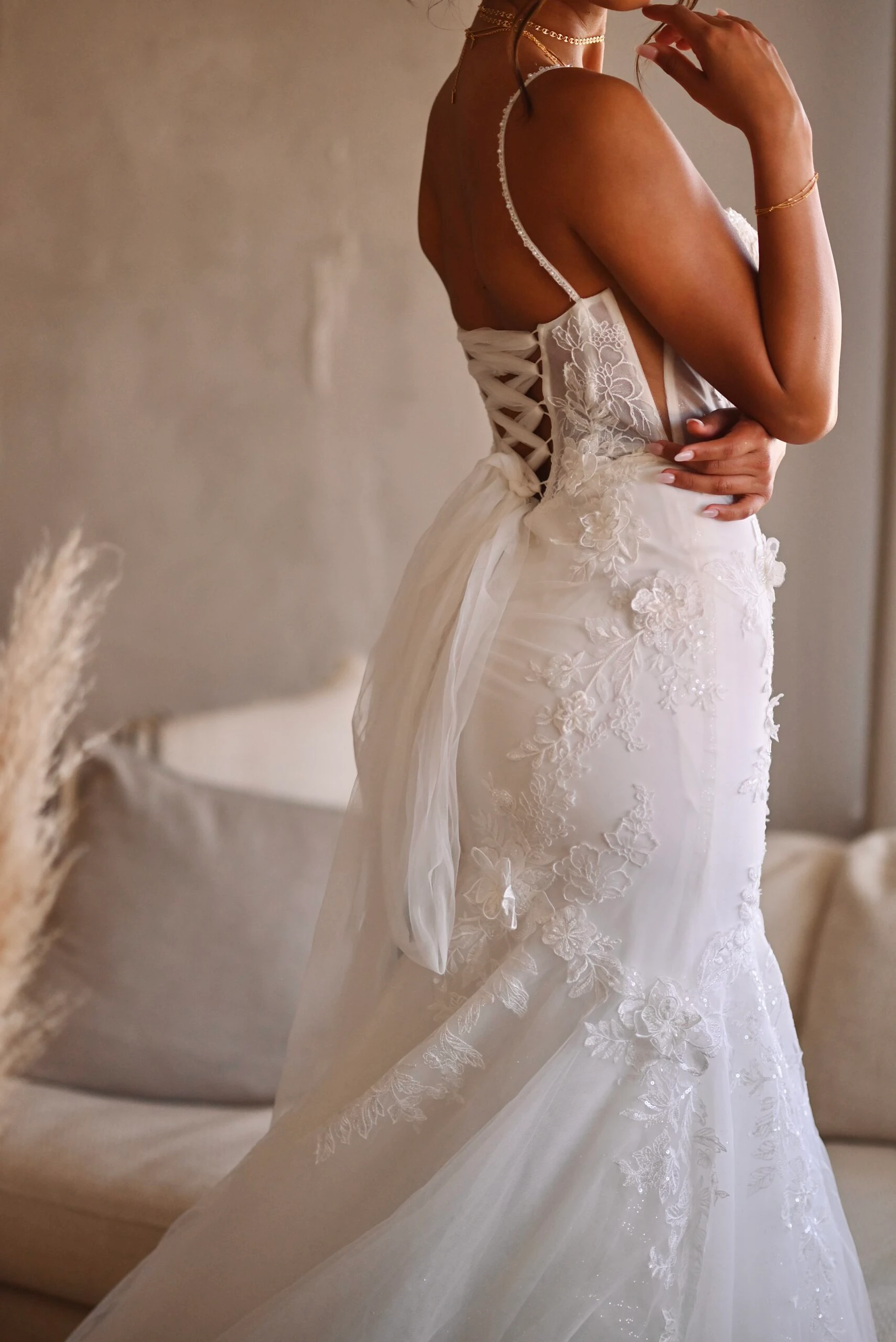 Capricorn (December 22 – January 19)
Qualities: Ambitious, Intellectual, Loving
If you're a Capricorn, then ambition and clever thinking are cornerstones of your personality. When looking for an unforgettable dress to wear down the aisle on your special day, let Essense of Australia Style D3631 fill in those requirements!
It is crafted from gorgeous matte Mikado fabric and features an off-the-shoulder shawl, a pleated bodice and a high slit for extra allure. Embrace your ambitious nature by making this magnificent gown part of your story!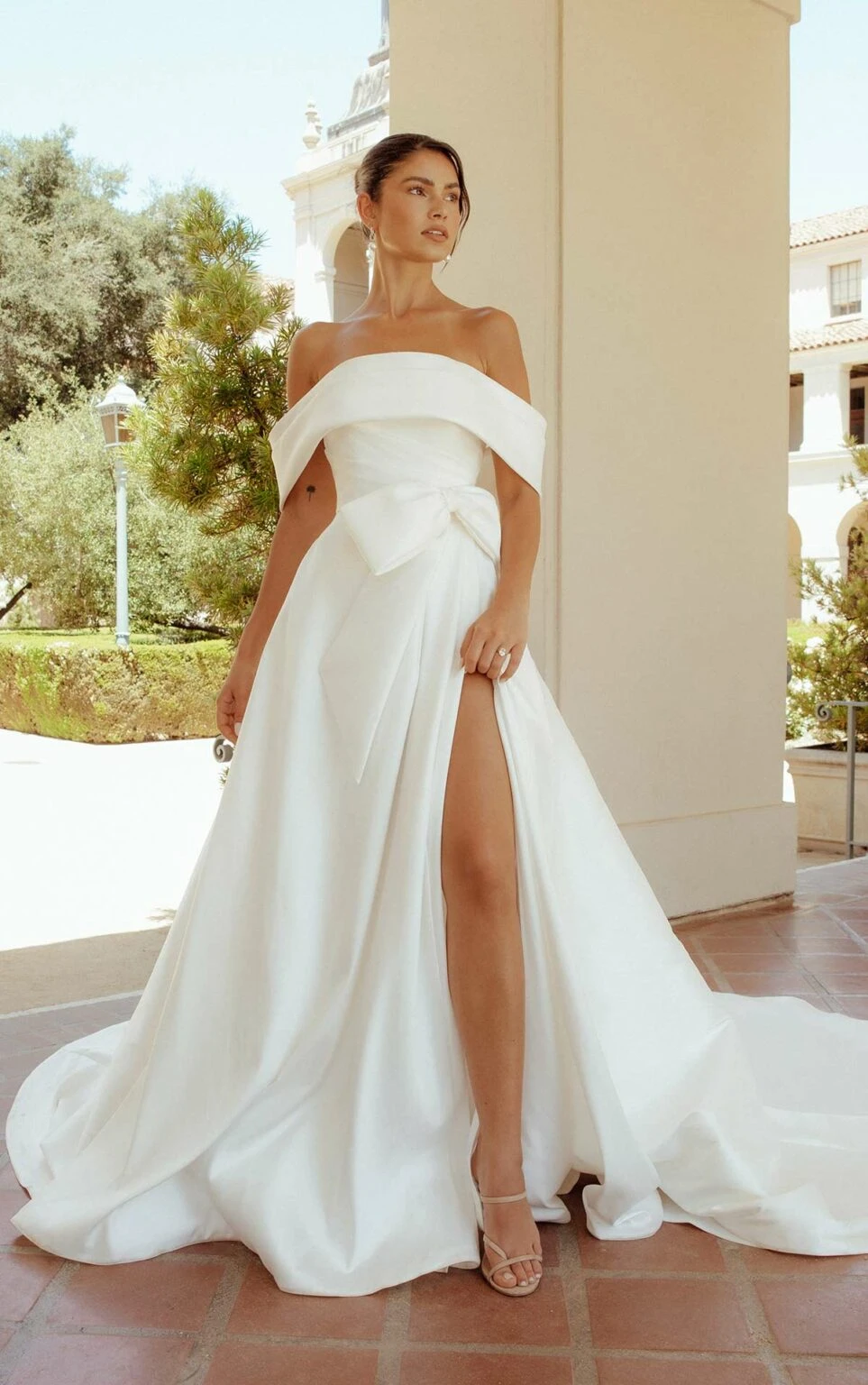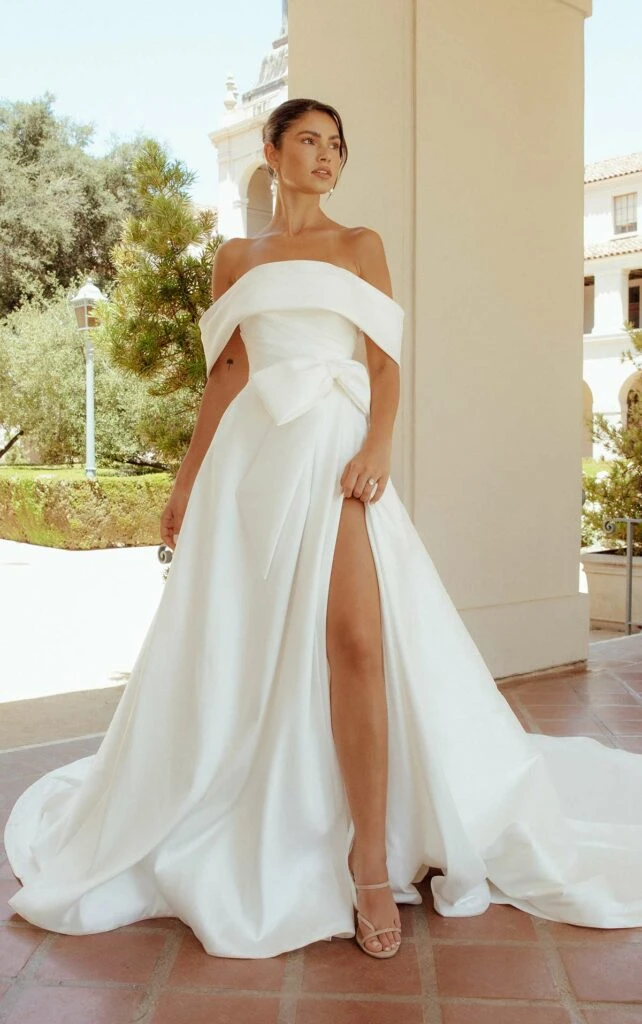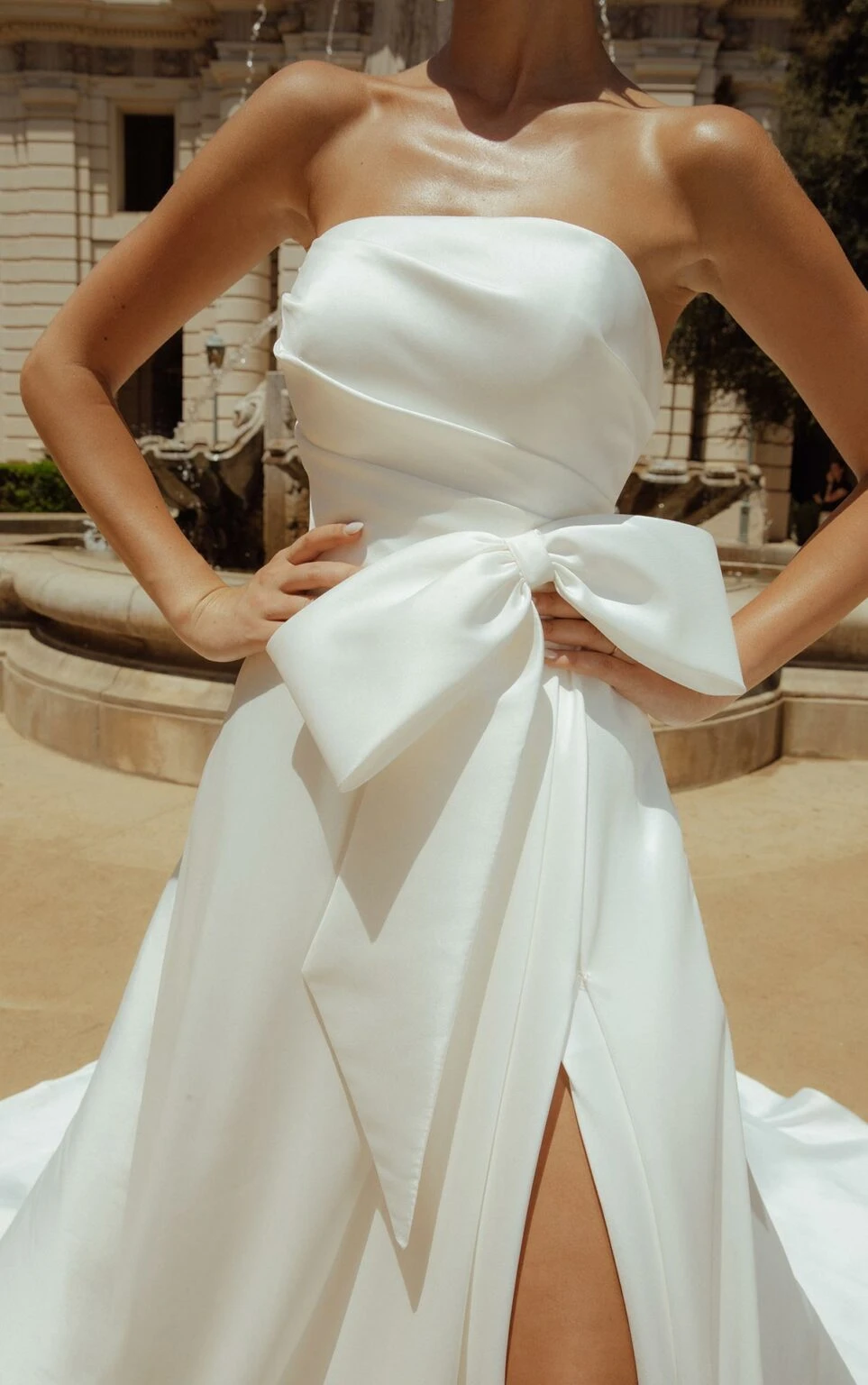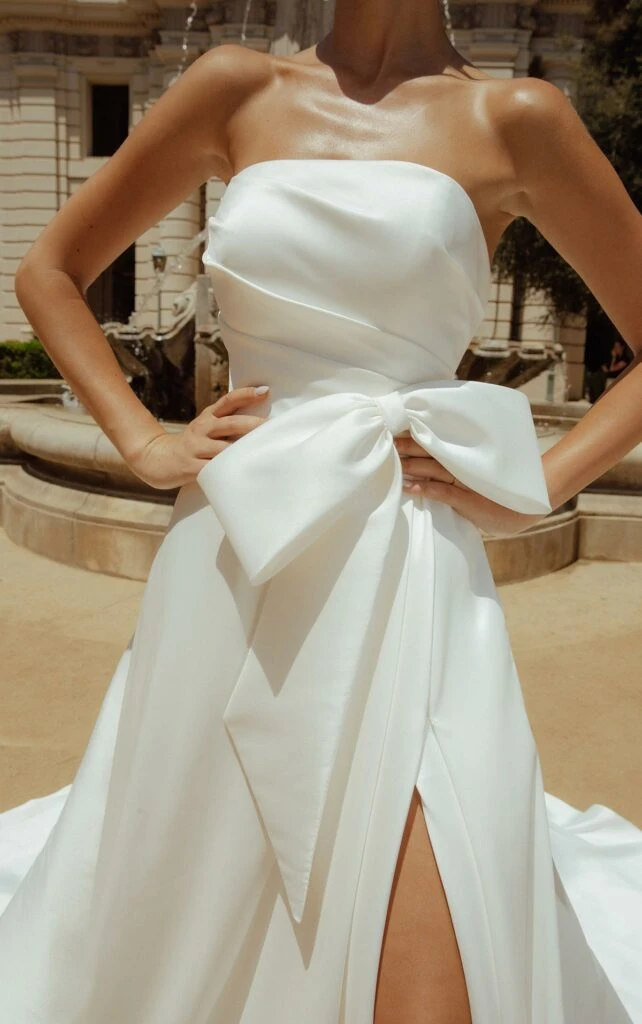 Essense of Australia Style D3631
Aquarius (January 20 – February 18)
Qualities: Creative, Independent, Modern
Aquarius brides are known for being independent, creative and always ahead of the curve with modern fashion. Step into the spotlight with Stella York Style 7609 and make a show-stopping entrance! Creative and romantic, this lovely A-line gown offers a sheer bodice adorned with radiant 3D florals, delicate lace shoulder straps and an alluring bead-embellished plunging V-neckline.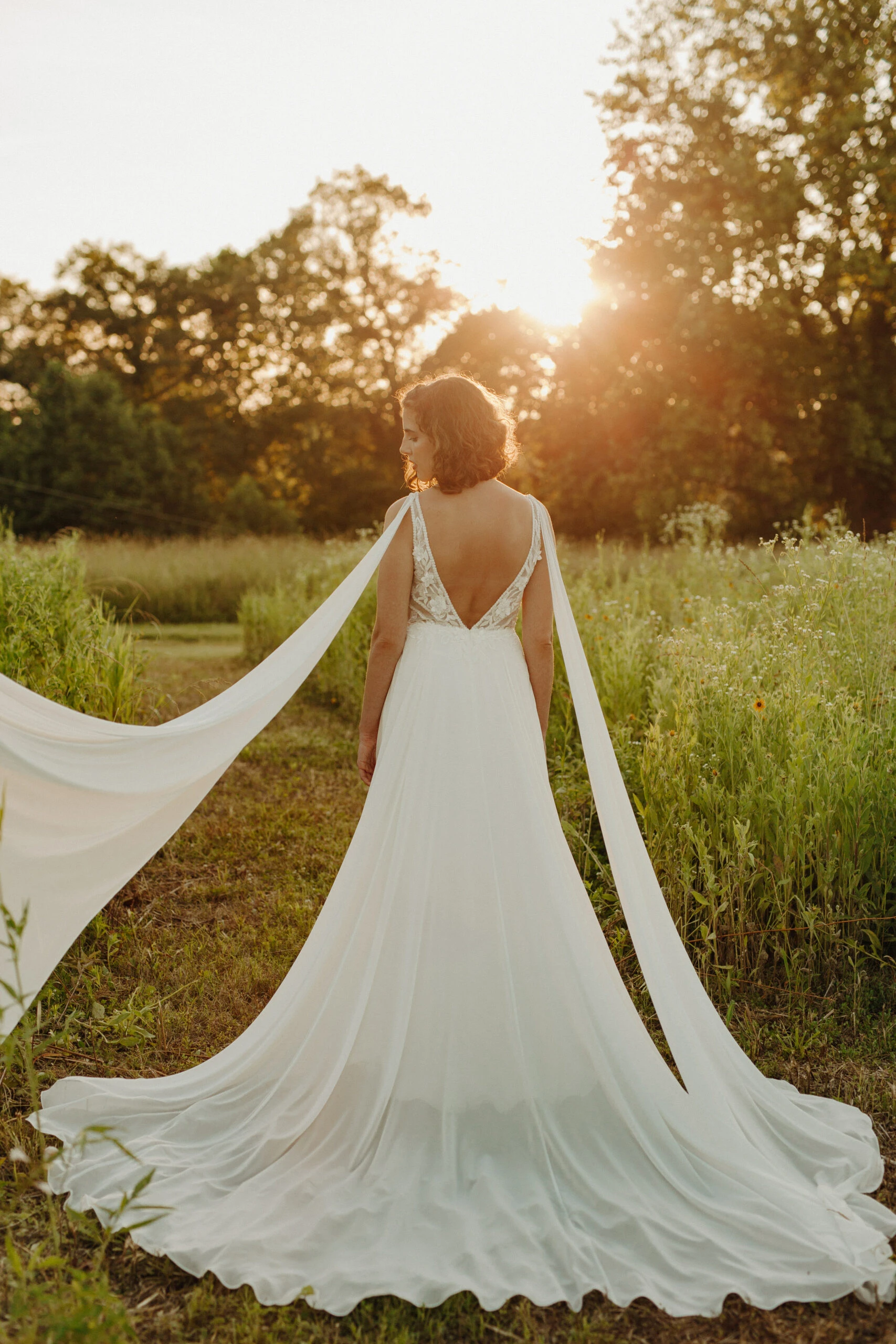 Pisces (February 19 – March 20)
Qualities: Gracious, Romantic, Traditional
For a Pisces bride, it's essential to embody the essence of gracefulness and sentimentality. With an ethereal vibe and contemporary approach to tradition, the All Who Wander maeve gown is meant for you! This one-of-a-kind design will make you look timelessly beautiful on your special day while keeping true to who you are.
Crafted with romantic 3D floral lace applique and delicate flowing tulle, this gorgeous wedding dress is ideal for the Pisces seeking to make a graceful statement.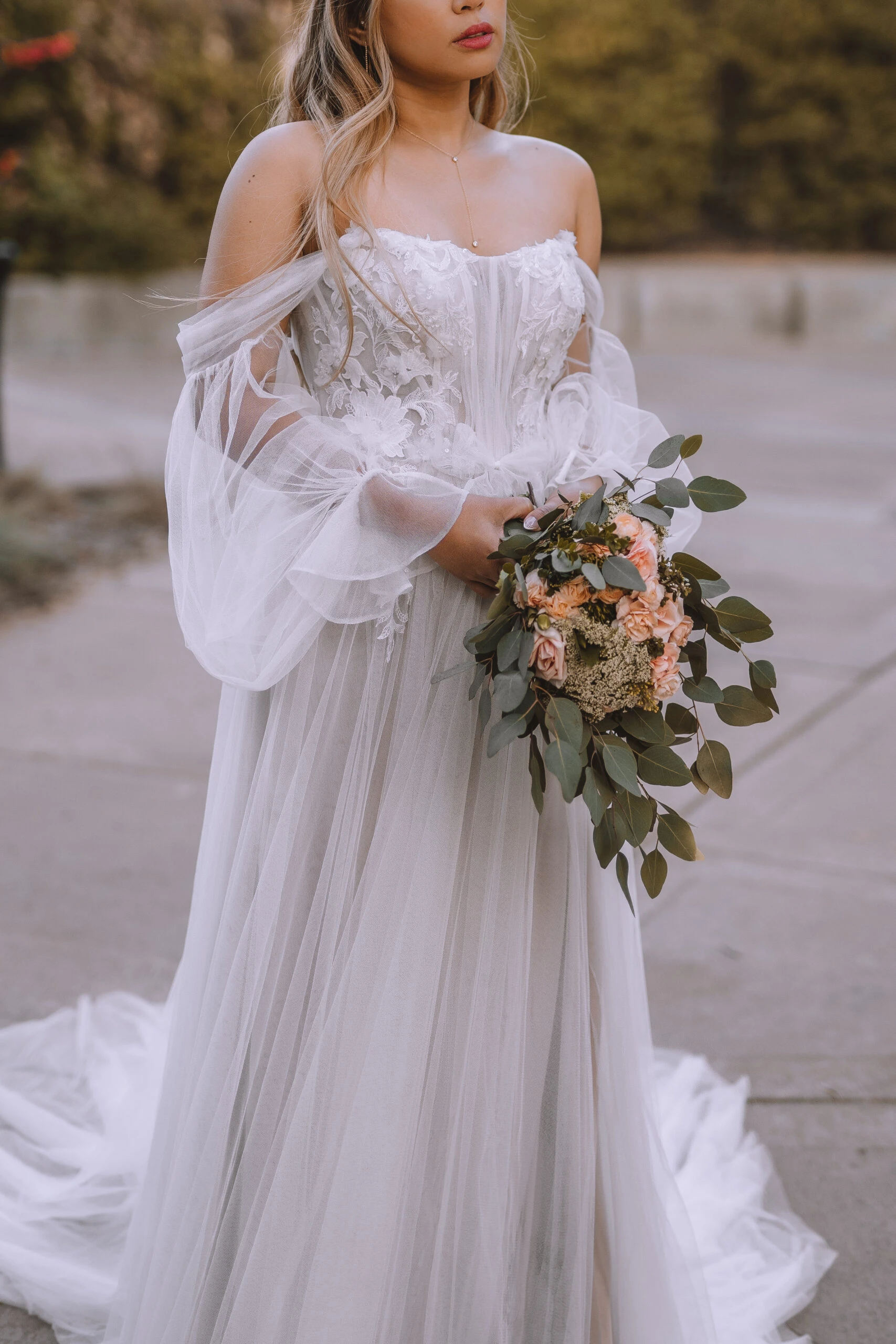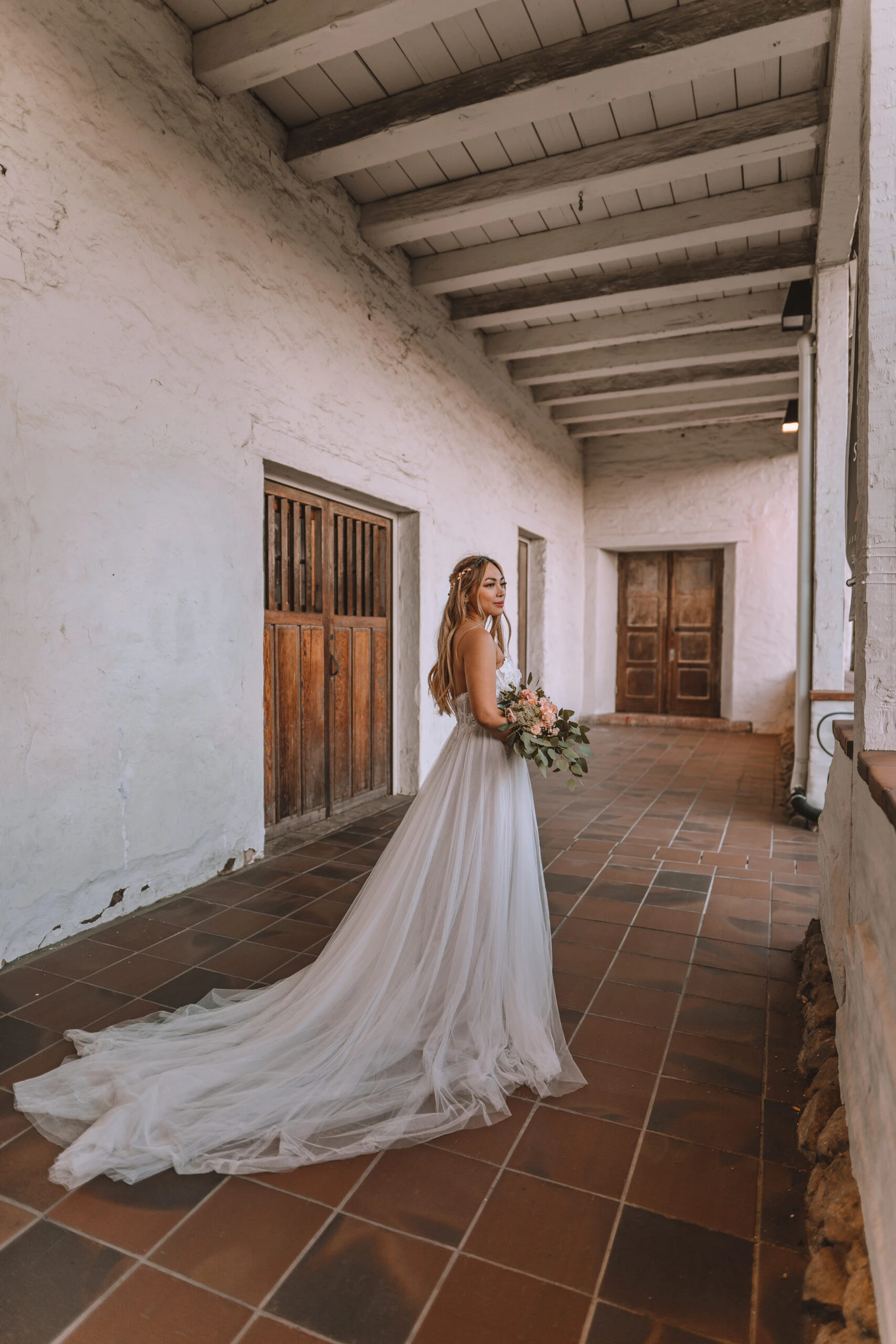 It starts with the stars and ends with happily ever after! Screenshot which zodiac sign wedding dresses were on your radar and book an appointment at your nearest True Society store as soon as possible. Availability varies per store!