From regal to glam to minimalistic, there are many words to describe your bridal vision! For brides who dream of whimsical wedding or flowy fairytale wedding dresses, your bridal style may be described as ethereal.
Do you want to know if an ethereal wedding dress is what you're wanting? Continue reading to learn more about everything ethereal wedding dresses and to see some of the True Crew's top picks for the whimsical bride!
What is an Ethereal Wedding Dress?
So, what exactly is an ethereal wedding dress? Here are a few characteristics that set this dreamy style apart:
Ethereal wedding dresses are ideal for the bride searching for a whimsical, romantic or bohemian look.
Ethereal wedding gowns often feature delicate details, soft fabrics (tulle, chiffon and organza) and easy silhouettes. Think 3D flowers and nature-inspired details, flutter sleeves and flowing skirts.
A common wedding dress silhouette that lends itself to an ethereal look is the A-line silhouette. However, any style can be ethereal depending on the wedding dress fabrics and embellishments.
What Does it Mean to Be Ethereal? 
To be ethereal means to be light, delicate, airy and even heavenly. The term "ethereal" comes from the Greek word for ether, which means "air." When it comes to wedding dresses, "airy" often refers to fabrics and embellishments.
No wonder ethereal wedding dresses are often dreamy, with layers of light fabrics, weightless details and the ability to make you look (and feel!) like you're floating down the aisle! Typically, heavier fabrics like satin and glamorous details like larger crystals and ultra-beaded embroideries won't be found on an ethereal wedding gown.
Are There Different Types of Ethereal Looks When It Comes to Wedding Dresses?
Yes! Ethereal wedding dresses can be found across multiple bridal styles. You can opt for a more regal look with a tulle ballgown, like those from Stella York or go romantic with dimensional flowers and blush flowing tulle, like gowns from Essense of Australia. For a more boho or beachy look, check out bridal gowns from All Who Wander, that offers endless options of chiffon or fluttering sleeves and lacy details.
Ethereal Wedding Dresses
Ethereal Fairy Wedding Dress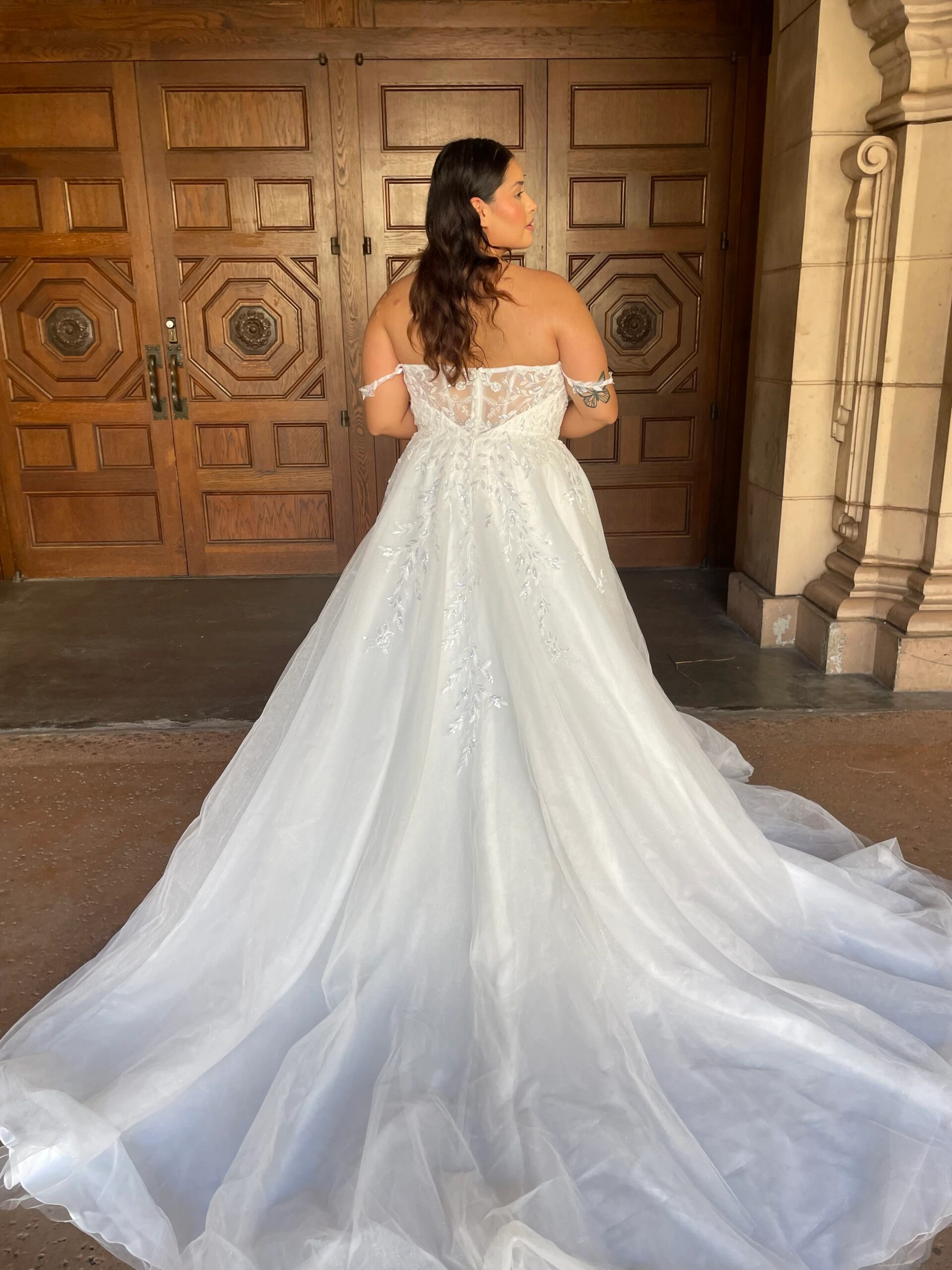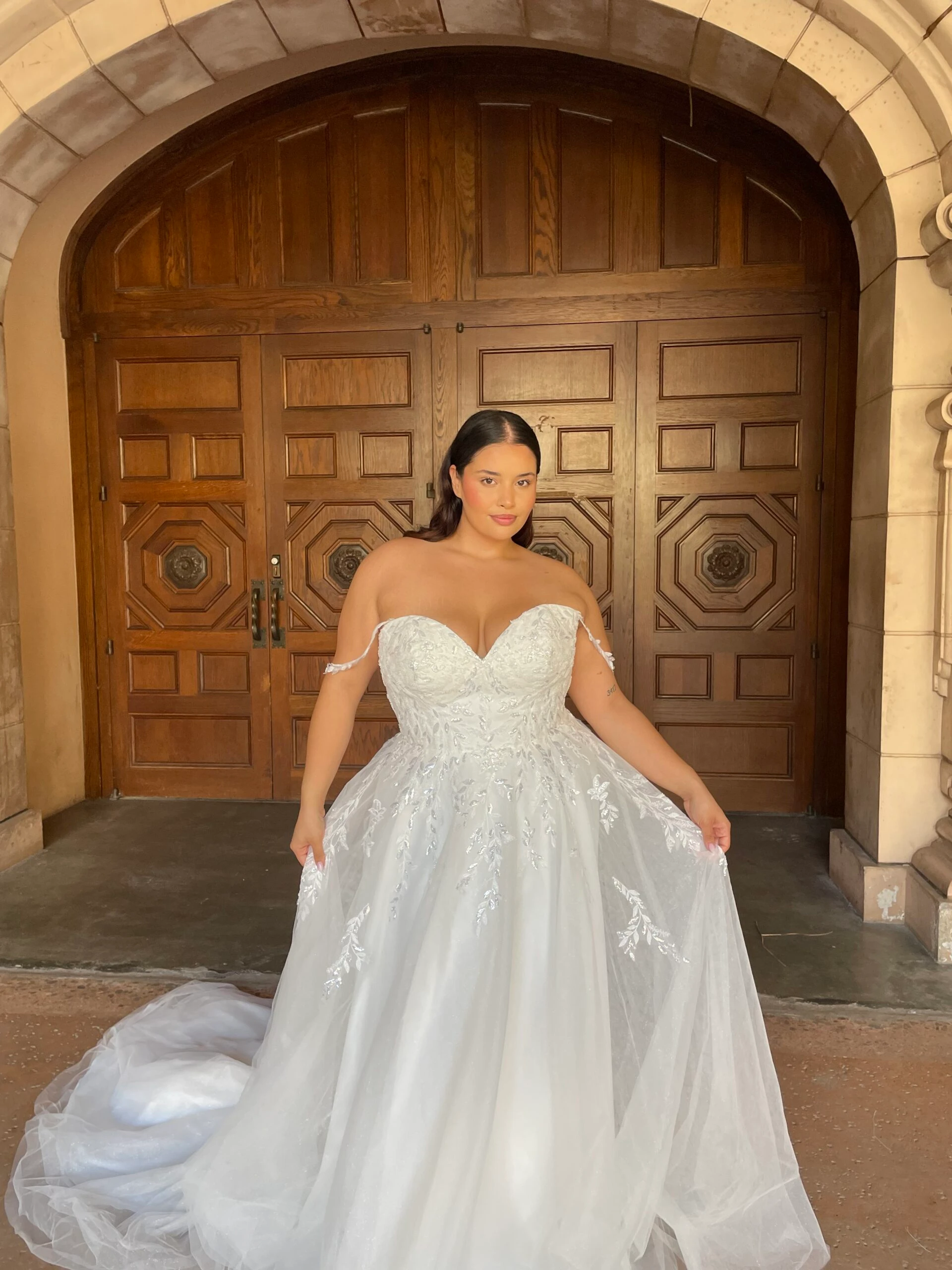 For the bride searching for a whimsical wedding dress fit for a fairy, look no further than Stella York Style 7633! Soft, sparkling and seriously luxurious, this fairytale wedding dress is a romantic bride's dream.
Delicate detachable leafy lace straps meet a sweetheart neckline bodice for a nature-inspired look painted with sparkles on every inch. The semi-sheer bodice opens into a shimmery A-line skirt with cascading beaded lace accents. Ethereal and glamorous, the billowing layers of luminous glittering tulle add a captivating finish to this ultra-romantic dress.
Long Sleeve Ethereal Wedding Dress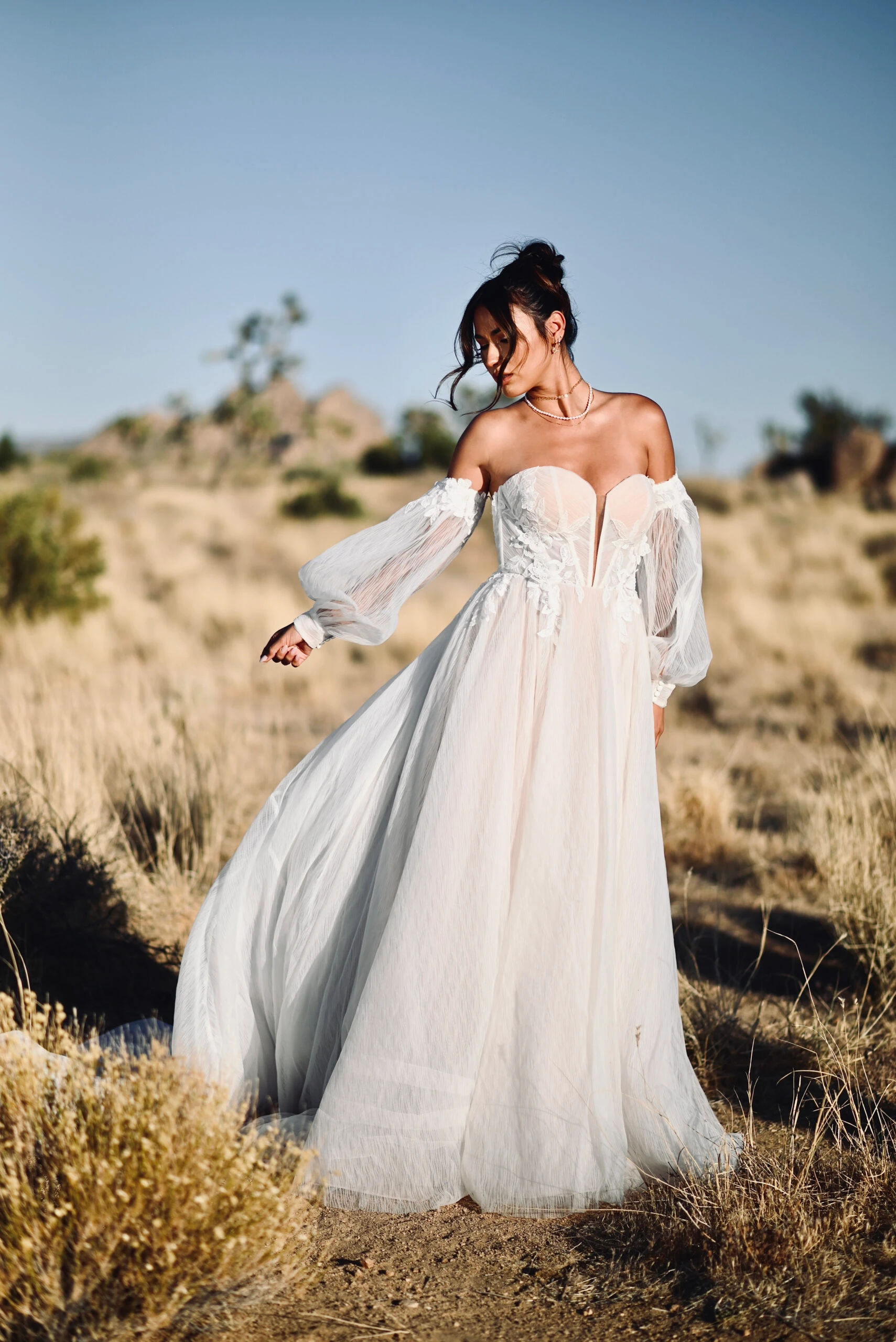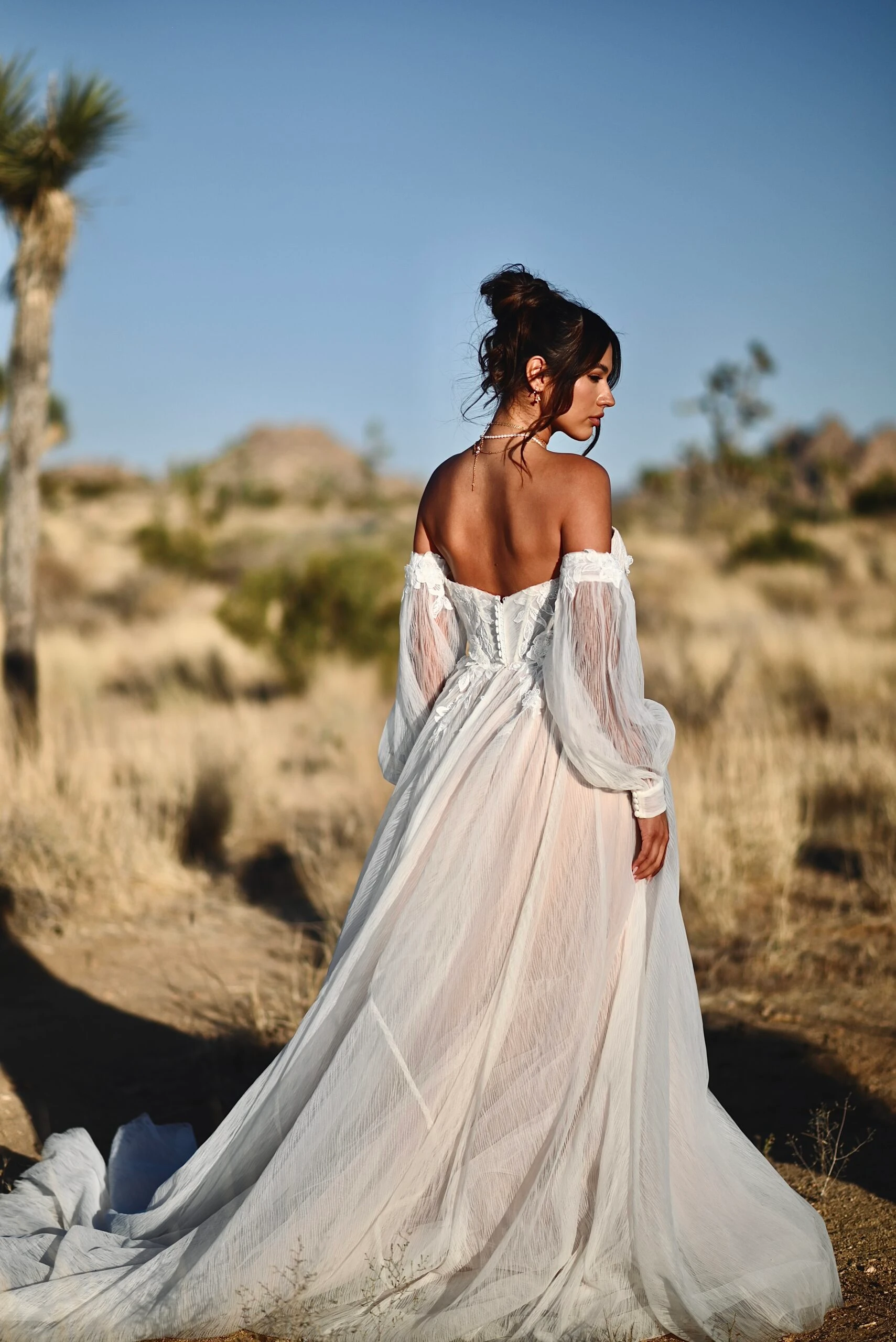 Billowing sleeves are a sure way to add a touch of romance and ethereal bridal style to your wedding day look! Martina Liana Style 1540 is an enchanting wedding dress of delicate sheer pleated tulle and romantic lace appliqués.
The pleated tulle strapless bodice has a sweetheart neckline that dips into a subtle notched plunge to meet the waist. Detachable off-the-shoulder sleeves cuff at the upper arm and wrist for a sheer voluminous balloon sleeve that's wistfully romantic.
Effortlessly flowing from the bodice's floral lace appliqués is a weightless, frothy A-line skirt that splits at the thigh and flows into an ethereal sea of tulle to complete this dreamy, couture wedding look.
Ethereal Boho Wedding Dress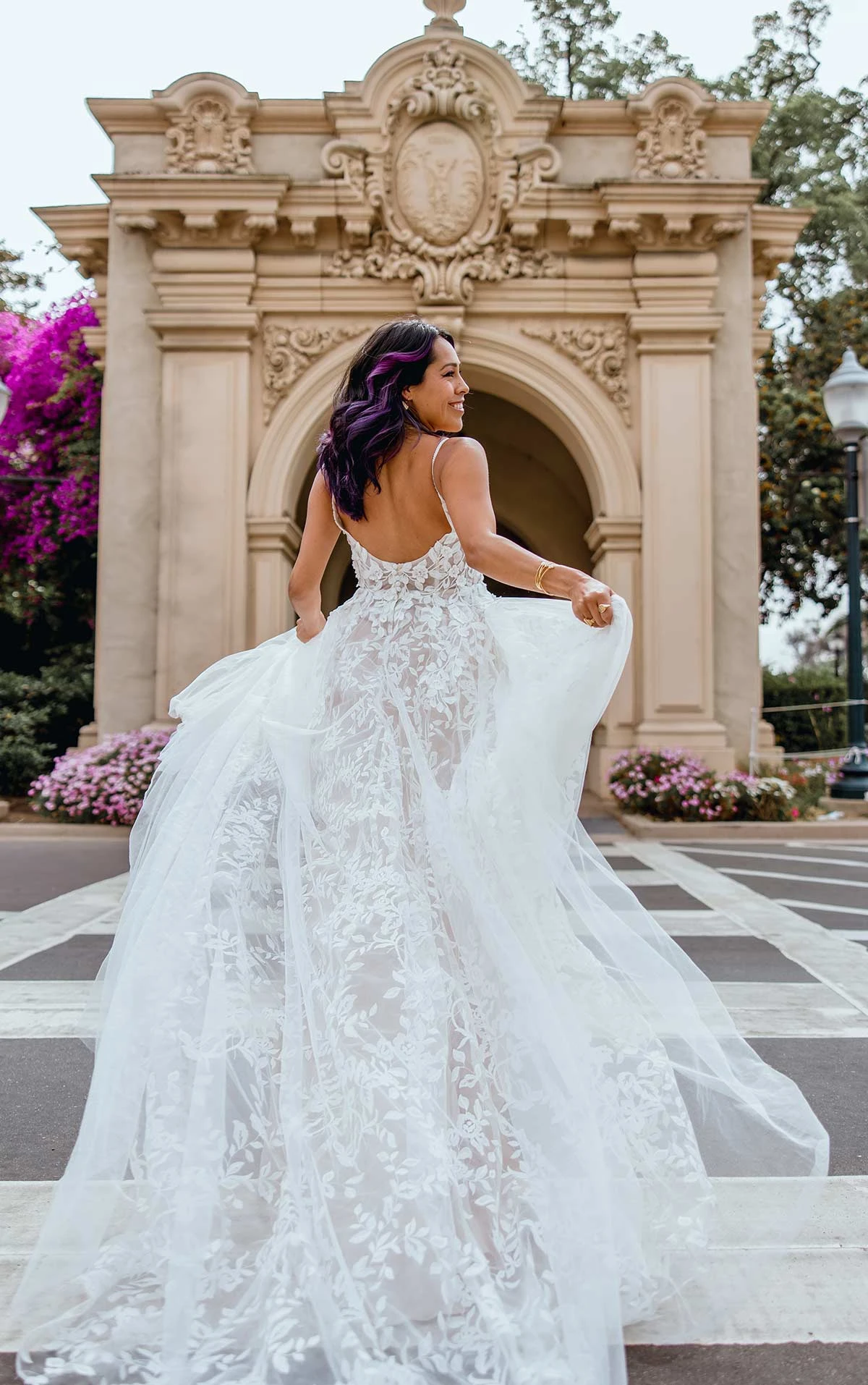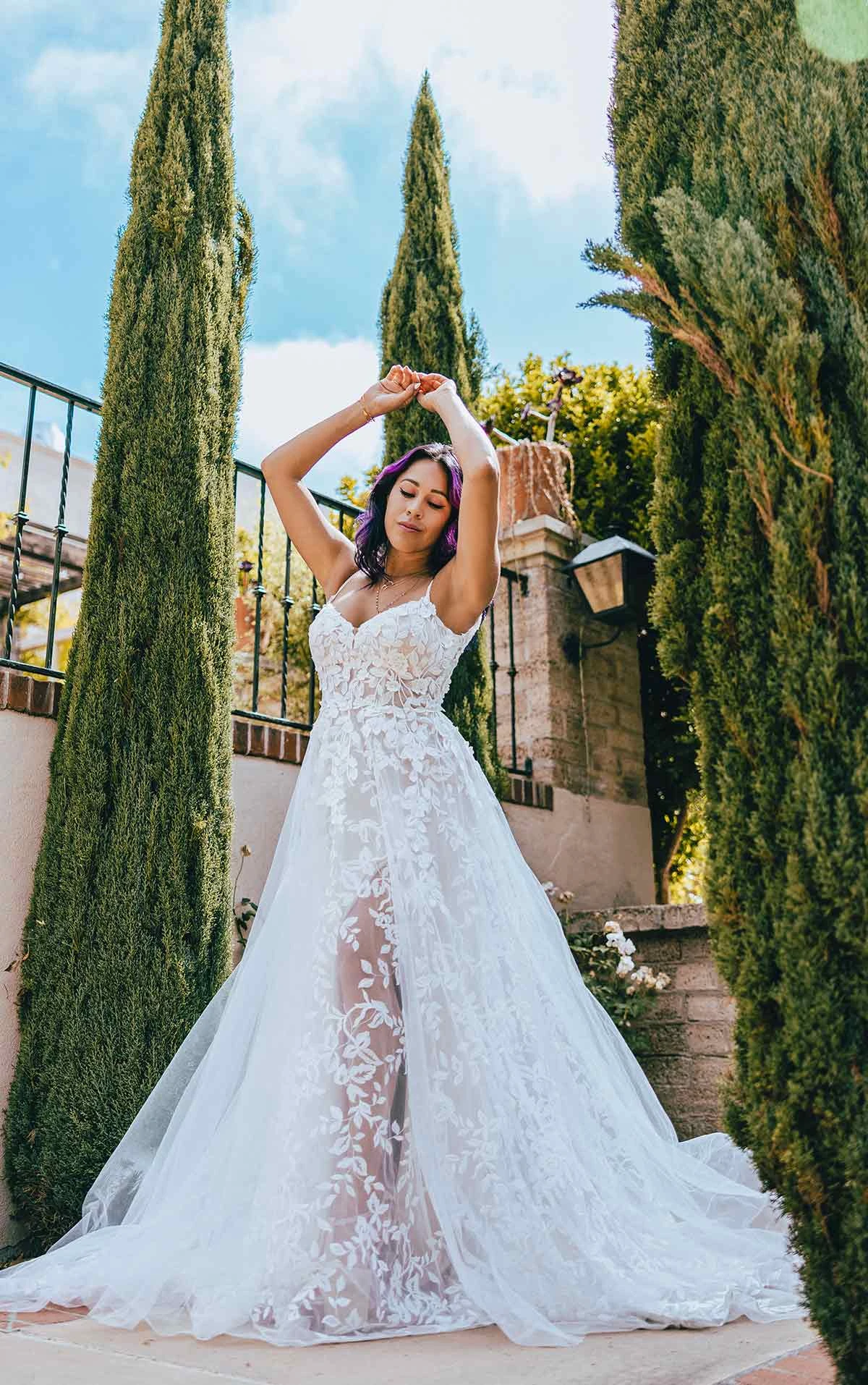 Calling all boho brides! The All Who Wander haven gown is a stunning combination of ethereal bridal style and boho beauty! You'll float down the aisle in this dreamy bohemian wedding dress covered in floral and leafy embroidered lace.
From dotted trim spaghetti straps, a sheer and flattering sweetheart bodice meets the soft A-line waist before flowing into an ethereal sea of delicate matte lace. An elegant low scoop back gracefully complements the frothy train of lace and tulle overlay. In a final unexpected detail, a demure slit in the skirt adds a touch of sexiness to complete this light and airy look.
Ethereal Lace Wedding Dress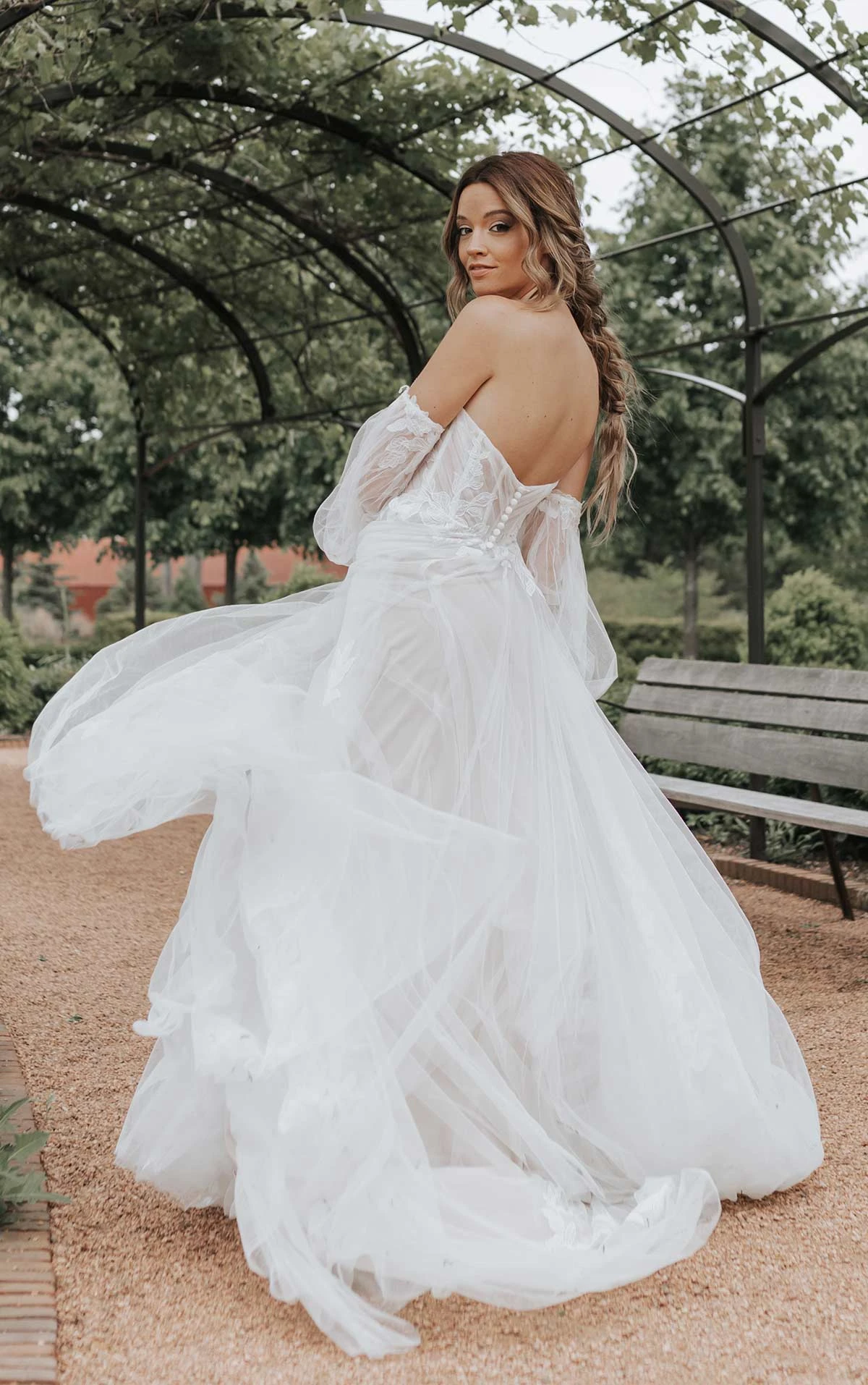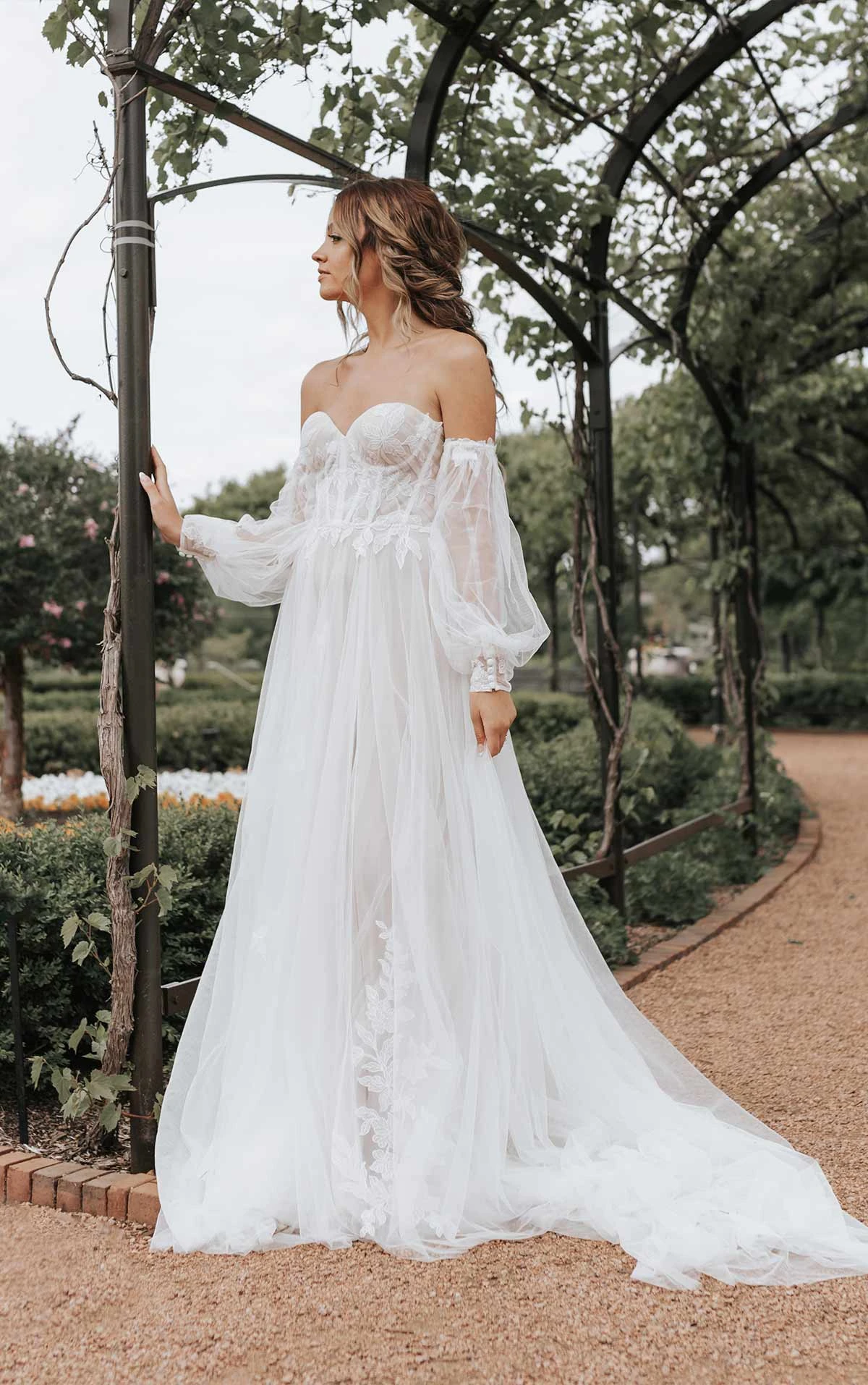 Essense of Australia Style D3655
Delicate lace appliqués provide an ethereal but oh-so-bridal look to Essense of Australia Style D3655! Dreamy and ethereal, this lace and tulle wedding dress floats down the aisle with a soft, flattering A-line silhouette with a side slit.
Detachable sheer off-the-shoulder long blouson sleeves gather at the wrist with a touch of lace detail for a romantic charm. The strapless corset-style bodice is constructed from soft gatherings of sheer tulle with expertly placed lace throughout for a touch of delicate texture. From the natural waist, pillowy layers of weightless tulle and lace cascade, catching the air and floating ethereally down the aisle.
How Do I Style an Ethereal Wedding Dress? 
When searching for the right accessories to complement your ethereal wedding dress, consider the fabric and details and work from there. If your dress has nature-inspired elements, opt for jewelry and a veil that ties in those details for a cohesive look.
Think dimensional flowers or nature-inspired embroidery. Light and airy veils that are minimally embellished, floaty detachable capes or sleeves, light-as-air hair bows or even fresh flower crowns are all fair game!
How Should an Ethereal Wedding Dress Fit on My Body? 
Effortlessly! Just as an ethereal gown should float down the aisle, it should also float across your figure with an airy effortlessness. When it comes to more fitted silhouettes, the gown should hug your shape without pulling or discomfort.
 Whether you're a romantic, boho bride or aspiring bridal goddess, there is an ethereal wedding dress that will make your wedding day vision come to life!. By selecting a delicate and detailed bridal gown that matches your soft, airy vision, you are sure to wow on your big day!  
Do you want to say, "I do" to an ethereal wedding dress? There is a style just for you at one of our True Society locations. Book a bridal appointment near you to begin your search for your dream dress. Our True Crew can't wait to help you find the one! Availability varies per store.