When you envision your dream wedding dress, one of the first details that may come to mind is all the wedding dress silhouettes available! From sleek sheaths to big, beautiful ball gowns, there is truly a silhouette out there for every bride. Another important detail to consider, together with the silhouette, is the wedding dress waistlines available.
Here's the inside scoop: drop waist wedding dresses are trending for 2023! What is a drop waist wedding dress? Keep reading to learn more about this vintage-inspired style and to see some of our favorite drop waist wedding gowns.
What is a Drop Waist Wedding Dress?
Drop waist wedding dresses are a nod to the popular waistline of 1920s fashion. Here are a few characteristics that define a drop waist wedding dress:
A drop waist wedding dress features a bodice that hugs the body through the torso down to the hip.
Drop waist wedding gowns highlight the curves and elongate the torso, making them stunning for those with an hourglass shape or a shorter torso.
This style is available in a variety of silhouettes, including ball gowns, A-lines and sheaths and can be very similar to fit-and-flare styles, which also hug the upper body and flare near the hips.
What is the Difference Between a Drop and a Natural Waist?
The difference between these two waistlines is the part of the torso they accentuate and where the skirt begins to flare. The skirt of a drop waist wedding gown starts at the hips, which accentuates the entire torso and your curves.
A natural waist wedding dress will have a skirt that begins at the narrowest part of the waist, which falls above the belly button and below the bust. This elongates the legs and narrows the waist.
Whether a drop waist wedding dress or a natural waist, bustling your wedding dress will look similar for either waistline— one less thing for brides to factor in while choosing a style. During alterations, the seamstress will be able to recommend what style bustle will look best for your wedding dress.
Drop Waist Wedding Dresses
Drop Waist A-Line Wedding Dress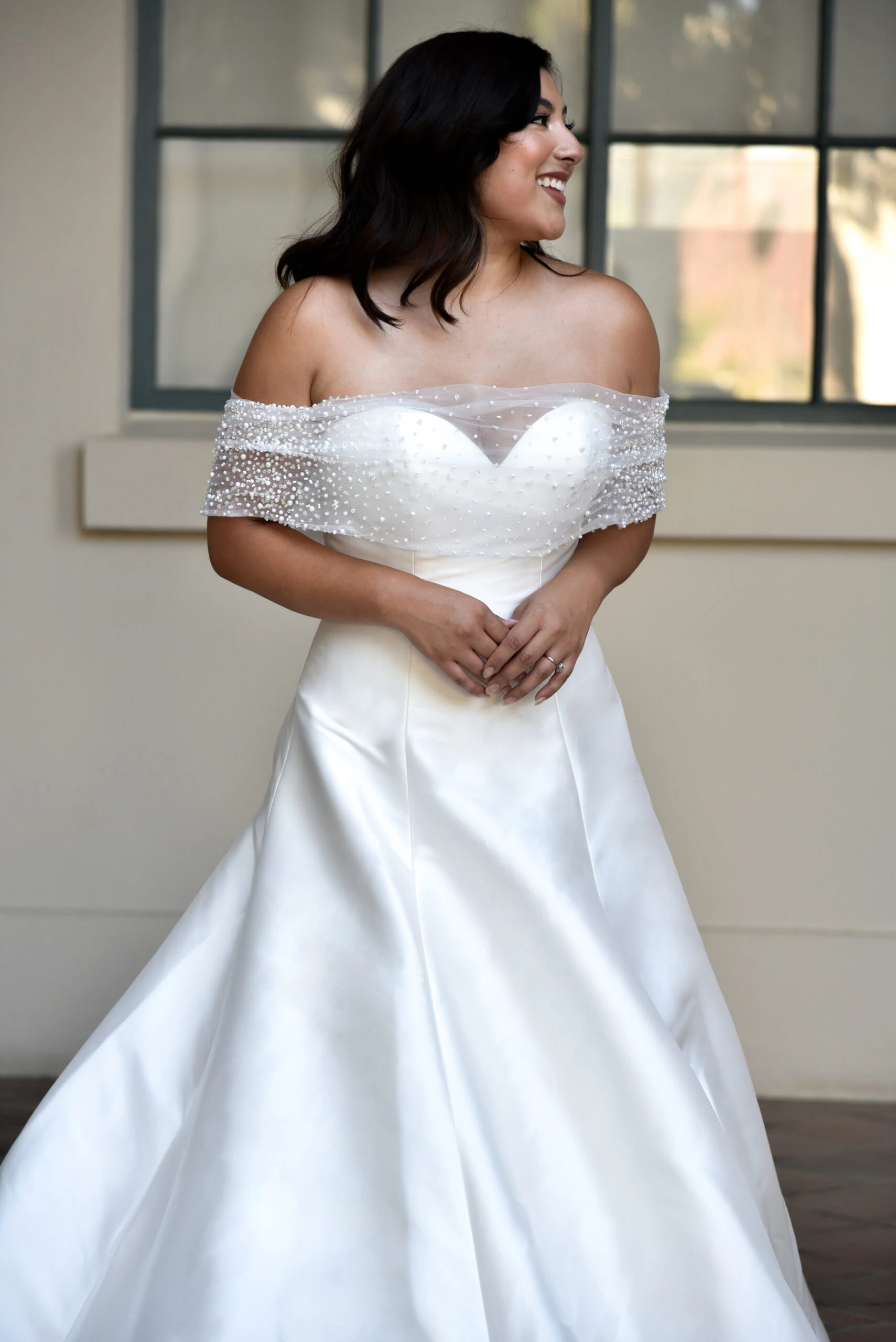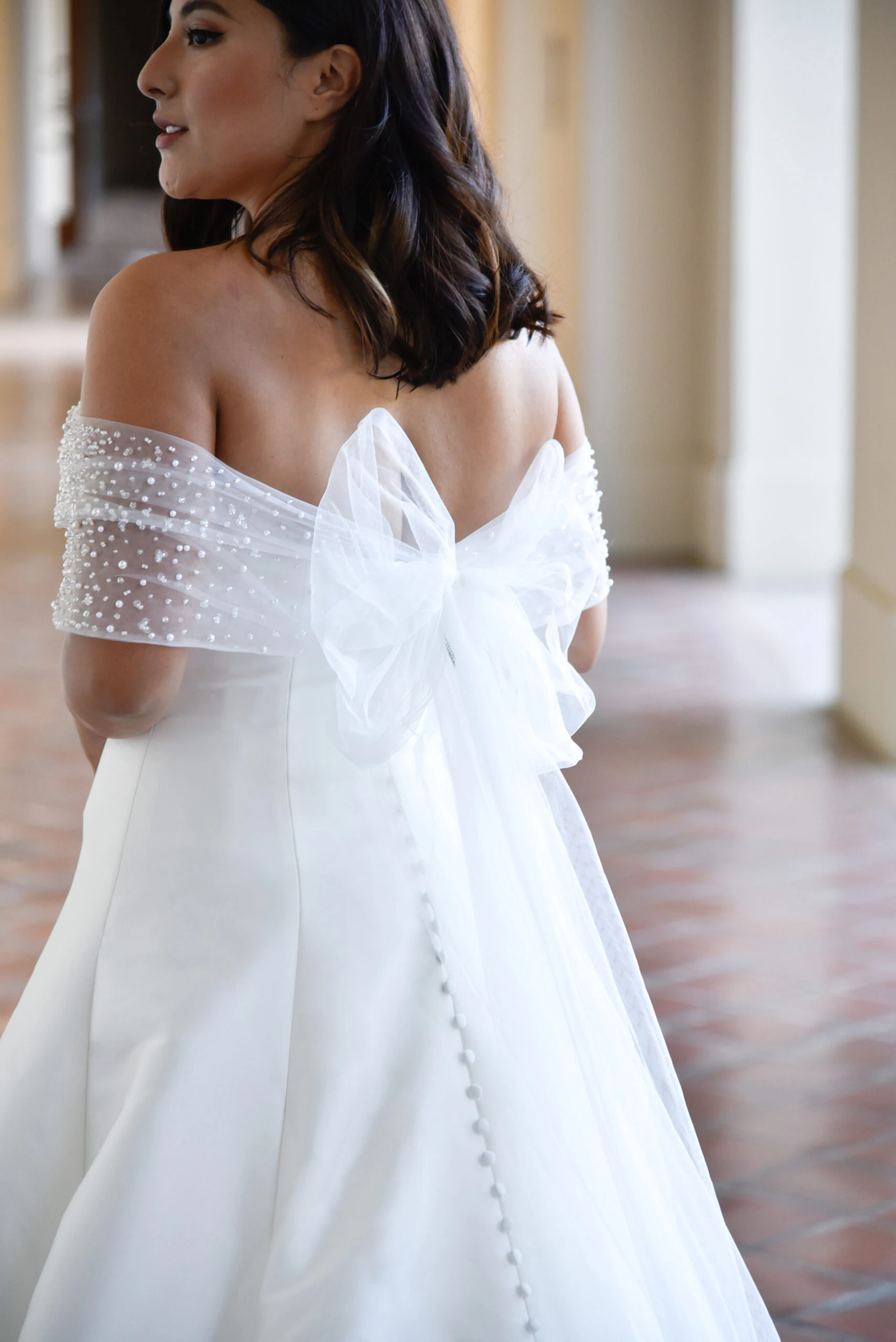 Essense of Australia Style D3294
A drop waist A-line wedding dress is a timeless choice for the bride looking for a classic wedding day look! Clean, traditional lines combine to create Essense of Australia Style D3294. A slight sweetheart neckline is youthful and romantic. The pearl Mikado fabric continues into a dropped waist and dramatic flared skirt for a universally flattering effect.
The optional beaded cape features an off-the-shoulder wrap detail with delicate pearls. It ties together in a bow with flowing streamers for a modern textural feel. The wide train adds an element of simple grandeur, ideal for a formal and elegant wedding day.
Drop Waist Ballgown Wedding Dress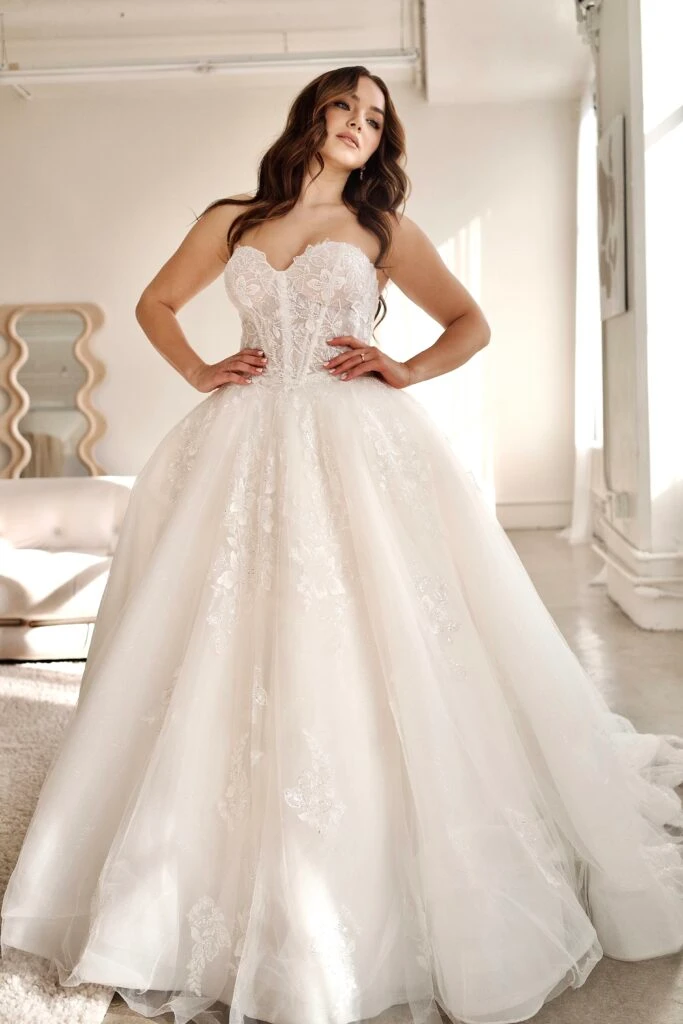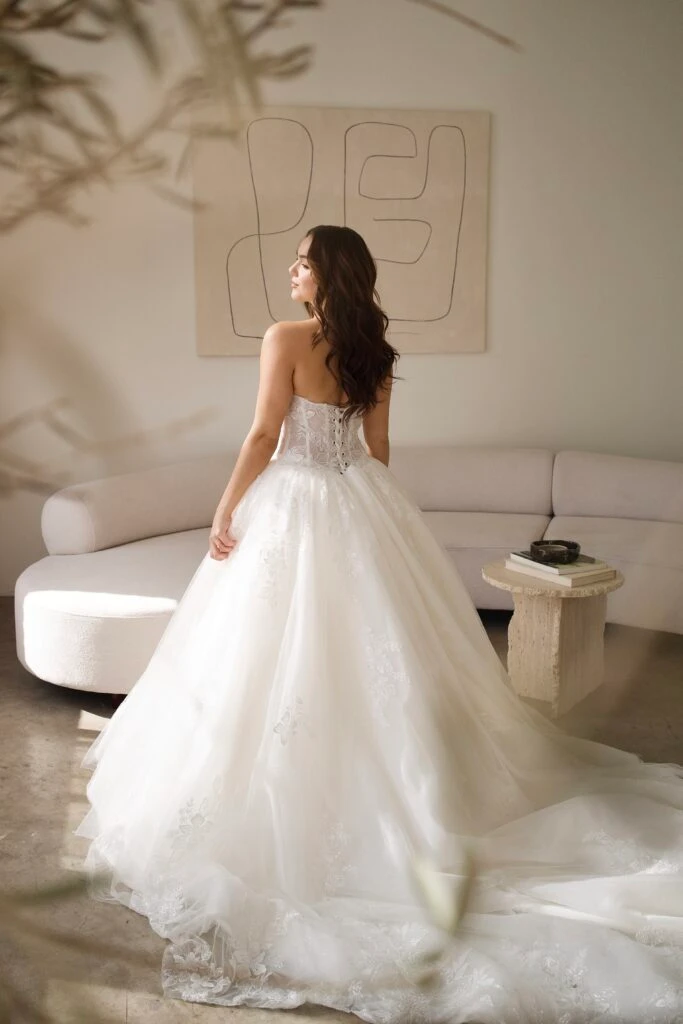 For a regal drop waist gown, look no further than this stunning ballgown. Martina Liana Style 1561 takes a modern approach to a classic silhouette with 3D flowers that radiate romance!
The dropped waist bodice of this gown is sheer, with layers of tulle and a sweetheart neckline for a demure touch. From the waist, the tulle skirt extends into a full ballgown, embellished with 3D flowers, sparkling tulle and sequins. Crystal buttons on the bodice and a minimal train, complete with a lace hem, to finish the look.
Drop Waist Corset Wedding Dress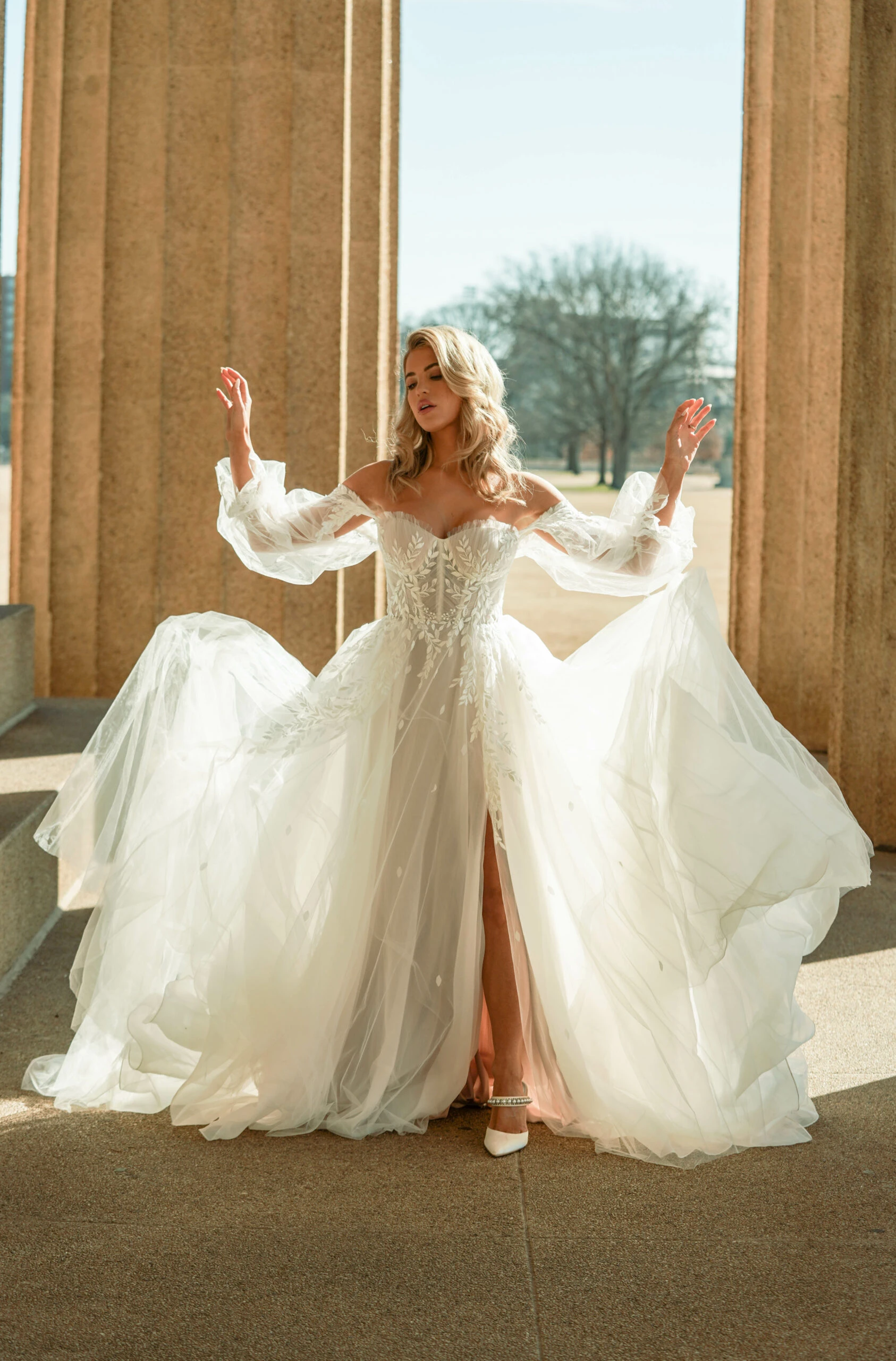 Essense of Australia Style D3787
A corset structure on a drop waist wedding dress creates an ultra-flattering effect, and Essense of Australia Style D3787 is proof! This ballgown silhouette features a slow waisted bodice bedecked in graphic linear patterns that dazzle with beadwork.
The extravagant ballgown skirt really turns up the volume on this gown —literally! Its lace and glitter tulle layers blend beautifully to create a lightweight look with a luxurious feel. The slight V-shaped dip in the back complements the Basque waist, elongating the torso for the ultimate figure-flattering look!
Drop Waist Plus Size Wedding Dress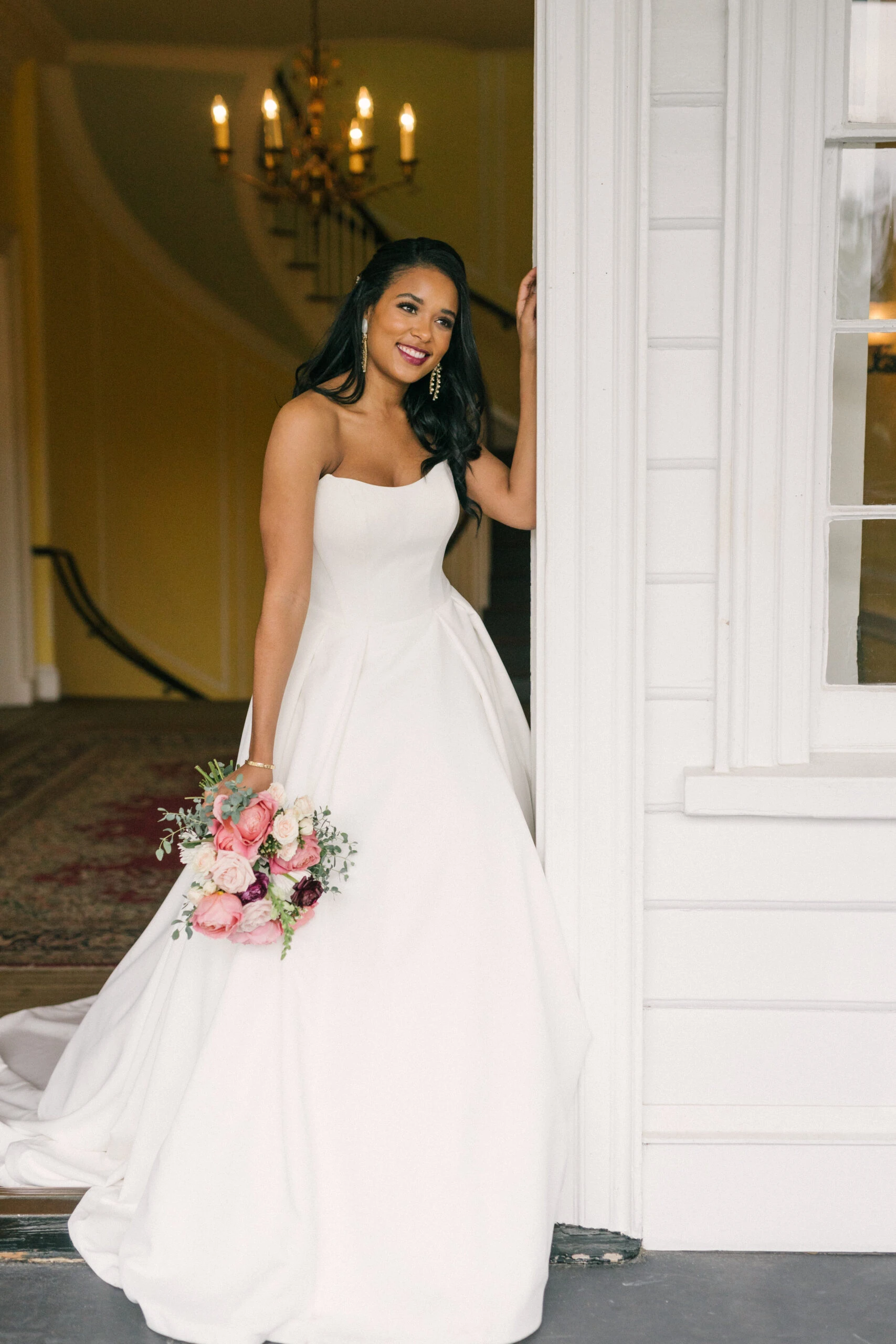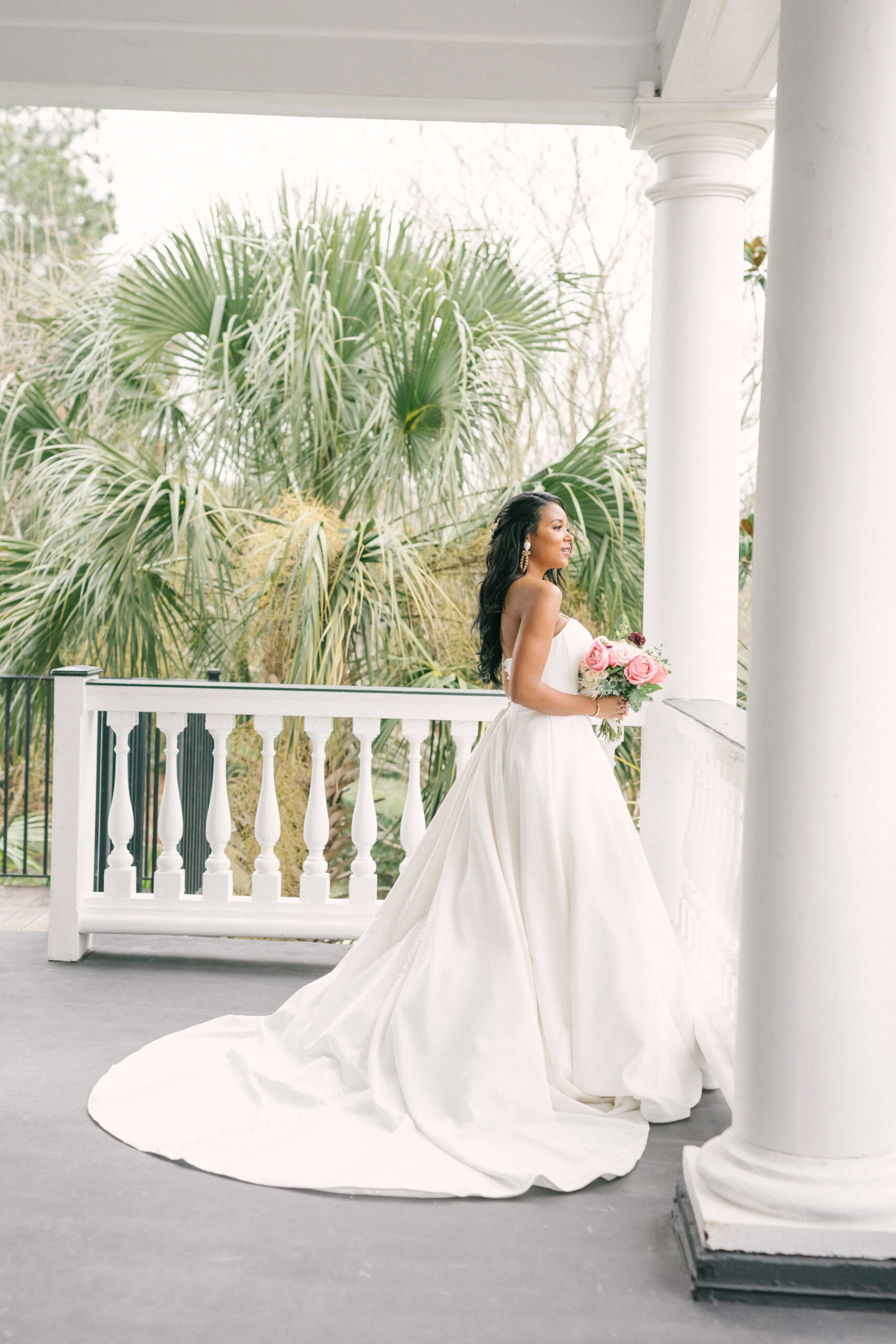 Essense of Australia Style D3596+
For the bride who wants to accentuate their hourglass shape, Essense of Australia Style D3596 may be the one! The matte satin of this structured contemporary ballgown makes this a truly elevated plus size wedding dress for the modern bride.
A flattering wide scoop neckline on the simple and sleek dropped waist bodice complements the lace-up ribbon back with elegant accents of sparkling floral lace. The chic seaming constructs a gorgeous silhouette while concealing the trendy and convenient in-seam pockets. A vision of flawless beauty, this stunning gown opens into a voluminous pleated skirt and regal royal train.
Drop Waist Lace Wedding Dress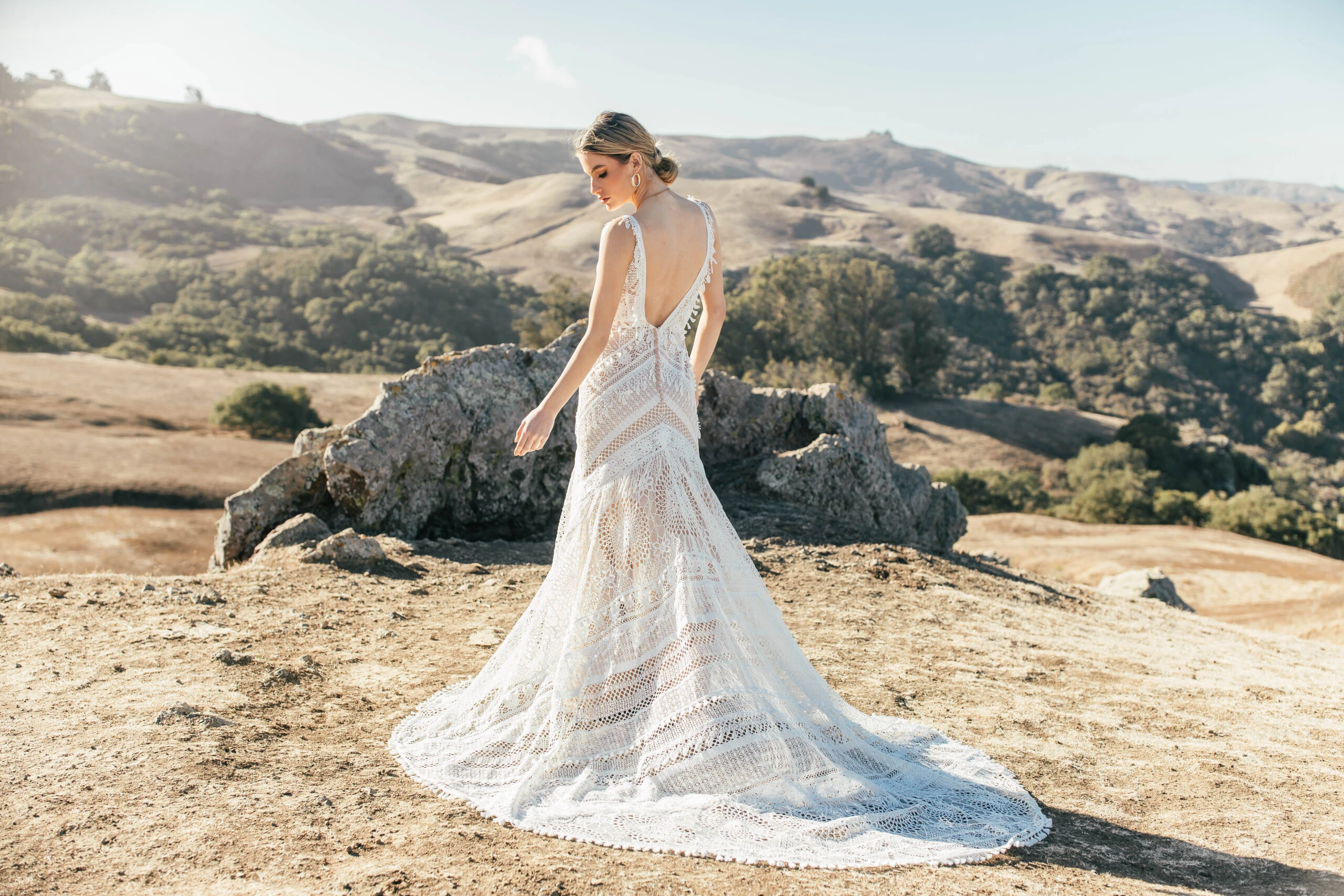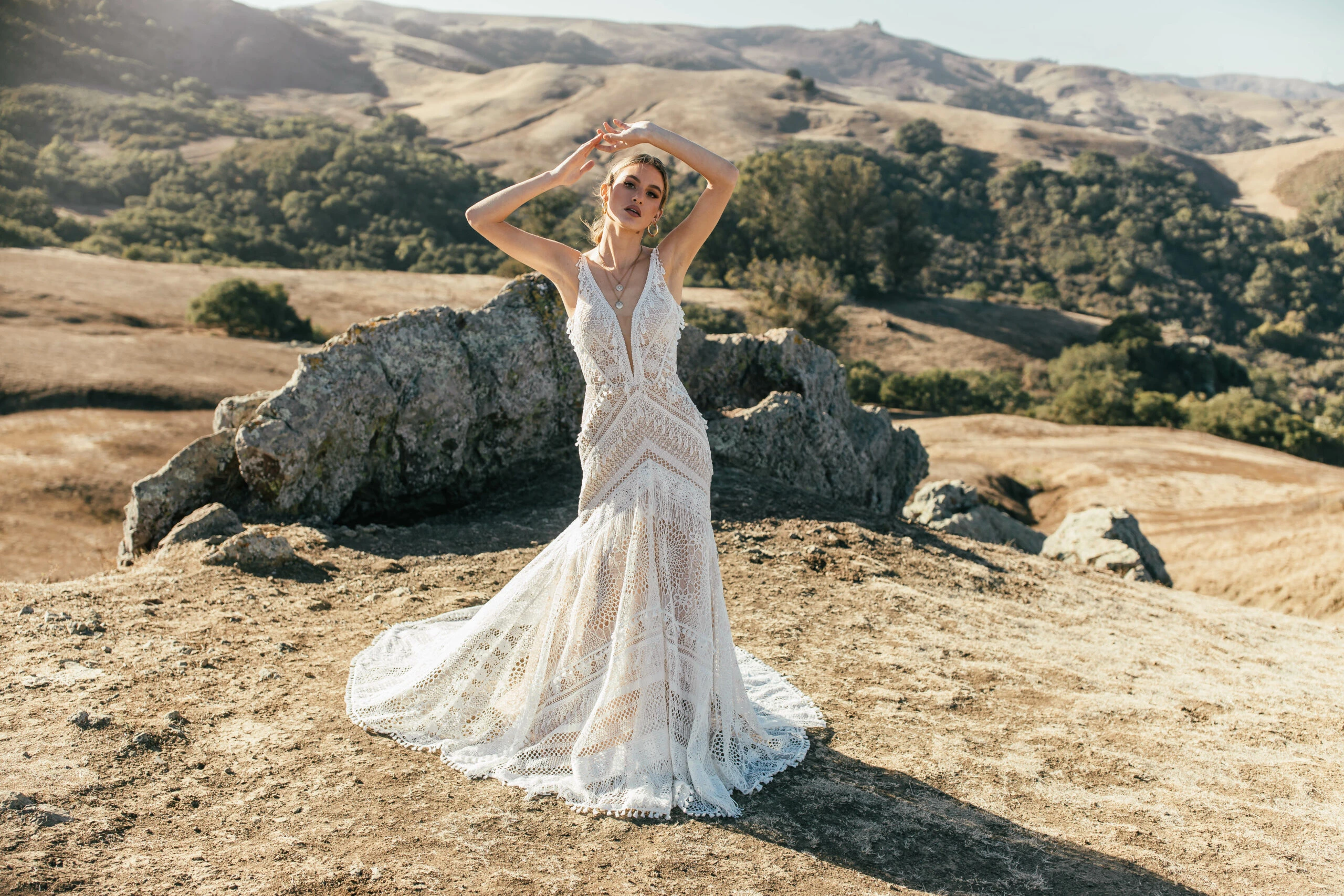 While drop waist wedding dresses come in a variety of fabrics, we love the versatility of lace. For a lacy boho look, the All Who Wander micah gown delivers!
This wedding dress is made for the boho bride with a vintage flair. Head-to-toe lace details give this wedding dress an unforgettable vintage feel, combining geometric, linear and floral patterns for a striking effect. Tassels and fringe give stunning natural dimension and texture to this gown.
The nude lining shows off the ornate intricacies in the lace patterns and makes the tassels really pop. The dropped waist and fitted silhouette hug the body's natural curves in a beautiful way. Ideal for an outdoor celebration of love, the micah gown will flow with the breeze on your walk down the aisle.
What Do You Wear Under a Dropped Waist Wedding Dress?
Like most wedding gowns, you may not need to wear a bra or shapewear under your dress, provided it is comfortable, and you feel supported. What you can and cannot wear underneath often depends on the type of wedding dress fabrics and the details of your gown. For example, sheer components and thinner fabrics can make it more challenging to keep undergarments hidden. A more modest style in a structured fabric or with details like ruching will conceal whatever you decide to wear underneath.
Does a Drop Waist Wedding Dress Size Differently than Other Gown Styles?
No, sizing remains the same whether drop waist or not! Remember to keep in mind that when sizing a drop waist wedding dress, you must consider the bust, waist and hip measurements, as you would most gowns. The main difference is that when sizing a natural waist A-line or ballgown wedding dress, less consideration is needed for the hip measurement since the skirt is not fitted.
Since a drop waist gown stops at the hips, this measurement is much more important. As a precaution, consider taking both high hip and low hip measurements.
Are you dreaming of wearing a drop waist wedding dress on your big day? Book an appointment at your nearest True Society store to make your dream a reality! Availability varies per store!