Attention free spirited brides! Your wedding day is just around the corner, and you want to look drop-dead gorgeous walking down the aisle. We've got you covered with our list of the best boho wedding dresses available at True Society from our world-renowned designers.
Treat yourself to a one-of-a-kind style that speaks volumes to who you are, all while looking stunningly chic on your special day. From laces and flowers to off-the-shoulder straps, halters and layers of lightweight fabric— there are endless gown options for any budget. Get ready to begin your dream wedding dress search here!
What is a Boho Wedding Dress?
A boho wedding dress is a free spirited, whimsical gown for the unconventional bride. It is a boho wedding gown that is as distinctive as your love story. Think flowy fabrics, long sleeves and lace details that make you feel like you're twirling in a field of wildflowers.
Picture yourself walking down the aisle in a dress that moves with every step and showcases your individuality. Our All Who Wander label is just that—the epitome of bohemian wedding dresses that will have any bride with a boho style finding their dream dress. It is all about breaking the rules and following your heart!
Still want a hint of boho wedding dress flair, but tailored to your personal style? Our True Crew will help you navigate all our labels— Essense of Australia, Stella York and Martina Liana, that each have their own definition and assortment of boho wedding gowns to help find your dream wedding dress with the perfect amount of boho style for you.
What Silhouettes and Styles Typically Mean Boho?
When it comes to bridal style and silhouettes that scream bohemian, there's a whole range to choose from—think loose and airy skirts with lots of movement and texture. You'll want to keep an eye out for A-line and empire waist dresses, as well as off-the-shoulder and deep V-neck styles.
Just remember, boho is all about ease and comfort. So, whether you opt for a whimsical maxi dress or a lace jumpsuit, make sure it's a look you can dance, twirl and frolic.
Tips for Choosing a Boho Wedding Dress:
CONSIDER YOUR VENUE
Boho wedding dresses tend to be more casual and laid-back, so consider your venue when choosing a style. A beach or outdoor setting is perfect for a maxi dress with lots of volume. Something more structured would work better in an indoor setting like a chapel.
CONSIDER THE SEASON
Season-appropriate fabrics are important to consider when shopping for a bohemian wedding dress. During the warmer months, you'll want to opt for light and airy materials like chiffon and tulle. In the cooler months, heavier fabrics like velvet or linen will keep you cozy during an outdoor ceremony.
FIND A BALANCE
When shopping for a boho wedding dress, it's important to find a balance between comfort and style. Don't be afraid to mix and match wedding dress fabrics, textures, and prints. Also, keep bridal accessories like belts, statement jewelry, and flower crowns in mind when searching for the perfect look!
Boho Wedding Dresses
To help make picking out your boho dress easier (and more fun!), the True Crew rounded up their favorite bohemian styles. From layered textures and intricate elements to whimsical details, these dreamy boho wedding dresses are a great choice for brides who seek an effortless yet bold look. Get inspired!
Boho Lace Wedding Dress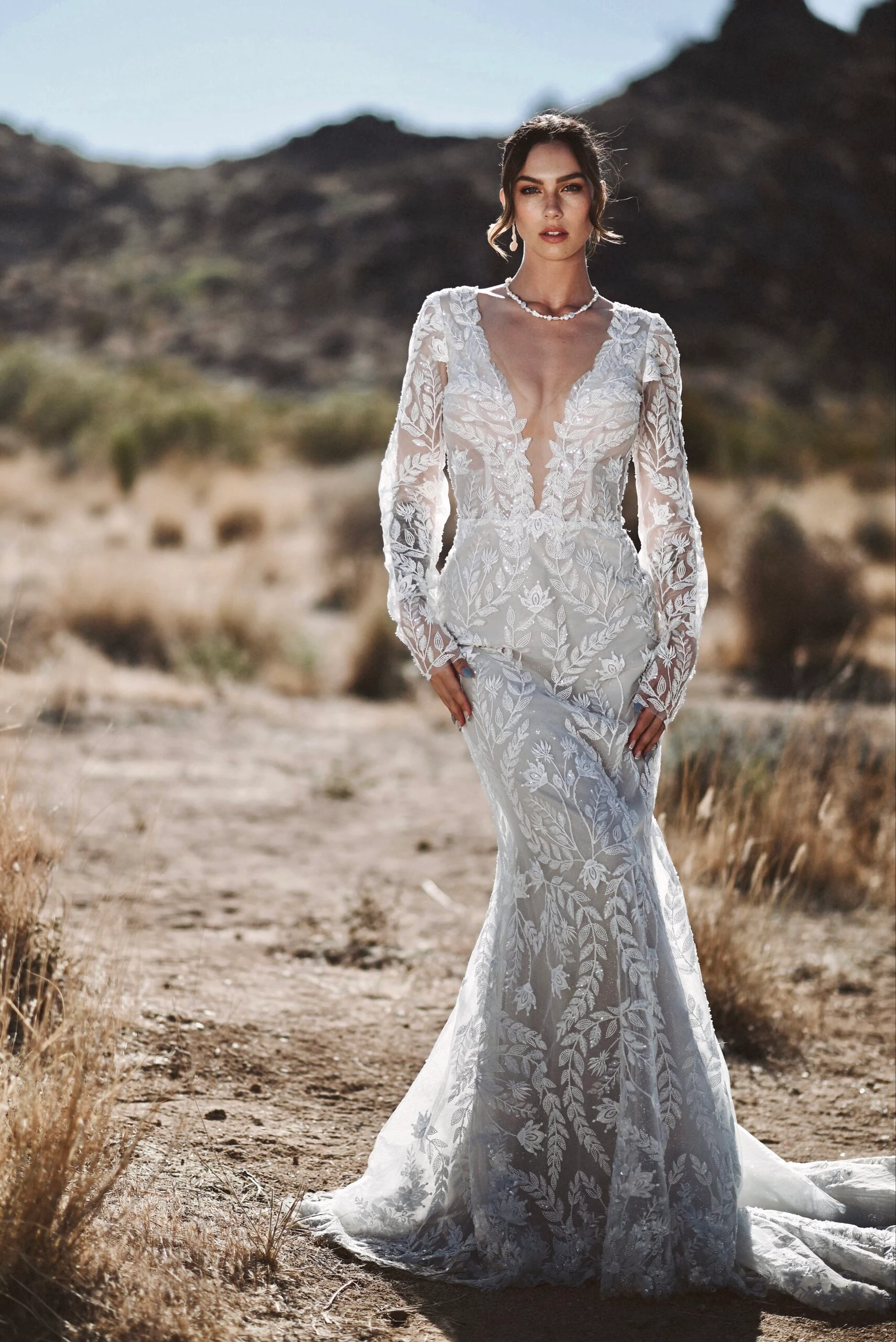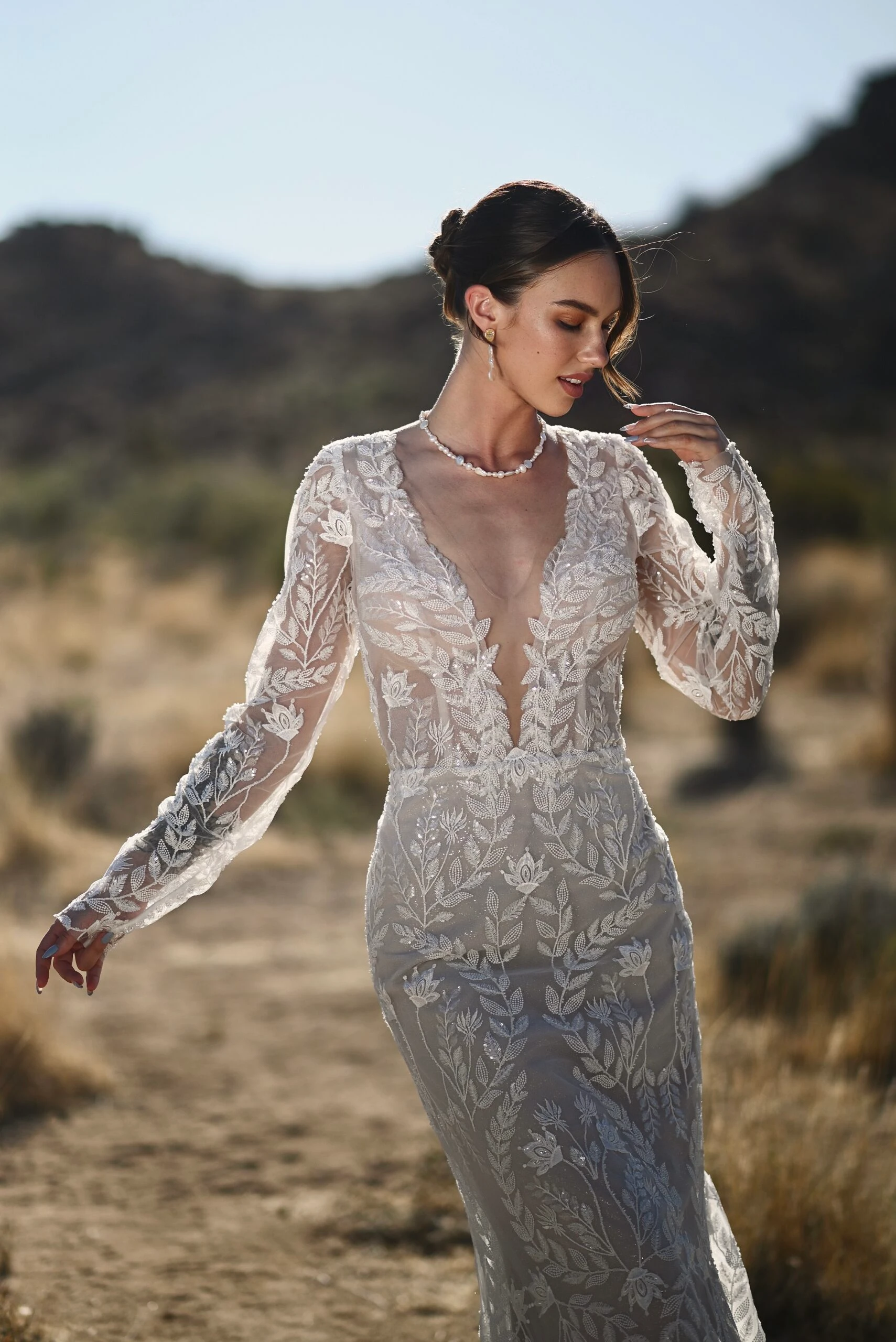 Discover the ultimate combination of traditional and modern style with this gorgeous boho lace wedding dress: Martina Liana Style 1525. Allover vintage-inspired lace complements the long sheath silhouette to bring timeless bohemian glamour to your special day.
Add some sparkle with optional sequin accents and glitter tulle underlay and make a romantic entrance with the soft sweeping train. Whether you're dreaming of an intimate wedding ceremony or a grand reception, this ultra-luxurious boho gown will ensure that all eyes are on you!
Boho Chic Wedding Dress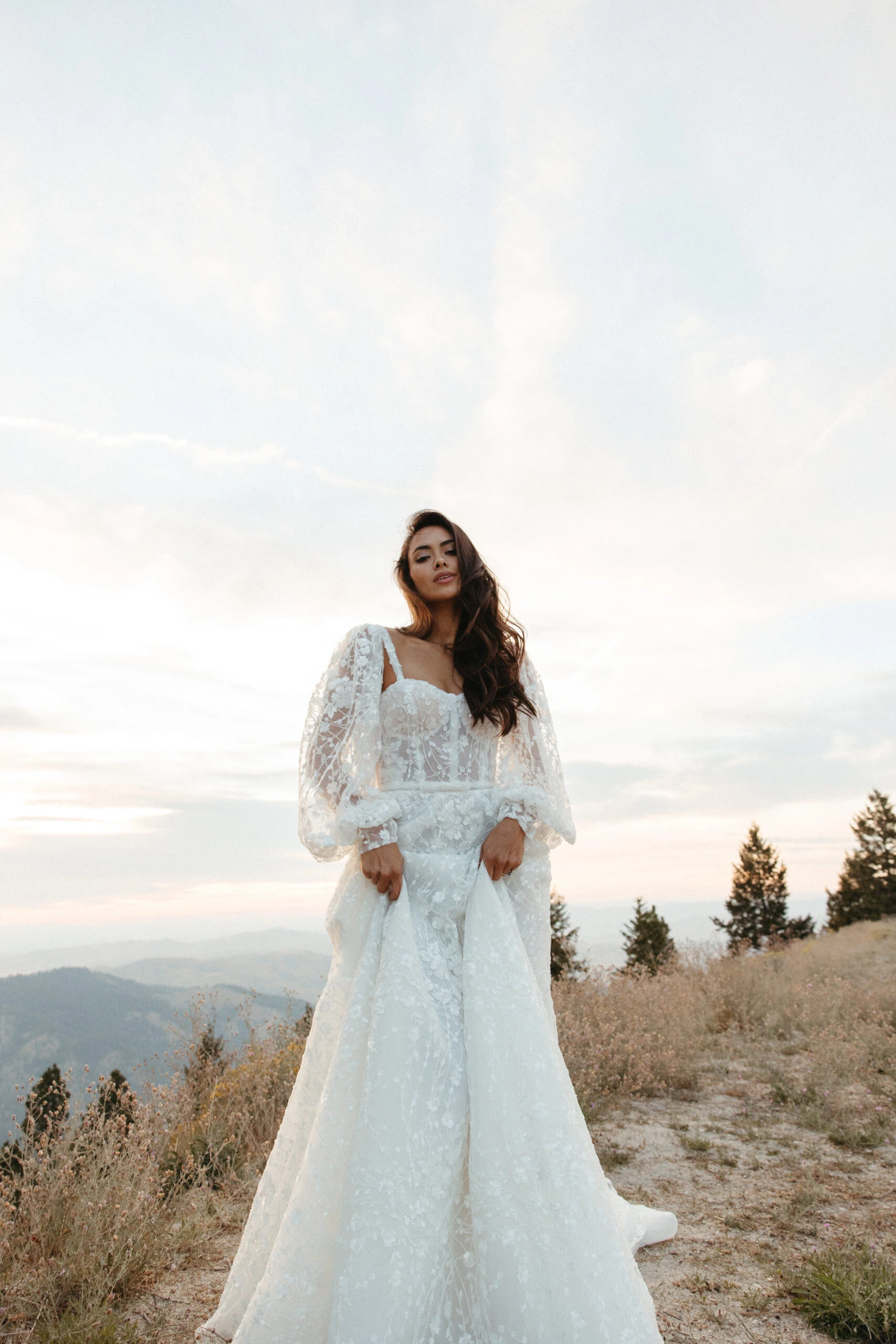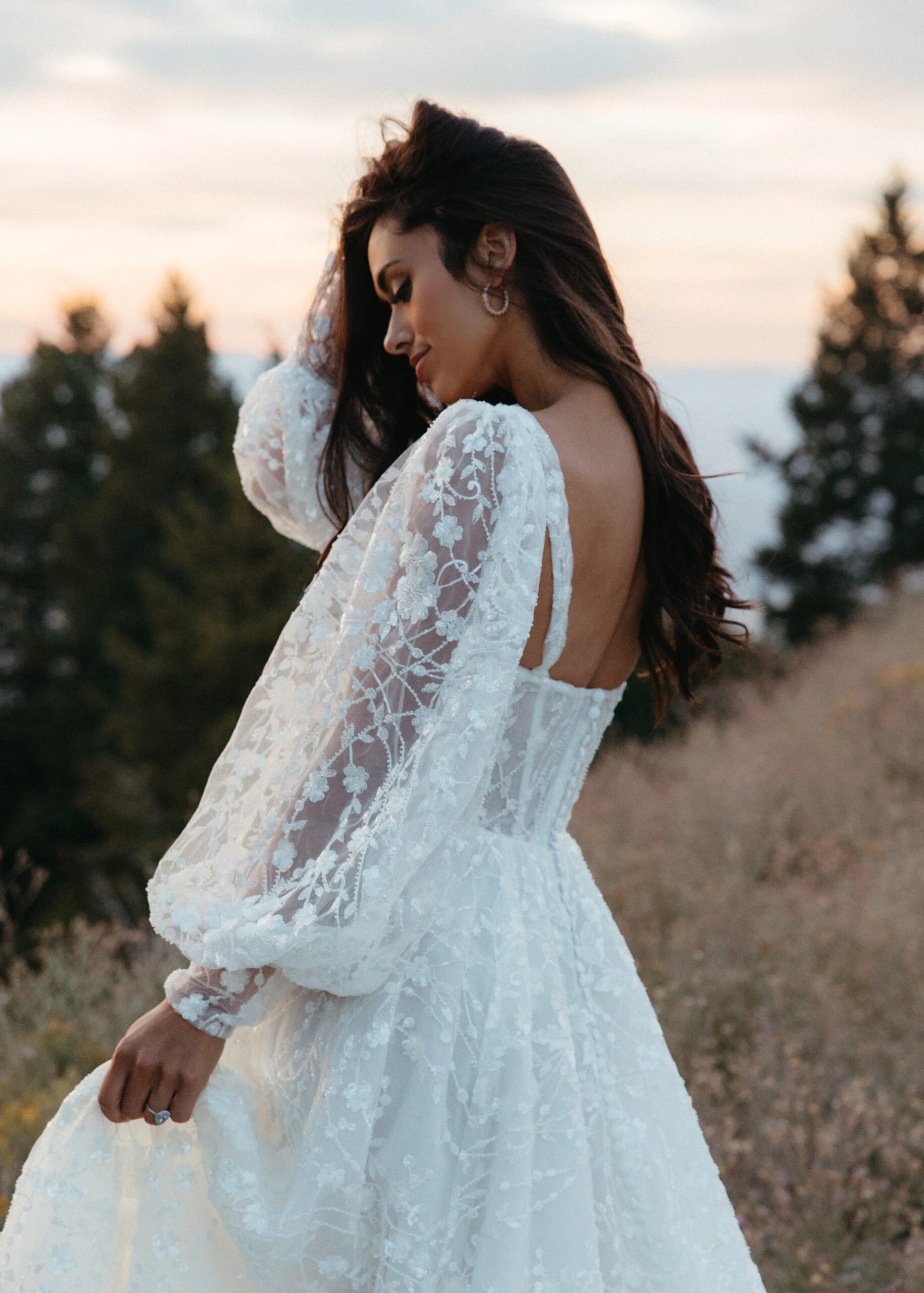 Martina Liana Luxe Style LE1238
Say hello to the boho chic wedding dress of your dreams! Martina Liana Luxe LE1238 is all about customization — meaning you can make this stunning gown individually yours. With an unforgettable A-line silhouette, this lace wonder also features detachable lacy straps.
The sheer gossamer bodice has exposed corset boning for an extra oomph of romantic grandeur — talk about boho bliss! Brides can also add sheer balloon lace sleeves for a truly glamorous effect.
The show-stopping sequined skirt of 3D floral lace catches the light from every angle and adds just enough glitz and glamour to your special day. This boho chic wedding dress grants you unbeatable bridal elegance with a custom touch of whimsy.
Long Sleeve Boho Wedding Dress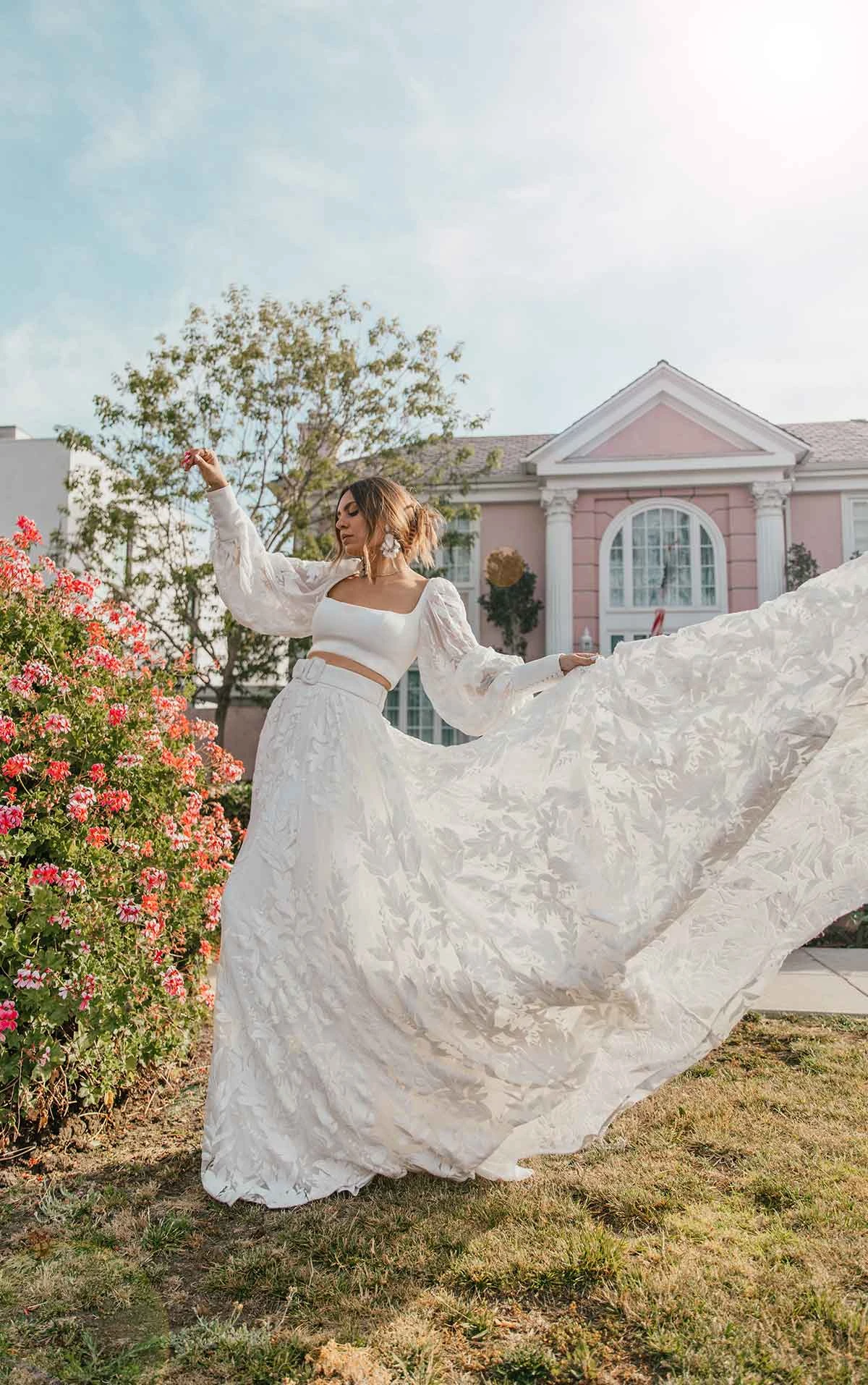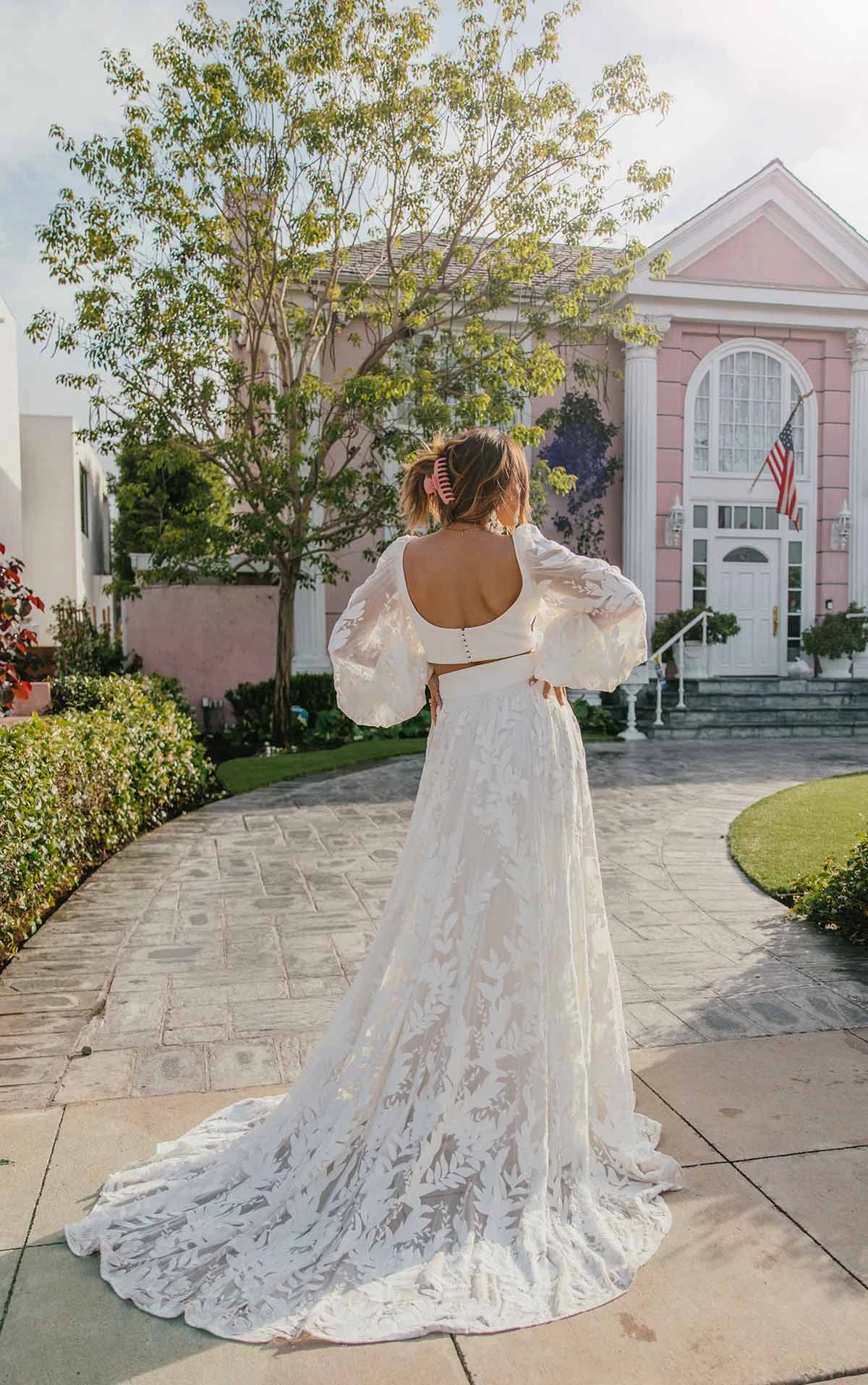 Hey there, fashion-forward brides! The All Who Wander west gown is ready to bring some boho vibe and glamour to your big day. Step onto the scene in this ever-so-pretty and luxurious two-piece look.
It features gorgeous leafy lace embroidered silk chiffon balloon sleeves with Victorian buttoned crepe cuffs. From the flattering square neckline to the sleek ivory stretch crepe crop — all eyes will be on you! Let's not forget that breathtaking sweeping train made of silky luxe lace embroidered chiffon.
Boho Beach Wedding Dress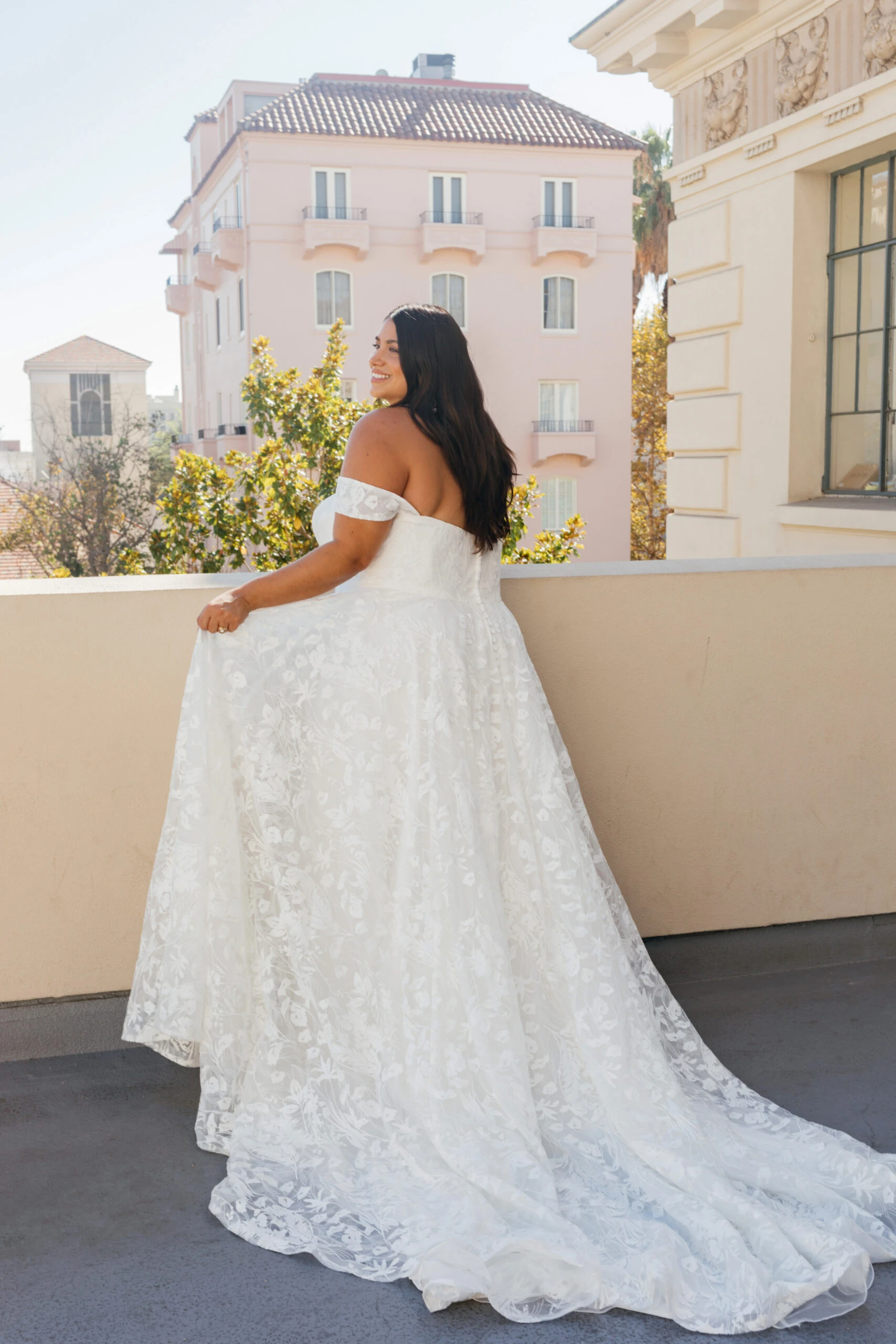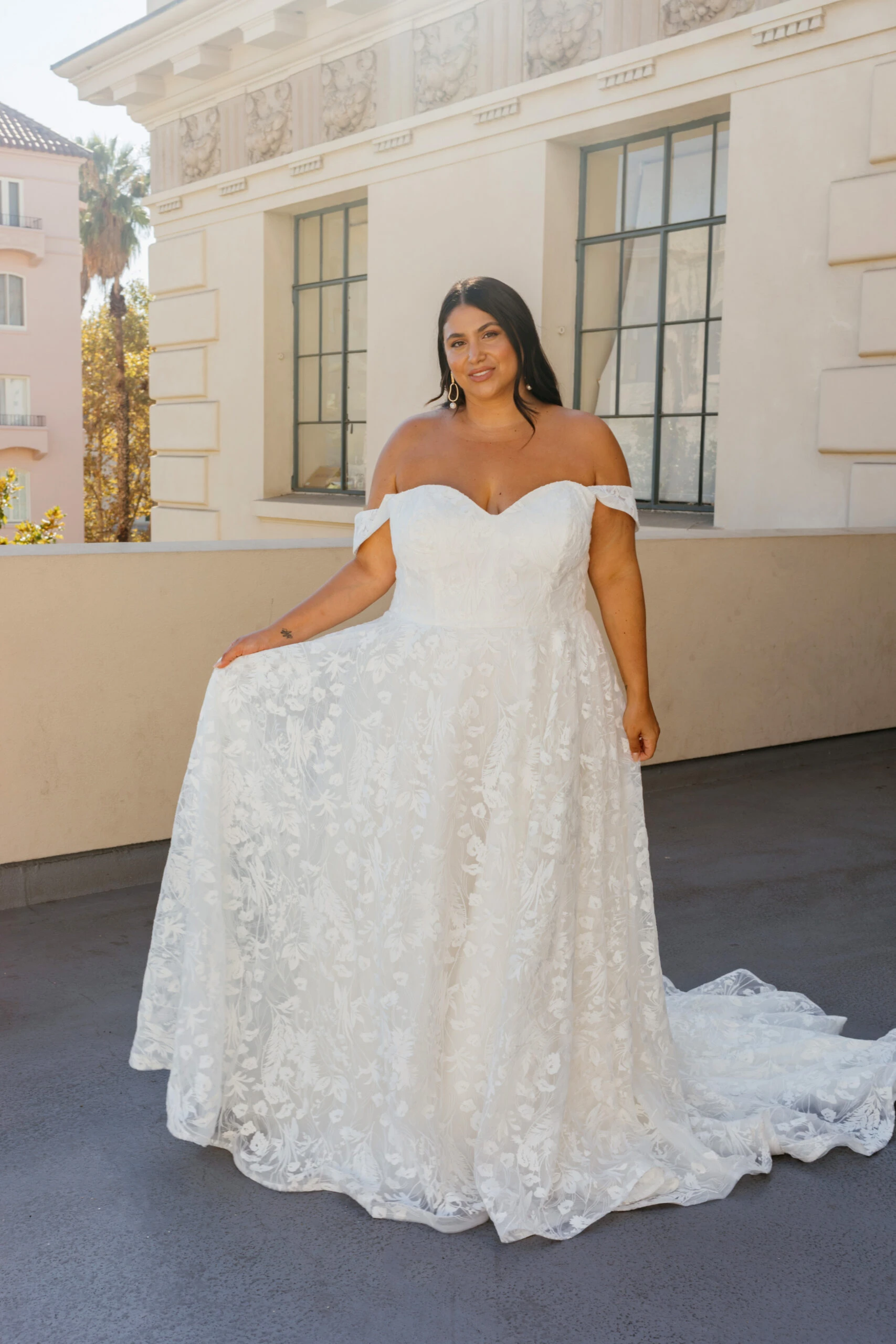 Essense of Australia Style D3520+
Are you dreaming of a beautiful bohemian beach wedding? Get ready to make your wildest dreams come true with Essence of Australia Style 3520!
This gorgeous dress combines organza with delicate biscotti lace in a beautiful way. A straight off-the-shoulder sweetheart neckline lets you show off your love for all things classic and romantic.
The fitted bodice hugs the waist for a sensuous silhouette, and full A-line skirt playfully cascades down to the floor. Plus, choose from various lace and underlay choices! Options to make this dreamy dress uniquely yours— it's sure to turn heads as you walk into your boho beach ceremony.
Plus Size Boho Wedding Dress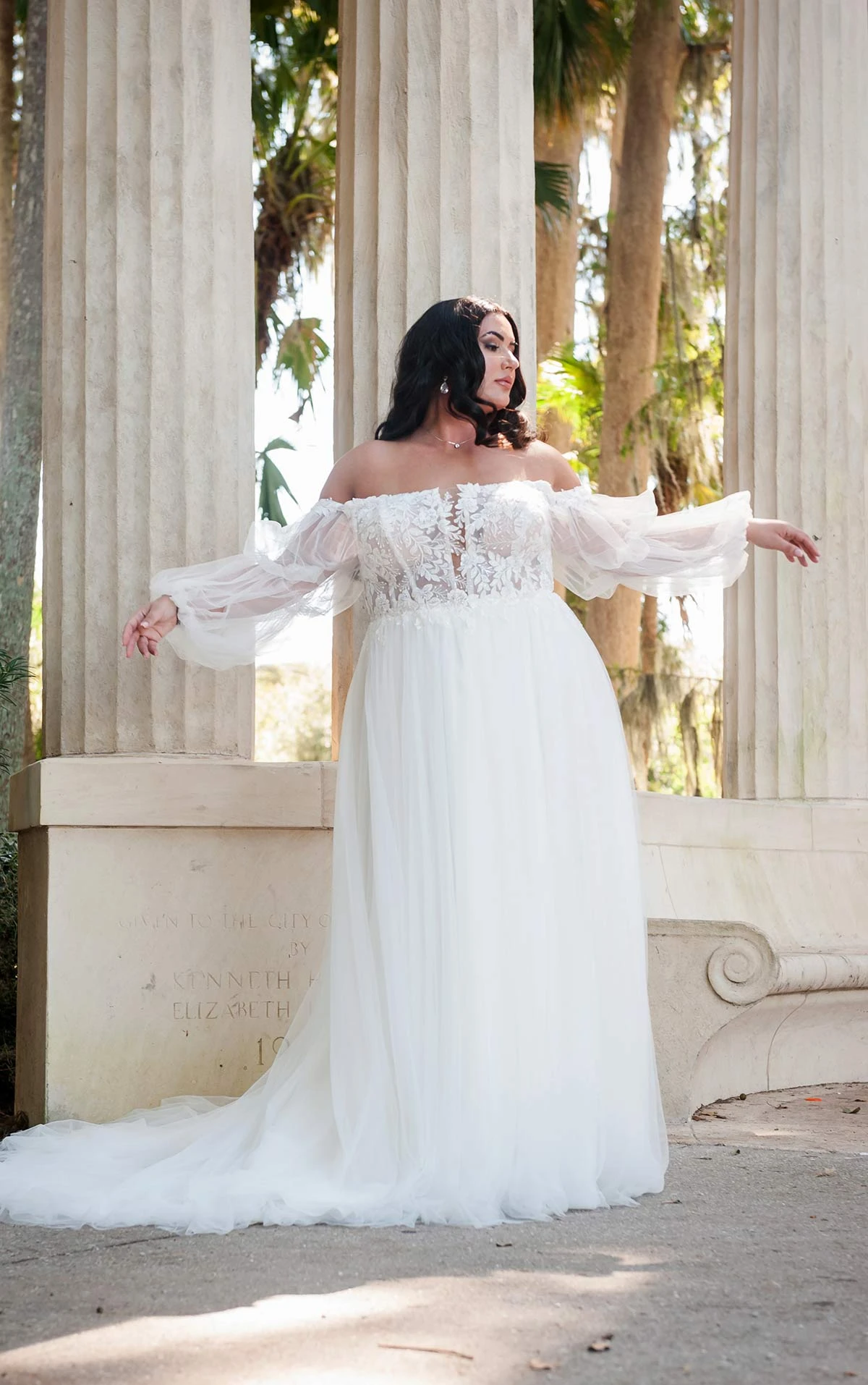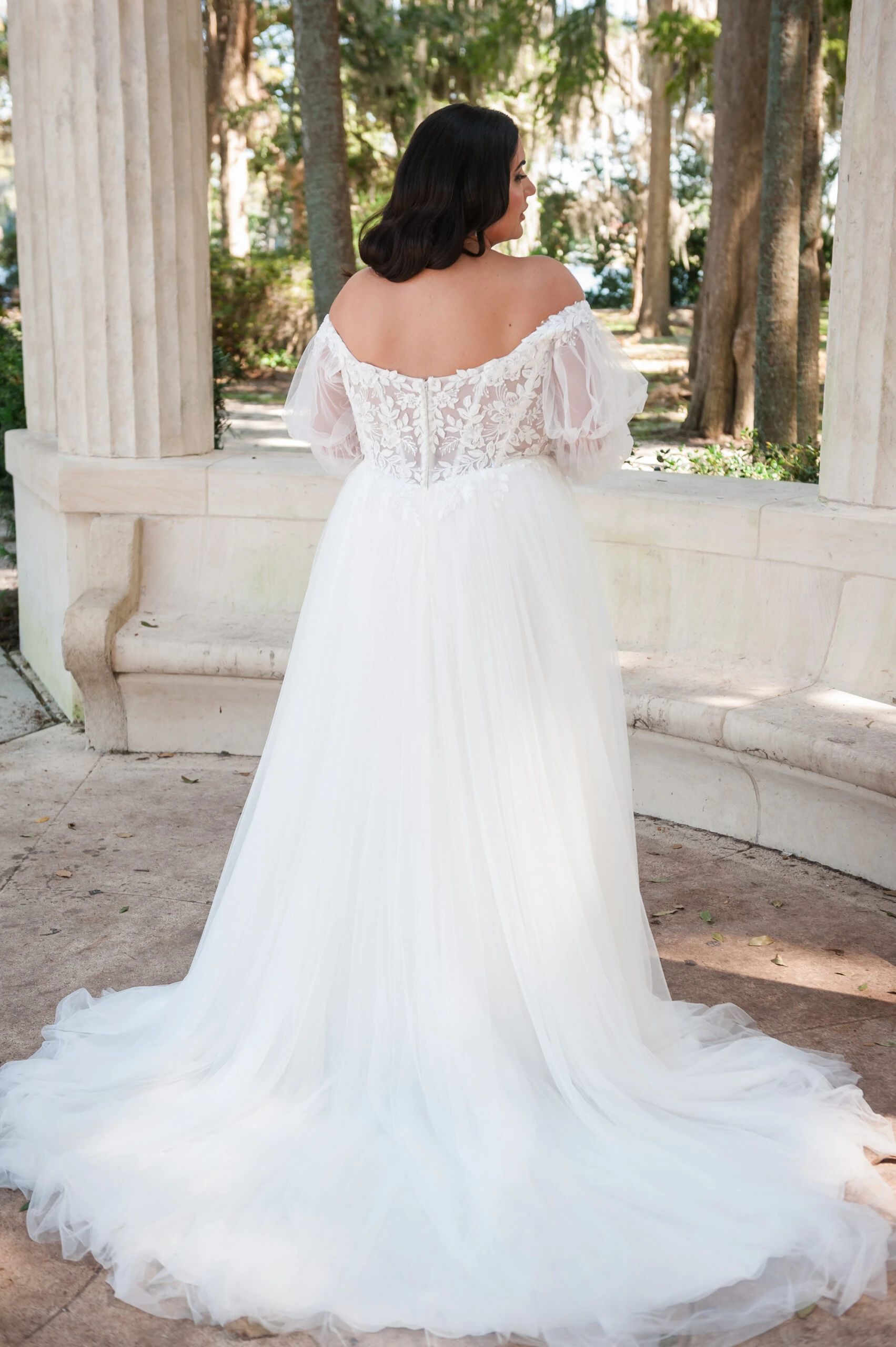 If you're searching for a plus-size boho wedding dress that's both timeless and modern, look no further than Stella York Style 7573. This dress will have you feeling like absolute royalty walking down the aisle!
The corset-style boning of the allover lace bodice brings an old-world charm while the dramatic plunging neckline gives a slight edge. Detachable off-the-shoulder long tulle sleeves add texture and movement to the sweetheart shape of this romantic look.
An ethereal tulle skirt and large organic floral lace will ensure your beauty shines through on your big day. Take a walk on the wild side with this boho gown and feel confident and ready to tackle your happily ever after.
How to Accessorize a Boho Wedding Dress?
No matter the silhouette or style of your boho dress, accessorizing is key. Consider adding a statement headpiece or embellished belt to complete your overall look. Throw on some funky jewelry and take it up a notch with an oversized bouquet for that added touch of drama.
Veil Alternatives
If you're looking for alternative options to a veil for a bohemian wedding dress, there are several options that can complement the style of your dress:
Flower crown: A flower crown is a popular choice for boho brides as it adds a whimsical and romantic touch to your overall look. 
Headband: A headband can be a great option for brides who want a chic and sophisticated touch without the traditional veil. 
Hair vine: A hair vine is a versatile option that can be styled in various ways to complement your hair and dress. 
Bridal hat: A wide-brimmed hat or a fedora can be a unique and fun accessory to add to your bohemian bridal look. 
Lace capelet: A lace capelet can be a stunning alternative to a veil, as it can add a touch of elegance and sophistication to your attire. 
Ultimately, the best alternative to a veil for a bohemian wedding dress will depend on your personal style and the overall aesthetic of your wedding.
From timeless and traditional to fun and flirty, modern brides can find gorgeous bohemian wedding dress styles at True Society. No matter what aesthetic you're going for, we have the best boho bridal dresses for you!
Experience genuine customer service and amazing shopping experience from start to end. From choosing bridal accessories to fitting advice and styling ideas, the True Crew is here for you!
Ready for the perfect dreamy boho style wedding dress? Book your appointment at a True Society store near you! Availability varies per store.