Mariah and Clay's love story is like no other. While every love story is special in its own way, this couple has faced more than their fair share of unexpected twists and turns. When the couple both received their cancer diagnosis, they stayed resilient and strong with the power of their unconditional love.  
In 2022, while navigating their health journeys, the pair had an intimate but memorable wedding ceremony. In 2023, Mariah and Clay celebrated both their love and overcoming their diagnoses at a beautiful reception.
At the reception, Mariah stunned in her dream dress, Essense of Australia Style D3589 – a gorgeous crepe gown that exudes effortless glamour.
"It was exciting to dream about a celebration after cancer, not while anticipating it," says Mariah about her bridal experience at True Society – Grand Rapids. 
Read on to learn more about the couple's love story from Mariah and join us for this dreamy reception celebration. 
Tell us about your love story. How did you meet your husband?
Clay and I met in statistics class and started dating during our senior year of high school. On our first date, we went to a football game at a local high school. Funnily enough, we both left that date feeling like nothing could work between us because we were so different. 
We continued getting to know each other throughout high school and soon learned that we balanced each other out in a good way. We dated long distance in college and even broke up and spent a year apart. However, we found our way back to each other after that year. 
What was the proposal like?
On December 26, 2020, Clay took me for a walk in Saugatuck, Michigan. It was freezing, but we loved taking walks together and enjoying the Christmas lights. Clay proposed under a snowy, lit-up gazebo which was decorated for Christmas. 
Our families were hiding in cars nearby, ready to surprise me after Clay put the ring on my finger. It was the simplest, most special evening. When Clay proposed, he said, "I want us to be able to tell our kids someday that even though 2020 was a really hard year, we ended 2020 on a good note."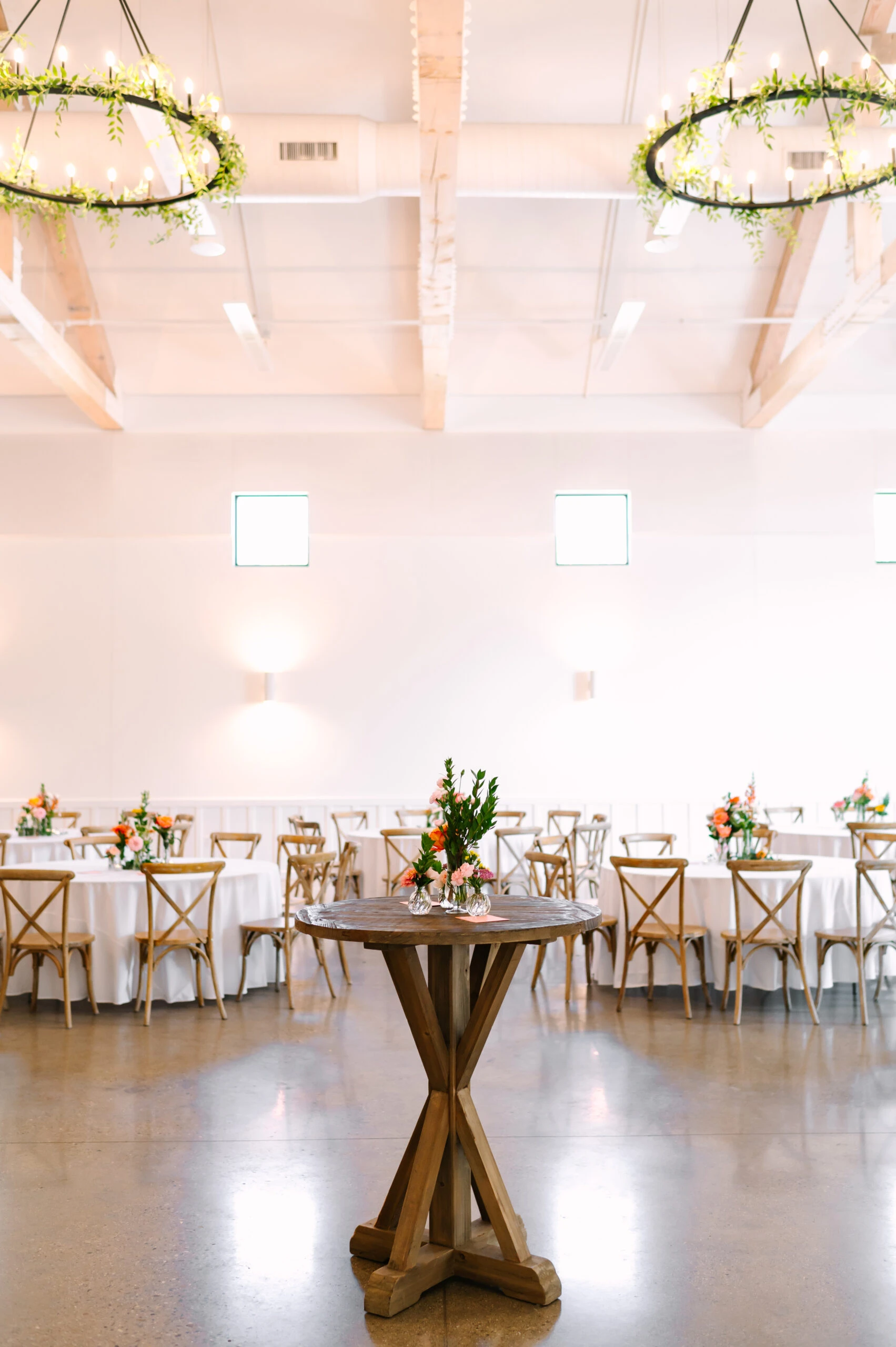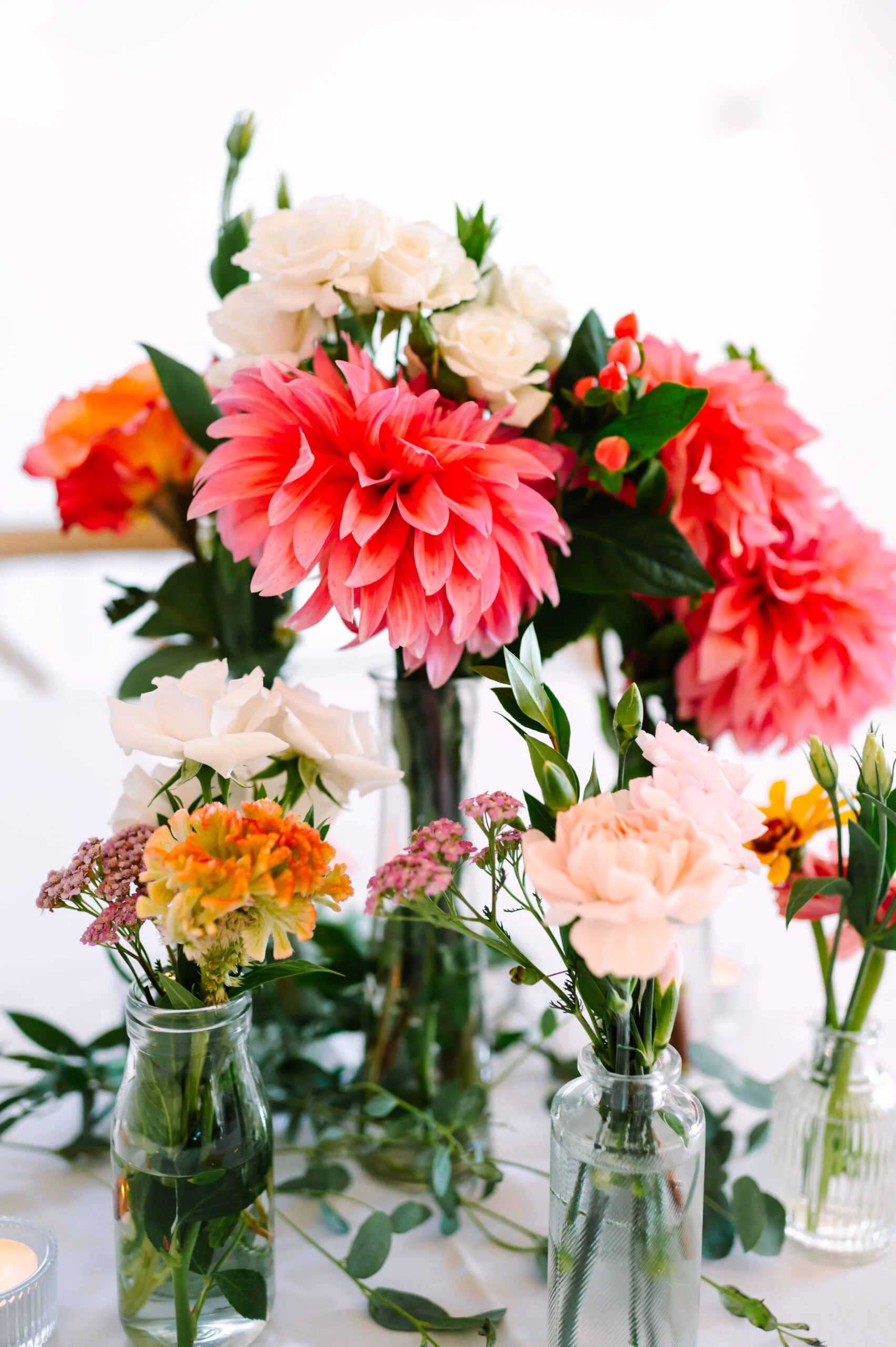 What made 2020 extra challenging for you both?
While 2020 was a hard year for everyone given the global COVID-19 pandemic, it was an extra horrible year for us. In February of 2020, before our engagement, I suffered a spontaneous Aortic Dissection – a medical condition where a tear occurs in the inner layer of the body's main artery.
I spent two weeks in the ICU and Clay never left my side. He slept on a hospital chair next to my bed every night while continuing attending college classes the best he could from hundreds of miles away.  
I almost lost my life, and it took nearly six months for me to recover and move my body somewhat normally again. On top of the medical crisis, we were in our senior years of college and it was nothing like we hoped or planned with COVID hitting. We both finished school online and didn't get to experience a graduation ceremony. 
It was extra special to end the year engaged – dreaming about our wedding day and spending the rest of our lives together. 
After that, you were also both diagnosed with cancer. Would you like to share more about your journey?
As if things couldn't get worse, three months before we were to get married, we were both diagnosed with cancer. I received the cancer diagnosis on January 11, 2022, that I had a Granulosa Cell Tumor – a malignant tumor of the ovary. Then, eight days later, Clay was diagnosed with Acute Myeloid Leukemia.  
I had my right ovary removed and went through fertility treatment to freeze my eggs. I also underwent six rounds of chemotherapy treatment, while Clay had two stem cell transplants. Sadly, his first one in May of 2022 failed and he relapsed in September of 2022, but after his second transplant in March of 2023 his body showed no signs of leukemia.
Since then, everything has gone well for us – Clay continues with chemotherapy treatment every six to eight weeks as a preventative measure and I do blood work monitoring every three months.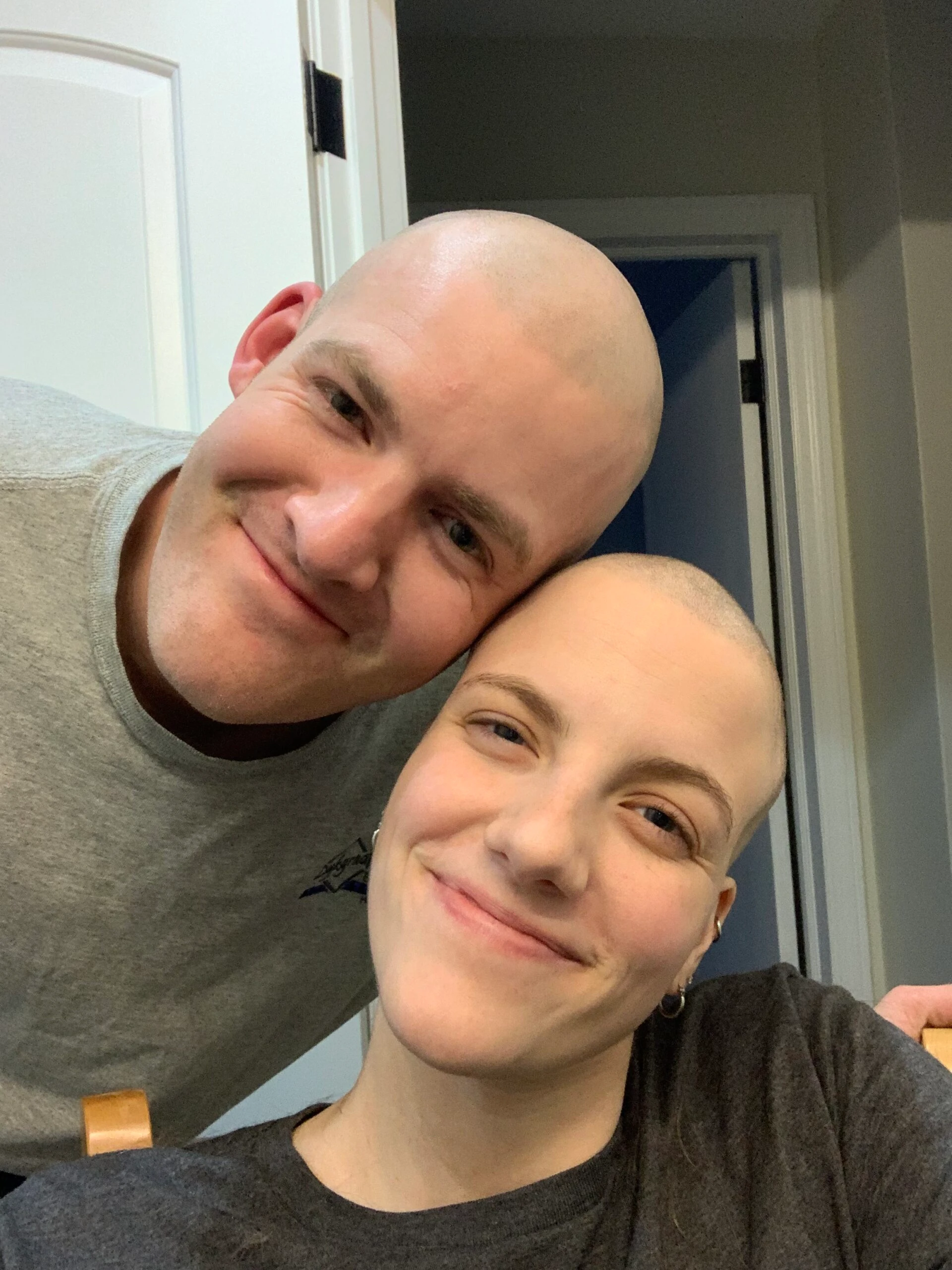 You had your original wedding ceremony before you and your husband started treatment. We want to know all about the ceremony.
The original wedding date was supposed to be June 10, 2022, but due to both our diagnoses and treatment plans, it wasn't safe for us to get married and have a guest list of 150 people in June, so we ended up getting married on April 9, 2022.
On that chilly April day, we gathered with 30 of our closest loved ones– immediate family, grandparents and our wedding party – and got married at the church I grew up in. The ceremony was followed by a reception at Clay's grandparents' house, where we ate burgers and donuts for dessert. It ended up being the most perfect day, despite the circumstances.  
Clay and I exchanged personal vows on our special day. My father, who is a pastor, officiated the ceremony. We had our first dance as a married couple in front of Clay's grandparents' fireplace, which is now a special place for us to reminisce on our wedding day. 
How would you describe your bridal style?
For the actual wedding, I wanted something simple, elegant and a little unique for our wedding day. I went to many different bridal salons and found a simple A-line with floral lace and a little bit of sparkle and a beautiful train. I felt beautiful and loved my dress!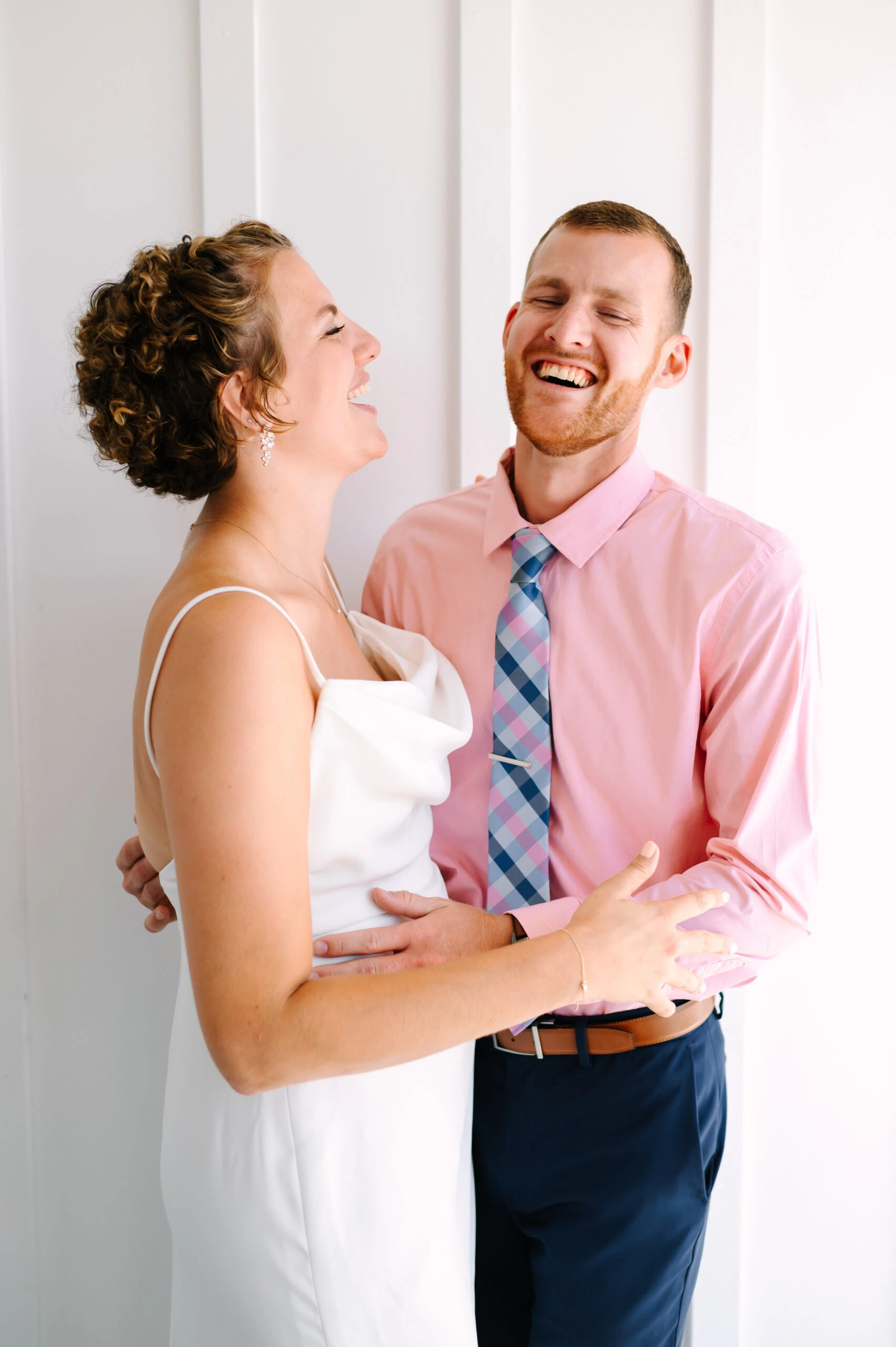 You shopped for wedding dresses twice – for your wedding ceremony and for your reception. What were the experiences like? 
Both experiences were unique. When I initially shopped for my wedding dress, I bought it with the vision that we were getting married in June outdoors. I found a dress I loved, but still felt the stress of cancer, timeline and all the other wedding details! 
My experience shopping at True Society in Grand Rapids was completely different. It felt light, airy and low stakes, all while feeling the freedom to choose something completely different from what I got married in the first time.
The True Crew bridal stylist made me feel like a queen, even though I was coming off treatment and just started growing my hair back. It was exciting to dream about a celebration after cancer – not while anticipating it. This made the shopping experience SO much more exciting!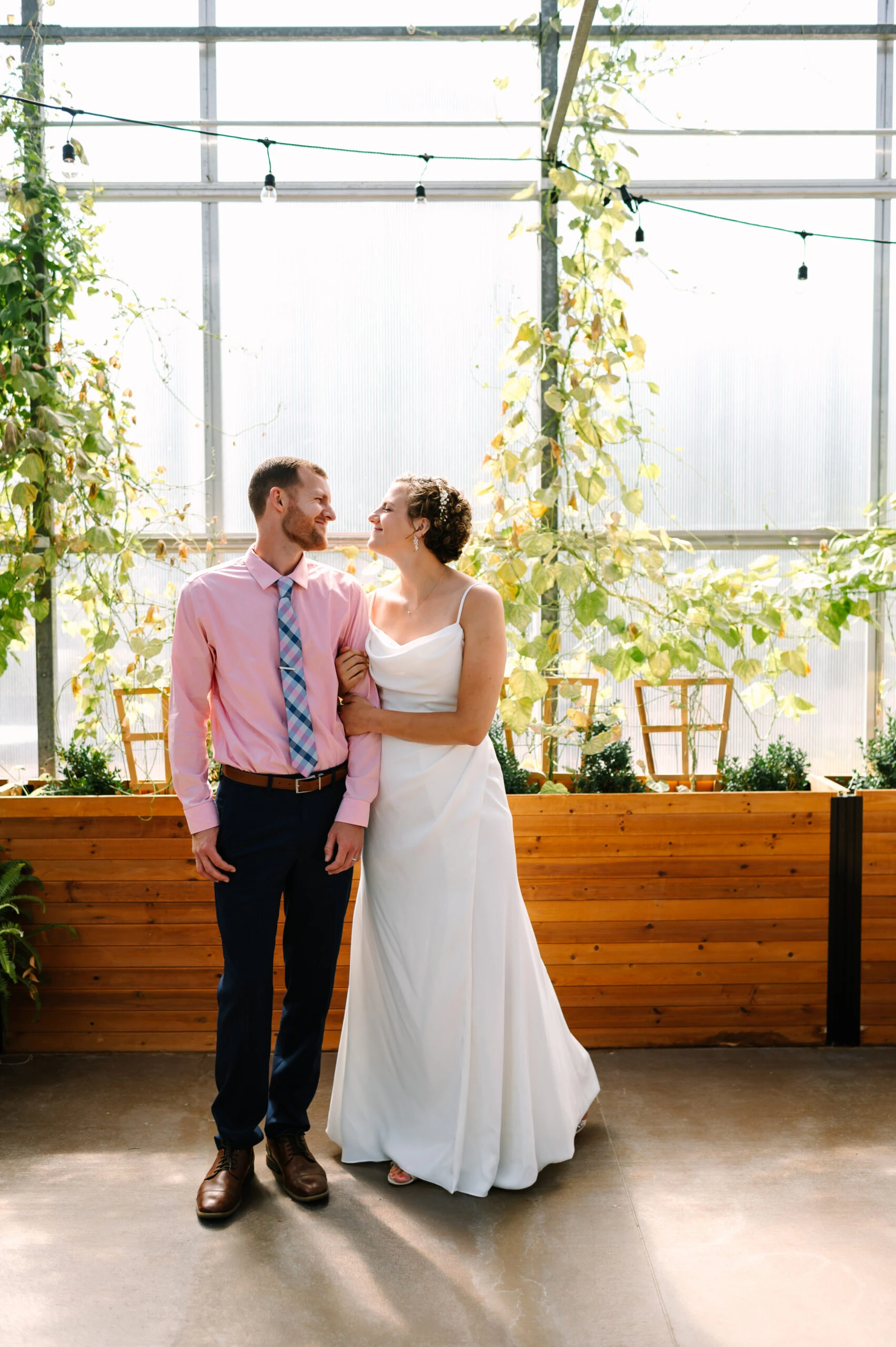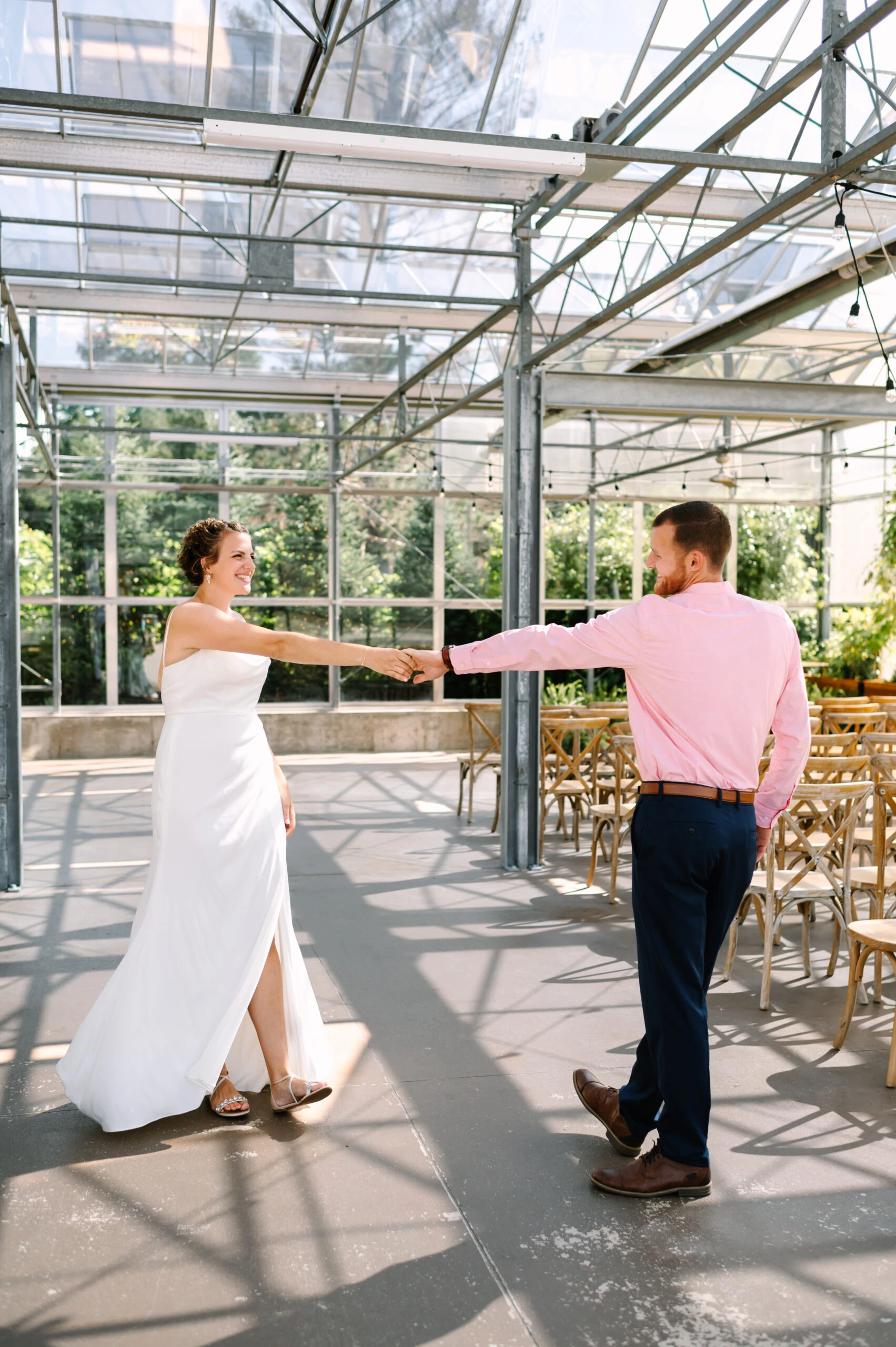 What did you love most about finding your reception dress at True Society and working with our True Crew?   
I loved being able to choose something I would never have bought for our original wedding ceremony. And yet, Essense of Australia Style D3589 was PERFECT for our reception venue, time of year and occasion. Again – the whole True Crew was amazing to work with. They made me feel comfortable and at ease the whole time and helped me find my dream dress.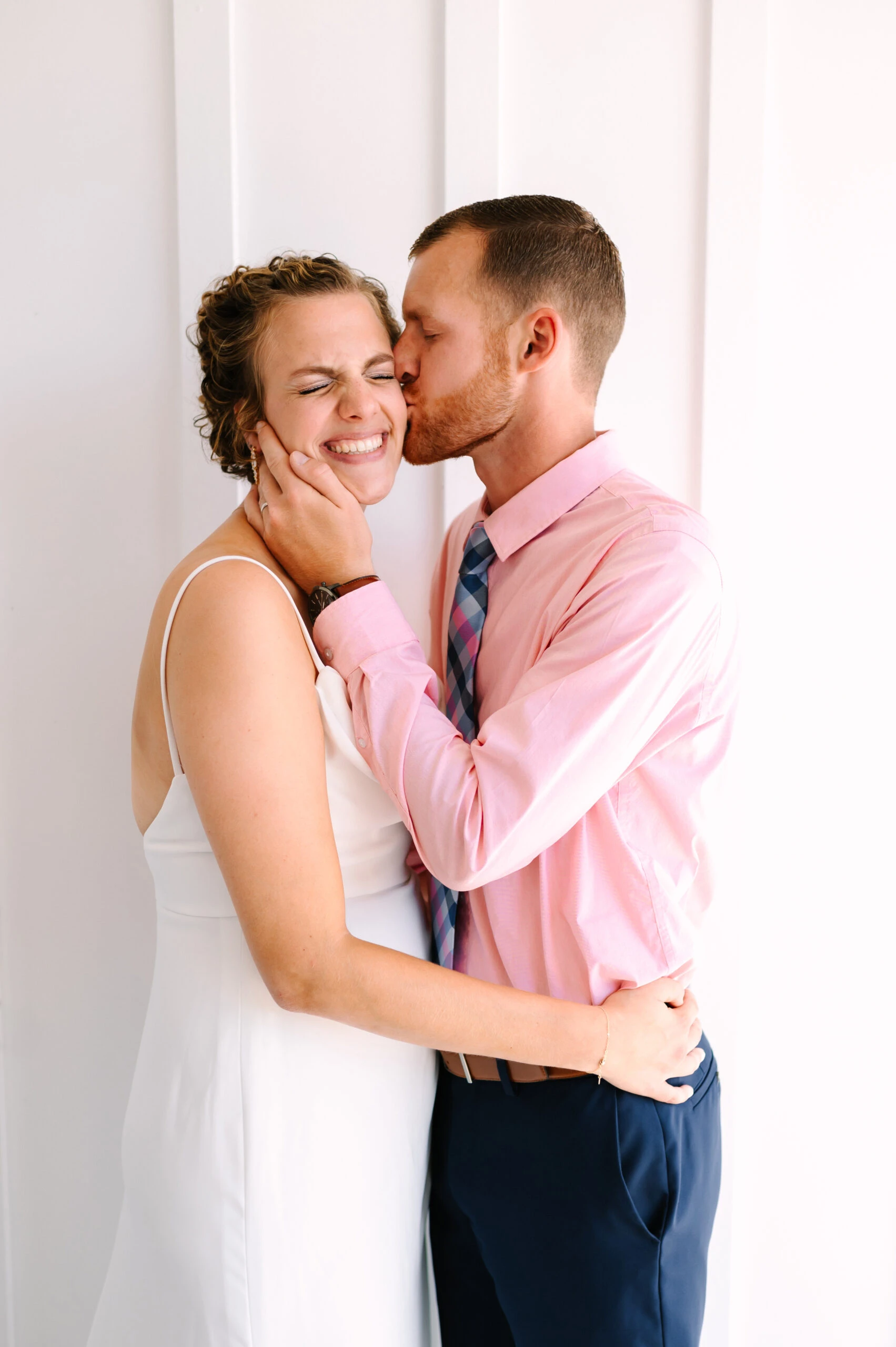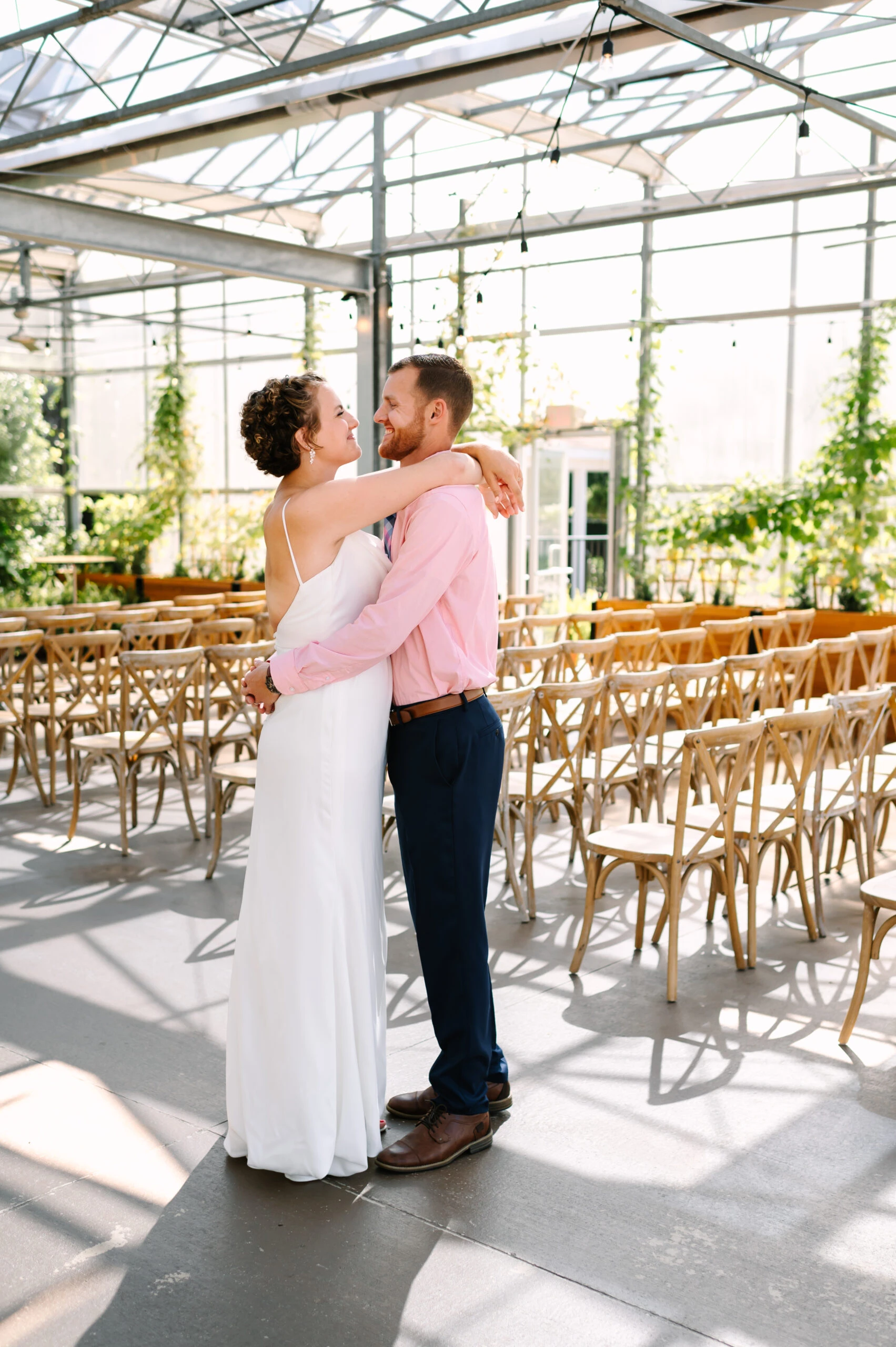 As a couple, you've been through so much. How's married life?
We are slowly finding a "normal rhythm." Our entire married life has looked different from most newlyweds, but we've also been working on house projects, going on date nights, taking our puppy for walks and cherishing each day we get to spend together.  
Cheers to Mariah & Clay!  
Photography: Rachel Gabrielse Photography
Wedding Venue: Ivy House
Alterations: A Perfect Fit Alterations
Florist: STEMS Market
Cake: Nothing Bundt Cakes
True Society brides, did you find your dress with us and want to be featured as a #TrueBride? Share your story with us.    
Ready to find a dress that makes you sparkle on your wedding day? Find a True Society store near you and book your appointment today!