This article is part of our Ultimate Wedding Dress Shopping Guide.
There's nothing quite like stepping into your dream wedding dress when it fits like a glove! While wedding dress alterations are responsible for ensuring that your gown is flawless on your big day, a big factor that influences the fit of your dress is the wedding dress closure. From a zipper to a corset closure to a classic button loop closure, there are so many wedding dress closures to consider when shopping for your wedding dress. Continue reading to learn more about the different types of wedding dress closures and to find out which one may be best for you! 
What is a Wedding Dress Closure? When Would I Use One?
A wedding dress closure allows you to close the bodice and/or the skirt for a secure fit. Virtually all wedding dresses have some kind of closure, which is typically a back closure but can also be on the side or, less commonly, the front of the gown. Depending on the variety of closure, you can adjust the fit of your gown throughout the night. Continue reading to learn more about the different types of wedding dress closures!
Different Types of Closures for Wedding Dresses

Bridal Loops / Button Loops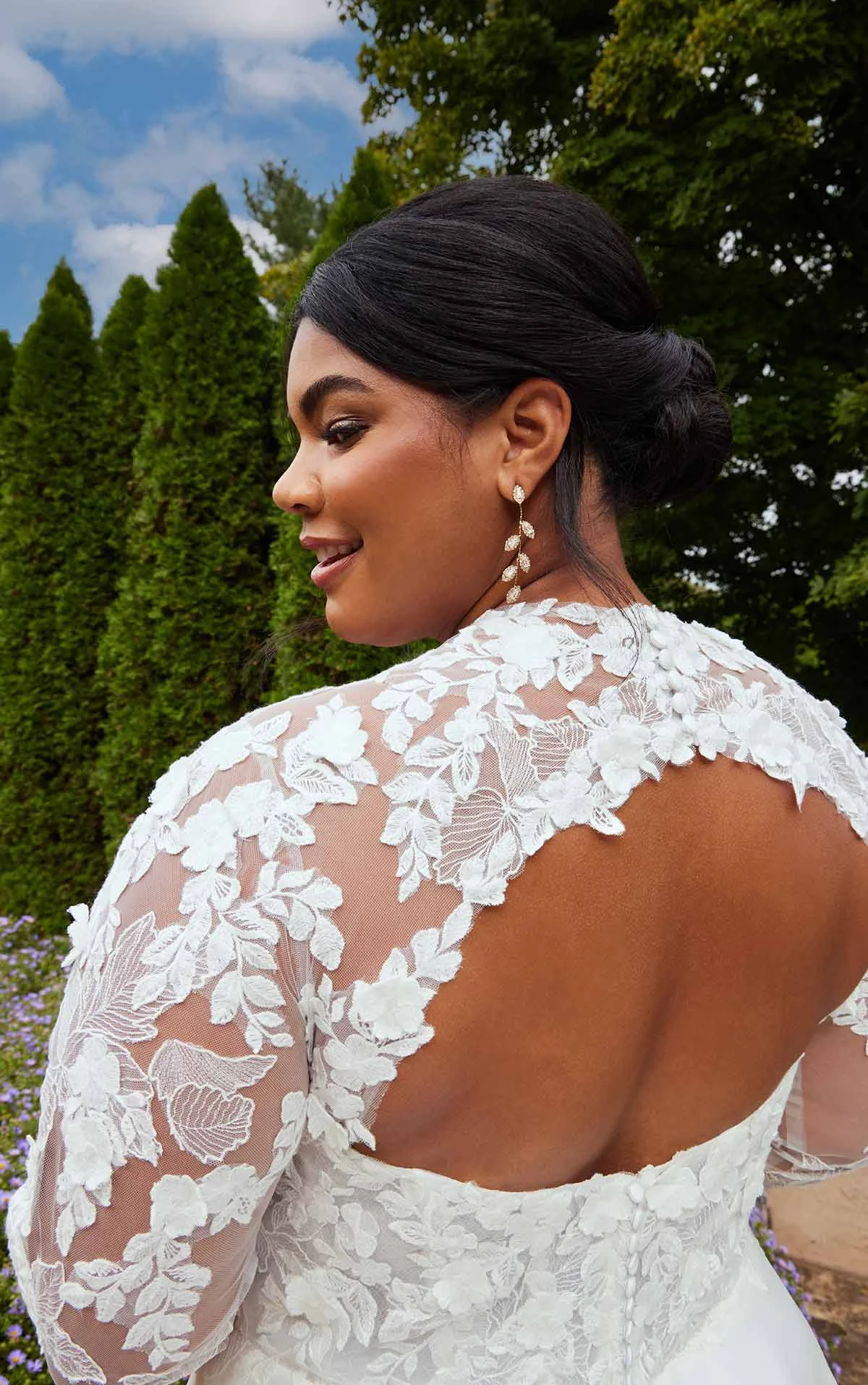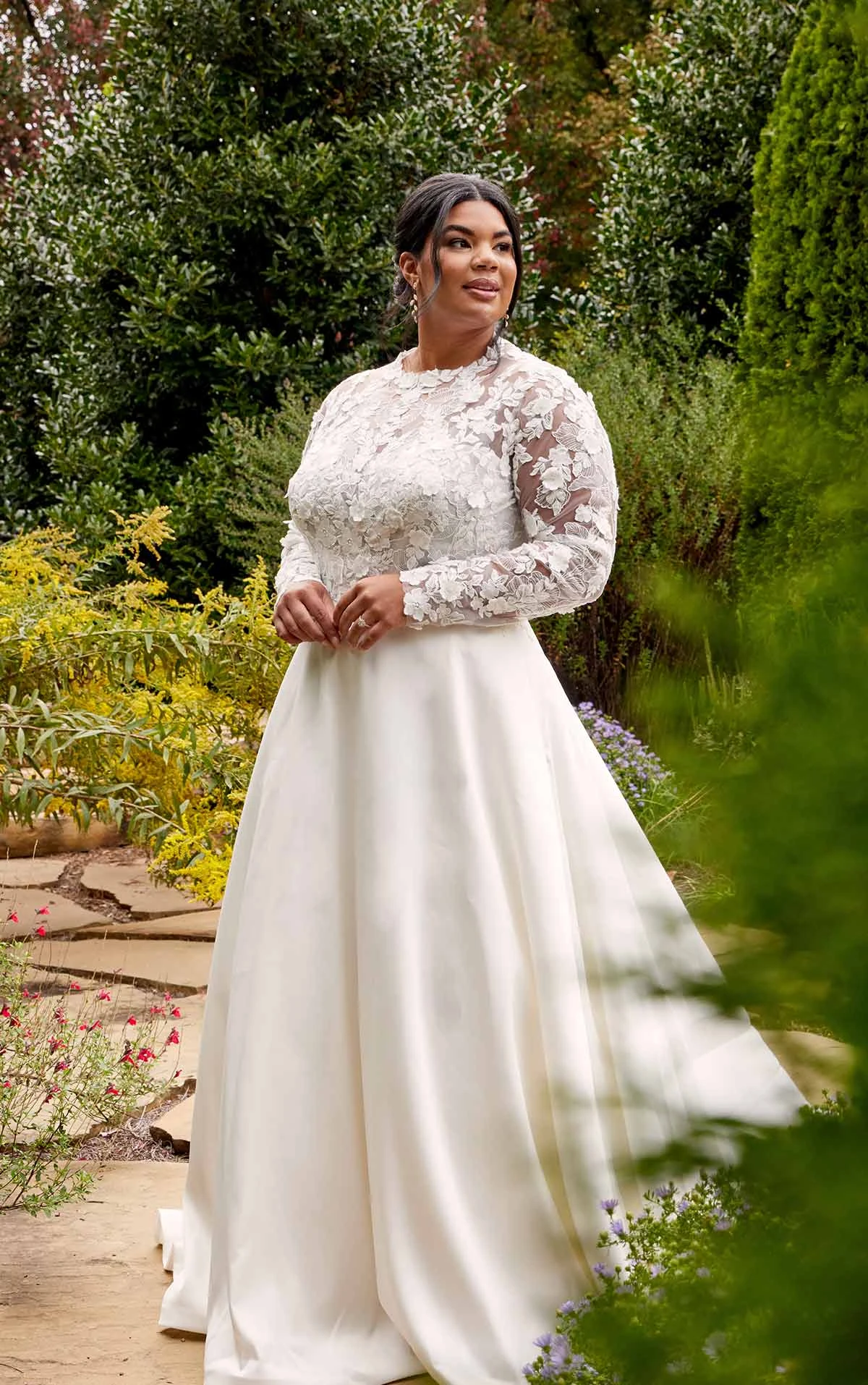 Essense of Australia Style D3715
Bridal loops, or button loops, are made of cording and go around each button to close the back of the dress and can also be used on sleeves or other areas of the gown, such as a side slit, as a fashionable embellishment that is also functional.
Typically, a button loop closure gives off a very classic look, like Essense of Australia Style D3715, which uses a button closure with fabric-covered buttons to secure the top of the keyhole back. Buttons can be made of crystals or pearls as well. Depending on the wedding gown's silhouette, you may find that the dress has multiple closures, such as buttons and loops on the bodice and a zipper closure on the skirt.
Pro Tip: Have whoever is helping you get into your gown on your wedding day use a crochet hook to pull the loops around each button. It can be tricky to use your fingers, especially when the loops are small.
Corset Closure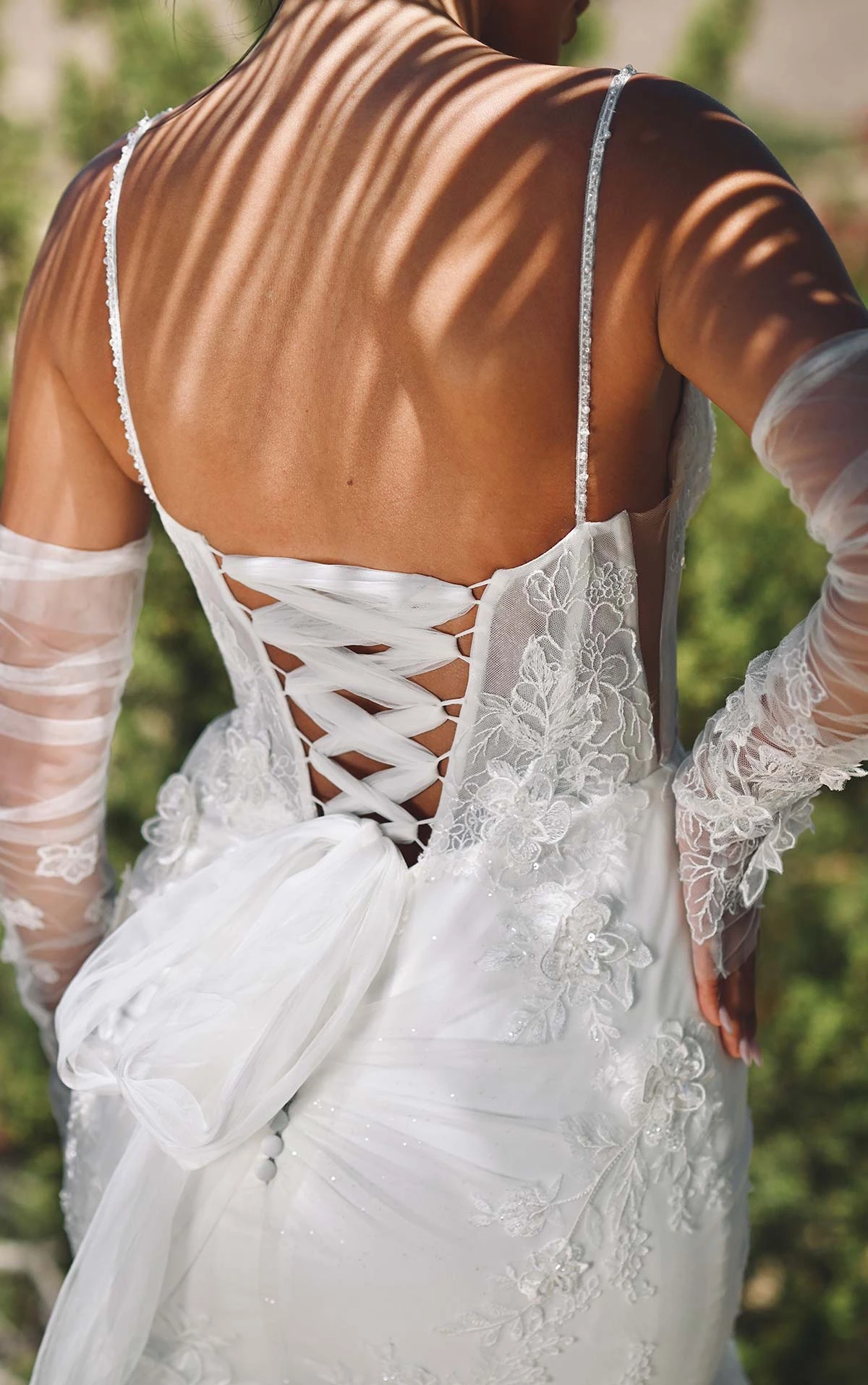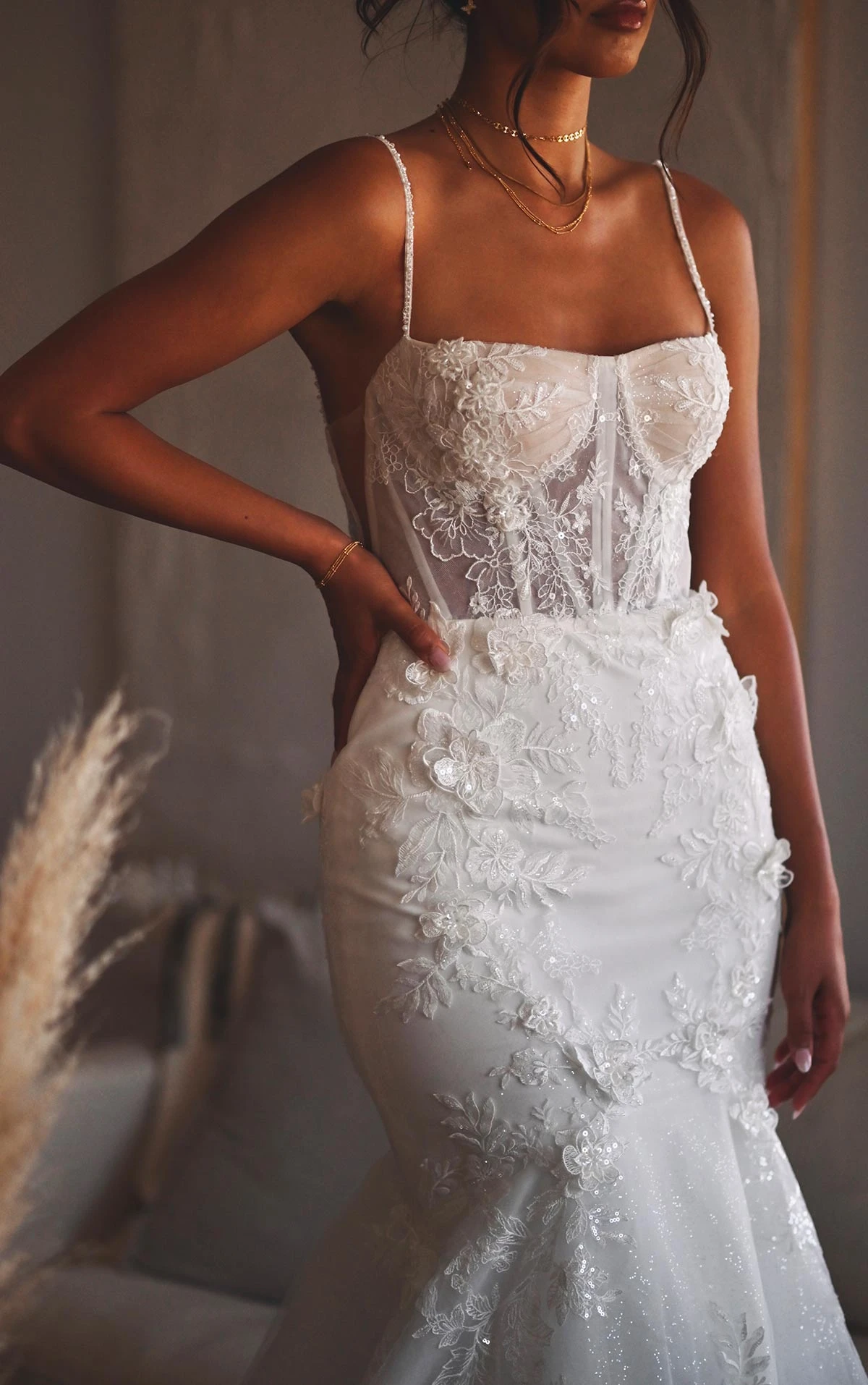 Corset closures can vary from regal to modern, depending on the style and silhouette of the gown. For example, a ballgown or A-line wedding dress with a corset is ideal for the bride who wants a royal look, while a sheath or mermaid gown with a corset back gives off a sexy vibe.
Traditionally, corset backs consist of a ribbon threaded through grommets or loops in the back of the gown and then pulled to tighten the dress (think of how a shoelace works), like Martina Liana Style 1488. This style of back gives the benefit of being tightened and loosened throughout the day. Today, you can also find a wedding dress with a corset structure and a zipper back closure, like Essense of Australia Style D3647.
Zipper Closure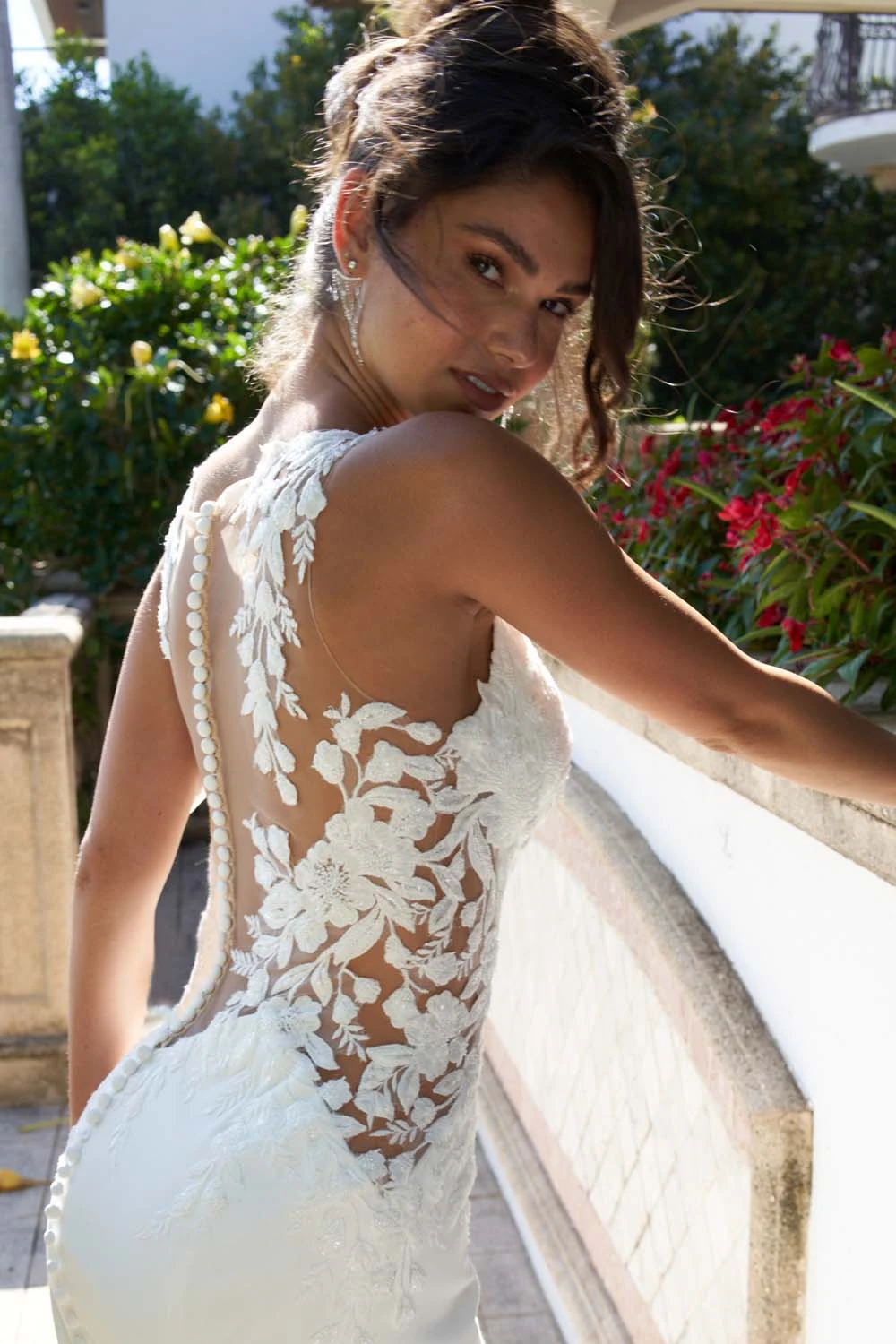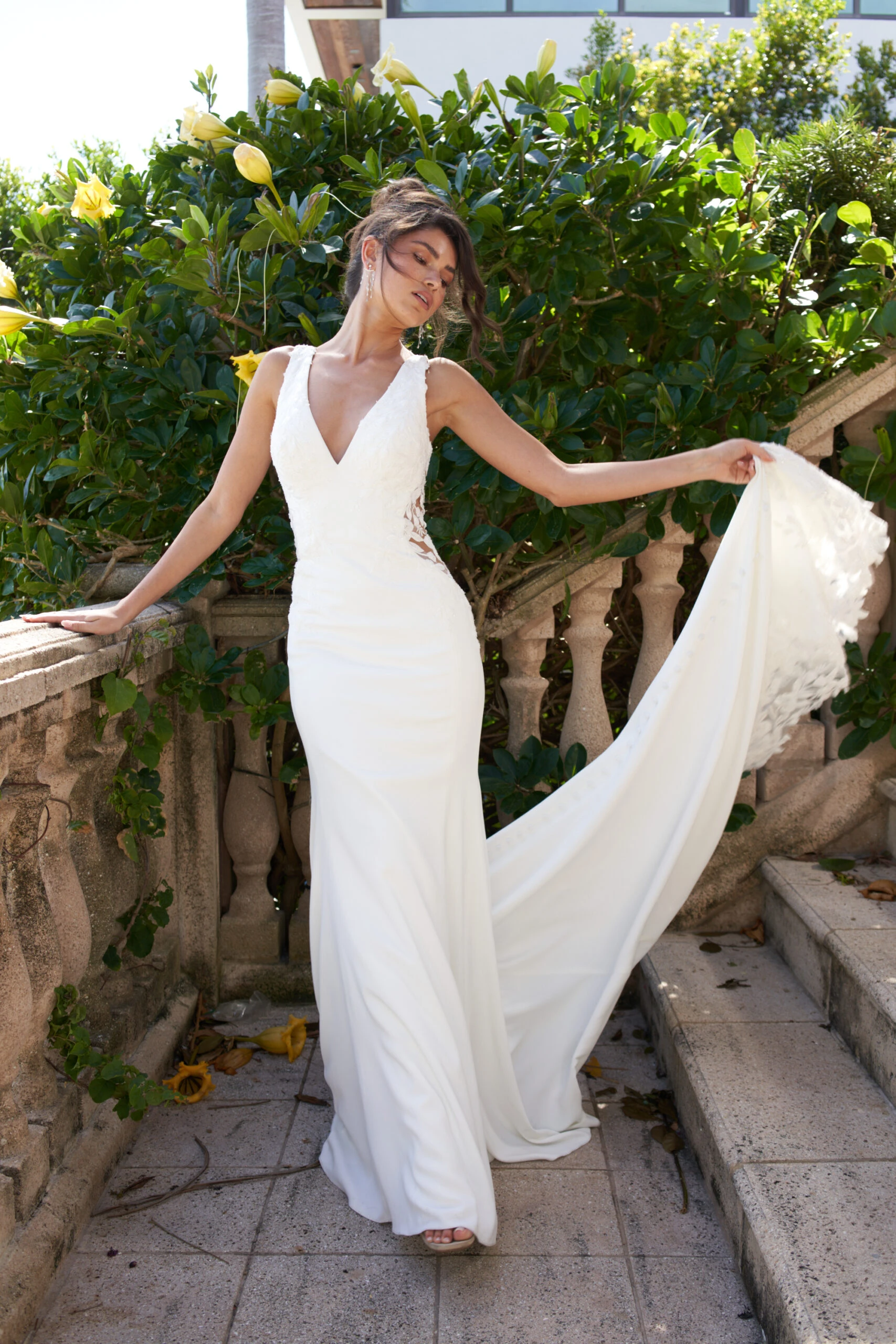 Essense of Australia Style D3544
One of the other most common wedding dress closures is a zipper closure. Zippers are typically used on the back or side of a gown and are the simplest closure to use, providing a quick way to get into and out of your wedding dress. This type of closure is commonly used on gowns with an illusion-style or low back and can be used for any silhouette.
The zipper may be accompanied by buttons placed on the side of the zipper for the illusion of a button closure, like on Essense of Australia Style D3544.
Is it Tough to Alter the Closure on my Wedding Dress?
Altering the closure on a dress varies in difficulty depending on the closure type, but it usually isn't impossible! If you are considering changing the closure on your gown in alterations, it may be best to speak to a seamstress before purchasing your gown to explain the changes you would like done. In some cases, you can customize your wedding dress, which will minimize the alterations.
Ready to begin your dress search? Find a True Society store location closest to you and book an appointment. We can't wait to help you find the dress of your dreams! Availability varies per store.