Between adorning their entire wedding venue with lily of the valley florals and the bride's sparkly wedding dress fit for a princess, Nuria and Alex's Switzerland wedding will transport you right into their dreamy love story.
True Society bride Nuria chose to wear Stella York Style 7053 for her wedding day. This romantic ballgown had all the mega-sparkle she needed with multiple layers of glitter tulle throughout the tiered skirt. The day she said "I do" to the dress was made even more special when she was able to meet the bridal designer in-store!
From an adventurous proposal to a dreamy dress-shopping experience at True Society in Zug, keep reading below as we share all of the elegant details from Nuria and Alex's wedding.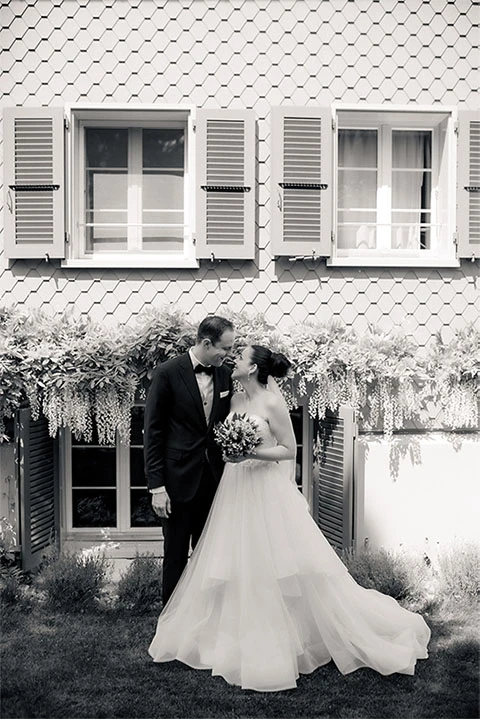 Tell us about your wedding dress shopping experience at True Society!
It was a warm summer day in August of 2021 when I went to the fitting appointment alongside my mom. We picked out different dresses together with our bridal stylist, Tabea – I think it was one of her first days at work, at that time.
Luckily, my dress found me very quickly. Within 30 minutes it was clear that Style 7053 from Stella York, with all its glitter and the tiered cut, was right for me. This was also thanks to the expert advice of my True Crew stylist and my mom's help. A wonderful surprise was that on this specific day, the designer was also in the boutique by chance and even gave me some advice on accessory choices. It was an unforgettable experience.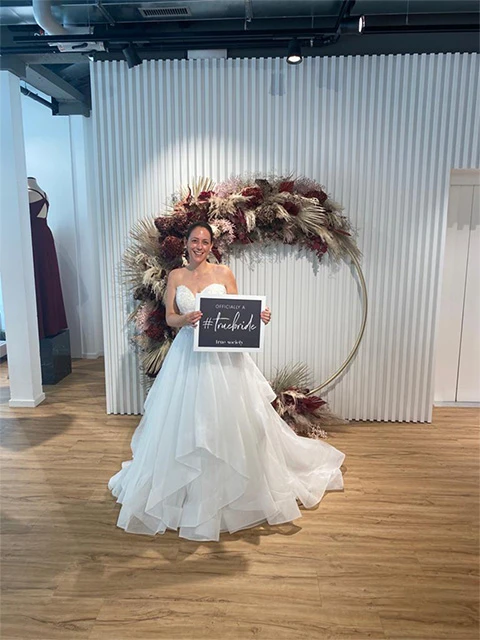 Tell us about your love! How did you two meet? How was the proposal?
We met and fell in love 11 years ago when we were still in school studying. We're both very sporty and athletic so the proposal was on a bike ride on the Gotthard Pass in the Alps. When I reached the top of the pass on my bicycle, Alex was kneeling there and asked me to be his wife. Even after all those years, I still almost didn't expect it!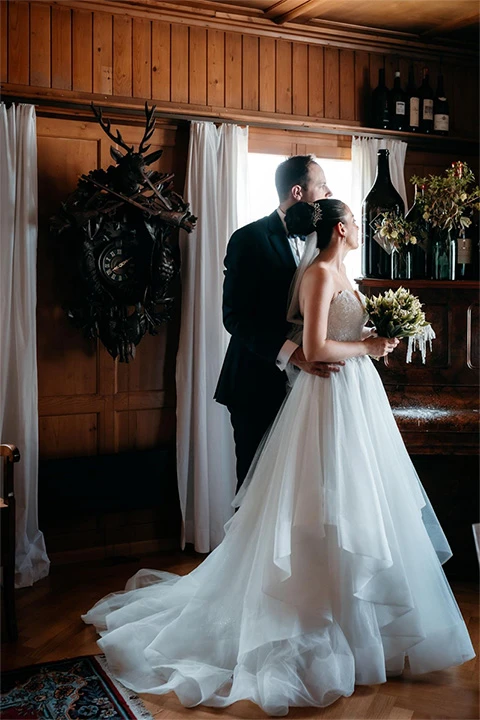 Describe your bridal style. How did you want to look on your wedding day?
I wanted to look like a princess but in an elegant way. The dress and accessories made me shine in the simple yet lovingly decorated venues. The flowers were elegant and all in white. Aside from the dress, my bridal bouquet of lilies of the valley was another highlight.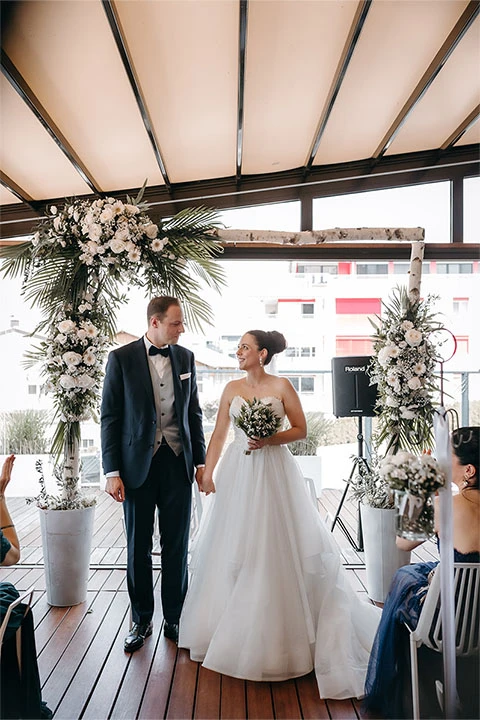 Cheers to Nuria & Alex!
Photography by Gloria Velvet
Flowers: Blumen Gössi

True Society brides, did you find your dress with us and want to be featured as a #TrueBride? Share your story with us.
Ready to find a dress that makes you sparkle on your wedding day? Find a True Society store near you and book your appointment today!