Tiziana and Dania dreamed about their fairytale boho wedding for years. Surrounded by their loved ones, the two childhood besties said their long-awaited "I do" at the scenic Lake Walen in Switzerland.
To match their romantic summer ceremony, Tiziana wore an enchanting lace A-line wedding dress with detachable off-the-shoulder puff sleeves – the shimmering Style 1423 by Martina Liana had already caught her eye on the website before her bridal appointment at the True Society store in Zug.The same day, her wife-to-be Dania also found her dream dress – the glamorous boho gown Style D3023 by Essense of Australia with leafy embroidery and glitter tulle that instantly swept her off her feet.
Tiziana describes their nine-year long love story, before they finally walked down the aisle, as an emotional roller coaster – which makes her even more excited about her future with Dania. Join us for a magical boho-celebration with charming candlelight and unexpected sunshine.
TIZIANA, TELL US ABOUT YOUR LOVE STORY. 
Dania and I have known each other since we were born. Our grandparents and parents were friends, and even vacationed together, so we basically grew up together. However, we lived in different countries for a while— Dania lived in Italy, while I was in Switzerland. During that time, WhatsApp didn't exist yet, so we only kept in touch during our family vacations.
In the summer of 2012, on an evening like many others in the past few years, we saw each other and fell in love at first sight. We both sensed something in the air – it was an intense feeling and certainly more than just friendship! From that moment on, a long, exciting and emotional journey was ahead of us. I am insanely grateful that we never stopped standing up and fighting for our love.
IN YOUR OWN WORDS, TELL US MORE ABOUT YOUR WEDDING. 
We celebrated our wedding with our loved ones and raised our glasses to our love winning, to what we have accomplished as a couple and to our future life together. The ceremony was very moving and intimate – especially our wedding vows that brought many of our guests to tears.
It was raining during our wedding entrance but then the sun came out at the very moment when our officiant was talking about how we share our love with so much pride. It was truly a magical moment, and everyone clapped.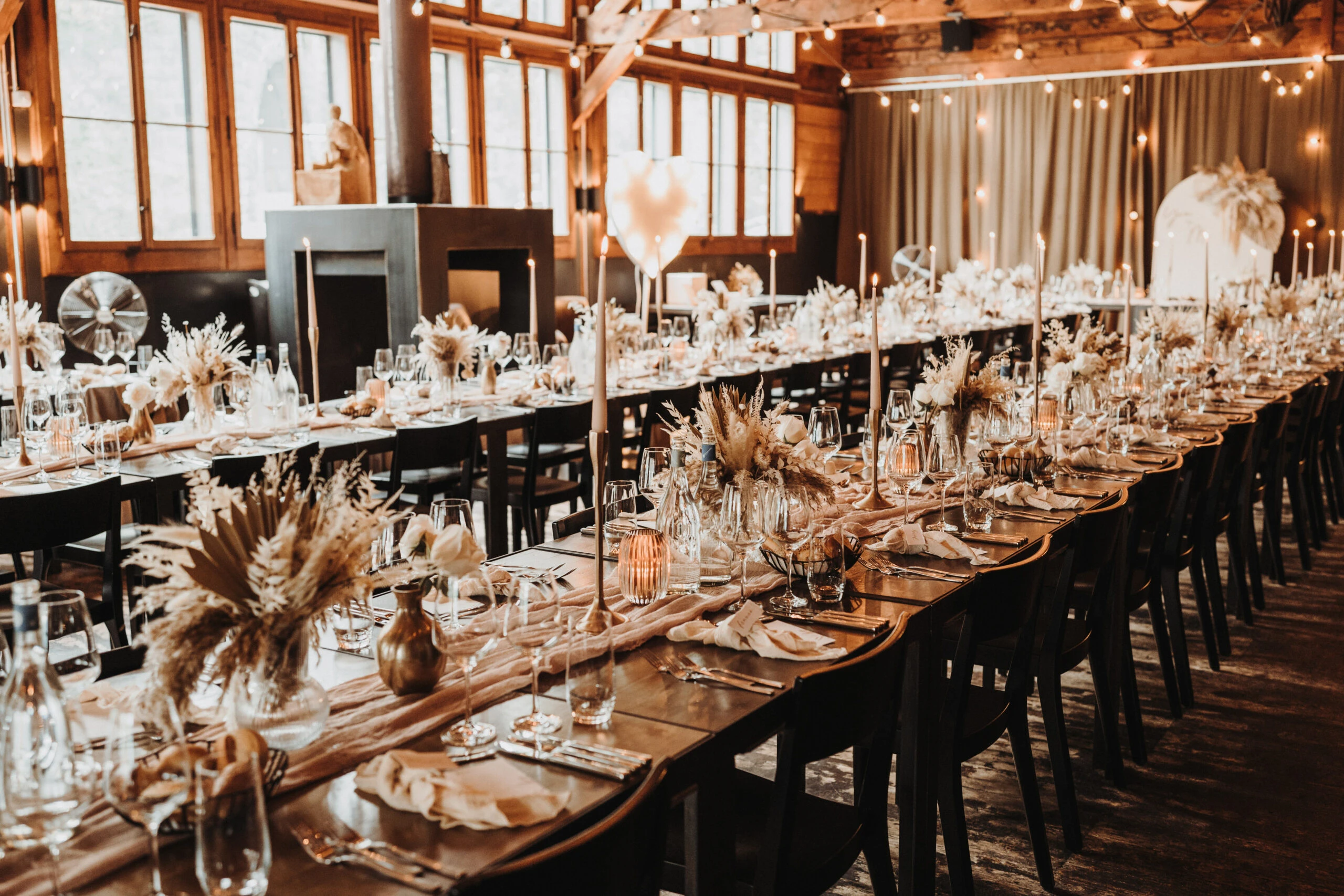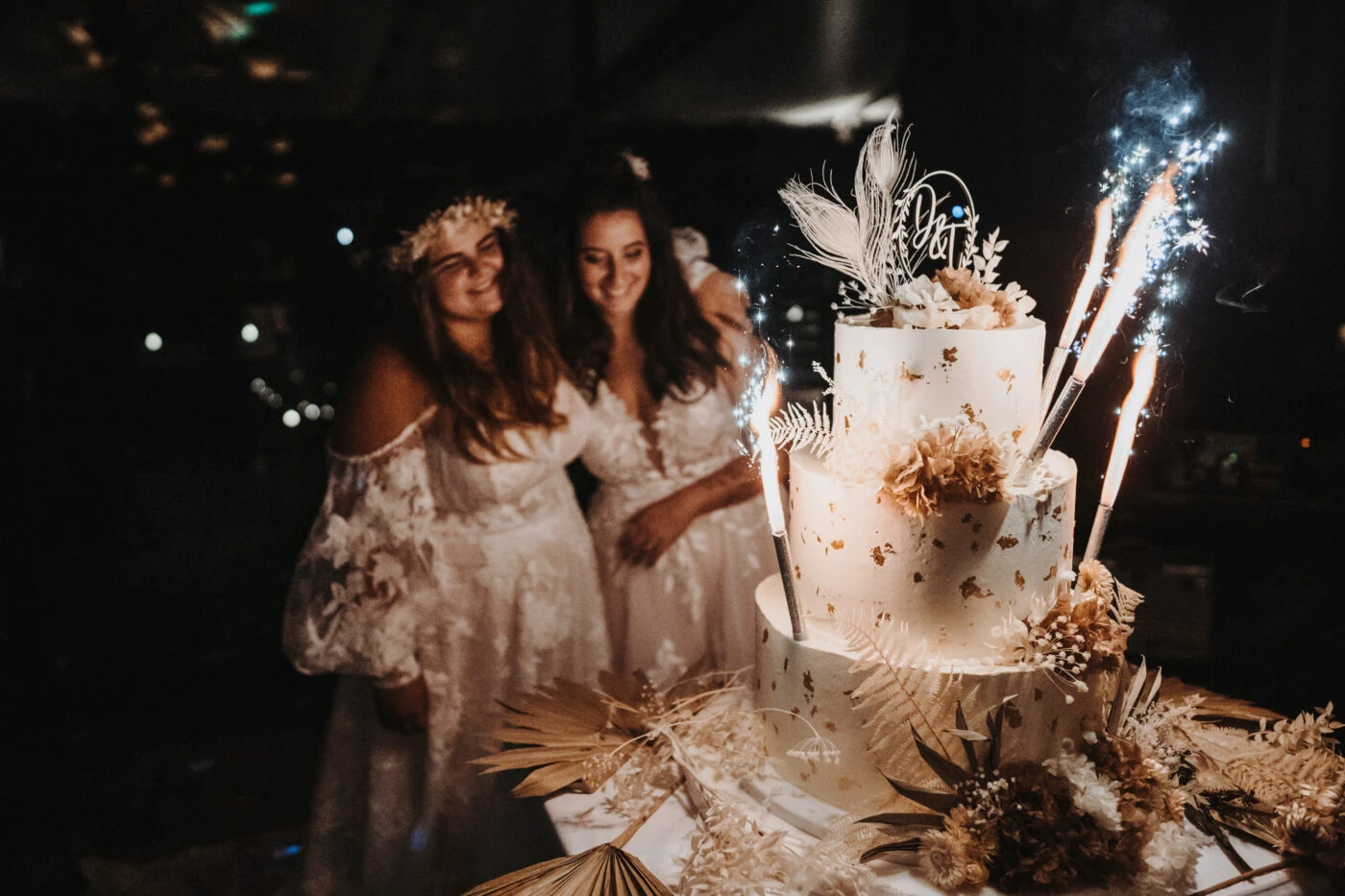 TELL US ABOUT YOUR DRESS SHOPPING EXPERIENCE.   
Since we were planning a boho wedding, we both wanted to find special gowns that would fit our theme perfectly. We were super excited for our bridal appointment at the True Society store in Zug.
As soon as we arrived at the store with our families and friends, we were given a very warm welcome and immediately felt comfortable. Each of us had our own dressing room, so Dania and I couldn't see each other, only hear each other. This was brilliantly organized by the True Crew!
Our bridal stylists had pre-selected some gowns for us based on the styles we liked and the vibe we were trying to achieve. However, we were still welcome to browse through the beautiful wedding dresses in the store. I instantly fell in love with one particular gown but was worried that it might not suit me. I took a few more dresses into the dressing room, just to be safe.
My favorite dress, Style 1423 by Martina Liana, was the very first gown I tried on and immediately knew THIS was my dream dress. I had already spotted this off-the-shoulder dress on the website prior to our bridal appointment. When we arrived at the store, it was hanging there as if it had been waiting for me – that could not have been a coincidence!
What I didn't know that day: Dania had also found her dream dress, Essense of Australia Style D3023. We are incredibly grateful for this experience and the loving and professional support from the entire True Crew. Our expectations were completely exceeded!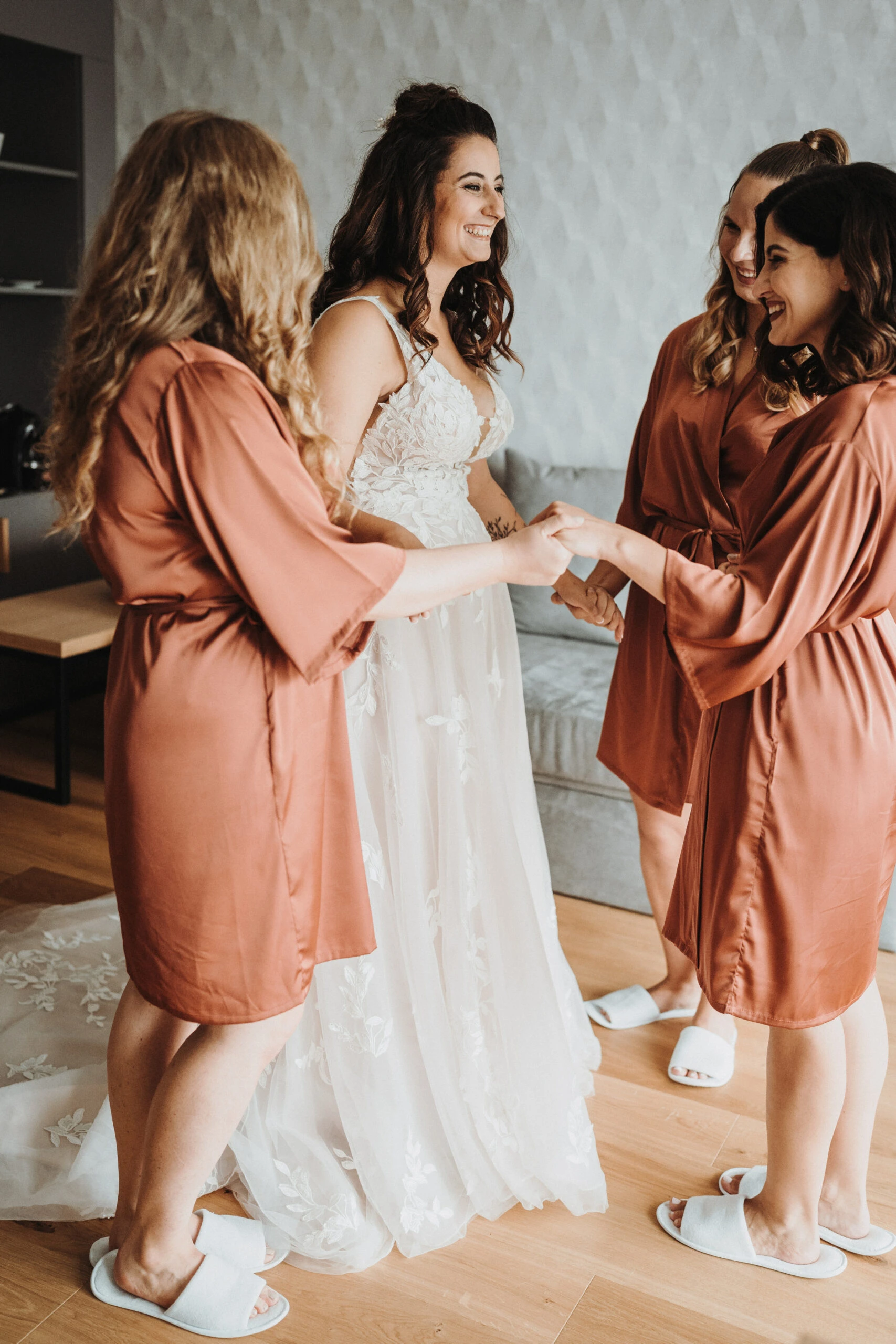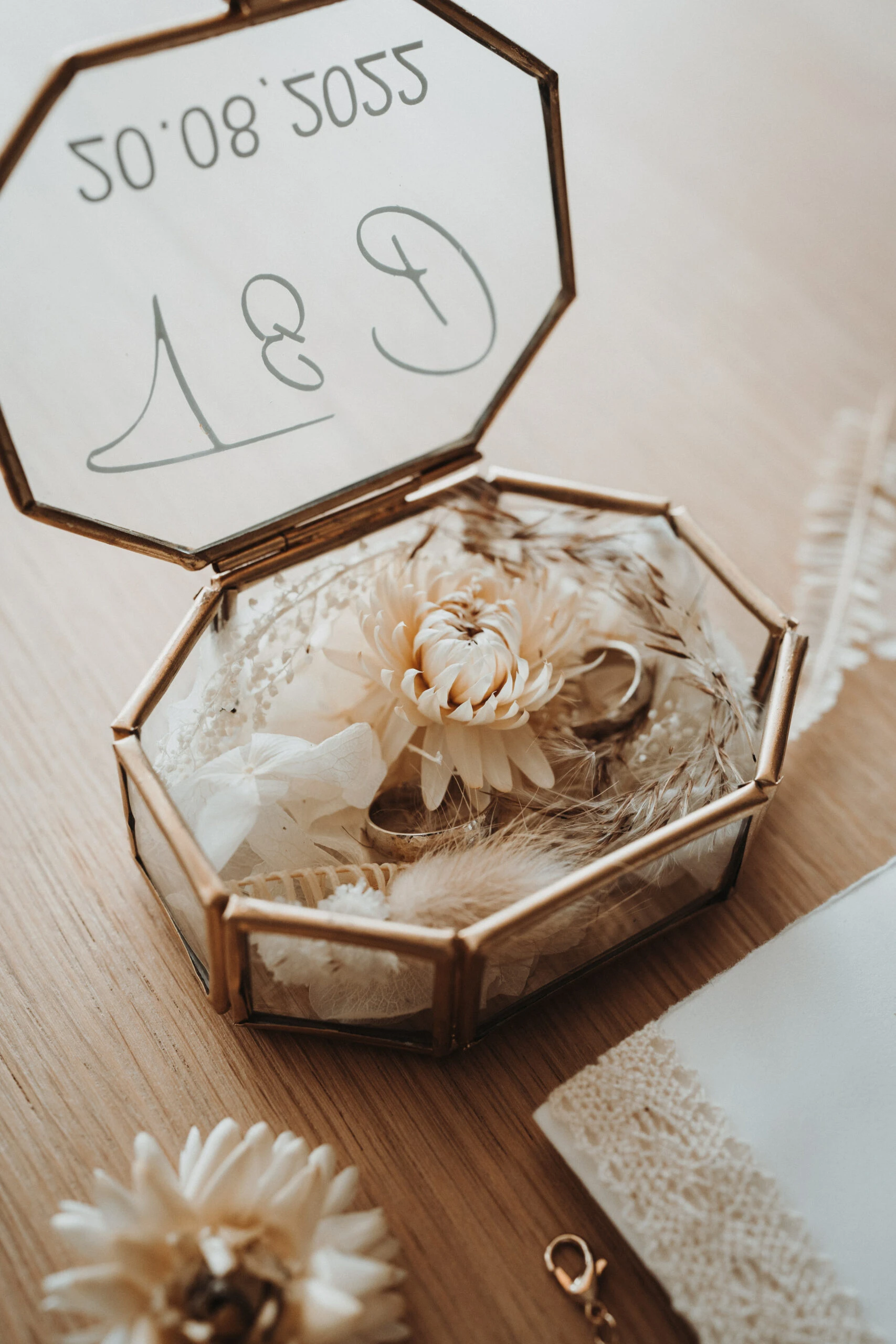 Cheers to Tiziana & Dania!
Photographer: Cubu Photography
Venue: Sagibeiz, Murg
Officiant: Manuela Lopatic
Florist: Livingbloom
Cake: Le Delizie di Marcella
Brides Hair: Gino Hairdesign and Makeup: Davide Hahmeyer
Bridesmaids Hair and Makeup: Michèle Suère

True Society brides, did you find your dress with us and want to be featured as a #TrueBride? Share your story with us.
Ready to find a dress that makes you sparkle on your wedding day? Find a True Society store near you and book your appointment today!