Your wedding day is a cherished milestone and a moment when dreams merge with reality in a beautiful union. At the heart of this magical day lies your exquisite wedding dress—a symbol of love and a cherished memory.
While some brides may choose to sell or repurpose their gowns, preserving your wedding dress is a popular route for many brides, too. Gown preservation allows your wedding dress to stay frozen in time, as it holds not just delicate fabric but a myriad of emotions and memories. Keep reading to learn more about wedding dress preservation, traveling with a wedding dress and how to keep your gown in tip-top shape both before and after the wedding!
How do You Keep a Wedding Dress in Good Condition Before the Wedding?
When it comes to wedding dress care pre- "I dos," there are a few key things to keep in mind: 
Hang Your Gown: Chances are that post-alterations, your gown will already be hung. However, if you haven't brought your gown to be altered, you'll want to hang your gown to allow for airflow and the release of wrinkles. When hanging a wedding dress, be mindful of delicate straps and illusion details like necklines and sleeves. We recommend you use a padded hanger and all of the hanger ribbons on your dress so that the weight of the gown is distributed properly to avoid tears.
Use a Cotton Muslin Garment Bag: Using this type of garment bag is the best way to store your gown. In fact, your dress may already come in this type of bag when you pick it up. If the bag is plastic, we recommend you remove the gown ASAP and put it in a muslin bag instead. This allows it to breathe and will not cause it to discolor, leaving you with that yellow look. When zipping up the bag, ensure you're extra careful not to catch any fabric in the zipper.
What's the Best Place to Store a Wedding Gown Before a Wedding?
Pick a cool, dark and dry area free from pests, bugs and messes when storing a wedding dress. A closet in a spare bedroom is an excellent option. We recommend avoiding basements or attics as they aren't climate controlled and are prone to moisture and bugs.
How do I Travel with a Wedding Gown?
To ensure your wedding dress travels well, lay it down flat in a car to avoid wrinkling. If traveling by plane, call the airline ahead of time and notify them that you will be traveling with precious cargo! Often, the airline will allow you to hang your dress in the captain's closet.
If it's an absolute must, you can also investigate the option of buying extra seats for your gown. Once you arrive at your destination, properly store your gown. Only steam the gown if absolutely needed and if you can't find a professional to do it for you. We recommend placing a sheet between the iron and your gown to avoid accidental stains or burns. Be sure to use the correct heat setting for your wedding dress fabric.
How to Care for Your Wedding Dress on the Day of Your Wedding
Your big day is finally here, but caring for your dress should still be a top priority! Make sure to spray any perfume or hairspray before stepping into your gown, as these products can cause stains. When it's time to step into your dress, do so carefully and allow someone to help put on your shoes after you're in your gown to avoid tripping and tearing it.
As you move from place to place, have someone hold your train to prevent stains. Keeping an emergency kit with needles, thread, stain removers and more is also helpful!
Wedding Dress Care for Certain Styles & Fabrics
Silk Wedding Dress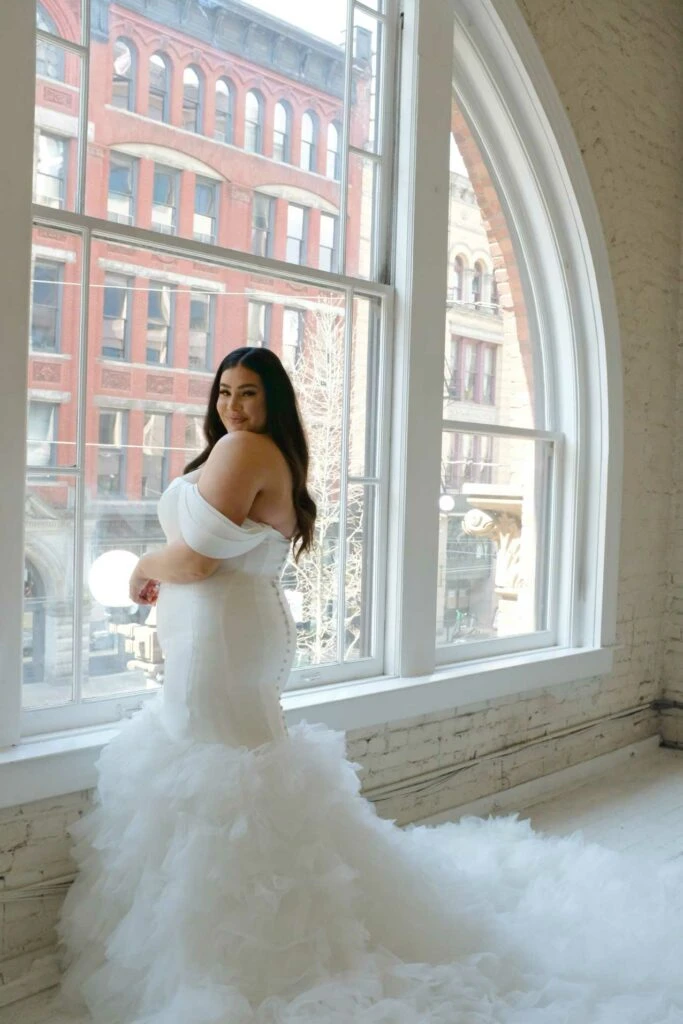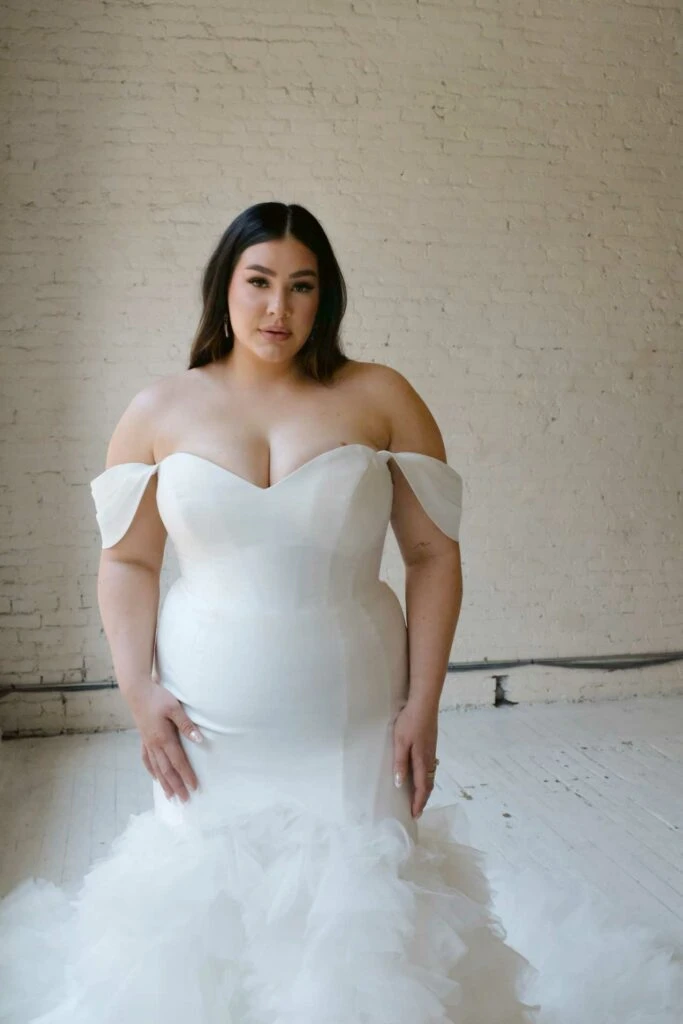 Silk makes for a luxurious wedding gown, as shown by Martina Liana Style 1611, which brings couture fashion to the aisle. When caring for your silk wedding dress, store it in a cool, dry place and avoid exposure to the sun. When pressing your silk wedding dress, use a dry iron on a silk setting, and avoid steam unless your gown is of a heavier silk fabrication.
Tulle Wedding Dress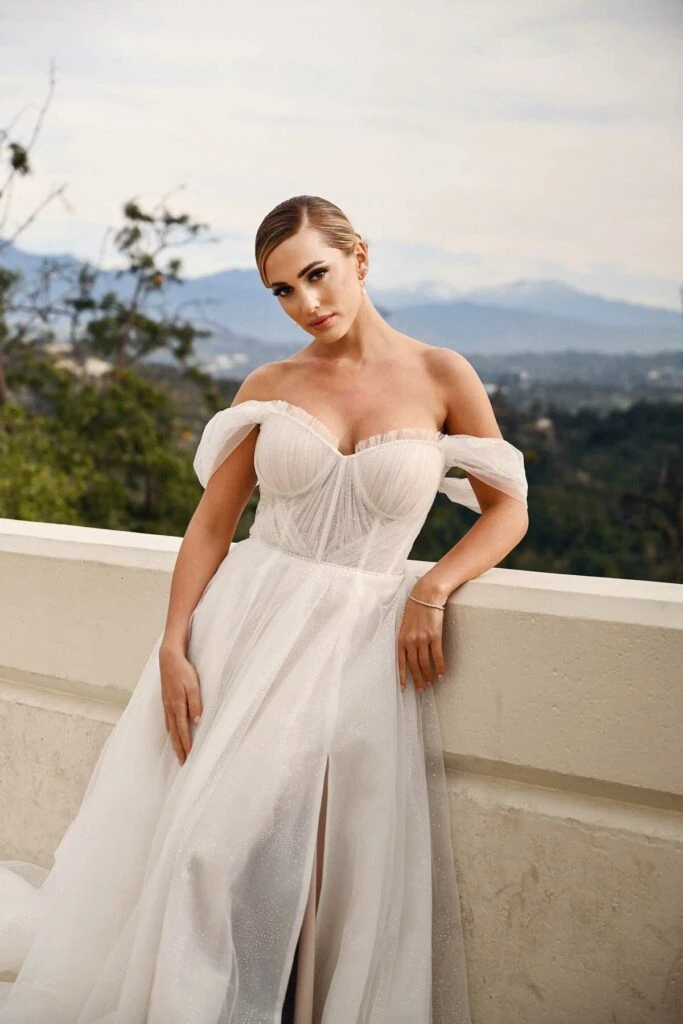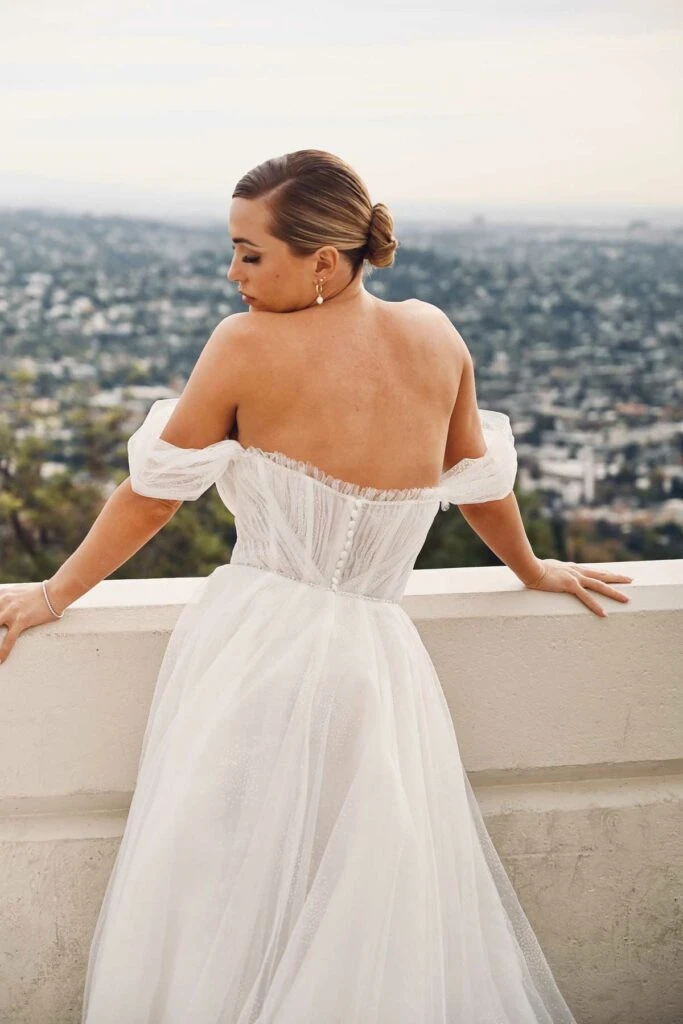 One of our favorite styles is a tulle A-line wedding dress like Martina Liana Style 1587. To care for your tulle gown, avoid wearing anything that could catch on the tulle, like bracelets. If your gown has a tulle top or straps, hang the dress by the hanger straps to avoid tearing or stretching. Lastly, when you zip up the garment bag, make sure that the skirt doesn't catch in the zipper!
Strapless Wedding Dress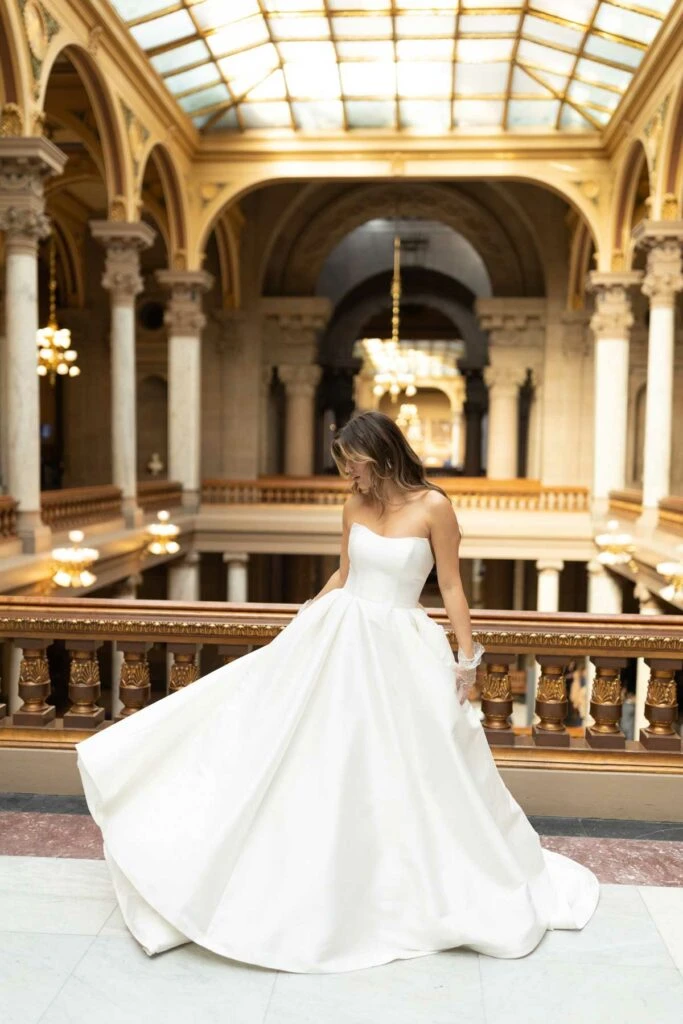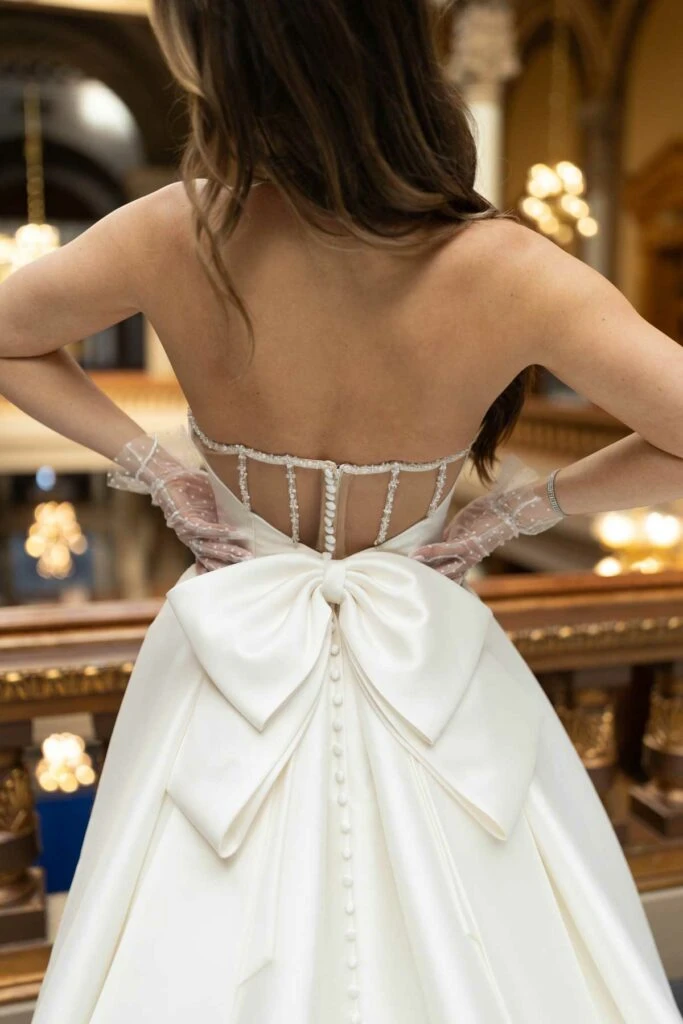 Strapless wedding dresses will never go out of style, and the classic beauty of Stella York Style 7711 is proof! When storing your strapless gown, utilize the hanger loops to hang it instead of using a hanger with clips, which may damage the dress.
Lace Wedding Dress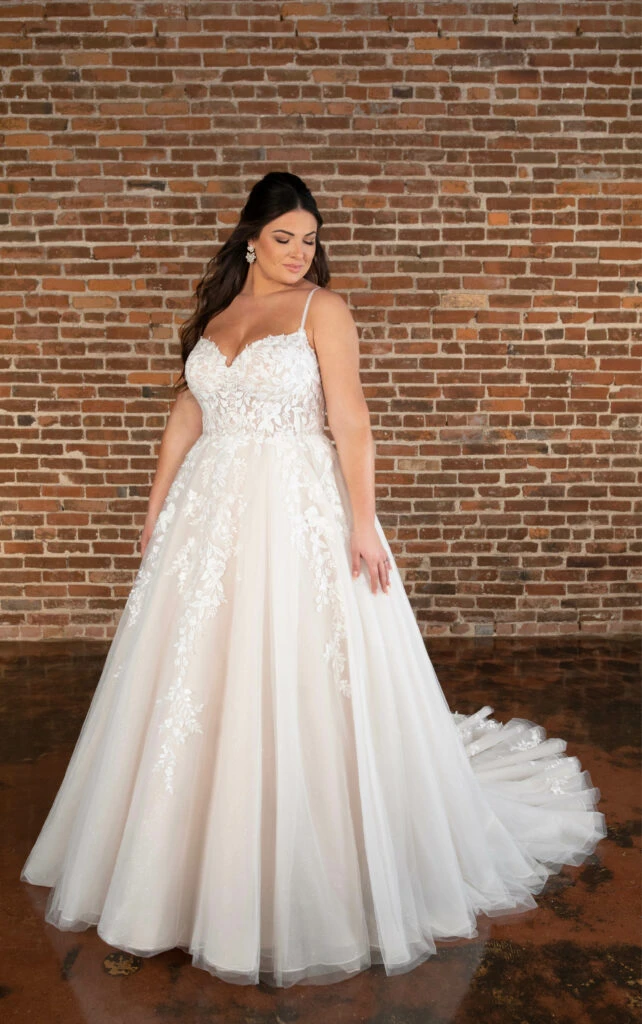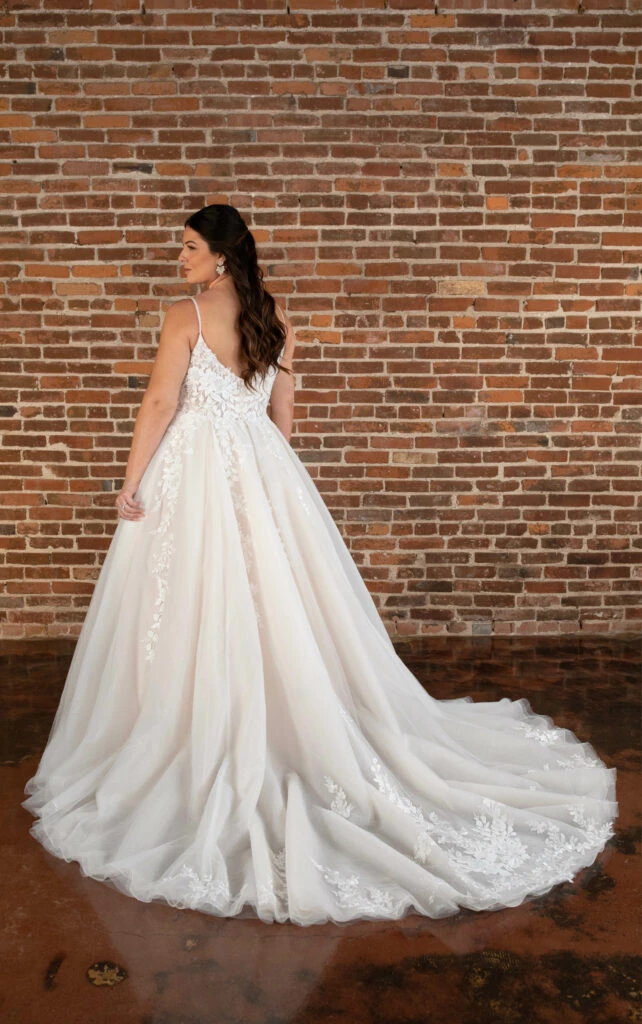 Essense of Australia Style D3720+
There's nothing more bridal than a lace wedding dress fit for royalty like Essense of Australia Style D3720! To keep your lace gown in tip-top shape, keep it away from jewelry and accessories, which may catch on the delicate threads. If needed, lace is best washed by hand with cold water and a gentle, good-quality soap.
How to Care for Your Dress After Your Wedding
After you've said your "I dos," it is essential to care for your gown as soon as possible so that any stains from the day don't set in!
How to Preserve Your Dress After a Wedding?
If you're looking to preserve your gown, do your research to find a reputable company. The process will typically include cleaning, treating and storing your wedding dress to prevent any damage or discoloration.
Your dress may be hung or folded with acid-free tissue paper to help keep its shape. It will then be placed in an acid-free box or garment bag that allows the gown to breathe while protecting it from moisture, light, dirt and discoloration.
Where to Store a Dress After a Wedding?
After you pick up your wedding gown from being preserved, store it in a cool, dry and dark place. By undergoing wedding dress preservation, brides can ensure that their gown remains a beautiful reminder of their special day, maintaining its pristine condition for years to come. This way, the dress can be cherished, admired or even worn by future generations, creating a timeless connection to the wedding day and its cherished memories. 
Now that you know how to care for your gown, it is time to book an appointment with True Society to find the wedding dress of your dreams! Gown availability varies per store.