Hey guys! Today, we're talking all about shapewear! We get this question a lot: what do I wear underneath my wedding dress? And the answer is more simple than you might think. Let's dive in.
First, we cannot recommend working with a professional seamstress enough! Seriously, having the right fit for your wedding dress eliminates the need for layers of shapewear because a well-fitted garment is a foundation for the perfect look. After your dress is fitted, a seamstress can add or remove bust cups, or even replace and move cups, depending on what look you want and what support you need. Pro tip: bring your shapewear with you for your fittings. You may decide you don't need it after alterations or you may have your seamstress tailor it to better suit your dress.
Ok, let's say you have a backless dress and you want a little more support. What do you do? Ladies, let us introduce you to the backless bodysuit. With a plunging neckline and open back, this bodysuit works really well for slimmer silhouettes like a fit-and-flare or column silhouette. The straps are also removable for a strapless style, too. The construction of the bodysuit pulls in your tummy while shaping through your midsection – leaving you feeling secure and shapely.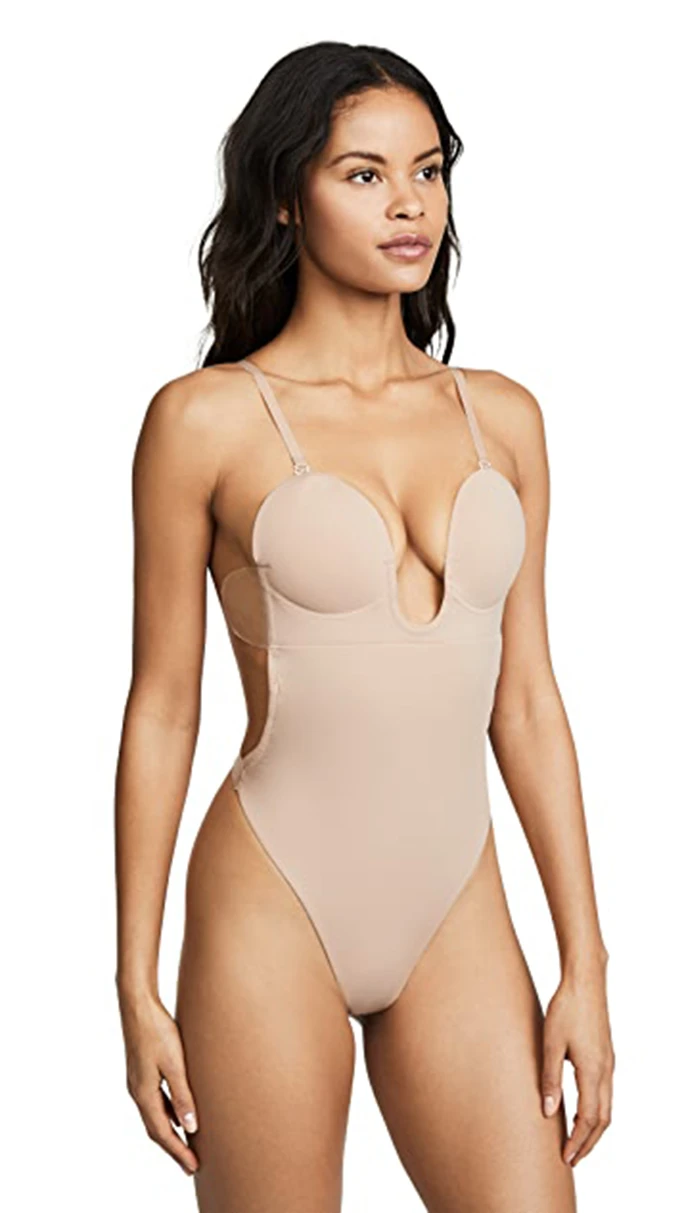 If you're looking for more coverage and support, we suggest the Skims Sculpting Bodysuit. Super soft and seamless, it tightens at your core, shapes and lifts your butt, and provides support for your chest. Ideally, you would wear this bodysuit with a ballgown silhouette or an A-line. We love this bodysuit because it comes in a ton of colors and is great for the plus-size bride.
While bodysuits are a miracle in and of themselves, what about wedding dresses with side cutouts or illusion backs? Three words: no-show panties. No-shows are ideal for any wedding dress but we love them for crepe styles or any wedding dresses that sit closer to the body like a mermaid silhouette. These No Show Panties are a great option for dresses where you can't wear anything too high waisted under your gown, like backless gowns or anything with a side cutout. For something with a little more tummy control, go with the Everyday Shaping Thong from Spanx.
Let's give a little love to the girls for a second, shall we? Strapless bras are the way to go if you don't want to add bust cups or you feel like you want more secure support. We're obsessed with this Felina Longwear Underwire Bra. Gone are the days of having to hike up your strapless bra with this baby! It features a longline bra supported by hidden underwires, boning and molded cups. Seriously, there is no slipping in this bra.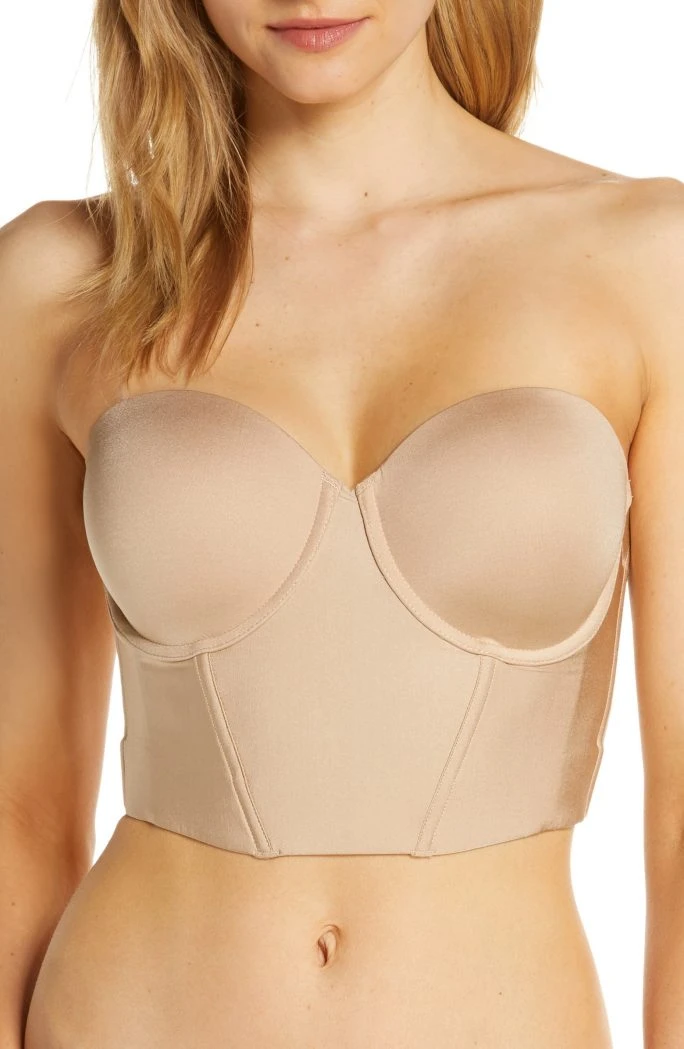 If a bra is not your thing or your wedding dress is truly too slim for any added bulk, sticky boobs or adhesive bras are going to be your BFF. These little babies create an enhanced shape, offer minimal coverage but total modesty, and are 100% invincible under sheer or tight clothing. If you have a plunging neckline you definitely want to check these out, but we especially love them for silk and crepe fabrics that cling tighter to the body.
Time for the legs! Now if you are wearing a mermaid wedding dress, a fit-and-flare gown, or even a trumpet style, listen up. Choosing the right thigh shaper is key. You will want to find something that you can comfortably move around in that won't require you to pull and pitch at. Be mindful of where thigh shapers hit you on your stomach. Too tight of a style and those dreaded tummy rolls will appear. But not to worry – we have a few solutions. These Natori Plush High-Waist Thigh Shaper are amazing. The stretchy jersey fabric keeps them in place all throughout the day while remaining breathable and easy-to-wear.
For the plus-size bride, we love the Honeylove SuperPower Short. Or really, anything from Honeylove for that matter. Often shapewear can squeeze and shape one area only to make another area more pronounced. Honeylove's mission is to sculpt, not squeeze and we couldn't agree more. The construction of these garments is insane. Targeted compression panels work to slim and smooth while flexible boning keeps it in place. Their stuff comes in a variety of sizes and colors, too.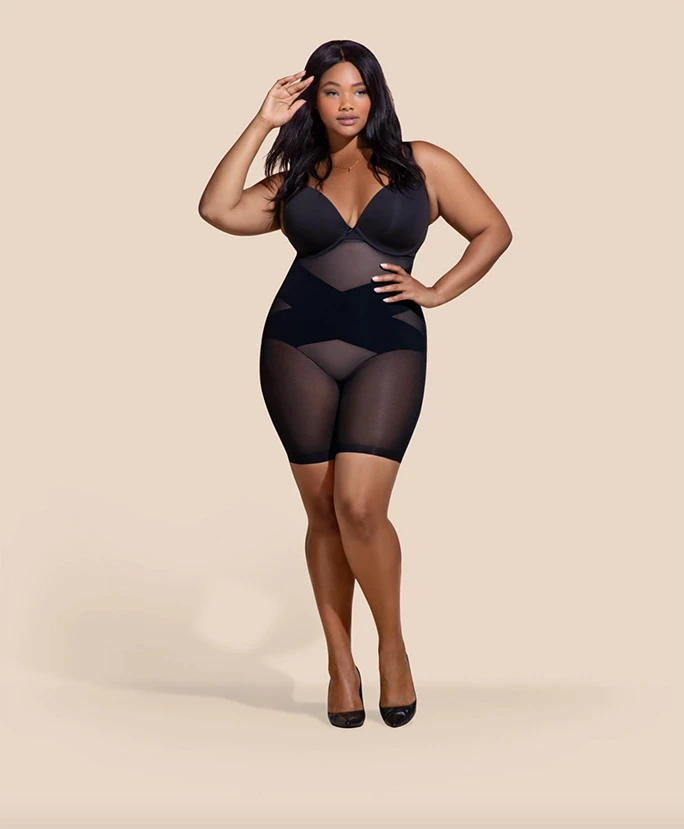 Let's talk for a minute about color while we're on the subject. Too many times we see brides come into the store wearing neon undies or a hot pink bra that shows through our white wedding dresses. This is obviously a big no-no for your wedding day. When it comes to shapewear, you might be tempted to wear a sexy color like black or something bridal like white, but we suggest wearing something as close to your natural skin tone as possible. Why? Black will almost always show through white fabric no matter how many layers you're wearing. Same goes for white, especially in bright light. By wearing a color closest to your natural tone, you eliminate that worry. And, if your briefs accidentally show in your cutouts, it will be harder to notice than your go-to lime green everyday undies.
There's definitely no one-size-fits-all-solutions shapewear out there. It is a little bit of trial and error and finding what piece makes you feel the most confident on your wedding day. Because in the end, that's all it's really about!