Calling all Arizona brides-to-be! Wedding dress shopping is heating up in the Phoenix area, thanks to Shayna and Scott Clute, the new owners of True Society in Mesa.  
As a former event planner turned bridal shop owner, Shayna knows a thing or two about making dress dreams come true. Together, with her husband of 18 years, Scott, they have been celebrating (and yes, even shedding a few happy tears!) alongside brides-to-be for more than a decade. They are SO excited to bring their expertise and passion to Mesa and join the True Society global bridal retail collective.
Let's get to know a little bit more about Shayna and Scott!
First, we have to say…we love that you're a husband and wife team! Shayna, how did the two of you meet?
Oh, fun story! I was attending a wedding in my dad's hometown of Niagara Falls, New York, in 2001. Scott was a groomsman in the wedding. We met at a pre-wedding event and hit it off! The next day, we ended up dancing and talking the entire night and had our first date the following day. We spent the next year long distance dating while I finished college in Minnesota. The rest is history! I think it's so special that he and my dad are from the same town in New York.
Wow, what a small world! And you've been married for 18 years now. What is your favorite memory from your wedding?
I have so many favorite memories. We had the ceremony at an amazing venue that overlooked Niagara Falls, and as we said our vows, we could see and hear the falls in the background. We even included our first fur baby, our Yorkie named O'Riley, in the wedding! It was also incredibly memorable that so many of my family members took the time to travel and join us on our special day.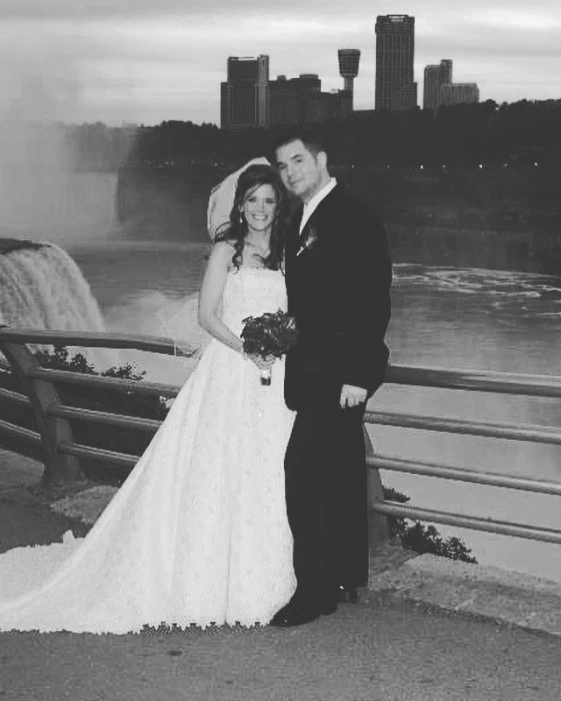 That sounds like such a magical day! What did your wedding dress look like? Give us all the details!
My wedding dress had ALL the sparkle and lace, which made me feel glamorous! My stylist suggested a veil, and while I was not sure about it, I'm so happy I wore one at the last minute. I have the iconic photo of me walking down the aisle in it and it's just so special. Plus, when else are you going to get to wear one?
Your bridal style sounds stunning! Do you have any lessons from purchasing your wedding dress that you share with brides today?
Absolutely! I can still remember my first bridal shopping experience over 19 years ago. I draw upon those nervous feelings and exciting memories to ensure my brides have the best experience when finding their dream dress.
I think going in with an open mind and trying on several different gown styles is important. Once you narrow down what you love, you will know when you've found "the one!"
It's also important to trust your stylist. They have the expertise and passion for helping you find the perfect dress.
Wow, those are wonderful tips! You're a true wealth of knowledge. How do you think your background as an event planner has helped you in your bridal business?
My background in event planning has helped me be organized in managing my business. I'm also able to stay calm while juggling it all and understand what a big life moment a bride's wedding day is!
If you had to choose, what is your favorite part of working in the bridal industry as a bridal boutique owner?
I love making a difference in my brides' lives, as well as being a leader for my team!
That sounds so rewarding. What inspired you to open a True Society store in the Phoenix area?
When we first started exploring the Phoenix area more than eight years ago, we just fell in love with the culture, nature and local community. Seeing the area grow and expand over the years is exciting, and we knew it was time to open True Society and give Phoenix-area brides the most amazing selection and shopping experience.
What do you think brides will love most about your new store in Mesa?
I think when brides walk into our store they will be amazed by our warm, welcoming and fun team, along with our store's overall vibe. We really wanted to create a memorable experience for our brides!
It's all about the experience, isn't it? Speaking of, how do you plan to make your store an inclusive destination for brides?
It's always been a personal mission of mine to make sure brides of all sizes, orientations and ethnicities feel represented and welcomed. Shopping for a wedding dress is such an important moment and you should be able to celebrate it with tears of joy and happiness, not tears of sadness for not being seen or heard. We will have over 100 dresses dedicated to our mid-size and plus size brides, along with representation in our advertising and social media. We welcome ALL and want to make their day a special one!
We LOVE your perspective. Do you have any stories about a really special experience with a bride?
I once worked with a bride who had spina bifida. When she called to make the appointment, she was SO excited but also nervous because she was in a wheel chair and couldn't stand. She was worried she would not be able to try on dresses. I worked with her personally and she was the most amazing person. While we had to get a little creative when trying on some of the dresses, she and I had so much fun! It was the best feeling to be able to give her the most amazing wedding dress shopping experience.
That's such a powerful story! Thank you for sharing. Finally, what are some of your favorite things to do in the Phoenix area?
Outside of work, we love supporting and visiting local restaurants and shops! Our go-to spot for a cup of coffee is Press Coffee, and for a glass of wine, we love to visit Postino's or Wine Girl. We enjoy biking with our two sons, Walker and Baylor, to Jeremiah's Italian Ice and grabbing breakfast at First Watch on Sundays. You can also find us at the farmer's market or hiking at any one of the amazing trails in the Valley!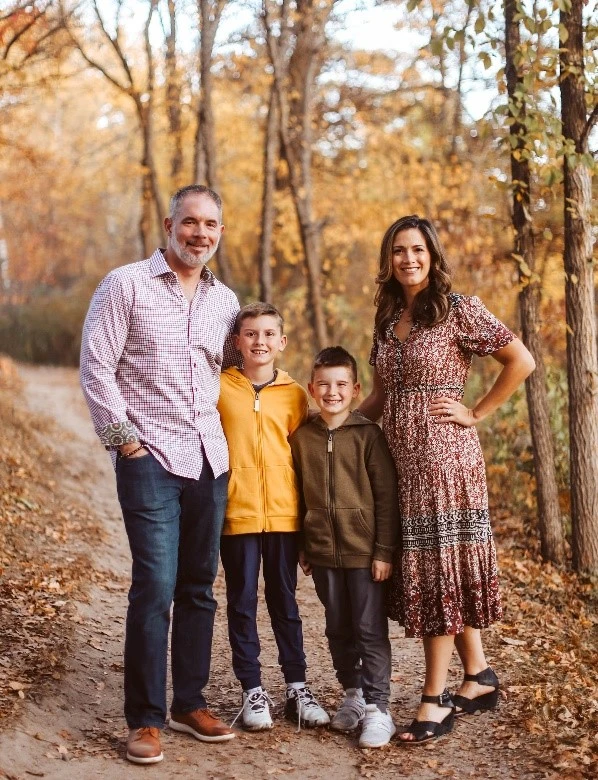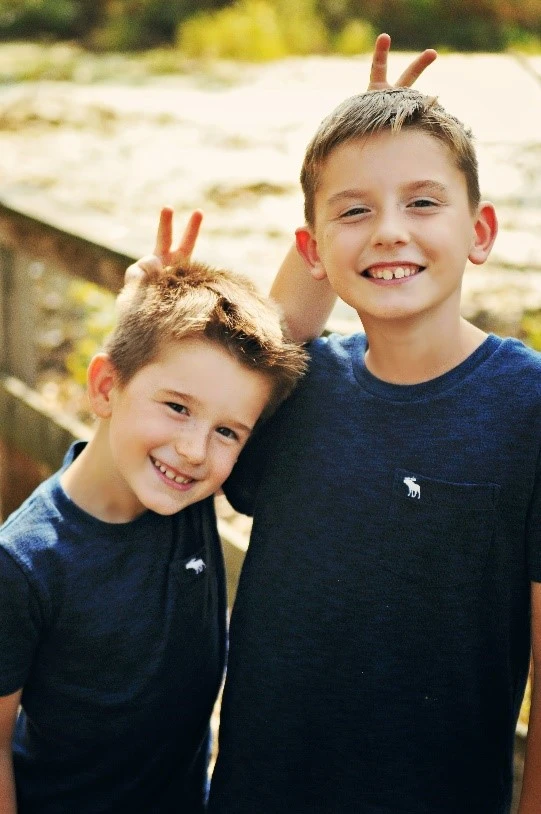 Thank you, Shayna, for giving us a glimpse into your incredible journey. We are beyond THRILLED to welcome you and Scott to the True Society collective!
Learn more about the True Society store in Mesa here, and be sure to follow us on Instagram for a sneak peek into True Society life!