While all of our #TrueBrides are special, True Society in Grand Rapids recently had an extra special bridal appointment with a bride referred to us by our friends at Kleinfeld Bridal! They knew she had such a special story and wanted to be sure she was given the best bridal gown shopping experience possible.
Samantha Slone has overcome life-changing obstacles over the years after being a victim of assault and dealing with the aftermath of PTSD. After hearing Samantha's incredibly inspirational story, we knew we wanted to give Samantha the ULTIMATE bridal experience to allow her to focus on the incredible moments and memories in her life yet to be created, like saying "I Do" to her dream gown and her dream fiancé.
We sat down to talk to Samantha about her inspiring journey and #TrueBride experience at our Grand Rapids store. Read on to learn more:
Hey, Samantha! Tell us about your journey.
I've been through a lot these last few years. ​​I was severely sexually assaulted in February of 2018. The assault left me with a colostomy for the rest of my life. After the attack, I was certain I was undesirable and no one would ever want to date me, let alone marry me. Not to mention, I was a single mom with a son who suffers from childhood apraxia of speech so he came with his own set of challenges.
My now fiancé, Justin, attempted to get to know me prior to the assault and I had declined his interest. In March of 2018, he reached back out and while I kept trying to ignore him, he was persistent. He had heard about my trauma from the assault. In April of that year, I finally gave Justin a chance to go on a date, and it was love at first sight!
Justin eventually met my son who fell in love with him and he with my son — and it was truly happily ever after from there. He is the only father my son knows and acknowledges. And in July of 2018, our family grew again when we found out we were pregnant with another son.
Fast forward a couple of years to December of 2020 when Justin purchased an engagement ring for me and hid it in our bedroom closet. I had a hunch he was going to propose soon, so I peeked and saw the ring. The ring he chose wasn't my style and I told my mom that. Knowing this would be my forever engagement ring, she somehow convinced him to exchange it.
Justin picked a beautiful ring the second time but it would not arrive in time for his planned Christmas proposal. Now, most people would just put the proposal off, but not Justin. He pulled up the picture of the new engagement ring on his phone and he and my son asked me to marry him with the picture of the engagement ring. I, of course, laughed and said yes!
Justin has been there for me at the worst possible times in my life. His go-with-the-flow attitude, his sense of humor, and just him being him, made how he proposed totally fine with me. He could have proposed with a ring pop and I would have said yes but I know he wanted me to LOVE the ring so it being perfect was important to him.
I am thrilled to finally have found my person with Justin. He offers unconditional love and support for me and our sons and I am so excited to finally marry him!
Tell us about your experience at True Society!
My experience at True Society was more than I could have ever hoped. The store was beautiful, the staff was so friendly and the atmosphere was so welcoming. If fairytales were a real thing, True Society would most definitely be the scene of mine!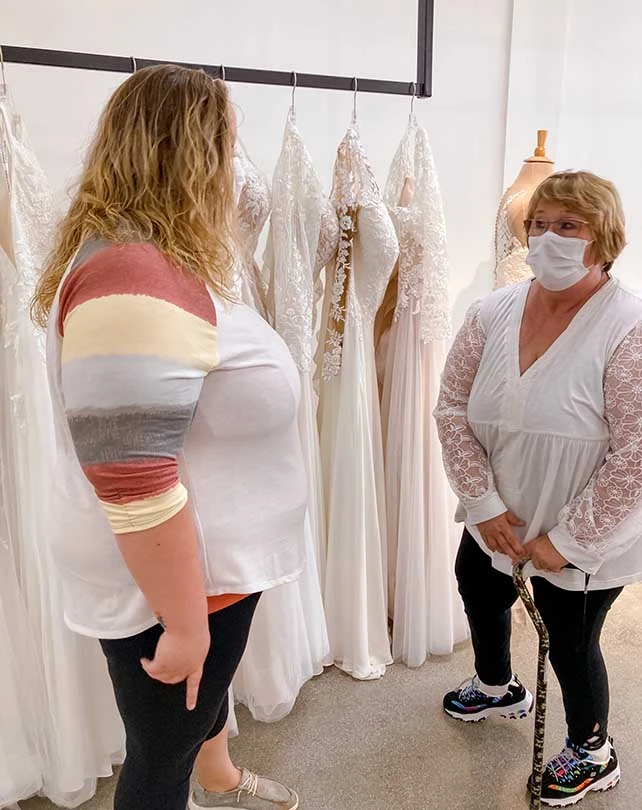 What makes our gown selection different from other bridal stores?
True Society has such a wide variety of plus-size gowns. Most bridal stores do not carry plus-size gowns to try on or if they do they are the least desired gowns. True Society had gowns that were inclusive to all sizes as well as mannequins that were inclusive making the experience much more comfortable.
Tell us more about your personalized appointment!
The True Crew at Grand Rapids was absolutely incredible. I could not have been welcomed by more kind, warm people. From the moment my family and I walked in the door they were incredible. The store manager, Jill, made me feel so comfortable and special. She made the experience magical and made me feel like a princess when I honestly wasn't confident I could. She was honest about what truly looked good and supported my decision to decline dresses picked by my guests. Anytime a concern arose about my body type or dress looking good on my body type, she was quick to offer reassurance and was honest about how dresses looked rather than focusing on the sale. Melody was also so warm, and so kind. She made sure every possible need was met, as well as my guests. She offered solutions to any concerns I had throughout the appointment.
We are so happy that Samantha found her dream dress during her visit and that her story has a happy ending! While Samantha looks AMAZING in the gown shown below, this is not THE dress she chose for her wedding day.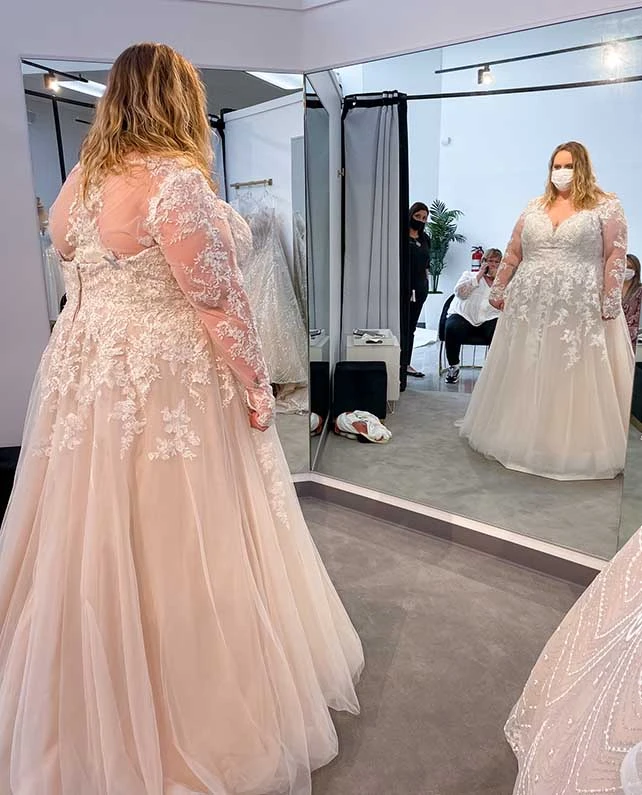 We can't wait to show you the incredible wedding dress she chose and to see all of the gorgeous photos from Samantha and Justin's wedding day in June of 2022.
Ready to find your dream dress? Book an appointment at a True Society location near you today.
True Society brides, did you find your dress with us and want to be featured as a #TrueBride? Share Your Story with us– we love reading all about your bridal experience and swooning over your photos.
Want to see wedding inspo from our True Bride nuptials? Follow us on Instagram for Real True Bride features, bridal advice and the latest collection launches at a True Society location near you.