Hello, Portland-area brides! We'd like to introduce you to Amanda and Matt Schmalz, the unrivaled bridal experts in making wedding dress dreams come true.
Their motto? Why wait for your big day to have a BIG DAY? Amanda and Matt pride themselves on turning dress shopping into a memorable experience of its own. As owners of The White Dress in downtown Portland, they're known for making brides feel ALL THE LOVE while finding THE dress.
Now, dress shopping in the Portland area is about to reach new luxurious levels as Amanda and Matt join the True Society collective and transform their Portland bridal shop into True Society by The White Dress to bring even more sparkle, lace and tulle to area brides. They are also opening True Society by The White Dress experience in Beaverton!
From helping brides discover true (dress) love to building out the boutique itself, there's truly nothing Amanda and Matt can't do. Read on to fall in love with them, just like we have!
So we were wondering, does helping brides fulfill their dreams every day often take you back to your own wedding?
Amanda: YES–that was nearly nine years ago, and we still remember it as just the most amazing day.
Matt: Our wedding was at the same historic church where Amanda's parents were married.
Amanda: My dad passed away when I was 17, so it meant the world to marry Matt in the very same spot. Our favorite memory was our "first look" where it was just the two of us seeing each other for the first time before the wedding ceremony. We always recommend to couples that they should make time for a first look on their wedding day!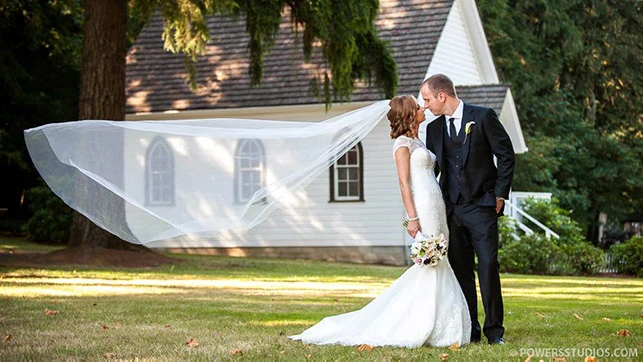 What an unforgettable experience! We're wondering, what gown did a bridal expert like you choose for her OWN wedding?
Amanda: Well, it's funny. I was sure I wanted a ballgown, but I fell in love with a mermaid dress. It was completely customized, and I loved the fit and the lace. Because of my experience, I encourage brides to always shop with an open mind. You never really know when you'll feel that YES in your heart, so why not try something unexpected? A dress can feel quite different when you see yourself in it.
Flash forward to today. What does your life look like now?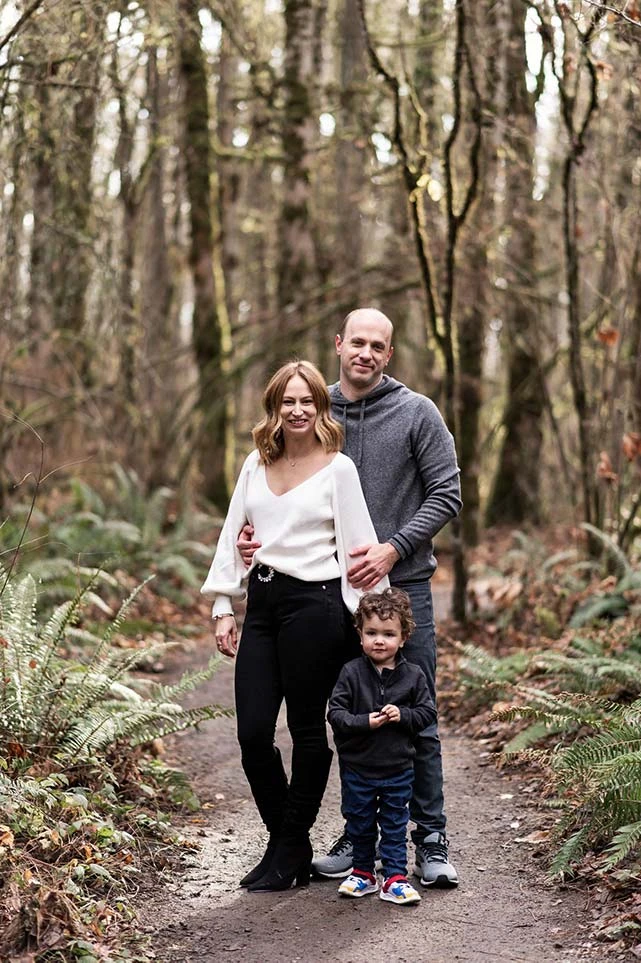 Amanda: We have a three-year-old son, Calvin, and of course he's our entire world. We like traveling with our little guy, but it's also a huge luxury to simply hang out at home, just the three of us and our two sweet cats.
Matt: And we love taking advantage of everything Portland has to offer. Mountains, beaches, wine country, it's all right here. Tons of trails make it easy to enjoy a day outdoors together. We also love all the local restaurants and food carts and support local businesses as much as we can. We specifically love eating breakfast at Mother's and grabbing tacos and margaritas at ¿Por Qué No? Taqueria. And spending more time in Beaverton has been great, it's a nice suburb of Portland with all the shopping conveniences you could want.
How have you two created a truly unique experience for brides?
Amanda: We're very hands-on and focused on delivering a personal, intimate experience. I'm right there with our True Crew every weekend, assisting with all appointments. I know this is unique in our area, and I hope it shows our brides how much we care about their experience in our stores.
Matt: I grew up in a construction family, so my brothers and I have also been hands-on throughout the construction process. We took both of our boutique spaces from demolition through build-out, right down to the last finishing touches. It's been great to experience such a family passion in creating just the right setting for an unforgettable, luxurious bridal experience.
Amanda: Our entire bridal boutique wish list has been brought to life. I'm excited about the new selfie walls and Insta-worthy photo ops. Not to mention our private fitting rooms, and even a new VIP room. We have huge windows with tons of natural light, beautiful chandeliers, and we offer champagne to round out the celebration vibes too!
Matt and Amanda's son Calvin and his toy dinosaur helping with store renovations
Of all the brides you've met, do any stories stand out to you?
Amanda: I'll always remember our very first bride. She purchased a Stella York gown and sent us chocolate-covered strawberries as a thank you. We still have her wedding day photo hanging in our lobby to this day.
We're so proud to welcome Amanda and Matt to the True Society collective and are excited for the romance, passion and bridal insights they bring. Their two True Society by The White Dress boutiques are simply luxurious and their hands-on approach in caring for each bride is awe-inspiring. They will certainly help bring brides dreams to reality throughout the Portland area.
Ready to have a luxurious experience while you find THE dress of your dreams? Click here to make a date with Amanda and her True Crew in Portland or Beaverton. These bridal experts in AMAZING will make you feel like the princess you are.
And follow the True Society Instagram for stunning gowns from award-winning designers available exclusively at True Society by The White Dress, along with plenty of helpful bridal advice, real bride features and more!