True Society by Belle Vogue bride Karen captured the essence of what it means to be a True Bride. For both Karen and her husband Wayne, getting married in their favorite place in the world was a dream come true. Wearing Style D2672 from Essense of Australia, Karen fit right in with the lake setting and the fall aesthetic she was going for. If long-sleeves, lace, and an open back weren't enough to make you swoon, the luxe beadwork and sequins placed along the gown should. Read more to hear all about this storybook romance!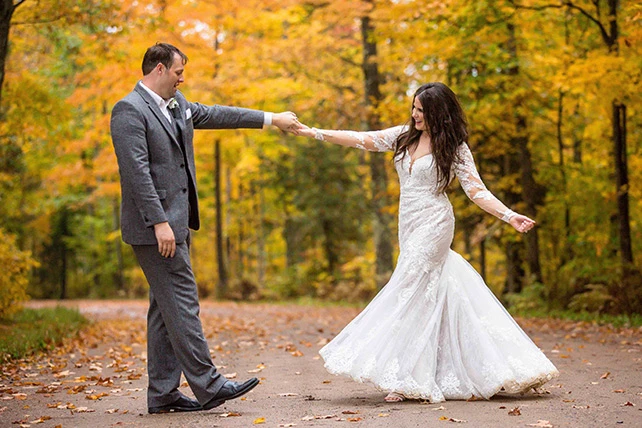 Tell us about your breathtaking (no pun intended) proposal!
We were visiting the lake in Wisconsin, the same lake we would later get married on. Wayne asked me to go on a morning walk around the lake. The mosquitos at the lake in July are far different than in September, and I quickly realized that despite the swarms, Wayne was determined to keep going. He took me to his favorite spot deep in the woods around the lake. He neared a stop and said he had something to ask me. Just as I'm sure we were both ready to explode – he choked! Literally choked on a mosquito!!! But that moment ended with the most resounding YES! After the proposal Wayne surprised me by inviting my family, it was perfect.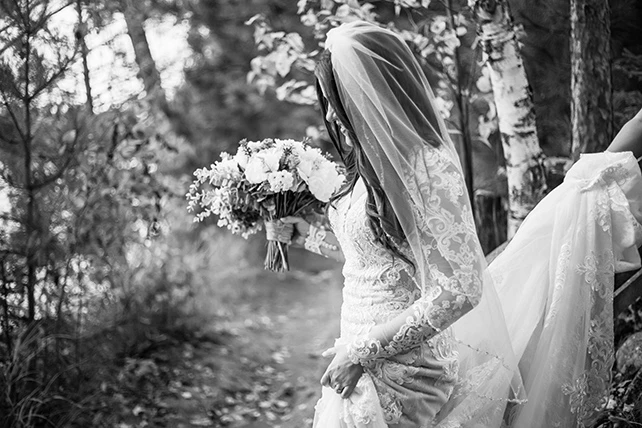 How did you know Essense of Australia Style D2672 was the dress for you?
I wanted to look like me. Too many times, I think women get in their mind all of these grandiose bridal ideas or doing what's expected, and I wanted to stay true to what I felt most comfortable in. I wore my hair down, and I wore sleeves and kept my veil simple.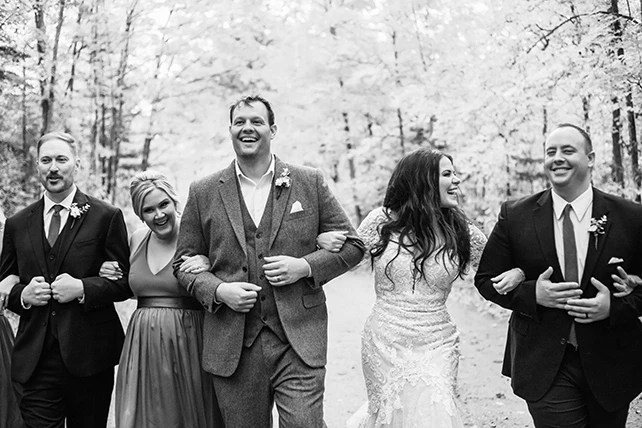 How was your dress shopping experience at True Society by Belle Vogue?
My dress shopping experience was effortless. My mom flew in from Wisconsin, and we drove to Belle Vogue's showroom in Lenexa. They instantly made us feel comfortable with our own space and a clear understanding of the different dress designers. Having never shopped for wedding dresses before, I trusted my gut along with the guidance of my bridal stylist and feedback from my mother. It turned out that the very first dress I was drawn to and asked to try on ended up being the dress I chose that day. We popped champagne as I sang Beyonce's "Single Ladies."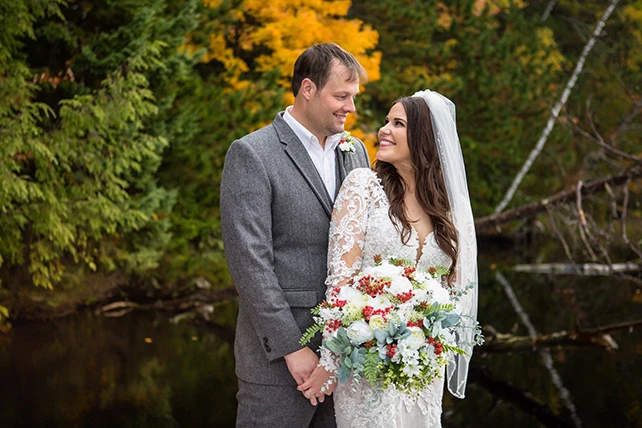 Tell us about your wedding style and the venue you chose!
Considering we were getting married during our favorite season at one of our favorite places in the world, I wanted it to really feel like a fall lake wedding. I chose cinnamon as my accent color and then incorporated more nature vibes with several slabs of birch, pinecones, wispy pampas grass, and personalized touches. We landed on the ultimate "peak week," which is when the leaves begin changing colors.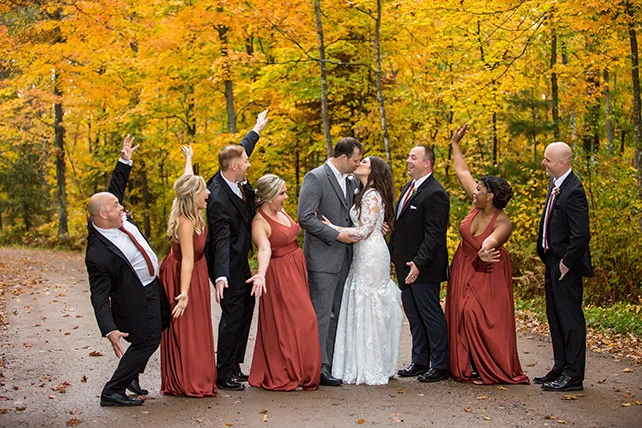 Tell us about your extra special unity ceremony!
As part of our ceremony, we had a sand ceremony but with a twist. I was marrying into an existing family and became a bonus mom to two wonderful children. I wanted them to know that I wasn't just choosing their father, I was choosing them as well. I gave them a letter they read the night before the wedding, and then during the sand ceremony, we each poured different colored sand into a frame. At the very end, my father added the final layer of sand taken from the very lake where I had met Wayne's children, gotten engaged, and finally, were saying our vows.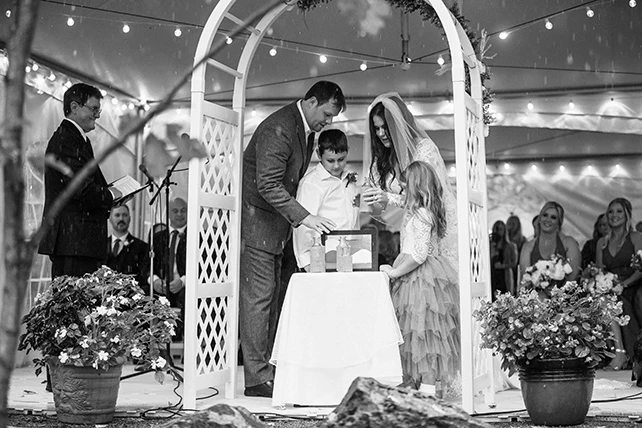 Tell us the most memorable part of your wedding day.
Like most brides, and definitely all outdoor ceremony brides, your biggest lurking fear is bad weather. I remember someone mentioning that the radar showed thunderstorms en route to hit us at 3:30 PM – the same time as our ceremony. We opted for a tent and a positive outlook. Fast forward to 3:30 PM, all of the guests were comfortably under the tent and just as my father (who is a pastor) started the service, the rain began to fall.
The guests' view overlooked a magical lake that holds decades of family stories and treasured memories. My best friend's husband held an umbrella while another dear friend held my dress. As I entered the tent dry and walked down the aisle, thunder boomed over the lake.
Then just as quickly as the rain started and we finished our vows, we left the tent and the rain subsided. Later guests expressed just how intimate and special the rain made an already perfect day feel. Looking back, I wouldn't have changed a thing.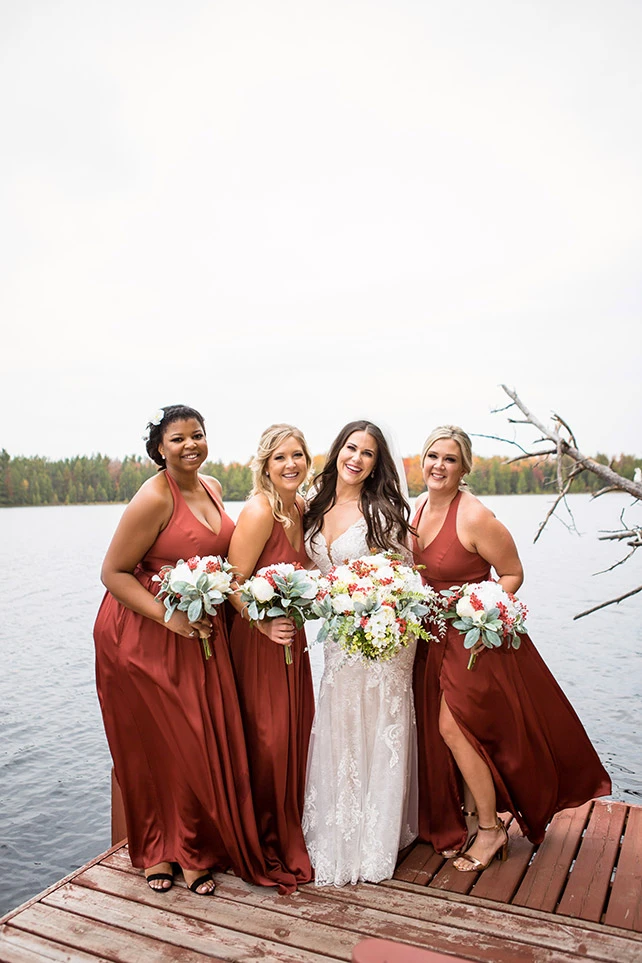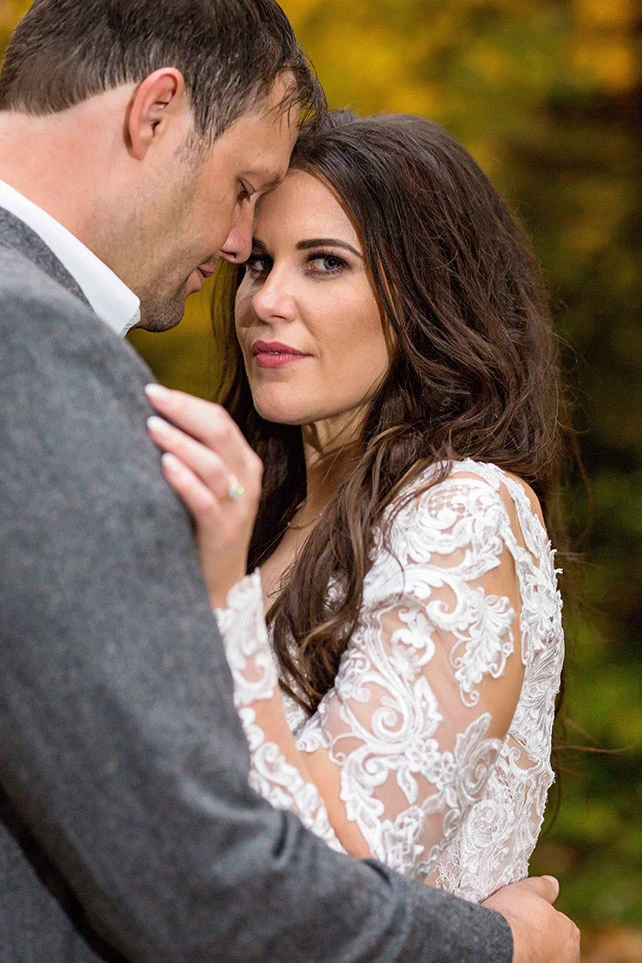 Wishing nothing but the best for our #TrueBride Karen and husband Wayne! She looked like an absolute autumn dream at her intimate lake wedding venue. Thank you for sharing such a special moment in your life with us. Cheers to the Cobbs!
Photos by CJ Photography
Looking to find that special dress? Book an appointment today at one of our True Society stores!
Want to be featured on the blog just like this #TrueBride? Share your story with us today. And be sure to follow us on Instagram and like our page on Facebook to see more real brides, collection launches, and save-worthy bridal inspo!