Is it just the beauty and romance of Vienna, or are Petra and Markus Holzmann on an eternal honeymoon? As owners of the True Society store near the Gasometer Buildings, they bring a youthful spirit and romance to the True Society global collective of stores —which is one of the many reasons we're so happy to join fabulous forces with them.
Since Roméo&Juliette was founded in Perg, bridal couples have been over the moon about their irresistible, friendly and honest manner when working with brides. With the launch of their True Society boutique in Vienna, Austria even more brides will enjoy their friendly, fresh take on bridal.
Petra and Markus live by an inspiring idea: Life is short, so love what you do. Let's take a moment to be swept up in their vision for living a life of true romance.
Let's start with the two of you. How long have you been married?
We fell in love about 24 years ago and have been happily married for 14 years. We will remember our wedding day forever. We are both so grateful that we were given this gift of love, and we are hoping that it will last for eternity. Often when we are together time seems to stand still and everything feels good.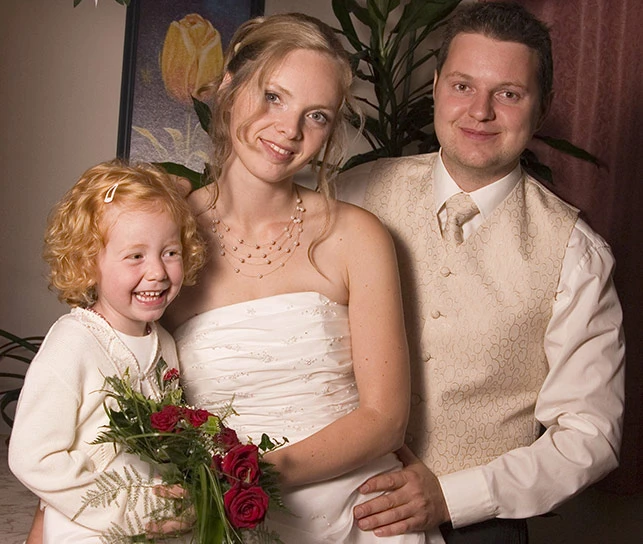 You have children now–tell us a little about them.
We have two wonderful daughters, Hannah and Helena. Nothing is more important to us than them. We are fully aware that they are the most beautiful gift that we've ever been given. There's a quote that best expresses our relationship with them: "We can see you in a thousand pictures, yet none can capture you as our soul does."
That's so beautiful… Between bridal and family, what does your typical week look like?
We are so fortunate to have a life filled with love and enjoyment. Every evening we look forward to going home and being together as a family. And after every busy Saturday, we look forward to a relaxing Sunday. But every morning, we also very much look forward to another exciting day at work with our brides. To us, that shows us we made the right decision and are doing the right thing—every part of our life feels like the best part.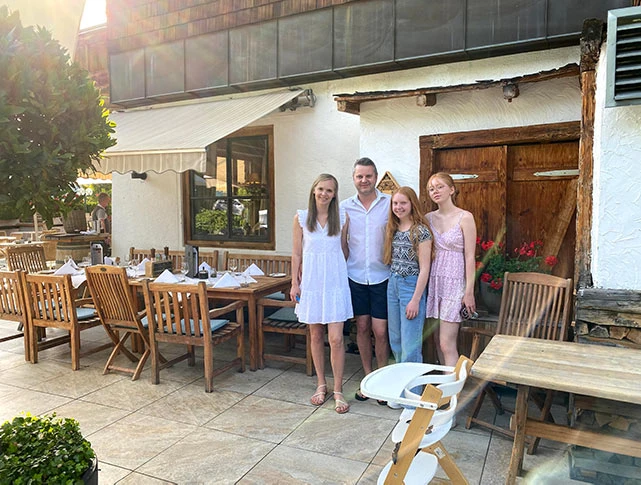 What do you love about Vienna?
Vienna is a particularly beautiful city. Clean, one of the safest cities in the world, brought to life with different cultures. The architecture of the inner city is like walking through a living museum. Our True Society store is directly next to the Gasometer Buildings, which you have to see to truly appreciate their flair. The area is full of good energy.
And what do you love about the True Society boutique you've created?
Is there anything not to love?! We're in a new building, so we had the opportunity of planning and realizing every detail perfectly. The result is like welcoming a bride to a magical journey.
The bride enters the soaring reception area, which creates grand expectations right away. Then they walk into the bridal area, and they see the stunning gowns, tall ceilings, rounded arches, and so many gorgeous details. By the time they're standing on a carpeted pedestal in front of the mirror wearing THE dress, you can almost hear the bride thinking: "Wow, it's my turn now. I'm the bride."
It all sounds like a dream come true. How is your boutique different from other bridal shops in Vienna?
We can tell you that each bride is in good hands with us. Our True Crew stylists search for each bride's dream wedding dress, whether that's ballgown, A-line or mermaid. Once the bride chooses their gown, our team helps make each bride's look their own by using accessories to complement their style and complete their wedding day look. We want every bride to feel at home in their dress, which is why we offer such a large selection of different sizes and styles under one roof. Creating beautiful moments for couples in Austria—that's what we strive for every day, in everything we do. We love our job and we put our heart and soul into our work.
We are thrilled to welcome Petra and Markus to the True Society family! We are so inspired by their motto of Life is short, so love what you do and how they live their motto every day, in everything they do. Their optimism, energy and LOVE is contagious to all who meet them and Vienna brides are in for a treat. We can't wait to hear about all of our Vienna brides' happily ever afters.
To the brides of Vienna, the fairytale is TRUE, and it's waiting for you at True Society. Click here to make an appointment for an unforgettable experience. Petra and her crew of bridal experts can't wait to meet you.
Petra and Markus' True Society journey begins now! Follow the True Society Instagram, for all things bridal, from Real Brides to the latest wedding gowns from award-winning designers, exclusively available at True Society.