Your wedding day is a reflection of your love story and personal style. From the venue and decor to the flowers and cake, every detail should come together to create a cohesive and unforgettable experience. One of the key elements in curating your dream wedding is finding your bridal style or theme.
Whether you envision a romantic garden affair, a glamorous black-tie event or a bohemian beach celebration, your bridal style is your roadmap. Once you nail that down, the next step is finding your dream dress and bridesmaid dresses to complement your bridal style!
Benefits of Complementing Your Bridesmaids with Your Dress
Discovering your bridal style will help guide your decision-making process and bring your vision to life. There are so many benefits to choosing bridesmaid dresses that complement your wedding dress—whether that's mix and matching bridesmaid dresses or keeping them all uniform, including:
Visual Harmony: When your bridesmaid dresses complement your wedding gown, they create a visually cohesive look for your bridal party. The bridesmaid dress colors, fabric or overall design elements can be coordinated to ensure everyone's attire harmonizes beautifully.
By aligning your bridesmaids' dresses with your own, you can enhance the overall aesthetic and theme of your wedding. Whether it's modern minimalism or ethereal romance, having your bridesmaids' attire complement your bridal gown will contribute to a unified and polished atmosphere.
Enhanced Bridal Presence: Complementing your bridesmaid dresses with your own can help elevate your bridal presence. When each bridesmaid's dress is carefully chosen to harmonize with the bride's gown, it creates a visual focal point. This makes the bride stand out even more as the center of attention.
Cohesive Wedding Photos: Wedding photos capture memories that will last a lifetime. When the bridesmaid gowns complement your dress, it creates a visually stunning backdrop that adds depth and dimension to your wedding photos. The cohesive aesthetic will result in a more polished and magazine-worthy wedding photo album!
Remember, it's essential to ensure that each bridesmaid feels comfortable and confident in their bridesmaid dress. At the same time complementing your bridesmaid dresses with your own can create a cohesive and visually pleasing ensemble. The key to a beautiful and harmonious wedding party is finding a balance between your bridal style and their individual preferences.
Bridal Styles + Bridesmaid Dresses
Beach Bridal Style
Chiffon is a popular bridesmaid dress fabric, and its light and airy nature makes it ideal for a beach wedding! Sorella Vita Style 8798 features a crisscross bodice that flows into a floor-length chiffon skirt. A V-neckline and spaghetti straps add a subtle sexiness to this romantic and elegant style.
This gown in neutrals or shades of blue is stunning for the beach! It would pair well with a chiffon wedding gown or a dress with an ethereal or bohemian aesthetic.
Pop of Color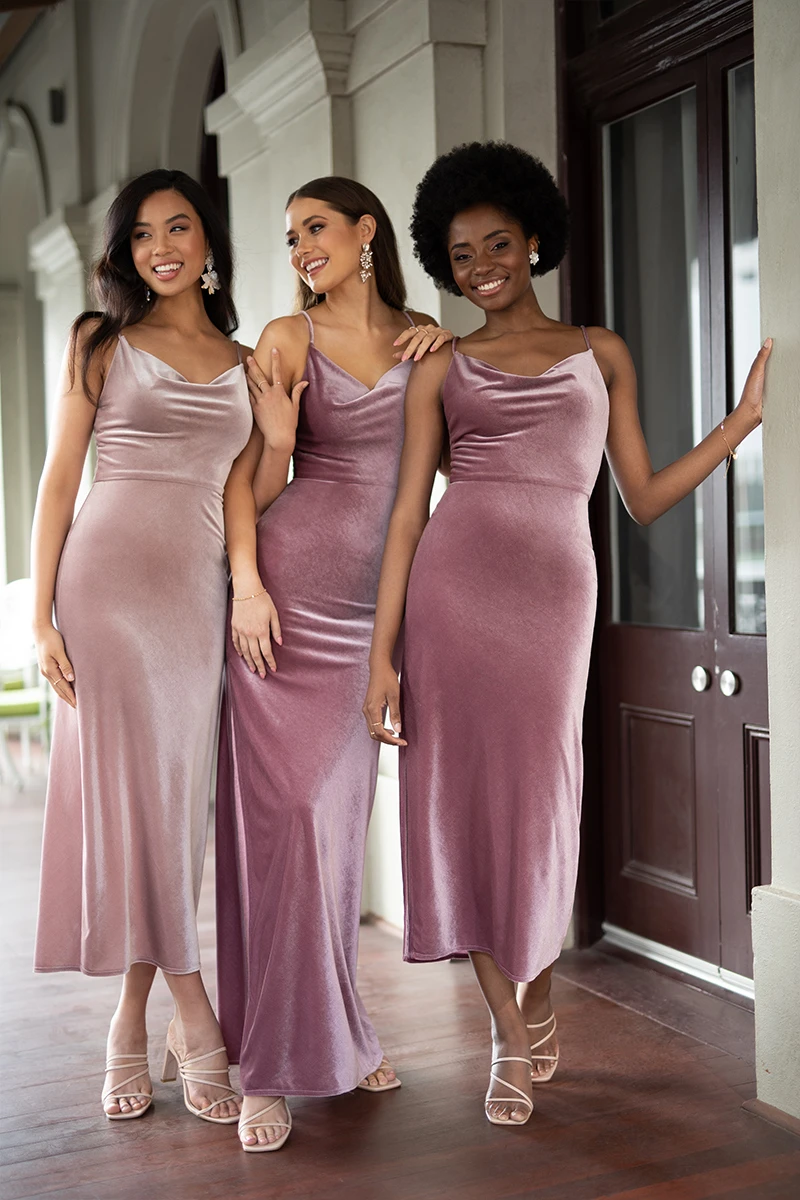 Sorella Vita Style 9642 is the dream of fashion-forward bridesmaids! It combines the velvet trend, slip dress trend and a pop of color, popular for 2023 and 2024.
This glamorous bridesmaid dress features a timeless silhouette, an on-trend cowl neckline and delicate spaghetti straps to flatter the figure. The simple seaming in the bodice accentuates the natural waistline of this sleek and seriously chic bridesmaid dress. The open back and subtle side slit in the skirt add a touch of sexiness and movement.
This style looks great in a variety of colors and is ideal for the bride who wants to have a colorful celebration! An all-ivory or white wedding dress would pair best with this bridesmaid dress trend to avoid clashing.
Strapless Bridal Style
Sorella Vita Style 9606 is one of our sexiest bridesmaid dresses! This glamorous gown features a fitted strapless bodice with a notched neckline and chic column silhouette that's sure to turn heads. The open back, subtle seaming and sexy slit in the skirt give this gorgeous dress an added touch of sophistication and style.
This bridesmaid dress pairs well with wedding dresses with architectural elements like draping or notched necklines, strapless styles or minimalist styles. It also looks beautiful next to more ornate details due to its lack of embellishments and clean lines. In black, this gown is ideal for a black-tie affair!
Midi Dress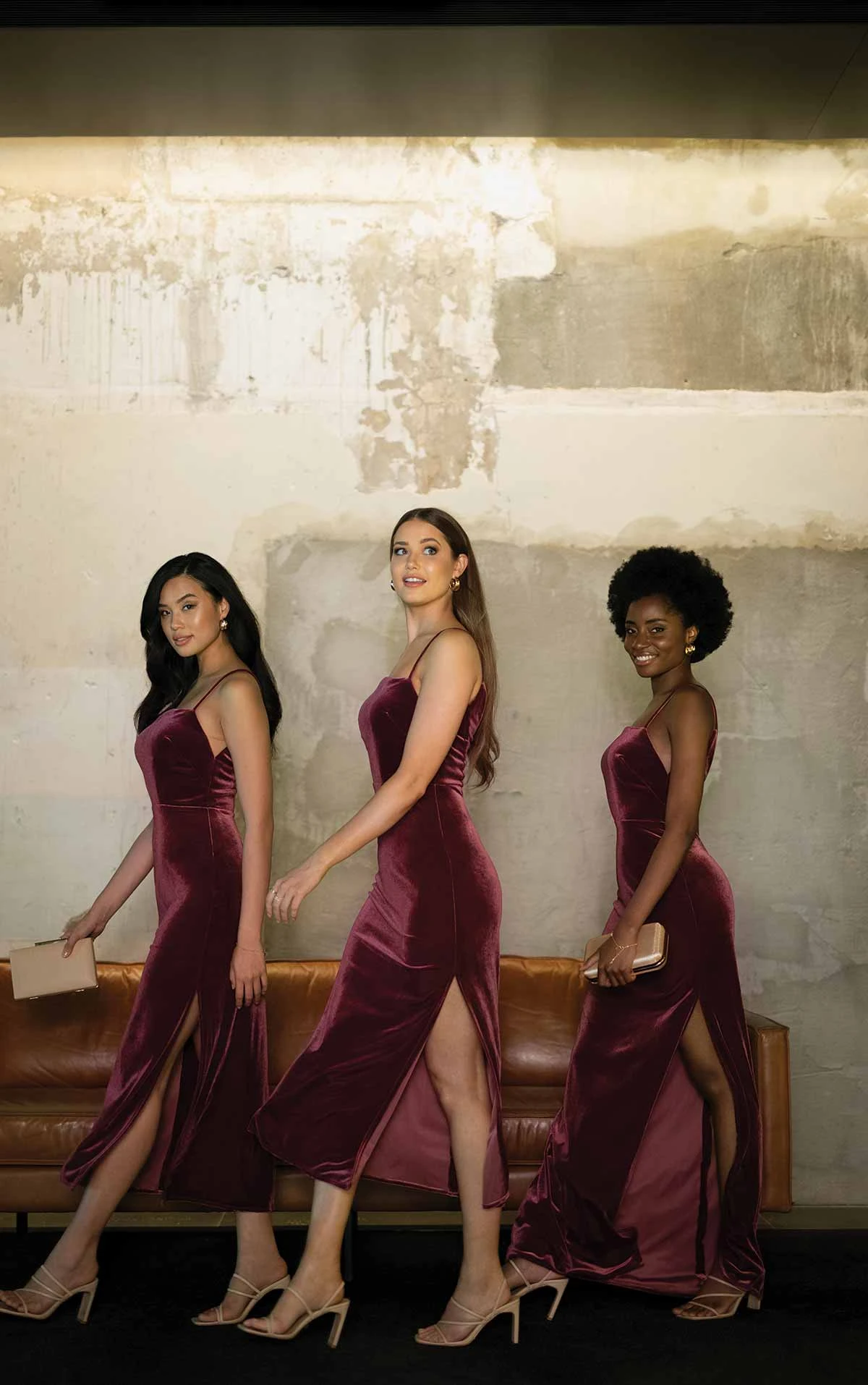 Midi bridesmaid dresses are ideal for a casual or outdoor wedding but still give off a chic vibe. Sorella Vita Style 9663 takes a minimalist bridal design to the next level.
The simple square neckline, sleek spaghetti straps and classic column silhouette provide an incredibly flattering fit. The plunging V-shape in the back and the midi-style skirt give the chic bridesmaid gown serious on-trend appeal. Midi dresses look stunning next to tea-length wedding dresses, casual wedding dresses or minimalist styles.
What are Specific Elements to Look for When Choosing Bridesmaid Dresses to Complement my Wedding Dress?
When finding your bridesmaid dresses for your crew, there are a few key elements to keep in mind! The bridesmaid dresses don't need to match your wedding dress exactly. Coordinating the bridesmaid dress fabrics, colors, silhouette or details with those on your dress is key for a cohesive look.
It's also important to keep the overall level of formality equal as well. Sleek and silky bridesmaid dresses in a rich jewel tone or black are stunning for a formal affair. For a rustic wedding, casual styles or gowns in earthy tones are more fitting.
Now that you're equipped with all the tips and tricks you need to find the best bridesmaid dresses to complement your bridal style, it's time to begin the search! Featuring multiple color options and a multitude of luxurious fabrics, Sorella Vita offers an unlimited array of options you won't find anywhere else.
View more of the Sorella Vita bridesmaid dress collection, then find a True Society location near you and schedule an appointment. Our True Crew can't wait to help you find the ideal bridesmaid dress for your big day! Gown availability varies per store.