Are you on the hunt for your dream column wedding dress for your big day? That's why the True Crew is here to assist you in finding column wedding dresses that will wow your guest.
In this blog post, you'll learn everything there is to know about choosing a column wedding gown that fits your bridal style and vision. From classic designs to modern touches, we've got all the information you need to find that ideal column bridal gown.
What is a Column Wedding Dress?
Column wedding dresses, also known as form-fitting wedding dresses, are figure-hugging garments that have a long and slim silhouette. This type of dress is designed to flatter your body's natural curves and bring out the best in you.
A column wedding gown is ideal for those who want to show off their shapely figure. These dresses are a beautiful choice for brides who want to look sophisticated and stylish on their big day. Column wedding dresses come in various styles, bridal fabrics, and colors to suit your personal style.
When choosing a column wedding dress, keep these tips in mind:
Consider the Season: When wedding dress shopping, it is important to consider the season in which you will be getting married. Different fabrics and materials may be better suited for certain seasons than others. For example, lighter fabrics are better suited for spring or summer weddings. Heavier fabrics may be more appropriate for fall or winter weddings.
Think About Your Body Type: Another important factor to consider when choosing a column wedding dress is your body type. Column dresses are best suited for slender body types, as they tend to emphasize the length of the body.
Keep an Eye on Comfort: Column wedding dresses typically fit close to the body. This means you'll want to choose one made from a breathable fabric such as silk or chiffon that won't make you feel too hot during your ceremony and reception.
What is the Difference Between a Sheath and Column Wedding Dress?
Many people think that a sheath and a column wedding dress are the same, but there is actually a subtle difference between the two. Sheath dresses have straight lines at the waist, while column dresses usually have a slight flare or A-line shape. The distinction between these two types of dresses is not too noticeable when worn, so it's important to try both on to decide which style looks best on you.
How Should a Column Wedding Dress fit on my Body?
A column wedding dress should fit snugly against your body without being too tight. The fabric should be soft and lightweight, allowing you to move freely on your special day. Make sure the dress is not too long as it can make you look smaller — the hem of the dress should end just above or at the ground.
Column Wedding Dresses for Different Body Types
No matter your body type, there is a column wedding dress that will look beautiful on you at True Society. Here are some of the True Crew's favorite styles that are sure to make a statement.

Lace Column Wedding Dress
Essense of Australia Style D3791+
If you're searching for a timeless and distinctive wedding gown, then look no further — at True Society, we've got the ideal one for you! Essense of Australia Style D3791+ is a breathtakingly beautiful column style wedding dress. Designed for the modern, fashion-forward bride, this exquisite dress is suited for a beach or summer wedding.
From the sheer long sleeves highlighting the elegant leafy lace, to the deep V-neckline and super low back detail, this gown will flatter your natural shape and show off your curves. The fitted column sheath subtlety enhances your silhouette while still making a statement. Look absolutely stunning and unforgettable on your special day in this lace column wedding dress!
Column Wedding Dress with Sleeves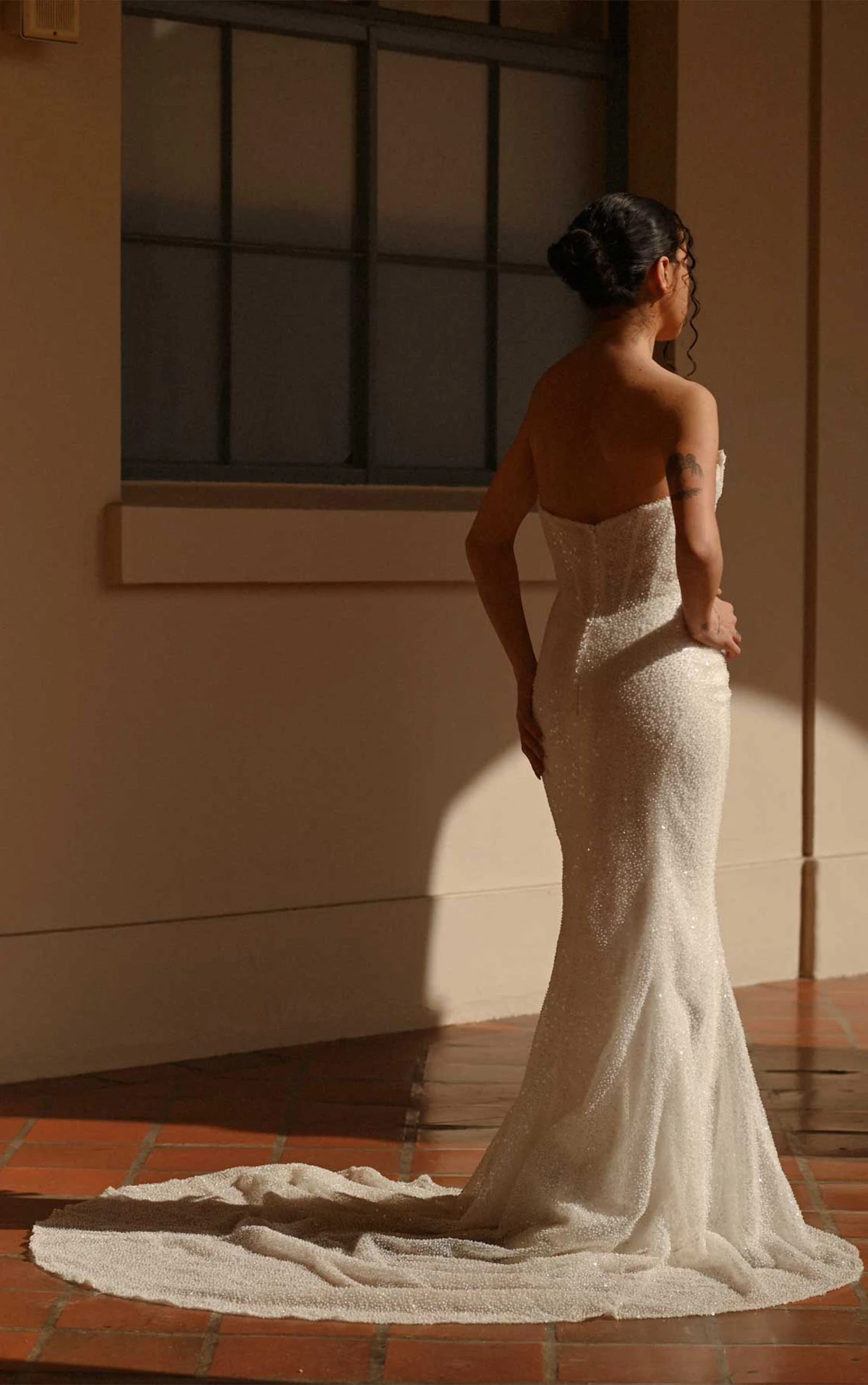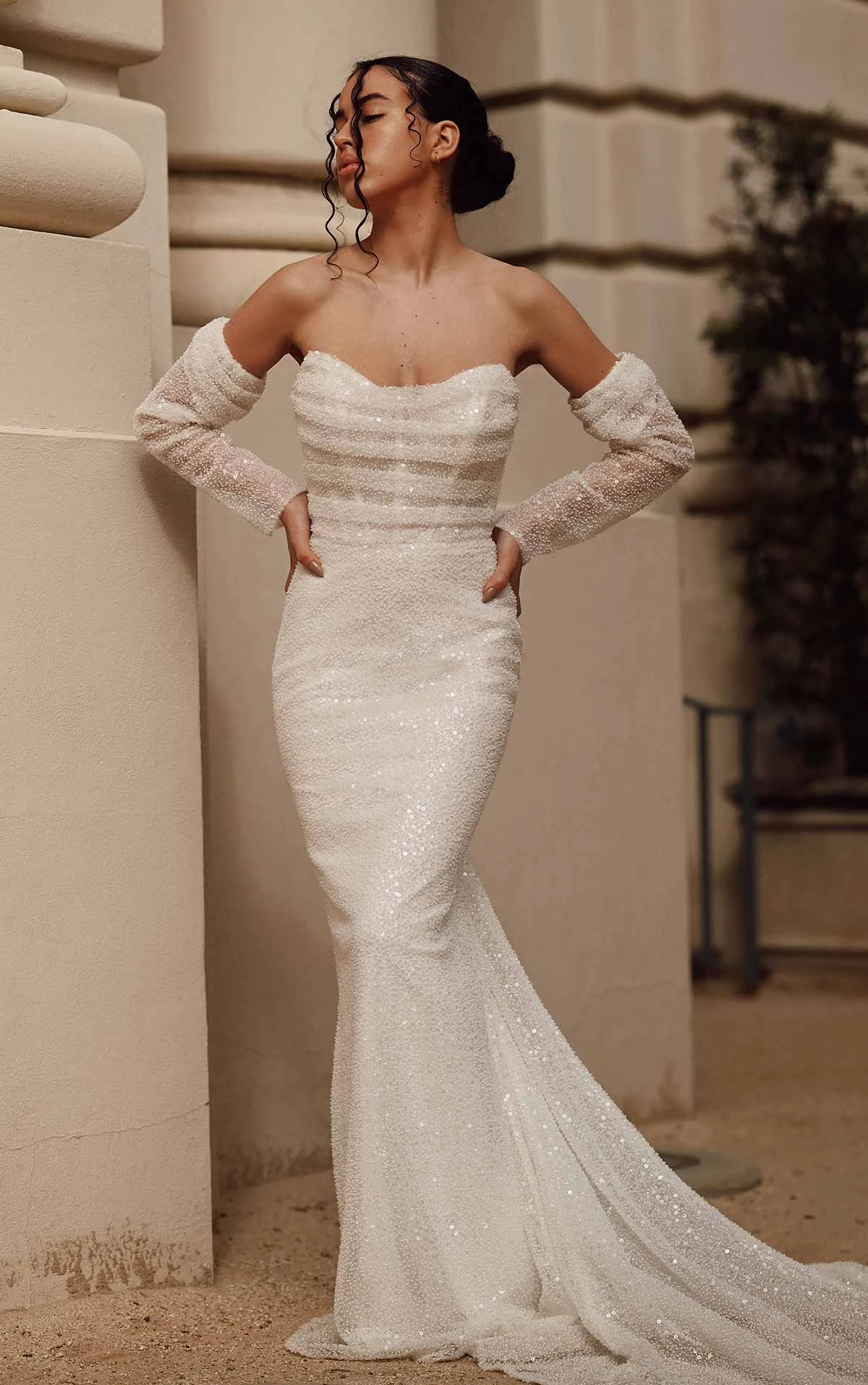 If you're looking to make an unforgettable impact on your wedding day, Martina Liana Style 1678 has you covered with its timeless sophistication sure to make you sparkle! This gorgeous column wedding dress with sleeves is the epitome of modern elegance.
This designer column wedding dress hugs your figure with an impeccable fit, featuring a modern strapless bodice complete with a scooped neckline and elegant banded detail across the torso. Extravagant sheet lace adorned with shimmering beads and sequins sparkles all over a silhouette that hugs your figure for an impeccable fit.
The elegant and graceful sweeping train, flowing behind you as you walk down the aisle, adds an extra touch of sophistication to this already stunning look. With its delicate fabric and intricate design, this style creates a mesmerizing effect that captivates everyone's attention. Be sure to turn heads as you make your grand entrance in this gorgeous gown!
Strapless Column Wedding Dress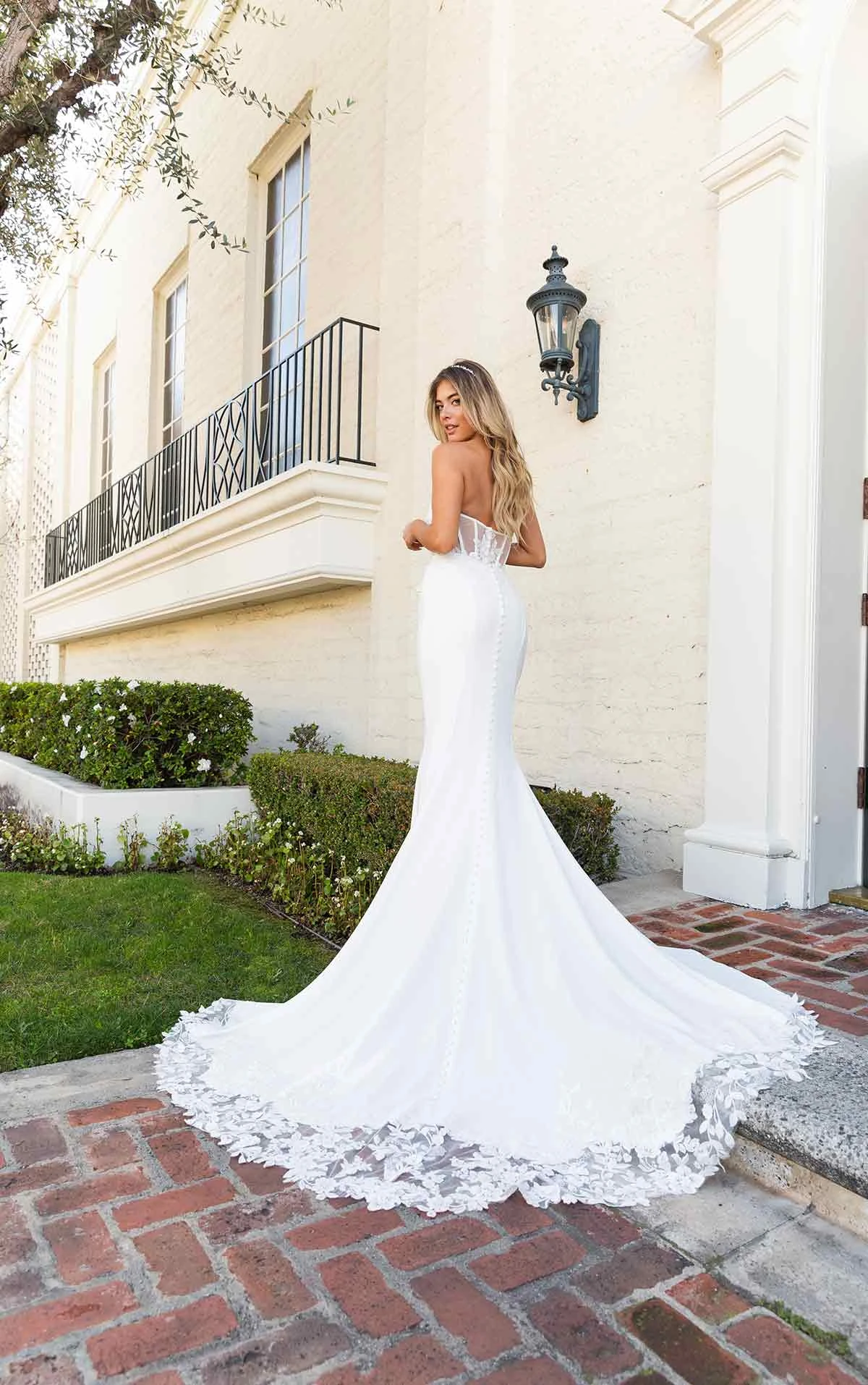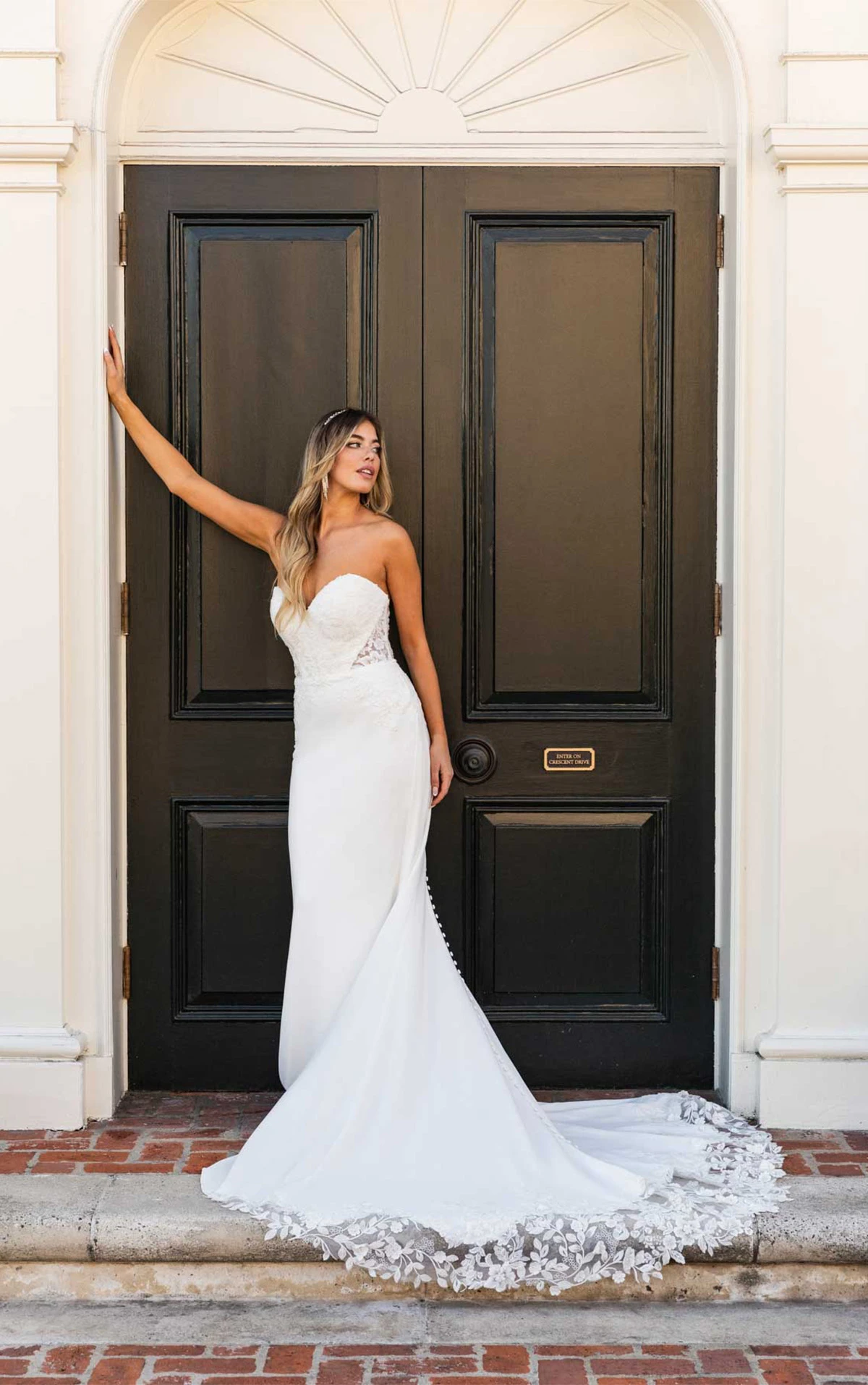 If you're looking for a glamorous yet minimalistic wedding dress, Stella York Style 7634 is a gorgeous choice for you! With its stunning strapless sweetheart bodice, 3D floral accents, and sheer cutouts, this runway-inspired masterpiece will leave your guests in awe.
Thanks to the figure-flattering sheer cutouts that wrap into a sheer paneled back of luminous tulle and lace, your curves will be highlighted in all the right places. The look is completed at the waist with dramatic floral details, a chic skirt of soft crepe, and a stunning lace cutout train for a modern touch. Enjoy a timeless look with this beautiful gown, ideal for the bride stealing the show on her wedding day.
Satin Column Wedding Dress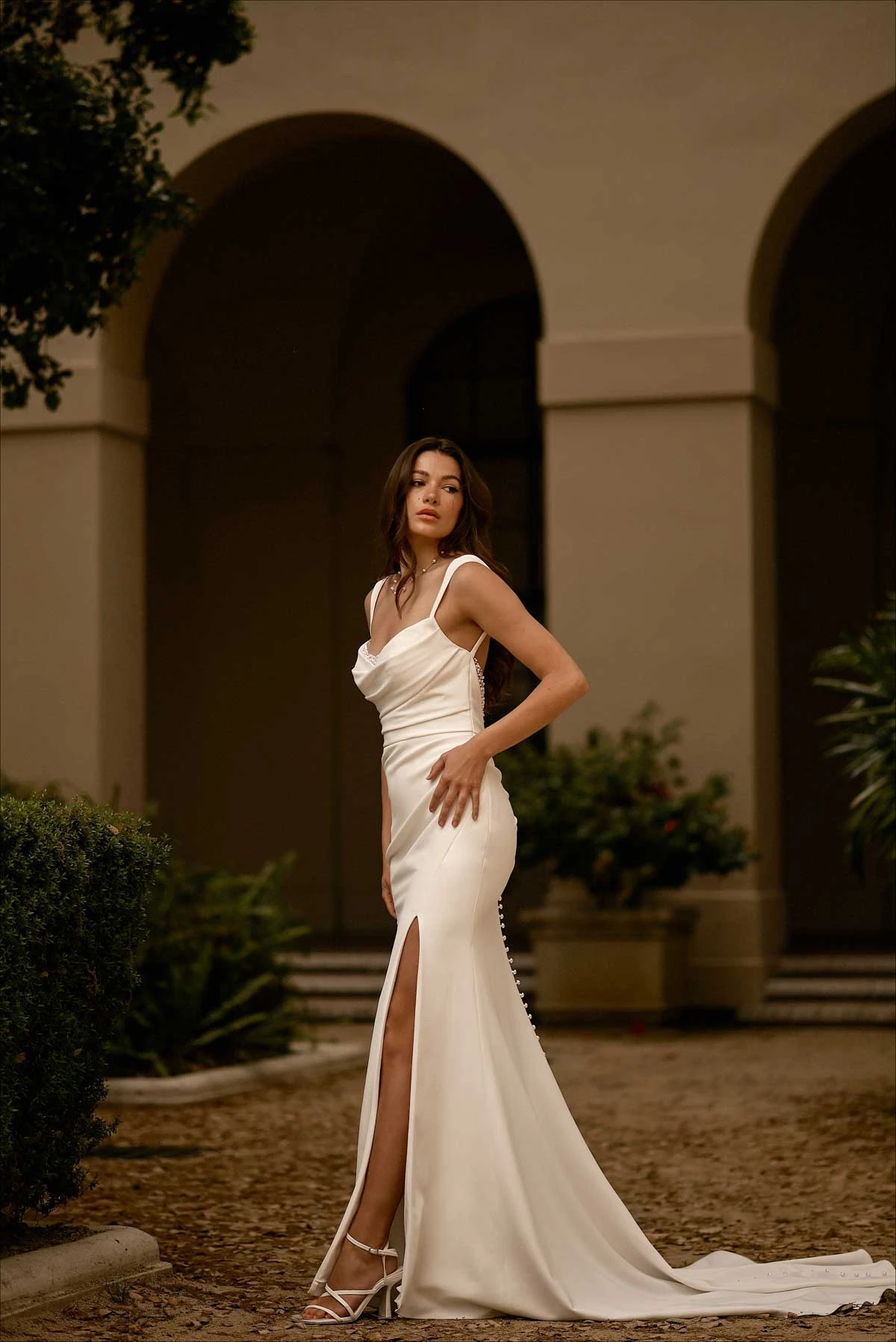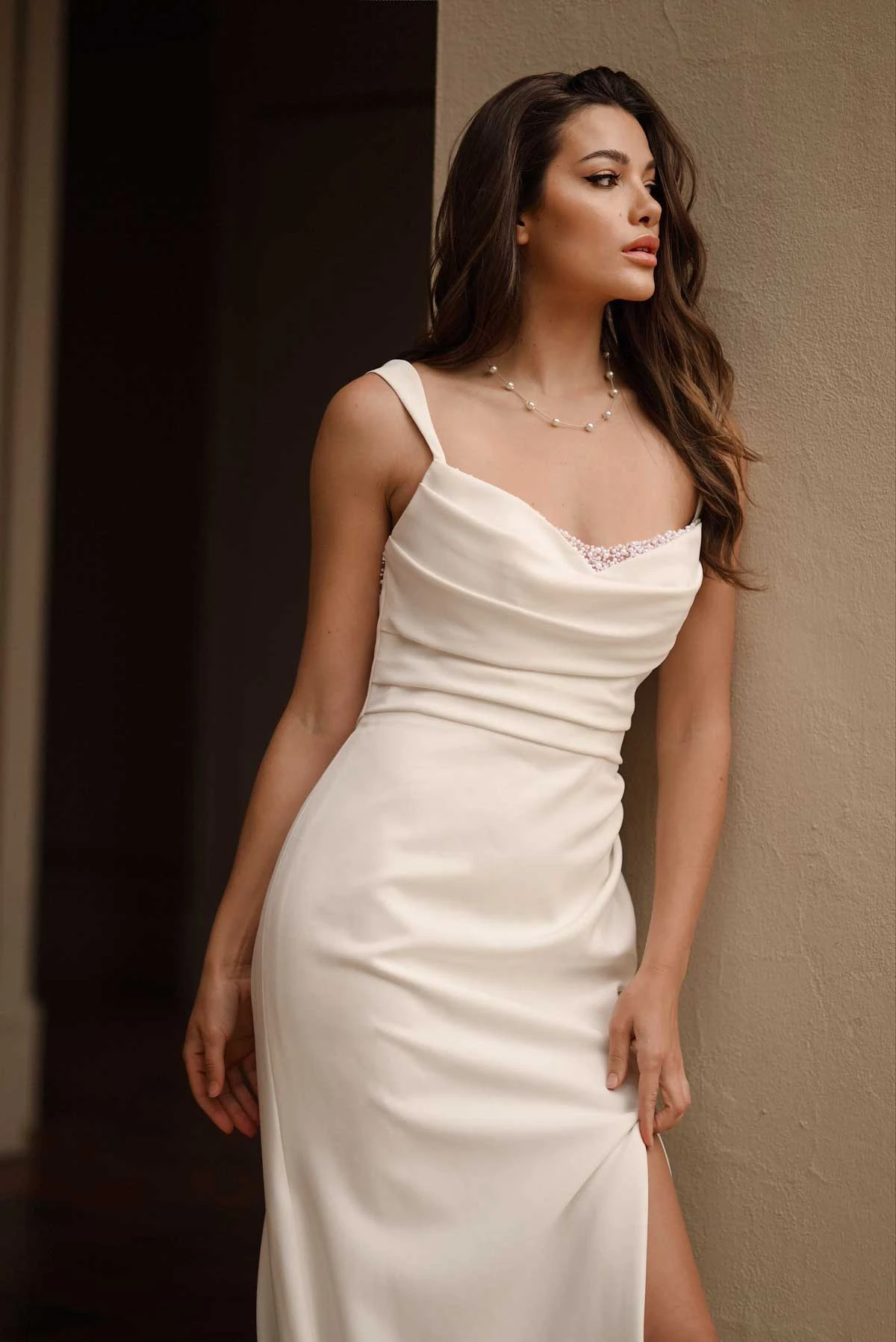 Essense of Australia Style D3823
Brides-to-be, you deserve to feel confident and beautiful as you walk down the aisle. Essense of Australia Style D3823 is an ideal column wedding dress for the modern, stylish bride.
Designed with a lightly boned bodice, this classic gown comes with a low scoop back accented by a row of pearls that run the length of the skirt. Carefully placed pearl details add a soft sparkle to the bust and back, while the stretch crepe is figure-flattering to complete the look.
The hip-hugging silhouette will flawlessly accentuate the figure, and the leg slit adds a sexy and glamorous touch. You'll be sure to turn heads in this elegant dress as you make your grand entrance down the aisle.
How do I Style a Column Wedding Dress?
Since the column wedding dress silhouettes are simple and understated, you have plenty of options to add your personal flair to the look. Start with the accessories — delicate jewelry and a chic updo will beautifully complement the dress.
Consider adding a statement belt or sash to accentuate your waistline and give the dress a touch of personality. Don't forget to have fun with your hair and makeup — a bold lip or smoky eye can add just the right amount of drama to this classic style.
For shoes, choose something that adds a pop of color or texture, like metallic heels or bold satin pumps. Above all, wear what makes you feel the most beautiful and confident – it's your day!
From classic and timeless designs to trendy and bold choices, at True Society, we have curated a collection of column wedding dresses that caters to every individual's personal taste. Explore our wide range of styles; with our carefully selected pieces, you can effortlessly express your personal style and elevate your bridal fashion game.
To find the column wedding dress of your dreams, reserve your appointment today and talk to our True Crew about all the amazing choices we have for you at True Society. Availability varies per store.