Finding your wedding dress was an adventure like no other, but now it's time to turn your attention to your other halves, your best pals, the bridesmaids! Grab a drink and take a seat because today we're giving you the inside scoop on all things bridesmaid.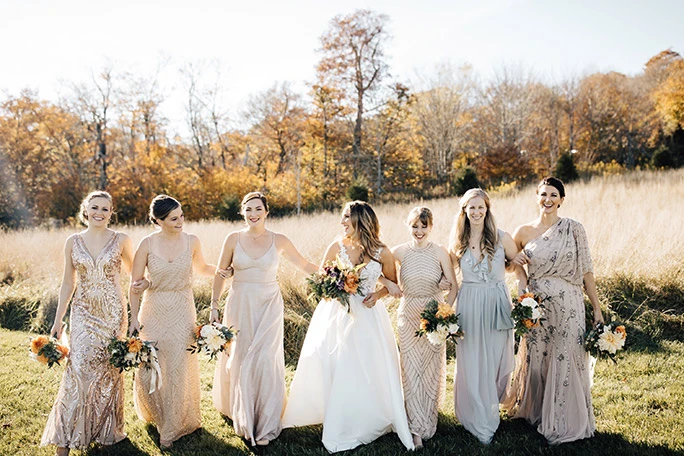 Photo: Amanda Sutton
Dress shopping can be a total blast, but there are a few important tips to consider before and during your bridesmaid appointment. Finalizing your budget and bridal party beforehand is definitely a must, but keep an open mind about bridesmaid dress colors and styles because what you see in-store might completely blow your mind…
Here are our favorite tips for bridesmaid shopping that will help make your experience a total breeze: 
1. Gather Your Inspo
Whether you're looking for a classic neutral or a bold jewel tone, we got you covered. There are so many different gowns to choose from, and it can be a little overwhelming to go in blind. Show your stylist your mood board inspo to help guide your search for the perfect gowns. With so many styles and colors to choose from, narrowing down your options will have the search for your bridesmaid dresses off to a great start!
Pro-Tip: We carry Sorella Vita bridesmaid dresses! Browse their collections online before your appointment.
2. Get Professionally Measured
Bridesmaid dresses will likely fit differently depending on the label, silhouette, and fabric, so we highly recommend your "I Do" crew gets professionally measured for a near perfect fit. You'll be able to avoid the more costly alterations down the road and ease your friends' worries about estimating their dress size.
Pro Tip: Ask your stylist about special hems for your tall besties and your petite peeps!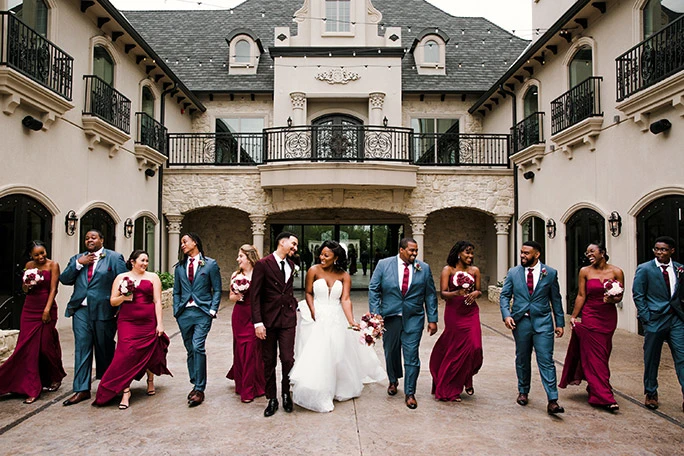 Photo: Haley Katherine Photography
2. Keep an Open Mind
This might seem like a non-committal tip, but trust us! What a dress looks like on Instagram and in person might give you serious whiplash. Be open to a variety of different options as you choose dresses for your bridal party, especially if your crew has a range of body types, styles, and opinions. The worst outcome would be to limit your choices before your try-on sesh and box your maids into a fit that just won't work.
Pro Tip: If you're totally obsessed with a style or color that won't work for everyone, ask your stylist about the 2021 hottest bridesmaid trend: Mix-and-Match Dresses!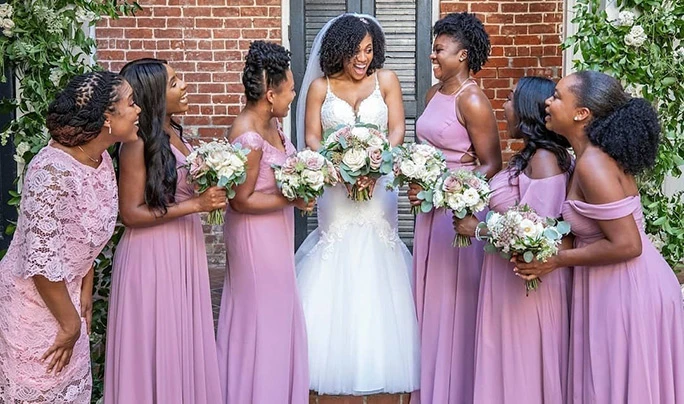 Photo: Soul Portraits
4. Set Your Budget
While dress styles and color palettes aren't set in stone, your budget should be pretty firm. Although you don't want price to be the only factor that goes into choosing the perfect bridesmaid dresses, you do want to give yourself (and your wallet) some adequate boundaries. Don't be afraid to have an honest conversation with your bridal party about what they can afford. You know from experience that weddings can get pricey, so confirming what your friends are comfortable paying will ease everyone!
Pro Tip: Not sure what to expect? Call your local retailer to confirm the price range of their available bridesmaid dresses!
5. Shop In Person
Shopping online might seem like a great alternative to in-person browsing, but you can't always trust what you see on Instagram. Colors and fit can vary a lot in person. So, grab your besties and make a day out of it! Shopping in person at your local bridal store is a perfect way to confidently choose the bridesmaid dresses fit for your epic bridal vision. That way, you can see how the color and style looks on your people and with your wedding dress!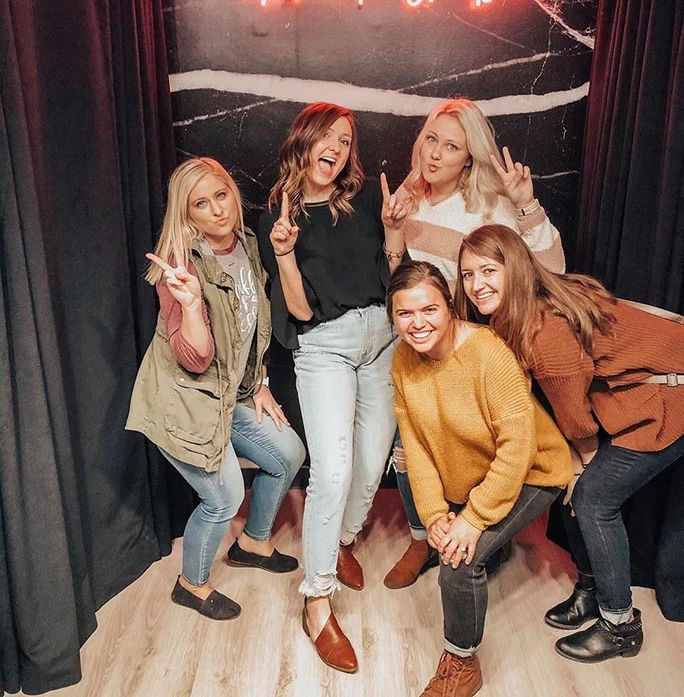 Photo: @courtneyrogers__
What is the bridesmaid shopping experience like at True Society?
We would love to host you and your faves in our private Bridesmaid Suites! With access to all the latest colors, trendiest styles, and classic silhouettes in every size, we really do have a gown for all members of your bridal party! Complete with individual fitting rooms and a dance floor all to yourselves, you'll enjoy the "suite life" at True Society.
Let us transform your bridesmaid experience into one that will be truly unforgettable. To learn more about our special Bridesmaid Suites, visit our location pages or book your appointment online. For our COVID guidelines and restrictions, please give us a call.