Cheers to 2021! After a year of unexpected delays and postponements, we're so ready to start again. With a new year brings new opportunities, new save-the-dates, and new BLING. For those of you literally "ringing" in the new year, congratulations, you're engaged! Now that you've said "yes" to your forever, it's time to propose to your favorite people. Today on the blog, we're offering five unique bridesmaid proposal ideas for you to pop the question to your best mates, in person and virtually.
Our favorite ideas to ask, "Will you be my bridesmaid?" :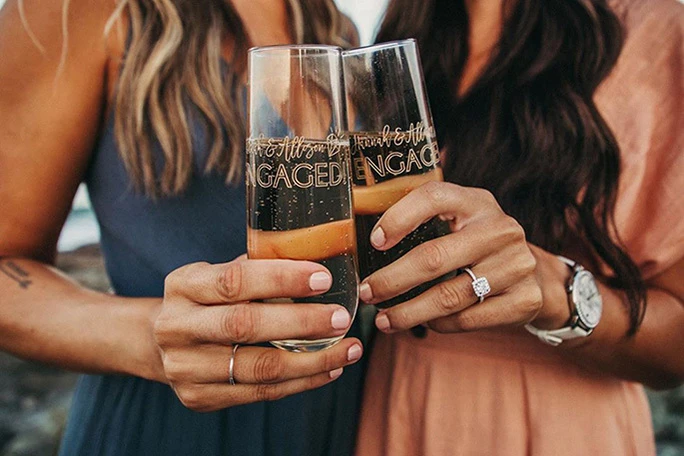 Photo: Chris Ashton
1. Surprise Them at Brunch
Nothing says "bridesmaid proposal" quite like sunny mimosas and avocado toast. Invite your crew to your favorite local brunch place, or keep it cozy and intimate with a simple breakfast at yours. With this easy breezy idea, your soon-to-be bridal party will be full of food and excitement when you ask them to be in the wedding!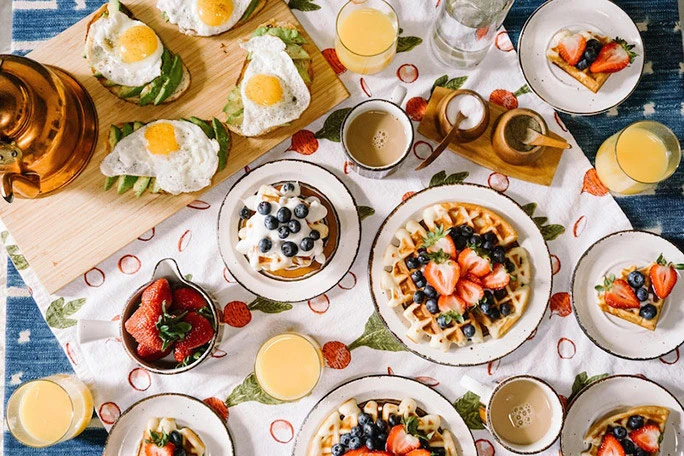 Photo: Rachel Park
2. Throw a (Virtual) Wine Night
Grab the charcuterie board and pop some bubbly! What better way to reveal the big news than with a fizzy little get together at home – the perfect setting to spend some quality time with your number ones. Whether it's a fancy cocktail soiree or a casual socks-and-sweaters event, make it as formal or informal as you like. This is a great socially-distant option as well. Send your VIPs a classic wine and cheese box to enjoy as you chat all things wedding over Zoom.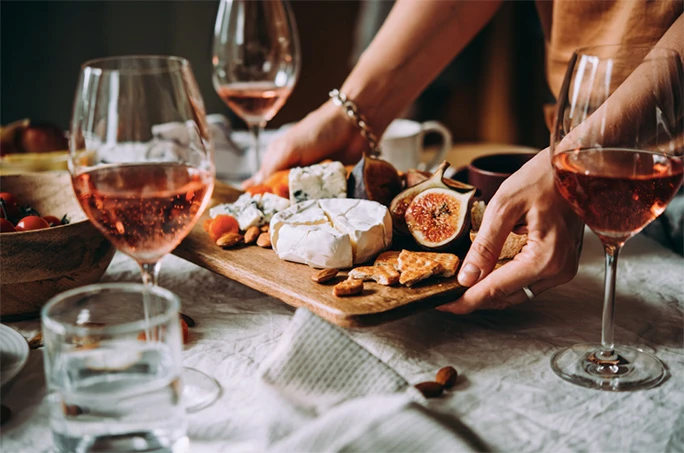 Photo: Wine Dialogues
3. Order Customized Jackets
OK, picture this – Personalized. Denim. Jackets. For brides who love to match with their besties, this cute bridesmaid proposal idea is ultimate #squadgoals! Still one of the hottest bridal trends, the jean jacket fad will never go out of style. If you're into that fashion-forward aesthetic, asking your crew to say "I Do" with these custom jackets is the perfect way to go. Pro Tip: Wear the matching jackets on your big day for a cute photo-op.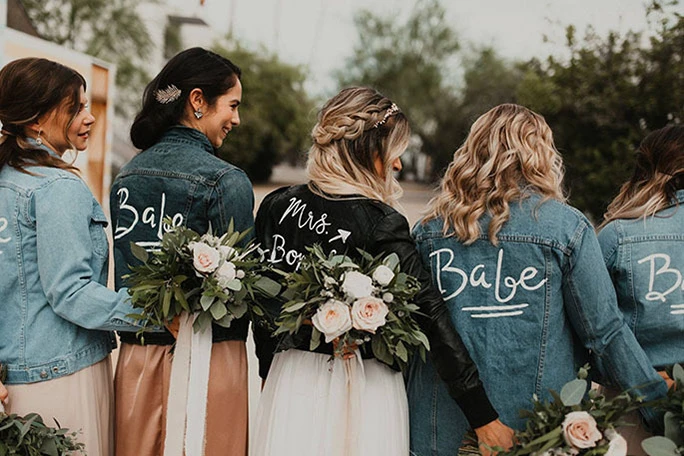 Source: Intimate Weddings, Jackets: Lettered by LBP
4. Send a Gift Box
Who doesn't love receiving surprise mail from a good friend? Pop the question to your bridal party with a charming gift box filled with their favorite goodies. This idea is a great way to make each of your loved ones feel extra special. From face masks and bath bombs to vodka shots and sparklers, they're super customizable! Add a sweet handwritten note, and remember to send Kleenex because your soon-to-be bridesmaids will definitely need them.
Photo + Gift Box: RowdinGrace
5. Host a (Virtual) Game Night
If you and yours are a little bit competitive, kick back with some snacks and your number ones for a fun-filled evening of games. You can even amp up the stakes by revealing that the winner will receive a prize. At the end of the night, hand out your "prizes" and break the news: Everyone's a winner on Team Bride! For a socially-distant option, Jackbox Games, Houseparty, and Among Us are fun options if you're sticking to Zoom.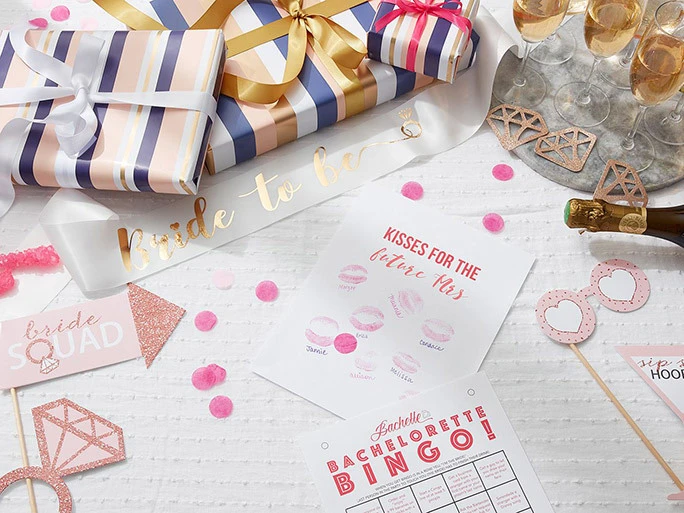 Photo: Margot Cavin
With all the unexpected delays that 2020 brought, we are so hopeful for our current and future brides-to-be! Shoutout to all of the flexible brides who had to reschedule and postpone, and to the wedding vendors that worked so diligently to accommodate them. And of course, to the support crew that sent multitudes of virtual hugs and encouraging messages to keep spirits high.
We hope these fun bridesmaid proposal ideas will help give you and your faves that special "We're-Saying-Yes" moment. We're so excited to see what 2021 has to offer, and we can't wait to spend more time with our newly engaged brides-to-be!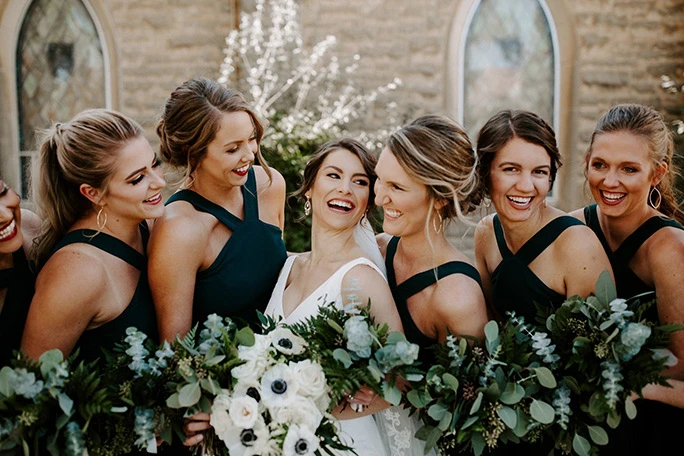 Photo: Kara Smith, Dress: Stella York Style 6742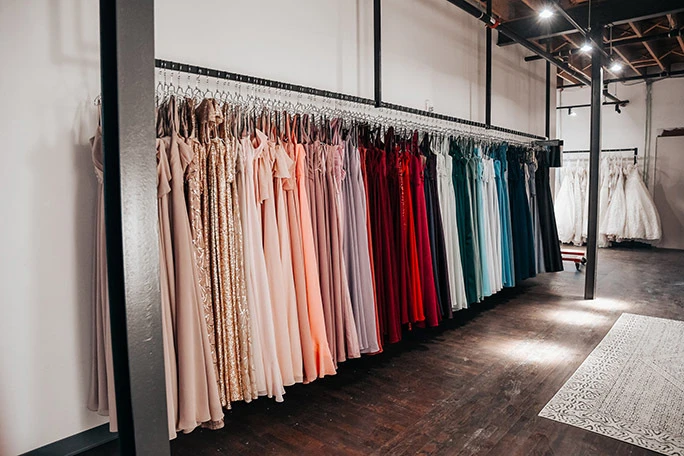 Photo: True Society by Belle Vogue – Crossroads
By the way, our True Society stores are now booking bridesmaid appointments! Gather your gals and head over to our specialized Bridesmaid Suite to try on a variety of bridesmaid dresses! We've stocked the best quality gowns in a multitude of sizes, fabrics, colors, and silhouettes – perfect for every member of your bridal party.
Call your local True Society location for more information about our "Bride Tribe Experience" and store safety guidelines. We'd love to see you! Reserve your bridesmaid appointment here.