Hey, True Brides! You will absolutely adore this elevated and sentimental fall wedding and a stunning bride who had no idea she would fall head over heels for Martina Liana Style 1266.
Our True Society bride Delaney shares all the deets about her dress shopping experience at True Society along with some incredible photos from her sophisticated Hawthorne House nuptials! We love the complementary navy and burgundy color palette, perfect for a fall wedding, and we can't wait to show you the stunning back detail on Delaney's gorgeous Martina Liana gown.
Delaney also tells all about her sweet lavender farm proposal and special moments from her wedding day. She even reveals her favorite piece of advice for our future brides below!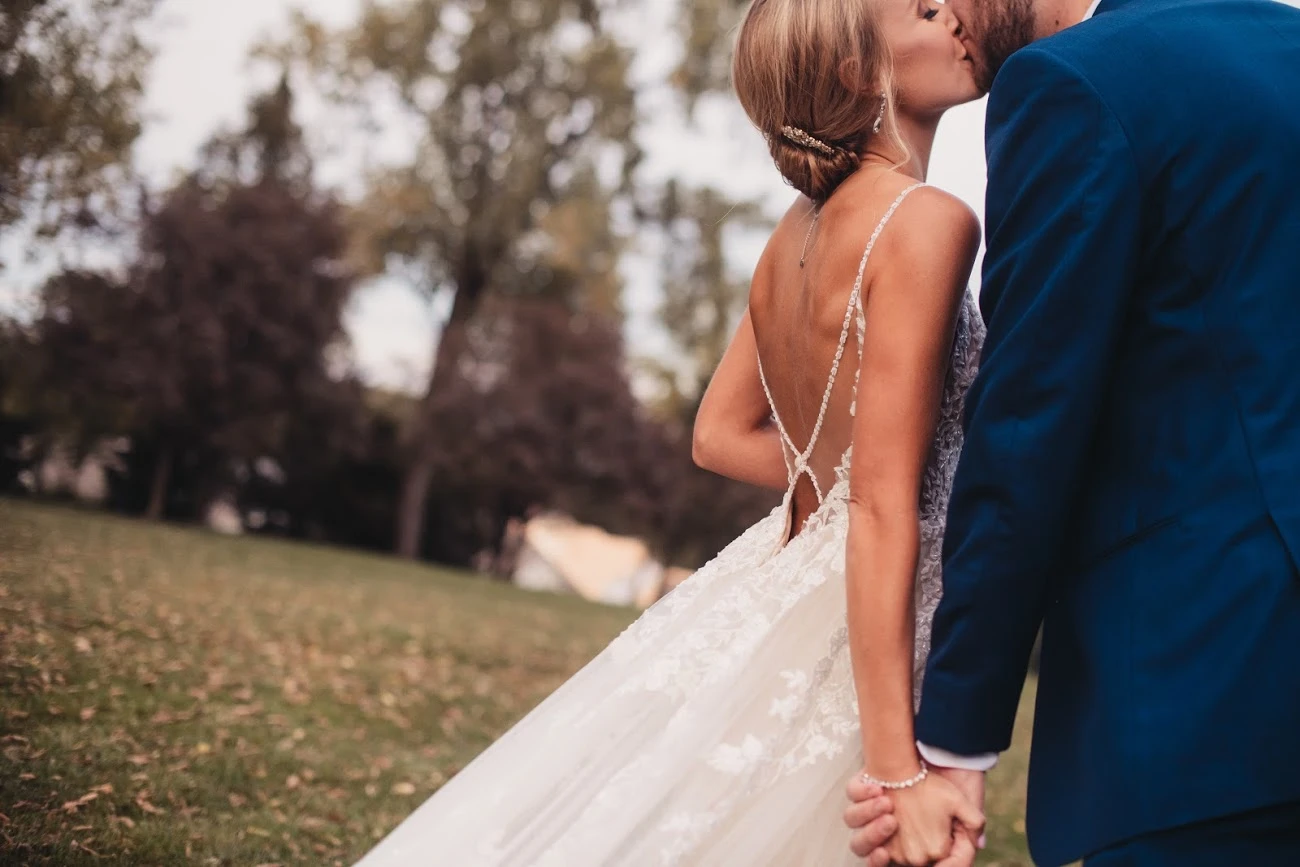 Tell us about your proposal…
We decided to have a little weekend getaway at Will's family cabin in Innsbrook, MO on Labor Day 2019. We had stayed out there several times during the summer over our six years of dating, so I didn't think anything of it! We planned to visit a lavender farm nearby, but it was raining all day Friday and Saturday, so we didn't have a chance to go until Sunday afternoon.
I suggested we stop by the main building on our way there to check out the Labor Day sale going on. It was a beautiful day, so we wandered to the back patio to check out the setup from what I thought was an event the night prior. When I turned around Will was down on one knee! He had arranged for a table filled with beautiful flowers and champagne right on the lake and hired a secret photographer to capture the whole moment.
Little did I know that he had planned this for months. He even placed a little flyer advertising the sale around the cabin / dropped a few subtle hints mentioning it so I would think it was my idea to check it out. The weather and timing worked out perfectly, and I was so surprised! Definitely a day I will never forget.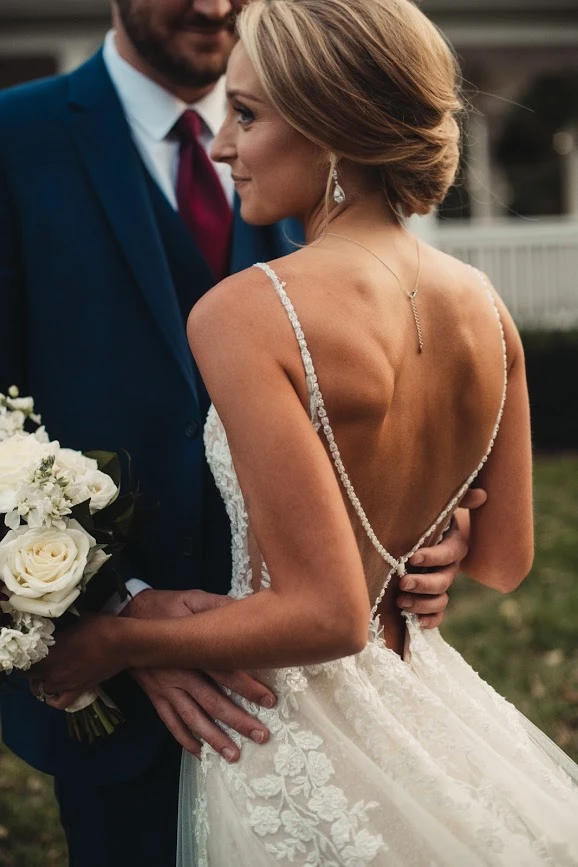 Tell us about your dress shopping experience…
I had a list of dresses in mind when I first went to True Society, but I ultimately ended up with one that I never imagined myself in! My bridal stylist selected Martina Liana Style 1137 as my last dress before I tried them on, and I couldn't be happier that she did. I had a few alterations done to make it exactly what I wanted and ended up with a one-of-a-kind dress.
I absolutely fell in love with the beautiful floral, flowy skirt, and sparkle throughout. My favorite part was the gorgeous back and train! I tried on several other dresses after that, but none of them could compare. It was definitely my dress!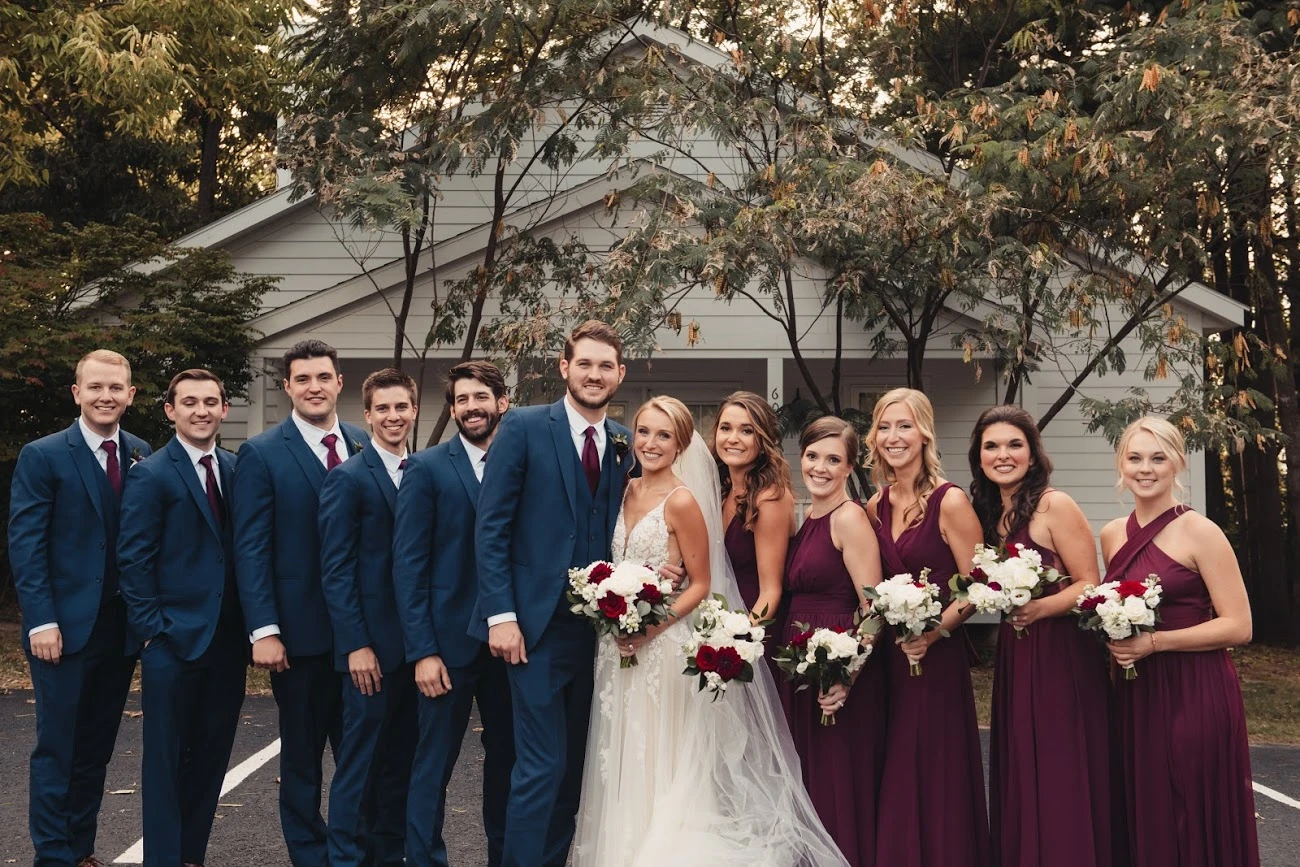 Give us all your wedding details…
Hawthorne House is already such a beautiful space so we knew we wouldn't need a ton of decor. I felt like the burgundy and navy colors with gold accents complimented the greenery perfectly!
We also had a few very special touches to the day – we had the same cantors that sang at my parent's wedding, I incorporated a few sentimental accessories to honor both of my grandmothers in my bouquet, Will's grandfather pronounced us husband and wife, and we used the same cake utensils that my parents used to cut the cake. We were so grateful to be able to celebrate with so many of our loved ones despite the pandemic.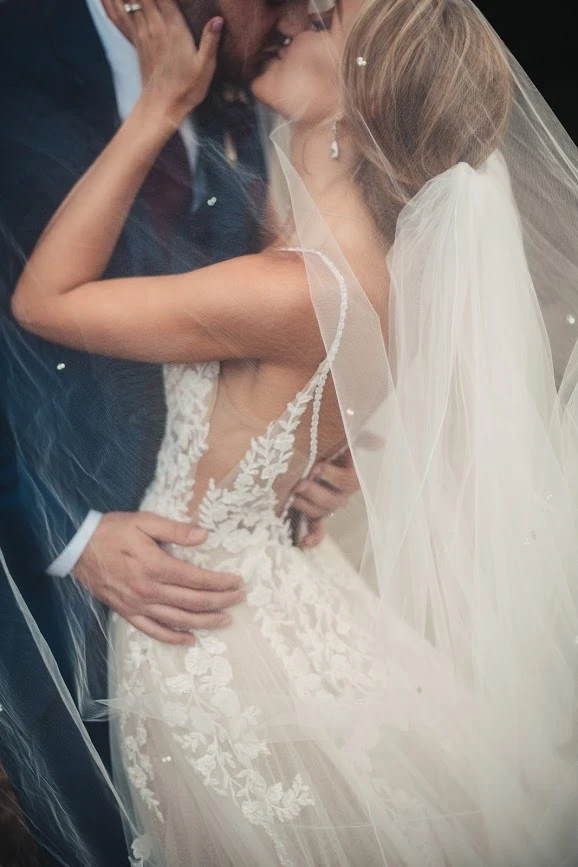 What is your most special memory from your wedding day?
It's so hard to pick just one moment from such an incredible day, but I think our first dance was my favorite. Will had always had one song in mind for our first dance and had even learned to play it on guitar before the wedding. I felt like everything else melted away and it was just us in the moment. It was so surreal to finally experience it together with all of our closest family and friends there to celebrate with us!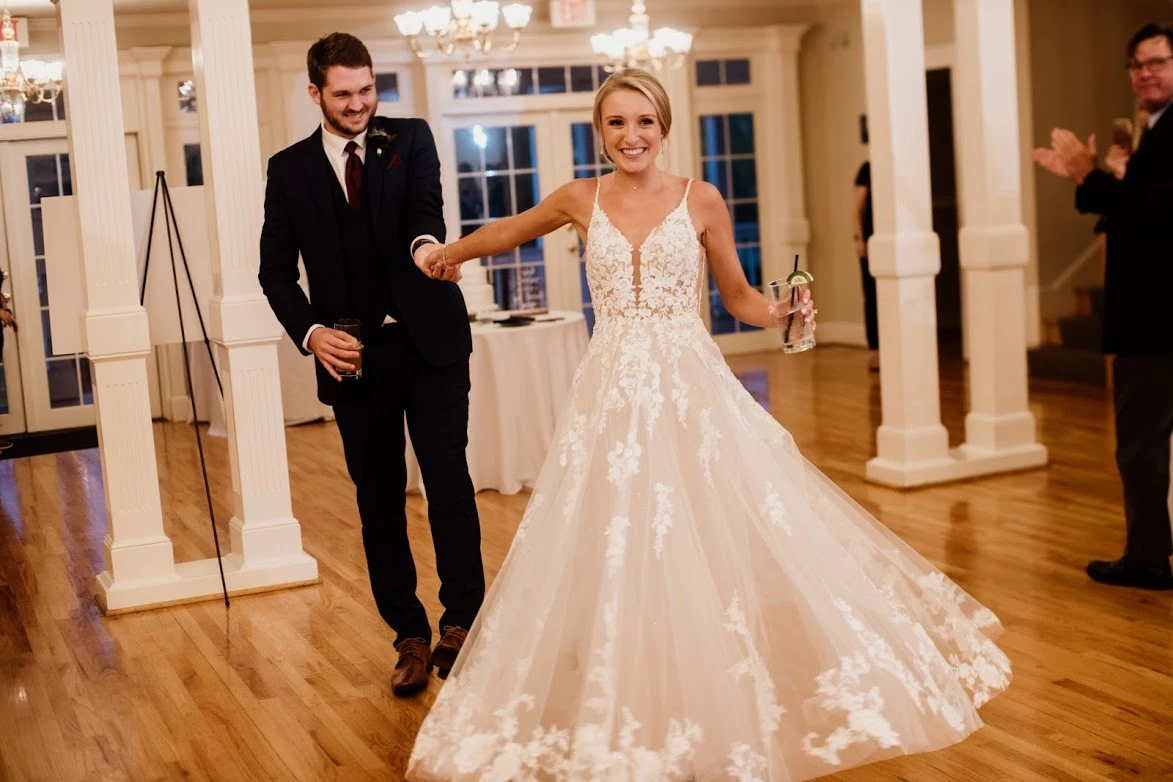 Photography by Andrea Nigh
Ready to find your dream dress? Book an appointment at True Society today.
Want to see more wedding inspo from our True Bride nuptials? Follow us on Instagram for Real True Bride features, bridal advice, and the latest collection launches at a True Society location near you.
Check out more truly detailed gowns we have to offer
True Society brides, did you find your dress with us and want to be featured as a #TrueBride? Share Your Story with us– we love reading all about your bridal experience and swooning over your photos!