This wedding is so good it's literally out of this world. No, seriously! With Halloween as the bride's favorite holiday, Jocelyn and Brian wanted to incorporate a celestial theme into their special day – and boy did they ever! This Kansas City, Missouri wedding day is jam-packed with otherworldly details and stunningly colorful moments. The two styles blended so seamlessly together, creating a cosmic connection.
On her intimate, celestial-themed wedding day, Jocelyn's most special detail was her wedding dress she bought at True Society by Belle Vogue Bridal. Essense of Australia Style D3345, a one-of-a-kind glittery wedding dress, couldn't fit the theme OR the bride better. Jocelyn looked like a bridal vision on this shimmery A-line gown with sheer corset filled with elegance and whims.
Jocelyn and Brian's wedding day was a remarkable event that will be remembered for years to come. From the invitations with stars and moons, to the desserts, table settings and specially crafted playlist featuring celestial-themed lyrics – no detail was left out of this dreamy celebration.
Want to see more of Jocelyn and Brian's Kansas City wedding and learn more about her wedding gown and bridal shopping experience? Keep scrolling to read more!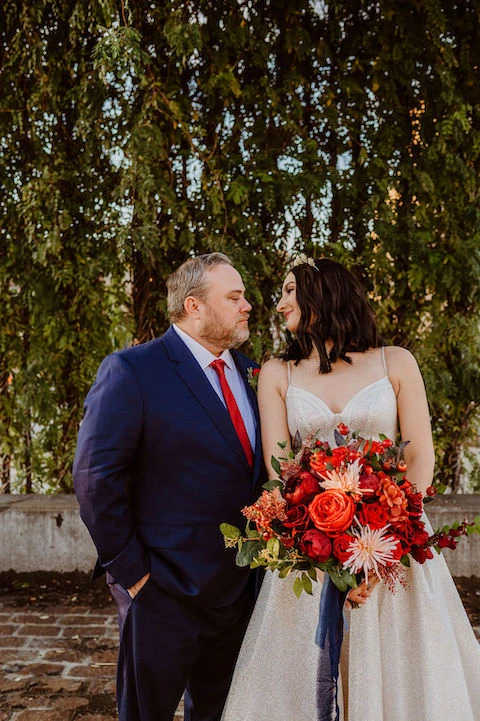 What is your most special memory from the day?
My dress was absolutely my most special memory. I could not have picked a better dress to go with our celestial themed wedding. The way it sparkled in the light was truly like something out of a fairytale.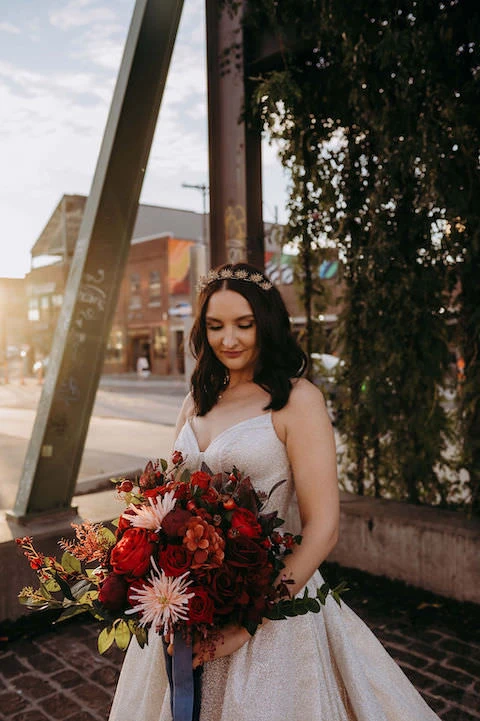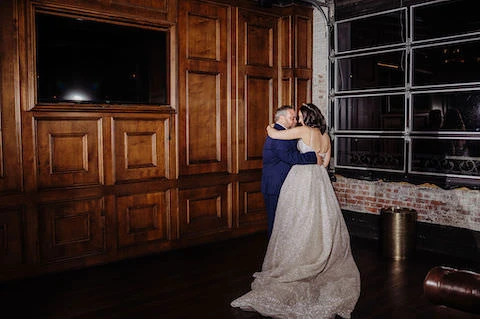 Describe your bridal style. How did you want to look on your wedding day? Tell us about your dress shopping experience.
Since we were having a very intimate wedding, I initially was not looking for anything over the top and boy, did I go in the complete opposite direction. I went into the bridal salon with just one dress in mind, but when I tried it on, it just didn't wow me the way I thought it would.
The Essense of Australia Style D3345 glitter dress had just arrived in store, and it was so new that I was the first person to try it on. It was the second dress I tried on, and the moment I put it on, I knew it was the one. Every dress I tried on after that just did not compare. I said "I do" to my dress at True Society by Belle Vogue Bridal and ordered it that same day.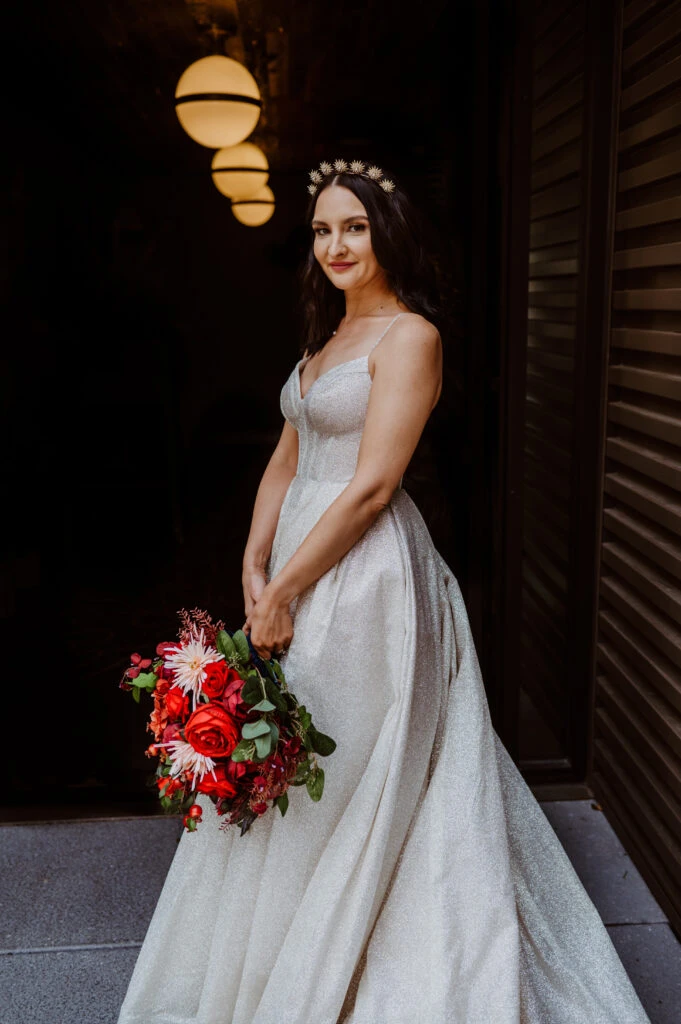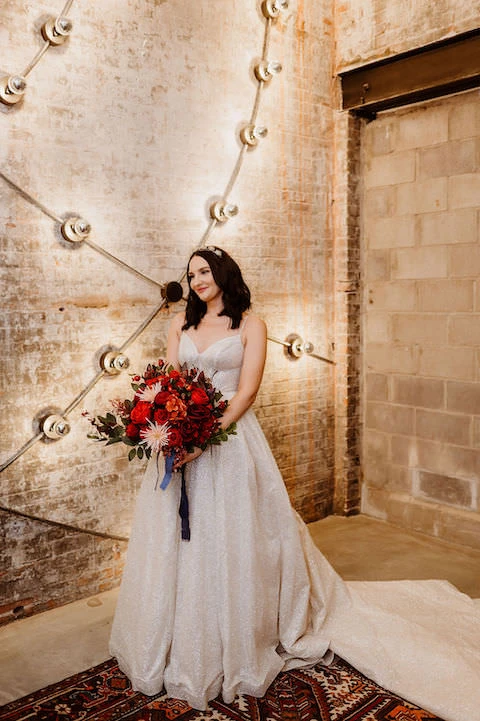 In your own words, tell us more about your wedding. What was your theme? How did you make your wedding personal to your love story?
Halloween is my favorite holiday, so I've always wanted to get married on Halloween weekend, but I knew that we didn't want to go the spooky- themed route, so we chose to do a celestial theme instead.
We incorporated stars and moons wherever we could with the invitations, table settings, desserts, etc. I even crafted a playlist full of songs that had celestial-themed lyrics. It was everything we could have imagined and more.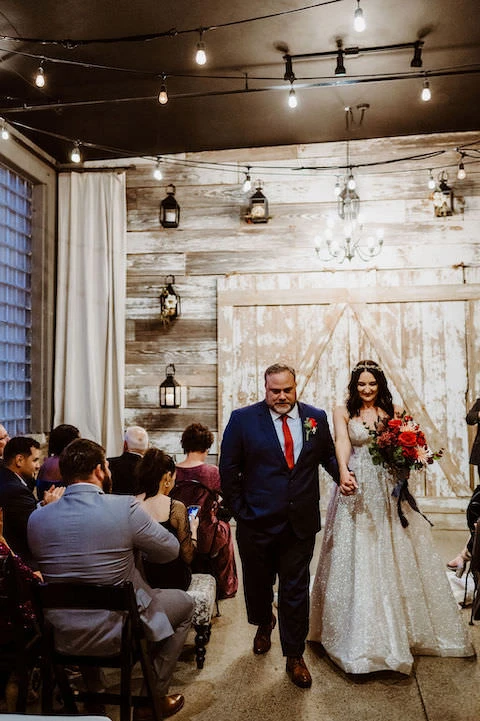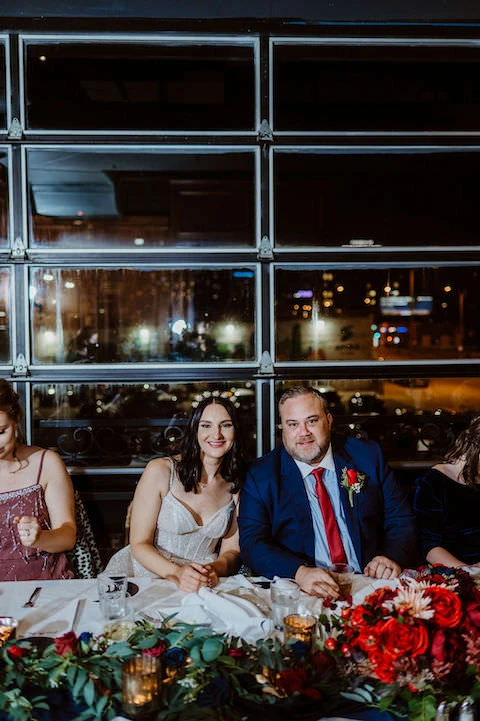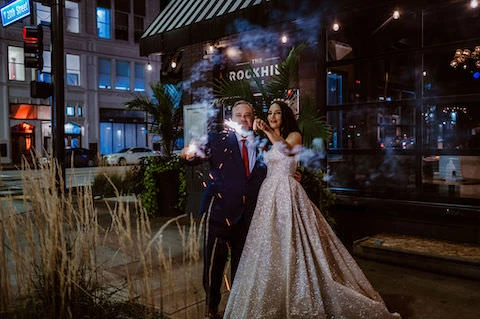 Cheers to Jocelyn & Brian!
Photography: Rebecca Lassister
Hair: Timothy Weber
Makeup: Shayla Nash
Flowers/Decor: Ling's Moment | Artificial Floral & Wedding Decor
First Look: Crossroads Hotel Kansas City
Ceremony: Redefining Small Weddings
Reception: The Rockhill Grille
True Society brides, did you find your dress with us and want to be featured as a #TrueBride? Share your story with us.
Ready to find a dress that makes you sparkle on your wedding day? Find a True Society store near you and book your appointment today!