This Michigan winter wedding was a day that had been long-awaited and celebrated by both the bride and groom. For Sydney and Graham, it was a day they'll remember forever, surrounded by friends and family who love them dearly. The wedding was held in Battle Creek, Michigan, on an enchanting snowy night that made for joyful, one-of-a-kind portraits.
Sydney walked down the aisle in a breathtaking wedding dress and veil from True Society-Grand Rapids, and beamed with joy at the sight of her soon-to-be husband, Graham, waiting for her at the altar. The bride's wedding dress was Essense of Australia D3443, a fit-and-flare silhouette with a gorgeous bohemian vibe. It featured vintage-inspired lace and long bishop sleeves that truly brought all of Sydney's wedding dress dreams to life.
From the wedding ceremony to the reception, Sydney and Graham had an unforgettable day filled with personal touches that flawlessly reflect their love story. It was a cozy yet elegant evening that no one will ever forget! You could feel the love radiating from each image brilliantly captured by Isabel Fahim Photography, so read on to get a glimpse of this gorgeous celebration of love!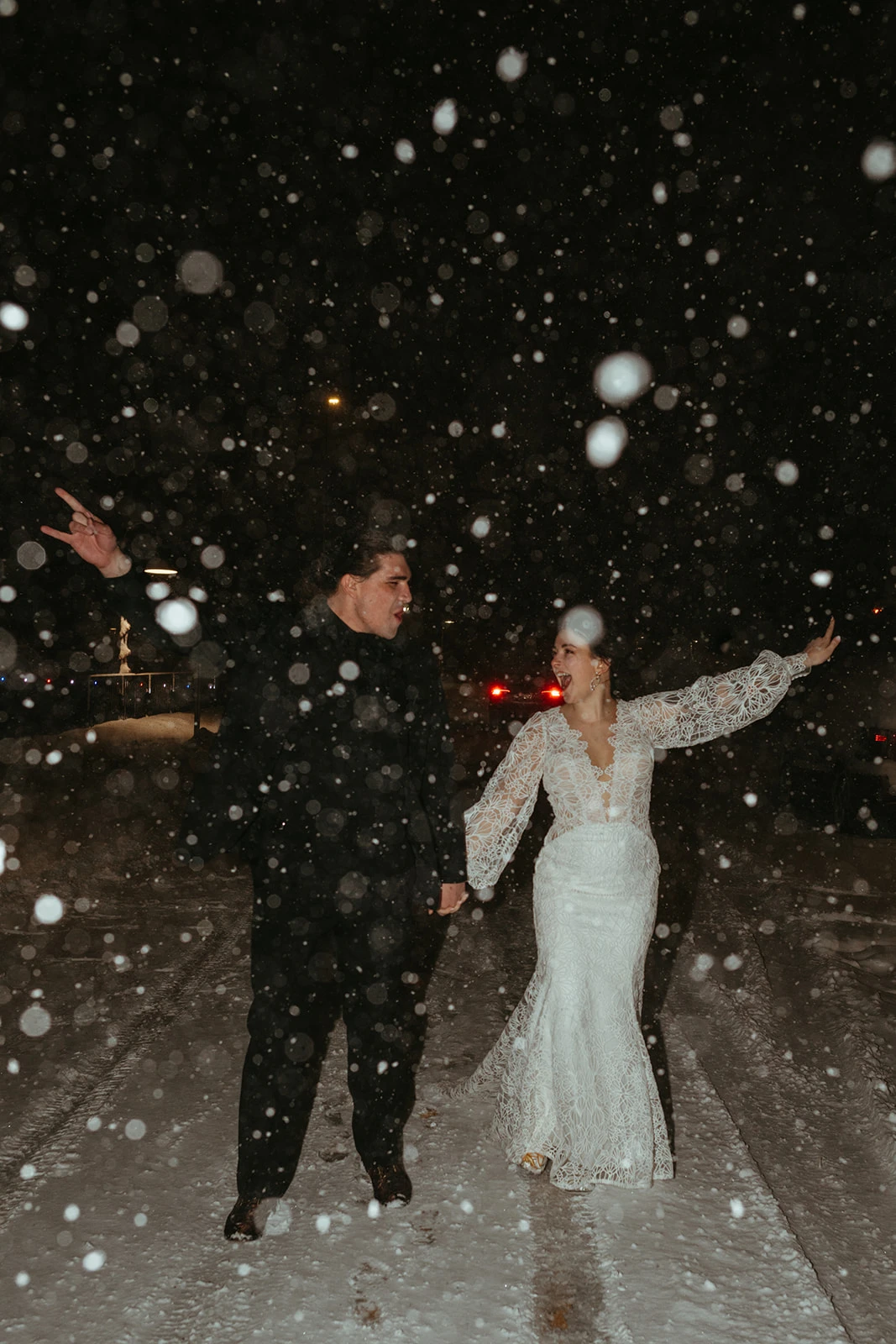 TELL US ABOUT YOUR LOVE STORY AND YOUR PROPOSAL!
My husband Graham is just the most genuine and passionate soul I have ever met. We met while working at Grand Rapids Brewing Co. and were just co-workers for a while. Eventually, we started having a drink after work and realized how drawn to each other we were. We spent three adventurous years together before we got engaged in July of 2021 in Petoskey, Michigan.
We went kayaking the morning of the proposal, after Graham and I had accidentally gotten in the kayaks backward, so he kept hitting my head with the oar. Finally, I decided that we needed to pull up on the beach and switch around. I thought to myself, "If I am getting engaged today, I will find a Petoskey stone" — they symbolize splendor in life and are ingrained into Michigan's local history, and I had never found one before. I looked down at my feet, and there was a beautiful Petoskey stone in between them.
Of course, we got engaged that night at a winery and then went to go see The Accidentals perform live. I cried through the whole concert — it was so perfect for us!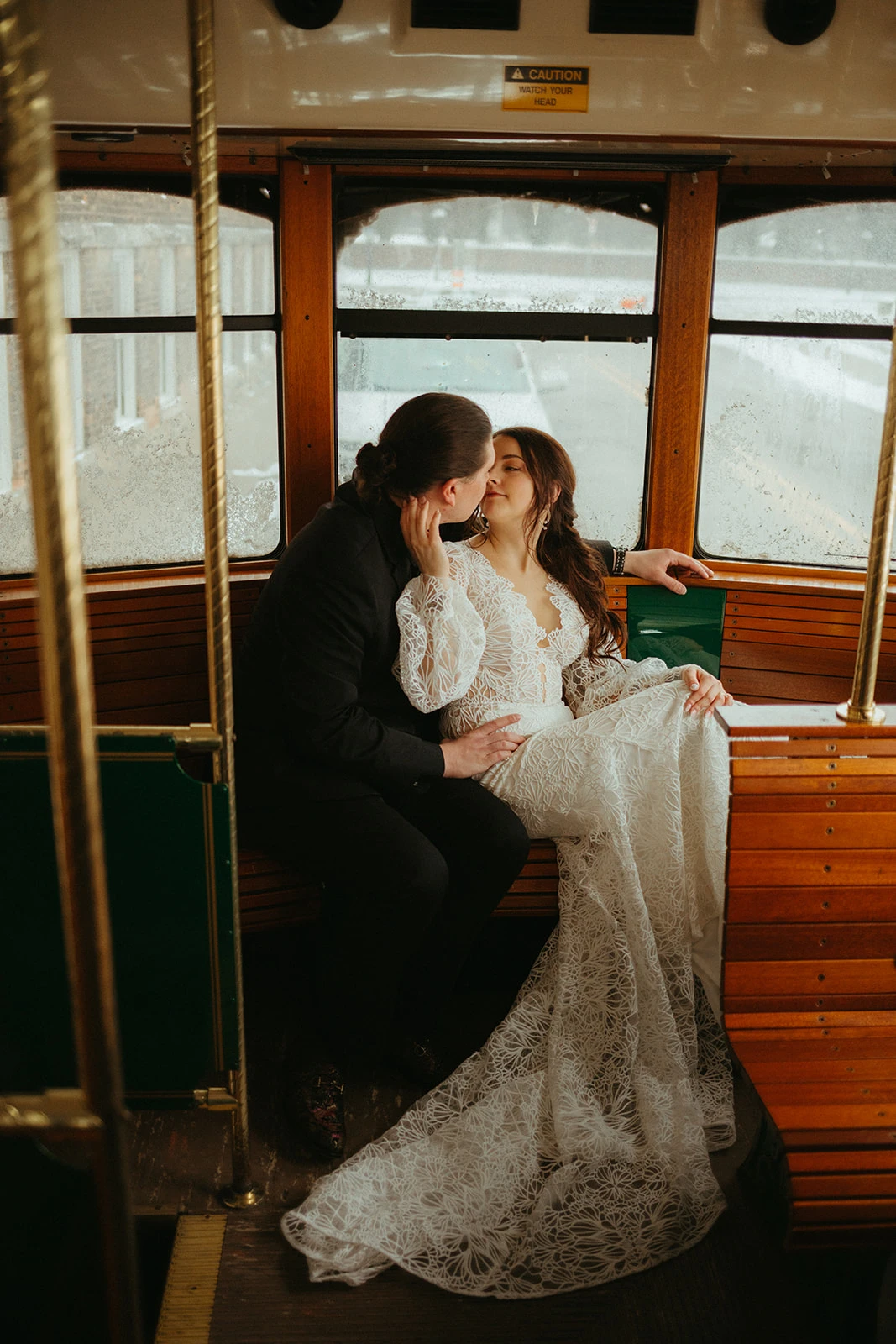 DESCRIBE YOUR BRIDAL STYLE. HOW DID YOU WANT TO LOOK ON YOUR WEDDING DAY? TELL US ABOUT YOUR DRESS SHOPPING EXPERIENCE.
I wanted to look romantic, modern and a little boho/vintage. True Society helped me nail this look. They picked out my veil and my earrings which gave me all of those things and more. My dress went perfectly with how I envisioned our wedding, and it all came to life on that day just magically.
I had such a magical experience from the moment I walked into True Society – Grand Rapids. It was November, so the store was beautifully decorated with silver and gold for the holidays — and I was even offered a present to open, which I found to be gorgeous gold hoop earrings. The manager, Bailey, and my True Crew stylist couldn't have been more helpful and made me feel so comfortable throughout my day.
I actually bought the very first dress I tried on — I just knew Essense of Australia D3443 was the one for me! The True Crew still picked out dresses for me to try on just to be sure and so I could get the full experience of trying on wedding dresses. I absolutely loved my experience at True Society!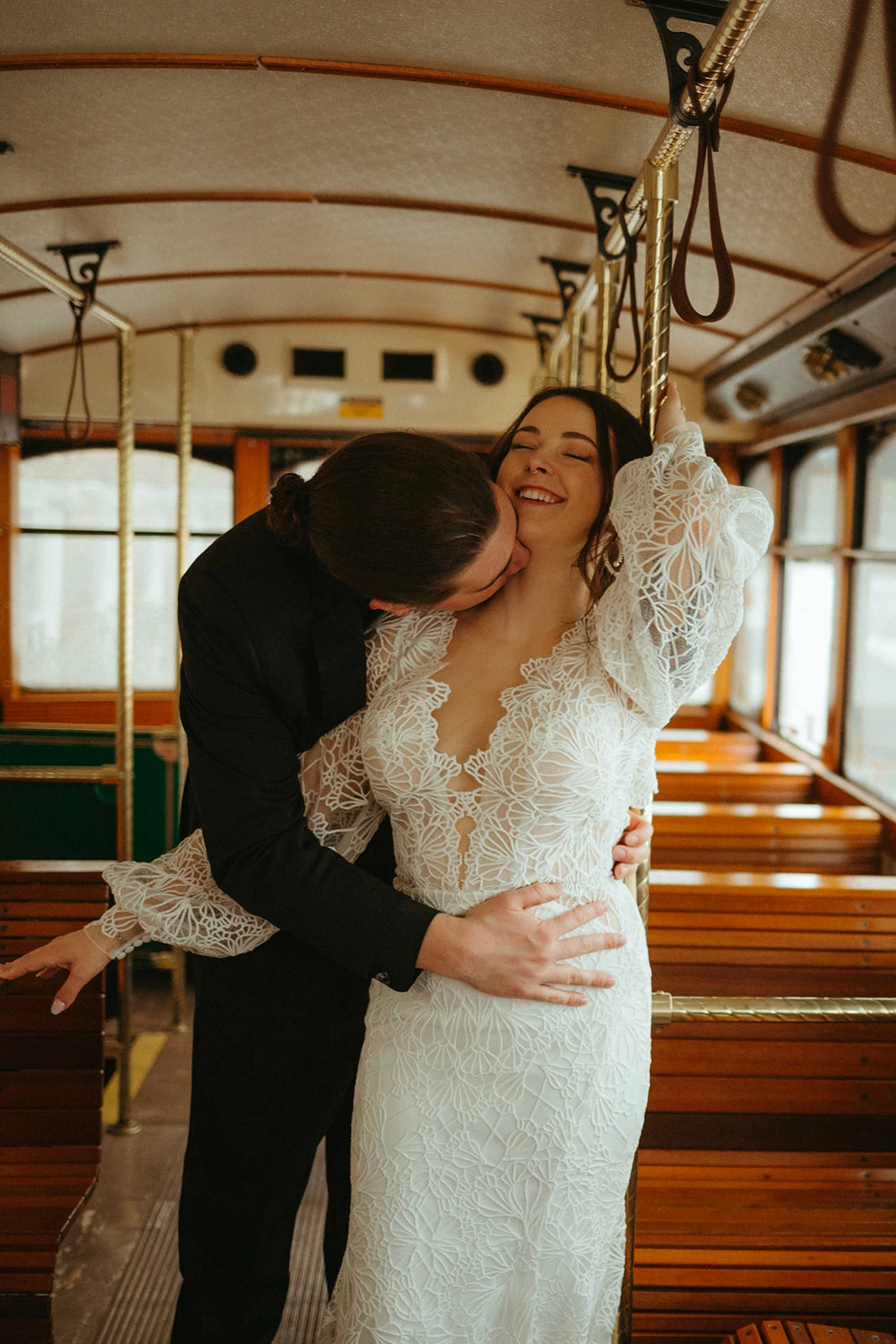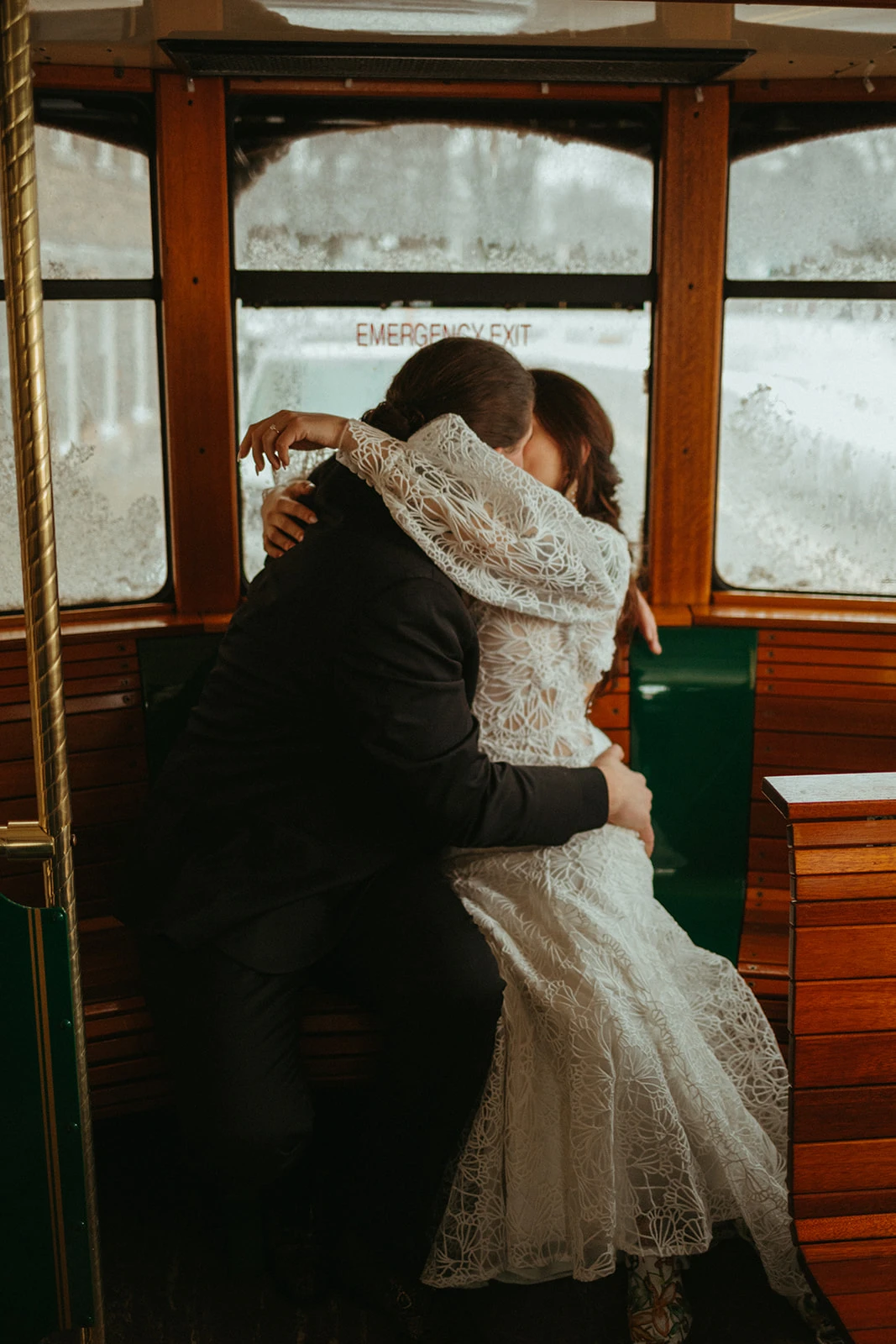 IN YOUR OWN WORDS, TELL US MORE ABOUT YOUR WEDDING. WHAT WAS YOUR THEME? HOW DID YOU MAKE YOUR WEDDING PERSONAL TO YOUR LOVE STORY?
Our wedding was absolutely perfect for our love story. We got married in Battle Creek, surrounded by our families and friends. We wanted our wedding to remind guests of the feeling you get on Christmas Eve with good food, good wine and good company in a cozy, beautiful environment.
We had "fun fact" napkins so our guests could learn a bit about us and our day-to-day lives, cocktail stirs with our dog's face on them and candles everywhere to give guests that feeling of warmth. Our band sang our first dance to "At Last" so we could really move with the music and have fun together while we danced.
My favorite part of our wedding day was our unity ceremony. We chose eight colors of cords made of different materials, each representing a different value we vowed to give our marriage through the years. For example, the orange cord represented kindness, joy and communication.
We gave our brothers and our moms two cords each that represented a value that we learned from them and plan to bring forth in our marriage. They each came up during the ceremony and tied the cords around our hands, so when they were done, we had eight beautifully colored cords connecting our hands together. We had the BEST day ever!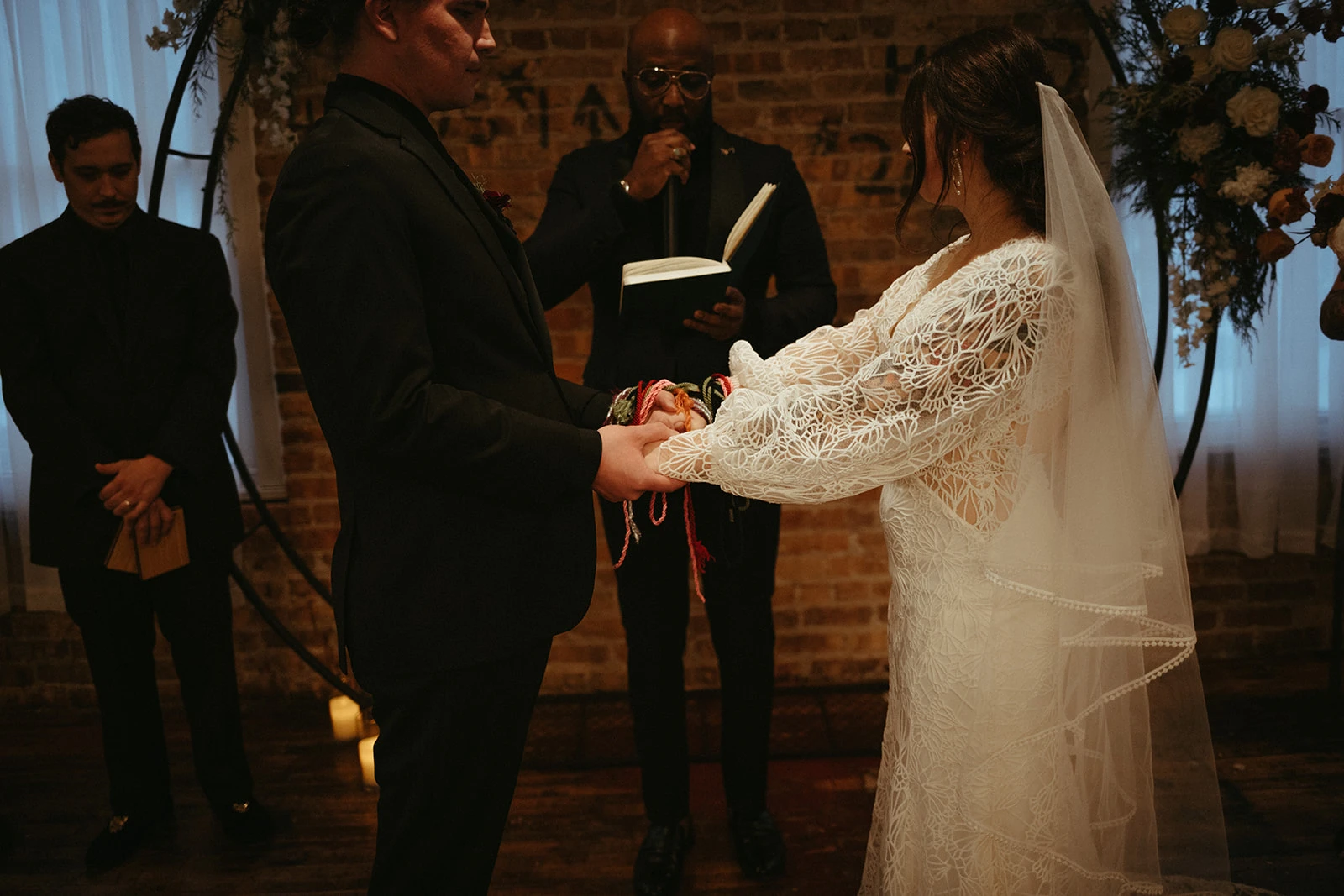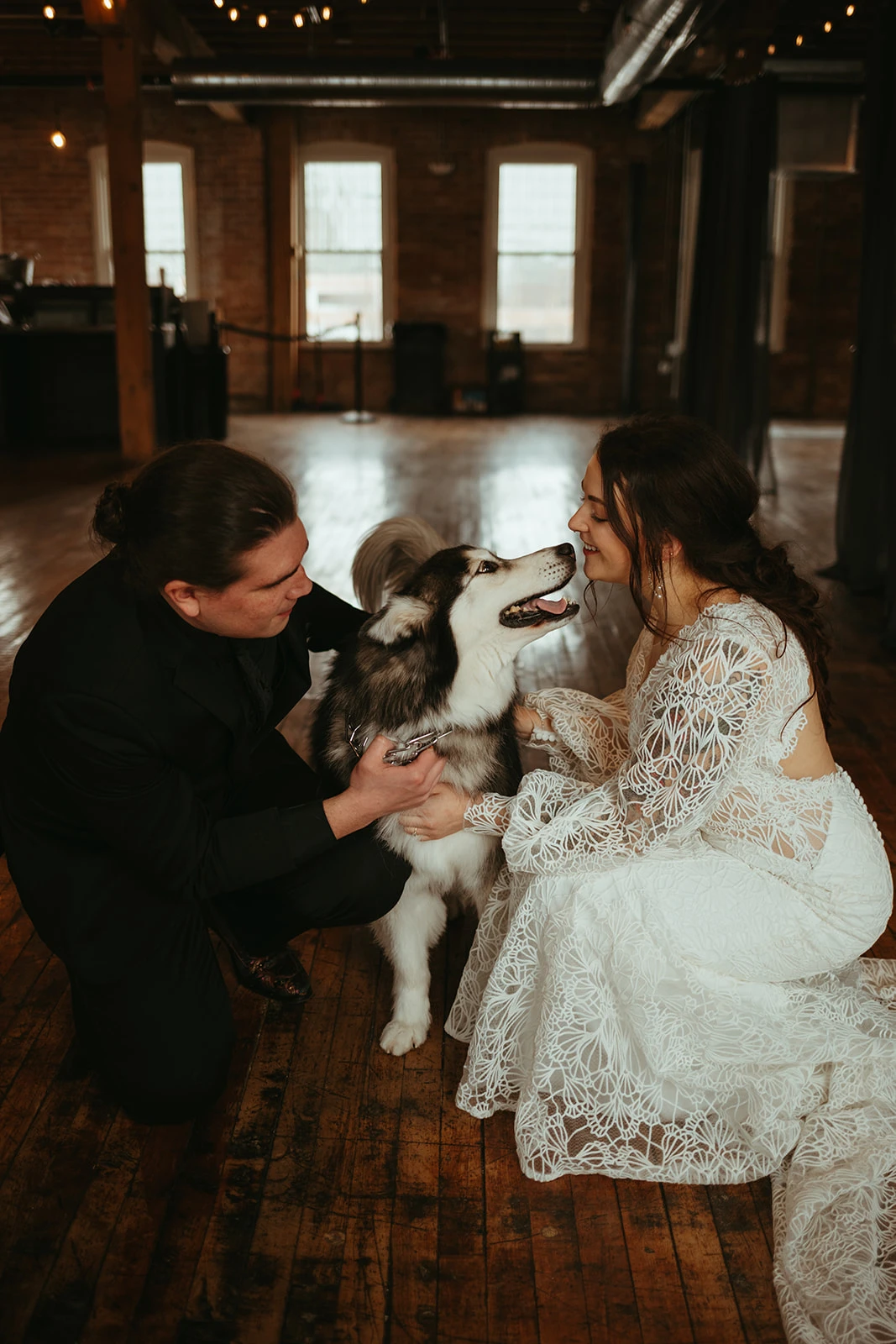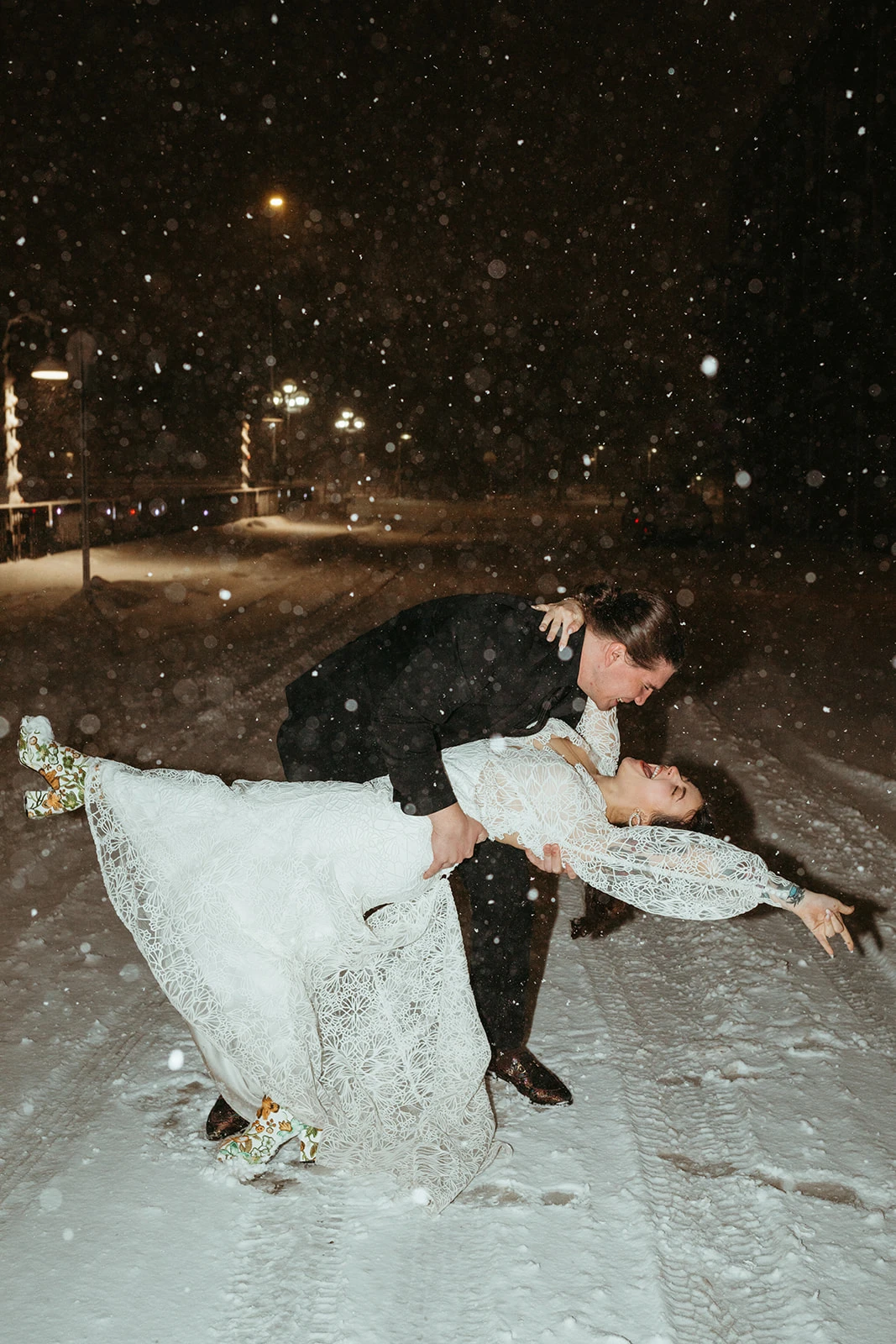 Cheers to Sydney & Graham!
Photography: Isabel Fahim
True Society brides, did you find your dress with us and want to be featured as a #TrueBride? Share your story with us.
Ready to find a dress that makes you sparkle on your wedding day? Find a True Society store near you and book your appointment today!