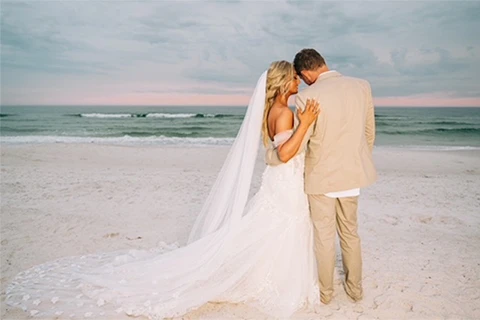 Danielle and Kaleb's beach wedding was nothing short of a dream come true! After being engaged for four years and having a few of life's curveballs thrown their way, Danielle and Kaleb decided to make a change of plans and throw a destination wedding in Panama City Beach, Florida with their closest friends and family in attendance!
Before catching a flight to Florida, Danielle visited True Society in Kansas City, where her True Crew was able to style her in the beach wedding dress of her dreams, Martina Liana Style 1057. This sparkly fitted wedding dress featured dainty off-the-shoulder straps, lacey floral details and crystal buttons in the back that reflected beautifully against the sunlight and ocean waves.
Keep reading below to read more about Danielle and Kaleb's wedding day and get inspired for your own romantic beach wedding!
Tell us about your proposal!
My proposal may not have been the most romantic and magical, like the ones you see in movies or on Pinterest, but it WAS a surprise—I had no idea it was happening! My husband surprised me outside of my statistics class at Lindenwood University. He proposed to me outside the greenhouse with music playing, and he was dressed up nicely while I was in sweatpants and not wearing any makeup!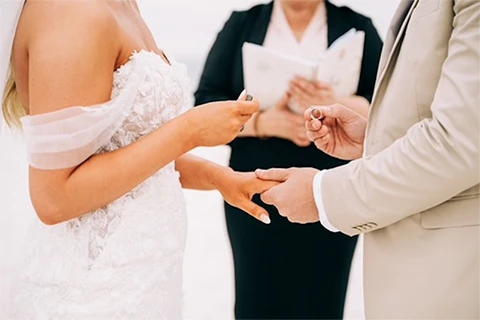 How was your dress-shopping experience at True Society?
True Society made my shopping experience like a fairytale! I was looking for a specific style, and they helped me customize the perfect dress for my big day. I will never forget the experience and am forever grateful that I found my dress there. I will forever be in love with it!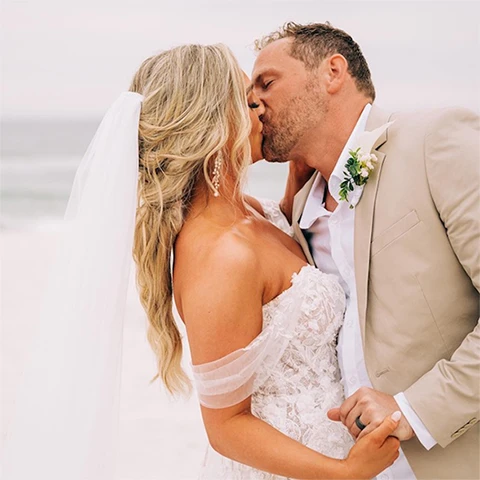 How did you want to look on your wedding day?
I had a very specific vibe I was going for when I first started wedding dress shopping. I wanted a mermaid-style silhouette to show off my figure that I had worked so hard for after having a baby. I wanted 3D flower appliqués with a little bit of sparkle and something lightweight! I very much wanted a beach-glam vibe!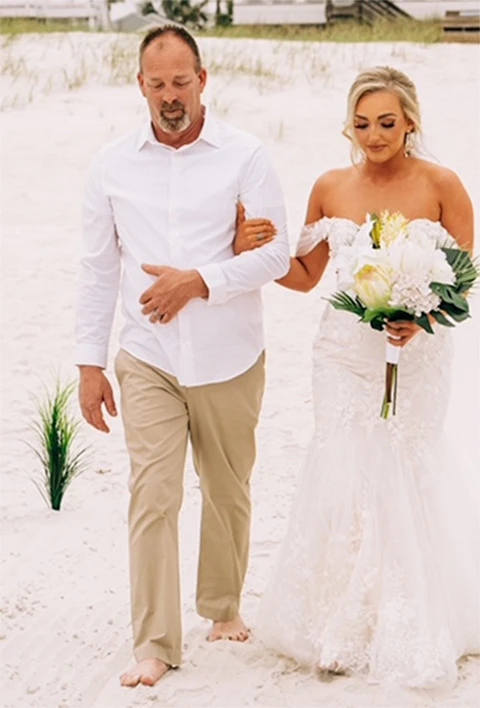 How did you make your wedding personal to your love story?
Due to school, having a baby and the COVID-19 pandemic, our wedding was delayed for four years after we got engaged. My husband and I agreed to just take our best friends and our immediate family to Florida for a beautiful destination wedding with a fun "after party" instead of a traditional reception.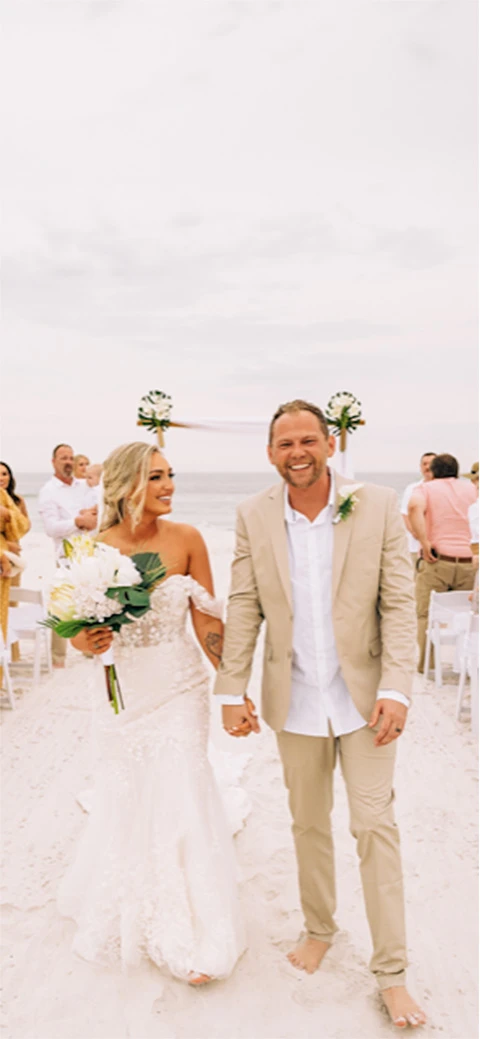 Cheers to Danielle + Kaleb!
Ready to find your dream dress? Book an appointment at a True Society location near you today.