Bride Veronica and her hubby Robby had the ultimate Kansas City wedding at Arrowhead stadium! Veronica was a bridal vision in Style 931 from Martina Liana. We are so jealous of their fun and personal wedding, which represents their love story perfectly!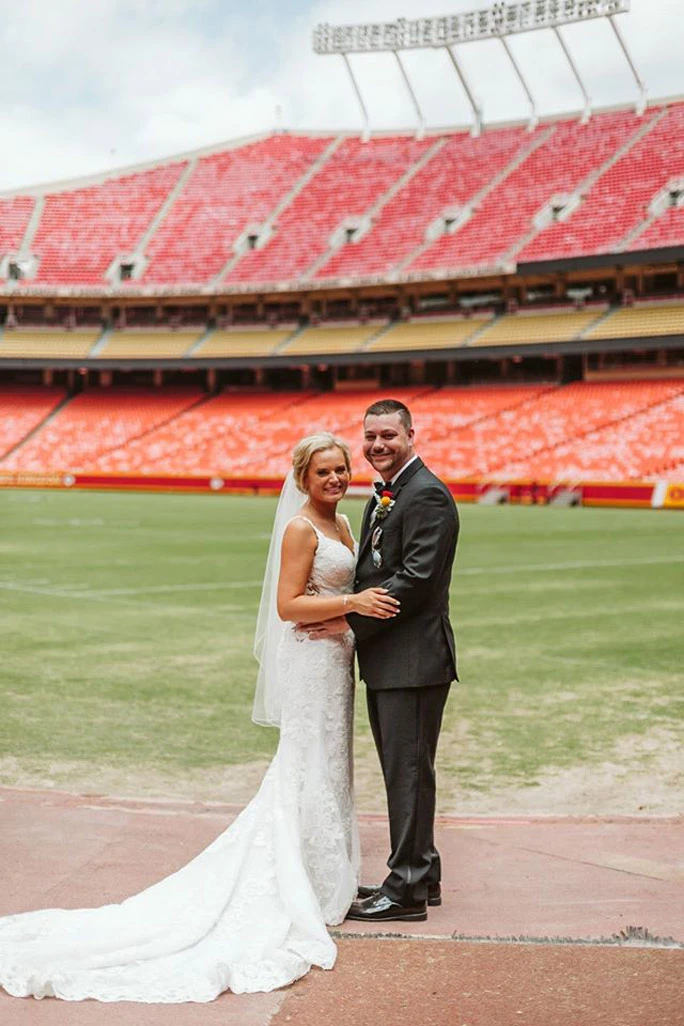 The Proposal
Robby always planned on proposing in 2016 but didn't know when. Then April came, and the 2016 Chiefs schedule was released. The Chiefs had a home game on Christmas night and Robby took this as a sign. A Pilshaw family tradition was to take a trolley to the last Chiefs game of the year. After getting both sets of parents involved, everyone was on board for the proposal on Christmas night at Arrowhead. Robby had the idea of doing a secret Christmas gift exchange and I loved the idea. Little did I know, it was all set up for me. My sister, Heather, was given the honors of having my name in the exchange. Robby had bought Heather the gift to give me. I had asked for a new Chiefs jersey for Christmas so Robby bought me a personalized Goetz jersey with both of our favorite numbers on it. After I opened the gift, Robby dropped to a knee and proceeded to ask me if I would marry him, and of course, I said YES!!!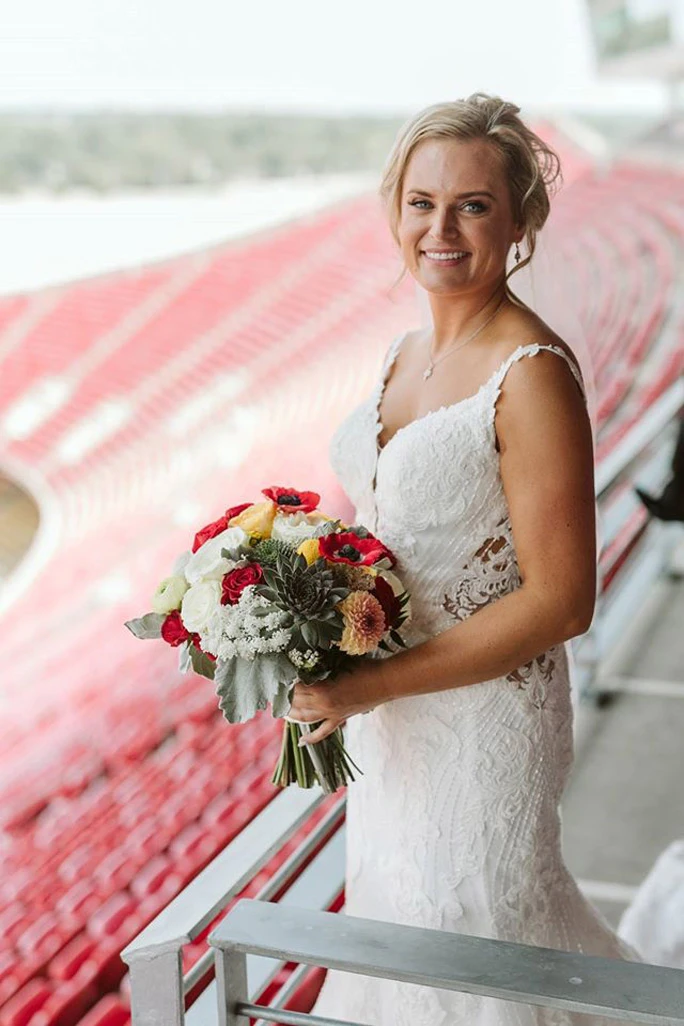 The Wedding Dress
I wanted to have an elegant but contemporary look on my wedding day. My mom and I met with Monica at my first dress appointment. I found an Essense of Australia dress online that I was so excited to try on. After trying it on, I realized it wasn't the style for me. Monica was patient and listened to what I was envisioning for my wedding day. Monica let us know that Martina Liana had a trunk show that weekend and that's when I ended up finding 'the' dress. My older sister lived out of town and I always wanted to get her approval. She was coming to town two weeks later, however, the dress at the trunk show was a 'test' dress that would not be at True Society by Belle Vogue Bridal in two weeks. My mom and I took pictures of the dress that day and would use that as our comparison while dress shopping two weeks later with my sister and future mother-in-law. We made it back to True Society by Belle Vogue Bridal with everyone and ended up deciding on Style 931 from Martina Liana. Monica and the Belle Vogue team made our experience so special. I love this dress!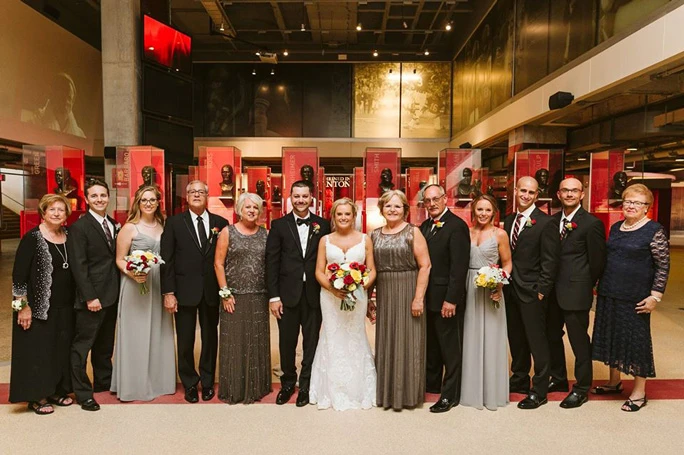 The Wedding Details
Robby and I wanted a venue that meant something to us and what would be more perfect than Arrowhead stadium, where we met and got engaged. I was really trying to stay away from making the wedding too cheesy when it came to the Chiefs and football in general. I wanted it to be elegant and let the venue speak for itself. The bridesmaids were in Sorella Vita Style 8746 in Steel. The groomsman wore black tuxes with Chiefs red ties. Robby and I had touches of football as our name cards for our seating were little red and white jerseys with our top 25 chiefs players. We also had little Chiefs red footballs made up with our name and date on them. We did not have any kids at the wedding. Instead, our Flower Girl/Ring Bearer was KC Wolf (Dan Meers, a family friend) dressed up in a tuxedo throwing flower petals down the aisle. This was a secret to all but Robby, myself and our parents and was definitely a crowd-pleaser. He joined our guests as the cocktail hour after the wedding while Robby and I went off with the wedding party to take pictures in the locker room and field. Our wedding day could not have been more perfect for Robby and my love story.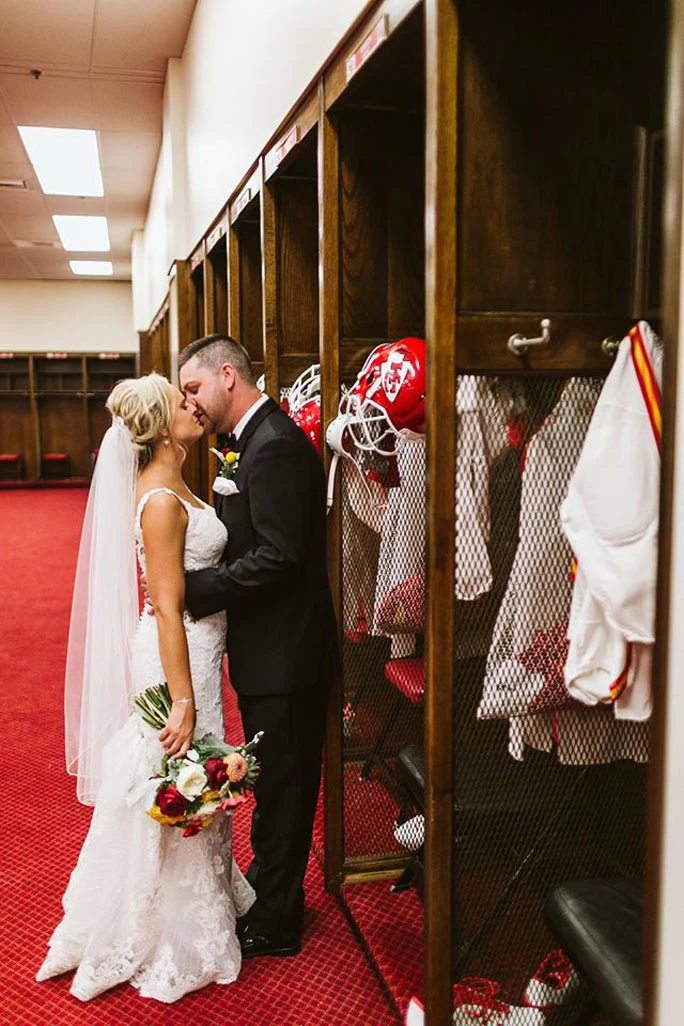 Robby and I met at a Chiefs game, got engaged at a Chiefs game and got married at Arrowhead. On one of our visits to Arrowhead while planning the wedding, we took a tour of the stadium with our photographer and videographer and had the great idea to have our first look out of the tunnel where the players run out. My mom walked me down to the tunnel where I had my first look with my dad. In that moment, he gave me a music box that played 'You Are My Sunshine' which he used to sing to me in the mornings to wake me up as a child. I teared up so much because I surprised my dad later that evening with our 'Father/Daughter' dance to that same song. Once I gathered myself, I took my first steps down the tunnel to meet up with Robby on the field. Once he turned around, both our smiles had never been so big. Robby and I exchanged gifts at the end of the tunnel. He surprised me with a matching bracelet to wedding earrings and necklace. I surprised him with a crystal replica Super Bowl trophy. After exchanging gifts, we went out onto the field to look back at the suites where all our wedding party and immediate family were, overlooking the tunnel to watch our first look. It couldn't have worked out better for our first look to be in the tunnel. It was a dream come true and extremely fitting for Robby and I to be married at
Arrowhead.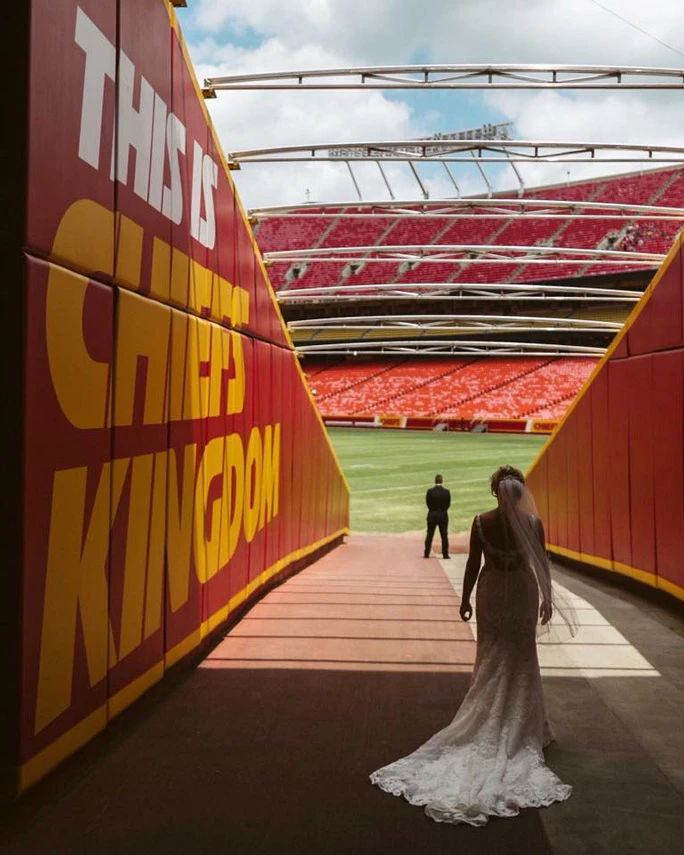 Are you looking for the perfect wedding dress? Make your appointment at True Society by Belle Vogue Bridal today!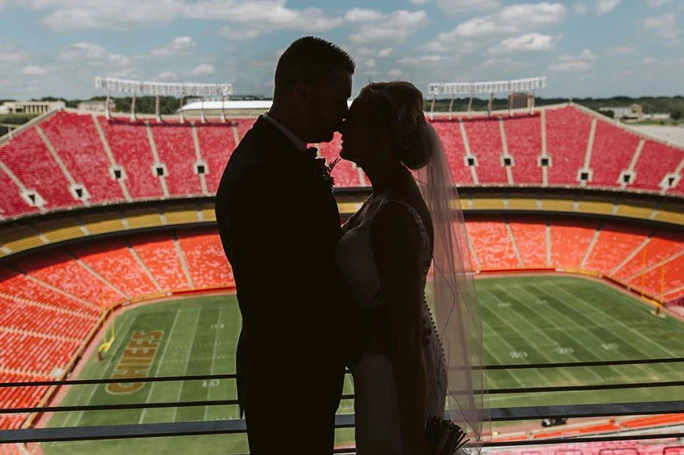 Photos by Nick Allen